Bihar
State in eastern India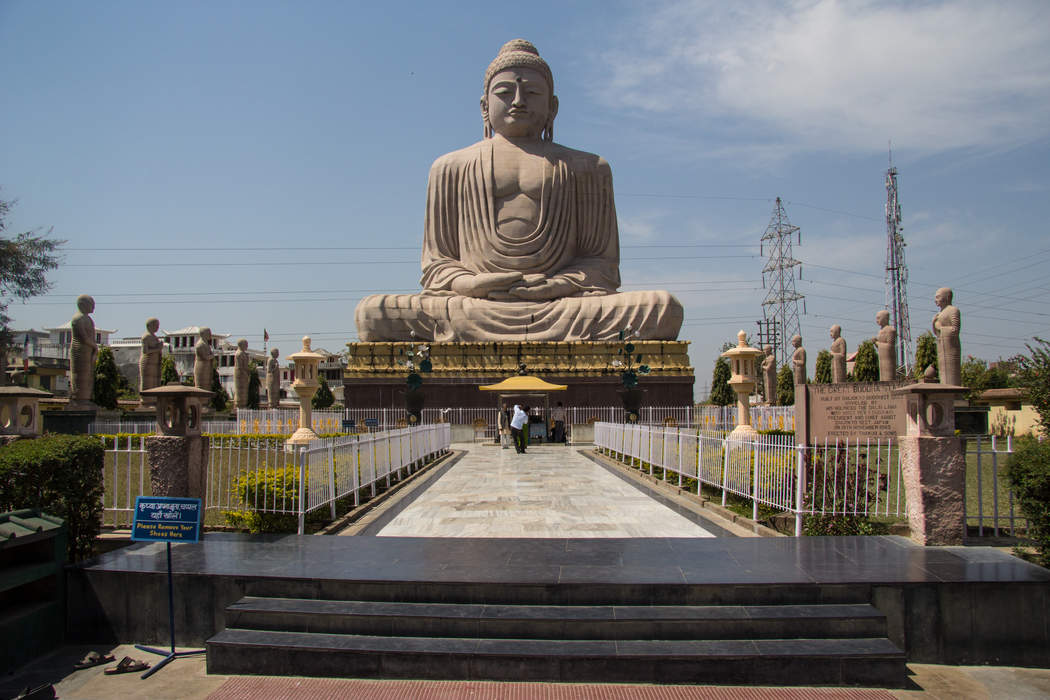 Bihar is a state in eastern India. It is the third-largest state by population and twelfth-largest by territory, with an area of 94,163 km2 (36,357 sq mi). Bihar borders Uttar Pradesh to its west, Nepal to the north, the northern part of West Bengal to the east, and with Jharkhand to the south. The Bihar plain is split by the river Ganges, which flows from west to east. Bihar is also the world's fourth-most populous subnational entity.


Goa minister Milind Naik steps down after accused ofsexual exploitation |Oneindia News

The minister for Urban Development in the Goa government Milind Naik stepped down from his position after the opposition Congress accused him of sexually exploiting a young woman from..
Credit: Oneindia Duration: 01:28
Published
PM Modi, Priyanka Chopra got tested, vaccinated in Bihar? Probe ordered | Oneindia News

Did PM Narendra Modi, Home Minister Amit Shah, Congress president Sonia Gandhi and actress Priyanka Chopra go all the way to primary health centres in Bihar to have themselves tested for Covid? Covid..
Credit: Oneindia Duration: 02:46
Published
Covid-19 Update India: 2,796 deaths reported after Bihar's reconciliation exercise| Oneindia News

India reported a steep jump in daily deaths due to the Covid-19 on Sunday. 2,796 fatalities were reported as Bihar carried out a reconciliation exercise of its Covid-19 data, which pushed the total..
Credit: Oneindia Duration: 01:53
Published
Bihar Minister Jivesh Mishra gets angry after his car is stopped in Assembly | Watch | Oneindia News

Today, a minister in Bihar, Jivesh Mishra got extremely angry after his convoy was stopped on Assembly premises to make way for cars in which a superintendent of police and district magistrates were..
Credit: Oneindia Duration: 01:35
Published
Empty liquor bottles found in Bihar Assembly premises | CM bans liquor in Bihar | Oneindia News

Just a day after NDA legislators led by Chief Minister Nitish Kumar took a pledge in favour of a complete prohibition of alcohol in the state, several empty bottles of liquor were found in Bihar..
Credit: Oneindia Duration: 01:42
Published
You Might Like



Weather forecast: 12 states to receive rainfall in the next 24 hours, IMD issues list

As per IMD, cyclonic circulations lie over northwest Uttar Pradesh and neighbourhood, as well as east Uttar Pradesh and adjoining Bihar.




DNA - Published





6 dead, multiple injured in boiler blast at noodle factory in Bihar's Muzaffarpur

A boiler explosion in a noodle factory in Muzaffarpur, Bihar has left six workers dead and multiple injured.




DNA - Published





Central teams deployed in 10 states reporting high Omicron cases, slow vaccination

Amid steady rise in Omicron cases, multi-disciplinary central teams have been deployed in 10 states which are reporting either an increasing number of Omicron and Covid-19 cases or a slow vaccination..




IndiaTimes - Published





Centre to send multi-disciplinary high-level teams to 10 states with high Omicron caseload

Amid steady rise in Omicron cases the health ministry, announced that the Centre will send multi-disciplinary teams to 10 states which are reporting an increasing number of Covid-19 cases or low..




IndiaTimes - Published





Bizarre Railways scam unfolds in Bihar: Engineer sells train engine using fake documents

The illegal sale of a Railways engine reportedly took place on December 14 and the scam surfaced two days later.




DNA - Published





Foundational literacy index: West Bengal tops chart, Bihar at bottom in large states category

West Bengal topped the chart and Bihar languished at the bottom in the 'large states' category on the 'Index on Foundational Literacy and Numeracy' -- an indicator of literacy among children below 10..




IndiaTimes - Published





JP Nadda, chief ministers attend 'aarti', 'puja' in Ayodhya

The BJP president and chief ministers, including that of Madhya Pradesh- Shivraj Singh Chouhan, Goa- Pramod Sawant, Assam- Himanta Biswa Sarma, Haryana- Manohar Lal Khattar, Tripura- Biplab Deb, Bihar-..




IndiaTimes - Published





Will convene all-party meeting over caste census after getting BJP's viewpoint, says Bihar CM Nitish Kumar

Chief minister Nitish Kumar on Monday said he would convene an all-party meeting over holding caste-based census in Bihar only after getting the viewpoint of ally BJP




IndiaTimes - Published





Covid-19: India reports 8,895 new cases; records 2,796 deaths as Bihar reconciles data

India reported 8,895 new Covid infections on Sunday, and 2,796 deaths as Bihar carried out a reconciliation exercise of its coronavirus data. Kerala too cleared its backlog of 263 deaths, causing a..




IndiaTimes - Published





In India's 'fastest' rape case conviction, Bihar man gets life term in one day's proceedings




IndiaTimes - Published





Bihar's share of poor highest, Kerala's least, says Niti index

Bihar, with its dismal scores across key development indicators such as nutrition, child and adolescent mortality, maternal health, years of schooling, sanitation and electricity, has topped the list..




IndiaTimes - Published





R K Singh, Nitish Kumar launch 2 power units in Bihar




IndiaTimes - Published





Pocso court hears, convicts, sentences man in 1 day

A suspect in the rape case of a minor girl was tried, heard, convicted and sentenced to a life term in prison by a Pocso court in Bihar's Araria district in a single day's proceedings, reportedly..




IndiaTimes - Published





Bihar, Jharkhand, UP among poorest states: Niti Aayog's poverty index report




IndiaTimes - Published





People of Bihar to take oath on Nov 26 that they won't consume liquor: Nitish




IndiaTimes - Published





Bihar judge 'assaulted' by 2 cops inside his chamber




IndiaTimes - Published





Telangana, Andhra Pradesh score high on SMART police perception index; Bihar, UP lowest




IndiaTimes - Published





Bride shortage forces 40,000 Tamil Nadu Brahmins to try luck in UP, Bihar




IndiaTimes - Published





'Agnipariksha' for votes: Candidate walks barefoot on hot embers in Bihar to woo voters

The candidate Munna Mahato says that he wants to assure people of keeping promises by walking barefoot on hot embers.




DNA - Published





5 relatives of Sushant Singh Rajput killed in Bihar road accident

Six persons, including five distant relatives of late Bollywood actor Sushant Singh Rajput, were killed when their SUV collided with a truck in Bihar's Lakhisarai district on Tuesday morning, police..




IndiaTimes - Published





Manoj Jha slams Nitish Kumar for crime rate in Bihar, says incapable to govern state




IndiaTimes - Published





SC allows sand mining in Bihar, says ban causes huge loss to public exchequer




IndiaTimes - Published





Chhath Puja 2021: Delhi government declares November 10 as public holiday

People from Bihar ad eastern UP celebrate Chhath Puja, which involves fasting and offering the Sun god 'Arghya' early in the morning




DNA - Published





In 2 days, 24 dead in twin hooch tragedies in dry Bihar




IndiaTimes - Published





Petrol, diesel to be cheaper in Bihar with lowered VAT rates: Nitish




IndiaTimes - Published





Excise duty slashed by Rs 10 on diesel, Rs 5 on petrol; 9 NDA states cut VAT, 5 of them go to polls in '22

Taking a cue, the governments of UP, Gujarat, Goa, Karnataka, Uttarakhand, Assam, Manipur, Tripura and Bihar cut VAT on fuel. BJP governs all these states, except Bihar where it is in alliance with..




IndiaTimes - Published





Indian Railways to run special trains for Diwali and Chhath from November 1 - Check list here

Indian Railways is also starting some superfast special trains from different parts of the country for Bihar which will operate between November 2-11.




DNA - Published




11 crore people overdue for second dose of COVID-19 vaccine, shows government data

UP, MP, Rajasthan, Maharashtra and Bihar together account for around 49% of such beneficiaries who are long due for taking the second dose of vaccine.




DNA - Published





Congress president Sonia Gandhi dials RJD chief Lalu Prasad amid 'trouble' in Bihar grand alliance

Congress and RJD broke off the alliance ahead of the by-polls in Kusheshwar Asthan (SC) and Tarapur constituencies in Bihar scheduled on October 30.




DNA - Published





When Satya Pal Malik courted controversies as governor - from Bihar, Jammu-Kashmir and Goa to Meghalaya

Meghalaya governor Satya Pal Malik has kicked off a controversy yet again by speaking against the stated stand of the very Narendra Modi government which has appointed him to the gubernatorial post...




IndiaTimes - Published





Congress should be 'strong alternative' to BJP in national politics: Lalu Yadav

Ahead of the by-polls in Bihar, Rashtriya Janata Dal (RJD) chief Lalu Prasad Yadav on Tuesday called upon the Congress to become a 'strong alternative' to the BJP at the national level politics and..




IndiaTimes - Published





India improves infant mortality rate but gains slowing down

India's infant mortality rate has dropped to 30, but the decline has slowed down in the last five years in most states, just released data from the sample registration system (SRS) shows. It also..




IndiaTimes - Published





Scuffle between Kashmiri, UP, Bihar students at Punjab institute after India-Pakistan cricket match




IndiaTimes - Published





Lalu Prasad Yadav returns to Bihar after nearly 4 years; son Tej Pratap gets angry for THIS reason

Bihar's former chief minister Lalu Prasad Yadav returned to his home, Patna on Sunday after three years and six years




DNA - Published





Ahead of Bihar bypolls, Lalu questions Congress utility as ally

RJD president Lalu Prasad on Sunday questioned the utility of Congress as an ally in assembly election and drew sharp reaction from the grand old party as well as the NDA leaders for calling AICC..




IndiaTimes - Published





Join fight against terror, Amit Shah urges J&K youth

Home minister Amit Shah asked officials during a security review in Srinagar on Saturday about the targeted killings of minority community members and migrant labourers despite the heavy security..




IndiaTimes - Published




Rainfall activity to now shift towards UP and THESE states after battering Uttarakhand, says IMD

The easterlies will interact with the low-pressure system prevailing over north Jharkhand, Bihar and west Uttar Pradesh, says IMD.




DNA - Published





Bihar migrant workers return from terror-hit Valley, some in coffins




IndiaTimes - Published





Bihar makes COVID-19 test mandatory for those travelling from outside during Diwali, Chhath

Nitish Kumar asked the health department officials to maintain a special vigil on people arriving from other states and ensure COVID-19 test of them.




DNA - Published





Fear drives exodus of Bihar labourers from Kashmir




IndiaTimes - Published





Stern action must be taken in recent killings of people from Bihar in Kashmir, says Nitish Kumar




IndiaTimes - Published





Nitish expresses concern over killing of Bihar residents in J&K




IndiaTimes - Published





Jammu and Kashmir: Street hawker from Bihar, labourer from UP killed in back-to-back terrorist attacks

A street hawker from Bihar and a labourer from Uttar Pradesh were killed in Jammu and Kashmir in two separate terrorist attacks on Saturday




DNA - Published





Nitish Kumar admits to power crisis, says Bihar spending extra money to purchase electricity




IndiaTimes - Published





Terrorists check ID, shoot Sikh principal, Pandit teacher in J&K

Terrorists shot dead a woman school principal from the Kashmiri Sikh community and a Kashmiri Pandit teacher after demanding to see their identity cards inside a government-run campus in Srinagar's..




IndiaTimes - Published





Why Priyanka Gandhi Vadra's Lakhimpur Kheri visit isn't like Indira Gandhi's Belchi moment

Once again, it is being touted as Congress general secretary Priyanka Gandhi Vadra's Belchi moment. Her efforts to visit Lakhimpur Kheri to meet the bereaved families of the four farmers who were..




IndiaTimes - Published





Diarrhoea outbreak in Bihar village, over 40 fall ill

The state health department claimed that a medical team was sent to the village, but the residents said that no team had visited them so far.




DNA - Published





Nitish Kumar questions NITI Aayog's assessment system, says Bihar can't be compared with richest Maharashtra




IndiaTimes - Published





India's vaccine coverage crosses 90cr landmark

India crossed a significant landmark in its Covid vaccination drive by administering 90.4 crore doses till Saturday evening. More than 72 lakh doses were administered till 9:30pm on Saturday, with..




IndiaTimes - Published





School bus with 38 students falls into pit in Bihar

Eyewitnesses said that the speed of the bus was high. When it reached the Pokharia village, the vehicle overturned after the driver lost control.




DNA - Published