Bihar
State in Eastern India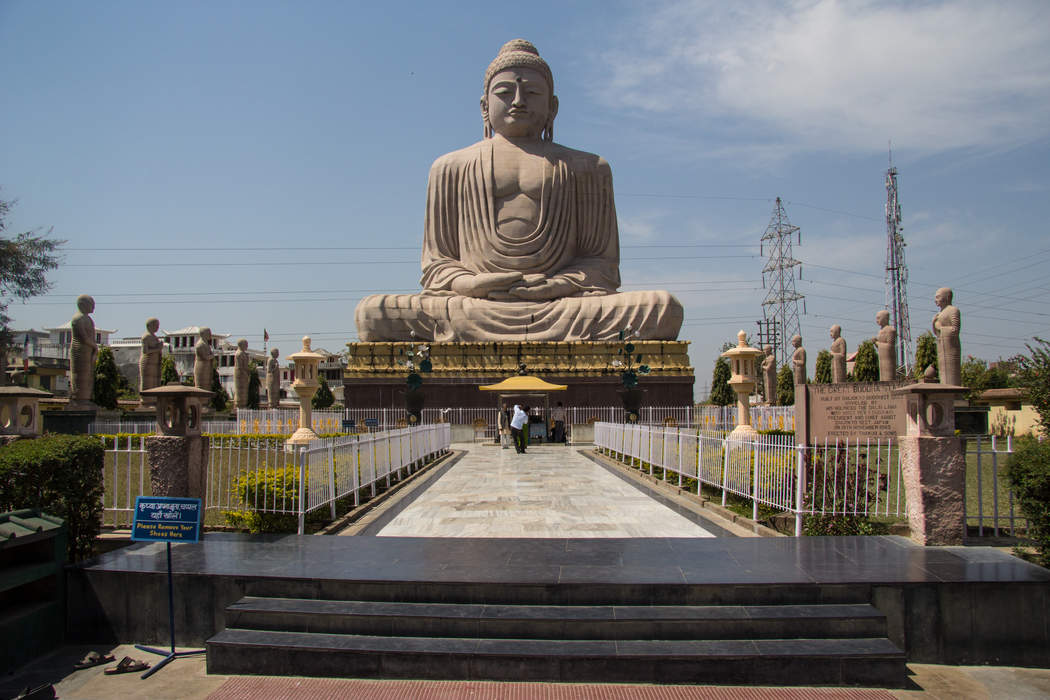 Bihar is a state in eastern India. It is the third-largest state by population and twelfth-largest by territory, with an area of 94,163 km2 (36,357 sq mi). It is contiguous with Uttar Pradesh to its west, Nepal to the north, the northern part of West Bengal to the east, and with Jharkhand to the south. The Bihar plain is split by the river Ganges, which flows from west to east. Three main cultural regions converge in the state: Magadh, Mithila, and Bhojpur. Bihar is also the world's third-most populous subnational entity.


Pappu Yadav arrested for violating Covid-19 norms, but what did he say| Oneindia News

Former MP from Bihar and Jan Adhikar Party chief Rajiv Ranjan known as Pappu Yadav was arrested on Tuesday morning from his Patna residence for alleged violation of Covid-19 lockdown norms. Bihar is..
Credit: Oneindia Duration: 01:25
Published
Nepal PM KP Oli lose vote of confidence, to tender resignation| Oneindia News

Dozens of bodies were seen floating in the river at Chausa town on Bihar's border with Uttar Pradesh and later piling up on the banks. Kerala Chief Minister Pinarayi Vijayan has written to Prime..
Credit: Oneindia Duration: 02:34
Published
Body of COVID patient dumped in river in Bihar's Katihar, video goes viral

A viral video purportedly showing a COVID victim's body being dumped into the bank of a river in Bihar's Katihar district. The incident took place on May 07. "Strict action will be taken," District..
Credit: ANI Duration: 02:12
Published
COVID: Lalu Yadav asks RJD MLAs to help the needy in their constituencies

Former Bihar Chief Minister and Rashtriya Janata Dal (RJD) President Lalu Prasad Yadav chaired a virtual meeting with party MLAs on May 9 and discussed the COVID situation in the state. He also asked..
Credit: ANI Duration: 01:13
Published
COVID: 24 states have over 15% positivity rate, says Health Ministry

24 states including Maharashtra, Delhi, Uttar Pradesh and West Bengal have more than 15% positivity rate for COVID-19 in their daily infections, informed Union Health Ministry. "Maharashtra, Karnataka,..
Credit: ANI Duration: 01:33
Published
Bihar empowers DMs, superintendents to appoint health workers for 3 months

As the number of COVID cases is increasing in Bihar, state Health Minister Mangal Pandey on May 06 said the state government has now given the power to District Magistrate and medical colleges'..
Credit: ANI Duration: 01:29
Published
No shortage of oxygen in Bihar: State Health Minister

"So far, there is no shortage of oxygen in the state as we allocated more oxygen then required by the central government", said Bihar Health Minister Mangal Pandey on May 06.
Credit: ANI Duration: 01:18
Published
Economic Offences Unit taking necessary steps to tackle black marketing of medicines: Bihar ADG

Speaking on black marketing of medicines, Additional Director General of Police of Bihar, Jitendra Kumar said the Economic Offences Unit is taking necessary steps towards it. Additional Director..
Credit: ANI Duration: 03:12
Published
Watch: Woman misbehaves with cops over l ockdown; slams PM Modi & CM Nitish

A video of a woman misbehaving with policemen in Patna has gone viral on the internet. The woman is seen arguing with policemen over lockdown restrictions and tell them that they should also issue..
Credit: HT Digital Content Duration: 02:14
Published
Watch: Patna woman misbehaves with police; lashes out at PM Modi, CM Nitish over lockdown

A woman in Patna misbehaved with police personnel who were on duty to implement COVID-19 lockdown restrictions. She claimed that she could not get conveyance to return back to her hometown. During the..
Credit: ANI Duration: 01:13
Published
Lathi-charge on lockdown violators in Patna

The Bihar Police on May 05 resorted to lathi-charge on people who violated the lockdown norms in Patna. Police have been alerting people not to come out on the roads in order to mitigate the spread of..
Credit: ANI Duration: 01:16
Published
Bihar Health Minister appeals people to follow lockdown rules strictly

After Bihar Chief Minister Nitish Kumar on May 5 announced lockdown till May 15, state Health Minister Mangal Pandey today appealed people with folded hand to follow the lockdown guidelines strictly...
Credit: ANI Duration: 01:18
Published
Bihar govt imposes lockdown till May 15 amid rising Covid-19 cases

Bihar govt has announced lockdown in the state till May 15 in view of rising Covid cases. CM Nitish Kumar took to twitter and announced the decision on Tuesday morning. The chief minister declared..
Credit: HT Digital Content Duration: 01:06
Published
Bihar in lockdown till May 15

The whole country is under the grip of 2nd wave of coronavirus currently and amid it, the COVID cases in Bihar continue to rise. As a consequence of it, lockdown imposed in Bihar till May 15, 2021...
Credit: ANI Duration: 01:13
Published
WB poll results: 'Stay within limits,' warns BJP MP on political violence

Soon after the mandate of West Bengal state assembly elections was given out, several incidents of political violence came into limelight. BJP alleged TMC workers of vandalising BJP offices and killing..
Credit: ANI Duration: 02:14
Published
You Might Like



Bihar, UP blame each other for bodies on Ganga




IndiaTimes - Published





71 bodies fished out from the Ganges in Bihar so far, all floated downstream from UP: Minister




IndiaTimes - Published





Day after Bihar, several corpses wash up on banks of Ganga in UP's Ghazipur

Locals complained of stench coming from the bloated, decomposed corpses and accused the authorities of ineptitude.




DNA - Published





SHOCKING: Several dead bodies found floating in Ganga in Bihar, Yamuna in UP as COVID-19 cases surge

Several unidentified and partially burnt bodies were spotted floating in the Yamuna and Ganga in UP and Bihar.




DNA - Published





PIB fact check: Radiation released by 5G testing NOT related to second wave of COVID-19 outbreak

An audio message is going viral on social media claiming 5G testing has caused multiple deaths in states like Uttar Pradesh, Bihar, and Maharashtra.




DNA - Published





Lalu Prasad to chair virtual meeting with RJD MLAs to review Covid situation in Bihar




IndiaTimes - Published





Lockdown in Bihar: Full shutdown in state till May 15 - Check list of restrictions here

On Monday, the Patna High Court had said that a statewide lockdown is urgently needed to curb the spread of coronavirus in Bihar.




DNA - Published





Total number of Covid-19 vaccine doses given in India crosses 15.89 crore

Ten states - Maharashtra, Rajasthan, Gujarat, Uttar Pradesh, West Bengal, Karnataka, Madhya Pradesh, Kerala, Bihar and Andhra Pradesh - accounted for 66.94 per cent of the cumulative doses given so far..




IndiaTimes - Published





Lockdown in Bihar till May 15 as COVID-19 cases surge - What's allowed, what's not

CM Nitish Kumar on Tuesday announced that he has decided to impose lockdown in the state till May 15 after consultations with ministers and officials.




DNA - Published





Enforce lockdown or we will, Patna HC tells Bihar govt




IndiaTimes - Published





Maharashtra, Delhi among 10 states that account for 73.71 per cent of new Covid cases: Government

With a record daily rise of 4,01,003 Covid-19 cases, India's total tally climbed to 1,91,64,969 on Saturday, according to ministry data. Kerala, Uttar Pradesh, Tamil Nadu, West Bengal, Andhra Pradesh,..




IndiaTimes - Published





Bihar chief secretary, judge, 3 lawyers die of Covid-19




IndiaTimes - Published





Bihar chief secretary Arun Kumar Singh succumbs to COVID-19

A native of Bihar's West Champaran district, Arun Kumar Singh was scheduled to retire this year on August 31.




DNA - Published





Night curfew in Bihar from April 29, shops to shut by 4 pm - Details inside

The night curfew will start from 6 pm till 6 am and the fresh curbs will come into force from April 29 till May 15.




DNA - Published





Railways to run special trains from Delhi, Mumbai to Bihar via these UP cities

To deal with the exodus of labourers and workers, Railways is continuously increasing the number of special trains.




DNA - Published





10 states account for 74.15% of new Covid-19 cases: Health ministry

Ten states, including Maharashtra, Uttar Pradesh and Delhi, reported 74.15 per cent of the new Covid-19 cases reported in a day, the Union health ministry said on Saturday. It also said 12 states are..




IndiaTimes - Published





Bihar health department secretary, Ravi Shankar Choudhary, among 54 dead, Covid caseshit another peak




IndiaTimes - Published





Night curfew, fresh curbs across Tamil Nadu, Bihar

Night curfew from 10pm to 4am and total curfew on Sundays will be effective from April 20 in Tamil Nadu. According to a statement issued by the state government, no public or private transport will be..




IndiaTimes - Published





COVID-19 update: Night curfew imposed in Bihar - Check what's allowed, what's not

Bihar government on Sunday imposed night curfew from 9 pm to 5 am across the state amid rising COVID-19 cases.




DNA - Published





Covid-19: Night curfew in Bihar; schools, theatres, gyms shut till May 15




IndiaTimes - Published





Lockdown in Bihar? Final call to be taken today as COVID-19 cases surge

Bihar Chief Minister Nitish Kumar hinted at a lockdown, saying a decision will be taken at an all-party meeting chaired by Governor Phagu Chauhan.




DNA - Published





COVID-19: Bihar Governor calls all-party meeting to assess situation - fresh guidelines here

In view of the growing cases of COVID-19, the government has banned all sports programs and gym operations with immediate effect.




DNA - Published





Job loss, tense future spark Mumbai migrant exodus despite government aid

Through the day, huge crowds of migrants from UP and Bihar thronged the Lokmanya Tilak Terminus, desperate to return home. Among them were daily wagers who worked in shops, restaurants and markets...




IndiaTimes - Published





Heartland states see sharpest rise in weekly Covid-19 cases

Heartland states for the first time during the second wave logged the sharpest rise in Covid-19 cases last week (April 5-11) even as infections surged by a record 70% in the country. Bihar saw the..




IndiaTimes - Published





Day after Bihar cop lynched in West Bengal, his mother dies of shock

Ashwini Kumar was lynched at Pantapara village in West Bengal's Uttar Dinajpur district while he went there to conduct raid on motorcycle thieves.




DNA - Published





In West Bengal to nab bike thieves, Bihar SHO lynched

A police inspector posted as a station house officer (SHO) in Bihar's Kishanganj district was beaten to death by a mob during a raid in the adjoining North Dinajpur district in West Bengal in the wee..




IndiaTimes - Published





India only 2nd country to top 1.5 lakh Covid-19 cases in a day

India recorded more than 1.5 lakh fresh Covid-19 infections on Saturday, becoming the second country after the US to register the grim milestone on the back of a sharp uptick in cases from the Hindi..




IndiaTimes - Published





SC asks Centre, four states to respond on plea seeking repeal of provisions criminalising begging

The top court had in February sought a response from the Centre, and the states of Maharashtra, Gujarat, Punjab, Haryana and Bihar on the plea which has claimed that the sections of the statute..




IndiaTimes - Published





Bihar COVID-19 news: Schools to remain closed till April 18, fresh guidelines issued

Bihar on Thursday (April 8) reported 1,911 fresh COVID-19 cases in 24 hours while India n Friday (April 9) crossed the 1.3 lakh mark in new cases.




DNA - Published





Fresh blow to LJP in Bihar as its lone MLA joins rival JD(U)




IndiaTimes - Published





Earthquake strikes Sikkim, tremors also felt in Bihar, Assam, Bengal




IndiaTimes - Published





Earthquake of magnitude 5.4 hits Sikkim-Nepal border, tremors felt in Assam, Bihar, West Bengal

Earthquake tremors also felt in parts of Assam, Bihar and West Bengal.




DNA - Published





Bihar to get second mega food park




IndiaTimes - Published





Lockdown in Bihar? Stringent COVID guidelines issued amid huge surge in cases - know what's allowed, what's not

All schools, colleges and educational institutions have been closed till April 12. All social functions have been curbed.




DNA - Published





Opposition MLAs hold parallel House session in Bihar assembly premises




IndiaTimes - Published





Turmoil inside Bihar assembly, streets of Patna over police bill




IndiaTimes - Published





Four Maoists killed in BiharFour Maoists killed in Bihar




IndiaTimes - Published





Will Tejashwi resign as father Lalu is in jail? asks Bihar minister

"I want to ask if Tejashwi Ji that will he resign because his father is in jail? Should Tej Pratap Yadav resign if there are cases against Tejashwi Yadav? Action should be taken against my brother if..




IndiaTimes - Published





Five members of a family commit suicide in Bihar's Supaul

The deceased, identified as Mishrilal Shah, his wife and three children were found hanging in one room on Friday night.




DNA - Published





Bihar woman gets pregnant despite getting sterilised, know what happened then

A woman in Bihar has demanded a compensation of Rs 11 lakh from the state government claiming that she got pregnant despite undergoing tubectomy.




DNA - Published





Six killed as Bihar school wall collapses




IndiaTimes - Published





Three Bihar parties to try luck in Assam polls

Altogether three Bihar-centric regional parties have decided to try their luck in the assembly polls in Assam.




IndiaTimes - Published





Parties again swing into poll mode for Bihar panchayat elections

The RJD is paying attention to the Muslim-Yadav (MY) equation and Dalits.




DNA - Published





Third phase of COVID vaccination in Bihar begins on March 1 - know eligibility criteria and other details

A total of 3,99,831 health care workers were given the first dose and 79,212 were given the second dose under the first phase of vaccination drive.




DNA - Published





Assembly elections 2021: JD(U), RJD gear up for electoral contest outside Bihar




IndiaTimes - Published





RJD to contest assembly polls in Assam, Kerala, West Bengal; JD(U) to go solo in two states

Bihar's both leading regional parties- Lalu Prasad-led RJD and CM Nitish Kumar's JD(U) on Friday gird up their loins to contest the forthcoming assembly polls in other states, soon after the..




IndiaTimes - Published





Assembly Election 2021: Special provisions made by EC for the upcoming polls - details here

This is the second round of assembly elections which will be held during the COVID-19 pandemic after the polls in Bihar through October-November 2020.




DNA - Published





AIMIM chief Asaduddin Owaisi's first rally in Kolkata cancelled as police 'deny' permission

Owaisi was scheduled to kick off his party's campaign ahead of the West Bengal assembly elections with the rally in the minority-dominated Metiabruz area of Kolkata. After AIMIM's good performance in..




IndiaTimes - Published





Bihar resident arrested for terror links, brought to Jammu for questioning




IndiaTimes - Published





Jolt to LJP in Bihar as its 200 leaders and workers join JD(U)

Chirag Paswan-led Lok Janshakti Party (LJP) on Thursday received a major jolt in Bihar as its around 200 senior leaders and workers, led by its former state general secretary Keshav Singh, quit the..




IndiaTimes - Published