Bihar
State in eastern India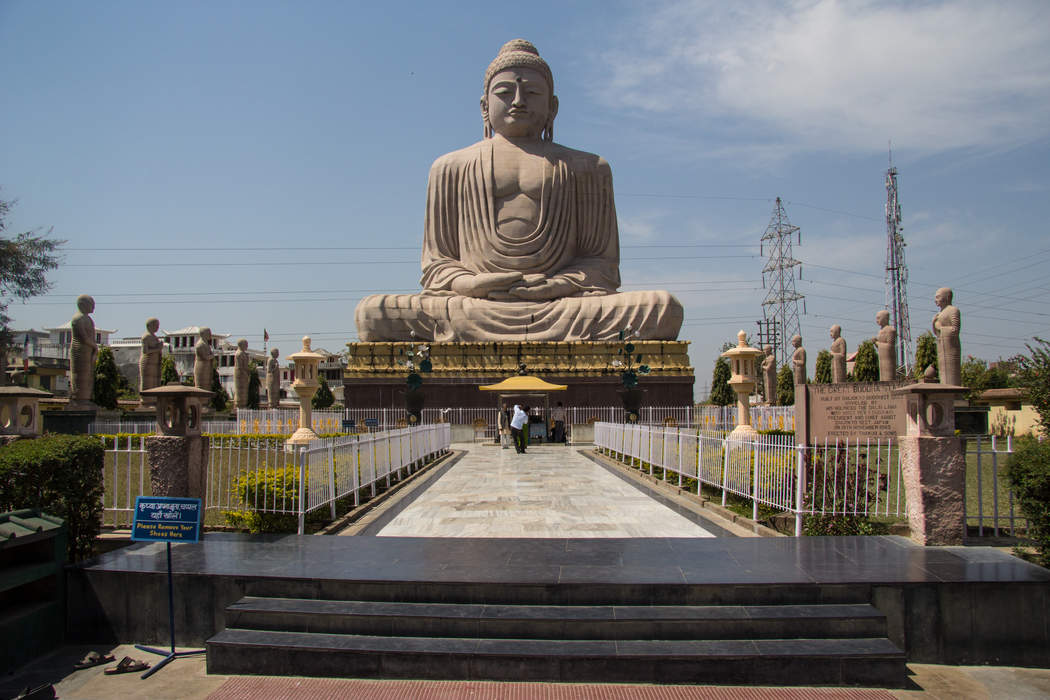 Bihar is a state in eastern India. It is the third-largest state by population and twelfth-largest by territory, with an area of 94,163 km2 (36,357 sq mi). It is contiguous with Uttar Pradesh to its west, Nepal to the north, the northern part of West Bengal to the east, and with Jharkhand to the south. The Bihar plain is split by the river Ganges, which flows from west to east. Three main cultural regions converge in the state: Magadh, Mithila, and Bhojpur. Bihar is also the world's fourth-most populous subnational entity.


Bihar CM Nitish Kumar: Women education is key to curb India's population rate | Watch |Oneindia News

Bihar Chief Minister, Nitish Kumar spoke on population control policy. When asked about his opinion on the policy he said that every state is independent to do what they want. But, he added, that..
Credit: Oneindia Duration: 02:16
Published
Chirag Paswan welcomed by crowd at Patna Airport, flouting Covid norms | Watch | Oneindia News

LJP leader Chirag Paswan received a rousing welcome upon his visit to Bihar. News agency ANI posted a video, where many Chirag's supporters were seen at Patna Airport, flouting Covid rules while..
Credit: Oneindia Duration: 01:33
Published
Bihar's Darbhanga: Sub-health centre swept away by floodwater| Oneindia News

A Sub-health centre washed away by floodwater in Bihar's Darbhanga district. The incident took place in Atihar village on July 03. #Bihar #Floodwater #Darbhanga
Credit: Oneindia Duration: 01:44
Published
Bihar nurse caught on camera injecting with empty syringe| Fake Covid-19 vaccination | Oneindia News

A nurse at a vaccination centre in Bihar allegedly injected a man with an empty syringe instead of administering him a COVID-19 vaccine. A video of the act has gone viral on social media. After the..
Credit: Oneindia Duration: 02:01
Published
After Bengal, now Bihar? Lalu's son meets Jitan Ram Manjhi... | Oneindia News

Rumours are doing the rounds of a possible realignment in Bihar's political forces after RJD supremo Lalu Yadav's son Tej Pratap Yadav met Jitan Ram Manjhi, whose Hindustani Awam Morcha is an ally of..
Credit: Oneindia Duration: 02:18
Published
Bihar revises Covid-19 deaths by 72% to more than 9,000, sparks row| Nitish Kumar| Oneindia News

Bihar's massive revision in its Covid deaths figure to over 9,000 has become controversial with the 72 per cent jump raising more questions. The Nitish Kumar government on Wednesday reported that the..
Credit: Oneindia Duration: 02:02
Published
You Might Like



IMD forecasts heavy rainfall in Uttar Pradesh, Madhya Pradesh, issues 'yellow alert' for Delhi

Several parts of Karnataka and Bihar have also been hit by heavy rainfall, with rivers overflowing casuing floods in various districts.




DNA - Published





Hooch tragedy: 16 dead in Bihar's West Champaran, probe underway

Out of the sixteen, eight died on Friday (July 16) who hailed from Deurawa, Jogiya, and Bagahi villages in Bihar




DNA - Published





Bihar on alert after intel input warns of plot to set off blasts on trains




IndiaTimes - Published





SC admits Bihar appeal against acquittal of 13 in Senari massacre case




IndiaTimes - Published





21 new faces likely in Modi2.0, Bihar tipped for lion's share




IndiaTimes - Published





School reopening news: Here's when schools will reopen in Uttar Pradesh, Gujarat, Madhya Pradesh, Telangana and Bihar

Schools in Uttar Pradesh reopened for administrative work from July 1 in physical mode but students have been asked to attend online classes.




DNA - Published





Lalu addresses RJD, vows Bihar return




IndiaTimes - Published





My own people have betrayed me, says Chirag Paswan as he launches 'Ashirvaad Yatra' in Bihar




IndiaTimes - Published





Lalu, Rabri back on RJD posters ahead of silver jubilee event

Lalu Prasad and his wife Rabri Devi are back on RJD posters in Bihar, along with Tejashwi Prasad Yadav, on the eve of the party's silver jubilee function on Monday. However, Lalu's elder son Tej..




IndiaTimes - Published





ED attaches Rs 4.1 crore properties including 12 flats in Bihar, Uttar Pradesh and Jharkhand in Srijan scam

The Enforcement Directorate (ED) provisionally attached movable and immovable properties worth more than Rs 4.1 crore situated in Bihar, Uttar Pradesh and Jharkhand on Wednesday amassed by accused..




IndiaTimes - Published





Man carries bride on shoulder across Bihar river in spate




IndiaTimes - Published





Bihar unlock: CM Nitish allows partial relaxations in COVID-19 curbs as cases decline

Bihar, one of the worst-hit states in the country, has been reporting a decline in daily COVID-19 cases.




DNA - Published





Chirag Paswan to launch 'ashirwaad yatra' from Hajipur

In a bid to garner support for his claim on presidentship of the Lok Janshakti Party (LJP), the isolated prince Chirag Paswan on Sunday announced to launch 'ashirwaad yatra' from Hajipur, the..




IndiaTimes - Published





Shocking! Bihar woman gets both Covaxin, Covishield shots in 5 minutes interval - what happened next, know here

If Devi continues to show no adverse symptoms, she will be tested for antibodies after 14 days, a senior health official at AIIMS Patna has said.




DNA - Published





Amid talks of Union Cabinet expansion, Bihar leaders hopeful of getting four more berths




IndiaTimes - Published





10 awarded death for 2018 murder of Bihar businessman




IndiaTimes - Published





FIR against dead man in Bihar under SC/ST Act




IndiaTimes - Published





719 doctors died during Covid second wave, Bihar records most fatalities: IMA




IndiaTimes - Published





Bihar's COVID-19 death toll climbs to 9,429 after govt revises data

The sudden spike in the death number of Bihar has affected the central all India tally which suddenly jumped to 6,148.




DNA - Published





Covid-19: India records 94,052 new cases, 6,148 deaths in last 24 hours

ndia on Thursday reported a record daily rise of 6,148 deaths from Covid-19 over the past 24 hours, and 94,052 new daily coronavirus cases. The death tally was the highest-ever because it included..




IndiaTimes - Published





Explained: Why India reported 6,148 Covid deaths in a day - the highest ever

India on Thursday reported 6,148 Covid deaths in the last 24 hours. This is the highest daily death tally since the outbreak of the coronavirus pandemic. However, the death tally was the highest-ever..




IndiaTimes - Published





India's Covid vaccination drive: UP must up vax rate 9x to meet 100% target by Dec

If India is to meet the target of fully vaccinating its adult population by year end, it will have to step up the average daily vaccination levels close to five times from what has been achieved from..




IndiaTimes - Published





Bihar govt announces ex-gratia of Rs 4 lakh each to kin of those who died due to COVID-19

Bihar Chief Minister Nitish Kumar on Tuesday announced the easing of lockdown restrictions in the state from June 9.




DNA - Published





Lockdown ends in Bihar, some restrictions in place till June 15 - What's allowed, what's not

In a significant decision, Bihar government on Tuesday (June 8) lifted COVID-19 lockdown in the state amid dip in coronavirus cases.




DNA - Published





Bihar lockdown extension: CM Nitish Kumar to make BIG announcement today

The Bihar government had extended the statewide Coronavirus-induced lockdown till June 8 (Tuesday) with some relaxations in place.




DNA - Published





Over 31 lakh vaccine doses administered on Monday; total crosses 23.5 crore

The cumulative number of Covid-19 vaccine doses administered in the country exceeded 23.59 crore, with over 31 lakh doses given on Monday, the Union health ministry said. Bihar, Delhi, Gujarat,..




IndiaTimes - Published





Niti Aayog report putting Bihar at the bottom rekindles special status demand from JD(U)

The Niti Aayog had last week come out with its latest SDG (sustainable development goal) index placing states like Kerala, Tamil Nadu and Himachal Pradesh at the top while Bihar with 52 points out of a..




IndiaTimes - Published





Covid cases falling twice as fast in north India than in south India and Maharashtra

Since hitting its peak on May 9, the seven-day rolling average of daily cases in Haryana has declined at an average rate of 8.9% each day (till June 3), the sharpest among 18 major states that TOI..




IndiaTimes - Published





Indian Railways resumes 24 special passenger trains from today - Full list here

For the people of UP and Bihar, summer special train service is being started between Gorakhpur-Panvel, Delhi-Gorakhpur, and Chhapra-Panvel.




DNA - Published




Kerala tops again in SDG Index by NITI Aayog, Bihar at the bottom

Kerala has yet again retained the top spot in NITI Aayog's index for Sustainable Development Goals (SDG). Kerala scored 75 out of 100.




DNA - Published





Kerala bags top slot in SDG India index; Bihar, Jharkhand, Assam at bottom




IndiaTimes - Published





Niti Aayog's SDG India Index 2020-21: Kerala retains top rank; Bihar worst performer

Kerala has retained the top rank in Niti Aayog's SDG India Index 2020-21, while Bihar has been adjudged as the worst performer, according to a report released on Thursday.




IndiaTimes - Published





Now, 33.3% seats in all engineering, medical colleges in Bihar will be reserved for women




IndiaTimes - Published





Plea in SC seeks direction for removal of bodies found floating in river Ganga

A plea has been filed in the Supreme Court seeking directions to the Centre and four states, including Uttar Pradesh and Bihar, to take immediate steps to remove the bodies found floating in river..




IndiaTimes - Published





CM Nitish Kumar extends Bihar lockdown till June 8 with some relaxations - Check details

Bihar CM Nitish Kumar, on Sunday, also announced that children who have lost their parents to COVID-19 will be provided Rs 1,500 per month.




DNA - Published





2 veteran Bihar netas attacked; police probe revenge angle




IndiaTimes - Published





Bihar lockdown extension news: CM Nitish Kumar to take decision on Monday? Here's what we know

Bihar CM Nitish Kumar, on Sunday, also announced that children who have lost their parents to COVID-19 will be provided Rs 1,500 per month.




DNA - Published





Cyclone Yaas: 22 NDRF, SDRF teams deployed in Bihar, Mumbai Airport cancels 6 flights

The meteorological department predicts heavy rainfall in the state with strong winds at the speed of 80 to 100 kmph expected from Thursday morning.




DNA - Published





Bihar man angry with CM Nitish Kumar for this BIZARRE reason, says CM will feel sorry

CM Nitish Kumar on Monday (May 24) announced an extension of the ongoing lockdown in Bihar.




DNA - Published





Lockdown restrictions extended in Bihar, Himachal Pradesh and Uttarakhand

Lockdown was extended in Bihar and Himachal Pradesh on Monday till May end while Uttarakhand too decided to continue with the Covid-induced curfew, as several states said that the restrictions have led..




IndiaTimes - Published





Lockdown extended till June 1 in Bihar: Chief minister




IndiaTimes - Published





Lockdown extended in Bihar till June 1 - What's open, what's closed

Bihar on May 4 had imposed a lockdown till May 15 which was extended till May 25.




DNA - Published





Vaccine doses cross 19 crore; Maharashtra, UP, Rajasthan top list

According to the health ministry, in terms of vaccinations, Maharashtra tops the list with 10.6% doses which comes to 2,04,65,193, followed by 1,58,13,654 (8.24%) doses in Uttar Pradesh and 1,57,08,235..




IndiaTimes - Published





After black fungus, white fungus infection cases reported in India - Know why it is more dangerous

Now, four cases of White Fungus infection, which is considered dangerous than Black Fungus, have been reported from Patna, Bihar.




DNA - Published





AIIMS to develop guidelines to treat black fungus

All India Institute of Medical Sciences (AIIMS) is developing guidelines to treat black fungus or Mucormycosis, sources said on Tuesday. Cases of black fungus have been reported in the country..




IndiaTimes - Published





Floating corpses in UP, Bihar prompt NHRC to seek action taken reports from state chief secretaries, Union govt




IndiaTimes - Published





Lockdown in Bihar extended till May 25 - Check restrictions here

Lockdown in Bihar extended till May 25 - Check restrictions here




DNA - Published





IRCTC news: Indian Railways cancels 31 special trains - Check full list

Due to low occupancy, Indian Railways has cancelled 31 trains from May 12 operating on the routes between West Bengal, Assam and Bihar.




DNA - Published





Bihar, UP blame each other for bodies on Ganga




IndiaTimes - Published





71 bodies fished out from the Ganges in Bihar so far, all floated downstream from UP: Minister




IndiaTimes - Published