Himachal Pradesh
State in northern India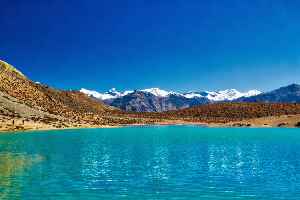 Himachal Pradesh is a state in the northern part of India. Situated in the Western Himalayas, it is bordered by states of Jammu and Kashmir on the north, Punjab on the west, Haryana on the southwest, Uttarakhand on the southeast, and Tibet on the east. At its southernmost point, it also touches the state of Uttar Pradesh. The state's name was coined by acharya Diwakar Dutt Sharma, one of the state's eminent Sanskrit scholars.


Government medical colleges are 'selling' seats now
Some state governments have joined the bandwagon of commercializing medical education in the name of making their colleges self-financed. So, 3%-15% seats are set aside for NRIs and some even have..
IndiaTimes - Published
Acharya Dev Vrat is new Gujarat Governor
Vrat, who was the Governor of Himachal Pradesh, has been credited for taking concrete steps against a number of social evils, including drug abuse there.
DNA - Published
13 soldiers among 14 killed in Himachal building collapse
The death toll in Sunday's building collapse near Kumarhatti in Himachal Solan district rose to 14 after 12 more bodies were retrieved from the debris on Monday. Of those killed, 13 are soldiers and..
IndiaTimes - Published
Veteran BJP leader Kalraj Mishra appointed Himachal Pradesh governor
Mishra (78), who was in charge of the Micro, Small and Medium Enterprises portfolio in the Modi government, had resigned in 2017 after he he had crossed 75 years beyond which BJP leaders are barred..
IndiaTimes - Published
Himachal Pradesh: Seven Armymen among eight dead after building collapses in Solan
At least seven persons are still feared trapped under the debris
DNA - Published
Two die, many feared trapped as building collapses in Himachal Pradesh
The building, which reportedly collapsed due to heavy rainfall, is located on Kumarhatti-Nahan highway in Solan, around 45 km from state capital Shimla
DNA - Published
Himachal Pradesh: Mock drill to deal with a magnitude 8 earthquake held in Shimla
The scenario was developed with the technical support from the NDMA and the IIT-Mumbai and Madras.
DNA - Published
Indian Meteorological Department predicts heavy downpour in Himachal, state put on high alert
Around 29 people have lost their lives due to incessant rains for over a week, and state has suffered a loss of Rs 1.85 crores in eight days.
DNA - Published
'Jal Shakti' adds natural flavour to energy majors' CSR outlook
Flagship explorer ONGC is on its second clean-up drive to rid glaciers and river beds of garbage in select areas of Uttarakhand and Himachal. It is also deepening 15 lakes in Gujarat and clearing a..
IndiaTimes - Published
You Might Like