Indian Space Research Organisation
India's national space agency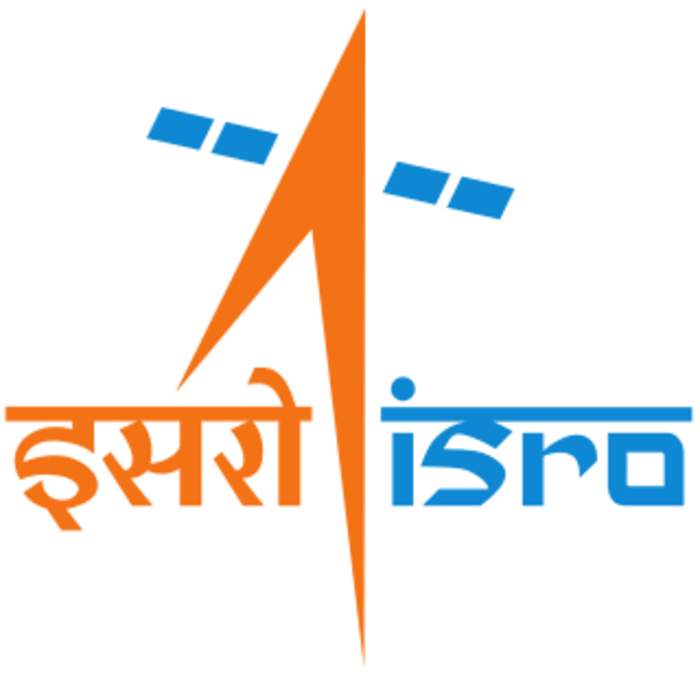 The Indian Space Research Organisation is the national space agency of India, headquartered in Bangalore. ISRO is India's primary agency for performing tasks related to space-based applications, space exploration, and the development of related technologies. The agency was established in 1963 and its programs and spinoff technologies have played a significant role in the socio-economic and industrial development of India and have supported both civilian and military domains in various aspects including disaster management, telemedicine, and navigation and reconnaissance missions. It operates under the Department of Space (DOS) which is directly overseen by the Prime Minister of India, while the Chairman of ISRO acts as the executive of DOS as well.


ISRO to launch 36 OneWeb satellites that arrived in India on GSLV Mk-III | Oneindia News*Sapce

36 OneWeb satellites arrive in India to be launched by Isro on GSLV Mk-III; PM Modi condoles Raju Srivastava's demise, says 'he brightened our lives with laughter, positivity'; Gautam Adani group..
Credit: Oneindia Duration: 02:16
Published
India receives message from space ahead of India's 75th Independence Day | Oneindia News*Space

As India celebrates 75 years of Independence, Italian astronaut Samantha Cristoforetti sent a video message from space wishing success to ISRO on the 'Gaganyaan' programme. #ISRO #ISS #Gaganyaan..
Credit: Oneindia Duration: 03:05
Published
As SSLV fails to deliver 2 satellites into orbit, Chandrayaan-2 bears good news |Oneindia News*Space

As ISRO saw disappointment due to the failure of the launch of the Small Satellite Launch Vehicle, which failed to deliver two satellites into orbit, its other creation, Chandrayaan-2 found that there..
Credit: Oneindia Duration: 02:24
Published
ISRO's Debut SSLV Launch Fails, Satellites No Longer Usable| OneIndia News *News

ISRO's Small Satellite Launch Vehicle (SSLV-D1) failed to place satellites in the correct orbit, and they are no longer usable. One of the missiles was 'AzaadiSAT' which celebrated 75 years of..
Credit: Oneindia Duration: 02:33
Published
ISRO launches SSLV with two payloads, enters small satellite launch market | Oneindia News *News

India launches SSLV on August 7th, and enters the small satellite market with a bang. #ISRO #SSLV #AzadiSat
Credit: Oneindia Duration: 02:16
Published
What is AzadiSAT? The all-women built satellite to mark Indian Independence |Oneindia News*Explainer

India will be celebrating its 75th year of independence on 15th August. The Union Govt. has made elaborate plans to mark this momentous occasion based on the theme of ''Azadi Ka Amrit''. ISRO..
Credit: Oneindia Duration: 04:08
Published
You Might Like



HAL cryo engine facility inaugurated to be operational from March

President Droupadi Murmu on Tuesday inaugurated Hindustan Aeronautics Limited's (HAL) Integrated Cryogenic Engine Manufacturing Facility (ICMF), which will cater to the entire rocket engine..




IndiaTimes - Published





World seeing India as inspirational place in space sector: ISRO chief




IndiaTimes - Published





No more manual intervention needed as ISRO-developed real-time train tracking system installed in Indian railways

The Indian Railways installs a real-time train tracking system in collaboration with the space agency ISRO.




DNA - Published





Isro tests new 30 kN hybrid motor

"The motor used Hydroxyl-terminated polybutadiene (HTPB) as fuel and liquid oxygen (LOX) as the oxidizser. Unlike solid-solid or liquid-liquid combinations, a hybrid motor uses solid fuel and liquid..




IndiaTimes - Published





ISRO successfully tests hybrid motor, eyes new propulsion system for rockets




IndiaTimes - Published





Astronaut training: Isro on global hunt for firms to co-develop key simulator




IndiaTimes - Published





Hughes ties up with Isro to launch India's first high-throughput sat broadband service




IndiaTimes - Published





Isro looks at private industry for next-Gen rocket that'll be global, reusable




IndiaTimes - Published





Gaganyaan: Isro receives key hardware from HAL




IndiaTimes - Published





Explainer: Isro's SSLV - What, why and journey so far




IndiaTimes - Published





Villupuram MP wants Lok Sabha to discuss Isro's SSLV mission failure, seeks high level probe




IndiaTimes - Published





Jolt to Isro as 'moneyspinner' SSLV fails in maiden voyage

The failure of the Small Satellite Launch Vehicle (SSLV-D1) to place two satellites in their desired orbit during its maiden voyage on Sunday morning has given a jolt to Isro as the mini-PSLV was being..




IndiaTimes - Published





ISRO maiden SSLV launch fails as two satellites are no longer usable

SSLV-D1/EOS-02 Mission: This comes hours after it experienced data loss in the final phase of the flight.




DNA - Published





Maiden SSLV mission: ISRO faces setback after 'data loss' during satellite launch

As reported by Chairman S Somanath, the satellite suffered "data loss" while on its way to orbit.




DNA - Published





SSLV suffers 'data loss' at terminal stage: Isro chairman Somanath

: Isro Chairman S Somanath on Sunday informed the space agency's maiden Small Satellite Launch Vehicle (SSLV) suffered "data loss" at the terminal stage, although three stages "performed and..




IndiaTimes - Published





DNA Explainer: How SSLV, a rocket that can be assembled in just 72 hours, will transform India's space sector

ISRO made its maiden launch of a small satellite launch vehicle (SSLV), which would be used to deploy satellites in the low orbit earth.




DNA - Published





SSLV-D1/EOS-02 mission: Rocket injected satellites but orbit achieved is less than expected, Isro says

The Indian Space Research Organisation (Isro) on Sunday said its SSLV-D1/EOS-02 mission suffered a data loss in its terminal phase. "We are processing the data to conclude on the final outcome of the..




IndiaTimes - Published





SSLV-D1/EOS-02 mission: Isro's next-generation rocket places two satellites in orbit




IndiaTimes - Published





AzadiSAT built by 750 school girls set to reach orbit- here's all you need to know

The satellite named AzadiSAT will onboard the maiden flight of ISRO's Small Satelite Launch Vehicle (SSLV).




DNA - Published





Minister launches Isro facility that will provide timely information of space environment to users




IndiaTimes - Published





Gaganyaan mission can't happen this year or next year, focus fully on safety aspects: Isro chief

Indian Space Research Organisation (Isro) Chairman S Somanath on Thursday said the launch of the ambitious Gaganyaan mission, the country's first manned space flight, cannot happen this year or next..




IndiaTimes - Published





NSIL transferred 78 Isro technologies to industry in 2 years




IndiaTimes - Published





Isro's PSLV-C53 places three Singapore satellites in orbit, continues journey as POEM




IndiaTimes - Published





Isro search & rescue service helped save 2.3k lives in 164 incidents; Pawan Hans chopper traced in 6 mins




IndiaTimes - Published





Isro's PSLV-C53/DS-EO mission: Countdown begins, rocket to carry three Singapore satellites




IndiaTimes - Published





It's official: IN-SPACe begins authorization of Indian Space startups




IndiaTimes - Published





Bengaluru firm delivers Gaganyaan crew module fairing to Isro, to also sign pact for small satellite platform tech




IndiaTimes - Published





Space sector growth: Isro got us here, will take us there, says IN-SPACe chief; Isro chief lauds pvt sector




IndiaTimes - Published





India's latest communication satellite GSAT-24 successfully launched

The GSAT-24 satellite, built by Isro for NewSpace India Limited (NSIL), was successfully launched by French company Arianespace from Kourou in French Guiana (South America) on Thursday. GSAT-24 is a..




IndiaTimes - Published





Space Collisions: Isro on average prevented 2 each month this year; work on telescope at Hanle, radar in N-E progressing

Space debris continues to pose a grave threat to active, operational space assets. In the first five months of this year alone, Isro performed at least 10 collision avoidance manoeuvres (CAMs) to..




IndiaTimes - Published





Isro-NASA space apps 2022 challenge on October 1 & 2




IndiaTimes - Published





Gaganyaan: Isro making quiet progress on readiness




IndiaTimes - Published





Gaganyaan: Human-rated S200 rocket booster test successful, 700 parameters normal

In a significant milestone for the Gaganyaan programme, Isro successfully completed the static test of human-rated solid rocket booster (HS200) at Satish Dhawan Space Centre (SDSC), Sriharikota, at..




IndiaTimes - Published





Union Minister Smriti Irani promises Amethi girl visit to ISRO




IndiaTimes - Published





Aim is to find unique outcome from Venus mission: Isro chief Somanath




IndiaTimes - Published





Explained: Why Isro's GAGAN satellite navigation programme is a landmark in Indian aviation




IndiaTimes - Published





Isro gives first glimpse of Chandrayaan-3 lunarcraft; mission launch due in August

Space agency Isro has shown the first glimpse of the country's third lunar spacecraft Chandrayaan-3 in a documentary. Chandrayaan-3, which is in the assembly phase and is expected to be launched in..




IndiaTimes - Published





ISRO chairman, Maha MP given VIP security cover by Centre




IndiaTimes - Published





Bharti-backed OneWeb signs pact with Isro arm to launch sats for global Net connectivity




IndiaTimes - Published





HAL-L&T wins over Rs 824-crore contract for making 5 polar space launch vehicles

Manufacture of polar space launch vehicles (PSLVs) — which was the preserve of premier agency Isro for nearly three decades — has been awarded to an HAL-L&T consortium which will become the first..




IndiaTimes - Published





Satellite made by Indian start-up tested at ISRO facility, awaiting launch on India's PSLV rocket

The next spacecraft made by Pixxel, has already been tested at an ISRO facility and is awaiting to be launched on-board ISRO's PSLV rocket.




DNA - Published





In 2021, 135 launches put 1.8k objects in space, 102 launches put 522 objects in 2020; Isro flags off debris concern

In 2021, more than 60% of objects added to space are from large LEO satellite constellations, mostly from SpaceX Starlink, Isro said in its space situational awareness (SSA) analysis. Pointing out that..




IndiaTimes - Published





Isro monitored 7.6k satellite collision threats in 2021, avoided 60 since 2015




IndiaTimes - Published




India, Israel seek to take space ties to new heights

India and Israel have discussed avenues to expand space cooperation as Israel's ambassador Naor Gilon called on Isro chairman S Somanath at the space agency headquarters in Bengaluru on Tuesday to..




IndiaTimes - Published





Starlink satellites of SpaceX posing hazard for Isro satellites




IndiaTimes - Published





Consortium led by Adani-backed firm assembled, integrated and tested Isro's earth observation satellite




IndiaTimes - Published





ISRO successfully places three satellites in orbit in first launch mission of 2022

Key flight events such as stage and strap-on ignitions, heat shield separation, stage and strap-on separation, and satellite injection, went smoothly.




DNA - Published





Countdown starts for Isro's PSLV-C52/EOS-04 launch




IndiaTimes - Published





Countdown starts for launch of Isro's workhorse carrying 3 satellites




IndiaTimes - Published





Isro's romance with space missions in 2022 to start with 1st launch on V-Day




IndiaTimes - Published