Pakistan
Country in South Asia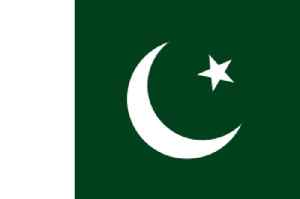 Pakistan, officially the Islamic Republic of Pakistan, is a country in South Asia. It is the world's fifth-most populous country with a population exceeding 212.2 million. It is the 33rd-largest country by area, spanning 881,913 square kilometres. Pakistan has a 1,046-kilometre (650-mile) coastline along the Arabian Sea and Gulf of Oman in the south and is bordered by India to the east, Afghanistan to the west, Iran to the southwest, and China to the northeast. It is separated narrowly from Tajikistan by Afghanistan's Wakhan Corridor in the northwest, and also shares a maritime border with Oman.


Protest held in London against China's expansionist policies

Indian Diaspora and a group of demonstrators led by displaced Muslims of Iranian origin demonstrated outside the Chinese Embassy in London on Sunday demanding their rights. They were joined by a few..
Credit: ANI Duration: 01:48
Published
Pakistan passenger plane crashes in southern city of Karachi

An Airbus A320 carrying nearly 100 people en route from Lahore to Karachi crashes in a residential area, official says.
Credit: Al Jazeera STUDIO Duration: 04:27
Published
Pashtun community from Pakistan protests at UN in Geneva

Pashtun community from Pakistan protested outside the office of United Nations in Geneva, Switzerland. The protestors held pictures of people abducted in Pakistan. Protestors demanded UN to take..
Credit: ANI Duration: 01:08
Published
Extrajudicial killings in PoK, Gilgit-Baltistan not acceptable: Activist at UNHRC

National Equality Party JKGBL, Chairman Sajjad Raja while speaking at UNHRC's 44th session on July 09 said that the extrajudicial killings taking place in Pakistan occupied so called 'Azad' Kashmir and..
Credit: ANI Duration: 01:41
Published
'Assessing legal options': MEA on Pakistan's claim on Kulbhushan Jadhav

On Kulbhushan Jadhav, the official spokesperson of Ministry of External Affairs (MEA), Anurag Srivastava said that legal options are being assessed. He said, "We had pointed out how Pakistan's claim..
Credit: ANI Duration: 01:27
Published
"Will take revenge for every drop of blood": Ravinder Raina on gruesome killings of Wasim Bari and family

BJP's state president, Ravinder Raina reacted on the deaths of former Bandipora BJP president Sheikh Wasim Bari, along with his father and brother by the terrorists. He said, "Pakistan's terrorists..
Credit: ANI Duration: 02:18
Published
Kulbhushan Jadhav refused to file review petition against death sentence: Pakistan

According to Pakistan's Additional Attorney General Ahmed Irfan, Indian national Kulbhushan Jadhav has refused to file a review petition against the death sentence imposed on him."On 17 June 2020,..
Credit: ANI Duration: 01:11
Published
Woman killed in ceasefire violation by Pakistan in J and K's Poonch

A woman was killed in Jammu and Kashmir's Lanjote village in Poonch on July 7 after heavy selling by Pakistan. Another person has also been seriously injured in the incident. The injured person has..
Credit: ANI Duration: 01:42
Published
Anti-China protests in PoK against illegal construction of dams

Residents of Muzaffarabad held protest against China and Pakistan, opposing the construction of dams on Neelam and Jhelum rivers. A protestor said, "Agreement for the dams was signed between..
Credit: ANI Duration: 01:51
Published
Pakistan's economy: People-friendly budget as recession looms

Pakistan's economy was already struggling and the coronavirus pandemic added to its strain.
Credit: Al Jazeera STUDIO Duration: 03:16
Published
Pakistan deadly attacks: Armed group says violence is necessary

A group known as the Balochistan Liberation Army (BLA) says its fighters carried out the attack.
Credit: Al Jazeera STUDIO Duration: 02:58
Published
Indian Embassy officials in Pakistan return home after govt reduces staff strength

Pakistan sent back Indian diplomatic staff after India asked the neighbouring country to reduce its diplomatic staff by half here. The step came after the arrest of two Pakistani spies this month,..
Credit: ANI Duration: 01:17
Published
Pakistan mango farmers hit hard by COVID-19, locust attacks

Suspended flights and high freight charges have brought down exports, and locust attacks have severely damaged the fruit.
Credit: Al Jazeera STUDIO Duration: 02:18
Published
Security tightens outside Mumbai's Taj Hotel after receiving threat call from Pakistan

Security tightened outside Taj Hotel and nearby areas on June 30. The step was taken after the hotel administration received a threat call on June 29. The call was made from Karachi and the caller..
Credit: ANI Duration: 01:13
Published
Pakistan: 4 killed in attack on Karachi stock exchange

Security officials kill gunmen who stormed the building in Pakistan's commercial capital.
Credit: Al Jazeera STUDIO Duration: 02:05
Published
PoK roads in shambles as admin-businessmen alliance continues to exploit exchequer

This road connects a densely populated Chinari village with the highway leading to capital Muzaffarabad of illegally occupied region of PoK. The result of this condition is that a 51km distance becomes..
Credit: ANI Duration: 02:16
Published
You Might Like



Jharkhand: School teacher makes pupils memorise Pakistan, Bangladesh national anthems; row over 'anti-national mindset'

The district administration has launched a probe against the teacher to verify the basis of the allegations.




DNA - Published





3 Lashkar terrorists killed in Sopore encounter

Three Lashkar-e-Taiba terrorists, including one Pakistani indentified as Usman Bhai, were killed in an encounter with security forces at Reban village of Sopore tehsil in north Kashmir's Baramulla..




IndiaTimes - Published





Suspended cop Devender Singh shared 'sensitive' info with Pakistan high commission: Officials

The NIA filed a chargesheet against Singh, at present lodged in Jammu jail, and five others on July 6 in a case of allegedly waging "war against India" with the help of Pakistan-based terror groups..




IndiaTimes - Published





China 'bigger threat to India' than Pakistan: Sharad Pawar

China's military might is "ten times greater" than India, the former defence minister, Sharad Pawar said, adding that Beijing has "weaned away" India's neighbours to its side. The Centre should try to..




IndiaTimes - Published





Infiltration bid foiled in Nowgam, 2 Pakistani LeT terrorists killed




IndiaTimes - Published





J&K: Army foils infiltration attempt along LoC; 2 terrorists killed

"The heavily-armed terrorists who were dressed in combat fatigues had taken the route through Pakistani posts in the area opposite, which clearly indicates Pakistan's complicity in abetment to foment..




IndiaTimes - Published





250-300 terrorists stationed in launch pads across LoC ready to infiltrate into India, says Indian Army

GoC said Pakistan is trying hard to push more and more terrorists into the valley, an attempt to disrupt the peace in Kashmir.




DNA - Published





Intel warns of possible Pakistani BAT 'action' on Indian security forces in two sectors in J&K

Security forces at India-Pakistan border have been put on high alert after an intelligence input revealed that terrorists are trying to sneak into Jammu and Kashmir.According to the input, "There is..




IndiaTimes - Published





2 terrorists killed in J&K's Kupwara; ammunition, Pakistan currency recovered

Two terrorists were killed in an ambush by the Indian Army at Nougam sector in north Kashmir along the Line of Control (LoC) on Saturday. The Army recovered arms and ammunition, along with Pakistani..




IndiaTimes - Published





Army jawan martyred in ceasefire violation by Pakistan in J&K's Rajouri

A jawan was martyred after the Pakistan army violated the ceasefire yet again in the Nowshera sector of Jammu and Kashmir's Rajouri district.




DNA - Published

Also reported by •IndiaTimes


Perpetrators of heinous terror attacks continue to enjoy 'state hospitality' in Pak: India at UN

India has slammed Pakistan for not acting on the concrete evidences shared by it on several terrorist attacks, including the 1993 Mumbai serial blasts and the 2008 Mumbai terror attack and pointed out..




IndiaTimes - Published





India says assessing legal option in Kulbushan Jadhav case, committed to protecting lives of nationals

India on Thursday said it is assessing all legal options in the case related to Indian national Kulbushan Jadhav, who is on death row in Pakistan and assured that it is committed to protecting the life..




IndiaTimes - Published





Two Lashkar terrorists, including one Pakistani, behind Wasim Bari's killing; all 10 PSOs to be dismissed

Wasim Bari, his brother, and father were shot at when they were sitting at a shop adjacent to their home opposite Bandipora police station.




DNA - Published





Pakistan's claim Jadhav against review plea a farce: India

India dismissed as a "continuation of a farce" Pakistan's claim on Wednesday that Indian national Kulbhushan Jadhav has refused to file a review petition against his death sentence and only wants..




IndiaTimes - Published





Govt should move ICJ in Jadhav case: Congress

The Congress on Wednesday urged the government to step up international pressure on Pakistan and move the International Court of Justice to enable Indian death-row convict Kulbhushan Jadhav to file a..




IndiaTimes - Published





Pakistan's claim on Kulbhushan Jadhav seeks to mask its reticence to implement ICJ judgment, says India




IndiaTimes - Published





Pakistan claims Kulbhushan Jadhav refuses to file review petition, wants to go ahead with mercy plea

"On June 17, 2020, Indian national Kulbhushan Jadhav was invited to file a petition for review and reconsideration of his sentence and conviction. Exercising his legal right he refused to file a..




IndiaTimes - Published





Pak must introspect why it's universally acknowledged as 'epicentre' of terrorism: India at UN

Hitting out at Pakistan for peddling "false narratives" against it, India has asked Islamabad that it must introspect about why it is universally acknowledged as the "international epicentre" of..




IndiaTimes - Published





J&K: At least one civilian killed as Pak violates ceasefire in Poonch

Pakistan initiated an unprovoked ceasefire violation by firing with Small Arms & intense shelling with Mortars along the Line of Control (LoC).




DNA - Published





India tops worst-hit countries with 'no community transmission'

India is in the company of Pakistan, Russia, Saudi Arabia, Egypt and Kuwait, as countries that maintain they have not reached the community transmission stage despite having over 50,000 cases of..




IndiaTimes - Published





MEA gets new point persons for crucial countries like US, Pak and Nepal

The Ministry of External Affairs (MEA) this month will have 3 new joint secretaries, or point persons, taking up some of the toughest assignments in the ministry, including handling countries like..




IndiaTimes - Published





Hurriyat members in dock over sale of Pakistan medical seats in J&K




IndiaTimes - Published





Pakistan was grooming J&K ex-DSP, says NIA in chargesheet




IndiaTimes - Published





Pakistani officials were using suspended J&K cop to obtain sensitive info: NIA




IndiaTimes - Published





114 Indians stranded in Pakistan to be repatriated through Attari-Wagah border on July 9

As many as 114 Indian nationals who are currently stranded in Pakistan due to Covid-19 related travel restrictions will be repatriated to India through the Attari-Wagah border on July 9, as per a..




IndiaTimes - Published





India focussed on LAC, Pakistan breaches truce to push ultras




IndiaTimes - Published





Pakistan violates ceasefire along LoC in Poonch

Pakistan violated the ceasefire and resorted to unprovoked firing along the LoC in forward area of J&K's Poonch district on Sunday evening, an Army spokesperson said. This is the second breach of..




IndiaTimes - Published




Amid China standoff, Pakistan ups infiltration bids across LoC

"Pakistan obviously wants to fish even more in troubled waters- it wants to push as many terrorists as possible across the LoC, under with the cover of cross-border firings, at a time when our..




IndiaTimes - Published





Construction work at Hindu temple site in Pakistan halted China's ministry of agriculture




IndiaTimes - Published





4 Pakistani terrorists among J&K's most-wanted dirty dozen




IndiaTimes - Published





Vice President Naidu condoles death of Sikh pilgrims in road accident in Pakistan

Vice President M Venkaiah Naidu on Friday condoled the death of Sikh pilgrims in a road accident in Pakistan. At least 29 people, mostly Pakistani Sikh pilgrims, were killed when a mini-bus carrying..




IndiaTimes - Published





PM Modi condoles death of Sikh pilgrims in Pakistan accident




IndiaTimes - Published





India registers strong protest at unprovoked ceasefire violations by Pakistan

Sources said that Pakistani forces have carried out 2432 unprovoked ceasefire violations carried out by Pakistan forces this year till now.




DNA - Published





India conveys protest to Pakistan over unprovoked ceasefire violations along LoC, IB

India has lodged a strong protest with Pakistan over unprovoked ceasefire violations by Pakistani forces along the LoC and the International Border with an aim to push terrorists into J&K official..




IndiaTimes - Published





First China, now Pakistan: How India's battling on two fronts

Indian and Chinese troops remain deployed eyeball-to-eyeball along the country's northern boundary, the unmarked and contested Line of Actual Control, which saw tensions rise in early May. Both sides..




IndiaTimes - Published





India blacklists Pakistani organiser of Bollywood events in Houston

The matter was raised by Shiv Sena MP Rahul Shewale from Mumbai south-central constituency.




DNA - Published





2 Pakistan soldiers killed in retaliatory fire along LoC




IndiaTimes - Published





India rejects Pakistan's 'absurd' comments on Karachi terror attack




IndiaTimes - Published




Pakistan army resorts to firing along LoC in two sectors in Poonch

Pakistani troops resorted to firing in various forward areas in twin sectors along the Line of Control (LoC) in Jammu and Kashmir's Poonch district on Thursday, prompting the Indian Army to give a..




IndiaTimes - Published





India & Pakistan exchange list of civilian prisoners




IndiaTimes - Published




India wants to send a team of medical experts to access mental condition of Indian prisoners in Pakistan




IndiaTimes - Published





Pakistan summons Indian Charge d'Affaires over 'ceasefire violations'

Pakistan on Wednesday summoned Indian Charge d'Affaires Gaurav Ahluwalia to register its protest over the alleged ceasefire violations by the Indian forces along the Line of Control (LoC). The Foreign..




IndiaTimes - Published





Pakistani terrorist killed as Army foils infiltration bid in Rajouri

Troops intercepted the group when it entered 400 metres into this side from across the LoC in Keri sector of Rajouri around 0555 hours, triggering a gunfight, the officer said. He said one terrorist..




IndiaTimes - Published





J&K DGP rewards BSF team that shot Pak drone




IndiaTimes - Published





Pak repeatedly trying to send terrorists from launching pads, such attempts will be foiled: J&K DGP

Jammu and Kashmir Director General of Police (DGP), Dilbag Singh on Tuesday said that Pakistan is repeatedly trying to send terrorists from their launching pads, but many such attempts have been foiled..




IndiaTimes - Published





Taj Hotel receives bomb threat call from Pakistan; security beefed

Security tightened outside two Taj hotels in Mumbai on Tuesday after a call was received on an intervening night threatening to blow up the hotels with bombs. The call was traced to Karachi, Pakistan..




IndiaTimes - Published





Geelani quits Hurriyat, passes separatist baton to Pak-based successor




IndiaTimes - Published





Rahul indulging in 'shallow minded politics', ready for 'robust debate' in Parliament on China: Amit Shah

Union Home Minister Amit Shah has accused Congress leader Rahul Gandhi of doing "ochhi rajniti" (shallow minded politics) and making remarks "liked by" China and Pakistan during border tensions with..




IndiaTimes - Published





Rahul Gandhi's 'shallow-minded politics' is being liked by China and Pakistan: Amit Shah

In an interview with news agency ANI, Home Minister Amit Shah said that Rahul Gandhi should introspect if his hashtag of 'Surender Modi' is being encouraged by Pakistan and China.




DNA - Published