Pakistan
Country in South Asia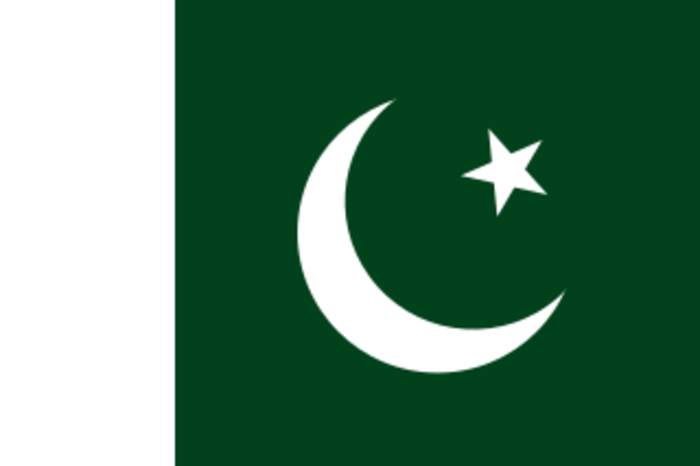 Pakistan, officially the Islamic Republic of Pakistan, is a country in South Asia. It is the world's fifth-most populous country with a population exceeding 212.2 million. It has the world's second-largest Muslim population. It is the 33rd-largest country by area, spanning 881,913 square kilometres. Pakistan has a 1,046-kilometre (650-mile) coastline along the Arabian Sea and Gulf of Oman in the south and is bordered by India to the east, Afghanistan to the west, Iran to the southwest, and China to the northeast. It is separated narrowly from Tajikistan by Afghanistan's Wakhan Corridor in the northwest, and also shares a maritime border with Oman.


IAF launches precision strike to mark 2nd anniversary of Balakot operation

The Indian Air Force carried out a long range precision strike against a practice target to mark the second anniversary of the Balakot Operations. The strike was carried out by members of the same..
Credit: ANI Duration: 01:27
Published
Ceasefire along LoC won't affect counter-terrorist operations: Indian Army

Ceasefire along Line of Control won't affect counter-terrorist operations, assured Northern Command, GOC-in-C, Lieutenant General YK Joshi on February 23 while addressing the Gallantry awards ceremony..
Credit: ANI Duration: 01:18
Published
J&K ceasefire: Watch local residents' reaction to India-Pakistan agreement

Days after armies of India and Pakistan announced a strict adherence to a ceasefire at the contested border, residents of villages in the area heaved a sigh of relief. People welcomed the lull in..
Credit: HT Digital Content Duration: 02:16
Published
Locals in JandK hail India-Pak ceasefire agreement along LoC

In a step towards maintaining peace at border areas, India and Pakistan agreed to observe a strict ceasefire at the Line of Control (LoC) in Kashmir. Locals hailed the joint agreement. Sarpanch of..
Credit: ANI Duration: 02:44
Published
Imran Khan says onus of further progress in ties on India | Oneindia News

Prime Minister Modi inaugurated the India Toy Fair via video conferencing and urged toy makers to make eco-friendly products with least use off plastics; Pakistan PM Imran Khan said the onus is on..
Credit: Oneindia Duration: 02:59
Published
'Cricket is a small thing, life of our soldiers more important': Gautam Gambhir

Former India opener and BJP MP Gautam Gambhir spoke on the ties with Pakistan. Gambhir said there should be no relation with Pak till cross-border terrorism gets over. On Thursday, global terror..
Credit: HT Digital Content Duration: 01:40
Published
Pakistani Police Unit Fighting Karachi's Criminals on Roller

Pakistani authorities have established a special rollerblading police unit. Sindh Police's Special Security Unit are training with the skates to curb crime in Karachi. Report by Chanda. Like us on..
Credit: ODN Duration: 01:26
Published
Rollerblading police unit established in Pakistani port city of Karachi

The force has already been deployed to work outside the venue of the Pakistan Super League cricket tournament.
Credit: euronews (in English) Duration: 00:50
Published
India, Pakistan to upgrade diplomatic ties? How did it happen | Oneindia News

Some media reports say that India and Pakistan may upgrade their diplomatic ties after years of freeze in dialogue between both countries in the aftermath of the Pulwama and Uri terror attacks. Sources..
Credit: Oneindia Duration: 01:26
Published
Balakot air strike: The fallout | Where is Masood Azhar now? | Oneindia News

India undertook daring air strikes deep within Pakistan territory on February 26, 2019, to eliminate terror camps days after 40 Indian jawans were martyred in a terror attack by the Pakistan based JeM...
Credit: Oneindia Duration: 02:10
Published
Positive step will provide opportunity for further dialogue: UN on India, Pak joint statement

UN Secretary-General Antonio Guterres hopes that the joint statement issued by India and Pakistan militaries will provide an opportunity for further dialogue. While addressing a press conference in New..
Credit: ANI Duration: 01:00
Published
India and Pakistan agree to stop cross-border firing

The militaries of India and Pakistan said in a rare joint statement on Thursday that they had agreed to observe a ceasefire along the disputed border in Kashmir, having exchanged fire hundreds of times..
Credit: Reuters Studio Duration: 01:44
Published
J and K locals, affected with cross-border firing, welcome new ceasefire

People living at international border in Jammu and Kashmir's Akhnoor took a sigh of relief after agreement between India and Pakistan to stop cross-border firing. They thanked both the countries but..
Credit: ANI Duration: 02:05
Published
Farooq Abdullah welcomes India-Pak agreement to stop cross-border firing

Former chief minister of Jammu and Kashmir and chief of J and K National Conference Farooq Abdullah reacted on India and Pakistan agreeing to stop cross-border firing in Kashmir. Welcoming the..
Credit: ANI Duration: 02:19
Published
Govt on thaw with Pakistan & China; updates on threats to Indians in Canada

India has reiterated that its position on key issues with Pakistan remains unchanged. When asked whether DGMO talks which reinforce the 2003 ceasefire agreement will pave the way for the dialogue..
Credit: HT Digital Content Duration: 03:10
Published
PM Modi assures centre's support for Puducherry's development| Oneindia News

Prime Minister Narendra Modi on Thursday inaugurated a slew of completed projects in Puducherry. India and Pakistan have agreed to strictly observe all agreements on ceasefire along the Line of Control..
Credit: Oneindia Duration: 02:30
Published
You Might Like



Onus on India to better ties, says Imran Khan

Days after the LoC ceasefire agreement, seen by some as the first real sign of thaw in ties since the Pathankot terror attack, Pakistan PM Imran Khan, while welcoming the cessation of hostilities, said..




IndiaTimes - Published





'Indo-Pak ceasefire will have no bearing on counter-terrorism ops in J&K'

The Army's northern commander Lt Gen Y K Joshi on Saturday said the agreement between India and Pakistan to adhere to the ceasefire pact along the Line of Control (LoC) would not affect..




IndiaTimes - Published





Ceasefire agreement with Pakistan won't affect counter-terrorism operations: Lt-Gen Joshi




IndiaTimes - Published





Army to exercise 'maximum restraint' in case of ceasefire violations by Pakistan




IndiaTimes - Published





IAF carries out long-range precision strike against practice target to mark Balakot anniversary

The Indian Air Force carried out a long-range precision strike against a practice target to mark the second anniversary of the Balakot Operations, sources said on Saturday. The strike was carried out..




IndiaTimes - Published





Soldier held for leaking ops data to Pakistan's ISI

Alarm bells have been sounded at the Army's Northern Command headquarters at J&K's Udhampur, which deals with both China and Pakistan, after a soldier, a NCO (non-commissioned officer), was..




IndiaTimes - Published





India-Pakistan agreement on ceasefire rekindles hope for peaceful future among border residents




IndiaTimes - Published





India's sudden peace push with nuclear rivals China, Pakistan shows Biden impact




IndiaTimes - Published





US welcomes India-Pakistan joint statement on ceasefire

The United States has welcomed the joint statement of India and Pakistan to strictly observe all agreements on ceasefire along the Line of Control and other sectors, saying it is a positive step..




IndiaTimes - Published





India, Pak agree to halt cross-border firing: NC, PDP & Hurriyat all welcome move

Mainstream politicians in J&K, as well as the separatist All Parties Hurriyat Conference, have all lauded the mutual agreement between India and Pakistan to defuse tensions in Kashmir Valley with a..




IndiaTimes - Published





How recent events led to India and Pakistan's ceasefire agreement




IndiaTimes - Published





India, Pakistan agree to stop ceasefire violations




IndiaTimes - Published




Govt open to improvement in ties with Pakistan but no change in position on key issues




IndiaTimes - Published





India desires normal neighbourly ties with Pakistan, committed to resolve all issues bilaterally: MEA




IndiaTimes - Published





India, Pakistan agree to follow all ceasefire pacts, stop cross-border firing along LoC




IndiaTimes - Published




India-Pakistan agree to ceasefire along LoC, PDP and NC welcome decision

PDP Chief Mehbooba Mufti in a tweet said, "A big & welcome development that India & Pakistan have agreed to a ceasefire along the LoC."




DNA - Published





RSS chief advocates 'Akhand Bharat', says Pakistan in distress ever since partitioned from India

Advocating the need for "Akhand Bharat" (undivided India),RSS chief Mohan Bhagwat on Thursday said countries such as Pakistan which broke away from India are now in distress.




IndiaTimes - Published





Armies of India, Pakistan agree to cease firing along LoC: Defence Ministry

After discussions between the Director Generals of Military Operations of India and Pakistan, the two sides have to cease firing along the Line of Control and all other sectors with effect from..




IndiaTimes - Published





Thaw in ties? India, Pakistan agree on "strict observance" of ceasefire at LoC

The development will be beneficial for the region and the civilian population residing along the Line of Control.




DNA - Published





Joint statement: India, Pakistan review situation along LoC in 'free, frank' atmosphere

It is to be noted that Pakistani Prime Minister Imran Khan was recently allowed by New Delhi to use Indian Air space for travel to Sri Lanka.




DNA - Published





At UNHRC, India counters Pak, Turkey & OIC on J&K remarks

India countered a three-pronged attack at the ongoing session of UN Human Rights Council on Jammu & Kashmir as it slammed remarks made separately by Pakistan, OIC and Turkey and reiterated that both..




IndiaTimes - Published





India on lips, Pak PM plays peace card in Lanka

Pakistan PM Imran Khan frequently referred to India during his two-day visit to Sri Lanka, projecting himself as someone who had always advocated dialogue as the way forward for the two neighbours even..




IndiaTimes - Published





Improvement in JK security situation but Pak-sponsored terror remains threat: Army chief

Army chief Gen M M Naravane Wednesday said that there is "definitely a great improvement" in the internal security situation in Jammu and Kashmir but Pakistan-promoted terror still remains a threat. He..




IndiaTimes - Published





India allows Pakistan PM Imran Khan to use airspace while flying to Colombo




IndiaTimes - Published





Activists, Uyghurs protest in Paris to ensure Pakistan is placed on FATF blacklist

"We have gathered here outside the FATF building as it will be meeting next week to discuss and review the case of Pakistan to make it remain under grey list or put it in the black-list. The idea of..




IndiaTimes - Published





Pakistan PM Imran Khan to use Indian air space for travel to Sri Lanka

Pakistan had requested for use of air space, which India gave permission for.




DNA - Published

Also reported by •IndiaTimes


Akal Takht jathedar slams Centre for disallowing Sikh jatha to Pakistan




IndiaTimes - Published





Pakistan violates ceasefire along IB in J&K's Kathua

Pakistani Rangers opened fire at forward posts and villages along the International Border (IB) in Jammu and Kashmir's Kathua district, officials said on Sunday. The firing from across the border..




IndiaTimes - Published





Mehbooba urges dialogue with Pak to end bloodshed in J&K




IndiaTimes - Published





Talks with Pakistan about Afghanistan, won't impinge on ties with India: Russia




IndiaTimes - Published




A day after J&K violence, Mehbooba Mufti calls for dialogue with Pakistan




IndiaTimes - Published





India uses envoys' visit to expose Pakistan's terror role

The visit by 24 foreign envoys to Jammu & Kashmir was meant to allow the diplomats to witness, first-hand, J&K's march on the path of inclusive development and the "dynamism in grassroots..




IndiaTimes - Published





Discrimination against us: Akal Takht after Centre refuses SGPC led Sikh Jatha's visit to Pakistan




IndiaTimes - Published





Modi's proposal for visa regime for doctors, air ambulance pact gets support from Pak, other countries

All countries, barring of course Pakistan lauded India for sending COVID vaccines. Pakistan did not request any India-made vaccines.




DNA - Published





Modi calls for special visa system for medics; Pakistan backs plan




IndiaTimes - Published





Pakistan, other neighbours back India's 5-point plan to deal with pandemic: Sources




IndiaTimes - Published





Internet services disrupted in Pakistan as undersea cable develops fault

Internet services were hampered in Pakistan on Thursday as the country's telecom authority said one of its six international undersea cables developed a fault. The Pakistan Telecommunication Authority..




IndiaTimes - Published





Pak among Saarc nations to attend India's Covid workshop




IndiaTimes - Published





PM Modi to review China, Pak situation at military meet

Prime Minister Narendra Modi will review the operational situation on the China and Pakistan fronts as well as progress in the much-needed integration of the armed forces during the combined..




IndiaTimes - Published





Home ministry denies permission to SGPC to send 'jatha' to Pakistan




IndiaTimes - Published





SAARC virtual meet: India invites Pak to Covid-19 workshop

This emergency fund was set up in response to the global coronavirus pandemic. The initiative seeks to mitigate the risks associated with the coronavirus pandemic in the South Asian region with India..




IndiaTimes - Published





India to host regional countries meet on COVID crisis next week, Pakistan invited

The meet is expected to be addressed by high-level dignitaries. Many of the invited countries have confirmed that they will take part in the meet.




DNA - Published





India calls for winding down of UN mission who have completed mandates

The development is significant as many other missions including UN Military Observer Group in India, Pakistan UNMOGIP have outlived their function.




DNA - Published





Pulwama terror attack 2nd anniversary: Why Pakistan is still fearful of India's stand after the attack

The explosion was triggered by a suicide bomber carrying explosives in a car and the bomber targeted a CRPF convoy in order to inflict maximum damage.




DNA - Published





Refugees from West Pakistan, PoK given domicile certificates in J&K: Amit Shah

Replying to a discussion on Jammu and Kashmir Reorganisation (Amendment) Bill of 2021 in Lok Sabha, Shah said the Opposition is asking what the NDA Government has done for Jammu and Kashmir since 2019..




IndiaTimes - Published





Twitter complies with govt request, blocks 97% handles

There were signs of a thaw in Twitter's tussle with the government after the social media giant took down over 97% of the handles that the IT ministry had sought to be censured for carrying..




IndiaTimes - Published





Pakistani intruder killed at Line of Control, arms and ammunition recovered

The intruder is believed to be a resident of Kamalkote, Uri in Baramullah. As per initial reports, he has been identified as Kundibarj.




DNA - Published





ETPB contradicts the number of historical Sikh shrines in Pakistan




IndiaTimes - Published





'Proud Indian' Ghulam Nabi Azad's Rajya Sabha tenure comes to an end, who next from Congress as Leader of Opposition?

In his partying speech Azad said that he counts himself among those fortunate people who did not go to Pakistan and are proud to be Hindustani Muslim.




DNA - Published





Bad weather halts search for three missing K2 mountaineers

Families of three mountaineers missing in Pakistan since last week grow more desperate as the search is stopped due to bad weather.




Sky News - Published