Pakistan
Country in South Asia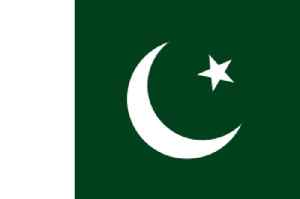 Pakistan, officially the Islamic Republic of Pakistan, is a country in South Asia. It is the world's fifth-most populous country with a population exceeding 212.2 million. It has the world's second-largest Muslim population. It is the 33rd-largest country by area, spanning 881,913 square kilometres. Pakistan has a 1,046-kilometre (650-mile) coastline along the Arabian Sea and Gulf of Oman in the south and is bordered by India to the east, Afghanistan to the west, Iran to the southwest, and China to the northeast. It is separated narrowly from Tajikistan by Afghanistan's Wakhan Corridor in the northwest, and also shares a maritime border with Oman.


India calls Pakistan 'safe havens for terror entities' ahead of FATF test

As global anti-terror watchdog FATF reviews Pakistan's performance in curbing terror-financing, India on Thursday said the neighbouring country continues to provide safe havens to terror entities as..
Credit: HT Digital Content Duration: 03:58
Published
Protests held as India observes Black Day to mark Pak invasion of J&K in 1947

Protests were held by PoJK refugees in Jammu as India observed black day to mark Pakistan's invasion of Jammu and Kashmir In 1947. The protesters slammed the Pakistan government and said that their..
Credit: HT Digital Content Duration: 04:10
Published
Memories of 22 Oct 1947: 'Black day for Kashmiriyat', Prahlad Singh Patel recalls Pakistan misadventure

Minister of State for Culture and Tourism Ministry, Prahlad Singh Patel recalled Pakistan misadventure of 22nd October 1947. While speaking at two-day symposium' on 'Memories of 22 October 1947' in..
Credit: ANI Duration: 01:15
Published
Two parallel governments controlling Pakistan: Nawaz Sharif

Former prime minister of Pakistan Nawaz Sharif reacted sharply on abduction of Sindh inspector general of police (IGP) and later arrest of Pakistan Muslim League-Nawaz (PML-N) leader Safdar Awan, his..
Credit: ANI Duration: 02:31
Published
Many dead in stampede near Pakistan consulate in Afghanistan

At least 15 Afghans killed and more than a dozen injured as thousands gathered to secure visas in Jalalabad city.
Credit: Al Jazeera STUDIO Duration: 02:24
Published
'No anti-India slogans will be raised in JNU': Adityanath at Bihar poll rally

Uttar Pradesh Chief Minister Yogi Adityanath on Tuesday forayed into battleground Bihar where he asked people to vote the NDA back to power, drawing upon Prime Minister Narendra Modis mass appeal and..
Credit: HT Digital Content Duration: 03:50
Published
Pakistan's opposition parties hold massive rally against PM Imran Khan

Pakistani opposition leaders Bilawal Bhutto Zardari, Maryam Nawaz, Maulana Fazlur Rehman, Mehmood Khan Achakzai and Mohsin Dawar held massive rally against Prime Minister Imran Khan led-government on..
Credit: ANI Duration: 01:35
Published
Javadekar slams Chidambaram over his demand to bring back Article 370

The Information and Broadcasting Minister, Prakash Javadekar slammed Congress leader P Chidambaram's demand to bring back Article 370 in Jammu and Kashmir. "Can Congress party mention it in their..
Credit: ANI Duration: 01:51
Published
Opposition put up 'big power show' against Pakistan PM Imran Khan

Opposition parties unite to protest against Pakistan Prime Minister Imran Khan on October 16. Pakistan Muslim League (Nawaz), Pakistan Peoples Party, and Jamiat Ulema-e-Islam-Fazl united hands for the..
Credit: ANI Duration: 01:53
Published
Pakistan opposition parties unite to oust Imran Khan govt: Key details

Opposition parties in Pakistan have united against the Imran Khan government and are demanding his resignation. Nine major opposition parties formed a joint platform called the Pakistan Democratic..
Credit: HT Digital Content Duration: 01:32
Published
William and Kate play virtual Pictionary one year after Pakistan tour

The Duke and Duchess of Cambridge have played a virtual game of Pictionarywith children in Pakistan. William and Kate correctly guessed drawingsdepicting a birthday, recycling and cricket, with the..
Credit: PA - Press Association STUDIO Duration: 00:54
Published
Pakistan's opposition parties unite to rally against PM Imran Khan

A group of 11 major opposition parties in Pakistan have joined hands to raise their protest against the ruling Prime Minister Imran Khan's Pakistan Tehreek-e-Insaf (PTI). A large number of people..
Credit: ANI Duration: 01:57
Published
How Pakistan is hoodwinking FATF and the world on terror funding

The Imran Khan government has been trying hard to get off the FATF 'grey list'. Pakistan had tried to impress the meeting of the Asia pacific Joint Group last month by boasting of the arrest and..
Credit: HT Digital Content Duration: 09:51
Published
Pak NSA's interview to Indian media outlet a tactic to divert attention from domestic failures: MEA

On being asked about the interview of Pakistan Prime Minister Imran Khan's National Security Advisor (NSA) to an Indian media outlet, the Ministry of External Affairs responded that the neighbouring..
Credit: ANI Duration: 01:11
Published
Bunkers near schools in border areas of J and K's Rajouri to safeguard students

Community classes began in schools of Rajouri's Nowshera and Sunderbani sectors. Ceasefire violations by Pakistan are frequent in these border villages. Administration has built concrete bunkers in..
Credit: ANI Duration: 02:37
Published
2 militants neutralised in Shopian encounter, search operation on: J-K DGP

Two terrorists were killed in an encounter with the security forces in the Chakura area of Shopian district on October 14. Speaking to media, J-K Director General of Police (DGP), Dilbag Singh said,..
Credit: ANI Duration: 01:26
Published
You Might Like



Army downs Chinese-made Pak drone dropping arms in Kashmir's Keran sector




IndiaTimes - Published





Pakistan targets LoC, IB in ceasefire violation




IndiaTimes - Published




Pakistani quadcopter shot down by Indian Army at Keran Sector along LoC

The Indian Army on Saturday shot down a Pakistan Army quadcopter in the Keran Sector of Jammu and Kashmir along the Line of Control. Indian Army has been on a high alert against Pakistani attempts to..




DNA - Published





Indian Army shoots down Pakistani quadcopter at LoC




IndiaTimes - Published





Kashmir off the table for future talks, India signals to Pakistan




IndiaTimes - Published





DNA Special: 'Untold' story of India-Pakistan war of October 22, 1947

On October 22, 1947, thousands of tribals from Pakistan attacked Kashmir and started moving from Muzaffarabad to Srinagar, defeating Raja Hari Singh's State Force.




DNA - Published





Pakistan still a haven for terror, India says on FATF decision eve




IndiaTimes - Published





Raiders in Kashmir: India observes Oct 22 as Black Day to mark 1947 invasion of J-K by Pakistani raiders

The events organised on Thursday sought to remind the world how Pakistan tried to create unrest in the region. This has led to relentless conflicts, violence, and terror activities in Kashmir till..




DNA - Published





Pakistan resorted to 3,800 ceasefire violations along LoC this year: MEA

Pakistani troops have resorted to more than 3,800 incidents of unprovoked ceasefire violations along the Line of Control (LoC) in Jammu and Kashmir this year and even supported smuggling of arms and..




IndiaTimes - Published





PoK refugees observe Black Day in Jammu

Black Day is observed on October 22 every year to mark Pakistan's invasion of Kashmir in 1947. On this day, (two months after India's partition), Lashkars armed with axes, swords and guns backed by..




IndiaTimes - Published





Terror camps destroyed in 2019 Balakot airstrikes reactivated by Pakistan

Top JeM commander Juber, who was also involved in terror attacks in Afghanistan against NATO forces, has been asked to train the newly recruited terrorists in JeM camps of Balakot.




DNA - Published





Pakistan's ex-Major General admits to the country's role in Kashmir conflict in new book




IndiaTimes - Published





Pakistan uses Chinese drone to drop contraband, BSF foils bid

A Chinese drone was seen flying in the Indian airspace in Gurdaspur district by the Border Security Force.




DNA - Published





Pakistan using Chinese drones to recce Indian border areas




IndiaTimes - Published





Principle of self-determination continues to be deliberately misused by particular delegation: India slams Pak at UN

In a thinly-veiled reference to Pakistan, India said the principle of self-determination continues to be "deliberately misinterpreted and misused" by a particular nation and it was not established by..




IndiaTimes - Published





Farooq Abdullah turns 83: Look at 5 controversial statements made by veteran politician

In his long political career, Farooq Abdullah has courted several controversies with his comments on Pakistan, Jammu and Kashmir, among others.




DNA - Published





Pakistan-backed terrorists cannot enter Kashmir to attack Indian jawans now: Yogi Adityanath




IndiaTimes - Published





Pakistan invites Indian Sikhs for Guru Nanak's 551st birth anniversary

Pakistan has invited Indian Sikhs to attend the 551st birth anniversary celebrations of Sikh faith's founder, Guru Nanak Dev, an official said on Monday.




IndiaTimes - Published





People in Kashmir unaffected by Pakistan's false propaganda: Srinagar Corps chief

Lt Gen B.S. Raju, who heads the Srinagar-headquartered 15 Corps, told IANS that the situation in the Kashmir Valley is normal and Pakistan is not happy about it and "propagating false narratives about..




DNA - Published





BJP's Jay Panda equates Odisha with Pakistan, faces flak from BJD




IndiaTimes - Published





Pak likely to remain in FATF 'grey list', fails to fulfill six key mandates

This will become a major problem for Pakistan as it will become difficult for Islamabad to procure financial aid from the International Monetary Fund (IMF), World Bank, Asian Development Bank (ADB) and..




DNA - Published





Tharoor's remarks at Lahore event spark BJP-Congress spat

The BJP and the Congress were engaged in a war of words on Sunday over MP Shashi Tharoor's remarks at a Lahore event, as the ruling party accused him of "demeaning and discrediting" India and wondered..




IndiaTimes - Published





Pakistan handled COVID-19 better than India, says Shashi Tharoor at Lahore Lit Fest

Tharoor did not stop at this, he went on to accuse the Modi government of unnecessarily targeting Tablighi Jamaat.




DNA - Published





Pakistan violates ceasefire along international border in Jammu and Kashmir's Kathua




IndiaTimes - Published




Rahul Gandhi should be called Rahul Lahori, is he trying to contest polls in Pakistan? Asks Sambit Patra




IndiaTimes - Published





Congress is speaking the language of China and Pakistan on Article 370: Shivraj Singh Chouhan




IndiaTimes - Published





73 years since Operation Gulmarg, Pakistan continues its attempt to seize, destroy J&K, says European think tank




IndiaTimes - Published





India asks Pakistan court for return of its 4 convicts




IndiaTimes - Published





Nadda hits out at Rahul, Chidambaram, says 'Divide India' dirty tricks

"Since Congress has no good governance agenda to talk about, they are back to their 'Divide India' dirty tricks before Bihar elections. Shri Rahul Gandhi praises Pakistan and Shri Chidambaram says..




IndiaTimes - Published





Army restores grave of Pakistan officer

Major Mohd Shabir Khan was killed in a fierce clash with troops of the 9 Sikh Regiment in Naugam sector along the LoC on May 5, 1972. Pakistan awarded him its third highest military decoration, the..




IndiaTimes - Published





Pakistan law mantri attends virtual meet hosted by India

Ahead of the Shanghai Cooperation Organisation (SCO) Council of Heads of Government meeting, which India plans to host on November 30, the government on Friday held a virtual meeting of the law/justice..




IndiaTimes - Published





Terrorism remains publicly acknowledged by Pakistan govt as a policy: Jaishankar




IndiaTimes - Published





Pakistan, Afghanistan handled COVID-19 better than India: Rahul Gandhi

Gandhi has repeatedly targeted the Central government and BJP on various issues pertaining to governance, COVID-19 and the economy.




DNA - Published

Also reported by •IndiaTimes


Rahul Gandhi slams Centre over Covid-19 handling, says Pakistan, Afghanistan did it better

Congress leader Rahul Gandhi on Friday criticised the Central government's handling of coronavirus pandemic, saying that even Pakistan and Afghanistan controlled Covid better than India. ​​"Another..




IndiaTimes - Published





J&K: Pakistan violates ceasefire in Poonch's Mankote sector




IndiaTimes - Published





India strongly denies sending any message seeking talks with Pak

The government strongly denied Thursday it had sent any message to Islamabad for dialogue noting that PM Imran Khan's security adviser was commenting on India's "internal matters" and reiterated that..




IndiaTimes - Published





India has not sent any message to Pak expressing desire for talks: MEA

India on Thursday rubbished the claim by Pakistan Prime Minister Imran Khan's adviser on national security that New Delhi has sent a message to Islamabad indicating a desire for talks between the two..




IndiaTimes - Published





No message sent: India on Pak NSA's claim of New Delhi reaching out to Islamabad

No formal India-Pakistan talks happened in several years




DNA - Published





Veterans write to Prez, seek action against fake news on social media about non-existent 'Muslim Regiment'

A large number of military veterans have written to President Ram Nath Kovind requesting stern action against those spreading "fake news" on social media about a non-existent "Muslim Regiment"..




IndiaTimes - Published





Hold Pakistan accountable for the ongoing turmoil in Kashmir: Member of European Parliament

Talking about the role of Islamabad in "illegally" occupying a part of Kashmir and dethroning its erstwhile ruler Maharaja Hari Singh, Member of European Parliament Fulvio Martusciello has urged the..




IndiaTimes - Published





Commonwealth meet: India slams Pak's 'bigoted agenda' on J&K

In yet another run-in with Pakistan on an international platform over the Kashmir issue and alleged violation of minority rights, India said Wednesday that the only dispute left in what Islamabad..




IndiaTimes - Published





Indian Army confirms 250 terrorists waiting to infiltrate along Pakistan border

The army in the last 6 days has killed 10 terrorists, which is a clear indication that the Indian army is not going to take things lightly even if the weather conditions are hostile.




DNA - Published





Pakistan intelligence agency ISI conspiring to attack Hindu leaders

The ISI has approached Punjab's gangsters and the criminals in the jails to carry out such incidents.




DNA - Published





DNA Exclusive: What is India's BR plan that China, Pakistan are scared of

The country's air warriors are ready for a show of strength against China and Pakistan, but how is the Indian Army preparing for LAC to teach China a lesson?




DNA - Published





Pakistani Lashkar commander, aide killed in Srinagar encounter




IndiaTimes - Published





Pakistan, China colluding on border rows: Rajnath Singh

Forty-four permanent bridges providing connectivity to forward areas on the western, northern and north-eastern fronts were formally inaugurated on Monday, even as defence minister Rajnath Singh warned..




IndiaTimes - Published





Resume trade between India and Pakistan: Cong MP from Amritsar to PM




IndiaTimes - Published





Border dispute created as if it was under a mission: Rajnath Singh on eastern Ladakh standoff

After Pakistan, China is also creating a dispute at the border with India as if it was part of a "mission", defence minister Rajnath Singh said on Monday, as Indian and Chinese troops remain locked in..




IndiaTimes - Published





J&K: Pakistan violates ceasefire in Poonch, Indian Army replies befittingly

At about 6:15 PM today, the Pakistan army began firing.




DNA - Published





Army foils Pak's attempt to push arms into Kashmir, recovers four rifles

The Army has foiled an attempt to push in arms and ammunition by Pakistan from across the Line of Control (LoC) in Keran sector of Jammu and Kashmir and recovered a cache, including four AK74 rifles,..




IndiaTimes - Published