Bharatiya Janata Party
Indian political party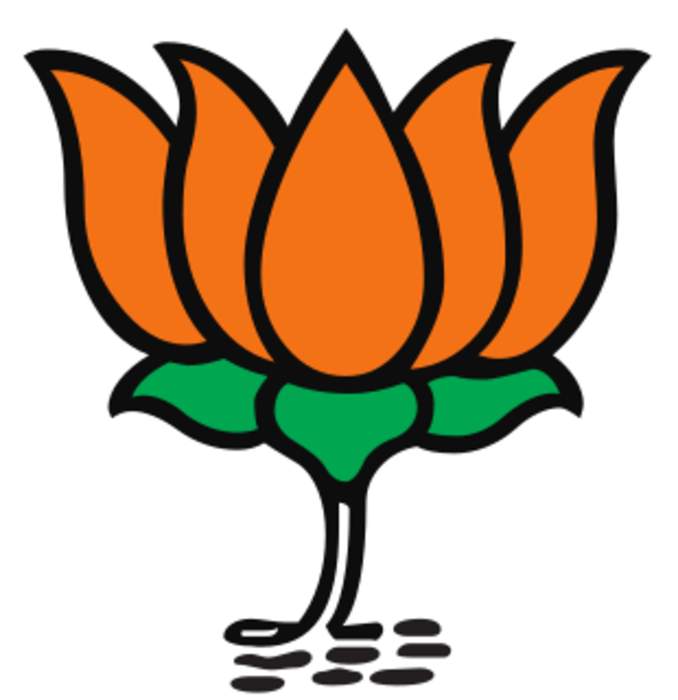 The Bharatiya Janata Party is one of two major political parties in India, along with Indian National Congress and the ruling political party of the Republic of India since 2014. As of 2019, it is the country's largest political party in terms of representation in the national parliament and state assemblies and is the world's largest party in terms of primary membership. BJP is a right-wing party, and its policy has historically reflected Hindu nationalist positions. It has close ideological and organisational links to the much older Rashtriya Swayamsevak Sangh (RSS).


Watch: ITBP officials participate in Zanskar Winter Sports in Ladakh

Senior Indo-Tibetan Border Police (ITBP) officials participated in the opening ceremony of Zanskar Winter Sports and Youth Festival 2021 on January 18. Bharatiya Janata Party (BJP) MP Jamyang Tsering..
Credit: ANI Duration: 01:10
Published
BJP ready to oust Mamata Banerjee from Bengal: Dilip Ghosh

After West Bengal Chief Minister Mamata Banerjee announced that she will contest the upcoming assembly elections from Nandigram constituency, president of West Bengal BJP, Dilip Ghosh, on January 18..
Credit: ANI Duration: 01:03
Published
Big win but won't stop until team 'Tandav' is in jail: Ram Kadam on maker's apology

After director Ali Abbas Zafar tweeted an apology note over the 'Tandav' outrage, BJP leader Ram Kadam called it a "big win", but said they will not stop until the cast and crew are behind the bars...
Credit: ANI Duration: 01:48
Published
Watch: Stone pelting during rally in Kolkata

Stones were pelted during a rally attended by Union Minister Debasree Chaudhuri, state BJP chief Dilip Ghosh and Suvendu Adhikari in Kolkata on January 18. West Bengal is scheduled to go for assembly..
Credit: ANI Duration: 01:10
Published
Will support Mamata Banerjee to defeat BJP in WB polls: Akhilesh Yadav

Samajwadi Party (SP) chief Akhilesh Yadav on January 18 announced his party's support to West Bengal Chief Minister Mamata Banerjee for the upcoming assembly elections to defeat Bharatiya Janata Party..
Credit: ANI Duration: 01:10
Published
'BJP maligns protest': CM Bhupesh Baghel on farmers' protest

Chhattisgarh Chief Minister Bhupesh Baghel accused BJP of maligning any sort of protests. Baghel said that BJP called them Pakistani, Khalistani and even alleged them of being middleman's broker, but..
Credit: ANI Duration: 01:00
Published
Congress calls for 12 hours bandh in Tripura to protest attack on state party chief's vehicle

Congress in Tripura has called for 12 hours state-bandh after attack on state party chief Pijush Biswas's vehicle on Jan 18. They alleged BJP's involvement in the incident. Pijush Biswas vehicle was..
Credit: ANI Duration: 02:00
Published
2 booked for putting shoe garland in BJP minister Rahul Singh Lodhi's neck

Former MLA Rahul Singh Lodhi who quit the Congress and joined BJP after resigning from the post of MLA ahead of the by-polls in Madhya Pradesh on 28 seats. Rahul Lodhi got the status of Cabinet..
Credit: ANI Duration: 01:32
Published
'Mamata taking orders from terrorists': UP minister ahead of Bengal polls

Ahead of West Bengal elections, Uttar Pradesh minister, Anand Swaroop Shukla, targeted Bengal CM Mamata Banerjee. Shukla called Mamata the biggest threat to India. Shukla also said that BJP would win..
Credit: HT Digital Content Duration: 01:48
Published
Sakshi Maharaj demands ban on Saif Ali Khan starrer 'Tandav'

BJP MP from Unnao Sakshi Maharaj reacted on web series 'Tandav' on which BJP leaders alleged that some scenes are demeaning Hindu gods. Slamming the makers and actors of 'Tandav', Sakshi Maharaj..
Credit: ANI Duration: 01:30
Published
WB 2021 polls: Amit Shah to visit the state on Jan 30-31, says Dilip Ghosh

BJP state president of West Bengal, Dilip Ghosh, on January 17 informed that Union Home Minister Amit Shah will visit the state on January 30th and 31st, and will participate in various functions. He..
Credit: ANI Duration: 01:04
Published
BJP MLA files complaint against 'Tandav' makers for 'insulting' Hindu gods

BJP MLA Ram Kadam lodged a complaint against the makers of web series 'Tandav' at Ghatkopar police station in Mumbai for allegedly insulting Hindu gods. "Strict against should be taken against the..
Credit: ANI Duration: 01:39
Published
Watch: Bombs hurl at TMC office, workers allege BJP's involvement

Unidentified miscreants hurled bombs at All India Trinamool Congress' (TMC) office in Naihati. The incident was captured on multiple CCTV cameras. The workers of TMC blamed BJP for the attack. It is..
Credit: ANI Duration: 01:34
Published
BJP workers burn corona effigy to celebrate launch of COVID-19 vaccination drive

BJP workers celebrated the launch of the first phase of COVID-19 vaccination drive in Mumbai. They burnt effigy of coronavirus in Ghatkopar area to celebrate the vaccine drive. The mega COVID-19..
Credit: ANI Duration: 01:29
Published
You Might Like



Mamata Banerjee to fight election from Suvendu's turf

Mamata Banerjee's decision indicates TMC's willingness to take the fight into areas that have seen high-profile defections in the recent past. Monday's event, where she made this declaration, was..




IndiaTimes - Published





Mamata's decision to contest from Nandigram due to fear of defeat: BJP




IndiaTimes - Published





West Bengal assembly elections: Why Mamata Banerjee challenged Suvendu Adhikari in Nandigram

By declaring to fight from Nandigram, Mamata Banerjee has sought to send out a message to the voters and her supporters as well as her rivals that she is still a fighter who can take on the mighty BJP..




IndiaTimes - Published




Veteran BJP leader Tathagata Roy files case against actress for 'hurting sentiments of Hindus'

Former Meghalaya Governor Tathagata Roy has filed a police complaint against Bengali actor Saayoni Ghosh for 'hurting sentiments' of Hindus.




DNA - Published





BJP to organise 'Paribartan Yatras' in Bengal ahead of assembly polls

With an eye on the forthcoming assembly elections in West Bengal in the next few months, the BJP is set to take out 'Paribartan Yatras' across the state, a senior party leader said on Sunday. BJP state..




IndiaTimes - Published





Surgical strikes in Pakistan gave public confidence that borders are safe under Modi-led BJP govt: Amit Shah




IndiaTimes - Published





Cong accuses BJP workers of attacking Tripura party president's vehicle




IndiaTimes - Published





COVID-19 vaccination drive: BJP MP Mahesh Sharma says this after taking the first shot

A total of 393 healthcare workers -- 221 men and 172 women -- got inoculated in Gautam Buddha Nagar on the first day of the nationwide vaccine.




DNA - Published





Cong, LF leaders hold seat-sharing talks in poll-bound Bengal

"To save West Bengal from religious polarisation, we will fight the election together against BJP and the TMC. There is no misunderstanding between us (Congress and the Left Front). Though discussion..




IndiaTimes - Published





BJP govt in Karnataka will complete 5 year term and return to power again: Amit Shah




IndiaTimes - Published





Adhir Ranjan invites Mamata Banerjee to join Congress to defeat BJP in West Bengal polls




IndiaTimes - Published





Trinamool MP Nusrat Jahan's 'more dangerous than corona' remark sparks anger, Amit Malviya hits out

The latest controversy is about the Trinamool Congress MP Nusrat Jahan's public remark on BJP, which has angered the saffron party.




DNA - Published





Jallikattu bulls not hurt, says Rahul; BJP says UPA banned it




IndiaTimes - Published





Left out by BSY, 10 MLAs plan to meet BJP brass




IndiaTimes - Published





PM Modi's trusted ex-bureaucrat joins BJP in UP




IndiaTimes - Published




BJP president J P Nadda slams opposition parties over criticism of new farm laws; says they suggested reforms

The BJP chief's comments here came on a day when Congress president Rahul Gandhi in Madurai slammed the Centre over the contentious legislations, backing the farmers and saying that the union..




IndiaTimes - Published





Kailash Vijayvargiya claims 41 MLAs in West Bengal ready to join BJP




IndiaTimes - Published





BJP leader comes to rape accused Maharashtra minister Dhananjay Munde's defence, says he was also approached




IndiaTimes - Published





BJP wants to be mainstream party in Tamil Nadu: Nadda




IndiaTimes - Published





Karnataka cabinet expansion: Take up grievances with BJP high command, says Yediyurappa

Amid simmering discontent post his cabinet expansion, Karnataka chief minister B S Yediyurappa has asked sulking BJP leaders to take up the matter with the national leadership and urged them to refrain..




IndiaTimes - Published





Ex-IAS Arvind Sharma joins BJP in UP




IndiaTimes - Published





Delhi court summons BJP MP Hans Raj Hans for providing 'ambiguous information' in election affidavit

The court also issued notice to Investigating Officer to file a report regarding the progress of the further investigation.




DNA - Published





No coercive action against Jharkhand BJP chief facing sedition case, HC tells state




IndiaTimes - Published





BJP MP Pragya Thakur on Nathuram Godse: Congress has always abused 'patriots'

The Congress has always abused patriots...termed them as 'saffron terrorists'. Nothing is more vile than this and I dont want to say anything more on the issue, Thakur told reporters when asked about..




IndiaTimes - Published





BJP president J P Nadda to visit poll-bound Tamil Nadu on Thursday

Nadda will also be addressing Thuglak magazine's 51st anniversary function. The BJP has been trying to carve a space for itself in the southern state where the two Dravidian parties, the ruling AIADMK..




IndiaTimes - Published





TMC MP Sisir Adhikari, Suvendu's father, divested of another post

Nearly a month after West Bengal's political heavyweight Suvendu Adhikari joined the BJP, his father and TMC Lok Sabha MP Sisir Adhikari was on Wednesday removed as East Midnapore district president,..




IndiaTimes - Published





TMC appeals to Left, Congress to support Mamata in fight against BJP

"If the Left Front and the Congress are genuinely anti-BJP, they should be behind Mamata Banerjee in her fight against the communal and divisive politics of the saffron party," senior TMC MP Sougata..




IndiaTimes - Published





TMC-BJP lock horns over Swami Vivekananda legacy ahead of assembly polls




IndiaTimes - Published





BJP brass backs BSY, quells rumours of CM's retirement




IndiaTimes - Published





BJP, RJD cross swords following Bhupender Yadav's claim of split in Lalu's party




IndiaTimes - Published





Farmers' protest: BJP's 'fistful of rice' versus Congress's 'fistful of soil'




IndiaTimes - Published





Mamata Banerjee has dictatorial attitude like Trump: Dilip Ghosh

When the world is condemning the US President Donald Trump over the Capitol Hill violence last week, West Bengal Bharatiya Janata Party (BJP) chief Dilip Ghosh on Monday has compared chief minister..




IndiaTimes - Published





BJP will return to power in Assam as it worked for all-round development of state: Nadda

BJP national president J P Nadda on Monday asserted that his party will return to power in Assam in the upcoming elections, bagging over 100 of 126 assembly seats, as the Sarbananda Sonowal-led..




IndiaTimes - Published





BJP chief JP Nadda on 2-day Assam visit from today, to address rally in Silchar

He would visit the famous Kamakhya temple in Guwahati on Tuesday, before leaving for Delhi. He attended various party programmes in West Bengal.




DNA - Published





Don't vote for Owaisi's party: Bengal imams

The head of Bengal Imam Association, Mohammad Yahya has made a public appeal to voters in poll-bound West Bengal not to exercise their francise in favour of any outfit backed by Asaduddin Owaisi, chief..




IndiaTimes - Published





Maharashtra govt slashes security cover of Fadnavis; BJP says vendetta




IndiaTimes - Published





Farmers protest: Govt's firm stand based on feedback from BJP meets




IndiaTimes - Published





BJP launches campaign to woo farmers, TMC calls it 'sham': Top developments




IndiaTimes - Published





Trump's Twitter account suspension dangerous precedent: BJP leaders

BJP leaders expressed concern on Saturday over the permanent suspension of US President Donald Trump's Twitter account by the social media giant, saying it sets a dangerous precedent and is a wake-up..




IndiaTimes - Published





Nadda launches BJP's farmers outreach campaign in West Bengal ahead of polls

BJP president J P Nadda on Saturday launched a new campaign to woo the farmers of West Bengal and said the BJP government at the centre has increased the agricultural budget six-fold and the Minimum..




IndiaTimes - Published





People will show door to Mamata in Bengal: BJP President JP Nadda

The BJP President further slammed TMC for allegedly indulging in corruption and scams.




DNA - Published





Mamata agreed to implement PM Kisan scheme as she realised TMC is losing ground: Nadda

BJP national president J P Nadda Saturday mocked West Bengal chief minister Mamata Banerjee for agreeing to implement PM Kisan Yojna only after realising that her party is fast losing ground among the..




IndiaTimes - Published





Nadda in Bengal to launch BJP programme to woo farmers




IndiaTimes - Published





'Ready to sit for months': Buzz on 100th day of Punjab protests

The protest against the central agriculture marketing laws in Punjab completed 100 days on Friday. The protests on railway tracks, and at toll plazas and business establishments of some corporate..




IndiaTimes - Published





Didn't discuss cabinet expansion in Thursday's meeting with BJP, says Nitish Kumar




IndiaTimes - Published





Nadda holds meeting with BJP leaders to discuss strategy for Rajasthan bypolls




IndiaTimes - Published





After Mamata Banerjee agrees to implement PM Kisan scheme, BJP promises to pay farmers arrears




IndiaTimes - Published





Netaji's niece Chitra Ghosh dies of cardiac arrest, PM condoles

Netaji Subhas Chandra Bose's niece and eminent academician Chitra Ghosh has died at the age of 90 following a cardiac arrest, a family member said. Ghosh's nephew and BJP leader Chandra Kumar Bose said..




IndiaTimes - Published





BJP launches campaign to hard sell farm laws

While the government has been holding talks with agitating farm unions, BJP has launched a parallel campaign to share with the people advantages of the new farm laws and how they will benefit farmers..




IndiaTimes - Published





AAP demands fresh MCD elections, level new allegations at BJP

Saurabh Bhardwaj demanded that the party should immediately dissolve the corporation and conduct fresh elections.




DNA - Published