Maharashtra
State in the western and central peninsular region of India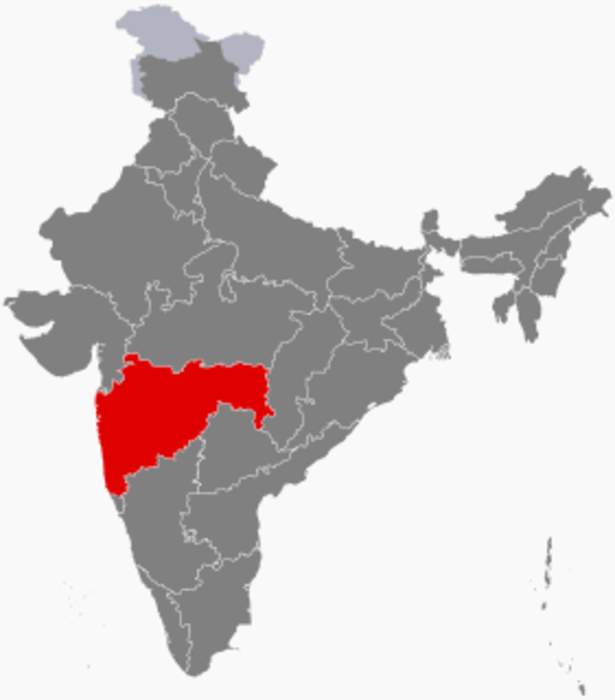 Maharashtra is a state in the western and central peninsular region of India occupying a substantial portion of the Deccan Plateau. The centre of India is in this state. Maharashtra is the second-most populous state in India as well as the third-most populous country subdivision in the world. It was formed on 1 May 1960 by splitting the bilingual Bombay State, which had existed since 1956, into majority Marathi-speaking Maharashtra and Gujarati-speaking Gujarat. Thus Maharashtra is a Marathi linguistic state. The state is divided into 6 divisions and 36 districts, with the state capital being Mumbai, also the most populous urban area in India and Nagpur serving as the winter capital. The Godavari and the Krishna are the two major rivers in the state. Marathi is the most widely spoken language and is also the official language of the state. The forest cover in the state is 16.47% of the state's geographical area. Out of the total cultivable land in Maharashtra, about 60% is used for grain crops with Jowar being the dominating crop.


Uddhav Thackeray dares BJP to topple Maharastra govt in his Dusshera speech | Oneindia News

Maharashtra Chief Minister Uddhav Thackeray slammed the BJP-ruled central government over drug seizing raids in Maharashtra during his Dussehra rally speech. #UddhavThackeray #BJP #DrugCase
Credit: Oneindia Duration: 01:37
Published
Nora Fatehi, Kaqueline Fernandes summoned by ED for probe in money laundering case | Oneindia News

Actors Nora Fatehi and Jacqueline Fernandez have been summoned by the Enforcement Directorate for questioning in a money laundering case; Congress leader Randeep Surjewala today slammed the Centre over..
Credit: Oneindia Duration: 03:22
Published
Maharashtra Bandh today: Long queues of office goers outside railway stations | Oneindia News

As Maharashtra observes a shutdown due to a strike by farmers protesting against the killings in Lakhimpur Kheri, commuters and office goers were left in the lurch as BEST buses and taxis remained off..
Credit: Oneindia Duration: 02:13
Published
Rane, Uddhav share stage after 'slap' remark | Rane claims credit for Chipi airport | Oneindia News

BJP's Narayan Rane and Maharashtra CM Uddhav Thackeray shared the stage for the first time since Rane was arrested for his slap Uddhav remark. It was expected that there would be fireworks on stage..
Credit: Oneindia Duration: 01:43
Published
8 accused of allegedly raping a woman and robbery in Pushpak Express train | Oneindia News

Today, the police have informed that eight people have been accused of gang-raping a woman on board a train headed to Maharashtra's Mumbai from Uttar Pradesh's capital Lucknow. #PushpakExpresss..
Credit: Oneindia Duration: 01:16
Published
Covid19 Update India: 22,431 fresh cases reported in last 24 hours | Oneindia News

India in the last 24 hours reported 22,431 fresh cases of Covid19. Maharashtra's Thane reported 239 new cases taking the tally in the district to 5,60,861. #Covid19casesinIndia..
Credit: Oneindia Duration: 03:07
Published
Latur earthquake: Black september night was watershed moment in seismic studies | Oneindia New

28 years ago one of the most devastating earthquakes struck India's Maharashtra. On September 30, 1993, Killari-Latur earthquake jolted thousands of people at around 3.45 am. This is why it is..
Credit: Oneindia Duration: 01:53
Published
Cyclone Gulab claims 17 lives in Maharashtra due to heavy rain and flood| Oneindia News

Cyclone Gulab claimed lives of 17 people in Maharashtra. Marathwada is worst hit by rains caused due to the cyclone. #CycloneGulab #CycloneinMaharashtra
Credit: Oneindia Duration: 01:42
Published
Cyclone Gulab: IMD predicts heavy rain in Telangana and 5 other states | Oneindia News

The Indian Meteorological Department has predicted heavy rain falls in 5 states of India due to Cyclone Gulab. Heavy to very heavy falls at isolated places is also likely over Karnataka, Maharashtra,..
Credit: Oneindia Duration: 01:54
Published
BJP leader Kirti Somaiya detained at Karad railway station | Oneindia News

Senior BJP leader and former Lok Sabha MP Kirit Somaiya was detained early on Monday at Karad railway station in in Maharashtra's Satara district. Somaiya was scheduled to Kolhapur later in the day..
Credit: Oneindia Duration: 01:27
Published
Thane residents protest against potholes, by boating in them | Oneindia News

Residents of Thane district in Maharashtra protested against the pot-holes in the city by floating boats in them. The video of the unique protest has gone viral on social media..
Credit: Oneindia Duration: 01:34
Published
Boat capsized in Wardha river in Maharashtra, 11 feared drowned | Oneindia News

At least 11 people are feared drowned after a boat capsized in Wardha river in Maharashtra. Three bodies have been fished out so far from the place, located within the limits of Benoda police station..
Credit: Oneindia Duration: 01:31
Published
Heavy rainfall in 4 states predicted by IMD, cautions localized flooding | Oneindia News

The Indian meteorological department has predicted heavy to extremely heavy rainfall in four states till 9 September. According to the alert Andhra Pradesh, Maharashtra, Konkan and hGujarat will..
Credit: Oneindia Duration: 01:22
Published
ISIS-K claims credit behind rocket attack in Kabul Airport today, US troops evacuate | Oneindia News

The Islamic State group claimed credit for today's rocket attack on Kabul airport, as US troops raced to complete their withdrawal from Afghanistan; A new variant of Covid-19 has been detected in..
Credit: Oneindia Duration: 02:39
Published
You Might Like



Cinema halls and amusement parks in Maharashtra to reopen from today, check SOPs

The Maharashtra government has also allowed the extension of the timing of restaurants and shops from today onwards.




DNA - Published





CBI chief a 'potential subject' in cop transfers: Maharashtra govt in HC




IndiaTimes - Published





Maharashtra unlock: Government allows restaurants to remain open till midnight, shops till 11 pm

India, in the past 24 hours, recorded 13,058 new COVID-19 cases, the lowest one-day rise in 231 days.




DNA - Published





Mumbai COVID-19 news: People with single vaccine dose may be allowed to use local trains after THIS date

Maharashtra government will consider allowing Mumbai citizens vaccinated with single COVID vaccine dose to participate in opened-up sectors activities




DNA - Published





Maharashtra unlock: Govt allows theatres, auditoriums, amusement parks to reopen from this date

Maharashtra unlock news: The guidelines for extending the hours of restaurants and shops across the state will be released soon.




DNA - Published





India sees lowest weekly Covid cases in 8 months

This was the lowest weekly case count in nearly eight months since February 22-28 this year. The dip came on the back of a big decline in cases in major Covid-hit states. Kerala logged 59,521 cases in..




IndiaTimes - Published





MVA govt most corrupt in Maharashtra history: Fadnavis




IndiaTimes - Published





I insisted that Uddhav become CM of Maharashtra after MVA was formed: Pawar's snipe at Fadnavis




IndiaTimes - Published





Maharashtra to give special monthly allowance for students from minority communities

The Maharashtra government will give a special monthly allowance for students of minority communities




DNA - Published





Centre trying to defame Maharashtra with drug hauls, celebrities arrests: Uddhav




IndiaTimes - Published





Agitators led by BJP MLA seal Maharashtra mine




IndiaTimes - Published





Maharashtra COVID-19 unlock: Big updates on reopening of colleges, universities - Details here

The Maharashtra govt has decided to reopen colleges and universities from October 20 given the students, teachers and staff are all fully vaccinated.




DNA - Published





Maharashtra in HC for SIT probe into CBI case against Deshmukh




IndiaTimes - Published





Congratulations: Sharad Pawar's dig at Fadnavis over his 'I still feel CM' remarks

In a dig at senior BJP leader Devendra Fadnavis, who had said that he still feels as chief minister of Maharashtra, NCP president Sharad Pawar on Wednesday said he lacked this trait even though he had..




IndiaTimes - Published





Maharashtra pays Rs 330 crore for power as deficit rises




IndiaTimes - Published





Maharashtra cinema halls to reopen from THIS date - Check important guidelines here

The cinema halls in Maharashtra are set to reopen this month at 10 percent capacity, with several SOPs set in place.




DNA - Published





Daily cases fall to 13,000 as Maharashtra, Kerala show dip




IndiaTimes - Published





Vaccine gender gap improves, but Delhi, Maharashtra, Gujarat among laggards




IndiaTimes - Published





After Mundra drug haul, Adanis ban Afghanistan, Pakistan, Iran

Besides Mundra, other port terminals operated by APSEZ which handle container cargo include Hazira port in Gujarat in addition to Krishnapatnam in Andhra Pradesh; Kattupalli and Ennore in Tamil Nadu;..




IndiaTimes - Published





Money laundering case: CBI raids former Maharashtra home minister Anil Deshmukh's home in Nagpur




IndiaTimes - Published




Cyclonic activity in Arabian Sea, Bay of Bengal to bring heavy rain in 4 states, UTs: IMD

The IMD has forecasted heavy rains with thunderstorm activity in Maharashtra, Kerala, Mahe in Puducherry and Andaman and Nicobar Islands.




DNA - Published





Lakhimpur Kheri violence: Maharashtra government announces statewide bandh on October 11

A total of eight people including four farmers died in violence in the Lakhimpur Kheri district in Uttar Pradesh that took place on October 3.




DNA - Published





Garba, dandiya banned: Maharashtra govt issues guidelines for Navratri 2021- Check rules here

Guidelines have been issued by the Maharashtra government for Navratri 2021, banning dandiya and Garba, among other rules.




DNA - Published





Navratri 2021: Mumbai's Siddhivinayak Temple to reopen TOMORROW - Check guidelines for devotees here

The Maharashtra government has decided to reopen the Siddhivinayak Temple for devotees with several guidelines in place.




DNA - Published





Good News! Now get free food grains even without ration card

Ration is being given free of cost in UP, Bihar, Madhya Pradesh, Rajasthan, Maharashtra, Jharkhand to people who don't already have ration cards.




DNA - Published





Nitish Kumar questions NITI Aayog's assessment system, says Bihar can't be compared with richest Maharashtra




IndiaTimes - Published





Is crushing farmers, stifling opposition voices new strategy of BJP, asks Sanjay Raut

"Farmers have been run over allegedly by the car of a minister's son (in Lakhimpur Kheri). Where does such cruelty come from?" asked the Rajya Sabha member, whose party shares power with the NCP and..




IndiaTimes - Published





Schools to reopen across Maharashtra at 100% capacity from TODAY - Know more

The govt has not made it mandatory for children to attend classes physically but if they do then they will have to bring consent letters from parents




DNA - Published





India's vaccine coverage crosses 90cr landmark

India crossed a significant landmark in its Covid vaccination drive by administering 90.4 crore doses till Saturday evening. More than 72 lakh doses were administered till 9:30pm on Saturday, with..




IndiaTimes - Published





Nitin Gadkari has shown how power can be used, says Sharad Pawar

The Nationalist Congress Party (NCP) supremo Sharad Pawar on Saturday hailed Union road transport minister Nitin Gadkari for using power effectively to carry out development. The two leaders from rival..




IndiaTimes - Published





Home minister Amit Shah reviews security situation, development projects in Naxal-hit areas with CMs

The chief ministers who attended the meeting were: Naveen Patnaik (Odisha), K Chandrashekar Rao (Telangana), Nitish Kumar (Bihar), Shivraj Singh Chouhan (Madhya Pradesh), Uddhav Thackeray (Maharashtra)..




IndiaTimes - Published





India's renewable energy push shows results at sub-national levels as states gear up to shun coal

India may not be in a position to stop the use of new coal-based power generation for the next couple of decades like many other nations who have signed "no new coal power compact", but the..




IndiaTimes - Published





BJP will get another opportunity to come to power in Maharashtra: Devendra Fadnavis




IndiaTimes - Published





BREAKING: Maharashtra government to reopen theatres, auditoriums from October 22

CM Uddhav Thackeray assured that all safety protocols will be followed to limit the spread of the COVID-19 pandemic in Maharashtra.




DNA - Published




BIG BREAKING: Schools in Maharashtra to reopen from October 4, Uddhav govt issues guidelines

The School Education Department had sent a proposal to reopen the schools which CM Uddhav Thackeray approved on Friday.




DNA - Published





15-year-old girl gang-raped for 9 months in Maharashtra, 26 held




IndiaTimes - Published





SHOCKING! Woman sexually abused by father-in-law, forced to drink chicken blood

A woman in Maharashtra was allegedly sexually abused by her father-in-law and forced to drink chicken blood in the name of a ritual.




DNA - Published





Maharashtra: Governor & CM Uddhav engage in letter war over crime against women




IndiaTimes - Published





BJP using ED, CBI to threaten Maharashtra govt: Shiv Sena




IndiaTimes - Published





Will file Rs 100 cr defamation suit against Kirit Somaiya: Maharashtra minister




IndiaTimes - Published





ED: Maharashtra ex-minister Khadse generated Rs 50 lakh tainted cash




IndiaTimes - Published





'Future colleague': Thackeray hints at BJP-Sena patch-up?

Maharashtra chief minister Uddhav Thackeray on Friday sparked fresh speculation of a political realignment in the state when he referred leaders including Union minister Raosaheb Danve as former and..




IndiaTimes - Published





Pune lockdown latest news: Deputy CM Ajit Pawar makes BIG announcement ahead of Ganesh Visarjan

Ganesh Chaturthi is celebrated with huge processions in Maharashtra's Pune every year which leads to large gatherings.




DNA - Published





PM Modi was first CM to recognise seriousness of climate change: Amit Shah

Union home minister Amit Shah on Friday said that Narendra Modi was the first chief minister in the country to understand the seriousness of the climate change phenomenon and institutionalise its..




IndiaTimes - Published





Nitin Gadkari reveals he once ordered demolition of his father-in-law's house for road construction

Delhi-Mumbai Expressway covers Delhi, Haryana, Rajasthan, Madhya Pradesh, Gujarat, and Maharashtra, connecting national capital with financial capital




DNA - Published





Maharashtra: 11 feared dead after boat capsizes in Wardha River

The incident occurred at around 10 a.m. when the boat was sailing to the opposite bank of the river near Shrikshetra Jhunjh.




DNA - Published





Weekly Covid-19 cases show a huge north-south divide

Maharashtra and the southern states have been recording many more Covid-19 cases than the rest of India since the first wave last year. But the difference in cases between the north and the south is..




IndiaTimes - Published





Karnataka government advised to enforce strict COVID-19 norms amid third wave scare

Karnataka recorded a positivity rate of less than 2% in most districts and removed weekend curfews from districts bordering Kerala & Maharashtra




DNA - Published





Karnataka government ends weekend curfew in districts bordering Kerala, Maharashtra

The bordering districts especially, Kodagu, Mysuru, Dakshina Kannada which borders Kerala have also recorded fewer cases, as well as a low positivity




DNA - Published





Ganesh Chaturthi festival begins today, know state wise rules and restrictions on celebrations

For Ganesh Chaturthi, Maharashtra has imposed several restrictions to avoid festival-related gatherings and processions over the next ten days.




DNA - Published