Maharashtra
State in Western India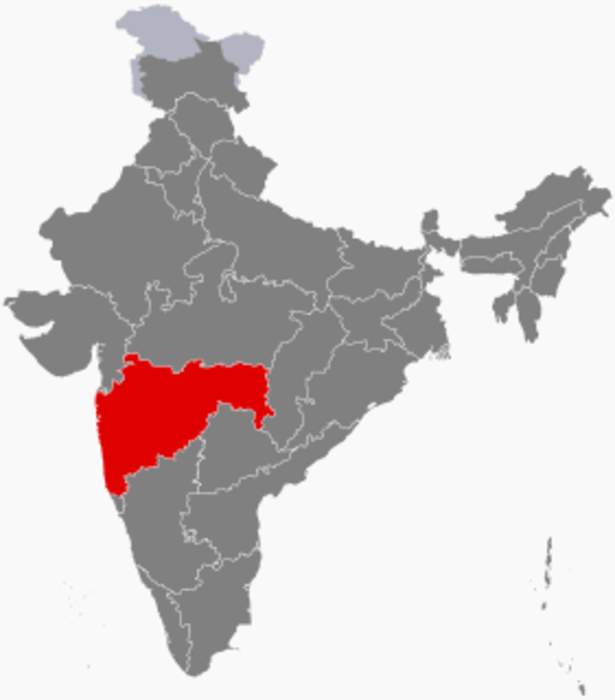 Maharashtra is a state in the western peninsular region of India occupying a substantial portion of the Deccan Plateau. Maharashtra is the second-most populous state in India as well as the second-most populous country subdivision. It was formed on 1 May 1960 by splitting the bilingual Bombay State, which had existed since 1956, into majority Marathi-speaking Maharashtra and Gujarati-speaking Gujarat. The state capital is Mumbai, the most populous urban area in India. The Godavari and the Krishna are the two major rivers in the state. Marathi is the most widely spoken language and is also the official language of the state.


Covid rules violations: Maha minister warns of strict action amid rising cases

Maharashtra Minister Aslam Shaikh warned of action against violators of Covid guidelines. Shaikh said even though Covid guidelines are in place, some violations have been observed. Amid rise in Covid..
Credit: HT Digital Content Duration: 02:17
Published
'Failure of Constitutional machinery pointed out by Governor': Fadnavis over vacant post of Speaker

Maharashtra Governor pointed out that the post of Assembly Speaker is vacant for over a week, this is equivalent to failure of Constitutional machinery, said Leader of Opposition Devendra Fadnavis on..
Credit: ANI Duration: 01:00
Published
Rajasthan CM, Maharashtra Guv inoculated with COVID vaccine doses

Rajasthan Chief Minister Ashok Gehlot received his first dose COVID-19 vaccine on March 05 in Jaipur. "Around 2 lakh people are getting vaccinated each day in Rajasthan. This is due to people's..
Credit: ANI Duration: 01:29
Published
Transgender delegation meets Maharashtra Guv over 2014 SC judgement

A delegation of transgender community met Maharashtra Governor Bhagat Singh Koshyari on March 04, and urged him to ensure implementation of the 2014 Supreme Court judgement in the state. The delegation..
Credit: ANI Duration: 03:22
Published
No postponement in Class 10th, 12th board exams in Maharashtra

Amid rising cases of COVID-19, Maharashtra School Education Minister Varsha Gaikwad informed that board exams for classes 10th and 12th will be held as per the schedule. "Board examinations for classes..
Credit: ANI Duration: 01:23
Published
Jalgaon hostel incident is baseless: Anil Deshmukh

Maharashtra Home Minister Anil Deshmukh on March 04 while addressing the media rejected the claims that police officers were involved in an incident that took place in Jalgaon where women residing in a..
Credit: ANI Duration: 02:46
Published
'Ran away from China...': Maharashtra CM's jibe over farm stir draws BJP ire

India-China face-off at the border was raised in the Maharashtra Assembly. Maharashtra CM Uddhav Thackeray mocked the Centre while speaking on farmers' protest. He said. "Water and power supply to..
Credit: HT Digital Content Duration: 02:09
Published
Maharashtra Power Ministry ditches Chinese equipments

Maharashtra Power Minister Nitin Raut tabled report of State Cyber Cell on the October 12 Mumbai power outage in the Assembly on March 03. He said, "SCADA unit that balances load dispatch as per supply..
Credit: ANI Duration: 01:27
Published
Uddhav Thackeray: We Don't Have To Learn Hindutva From You | Oneindia News

Arvind Kejriwal slams BJP saying the party has failed to govern the municipal corporations in Delhi. Karnataka Minister resigns on moral grounds after tape scandal. Maharashtra Chief Minister Uddhav..
Credit: Oneindia Duration: 02:43
Published
Centre says Mumbai blackout a 'human error', no proof of Chinese role

Union Power Minister R K Singh said the Mumbai power outage of October 2020 was caused by 'human error' and there is no evidence to prove that it was trigged due to a cyber attack by China. Singh..
Credit: HT Digital Content Duration: 05:44
Published
'No evidence of cyber-attacks during Mumbai's power outage': RK Singh

Union Power Minister RK Singh on March 02 said that there is "no evidence of cyber-attacks by China" during Mumbai's power outage that happened in October 2020. RK Singh said, "Two teams investigated..
Credit: ANI Duration: 03:12
Published
Mumbai blackout: After Chinese hand claim by US firm, govt reveals prelim report

Maharashtra government said the October 12th Mumbai power outage last year may have been 'cyber sabotage'. The Maharashtra govt revealed a prelim report suggesting conspiracy. Earlier, a report by a..
Credit: HT Digital Content Duration: 04:17
Published
Mumbai power outage was 'cyber-sabotage attempt': Anil Deshmukh cites report

Maharashtra Home Minister Anil Deshmukh on March 01 said that State Cyber Cell submitted a preliminary report on October 12, 2020 Mumbai power outage and the reports suggested "cyber-sabotage attempt"...
Credit: ANI Duration: 02:48
Published
You Might Like



Uddhav's Babri remark irks SP's Maharashtra chief




IndiaTimes - Published





Punjab 3rd state to hit 1,000+ daily tally

While Maharashtra and Kerala have been posting daily cases in four digits for over seven months now, no other state had touched the 1,000 mark since January 9, when Chhattisgarh had recorded 1,014 new..




IndiaTimes - Published





Covid-19: Maharashtra, Kerala, Punjab, Tamil Nadu, Gujarat, Karnataka continue to see upsurge in new cases

Maharashtra, Kerala, Punjab, Tamil Nadu, Gujarat and Karnataka continue to report a surge in fresh Covid-19 cases and they account for 85.95 per cent of the cases reported in a span of 24 hours, the..




IndiaTimes - Published





Covid-19 cases rise for 16th day in a row

Total of 98 fatalities reported in India on Tuesday. Maharashtra again accounted for more than half of India's death toll with 54 fatalities, followed by Kerala (16), Punjab (10) and Karnataka (7)...




IndiaTimes - Published





India's present overall case positivity rate suggests Covid-19 close to being under control

Addressing a weekly press conference, Union health secretary Rajesh Bhushan said though certain states, including Maharashtra, Kerala, Tamil Nadu, Punjab, Gujarat and Madhya Pradesh, are seeing a surge..




IndiaTimes - Published





Farmers' stir: Fadnavis raises issue of celebs tweets, Deshmukh counters

BJP leader Devendra Fadnavis on Tuesday trained guns at the Maharashtra government, suggesting it was trying to probe icons like Sachin Tendulkar and Lata Mangeshkar over their pro-India tweets issued..




IndiaTimes - Published





Blackout probe hinted at cyber sabotage: Maharashtra




IndiaTimes - Published





ED quizzes wife of Maharashtra minister




IndiaTimes - Published





Surge in 6 states, Maharashtra worst hit: India's Covid situation in 6 charts




IndiaTimes - Published





Curfew imposed in Maharashtra city till March 7




IndiaTimes - Published





Six states contributed to 86% of new COVID-19 cases: Centre

The cabinet secretary on February 27 chaired a high-level review meeting with States/UTs exhibiting a surge in cases including Maharashtra and MP.




DNA - Published





Night curfew extended in THIS Maharashtra city till March 14, schools to remain closed

As for the protocols, the CBSE suggested that the students of class 10, 12 appearing for the practical exams be divided into sub-groups of 25 each.




DNA - Published





Don't lower guard, deal firmly with violations: Centre tells states amid fresh spurt in Covid cases

The Centre on Saturday advised states and UTs reporting a surge in Covid-19 cases to not lower their guard, enforce Covid appropriate behaviour and deal firmly with violations. "Six states –..




IndiaTimes - Published





COVID-19: Lockdown extended by 7 days in these cities of Maharashtra - What's allowed, what's not

The extension of lockdown comes a week after a total lockdown of seven days was imposed in Amravati and Achalpur on February 21.




DNA - Published





COVID-19: Curfew imposed in THESE cities of Maharashtra as Coronavirus cases rise

A curfew has been imposed in the Wardha district and Yavatmal from Saturday (February 27) to Monday (March 1) morning.




DNA - Published





COVID-19: 18 states in India under scanner after UK, SA, Brazil strains rise

The news has come in the backdrop of Maharashtra and Kerala reporting an upsurge in COVID-19 cases




DNA - Published





Coronavirus rise in India localised to 6 states; Maharashtra biggest contributor to active cases




IndiaTimes - Published





SC closes contempt case against Maharashtra officials for rewarding killers of 'man-eater' tigress Avni




IndiaTimes - Published





No lockdown but may impose night curfew if needed: MP CM Shivraj Singh Chouhan

Chouhan advised labourers to avoid travelling to neighbour state Maharashtra in search of work due to the COVID-19 situation there.




DNA - Published





COVID-19: Negative RT-PCR report for travellers from Maharashtra, Kerala mandatory in THIS state

People arriving from these states will have to produce a negative COVID-19 test report upon their arrival in the state.




DNA - Published





Co-Win is robust, issues are state-specific: NHA chief

Amid concerns about software glitches in Co-Win, the government said the software is robust and the issues are related to data in specific states like Maharashtra. "There are no software-related..




IndiaTimes - Published





225 children test COVID-19 positive in Maharashtra school

After the news came to light, the entire school was converted into a containment zone.




DNA - Published





Karnataka, Maharashtra, UP awarded for efficient PM-Kisan implementation




IndiaTimes - Published





Covid-19: Maharashtra hits 129-day high of 8,807 fresh cases

Maharashtra reported a significant jump in new Covid-19 cases and fatalities on Wednesday, continuing with the rise that started 10 days ago. A total of 8,807 cases, the highest in 129 days (since..




IndiaTimes - Published





Maharashtra logs 8,807 new COVID-19 cases, 80 deaths in last 24 hours

The total number of coronavirus cases in Maharashtra reached 21,21,119 with the addition of new cases.




DNA - Published





DNA Explainer: How Mumbai Police will do 'Work From Home', know the real motive behind this unconventional move

Maharashtra continues to be one of the worst COVID-19 affected states in the country. The number of new cases has seen surge over the last few weeks.




DNA - Published





FACT CHECK: No, Chief Minister Uddhav Thackeray has not announced lockdown in Maharashtra from March 1

This fake news has now spread across various social media platforms like Facebook, WhatsApp, and Twitter.




DNA - Published





Palghar lynching case: SC asks Maharashtra police to place fresh chargesheet on record

A bench of justices Ashok Bhushan and RS Reddy was informed by the counsel for the Maharashtra government that a second supplementary chargesheet has been filed in the case. The bench said the fresh..




IndiaTimes - Published





No evidence so far to link surge in Covid cases to new variants: ICMR

Even as some states witness a sudden spike in Covid cases, the scientific evidence so far does not suggest any link between new variants of coronavirus detected in the country and the rise in cases,..




IndiaTimes - Published





Centre asks 5 states to expedite Covid vaccination of healthcare workers

The Union health ministry on Tuesday asked Maharashtra, Madhya Pradesh, Punjab, Jammu and Kashmir and Chhattisgarh to expedite the vaccination of healthcare and frontline workers so as to confer..




IndiaTimes - Published





Surge in Maharashtra & Kerala not linked to new strains, says ICMR DG




IndiaTimes - Published





Two new variants of SARS-CoV-2 not reason for surge in cases in Maha, Kerala: Govt

"Both the N440K and E484K variants of SARS-CoV-2 have been detected in Maharashtra. Three other mutated strains- one each from UK, South Africa and Brazil are already present in the country. But..




IndiaTimes - Published





Two Covid variants detected in Maharashtra, Kerala: Govt

Two variants of SARS-CoV-2 -- N440K and E484K -- have been detected in Maharashtra and Kerala but there is no reason to believe presently that they are responsible for the surge in cases in some..




IndiaTimes - Published





Maharashtra: Jolt to BJP as NCP wins mayoral election in Sangli




IndiaTimes - Published





Sale of Coronil won't be allowed in Maharashtra without certification, says Anil Deshmukh

The sale of Coronil tablets of Patanjali will not be allowed in Maharashtra without "proper certification," state Home Minister Anil Deshmukh said on Tuesday.




IndiaTimes - Published





Opposition in Maharashtra should talk carefully about Covid-19 crisis: Sena

The Shiv Sena on Tuesday said the recent surge in coronavirus cases is a matter of concern and the opposition in Maharashtra should talk carefully about the Covid-19 crisis.




IndiaTimes - Published





Maharashtra only state where positivity rate doubled in last 14 days




IndiaTimes - Published





Covid-19 cases rise in Maharashtra but deaths dip

Despite a steady rise in Covid cases every day over the past eight days in Maharashtra, the number of deaths have not risen in the same proportion during the same period. While daily infections went up..




IndiaTimes - Published





Maharashtra apart, spurt in Covid-19 cases in 7 other states




IndiaTimes - Published





Why coronavirus cases in Maharashtra are rising




IndiaTimes - Published





Maharashtra: Resort owner, parents of bride, groom held for violating COVID-19 norms in Palghar

In view of the rising COVID-19 cases in Maharashtra, the state administration is taking strict action against those found violating safety norms.




DNA - Published





COVID-19: After Pune, Maharashtra govt imposes restrictions in Nagpur, shuts down schools, colleges till March 7

In wake of rising COVID-19 cases, all weekly markets, schools, colleges and coaching centres have been closed till March 7.




DNA - Published





Elgar Parishad case: Bombay HC grants interim bail for six months to poet Varavara Rao on medical grounds

Varavara Rao, 82, an accused in the Elgar Parishad-Maoist links case being probed by the NIA, is currently undergoing treatment in the Mumbai-based Nanavati Hospital where he had been admitted by the..




IndiaTimes - Published





Over 1,100 new COVID-19 cases recorded in Pune in last 24 hours, Maharashtra CM Uddhav Thackeray bans all gatherings

CM Thackeray on Sunday that he was closely monitoring the situation and next eight days will decide whether there will be a lockdown in state or not.




DNA - Published





Maharashtra reimposes curbs as Covid cases surge

A Covid-19 test positivity rate inching towards 10% in Pune district and a surge in cases in Amravati division made authorities in Maharashtra act swiftly on Sunday to reimpose measures like school and..




IndiaTimes - Published





All gatherings banned in Maharashtra from Monday: CM Thackeray amid rising COVID-19 cases

In a televised address, Thackeray also said that political agitations will not be allowed for the next few days as they attract a crowd.




DNA - Published





Maharashtra bans gatherings as cases rise; follow Covid norms to avoid lockdown, says CM




IndiaTimes - Published





Covid-19: Gatherings to be banned in Maharashtra from Monday, says CM Uddhav Thackeray

Maharashtra chief minister Uddhav Thackeray on Sunday announced that in view of the rising Covid-19 cases, all political, religious and social gatherings will be prohibited in the state from Monday. In..




IndiaTimes - Published





Covid: Lockdown, night curfew in some Maharashtra districts after surge




IndiaTimes - Published





Maharashtra: Amravati to be under one-week lockdown from Monday amid Covid-19 spike

The lockdown, which is slated to begin from tomorrow night, will go on till March 1, 2021.




DNA - Published