Subrahmanyam Jaishankar
External Affairs Minister of India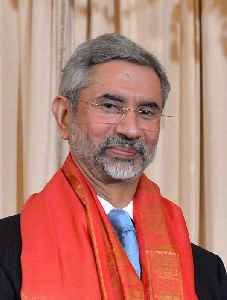 Subrahmanyam Jaishankar is an Indian diplomat turned politician who is serving as the current Minister of External Affairs in the Government of India since 31 May 2019. He is a member of the Bharatiya Janata Party. He is also a Member of Indian Parliament in the Rajya Sabha since 5 July 2019, who has been elected from Gujarat. He has previously served as the Foreign Secretary from January 2015 to January 2018.


Jaishankar to visit China next month to prepare ground for Modi-Xi informal summit
The primary objective of the visit will be to prepare the ground for the second informal summit between Modi and Xi which is likely to be held in the second week of October
DNA - Published
Pakistan should release, repatriate Jadhav immediately: Jaishankar
Pakistan should respect the ICJ ruling on Kulbhushan Jadhav and release and repatriate the Indian national immediately, foreign minister S Jaishankar told Parliament on Thursday. Jaishankar said the..
IndiaTimes - Published
India will continue efforts for Jadhav's release: Foreign minister Jaishankar
IndiaTimes - Published
Jaishankar to attend BRICS' foreign ministers meet in Brazil next week
IndiaTimes - Published
Detention of Kulbhushan Jadhav in Pakistan illegal: Jaishankar in Rajya Sabha
Describing the detention of Indian national Kulbhushan Jadhav in Pakistan as "illegal" and under "fabricated" charges, external affairs minister S Jaishankar on Thursday urged Islamabad to release and..
IndiaTimes - Published
Govt made commitment in 2017 to protect Kulbhushan Jadhav, I call upon Pak to release him: Jaishankar after ICJ verdict
"The International Court of Justice (ICJ) by a vote of 15-1 upheld India's claim that Pakistan is in violation of Vienna Convention on several counts," EAM Jaishankar said.
DNA - Published
9,771 complaints of torture filed by Indian workers in Gulf countries in 2019: S Jaishankar
IndiaTimes - Published
Dharmendra Pradhan seeks Jaishankar's help for repatriation of 18 Odia workers from Dubai
"These stranded Odias from Ganjam district have released video seeking repatriation and payment of their legitimate dues," the Petroleum and Steel Minister said in a letter to Jaishankar.
DNA - Published
Also reported by •IndiaTimes
Jaishankar condoles demise of ex-Bangladesh president Hussain Muhammad Ershad
IndiaTimes - Published
India to fulfill CHOGM 18 commitments before deadline: S Jaishankar
IndiaTimes - Published
India calls for fast-tracking Maldives re-admission to Commonwealth
India has called for fast-tracking the re-admission of Maldives into the Commonwealth during the foreign affairs ministers' meeting held in London. External affairs minister S Jaishankar addressed the..
IndiaTimes - Published
You Might Like