Moscow
Capital and largest city of Russia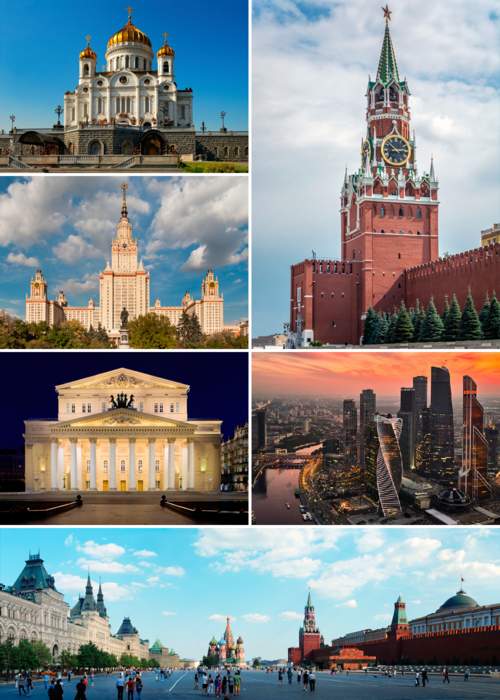 Moscow is the capital and largest city of Russia. The city stands on the Moskva River in Central Russia, with a population estimated at 12.4 million residents within the city limits, over 17 million residents in the urban area, and over 20 million residents in the metropolitan area. The city covers an area of 2,511 square kilometres (970 sq mi), while the urban area covers 5,891 square kilometres (2,275 sq mi), and the metropolitan area covers over 26,000 square kilometres (10,000 sq mi). Moscow is among the world's largest cities, being the largest city entirely in Europe, the largest urban area in Europe, the largest metropolitan area in Europe, and the largest city by land area on the European continent.


Moscow residents told to stay off work to combat COVID-19


Credit: FRANCE 24 English Duration: 01:43
Published
This Cafe Makes You Feel Like You Are In Real-Life Cartoon

This Russian black-and-white themed Café makes you feel like you are in a cartoon. Bwcafe has locations in Moscow & St Petersburg. It features furniture & décor all presented in bold inky lines..
Credit: Cover Video STUDIO Duration: 00:57
Published
Joe Biden kicks off Europe visit with warning for Russia

Joe Biden warned Moscow that it faced "robust and meaningful" consequences if it engaged "in harmful activities."
Credit: Euronews English Duration: 01:39
Published
Russian Court outlaws Alexei Nalany's allies

A Russian court on Wednesday outlawed groups linked to jailed Kremlin critic Alexei Navalny after declaring them "extremist," a move that bans his allies from elections and will further strain..
Credit: Reuters - Politics Duration: 01:49
Published
Speed controls slapped on Moscow's rental scooters

Authorities in Moscow are imposing speed limits for electric scooters that whizz across the city, often on pavements, as calls for action grow following a string of accidents. Maha Albadrawi reports.
Credit: Reuters - Politics Duration: 01:23
Published
Putin says 'don't spoil Russian-British relations' after MI6 chief's criticism

Vladimir Putin has urged against interference in Russian-British relations after the head of MI6 described the nation as a "declining power" and criticised the Kremlin's "reckless"..
Credit: PA - Press Association STUDIO Duration: 00:55
Published
Russians hesitate to take Covid vaccine, despite Moscow's Sputnik V race | Oneindia News

COVID-19 vaccine uptake in Russia has been sluggish. Moscow's mayor says the city has the lowest percentage of vaccinated residents of European capitals. DW went to a special COVID hospital to find out..
Credit: Oneindia Duration: 03:26
Published
Kremlin regiment hosts changing-of-the-guard ceremony

Russia's presidential regiment, a prestigious regiment responsible for keeping watch over the Kremlin in Moscow, hosts a changing of the guard ceremony. The traditional display resumed this year after..
Credit: euronews (in English) Duration: 01:00
Published
Female aerobatic pilot dazzles in Moscow

One of Russia's most decorated female aerobatic pilots took to the skies on Saturday during an air show in Moscow
Credit: euronews (in English) Duration: 01:00
Published
What we know about the mass school shooting in Russia

Eight children and a teacher were killed in Russia on Tuesday as two gunmen opened fire at a school in the western city of Kazan, according to state media reports. CNN's Frederik Pleitgen reports..
Credit: Bleacher Report AOL Duration: 01:24
Published
Rare access to Ukrainian patrol boat challenging Russian navy

The message from the Russians to the Ukrainian patrol was clear: Go no further. As Russian ships deploy to the Sea of Azov for what Moscow says are exercises, the Ukrainians ready their defenses...
Credit: Bleacher Report AOL Duration: 04:59
Published
Images show Navalny appear in court virtually after hunger strike

Jailed Kremlin critic Alexey Navalny appeared in court via videolink to appeal a defamation conviction in his first public appearance since he went on hunger strike. CNN's Fred Pleitgen reports from..
Credit: Bleacher Report AOL Duration: 01:27
Published
World Dance Day | Russian Kathak dancer Natalia Radenskaya | Indian dance across borders

Natalia Radenskaya is a Russian Kathak dancer based in Moscow. As a young girl she was mesmerised by Kathak and decided to make a journey to India, the land where it originated and dedicate many years..
Credit: Oneindia Duration: 04:51
Published
Russian court orders Alexei Navalny's anti-corruption foundation to suspend activities

Earlier this month, the Moscow prosecutor's office had asked the court to declare FBK as an extremist group and its staff as extremists.
Credit: Euronews English Duration: 02:40
Published
Blinken holds talks in Brussels amid rising tensions on Ukraine border

The visit comes after the US warned Moscow against any aggression against Ukraine amid a build-up of military forces on the border.
Credit: Euronews English Duration: 03:38
Published
Kremlin critic Navalny to end his hunger strike

Jailed Russian opposition politician Alexei Navalny said on Friday he would begin gradually ending a hunger strike he had called to demand proper medical care, suggesting that support inside Russia and..
Credit: Reuters - Politics Duration: 01:20
Published
Russia-Ukraine tension: Moscow closes strait between Black, Azov seas

Russia has announced the closure of the Kerch Strait to Ukrainian and foreign navy ships for the next six months because of what it describes as military exercises.
Credit: Al Jazeera STUDIO Duration: 02:26
Published
40 world leaders attend Biden's climate summit

Today is Earth Day and world leaders are meeting to discuss how to tackle climate change. President Biden announced a new pledge to slash the country's carbon emissions by up to 52% by the year 2030,..
Credit: Bleacher Report AOL Duration: 07:04
Published
Plácido Domingo's glittering gala wows at the Bolshoi

A glittering evening with sweeping arias and touching duets - Plácido Domingo recently united inspiring artists on the historic stage of the Bolshoi Theatre in Moscow for a special gala. All in this..
Credit: euronews (in English) Duration: 04:15
Published
Fears grow at Eastern Ukrainian border towns as Russian forces amass

With both sides digging in – Al Jazeera report from the frontline of Ukraine's conflict with pro-Moscow separatists.
Credit: Al Jazeera STUDIO Duration: 02:32
Published
Czechs, Russia expel each others' diplomats

Moscow expelled 20 Czech diplomats on Sunday in a confrontation over Czech allegations that two Russian spies accused of a nerve agent poisoning in Britain in 2018 were behind an earlier explosion at a..
Credit: Reuters - Politics Duration: 01:20
Published
France, Germany and US warn Moscow is responsible for Navalny's health

France said further EU sanctions on Russia could be imposed while the White House warned of "consequences" if jailed dissident Alexei Navalny's health deteriorates any further.
Credit: Euronews English Duration: 01:18
Published
Russia to expel 10 US diplomats in 'tit-for-tat response' to Biden sanctions

Russia will ask 10 US diplomats to leave the country in a "tit-for-tat response" to the Biden administration expelling 10 Russian diplomats, Russian Foreign Minister Sergey Lavrov said at a press..
Credit: Bleacher Report AOL Duration: 02:07
Published
You Might Like



COVID, Moscow, climate and the 'special relationship' - all eyes are on Biden's G7 performance

Any first foreign outing by an American president garners attention.




Sky News - Published





COVID-19: DCGI approves Serum Institute to manufacture Sputnik V vaccine in India

SII has collaborated with Gamaleya Research Institute of Epidemiology and Microbiology, Moscow in Russia for developing Sputnik V.




DNA - Published





Russia bars flights for avoiding ally Belarus as forced plane grounding row continues

Russia has denied entry to two European airline planes because they planned to avoid flying over Belarus to reach Moscow.




Sky News - Published




24 days in Russia plus 2 Sputnik V shots for Rs 1.3 lakh

There is growing demand for overseas vaccine tourism in India and Moscow is the destination of choice. A Delhi-based travel agency has begun offering 24-day package tours, priced at Rs 1.3 lakh each,..




IndiaTimes - Published





Jaishankar calls for full implementation of Moscow pact on Ladakh row during call with Chinese FM




IndiaTimes - Published





Russian agents detain Alexei Navalny lawyer in Moscow

Russian security services have detained a lawyer who was working on a case connected to Kremlin critic Alexei Navalny.




Sky News - Published




India is a 'welcomed partner', says Russian envoy on Moscow-led engagement on Afghan peace process

Russia has called India a "welcomed partner" in its efforts when it comes to the Afghan peace process.




DNA - Published





European Weightlifting Championships: Britain's Emily Campbell wins gold

Emily Campbell wins gold to end an impressive week for the British team at the European Weightlifting Championships in Moscow.




BBC Sport - Published





Emily Muskett becomes first British weightlifter to claim European gold for 26 years

Emily Muskett becomes the first British weightlifter to claim European gold for 26 years by winning the women's 71kg division in Moscow.




BBC Sport - Published





India opens 'energy office' in Moscow as Delhi-Moscow increase focus in sector

India has opened an 'energy office' in Moscow's well-known landmark Federation Tower that will have presence of five top Indian energy PSUs.




DNA - Published





'Psychological torture and self-isolation' - life inside Alexei Navalny's prison

Barring the golden domes of its church, Correctional Facility No 2 (IK-2) in the town of Pokrov, 60 miles east of Moscow, is utterly unprepossessing. 




Sky News - Published




Alexei Navalny begins sentence in Russian penal colony

Russian opposition leader Alexei Navalny has arrived in a penal colony about 100km (60 miles) east of Moscow to begin his sentence.




Sky News - Published




Desi Company aiding astronaut training inks space tourism deal

With offices in Bengaluru and Chennai, Valles Marineris International — named after the canyon system on Mars — has supported its Russian partner Aviakom to supply simulators used for astronaut..




IndiaTimes - Published





Shringla headed to Moscow as India re-engages old ally Russia




IndiaTimes - Published





It was the stuff of nightmares on Moscow's equivalent of Regent Street

The Kremlin says it is the protesters who are the hooligans and provocateurs. So does state TV.




Sky News - Published




'Masked men' search Navalny's flat as UK considers Russia sanctions

Masked men have broken into the Moscow flat of detained Vladmir Putin critic Alexei Navalny, according to one of his allies.




Sky News - Published




Russia will jointly produce Sputnik V vaccine with India: Envoy

Russian envoy in New Delhi Nikolay Kudashev on Monday said Moscow will jointly produce the Sputnik V vaccine for Covid-19 along with India and it will be manufactured by Indian pharma major Dr Reddy's..




IndiaTimes - Published





Russia fulfills India's defence requirement list handed over in June

The defence requirement was handed over during Defence Minister Rajnath Singh's June visit to Moscow.




DNA - Published





'Joint statements aimed at LAC standstill'

The recent understandings between India and China — by the foreign ministers in Moscow on September 10 and military commanders on Tuesday — are intended to begin the process of a limited..




IndiaTimes - Published





COVID-19 vaccine to be available in India by early 2021: Union Health Minister Harsh Vardhan

Meanwhile, Russia's sovereign wealth fund on Wednesday agreed to supply 100 million doses of the world's first COVID-19 vaccine Sputnik-V to Indian drug company Dr Reddy's Laboratories as Moscow speeds..




DNA - Published





Russia confirms deal with Dr. Reddy's for COVID-19 vaccine 'Sputnik V' trials in India, to supply 100 million doses

Russia's sovereign wealth fund on Wednesday agreed to supply 100 million doses of world's first COVID-19 vaccine Sputnik-V to Indian drug company Dr Reddy's Laboratories as Moscow speeds up plans to..




DNA - Published





Calm at LAC since Moscow Pact, Indian Army prepares for winter

Thursday will mark one week since India's external affairs minister S Jaishankar and Chinese Foreign Minister Wang Yi met in Moscow for over 2 hours. After the meet, both sides came out with a..




DNA - Published





India-China tensions: Brigade Commander level talks on LAC row underway

On Thursday, the foreign ministers of India and China met in Moscow on the sidelines SCO Foreign Ministers' meet and agreed that border troops of both sides should continue their dialogue.




DNA - Published





Jaishankar-Wang talks: Provocative behaviour of PLA at LAC shows disregard for bilateral agreements, India tells China

India strongly raised the deployment of large number of troops and military equipment by China along the Line of Actual Control (LAC) in eastern Ladakh and conveyed its concern during the talks between..




IndiaTimes - Published





EAM Jaishankar to meet Chinese counterpart Wang Yi shortly in Moscow :MEA




IndiaTimes - Published





Jaishankar attends SCO Foreign Ministers' meet in Moscow




IndiaTimes - Published





Foreign ministers of Russia, India, China to meet in Moscow: Chinese foreign ministry




IndiaTimes - Published





Jaishankar meets his Kyrgyz, Tajik counterparts; discusses ways to enhance bilateral ties

Jaishankar is in Moscow on a four-day visit to Russia to attend a meeting of the foreign ministers of the Shanghai Cooperation Organisation (SCO). "A fruitful meeting with FM Chingiz Aidarbekov of..




IndiaTimes - Published





Chinese foreign minister to attend luncheon meeting with Indian, Russian counterparts in Moscow

Chinese Foreign Minister Wang Yi is slated to attend a luncheon meeting with his counterparts from India and Russia in Moscow on September 10, the Chinese Foreign Ministry said on Wednesday. Wang is..




IndiaTimes - Published





Russia hopes India, China will use SCO to address differences

While denying that it could mediate on its own in the India-China border standoff, Russia Tuesday laid the groundwork for a meeting between the Indian and Chinese foreign ministers in Moscow as it said..




IndiaTimes - Published





As cases mount, India studying Russian proposal for Covid-19 vaccine

As Covid-19 cases continue to mount in India, Russian ambassador Nikolay Kudashev has said Moscow is talking to the Indian government "on different levels" about cooperation that could include..




IndiaTimes - Published





Defence Minister Rajnath Singh meets Iranian counterpart in Tehran, discusses bilateral ties

Union Defense Minister Rajnath Singh on Sunday during his visit to Iran met the country's Defense Minister Brigadier General Amir Hatami in Tehran while returning from Moscow. Several important issues..




DNA - Published





Defence minister Rajnath Singh leaves Russia for Iran

"Leaving Moscow for Tehran. I shall be meeting the Defence Minister of Iran, Brigadier General Amir Hatami," Singh said in a tweet. India on Friday said that it was "deeply concerned" about the..




IndiaTimes - Published





Rajnath Singh, Chinese defence minister in first political meet since LAC row

In a bid to break the continuing deadlock in the ongoing military confrontation in eastern Ladakh since early May, India and China held their first high-level political meeting on Friday, on the..




IndiaTimes - Published





Rajnath Singh holds talks with Chinese defence minister in Moscow amid border tension in Ladakh

Amid heightened border tension in eastern Ladakh, defence ninister Rajnath Singh on Friday held talks in Moscow with his Chinese counterpart Wei Fenghe. Defence secretary Ajay Kumar and Indian..




IndiaTimes - Published




LAC tensions: Rajnath Singh meets Chinese defence minister in Moscow

Chinese defence minister General Wei Fenghe had requested for a meet with Indian defence minister Rajnath Singh. Both the defence ministers are in Moscow for the SCO defence minister meeting.




DNA - Published

Also reported by •IndiaTimes


Rajnath Singh attends joint meeting of Defence Ministers of SCO, CIS, CSTO

Defence Minister Rajnath Singh on Friday attended the joint meeting of the Defence Ministers of CIS, the Shanghai Cooperation Organization (SCO) and the Collective Security Treaty Organization (CSTO)..




IndiaTimes - Published





On India's request, Russia reiterates policy of no arms supply to Pakistan

Russia has reiterated its policy of no arms supply to Pakistan following India's request on the same, according to sources. Russia made the commitment during the meeting between defence minister..




IndiaTimes - Published





Will meet Wang in Moscow, says Jaishankar




IndiaTimes - Published





LAC stand-off: Talks only option to restore peace, Delhi tells Beijing

While holding China responsible for the deteriorating border situation, the MEA said Thursday the way forward was to hold negotiations "sincerely" and that India remained committed to resolving the..




IndiaTimes - Published





Chinese counterpart wants to meet, Rajnath non-committal

Amid anger in Beijing over Indian Army occupying strategic heights in the Ladakh region, defence minister Rajnath Singh on Thursday refrained from committing himself to a meeting sought by his Chinese..




IndiaTimes - Published





LAC face-off: Solution 'has to be found' in diplomacy, says foreign minister S Jaishankar

Confirming he would be meeting his Chinese counterpart Wang Yi in Moscow on September 10, foreign minister S. Jaishankar said, the solution to the current India-China crisis in the western sector..




IndiaTimes - Published





Amid India-China tensions, Rajnath Singh arrives in Moscow to attend SCO Meet

Rajnath Singh is visiting Moscow at the invitation of Russian Defence Minister General Shergei Shoigu.




DNA - Published





LAC crisis: It's the furthest India has held ground in this sector, says Rajnath Singh

The Indian Army 's successful operation on Saturday night in eastern Ladakh when it foiled yet another bid by China to alter the LAC by pre-emptively occupying strategic heights on the south bank of..




IndiaTimes - Published




From Moscow to Chennai: Students recall journey of half-occupied flight chartered by Sonu Sood

Just like many of his touching gestures in recent times, this time also, he outdid himself. Sonu Sood chartered a flight for 100 medical students from Moscow to Chennai on Wednesday, thus facilitating..




DNA - Published





India yet to confirm participation in proposed SCO meet; Pakistan, China to attend

Russia has proposed Shanghai Cooperation Organisation (SCO) Foreign Ministers meet in Moscow on September 10, the meet will also see the participation of Pakistan and China. According to diplomatic..




IndiaTimes - Published