Uttarakhand
State in Northern India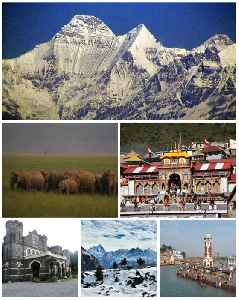 Uttarakhand, formerly known as Uttaranchal, is a state in the northern part of India. It is often referred to as the Devabhumi due to a large number of Hindu temples and pilgrimage centres found throughout the state. Uttarakhand is known for the natural environment of the Himalayas, the Bhabhar and the Terai. On 9 November 2000, Uttarakhand became the 27th state of the Republic of India, being created from the Himalayan districts of Uttar Pradesh. It borders Tibet Autonomous Region of China to the north; the Sudurpashchim Pradesh of Nepal to the east; the Indian states of Uttar Pradesh to the south and Himachal Pradesh to the west and north-west. The state is divided into two divisions, Garhwal and Kumaon, with a total of 13 districts. The interim capital of Uttarakhand is Dehradun, the largest city of the state, which is a railhead. The High Court of the state is located in Nainital.


EC's 'capitulation' before PM and his gang obvious: Rahul Gandhi
Congress president Rahul Gandhi on Sunday hit out at the Election Commission, saying its "capitulation" before Prime Minister Narendra Modi and his gang is obvious. He trained his guns on the poll..
IndiaTimes - Published
Lok Sabha Election 2019: Ado over PM Narendra Modi's choice of attire
Prime Minister Narendra Modi's two day pilgrimage to Uttarakhand's holy shrines of Kedarnath and Badrinath that got exhaustive coverage on television a day before last phase voting has reignited..
DNA - Published
Ashok Gehlot mocks Modi for meditating in Kedarnath
Congress leader and Rajasthan chief minister Ashok Gehlot on Saturday mocked Prime Minister Narendra Modi for meditating in Kedarnath, wondering what message he wants to give now. After Modi offered..
IndiaTimes - Published
PM Modi reaches Kedarnath, offers prayers
Prime Minister Narendra Modi on Saturday offered prayers at the Kedarnath shrine in Uttarakhand. Modi will also visit the Badrinath shrine on Sunday during his two-day visit of the state. "Stringent..
IndiaTimes - Published
EC okay with PM visit to Himalayan shrines, reminds PMO that model code of conduct is in force
The Election Commission is learnt to have given its nod to Prime Minister Narendra Modi's proposed visit to Kedarnath and Badrinath shrines in Uttarakhand beginning Saturday while "reminding" the prime..
DNA - Published
Wildfire rages through swathes of Uttarakhand
IndiaTimes - Published
You Might Like