Uttarakhand
State in northern India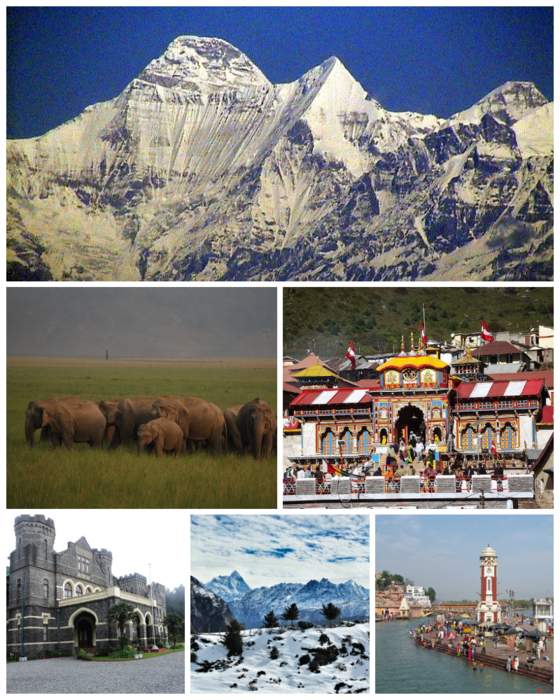 Uttarakhand, formerly known as Uttaranchal, is a state in the northern part of India. It is often referred to as the "Devbhumi" due to its religious significance and numerous Hindu temples and pilgrimage centres found throughout the state. Uttarakhand is known for the natural environment of the Himalayas, the Bhabar and the Terai regions. It borders the Tibet Autonomous Region of China to the north; the Sudurpashchim Pradesh of Nepal to the east; the Indian states of Uttar Pradesh to the south and Himachal Pradesh to the west and north-west. The state is divided into two divisions, Garhwal and Kumaon with a total of 13 districts. The winter capital of Uttarakhand is Dehradun, the largest city of the state, which is a rail head. Gairsain, a town in Chamoli district is the summer capital of Uttarakhand. The High Court of the state is located in Nainital.


Uttarakhand rains: Death toll rises to 24, 13 dead in Nainital | Oneindia News

The death toll in rain-related incidents in the northern state of Uttarakhand climbed to at least 23 over the last two days. As many as 13 deaths were reported from Nainital district on..
Credit: Oneindia Duration: 02:01
Published
Nainital's Mall road flooded due to heavy rain, Naini river overflows | Oneindia News

Uttarakhand's iconic Nainital Mall road was flooded, as heavy rainfall in the area resulted in the Naini river to overflow. People are seen wading through ankle-deep water with vehicles making a..
Credit: Oneindia Duration: 01:39
Published
IMD predicts light shower over Delhi, heavy thunderstorm over Uttarakhand, Haryana | Oneindia News

IMD predicts light rainfall over Delhi on Sunday, while predicting thunderstorms and heavy rainfall over Uttarakhand, West Uttar Pradesh and Haryana on Sunday and Monday. #IMDrainprediction..
Credit: Oneindia Duration: 02:42
Published
5 navy mountaineers missing after avalanche in Uttarakhand's Mount Trishul | Oneindia News

Five mountaineers of the Navy and one porter went missing early on Friday after getting caught in an avalanche in Uttarakhand's Bageshwar district, officials said. They were about to reach the peak of..
Credit: Oneindia Duration: 01:37
Published
Chinese Army intruded in Barahoti sector in Uttarakhand last month| Oneindia News

Nearly 100 soldiers of the China's People's Liberation Army intruded in Barahoti sector in Uttrakand last month. Chinese troops spend nearly 3 hours in the area before leaving. #ChinavsIndia..
Credit: Oneindia Duration: 01:28
Published
Uttarakhand to resume Char Dham yatra, court lifts stay | Oneindia News

The Uttarakhand high court lifted the stay on the Char Dham yatra after 3 months. The court said that only those pilgrims who are fully vaccinated and carrying negative report will be allowed to visit..
Credit: Oneindia Duration: 01:24
Published
Uttarakhand landslide debris blocks Rishikesh-Badrinath highway, damages vehicles | Oneindia News

Landslide debris has blocked Uttarakhand's Rishikesh-Badrinath highway; Gujarat MLA Jignesh Mevani on former Gujarat CM Vijay Rupani's sudden resignation; Chief Justice NV Ramana said that the 1975..
Credit: Oneindia Duration: 02:35
Published
Uttarakhand earthquake: tremors shake Joshirmath, nearby areas | Oneindia News

People in few parts of North India woke up to tremors as a mild earthquake hit Uttarakhand early Saturday morning. An earthquake of magnitude 4.6 hit near Uttarakhand's Pauri Garhwal..
Credit: Oneindia Duration: 01:46
Published
India-China expert Lt Gen Gurmit Singh (retd) appointed as U'khand governor | Oneindia News

President Ram Nath Kovind has appointed new governors in four states. Lt Gen Gurmit Singh (retd) has been appointed as the Governor of Uttarakhand after Baby Rani Maurya tendered her resignation from..
Credit: Oneindia Duration: 01:32
Published
You Might Like



Rain wreaks havoc in Uttarakhand; 23 dead, several trapped in rubble

Uttarakhand CM Pushkar Singh Dhami on Tuesday took stock of the situation by conducting an aerial survey of the affected areas.




DNA - Published





Uttarakhand: 16 dead due to heavy rains, cloudburst in Nainital blocks highway

Earlier in the day, Badrinath National Highway in Chamoli district was blocked due to debris at seven places following incessant rains over the last 4




DNA - Published





PM Modi speaks to Dhami, Bhatt as heavy rains lash Uttarakhand




IndiaTimes - Published





Uttarakhand landslides kill 6, cuts off Nainital road links




IndiaTimes - Published





Heavy rains lash Uttarakhand, Char Dham Yatra halted till further notice

Uttarakhand is currently witnessing heavy rains, due to which the Char Dham Yatra has been halted till the weather conditions improve.




DNA - Published





Uttarakhand rains: IMD issues Red Alert, Badrinath Yatra halted, schools to remain closed today

Heavy rains have been predicted in Uttarakhand today as IMD issued Red alert, and schools have been ordered to remain shut.




DNA - Published





IMD issues red alert in Uttarakhand, schools to remain shut on October 18 - Check other updates

The IMD had issued a red alert for heavy rains in the state on October 18 and an orange alert for October 17 - 19




DNA - Published





Election only agenda of political parties other than BJP in Uttarakhand: CM




IndiaTimes - Published





PM Modi to visit Kedarnath on Nov 9

Prime Minister Narendra Modi will be visiting Kedarnath on November 9, said Bharatiya Janata Party's (BJP) Uttarakhand president Madan Kaushik on Friday. Talking to ANI over phone, Kaushik said that..




IndiaTimes - Published





Thousands gather for final rites of farmers

Around 10am, the antim ardas or final rites for the four farmers — Lovepreet Singh, Gurwinder Singh, Nachattar Singh and Daljeet Singh — were held at the Kaudiyala Sahib gurdwara. After the ritual,..




IndiaTimes - Published





PM Modi's double engine experiment has failed in Uttarakhand: LoP Pritam Singh after Yashpal Arya joins Congress

In a major jolt to the BJP, Uttarakhand transport minister Yashpal Arya quit the party and rejoined the Congress along with his MLA son from Nainital Sanjiv Arya at All India Congress Committee (AICC)..




IndiaTimes - Published





Amit Shah to visit Uttarakhand on Oct 16, 17 to discuss upcoming assembly polls: Sources




IndiaTimes - Published





PM Modi to visit Uttarakhand today to dedicate 35 PSA oxygen plants to nation

The Prime Minister will dedicate to the nation 35 PSA oxygen plants, established under PM Cares, across 35 states and Union territories. According to Prime Minister's Office (PMO), with the inception..




IndiaTimes - Published

Also reported by •DNA


Corbett may no longer remain Corbett

The iconic Jim Corbett National Park in Uttarakhand may be renamed as 'Ramganga National Park' following a visit by Union minister of state for environment, Ashwini Kumar Choubey, who has sought a..




IndiaTimes - Published





Uttarakhand government extends COVID-19 restrictions till THIS date- Check what's allowed, what's not

The Uttarakhand government has decided to extend the COVID-19 restrictions in the state by another two weeks.




DNA - Published





Rahul Gandhi attacks government over issue of Chinese incursions in Ladakh, Uttarakhand

Congress leader Rahul Gandhi on Sunday hit out at the government over alleged Chinese incursions in Ladakh and Uttarakhand. He also took a swipe at Prime Minister Narendra Modi using his 56-inch chest..




IndiaTimes - Published




Uttarakhand: Bodies of 4 Navy personnel killed in avalanche recovered




IndiaTimes - Published





Rajnath describes Dhami as batsman sent in for last over in T20

"Using cricket terminology, I can say Dhami is a batsman sent in to bat in the last over of a 20-20 match. He is a wonderful batsman. People of Uttarakhand have pinned their hopes on him. I am..




IndiaTimes - Published





Chinese PLA transgressed LAC into Uttarakhand's Barahoti sector last month: Sources




IndiaTimes - Published





BJP will register massive victory in 2022 Uttarakhand polls, says BJP president JP Nadda




IndiaTimes - Published





'Communal flare-up' fear puts Uttarakhand on alert




IndiaTimes - Published





Uttarakhand High Court allows Char Dham Yatra: 5 things you need to know before planning the annual pilgrimage

The High Court's ruling came on the affidavit filed by the Uttarakhand government on September 8 to start the yatra.




DNA - Published





Uttarakhand lockdown news: COVID curfew to remain in place till September 21 - Details here

The Uttarakhand government has extended the COVID-19 restrictions in the state from 6 am on September 14 to September 21.




DNA - Published





Vijay Rupani quitting as CM of Gujarat part of BJP's image 'makeover'

BJP continues with its strategy of image "makeover" with surprise decisions as Vijay Rupani, who resigned as Gujarat chief minister on Saturday, being the fourth CM to quit office after BS..




IndiaTimes - Published





Magnitude 4.6 earthquakes jolts Joshimath in Uttarakhand and Diglipur in Andaman

Another earthquake of magnitude 4.5 occurred today around 8:50 am in North of Diglipur in Andaman and Nicobar, National Center for Seismology said.




DNA - Published





Punjab, Tamil Nadu, Uttarakhand get new governors




IndiaTimes - Published





COVID curfew in Uttarakhand extended till THIS date- Check guidelines here

The government of Uttarakhand has decided to extend the COVID curfew in the state in view of the third wave threats.




DNA - Published





Farmers to campaign against BJP for UP, Uttarakhand polls: Key points




IndiaTimes - Published





Heading to Mussoorie this weekend? Check the new travel regulations HERE

The travel regulations for Uttarakhand have been revised and now, only a set number of people will be allowed to enter Mussoorie.




DNA - Published





5 killed, 2 missing in Uttarakhand cloudburst




IndiaTimes - Published





How ropeways are going to help in pilgrims' progress

Reaching the Hindu shrine of Kedarnath and holy Sikh shrine of Hemkund Sahib in Uttarakhand is likely to become smoother and more enjoyable in the near future as the government plans to provide ropeway..




IndiaTimes - Published





Citing polls in Uttarakhand, Harish Rawat seeks to be relieved as Congress Punjab affairs in-charge

Harish Rawat, who is currently in Delhi to meet the party's senior leadership, had recently said next year's Punjab assembly polls will be fought under the leadership of Amarinder Singh, delivering a..




IndiaTimes - Published





More rainfall and landslides in Uttarakhand in next 48 hours, warns MeT Department

The Meteorological Department has warned of minor to medium landslides and rockfalls at isolated places in vulnerable areas between August 25 and 29.




DNA - Published





Artificial lake at 7k feet in Uttarakhand sparks flood fear




IndiaTimes - Published





Uttarakhand plans hotels on Char Dham road muck sites, experts raise alarm

On shaky expanses lined with muck and debris from the Char Dham all-weather road project, the Uttarakhand government plans on building hotels and tourist facilities to "make use" of the land...




IndiaTimes - Published





Courts on wheels for remote Uttarakhand areas




IndiaTimes - Published





Uttarakhand to liberate its migrant Bengalis from 'East Pak' stamp




IndiaTimes - Published





Supreme Court pulls up HC judge, expunges remarks against Uttarakhand lawyer




IndiaTimes - Published





Uttarakhand lockdown update: COVID-19 curfew extended till August 10 with some relaxations - know details

The curfew imposed in Uttarakhand, to check the spread of COVID-19, will remain in effect in the state till August 10




DNA - Published





After Assam & UP, Uttarakhand mulls law to curb population

The Uttarakhand government will set up a committee to look into the feasibility of rolling out a population control bill on the lines of other BJP-ruled states like Uttar Pradesh and Assam. The Pushkar..




IndiaTimes - Published





Uttarakhand places Gangajal tankers at its borders to deter kanwars




IndiaTimes - Published





Uttarakhand to re-open school for classes 6 to 12 from this date

With only 43 new cases in the last 24 hours, the number of active cases in Uttarakhand currently stands at 659.




DNA - Published





Leopard that 'snatched toddler' shot in Uttarakhand




IndiaTimes - Published





Samyukta Morcha to talk to farmers of Uttarakhand, UP, Punjab about government's policies, work: Rakesh Tikait




IndiaTimes - Published





HC: Meat ban matter of fundamental rights, not of majority vs minority

In a country where 70% of the population eats non-vegetarian food, the matter of banning meat is one that concerns the fundamental rights of citizens and isn't a majority versus minority issue, the..




IndiaTimes - Published





Chinese Army enhances activity opposite Barahoti along LAC in Uttarakhand




IndiaTimes - Published





Rethink move to cancel kanwar yatra, VHP tells UP and Uttarakhand




IndiaTimes - Published





Uttarakhand minister seen wearing mask on toe, picture goes viral




IndiaTimes - Published





Uttarakhand to seal borders, in talks with other states




IndiaTimes - Published





Kanwar Yatra 2021: Big statement by UP Health Minister after SC notice to Yogi govt

Uttar Pradesh has decided to continue with the 'Kanwar Yatra' despite Uttarakhand cancelling the pilgrimage this year.




DNA - Published