Uttarakhand
State in northern India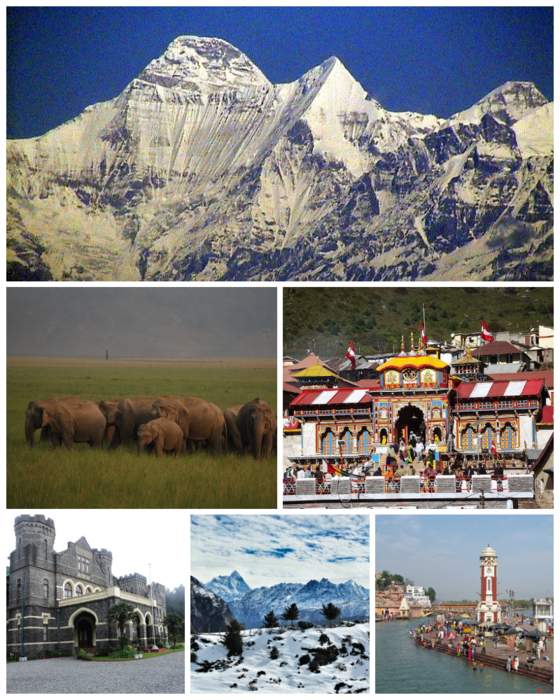 Uttarakhand, formerly known as Uttaranchal, is a state in the northern part of India. It is often referred to as the "Devbhumi" due to numerous Hindu temples and pilgrimage centres found throughout the state. Uttarakhand is known for the natural environment of the Himalayas, the Bhabar and the Terai regions. It borders the Tibet Autonomous Region of China to the north; the Sudurpashchim Pradesh of Nepal to the east; the Indian states of Uttar Pradesh to the south and Himachal Pradesh to the west and north-west. The state is divided into two divisions, Garhwal and Kumaon with a total of 13 districts. The winter capital of Uttarakhand is Dehradun, the largest city of the state, which is a rail head. Gairsain, a town in Chamoli district is the summer capital of Uttarakhand. The High Court of the state is located in Nainital.


Kanwar Yatra cancelled; Uttarakhand CM Pushkar Dhami says saving lives in priority | Oneindia News

Today, Uttarakhand Chief Minister Pushkar Singh Dhami said that Kanwar Yatra stands cancelled; UNICEF said that India has the highest number of under-vaccinated or unvaccinated children worldwide;..
Credit: Oneindia Duration: 02:55
Published
Arvind Kejriwal promises 300 free power units in AAP's Uttarakhand poll campaign | Oneindia News

Today, Delhi CM Arvind Kejriwal announced some major election promises in the Aam Admi Party's poll campaign in Uttarakhand. He vowed there would be 300 free units every month for each household, a..
Credit: Oneindia Duration: 01:29
Published
Tourists thrashed at Har Ki Pauri, they were 'smoking hookah' | Oneindia News

6 tourists were thrashed and arrested for allegedly smoking hookahat Uttarakhand's Har Ki Pauri ghat on July 7. Har ki pauri is considered one of the holiest places by Hindus. #HarKiPauri #Hookah..
Credit: Oneindia Duration: 01:22
Published
Pushkar Singh Dhami takes oath as Uttarakhand's 11th CM | 3rd CM in last 4 months | Oneindia News

Pushkar Singh Dhami, the two-time MLA from Khatima, was elected BJP legislative party's leader in the presence of Union minister Narendra Singh Tomar. He is the 11th chief minister of..
Credit: Oneindia Duration: 01:32
Published
ICMR says single dose of vaccine enough for Covid survivors against Delta variant | Oneindia News

A new study by the Indian Council of Medical Research revealed that people who have recovered from Covid-19 and vaccinated with one or both doses show higher protection against the Delta variant;..
Credit: Oneindia Duration: 02:36
Published
Uttarakhand's new chief minister Pushkar Singh Dhami, why was he picked? | Oneindia News

Pushkar Singh Dhami has been selected as the new Chief Minister of Uttarkahand a day after Tirath Singh Rawat quit. Rawat resigned in less than four months after taking over the top..
Credit: Oneindia Duration: 02:00
Published
IAF chief versus CDS Rawat: Air force does not play only 'supporting role' | Oneindia News

General Bipin Rawat, Chief of Defence Staff, described the Air Force as a 'support arm' but IAF chief Air Chief Marshal RKS Bhadauria disagreed, saying 'airpower has a huge role; Uttarakhand Chief..
Credit: Oneindia Duration: 03:21
Published
Uttarakhand CM Tirath Singh Rawat offers to resign months after taking oath | Oneindia News

In a massive development in Uttarakhand politics, CM Tirath Singh Rawat has offered his resignation as the Chief Minister of the State in less than six months after taking oath as the state's new chief..
Credit: Oneindia Duration: 02:00
Published
One Nation One Ration card: SC orders all states to implement scheme by July 31st | Oneindia News

The Supreme Court said today that all states must implement "One Nation, One Ration" card scheme for migrant workers by July 31; At a press briefing union Health Minister Harsh Vardhan said: Cases have..
Credit: Oneindia Duration: 03:14
Published
BSP to go solo in UP & Uttarakhand state polls; Mayawati says no tie-up with AIMIM | Oneindia News

BSP chief Mayawati clarified that the party would go solo in the Uttar Pradesh and Uttarakhand state polls; Yesterday, the BCCI secretary, Jay Shah said the T20 World Cup may have to be shifted from..
Credit: Oneindia Duration: 02:27
Published
Uttarakhand rain fury: Alaknanda overflows, submerges low lying areas: Watch | Oneindia News

River Alaknanda overflowed in Uttarakhand's Srinagar after incessant rainfall hit areas of the state over the past two days. #Uttarakhand #RainFury #Alaknanda
Credit: Oneindia Duration: 01:25
Published
Kumbh Mela: Private agency faked 1 lakh Covid-19 tests with fake address & mobile no.s|Oneindia News

Days after a preliminary probe by the Uttarakhand health department that suggested many out of four lakh Covid-19 test results issued during the Kumbh festival in Haridwar were fake, a detailed..
Credit: Oneindia Duration: 01:48
Published
Kedarnath priests continue to protest against Char Dham Devasthanam Management Board | Oneindia News

Priests of the Kedarnath have been sitting on a silent protest outside the temple. They demand the disbandment of the Uttarakhand Char Dham Devasthanam Management Board, claiming that their rights are..
Credit: Oneindia Duration: 01:09
Published
Uttarakhand govt probe alleged fake Covid reports of Kumbh visitors; ICMR flags case | Oneindia News

Allegations of fake Covid-19 test reports were issued by a private laboratory roped in for conducting random tests during the Kumbh Mela. The Uttrakhand Government has ordered an investigation into the..
Credit: Oneindia Duration: 02:02
Published
Bringing communities together with radio in India

Uttarakhand is a state prone to catastrophic flooding and forest fires. It's hard for communities. But Kumaon Vani radio station connects people, helping them tackle environmental problems in the..
Credit: Oneindia Duration: 05:11
Published
Uttarakhand: Chamoli DM says alleged videos of possible glacier-crack have emerged | Oneindia News

Chamoli District Magistrate, Swati Bhadauria spoke to ANI regarding some videos of a glacier In the aforementioned video, people are claiming that there's a possibility of a in a glacier in..
Credit: Oneindia Duration: 01:07
Published
You Might Like



HC: Meat ban matter of fundamental rights, not of majority vs minority

In a country where 70% of the population eats non-vegetarian food, the matter of banning meat is one that concerns the fundamental rights of citizens and isn't a majority versus minority issue, the..




IndiaTimes - Published





Chinese Army enhances activity opposite Barahoti along LAC in Uttarakhand




IndiaTimes - Published





Rethink move to cancel kanwar yatra, VHP tells UP and Uttarakhand




IndiaTimes - Published





Uttarakhand minister seen wearing mask on toe, picture goes viral




IndiaTimes - Published





Uttarakhand to seal borders, in talks with other states




IndiaTimes - Published





Kanwar Yatra 2021: Big statement by UP Health Minister after SC notice to Yogi govt

Uttar Pradesh has decided to continue with the 'Kanwar Yatra' despite Uttarakhand cancelling the pilgrimage this year.




DNA - Published





Explain how UP is allowing kanwar yatra: Supreme Court

Taking into account contradictory voices, including the Uttarakhand government's decision to call off the yatra, the bench of Justices R F Nariman and B R Gavai directed the UP and Uttarakhand..




IndiaTimes - Published





Supreme Court sends notice to Yogi government for allowing Kanwar Yatra in Uttar Pradesh

It is to be noted that the Uttarakhand government has cancelled the Kanwar Yatra in the state this year.




DNA - Published





Landslides disrupt traffic as heavy rains lash Uttarakhand




IndiaTimes - Published





'Can't play around with lives': Pushkar Dhami calls off kanwar yatra

"At a time when the threat of Covid-19 is still looming and a case of the Delta-plus variant has also been reported from Uttarakhand, we cannot allow Haridwar to become a hotbed of the pandemic,"..




IndiaTimes - Published





Uttarakhand govt cancels Kanwar Yatra in view of Covid-19




IndiaTimes - Published





Uttarakhand misled HC on kanwar yatra: Petitioner to SC

Speaking to TOI, Abhijay Negi, counsel appearing for Pant, said that the state government had informed the HC that it has decided to cancel the kanwar yatra this season but media reports indicate that..




IndiaTimes - Published





Decision on kanwar yatra after talking to other states: Pushkar Singh Dhami

The UP government has already announced that it will allow the kanwar yatra from July 25 . The yatra had been cancelled by the Tirath Singh Rawat-led government in Uttarakhand late last month after a..




IndiaTimes - Published





Eye on Uttarakhand polls, Kejriwal asks why people of hill state can't get free electricity like Delhi

A day before his visit to poll-bound Uttarakhand, Delhi chief minister Arvind Kejriwal on Saturday asked why the people of the hill state, which generates electricity, cannot get free power like in the..




IndiaTimes - Published





Uttarakhand orders new restrictions after tourists throng Mussoorie's Kempty Falls - Check details

Tourists have been thronging hills and gross violation of Covid appropriate behaviour by them is being accounted for in many places.




DNA - Published





Uttarakhand CM to meet PM Modi, other leaders in Delhi today

Uttarakhand chief minister Pushkar Singh Dhami is scheduled to meet Prime Minister Narendra Modi, Union home minister Amit Shah and other prominent BJP leaders today evening in Delhi, informed Chief..




IndiaTimes - Published





Maskless tourists throng Kempty Falls in Mussoorie, violate COVID-19 guidelines - WATCH viral video

Himachal Pradesh and Uttarakhand have been witnessing a rapid rise in the inflow of tourists after these states eased Covid-19 induced curbs.




DNA - Published





Yogi tells Dhami to allow Kanwariyas into Uttarakhand




IndiaTimes - Published





Ajay Bhatt: Uttarakhand leader who led BJP to massive win in Assembly polls




IndiaTimes - Published





PM Modi cabinet reshuffle at 6 pm today with 'Youngest Team Ever' - know likely names to be included

The cabinet reshuffle is likely to take place with a focus on upcoming elections in five states of Uttar Pradesh, Punjab, Uttarakhand, Goa, Manipur.




DNA - Published





Avoiding Uttarakhand-like crisis? Mamata government passes resolution for creation of legislative council




IndiaTimes - Published





Lockdown in Uttarakhand extended till July 13 - What's allowed, what's not

Uttarakhand Govt extends lockdown by a week, postpones Char Dham Yatra until further notice




DNA - Published





Uttarakhand Government extends lockdown till July 13

Uttarakhand Government extends lockdown till July 13




DNA - Published





BJP bets on Dhami, affects gen shift in Uttarakhand ahead of polls

Not satisfied with the performance of the known leaders, the BJP top brass was left with limited options and took a major gamble by nominating a lesser known second-time MLA Pushkar Singh Dhami as..




IndiaTimes - Published





Pushkar Singh Dhami sworn in as new Uttarakhand chief minister

The two-time MLA from Khatima constituency has never been a minister in the state government but Dhami became the youngest CM of Uttarakhand.




DNA - Published

Also reported by •IndiaTimes


With voices of dissent against Uttarakhand CM-designate Pushkar Dhami on the rise, BJP in damage control mode

The voices of dissent against Uttarakhand chief minister-designate Pushkar Singh Dhami, which were noticed first on Saturday evening soon after his anointment, grew louder by Sunday morning. Dhami, a..




IndiaTimes - Published





All you need to know about Pushkar Singh Dhami, Uttarakhand's next CM

The MLA from Khatima seat in Udham Singh Nagar district was elected leader of the BJP legislature party at a meeting of the party MLAs in Dehradun on Saturday afternoon.




IndiaTimes - Published





Know about Pushkar Singh Dhami who is all set to become Uttarakhand's 11th CM

Born on September 16, 1975, in Khatima, Dhami is a member of the Uttarakhand Legislative Assembly from the Khatima constituency in Udham Singh Nagar.




DNA - Published





BREAKING: Pushkar Singh Dhami is the new Chief Minister of Uttarakhand

Dhami represents Khatima constituency in Udham Singh Nagar district in the Uttarakhand Assembly.




DNA - Published





BJP has thrown Uttarakhand into political instability, betrayed people: Congress




IndiaTimes - Published





Uttarakhand political turmoil: Half a dozen BJP MLAs in race for top post

After Tirath Singh Rawat submitted his resignation to Uttarakhand governor Baby Rani Maurya in the late-night hours of Friday, a meeting of the BJP legislature party has been called at 3 pm on..




IndiaTimes - Published





Spotlight on Mamata Banerjee after Tirath Rawat resigns as Uttarakhand CM

Late on Friday evening, Uttarakhand chief minister Tirath Singh Rawat resigned from his post. His resignation, which came less than four months after he was sworn in as the CM of the hill state, has..




IndiaTimes - Published





'Can still hold U'khand bypolls on request'

While the Election Commission is not under any legal obligation to hold bypolls in Haldwani and Gangotri, the two assembly seats currently vacant in Uttarakhand, as the vacancies arose less than a year..




IndiaTimes - Published





U'khand CM's 4-month tenure ends with late-night resignation

Ending three days of intense political activity and speculation, Uttarakhand chief minister Tirath Singh Rawat stepped down late on Friday night, at a little past 11pm, just under four months after..




IndiaTimes - Published





Tirath Singh Rawat resigns as Uttarakhand chief minister

Uttarakhand chief minister Tirath Singh Rawat on Friday night submitted his resignation to state governor Baby Rani Maurya, mere months after assuming the top post in the hill state.His resignation..




IndiaTimes - Published





Uttarakhand political turmoil: CM Tirath Rawat returns to Dehradun, likely to submit resignation soon




IndiaTimes - Published





Uttarakhand CM Rawat's Delhi visit fuels talks of change of guard, early polls




IndiaTimes - Published





Uttarakhand CM meets Shah, Nadda as buzz about likely exit grows

In what seemed to be a repeat of the scenario that unfolded in the political landscape of Uttarakhand in March, when Trivendra Singh Rawat was replaced by Tirath Singh Rawat, political circles were..




IndiaTimes - Published





Uttarakhand abuzz as BJP brass summons Tirath Singh Rawat to Delhi

Uttarakhand chief minister Tirath Singh Rawat was on Wednesday urgently summoned to Delhi to meet the BJP's central leadership, fuelling speculation in political circles that the state could be..




IndiaTimes - Published





Uttar Pradesh Assembly Election 2022: Mayawati rejects reports of alliance with Asaduddin Owaisi's AIMIM, says BSP will

BSP chief Mayawati noted that except Punjab, the BSP will not forge an alliance with any party in Uttar Pradesh and Uttarakhand.




DNA - Published





'Stop fooling us': Uttarakhand HC reprimands state govt on COVID-19 preparedness

"Don't tell the Chief Justice that there is Ram Rajya in Uttarakhand and that we live in heaven," the high court said.




DNA - Published





Uttarakhand Congress claims CM Rawat can't get elected, crisis is looming

A former Congress MLA has warned that Uttarakhand was heading towards a "constitutional crisis" as BJP chief minister Tirath Singh Rawat - who took the oath in March this year and needs to win an..




IndiaTimes - Published





Covid-19 roundup: Tamil Nadu, Uttarakhand and Haryana announce further relaxations and more




IndiaTimes - Published




Uttarakhand lockdown: COVID curfew extended till June 29 with relaxations - Check details

Uttarakhand government on Sunday announced the extension of the COVID-19 curfew from June 22 to June 29 with certain relaxations.




DNA - Published




Kumbh fake tests: FIR against private agency, 2 labs

Haridwar police on Thursday filed an FIR against Delhi-based Max Corporate Services — the private agency under the scanner for conducting nearly one lakh fake Covid tests during the Kumbh Mela in..




IndiaTimes - Published





Firm in dock for fake Kumbh tests has tin shed 'office', gave wrong addresses

A private agency, which was awarded the contract for Covid testing in key areas of the Kumbh mela in Haridwar and is now under scanner for conducting 1 lakh fake tests, had submitted dubious office..




IndiaTimes - Published





1 lakh Covid-19 tests during Kumbh festival fake: Report

Just days after a preliminary probe by the Uttarakhand health department suggested that many of the four lakh Covid test results issued during the Kumbh festival in Haridwar were fake, a detailed..




IndiaTimes - Published





Indira Hridayesh's contribution to Congress will be treasured, cherished: Sonia Gandhi

Congress president Sonia Gandhi on Sunday condoled the demise of the leader of Opposition in the Uttarakhand assembly, Indira Hridayesh, and said she leaves behind a legacy of public service. In her..




IndiaTimes - Published





Avalanche: Uttarakhand flood debate resolved, say world scientists, hydro projects 'key drivers'

Team used computer model to recreate deluge for report in 'Science'; confirms avalanche, not glacial lake outburst, caused disaster




IndiaTimes - Published





Mizoram, Haryana & Uttarakhand among fast movers in SDG Index




IndiaTimes - Published