West Bengal
State in Eastern India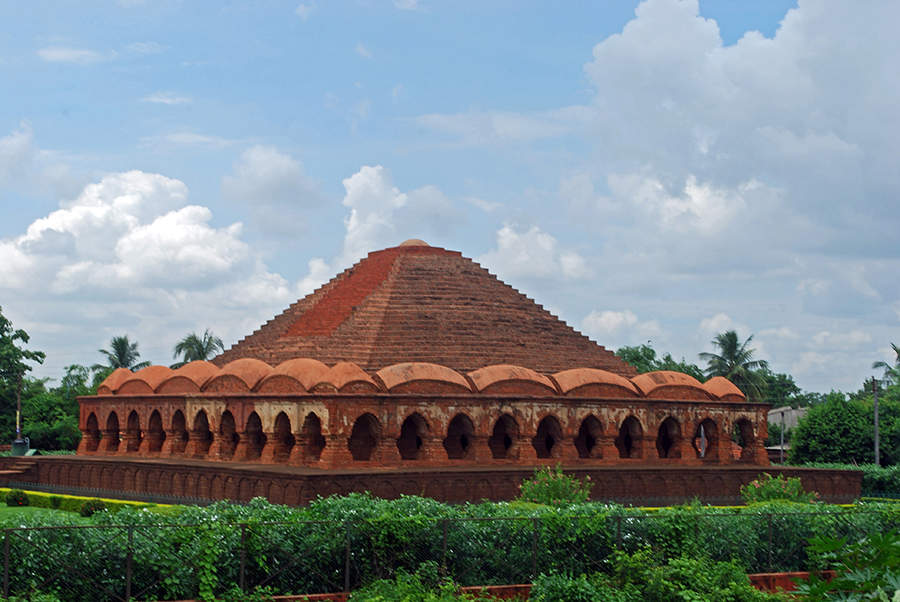 West Bengal is a state in the eastern region of India along the Bay of Bengal. With over 91 million inhabitants, it is the fourth-most populous state and the fourteenth-largest state by area in India. Covering an area of 88,752 km2 (34,267 sq mi), it is also the seventh-most populous country subdivision of the world. Part of the Bengal region of the Indian subcontinent, it borders Bangladesh in the east, and Nepal and Bhutan in the north. It also borders the Indian states of Odisha, Jharkhand, Bihar, Sikkim and Assam. The state capital is Kolkata, the third-largest metropolis, and seventh largest city by population in India. West Bengal includes the Darjeeling Himalayan hill region, the Ganges delta, the Rarh region and the coastal Sundarbans. The state's main ethnic group are the Bengalis, with the Bengali Hindus forming the demographic majority.


WB BJP leader allegedly beaten up by TMC workers

A Bharatiya Janata Party (BJP) leader was allegedly beaten up and his office vandalised by All India Trinamool Congress (TMC) workers. The incident happened in Bankura District of West Bengal. "They..
Credit: ANI Duration: 01:28
Published
West Bengal man covers 5500 km on foot to spread COVID awareness

Despite extant COVID crisis, some people have been defiant. COVID precautions still remain to be the best solution to avoid getting infected. Contributing his bit, a man hailing from West Bengal, is..
Credit: ANI Duration: 02:16
Published
'Mamata scared; turning Bengal into Bangladesh': BJP attacks TMC | WB election

Dilip Ghosh, president of BJP's West Bengal unit, trained his guns on Chief Minister Mamata Banerjee as the poll campaign picks up pace. Ghosh said Banerjee gets terrified whenever senior BJP leaders..
Credit: HT Digital Content Duration: 02:53
Published
Dilip Ghosh slams Mamata, says she gets scared when BJP leaders come from Delhi in WB

West Bengal's Bharatiya Janata Party (BJP) chief Dilip Ghosh on November 27 slammed state Chief Minister Mamata Banerjee by saying that she gets scared when BJP leaders come from Delhi in WB. He said,..
Credit: ANI Duration: 01:24
Published
'2/3rd majority in West Bengal...': Rajnath Singh on BJP-TMC fight #HTLS2020

Rajnath Singh, Defence Minister of India, and former president of the Bharatiya Janata Party commented on the party's prospects in the West Bengal Assembly elections next year. Speaking at the 18th..
Credit: HT Digital Content Duration: 03:36
Published
Left trade unions block railway track in Bengal against Centre's new labour laws

The members of Left trade union blocked railway track at Belgharia station in West Bengal's North 24 Parganas district. They are protesting against Centre's new labour and farm laws on November 26. A..
Credit: ANI Duration: 01:51
Published
6 rescued, 2 missing after vessel carrying trucks capsized in Malda

Six people were rescued and two others went missing after a vessel carrying eight trucks capsized in Ganga river in Malda district of West Bengal on night of November 23. According to Malda's Zilla..
Credit: ANI Duration: 01:11
Published
Chhath Puja 2020: Devotees offer prayers at West Bengal ghats

The four-day long 'Chhath Puja' concluded on November 21. To celebrate the festival, devotees gathered at ghats in WB's Asansol. They offered prayers and performed 'Chhath Puja' rituals. On the last..
Credit: ANI Duration: 01:08
Published
Watch: Bihar, Bengal CM celebrate Chhath Puja; devotees at ghats

Thousands of devotees assembled at Assi Ghat on Friday in Varanasi to celebrate Chhath Puja. People were seen wearing traditional attires and offered prayers at the ghats. This year, the festival is..
Credit: HT Digital Content Duration: 01:41
Published
'Will win elections with majority of over 200 seats in WB': Babul Supriyo

As assembly polls in West Bengal near, Union Minister and BJP leader Babul Supriyo expressed confidence over party's chances to win in the state. "The people of West Bengal are with us. If Mamata Didi..
Credit: ANI Duration: 01:55
Published
23rd Jan must be declared as 'Patriot's Day': SC Bose's grand-nephew

West Bengal Chief Minister Mamata Banerjee has written to PM Narendra Modi to declare 23rd January, the birth anniversary of Netaji Subhas Chandra Bose, as a national holiday and "take decisive steps..
Credit: ANI Duration: 01:56
Published
'Separate politics from law and order': WB Governor on political violence

West Bengal Governor Jagdeep Dhankhar hit out at state government over the law and order situation in the state and said that officers want to become artillery and infantry of the political machinery...
Credit: ANI Duration: 01:30
Published
BJP worker found dead in WB's Cooch Behar

A Bharatiya Janata Party (BJP) worker was found dead in West Bengal's Cooch Behar. Family of the deceased alleges that he was killed by TMC goons. Police have denied political angle in the case.
Credit: ANI Duration: 01:10
Published
You Might Like



West Bengal: Rebellion in TMC escalates, party MLA opens front against Prashant Kishore

Before Assembly elections in Bengal, many Trinamool Congress leaders have started publicly expressing dissatisfaction against the party leadership.




DNA - Published





TMC heavyweight Suvendu Adhikari quits Mamata's cabinet: Bengal BJP says 'we have kept our doors open'

West Bengal chief minister Mamata Banerjee, who faces one of the most challenging elections of her polical carrer, on Friday suffered another setback as senior Trinamool Congress leader Suvendu..




IndiaTimes - Published





Bengal transport minister Suvendu Adhikari resigns




IndiaTimes - Published





Strike impacts normal life in Kerala, West Bengal; banking operations hit

A nationwide strike by trade unions in protest against the BJP-led Centre's economic policies on Thursday hit normal life in Kerala, parts of West Bengal, Assam and Telangana as public transport went..




IndiaTimes - Published





6 states/UTs contributed to 60.72% of 44,489 fresh Covid-19 cases: Health ministry

The Union health ministry on Thursday said 60.72 per cent of the 44,489 fresh Covid-19 cases registered in a span of 24 hours have been contributed by six states and UTs, with Kerala leading the tally..




IndiaTimes - Published





Trade union strike partially affects normal life in Bengal

Normal life was partially affected in parts of West Bengal on Thursday due to the nationwide strike called by several trade unions in protest against the Centre's economic policies.




IndiaTimes - Published





West Bengal, Kerala agree to Centre's plan to meet GST shortfall

Kerala and West Bengal, two of the bitter opponents of the Centre's plan on borrowing to compensate states for the GST revenue shortfall have accepted Option 1 proposed by the Union government,..




IndiaTimes - Published





Even if BJP arrests me, I will ensure TMC victory in polls from jail: Mamata

Calling the BJP "garbage of lies" and "biggest curse of the nation", West Bengal chief minister Mamata Banerjee on Wednesday dared the saffron party to arrest her and asserted she will ensure TMC..




IndiaTimes - Published





Bengal will work with Centre to implement Covid-19 vaccination programme: Mamata to PM

West Bengal chief minister Mamata Banerjee on Tuesday assured Prime Minister Narendra Modi that her government is fully prepared to work with the Centre and all other stakeholders for the speedy..




IndiaTimes - Published





Bengal Covid-19 situation being addressed aptly: Mamata to PM

The prime minister reviewed the Covid-19 situation in various states through video conferencing with chief ministers. Banerjee is learnt to have reminded Modi of the non- payment of Goods and Services..




IndiaTimes - Published





Coronavirus: PM Modi holds meeting with chief ministers

Prime Minister Narendra Modi on Tuesday held a meeting with chief ministers of different states over Covid-19 situation in the country, through video conferencing. Tuesday's meeting is in line with..




IndiaTimes - Published





Mamata Banerjee attacks Amit Shah at Bankura event, says lunch with tribal family is a photo op

The CM of Bengal alleged that Amit Shah had not eaten the food prepared by the tribal family, and the food was brought from outside.




DNA - Published





Covid: Positivity rates show Himachal, Delhi as hotspots

Himachal Pradesh, Delhi, Rajasthan, Haryana, Kerala and Goa, in that order, are the current coronavirus hotspots with high positivity rates (confirmed cases per 100 tests) - between 10% to over 15% -..




IndiaTimes - Published





Chhath Puja 2020: Calcutta HC refuses to entertain Bengal govt's review petition, no festivities at Subhas Sarovar

The court has refused to allow the Chhath Puja rituals at Subhas Sarobar in the eastern part of Kolkata, rejecting a modification application by the West Bengal government.




DNA - Published





West Bengal: BJP observes 12-hour bandh in Cooch Behar over party worker's death

The West Bengal Bharatiya Janata Party (BJP) on Thursday called for a 12-hour bandh here in Cooch Behar after a party worker was allegedly beaten to death by goons backed by the Trinamool Congress..




IndiaTimes - Published





TMC to launch new outreach campaign with eye on 2021 state poll

With an eye on the 2021 state poll, West Bengal CM Mamata Banerjee will launch a new mass outreach campaign later this month to reach out to the people with the developmental work of TMC government in..




IndiaTimes - Published





Mamata Banerjee writes to PM Modi to declare Netaji's birthday as national holiday

West Bengal chief minister Mamata Banerjee wrote to Prime Minister Narendra Modi on Wednesday to declare January 23, the birth anniversary of Netaji Subhas Chandra Bose, as a national holiday and take..




IndiaTimes - Published





BJP working on ground to defeat Mamata, over 83% polling booths already covered: Bengal BJP chief

The BJP has expanded its presence to over 83% of polling booths in West Bengal and has divided the state in five zones - Medinipur, north Bengal, Kolkata, Nabadwip and Rahr Bongo- for the upcoming..




IndiaTimes - Published





Shah, Nadda to visit Bengal every month till end of assembly polls: State BJP chief




IndiaTimes - Published





With eye on Bengal polls, BJP puts central leaders in charge of organisational zones




IndiaTimes - Published





A hub of terrorists and anti-nationals, situation in Bengal worse than Kashmir: Dilip Ghosh




IndiaTimes - Published





BJP not in favour of President's rule, not sure if violence and murders in Bengal will lead to it : State party chief Dilip Ghosh




IndiaTimes - Published





Bengal BJP chief greeted with black flags at Alipurduar, stones hurled at his convoy

Stones were hurled and black flags shown at BJP state president Dilip Ghosh's convoy in Jaigaon area of Bengal's Alipurduar district on Thursday, where he had gone to attend party programmes, police..




IndiaTimes - Published





Important news for Goans: Citizens allowed to burst crackers in certain time slots, check here

States like Delhi, Maharashtra, West Bengal, Odisha, Rajasthan, Sikkim, Chandigarh, Haryana, Karnataka has imposed a ban on the selling and bursting of firecrackers




DNA - Published





Covid-19: India performed better than any big developed country: Harsh Vardhan

Union health minister Dr Harsh Vardhan held a virtual meeting with Health Ministers of Andhra Pradesh, Assam, Haryana, Himachal Pradesh, Kerala, Punjab, Rajasthan, Telangana, and West Bengal to review..




IndiaTimes - Published





Lal Bhatia and his team install sanitary napkin vending machines in schools & colleges of West Bengal

Lal Bhatia has used part of the proceeds from the sale of his book to donate sanitary pad vending machines in various girls' schools and colleges in West Bengal.




DNA - Published





Mend your ways or will have to go to crematorium: Dilip Ghosh to TMC cadres

BJP's West Bengal unit president Dilip Ghosh said on Sunday that his party would "restore democracy" in the state if voted to power, warning TMC cadres to mend their ways or they will have to either..




IndiaTimes - Published





Shah plays CAA card in poll-bound Bengal

Senior BJP functionary and Union home minister Amit Shah on Friday said there was no need for President's Rule in West Bengal as he was confident of the saffron party's victory in 2021 assembly..




IndiaTimes - Published





"Our time to smile," says Amit Shah in West Bengal

Union Home Minister Amit Shah on Friday asked the people of West Bengal to provide the Bharatiya Janata Party (BJP) an opportunity to serve the state for five years to convert it into 'Sonar Bangla'.




DNA - Published





Income Tax Department conducts searches in West Bengal, unearths more than Rs 150-crore bogus investments

The Income Tax Department conducted searches on prominent coal traders in West Bengal. Searches were conducted on 5th Nov in Raniganj, Asansol, Purulia, and Kolkata and seized cash and bullion of ? 7.3..




DNA - Published





Amit Shah prays at Dakshineswar Kali Temple, urges people to restore pride of West Bengal




IndiaTimes - Published





Poriborton on anvil in Bengal, says Shah, sets 200-seat target




IndiaTimes - Published





Amit Shah's Day 2 in West Bengal: Check full schedule here

This is his first visit to West Bengal after the COVID-19 lockdown was lifted. He had last visited the state on March 1 amid the anti-Citizenship Amendment Act (CAA) protests.




DNA - Published





Can sense public anger against Mamata government: Amit Shah in Bengal




IndiaTimes - Published





Over 80 schemes of Centre blocked by Mamata govt in West Bengal: Amit Shah

Ahead of the 2021 Assembly elections in West Bengal, Shah has arrived in the state to take stock of the party's organisational matters.




DNA - Published





Ahead of the WB Assembly polls, BJP-TMC eye the Matua and refugee votes, offer sops to woo them

WB Chief Minister Mamata Banerjee has granted land rights to 25,000 refugee families living in the state. Banerjee also allotted 10 crore rupees and 5 crore rupees grant for the Matua Development Board..




DNA - Published





NGT widens ambit of firecracker pollution cases beyond NCR, notices to 18 states, UTs

The green panel sought response from Andhra Pradesh, Assam, Bihar, Chandigarh, Chhattisgarh, Gujarat, Himachal Pradesh, Jammu and Kashmir, Jharkhand, Karnataka, Madhya Pradesh, Maharashtra, Meghalaya,..




IndiaTimes - Published





CAA implementation to be given priority before Bengal assembly polls: Vijayvargiya




IndiaTimes - Published





Amit Shah on 2-day visit to Bengal from Thursday




IndiaTimes - Published





When will local train services resume in West Bengal, Maharashtra and Tamil Nadu? Know here

It may be recalled that normal operations of trains were halted in March after the first lockdown was announced by Prime Minister Narendra Modi due to the COVID-19 pandemic.




DNA - Published





Lockdown in West Bengal extended till November 30, schools and colleges to remain shut

However, cinema halls, theatres and multiplexes will operate with 50% capacity.




DNA - Published





Al-Qaeda conspirator arrested from West Bengal, NIA given transit remand

A group of Jihadi terrorists consisting of more than 10 members were planning to carry out terror attacks in different parts of the country.




DNA - Published





Woman raped by Facebook friend on pretext of marriage

The woman, a native of South Dinajpur district in West Bengal, resides in Gurugram.




DNA - Published





Amit Shah to visit West Bengal on Nov 5 & 6 as political situation heats up in state

The all-important Assembly elections in the eastern state is scheduled for next year.




DNA - Published





'Dismal performance', says Centre over West Bengal's implementation of Jal Jeevan Mission




IndiaTimes - Published





Free and fair polls not possible in West Bengal without Prez rule: Vijayvargiya

Alleging criminalisation of bureaucracy in West Bengal, BJP general secretary Kailash Vijayvargiya on Friday said that free and fair election in that state was not possible under the Trinamool Congress..




IndiaTimes - Published





Strengthen testing, tracking, treatment strategy during festivals: Centre to Delhi, Kerala, Bengal

The Centre on Thursday advised Delhi, Kerala and West Bengal, witnessing a significant rise in coronavirus cases, to gear up the testing, tracking and treatment strategy during the festive season and..




IndiaTimes - Published





West Bengal Guv is BJP's 'loudspeaker' : TMC

The ruling Trinamool Congress Thursday hit out sharply at West Bengal Governor Jagdeep Dhankhar for his alleged "partisan" approach calling him "a disgrace to the Raj Bhavan" and accusing him of acting..




IndiaTimes - Published





TMC's 'Mark Yourself Safe From BJP' campaign crosses 5 lakh-mark as BJP accuses machinery misuse

Before the 2021 assembly elections in West Bengal, TMC's digital campaign called 'Mark Yourself Safe from BJP' has been marked by more than 5 lakh people as 'safe' from the BJP in just four days.




DNA - Published





West Bengal Governor to meet Amit Shah today




IndiaTimes - Published