West Bengal
State in Eastern India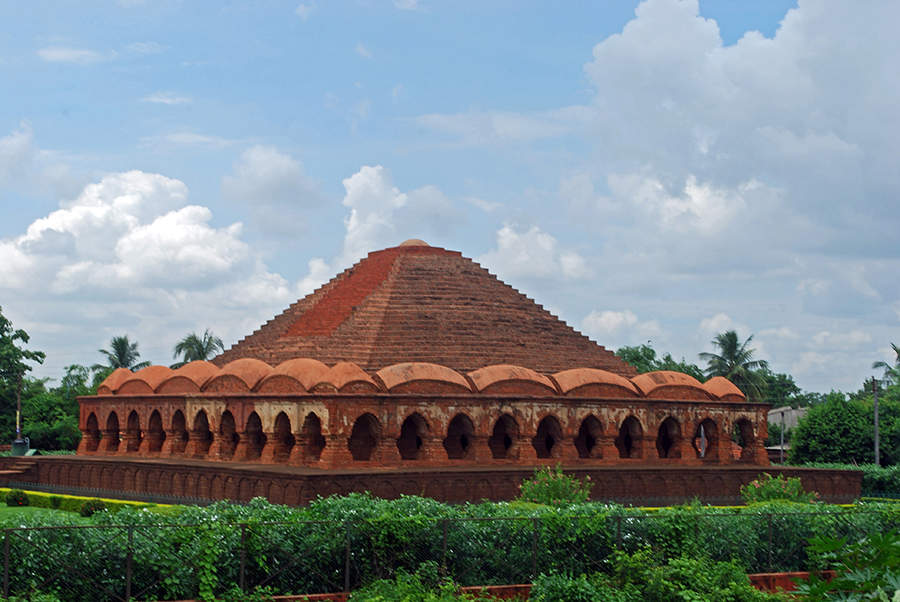 West Bengal is a state in the eastern portion of India. It is situated along the Bay of Bengal, along with a population of over 91 million inhabitants within an area of 88,752 km2 (34,267 sq mi) as of 2011. The population estimate as of 2023 is 102,552,787. West Bengal is the fourth-most populous and thirteenth-largest state by area in India, as well as the eighth-most populous country subdivision of the world. As a part of the Bengal region of the Indian subcontinent, it borders Bangladesh in the east, and Nepal and Bhutan in the north. It also borders the Indian states of Jharkhand, Odisha, Bihar, Sikkim and Assam. The state capital is Kolkata, the third-largest metropolis, and seventh largest city by population in India. West Bengal includes the Darjeeling Himalayan hill region, the Ganges delta, the Rarh region, the coastal Sundarbans and the Bay of Bengal. The state's main ethnic group are the Bengalis, with the Bengali Hindus forming the demographic majority.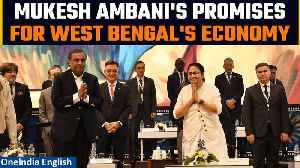 Reliance Industries Chairman Mukesh Ambani Attends Bengal Global Business Summit | Oneindia News

At the Bengal Global Business Summit event, Reliance Industries chairman Mukesh Ambani says, "Reliance will leave no stone unturned to accelerate West Bengal's growth. Reliance has invested close to Rs..
Credit: Oneindia Duration: 03:36
Published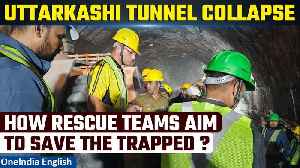 Uttarakhand Tunnel Collapse: Trucks arrive with pipes to aid in the rescue of workers | Oneindia

Rescue operations are ongoing to evacuate 40 workers trapped inside a collapsed tunnel in Uttarakhand for over 48 hours now. Videos from the spot showed huge piles of concrete blocking the tunnel,..
Credit: Oneindia Duration: 03:47
Published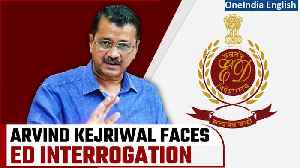 Arvind Kejriwal Faces ED Interrogation in Excise Policy Case| What is AAP's strategy | Oneindia News

Delhi CM Arvind Kejriwal faces Enforcement Directorate questioning in the Delhi excise policy case, with potential arrest fueling political tension. AAP alleges BJP-driven conspiracy, anticipating..
Credit: Oneindia Duration: 02:38
Published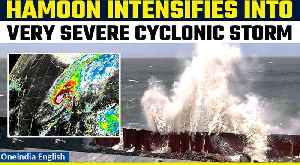 Cyclone Hamoon intensifies into severe cyclone, no major impact likely in Odisha | Oneindia News

Cyclone 'Hamoon' has intensified into a very severe cyclonic storm, and currently lies close to Odisha, West Bengal and Bangladesh, the India Meteorological Department (IMD) said in its latest update..
Credit: Oneindia Duration: 02:06
Published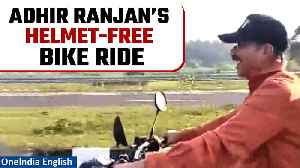 Controversy Erupts As Adhir Ranjan Chowdhury Rides Bike Without Helmet On Highway | Oneindia News

Adhir Ranjan Chowdhury, a notable political figure from West Bengal, became embroiled in controversy when he was captured riding a motorcycle on a highway without wearing a helmet. This incident..
Credit: Oneindia Duration: 02:27
Published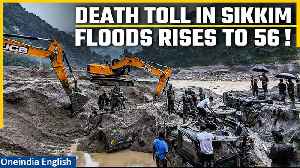 Sikkim floods: 56 casualties reported so far; search is on for 142 people in Sikkim | Oneindia News

The death toll in the massive flash flood in Sikkim reached 56 on Saturday. According to reports, 26 bodies have been recovered from Sikkim so far. The disaster management authorities have also..
Credit: Oneindia Duration: 07:26
Published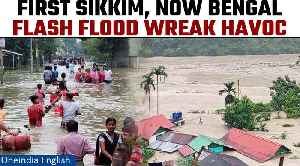 Bengal Flood: Flash floods in Kalimpong trigger evacuations, over 10,000 rescued

While Sikkim is in turmoil after flash floods in the state have claimed at least 14 lives, West Bengal is now reeling under floods after incessant rainfall hit various areas of the state for the past..
Credit: Oneindia Duration: 03:25
Published
You Might Like



'Will enforce CAA': Amit Shah vows to stop infiltration

Home Minister Amit Shah virtually kicks off the BJP's 2024 Lok Sabha campaign in Kolkata, emphasizing the implementation of the Citizenship (Amendment) Act (CAA) and asserting the rights of Hindu..




IndiaTimes - Published





Railways to implement AI-based surveillance system on 700-km tracks to prevent elephant deaths

An AI-based surveillance system to prevent elephant deaths on railway tracks will be installed on 700 kilometres of route passing through forest areas, Railway Minister Ashwini Vaishnaw said on..




IndiaTimes - Published





'CAA law of country, no one can stop its implementation': Amit Shah's open dare to Mamata Banerjee at Kolkata rally

Union home minister Amit Shah has reiterated that the Citizenship Amendment Act will be implemented in the country. Addressing a BJP rally in Kolkata, Amit Shah accused West Bengal Mamata Banerjee of..




IndiaTimes - Published





Kota student left no suicide note, say cops

A 20-year-old NEET aspirant from West Bengal hanged himself from a ceiling fan at his rented accommodation in Kota on Monday evening. No suicide note was found in his room. ​​Faureed was last seen..




IndiaTimes - Published





BJP gears up for mega rally in Kolkata, likely to set tone for party's Lok Sabha campaign in West Bengal

The BJP in West Bengal is gearing up for Union home Minister Amit Shah's mega rally in Kolkata. The rally is likely to set the tone for the BJP's campaign for the 2024 Lok Sabha polls in the state...




IndiaTimes - Published





20-year-old NEET aspirant from Bengal found hanging in Kota; 25th case this year

Faureed Hussain (20), a native of West Bengal had been preparing for the medical entrance exam NEET in Kota for over a year.




DNA - Published





West Bengal: Ration scam should be probed by central agencies like CBI, says Adhir Ranjan Chowdhury

Congress MP Adhir Ranjan Chowdhury alleges "fake" ration shops and mid-day-meal scams in West Bengal, calling for a CBI probe. He highlights the plight of tea garden workers who lack basic government..




IndiaTimes - Published





West Bengal: LoP Suvendu Adhikari writes to ED director, I-T, Health ministry, alleges probe in purchase of PPE kits during Covid pandemic

Suvendu Adhikari, the Leader of Opposition in the West Bengal Assembly, has written to the Enforcement Directorate (ED), alleging a financial scam in the purchase of PPE kits and other medical..




IndiaTimes - Published





Annual tiger census in Sunderbans to begin from November 27

The annual tiger census in West Bengal's Sunderbans will begin on November 27, a senior Forest department official said on Friday. The tiger census is part of the nationwide census by different states..




IndiaTimes - Published





West Bengal: High court allows BJP to hold November 29 rally at Kolkata site used by Trinamool Congress

The Calcutta high court permitted the BJP to hold a rally near Victoria House at Esplanade, upholding the single bench order and dismissing the petition filed by the West Bengal government. The High..




IndiaTimes - Published





New shocking revelations against TMC MP Mahua Moitra in 'cash-for-query' case, know details

Mahua Moitra, who is under the scanner for the "Cash-for-Query" allegations, West Bengal Chief Minister Mamata Banerjee said that expelling Moitra will make her popular for three months.




DNA - Published





Representation of SCs/STs: Supreme Court asks Centre to set up fresh delimitation commission

The Supreme Court has directed the Central government to establish a new delimitation commission for proportional representation of Scheduled Castes (SCs) and Scheduled Tribes (STs). The court cannot..




IndiaTimes - Published





Supreme Court asks Centre to consider reconstitution of delimitation commission for Limbu and Tamang tribals

The Supreme Court has urged the Indian government to consider the proportional representation of the Limbu and Tamang tribal communities in Sikkim and West Bengal. The court highlighted the..




IndiaTimes - Published





Mamata announces slew of new policies, sub-sea cable landing station, industrial corridors

West Bengal Chief Minister Mamata Banerjee announced new policies to double the state's exports, modernize logistics, and promote renewable energy manufacturing. She also revealed plans for a sub-sea..




IndiaTimes - Published





New bench set up, judge drops West Bengal scam cases

A judge of the Calcutta High Court, Justice Abhijit Gangopadhyay, has removed all cases related to teacher recruitment in state-run schools that were referred to the Supreme Court from his list. This..




IndiaTimes - Published





2 dead, 7 injured as Telangana convention centre roof falls

Two construction workers were killed and seven others injured when the roof of a convention centre being built in Moinabad, Telangana, collapsed. The workers were attempting to lay a high roof without..




IndiaTimes - Published





President Droupadi Murmu to inaugurate 3 trains enhancing connectivity in Jharkhand, Odisha tribal areas

Indian Railways is set to launch three new trains to improve connectivity in the tribal belt of Jharkhand and Odisha. The trains include the Badampahar-Tatanagar MEMU, Badampahar-Rourkela Weekly..




IndiaTimes - Published





'Congress will have to learn to say 'Bharat Mata Ki Jai' otherwise...': BJP leader Dilip Ghosh

BJP MP Dilip Ghosh criticized Rahul Gandhi's suggestion to replace "Bharat Mata Ki Jai" with "AdJi Ki Jai", stating that the Congress party must learn to say the former. He made these remarks after..




IndiaTimes - Published





HC junks West Bengal mantri plea to scrap coal case summons

The Delhi High Court has rejected the request to cancel the summons issued by the Enforcement Directorate (ED) to the Law Minister of West Bengal, Moloy Ghatak, in relation to the coal theft case in..




IndiaTimes - Published





Mamata Banerjee demands Railways give priority to safety of passengers

West Bengal Chief Minister Mamata Banerjee on Sunday demanded that the railways give more attention to the safety and security of travellers and roll back the dynamic pricing of train tickets...




IndiaTimes - Published





PM Modi extends wishes countrymen on auspicious occasion of Chhath Puja

Prime Minister Narendra Modi and Uttar Pradesh Chief Minister Yogi Adityanath extended their wishes to the people on the occasion of 'Chhath', an ancient Hindu festival where prayers are offered to the..




IndiaTimes - Published





Weather update: IMD issues very heavy rainfall warning in these states; check latest forecast here

Regions in coastal Odisha and West Bengal brace for heavy to very heavy rainfall on November 16 and 17.




DNA - Published





Owaisi cuts votes of Congress, says Adhir Ranjan Chowdhury after his RSS puppet remark

West Bengal Congress chief Adhir Ranjan Chowdhury has accused AIMIM chief Asaduddin Owaisi of cutting votes to benefit the BJP. Chowdhury claimed that Owaisi takes bribes from the BJP to make the..




IndiaTimes - Published





TMC neta shot dead outside home, 1 of 2 killers lynched

Trinamool block president was fatally shot outside his residence in Bamangachhi, resulting in the lynching of one of the suspected assailants and subsequent arson in the nearby Daluakhaki village of..




IndiaTimes - Published





TMC leader murder: Mamata Banerjee needs to stop low-level politics, says BJP's Agnimitra Paul

The BJP General Secretary in West Bengal, Agnimitra Paul, has denied allegations that her party was involved in the killing of a local Trinamool Congress leader. She criticized the Chief Minister and..




IndiaTimes - Published





Amid Cash for query controversy, Mahua Moitra given organisational responsibilities in TMC

Trinamool Congress MP Mahua Moitra has been appointed as the district president of Krishnanagar (Nadia North) in West Bengal. This move by the TMC is seen as a show of support for Moitra, who is..




IndiaTimes - Published





Centre, Bengal govt clash in SC over CBI probes in state




IndiaTimes - Published





West Bengal school jobs scam: TMC MP Abhishek Banerjee appears before ED; submits documents

Trinamool Congress MP Abhishek Banerjee appeared before the Enforcement Directorate (ED) and submitted a reply along with supporting documents in relation to an ongoing probe into an alleged school..




IndiaTimes - Published





Modi govt to continue with its zero tolerance approach towards illegal immigration, says Amit Shah

Union Home Minister Amit Shah has stated that the Indian government will maintain a zero-tolerance stance towards illegal immigration. The National Investigation Agency (NIA) recently conducted raids..




IndiaTimes - Published





West Bengal: 3.6 magnitude quake jolts Alipurduar district




IndiaTimes - Published





ED: 30% of PDS foodgrain go to open market in West Bengal

As much as 30% of foodgrain in West Bengal's public distribution system meant for the poor was diverted to the open market, the ED claimed on Tuesday, a day after senior TMC minister Jyoti Priya..




IndiaTimes - Published





193-year-old Scottish Church School in Kolkata to open doors for girls

The Scottish Church Collegiate School is set to open its doors for girls students for the first time from January next year. The co-education section of the 193-year-old school has been set up on the..




IndiaTimes - Published





ED searches 13 sites, quizzes West Bengal mantri




IndiaTimes - Published





UP Finance Minister Suresh Khanna becomes convenor of GoM of GST Council

Uttar Pradesh's Finance Minister, Suresh Khanna, has been appointed as the convenor for the Group of Ministers (GoM) by the GST Council to review tax rates on goods and services. The decision was made..




IndiaTimes - Published





Cash-for-query row: Sources claim 47 log-ins to TMC MP Mahua Moitra's Lok Sabha account from Dubai

TMC MP Mahua Moitra is set to appear before the Lok Sabha ethics committee to address allegations of cash-for-query. Sources claim that her parliamentary account was accessed multiple times from the..




IndiaTimes - Published





Book on Tamil Nadu's contribution to freedom struggle released

A bilingual book on Tamil Nadu's contribution to the freedom struggle has been released by Chief Minister M K Stalin. The book includes articles written by educationists from across the state and..




IndiaTimes - Published





BJP conspiring to arrest all opposition leaders before '24 polls: Mamata Banerjee

West Bengal Chief Minister Mamata Banerjee accused the BJP-led central government of trying to arrest opposition leaders before the 2019 Lok Sabha polls to secure votes for themselves. She also claimed..




IndiaTimes - Published





Central government likely to resolve MGNREGA tussle with Bengal, pay dues

The central government is likely to resolve the dispute over MGNREGA dues with West Bengal after the intervention of Governor CV Ananda Bose. TMC leaders, held meetings with the governor, who then..




IndiaTimes - Published





Centre to intervene in case of constitutional crisis in Bengal: BJP




IndiaTimes - Published





Legal options open for WB govt: TMC on arbitral panel's ruling favouring Tata Motors in Singur case

TMC downplayed Tata Motors' win in arbitral proceedings against West Bengal Industrial Development Corporation (WBIDC) for the abandoned car project in Singur, stating that it is not final verdict...




IndiaTimes - Published





'When will...': West Bengal CM Mamata Banerjee slams Railways as death toll in Andhra Pradesh train accident rises to 13

A few coaches derailed after the Visakhapatnam-Ragada passenger train hit a Visakhapatnam-Ragada train travelling on the same route in Andhra Pradesh's Vizianagaram district on Sunday evening,..




DNA - Published





Visva-Bharati VC's letter to Mamata Banerjee stokes fresh row

Visva-Bharati's Vice-Chancellor, Bidyut Chakrabarty, faced criticism and was likened to a "Class IV standard BJP cadre" by the Trinamool Congress after he sent a four-page letter to West Bengal CM..




IndiaTimes - Published





Now, our soldiers strike terrorists not just in country but also in Pakistan: Rajnath Singh

Indian Defence Minister Rajnath Singh stated that after the terror attacks in Uri and Pathankot, India decided to retaliate immediately. Singh highlighted that under Prime Minister Modi's leadership,..




IndiaTimes - Published





TMC plundering West Bengal's resources, depriving people: BJP

The BJP state president Sukanta Majumdar accused the ruling TMC of plundering West Bengal's resources and depriving the people of their needs. He claimed that one TMC leader after another is going to..




IndiaTimes - Published





Tamil Nadu's blue carbon initiative offers key lessons for coastal states at climate summit

At a climate summit in Mumbai, Supriya Sahu emphasized the importance of blue carbon ecosystems, specifically mangrove forests, seagrass beds, and salt marshes, in combating climate change. She..




IndiaTimes - Published





West Bengal 'mantri' daughter says ₹3.4cr earned from tuitions

The arrest of Jyoti Priya Mallick, a state forest minister in Bengal, has revealed his alleged control over shell companies through his wife and associates. Central agencies have found evidence of..




IndiaTimes - Published





ED putting pressure on my former PA to name me in municipal jobs case: Bengal minister Sujit Bose

West Bengal Fire Services Minister Sujit Bose has accused the Enforcement Directorate (ED) of pressurizing his former personal assistant, Nitai Dutta, to implicate him in a job scam. Dutta, who is..




IndiaTimes - Published





Bengal minister Jyoti Priya Mallick held by ED in ration 'scam'

Bengal minister Jyoti Priya Mallick was arrested by the Enforcement Directorate in connection with an alleged ration pilferage scam. Mallick, accused of refusing to cooperate in the investigation,..




IndiaTimes - Published





West Bengal: Muslim outfit holds protest against Israeli atrocities on Palestine

The All India Majlis-E-Ittehadul Muslimeen (AIMIM) in Asansol, West Bengal, organized a protest march in support of Palestine and against Israel's actions at the Al-Aqsa Mosque. Thousands of protesters..




IndiaTimes - Published





Bengal ration scam proceeds diverted through 2 shell companies: ED tells court

The Enforcement Directorate (ED) has revealed that a significant amount of money from the ration distribution irregularities case in West Bengal was diverted through two shell companies registered in..




IndiaTimes - Published