West Bengal
State in Eastern India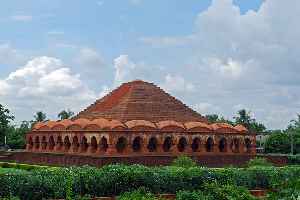 West Bengal is a state in the eastern region of India along the Bay of Bengal. With over 91 million inhabitants, it is the fourth-most populous state and the thirteenth-largest state by area in India. Covering an area of 88,752 km2 (34,267 sq mi), it is also the world's seventh-most populous country subdivision. Part of the Bengal region of the Indian subcontinent, it borders Bangladesh in the east, and Nepal and Bhutan in the north. It also borders the Indian states of Odisha, Jharkhand, Bihar, Sikkim and Assam. The state capital is Kolkata, the seventh-largest city, and the third-largest metropolitan area in India. West Bengal includes the Darjeeling Himalayan hill region, the Ganges delta, the Rarh region and the coastal Sundarbans. The state's main ethnic group are the Bengalis, with the Bengali Hindus forming the demographic majority.


Watch: 10-feet-long King Cobra rescued from a temple in Odisha

A forest department official informed that a 10-feet-long King Cobra was rescued by the team from the premises of the Nandikeshwar temple of Ganjam district. A team including the Forest Ranger visited..
Credit: HT Digital Content Duration: 01:49
Published
COVID-19: WB idol maker's business slumps by over 50%

Due to the COVID-19 pandemic, idol makers in West Bengal are facing hardships. An idol maker from West Bengal's Mohanpur has been making idols from past 26 years to earn their livelihood. There has..
Credit: ANI Duration: 01:25
Published
West Bengal Congress chief Somen Mitra passes away, tributes pour in

West Bengal Congress President Somen Mitra passed away at a Kolkata hospital. He had been admitted to the hospital around 17 days back due to heart and kidney related ailments. Hospital sources told..
Credit: HT Digital Content Duration: 02:32
Published
Watch: Giant fish weighing 800 kg caught off Digha coast, sold for Rs 50,000

A giant fish weighing about 800 kg was caught by fishermen off the coast of Digha in West Bengal. The fish was about 8 feet long and 5 feet wide and resembled the ear of an elephant. Fishermen in the..
Credit: HT Digital Content Duration: 01:18
Published
35-yr-old man dies after being hit by speeding dumper in Siliguri, locals set dumpers on fire

A 35-year-old man died after being hit by a speeding dumper in West Bengal's Siliguri. He was hit at Ghoshpukur bypass in Siliguri on July 29. The locals thrashed the driver and set 4 dumpers on fire..
Credit: ANI Duration: 01:06
Published
West Bengal-bound train passengers stuck in Bhubaneswar

Hundreds of passengers from various locations halted at Bhubaneswar station on July 29. Train for West Bengal terminated due to lockdown. People complained of zero arrangements.
Credit: ANI Duration: 02:50
Published
COVID-19: India's death rate dips to 2.23%, recovery rate rises to 64.51%

India's COVID-19 tally crossed 15 lakh on July 29. However, country's death rate dips to 2.23% while the recovery rate stood at 64.51%. Recovered cases in Goa reached 3, 784 while the total death toll..
Credit: ANI Duration: 01:42
Published
COVID-19: Recovery rate stands at 63.92%

Recovery rate of India stands at 63.92% with above 32,000 recoveries on July 27. The active case percentage is 33.80% while the death rate is 2.28% in the country. Around 8,706 patients were discharged..
Credit: ANI Duration: 01:51
Published
Artists paint graffiti on road to create awareness about COVID-19 in WB's Asansol

Artists in Asansol painted graffiti on road to spread awareness about global pandemic. 'Corona demon' was painted on streets to warn people about the threat of the deadly disease. Total 19154 active..
Credit: ANI Duration: 01:13
Published
People of various faiths come forward to donate blood in Murshidabad

India has remained a land of religious diversity, assimilating in its fold various cultures and faiths from time to time. It is a land where the philosophy of 'Unity in Diversity' has not only..
Credit: ANI Duration: 03:18
Published
Police vehicles, public transport set ablaze as violence erupts in WB's Dinajpur

Angry mob burned at least three police vehicles and two public buses over an alleged gang rape and murder of a teenager in West Bengal's Dinajpur District. Locals staged protest and raised slogans- 'We..
Credit: ANI Duration: 01:39
Published
District Ganga officials to be considered for PM's Awards for Excellence in Public Administration 2020

Union Minister Dr. Jitendra Singh launched the restructured Prime Minister's Awards for Excellence in Public Administration 2020 scheme and web portal on July 17. In the first meeting of the National..
Credit: ANI Duration: 03:08
Published
WB's Siliguri observes lockdown, sanitization drive underway

Streets wore a deserted look in Siliguri as the city observes complete lockdown in view of rising cases of COVID-19. Authorities on June 17 carried out massive sanitisation drive across the city to..
Credit: ANI Duration: 01:29
Published
'Education is politically caged in West Bengal': Governor Dhankar

West Bengal Governor, Jagdeep Dhankar on condition of education in state said that education in West Bengal is politically caged. He said, "Education is soul of society as it passes from a generation..
Credit: ANI Duration: 01:16
Published
You Might Like



West Bengal set to join Centre's 'Jal Jeevan Mission'




IndiaTimes - Published





Mamata appeals for unity in diversity on Ram Temple bhoomi pujan day

On the day when bhoomi pujan was held for the Ram Temple at Ayodhya and Prime Minister Narendra Modi laid the foundation stone for it, West Bengal Chief Minister Mamata Banerjee appealed for unity in..




IndiaTimes - Published





West Bengal Lockdown: All banks to remain closed on these dates

To curb the rapid spread of coronavirus, the Mamata Banerjee government, on August 3, revised the dates for complete lockdown in West Bengal till August 31. Due to the lockdown, all banks across the..




DNA - Published





BJP to TMC : withdraw lockdown on August 5 for celebration of bhoomi pujan in Ayodhya

Taking a swipe at the TMC government for selecting August 5 for complete lockdown in West Bengal when 'bhoomi pujan' (groundbreaking rituals) is scheduled in Ayodhya for the construction of the Ram..




IndiaTimes - Published





West Bengal Lockdown: State govt revises COVID-19 lockdown dates; check new dates here

From the earlier announced notification, August 16, 17, 23, and 24 have been dropped, while August 20, 21, 27, and 28 have been added to the West Bengal COVID-19 lockdown duration.




DNA - Published





West Bengal: CPI(M) leader Mohammed Salim tests positive for COVID-19

The senior leader of the Marxist party has been admitted to a private hospital on Kolkata's Eastern Metropolitan Bypass




DNA - Published





All West Bengal BJP MPs are with party: Kailash Vijayvargiya

BJP general secretary Kailash Vijayvargiya on Monday dismissed speculation that some party MPs from West Bengal may join the ruling Trinamool Congress (TMC) before next year's Assembly polls in that..




IndiaTimes - Published





No infighting in West Bengal BJP, TMC spreading canards to mislead people: Dilip Ghosh

Amid reports of infighting in the BJP unit of West Bengal, the party's state president, Dilip Ghosh, on Monday asserted that all was well in the organisation, and charged the TMC with spreading canards..




IndiaTimes - Published





Kailash Vijayvargiya dismisses rumours about BJP MPs joining TMC

BJP leader and Central observer for West Bengal Kailash Vijayvargiya on Monday dismissed the news appearing on a section of news channels that some Bharatiya Janata Party (BJP) parliamentarians are..




IndiaTimes - Published





West Bengal Lockdown: Complete list of COVID-19 containment zones in Kolkata, Howrah

West Bengal Chief Minister Mamata Banerjee had earlier announced that bi-weekly complete lockdown in the state will be on August 2, 5, 8, 9, 16, 17, 22, 23, 29, 30.




DNA - Published





Thieves targeting BJP members in West Bengal; bar owned by female party leader robbed

In Asansol, where thieves committed a robbery in the bar owned by a female BJP leader.




DNA - Published





WB govt extends restriction on flights to Kolkata from six cities till Aug 15

Earlier, on July 17, flight operations to Kolkata from Delhi, Mumbai, Pune, Chennai, Nagpur, and Ahmedabad were suspended on the request of West Bengal government till July 31.




DNA - Published





Positivity rate: Karnataka, Bihar, Bengal and Andhra emerge as new hotspots

Maharashtra continues to top the positivity rate chart but new states have emerged as hotspots over the 14-day period from July 15 to July 28 even as the national rate of total confirmed cases per 100..




IndiaTimes - Published





West Bengal govt issues guidelines for bi-weekly complete lockdown, containment zones

Chief Minister Mamata Banerjee had earlier announced that bi-weekly complete lockdown in West Bengal will be on August 2, 5, 8, 9, 16, 17, 22, 23, 29, 30. Further, lockdown in containment zones across..




DNA - Published





WB lockdown: No flight operation for 7 days in month of August; schools, colleges to remain closed till Aug 31

West Bengal Chief Minister Mamata Banerjee on Tuesday announced that bi-weekly complete lockdown in the state will continue in August




DNA - Published





West Bengal Congress president Somen Mitra dies at 78

West Bengal Congress president Somen Mitra passed away at a city hospital in the early hours of Thursday. He was 78. Sources at the private hospital where Mitra was admitted to said he died due to..




IndiaTimes - Published

Also reported by •DNA


West Bengal: Schools, colleges to remain closed till August 31, likely to reopen on Teachers' Day

Mamata stated that the administration is thinking of reopening schools from September 5 which incidentally also happens to be Teachers' Day, and continue classes till Durga Puja.




DNA - Published





Jharkhand blames Bihar, Bengal for rise in coronavirus cases

Jharkhand is witnessing an increase in the number of coronavirus cases due to neighbouring states of Bihar and West Bengal, a senior officer said on Tuesday.




IndiaTimes - Published





Bi-weekly complete lockdown in West Bengal to continue in August: Here is list of dates

West Bengal complete lockdown calendar for August: West Bengal Chief Minister Mamata Banerjee on Tuesday announced that bi-weekly complete lockdown in the state will continue in August, with..




DNA - Published





Covid community spread in West Bengal started early April, biweekly lockdown of no help: Virologist

The Bengal government has largely failed to address the Covid-19 crisis, and its recent decision to impose complete lockdown twice a week till August will be of no help in stemming the community spread..




IndiaTimes - Published





Lockdown in containment zones extended in Bengal till August 31, biweekly curbs to continue

West Bengal chief minister Mamata Banerjee announced on Tuesday that the lockdown in the containment zones of the state will continue till August 31 as also the biweekly restrictions in place to check..




IndiaTimes - Published





Prashant Kishor's report will be key in ticket distribution for Bengal assembly polls: TMC sources




IndiaTimes - Published





West Bengal: Mamata announces extension of lockdown in containment zones till August 31

This week, however, will not see complete lockdown on Saturday, August 1 due to Eid-al-Adha festival. There will be lockdown in containment zones on August 1 and complete lockdown on August 2 and..




DNA - Published





Mamata Banerjee thanks PM Modi for cooperation in tackling Covid crisis

Chief minister Mamata Banerjee on Monday thanked Prime Minister Narendra Modi for his cooperation in tackling the Covid-19 crisis in West Bengal, but alleged that "a few people holding constitutional..




IndiaTimes - Published





Centre should clear West Bengal's dues to help state effectively tackle Covid-19: Mamata Banerjee

West Bengal chief minister Mamata Banerjee on Monday asked the Centre to clear all financial dues of the state to help it fight the Covid-19 pandemic effectively.




IndiaTimes - Published





Mamata announces major rejig in TMC ahead of 2021 Bengal polls

Trinamool Congress chief Mamata Banerjee on Thursday announced a major reshuffle in the party's organisation as she gave leadership roles to younger and new faces with an eye on next year's assembly..




IndiaTimes - Published





ED raids Rajasthan CM Ashok Gehlot's brother in fertilizer scam

Agrasen Gehlot is the owner of a company named Anupam Krishi, on which the Customs department has levied a penalty of Rs 7 crore for alleged violations of rules in exports. The ED also conducted..




IndiaTimes - Published





Amid Covid, monsoon fury in 8 states leaves 470 dead

In the middle of coronavirus pandemic, the monsoon has unleashed its fury in eight states causing more than 470 deaths due to floods and landslides, with the highest toll being recorded in West Bengal,..




IndiaTimes - Published





Complete lockdown in West Bengal on July 23, 25 and 29




IndiaTimes - Published




NDRF deploys 122 teams in country for flood, rain rescue works

A spokesperson said these teams are positioned in 20 states with a maximum of 19 in Bihar, followed by 12 in Assam, the two states facing flood situation. Nine teams have been deployed in Gujarat,..




IndiaTimes - Published





BJP will be thrown out of Bengal in 2021 polls, says Mamata Banerjee; Dilip Ghosh hits back

We will throw the BJP out of West Bengal in the 2021 Assembly elections, Mamata Banerjee said at annual Martyr's Day rally of TMC.




DNA - Published





Opposition slams TMC for alleged lax implementation of lockdown as govt admits community transmission

Opposition parties in West Bengal Monday slammed the TMC government for allegedly not implementing the lockdown properly, leading to community transmission of Covid-19 in certain areas, and asked it to..




IndiaTimes - Published





West Bengal announces 2-day lockdown every week; community spread recorded in few areas

Stating that community transmission of Covid-19 has been recorded in a few areas in West Bengal, the Mamata Banerjee government on Monday announced a complete lockdown across the state for two days..




IndiaTimes - Published





West Bengal govt announces complete lockdown across state on Thursday, Saturday

Complete lockdown will be in force across West Bengal on Thursday and Saturday this week, state Home Secretary Alapan Bandyopadhyay said.




DNA - Published




West Bengal governor Jagdeep Dhankhar to meet Amit Shah over situation in state




IndiaTimes - Published





West Bengal: Crude bomb hurled at BJP rally in Barrackpore, four party workers injured

At least four BJP workers were injured in the attack.




DNA - Published





Despite COVID-19 surge, West Bengal to not re-impose complete lockdown

The case tally in the state includes 14,709 active cases and 1,049 deaths.




DNA - Published





Heavy rains over north, northeast India from July 19-21: IMD

The premier weather forecasting department issued a red warning for West Bengal, Assam, and Meghalaya from July 19-21.




DNA - Published





Maternal deaths rise in Chandigarh, Punjab, Bengal

India's maternal mortality ratio (MMR), a key health system indicator, dropped to 113 in the 2016-18 period from 122 in 2015-17, according to the latest data released by the office of the registrar..




IndiaTimes - Published





West Bengal Lockdown: Ban on passenger flights to Kolkata from 6 cities extended till July 31

Flight operations to Kolkata from Delhi, Mumbai, Pune, Chennai, Nagpur and Ahmedabad were suspended from July 6 to July 19 on the request of West Bengal government.




DNA - Published





West Bengal governor acting more dangerously than BJP mouthpiece: Mamata Banerjee

West Bengal chief minister Mamata Banerjee on Thursday said governor Jagdeep Dhakhar was acting "more dangerously" than a BJP mouthpiece and it doesn't suit someone holding a constitutional post, hours..




IndiaTimes - Published





WB COVID-19 crisis: Lockdown extended in containment zones till July 19

The step was taken on the request of the West Bengal state government in view of the increasing COVID1-19 cases.




DNA - Published





'Suspected heinous killing' of Debendra Nath Ray speaks of 'gunda raj' in West Bengal: BJP

BJP president JP Nadda on Monday termed the death of party leader Debendra Nath Ray as a "suspected heinous killing" and alleged that it showed the "gunda raj and failure of law and order" under the..




IndiaTimes - Published





Suicide or murder? BJP MLA Debendra Nath Roy found hanging near residence in West Bengal's Hemtabad

BJP West Bengal and Roy's family has claimed that he was "killed and then hung". On the other hand, a suicide note was found from the MLA's pocket.




DNA - Published





Hindutva leader Tapan Ghosh dies battling Covid-19

A former RSS leader, Ghosh is the second politician in the state to die due to Covid-19. Last month, Trinamool Congress MLA succumbed to the contagion. Condoling Ghosh's death, senior BJP leader Swapan..




IndiaTimes - Published





West Bengal Complete Lockdown: List of containment zones in Kolkata, Howrah, North 24 Parganas, other districts

The West Bengal government had on Tuesday decided to impose strict lockdown in COVID-19 affected areas by clubbing together containment zones and buffer zones near them from July 9. CM Mamata Banerjee..




DNA - Published





Seven-day lockdown imposed from 5 pm in all containment zones of West Bengal




IndiaTimes - Published





West Bengal containment zones lockdown for 7 days from July 9, police to be strict: Mamata Banerjee

Here is the complete list of containment zones in Kolkata, Howrah and North 24 Parganas which will be placed under complete lockdown from July 9.




DNA - Published





WB lockdown tommorow: Check full list of containment zones

Kolkata city has 33 containment zones. Meanwhile, South 24 Parganas and North 24 Parganas districts of West Bengal have 155 and 219 zones respectively.




DNA - Published




Left Front, Congress hold joint rally against fuel price hike

The Left Front in West Bengal and the Congress party jointly held a protest rally on Tuesday against the rise in fuel prices and demanding proper compensation to the cyclone Amphan victims by the state..




IndiaTimes - Published