Nepal
Country in South Asia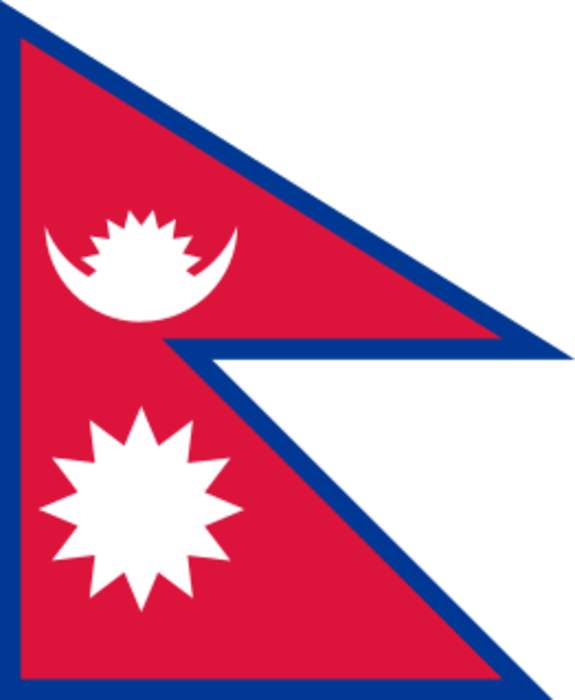 Nepal, officially the Federal Democratic Republic of Nepal, is a landlocked country in South Asia. It is mainly situated in the Himalayas, but also includes parts of the Indo-Gangetic Plain, bordering Tibet of China to the north, and India in the south, east, and west, while it is narrowly separated from Bangladesh by the Siliguri Corridor, and from Bhutan by the Indian state of Sikkim. Nepal has a diverse geography, including fertile plains, subalpine forested hills, and eight of the world's ten tallest mountains, including Mount Everest, the highest point on Earth. Nepal is a multi-ethnic, multi-lingual, multi-religious and multi-cultural state, with Nepali as the official language. Kathmandu is the nation's capital and the largest city.


Prime Minister Narendra Modi visits Nepal on the occasion of Buddha Purnima |Oneindia News

buddha purnima,modi visit nepal,pm modi nepal visit,pm modi visit nepal,pm modi visits nepal latest news updates,modis nepal visit,pm modi nepal lumbini visit,pm modi's nepal visit,pm modi in nepal,pm..
Credit: Oneindia Duration: 01:30
Published
After Rahul Gandhi's Nepal pub row, BJP slams Cong over video of 'partying' workers | Oneindia News

Days after the row over Congress leader Rahul Gandhi's video at a Nepal nightclub, the BJP shared a video claiming that Congress youth workers were having the time of their lives in Nagpur #Congress..
Credit: Oneindia Duration: 01:08
Published
Rahul Gandhi's Nepal visit sparks controversy | Know why he's there | Viral video | Oneindia News

Congress leader Rahul Gandhi's visit Nepal has become a controversial subject. While the BJP slammed the visit, Congress is defending it. Sources said that he went to Kathmandu to attend the wedding of..
Credit: Oneindia Duration: 02:06
Published
Masked dancers mark Hindu festival in Nepal

Performers masked as various Hindu deities dance to celebrate Naradevi Swetkali Parba, a festival organised every 12 years in Nepal's capital Kathmandu, in the belief it will help overcome evil and..
Credit: euronews (in English) Duration: 00:51
Published
You Might Like



India to export urea, DAP to Nepal, Sri Lanka




IndiaTimes - Published





PM Narendra Modi creates history in Nepal, places India as a centre for preserving Buddhism

PM Modi attended the 2566th Buddha Jayanti Celebration at International Convention Centre and Meditation Hall at Lumbini along with Deuba.




DNA - Published





'PM Narendra Modi reversed 30 years of inertia with Buddha centre in Nepal'




IndiaTimes - Published





In boost to ties, India & Nepal ink 6 pacts during PM Narendra Modi's trip




IndiaTimes - Published





Indo-Nepal ties 'unshakable like Himalayas', says PM Narendra Modi

PM Modi, who was in Lumbini on the occasion of Buddha Purnima at the invitation of his counterpart Sher Bahadur Deuba, made the remarks while addressing an international conference on Buddhism. The..




IndiaTimes - Published





PM Modi's Lumbini visit: India, Nepal sign 6 MoUs including joint hydroelectric project

One of the major takeaways of the visit is the joint development of the Arun-4 hydroelectricity project between the two neighbouring nations.




DNA - Published





Indian PM skips opening of Nepal's Chinese-built airport

Nepal on Monday opened a Chinese-built airport intended to capitalise on Buddhist tourism as India's prime minister landed a few kilometres away to mark the birth, enlightenment and death of the..




IndiaTimes - Published





India-Nepal friendship to benefit entire humanity, says PM Modi




IndiaTimes - Published





Nepal, India sign 6 MoUs during Modi's Lumbini visit




IndiaTimes - Published





PM Modi holds bilateral talks with his Nepalese counterpart Sher Bahadur Deuba in Lumbini




IndiaTimes - Published




PM Narendra Modi prays at Mahamaya Devi Temple in Lumbini with Nepal PM Deuba

After offering prayers at the Mahamaya Devi Temple, PM Modi also addressed a public meeting on Buddha Jayanti organised by Lumbini Development Trust.




DNA - Published





PM Modi arrives in Lumbini on Buddha Purnima; to hold talks with Nepal counterpart

Prime Minister Narendra Modi on Monday arrived in Nepal for a brief visit to Lumbini, the birthplace of Gautam Buddha, and also hold comprehensive talks with his Nepalese counterpart Sher Bahadur Deuba..




IndiaTimes - Published





Religious tourism high on agenda during PM Modi's Nepal visit




IndiaTimes - Published





PM Narendra Modi to visit Lumbini today on Buddha Purnima, key points on Nepal visit

PM Narendra Modi and PM Sher Bahadur Deuba will hold a bilateral meeting in Lumbini, followed by a lunch hosted by the Nepal Prime Minister.




DNA - Published

Also reported by •IndiaTimes


PM Modi: Trip to deepen 'time-honoured linkages' with Nepal




IndiaTimes - Published





Buddha Jayanti 2022: PM Narendra Modi to visit Nepal's Lumbini on Buddha Purnima

Prime Minister Modi will also attend the 2566th Buddha Jayanti Celebration and address a large gathering of people from Nepal and India.




DNA - Published





"India's ties with Nepal are unparalleled, people-to-people contacts form close relationship," says PM Modi

PM Modi said he was looking forward to meeting Nepalese PM Sher Bahadur Deuba again after their productive discussions during his visit to India.




DNA - Published





Visit to Nepal intended to further deepen 'time-honoured' linkages: PM Modi

In a statement, Modi said he was looking forward to meeting Nepalese Prime Minister Sher Bahadur Deuba again after their "productive" discussions during his visit to India last month.




IndiaTimes - Published





Indian climber scales two above 8,000 metres peaks in Nepal within two weeks




IndiaTimes - Published





PM Modi to visit Lumbini in Nepal on May 16




IndiaTimes - Published





Jacqueline Fernandez, barred from flying abroad, seeks permission to fly to Abu Dhabi, France and Nepal

Jacqueline Fernandez has sought leave for 15 days during which she will also attend IIFA awards in Abu Dhabi.




DNA - Published





Indian climber dies on Himalayan peak

An Indian climber has died in Nepal near the summit of the world's third-highest peak, expedition organisers said Friday, the third fatality of this year's busy Himalayan spring climbing..




IndiaTimes - Published





'BJP trolls leading double lives with beer in teapots': Mahua Moitra on Rahul Gandhi's nightclub video

TMC leader Mahua Moitra slammed "BJP trolls" who have been criticizing Rahul Gandhi over his video from a nightclub in Kathmandu, Nepal.




DNA - Published





'Bhaiya in party mood': BJP leaders share video of Rahul Gandhi in Kathmandu nightclub

Several BJP leaders shared a video of Rahul Gandhi in a nightclub in Nepal's Kathmandu, slamming him for being in a "party mood."




DNA - Published





Rahul Gandhi seen at nightclub in viral video; BJP takes dig at Congress leader

A row has erupted over an undated video doing the rounds on Twitter which shows Congress leader Rahul Gandhi partying at a nightclub reportedly in Nepal's Kathmandu.Several BJP leaders on Tuesday..




IndiaTimes - Published





Soon, take a train to pilgrim centre Janakpur in Nepal




IndiaTimes - Published





Nepal's first President remembers B R Ambedkar's contribution to social justice, inclusion




IndiaTimes - Published





Nepal border outposts 20km away from boundary: CAG




IndiaTimes - Published





Vinay Mohan Kwatra India's new Foreign Secretary: Govt

India's envoy to Nepal Vinay Mohan Kwatra was on Monday appointed as the new Foreign Secretary, succeeding Harsh Vardhan Shringla, who is retiring this month-end, a Personnel Ministry order said...




IndiaTimes - Published





Boundary issues with India will be addressed through existing mechanism: Nepal




IndiaTimes - Published





Nepal PM Sher Bahadur Deuba visits Varanasi's temples accompanied by UP CM Yogi Adityanath

PM Deuba also laid the foundation stone of an old-age home on the premises of Pashupatinath Temple, for which the Nepal govt has allotted Rs 1 crore.




DNA - Published





India-Nepal cross border train launched by PM Modi, here's all you need to know

First-of-its-kind passenger train services between India and Nepal were inaugurated by Prime Minister Narendra Modi on Saturday.




DNA - Published





PM Modi's gift to PM of Nepal is a miniature painting from Himachal Pradesh

The traditional "Pahari School" miniature painting from Himachal Pradesh, depicts the season of monsoon and the eternal lovers Radha and Krishna. The Nepali leader is on a state visit to India, and had..




IndiaTimes - Published





Nepalese PM raises border issue with Modi, agrees not to politicise it: MEA

Nepal PM Sher Bahadur Deuba raised the outstanding border issues between India and Nepal with PM Narendra Modi in their summit meeting on Saturday and urged India to resolve the disputes through..




IndiaTimes - Published





Modi & Deuba flag off first Indo-Nepal passenger train

PM Narendra Modi and Nepalese PM Sher Bahadur Deuba on Saturday flagged off cross-border passenger train services between Jayanagar in India and Kurtha in Nepal through videoconferencing. The train..




IndiaTimes - Published





Transfer of power from Nepal to India to increase significantly in 2022: Foreign secretary Shringla

Addressing a press conference, following the meeting of Prime Minister Narendra Modi and his Nepalese counterpart Prime Minister Sher Bahadur Deuba, Shringla said that both sides discussed the flood..




IndiaTimes - Published





Borders of India and Nepal should not be misused by unwanted elements: PM Modi

Lauding the launch of the RuPay card in Nepal, Modi said it will add a new chapter to our financial connectivity.




DNA - Published





PM Modi, Nepal PM Deuba inaugurate cross-border train services, RuPay system, sign MoUs: Key highlights

Prime Minister Narendra Modi and his Nepal counterpart Sher Bahadur Deuba on Saturday jointly inaugurated cross-border passenger train services, RuPay payment system in Nepal and signed several MoUs...




IndiaTimes - Published





India, Nepal vow to further expand bilateral ties

Prime Minister Narendra Modi and his Nepalese counterpart Sher Bahadur Deuba on Saturday inaugurated a cross-border railway network, a power transmission line and launched India's RuPay payment card in..




IndiaTimes - Published





Nepal PM Sher Bahadur Deuba arrives in India for 3-day visit




IndiaTimes - Published

Also reported by •DNA


India- Nepal railway service: The projects, route, cost in 10 points




IndiaTimes - Published





Indo-Nepal rail services to start tomorrow




IndiaTimes - Published





Ukraine crisis: Not just Indians, Pakistan, Bangladesh & Nepal students rescued too




IndiaTimes - Published





PMC Bank scam: Prime suspect Daljit Singh Bal nabbed in Bihar

Daljit Singh Bal was attempting to flee the nation, as he was on his way to Nepal via the Raxaul border then onto Canada.




DNA - Published





Nepal makes efforts to reset bilateral ties with India amidst change in top leadership




IndiaTimes - Published





Nepal's PM to visit India in January, to hold talks with Modi

Nepal Prime Minister Sher Bahadur Deuba is likely to visit India in the second week of January, according to government sources. This will be his first visit to India since assuming office earlier this..




IndiaTimes - Published





Stuck in Nepal, Chinese Nationals in Kathmandu protest outside Chinese embassy

The Chinese nationals are stuck in the country since February 2020 due to the outbreak of the COVID-19.




DNA - Published





Will bow our head if needed for good Nepal ties: Rajnath




IndiaTimes - Published





Centre refused nod to Didi's Nepal visit at 11th hr: WB govt




IndiaTimes - Published





CDS Gen Bipin Rawat's cremation: Sri Lanka, Nepal, Bhutan to send top army officials

Indian Army and defence establishment has close linkages with forces of neighbouring countries.




DNA - Published