Nepal
Country in South Asia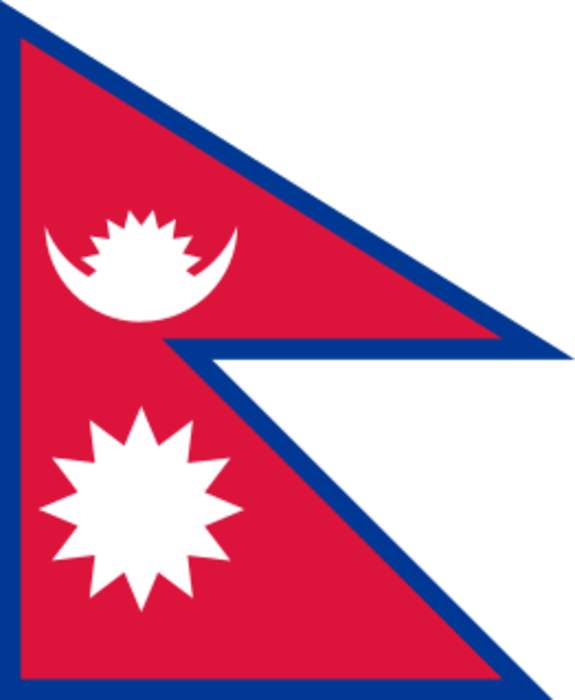 Nepal, officially the Federal Democratic Republic of Nepal, is a sovereign country in South Asia. It is mainly in the Himalayas, but also includes parts of the Indo-Gangetic Plain. It is the 49th largest country by population and 93rd largest country by area. It is landlocked and borders Tibet in the north and India in the south, east and west, while Bangladesh is located only 27 km (17 mi) from its southeastern tip and Bhutan is separated from it by the Indian state of Sikkim. Nepal has a diverse geography, including fertile plains, subalpine forested hills, and eight of the world's ten tallest mountains, including Mount Everest, the highest point on Earth. Kathmandu is the capital and the largest city. Nepal is a multiethnic country, with Nepali as the official language.


Watch: Indian national killed in firing by Nepal police; one missing

An Indian national was killed after being fired at by Nepal police. According to the police in Pilibhit, three Indian nationals had gone to Nepal where they reportedly got into an argument with the..
Credit: HT Digital Content Duration: 01:34
Published
Will talk to all parties in Nepal to bring stability, says former Nepal PM

Reacting to the political crises of Nepal, former Nepal Prime Minister Baburam Bhattarai said that it is not right for a country's democracy when Parliament is dissolved midway to give way to..
Credit: ANI Duration: 01:10
Published
Vaccine Maitri: 'Made in India' COVID vaccines arrive in Saint Lucia, Saint Vincent and the Grenadines

India provided COVID-19 vaccines to Saint Lucia on March 01. 'Made in India' vaccines was received by the Prime Minister Allen Chastanet of Saint Lucia. India provided 25,000 doses of coronavirus..
Credit: ANI Duration: 02:21
Published
Restoration work at Seto Macchindranath Temple in Nepal begins with India's support

The restoration work of Seto Macchindranath Temple, one of the 28 heritage sites which will be reconstructed with the help of India's assistance, has begun on Sunday in Kathmandu. Indian Ambassador..
Credit: ANI Duration: 03:07
Published
MasterChef UK runner-up Santosh Shah gets warm welcome back home in Nepal

In an emotional moment, Nepal's Santosh Shah, runner-up of "BBC MasterChef UK: The Professionals" wiped his tears off as he arrived in his home country. Dozens of fellow chefs, admirers, and onlookers..
Credit: ANI Duration: 01:18
Published
Nepal President participates in 'Kshama Puja', inaugurates new 'Jalahari' at Pashupatinath Temple

Nepal President Bidhya Devi Bhandari on Wednesday participated in "Kshama Puja" and administered the inauguration of the new 'Jalahari' at Pashupatinath Temple. President Bhandari reached the revered..
Credit: ANI Duration: 02:09
Published
Nepal to begin inoculation drive for elderlies from next month

As the vaccination drive has already been kicked off in the Himalayan nation, the inoculation drive for elderly and most vulnerable age groups will commence from next month. Nepal has received the..
Credit: ANI Duration: 01:44
Published
Students in Nepal protests against frequent spike in petrol price

The sudden rise in petrol prices amid political uncertainty looming large in the country, students in Nepal hit the streets in capital Kathmandu. Students affiliated with All Nepal National Free..
Credit: ANI Duration: 01:14
Published
India signs MoU with Nepal for reconstruction of 6 Secondary schools

It seems like India is in full swing in boosting relations with Nepal with recent rollout of vaccines as grant assistance and now going ahead in improving educational infrastructure of the Himalayan..
Credit: ANI Duration: 03:29
Published
Basant Panchami: An auspicious day in Nepal for students to get introduced to alphabets

Students in Nepal thronged Saraswati Temple to mark the auspicious day of "Basant Panchami" on Tuesday. Nepali boy Mihir Oli started his journey of knowing the alphabets with his father who had..
Credit: ANI Duration: 01:58
Published
India to release 142 Million as reconstruction assistance for Nepal's Cultural Heritages

In order to reconstruct three Cultural Heritage Projects of Nepal, India on Thursday announced to fund a whopping amount of 142 million to the Himalayan nation. The agreements were signed for..
Credit: ANI Duration: 01:45
Published
Several injured in anti-government clash in Nepal

Several protestors were injured on Thursday in Kathmandu as resistance against the dissolution of parliament continued to intensify in the Himalayan Nation. Cadres and members of the student union of a..
Credit: ANI Duration: 01:29
Published
Dahal questions PM Oli on Ayodhya existence in Nepal

Amid ongoing tensed situation in Nepal over parliament dissolution issue, Chairman of rival faction of ruling Nepal Communist Party Pushpa Kamal Dahal took a jibe on caretaker Prime Minister KP Sharma..
Credit: ANI Duration: 01:57
Published
Nepal caretaker PM urges poll panel to expedite preparations for elections

With growing rage against the dissolution of the lower house of Nepal Parliament, caretaker Prime Minister KP Sharma Oli met Chief Election Commissioner on Tuesday, urging him to expedite preparations..
Credit: ANI Duration: 02:31
Published
Janata Samajwadi Party holds protest, burns effigy of PM Oli

Youth workers of Janata Samajwadi Party have continued to protest against Prime Minister KP Sharma Oli's move to dissolve the House of Representatives (HoR) in Nepal. Leading the protest from the..
Credit: ANI Duration: 01:07
Published
Nepal PM Oli defends dissolution of Parliament

Nepal's caretaker Prime Minister KP Sharma Oli on Friday defended his latest move to dissolve parliament and called on the public to gear up for the election scheduled for April and May. Taking a jibe..
Credit: ANI Duration: 01:32
Published
You Might Like



Govt okays 12 new SSB battalions to fortify Nepal, Bhutan borders, tri-junction area




IndiaTimes - Published





India to fund Nepali Rs 246 million for reconstruction of three Cultural Heritage projects in Nepal

On February 11, India signed a contract with Nepal for the reconstruction of three Cultural Heritage Projects.




DNA - Published





Chinese influence has increased, but no other country can replace India, says former Nepal PM Baburam Bhattarai




IndiaTimes - Published





Two Indians arrested in Nepal for illegally carrying Indian currency




IndiaTimes - Published





Nepal gets 1 million doses of Covid-19 vaccine bought from India




IndiaTimes - Published





Nepal lodges protest over Tripura CM's 'BJP will form govt' remark




IndiaTimes - Published





Nepal raises objection to BJP leader's remarks




IndiaTimes - Published





BJP will form govts in Nepal, Sri Lanka, says Biplab, triggers row




IndiaTimes - Published





Indian army chief express concerns over China's BRI, lauds ties with Nepal, Bangladesh

BRI or the OBOR is Beijing's global infrastructure project, one whose key crucial component passes via PoK as CPEC - China Pakistan Economic Corridor.




DNA - Published





Nepal bans 3 Indian climbers for faking Everest summit

Nepal has banned two Indian climbers and their team leader from carrying out any mountaineering expeditions in the country for six years after a probe found that they faked their Mt Everest summit in..




IndiaTimes - Published





5 bridges on Indo-Nepal border reopen

Five bridges on the Indo-Nepal border in Pithoragarh district reopened on Friday after remaining closed for over 10 months due to the coronavirus lockdown.




IndiaTimes - Published





Earthquake of magnitude 4.0 hits Nepal-India border in Sikkim

"Earthquake of Magnitude: 4.0, Occurred on 05-02-2021, 03:43:10 IST, Lat: 27.86 & Long: 88.14, Depth: 10 Km, Location: Nepal - India (Sikkim) Border," National Centre for Seismology tweeted.




IndiaTimes - Published





'Petrol Rs 93 in Ram's India, Rs 51 in Ravan's Lanka': Subramanian Swamy takes a jibe at Centre

Subramanian Swamy attacks centre, says, "Petrol Rs 93 in ram's India, Rs 53 in Sita's Nepal and Rs 51 in Ravan's Lanka".




DNA - Published





India to gift Srilanka 500,000 doses of COVID-19 vaccine tomorrow

Last week, India gifted vaccines to 8 countries-- Bhutan, Maldives, Nepal, Bangladesh, Myanmar, Seychelles, and Mauritius




DNA - Published





WHO chief Ghebreyesus thanks PM Modi for 'continued support' to global Covid-19 response

WHO chief Tedros Adhanom Ghebreyesus on Saturday thanked Prime Minister Narendra Modi for his continued support to the global Covid-19 response, saying acting together, including sharing of knowledge,..




IndiaTimes - Published





India to send SII's COVID-19 vaccine 'Covishield' to Myanmar, Seychelles, Mauritius

The Ministry of External Affairs had announced a vaccine rollout for Bhutan, Maldives, Bangladesh, Nepal, Myanmar and Seychelles from Wednesday.




DNA - Published





'Promise fulfiiled' says Indian envoy Kwatra as India-made COVID-19 vaccine reaches Nepal within a week

The vaccines are expected to help Nepal in dealing with its immediate requirements for vaccinating Nepal's COVID warriors




DNA - Published





India sends 30 lakh dosages of COVID-19 vaccine Covishield to Nepal, Bangladesh

The consignment arrived at Mumbai's Chhatrapati Shivaji Maharaj International Airport in the wee hours of Thursday.




DNA - Published





India announces supply of coronavirus vaccines to six countries under grant assistance

India on Tuesday announced that it will supply Covid-19 vaccines under grant assistance to Bhutan, Maldives, Bangladesh, Nepal, Myanmar and Seychelles from Wednesday.




IndiaTimes - Published





India unlikely to hold boundary talks with Nepal until map issue resolved




IndiaTimes - Published





Nepal seeks early supply of COVID-19 vaccines, India assures priority

The assurance was conveyed to Nepalese foreign minister Pradeep Gyawali during his visit to New Delhi for the Joint Commission Meeting.




DNA - Published





No change in position of Gorkha recruitment in Indian army: Nepal Finance Minister

As part of India-UK-Nepal tripartite agreement of 1947, Gorkha Regiments serve in the British and Indian army.




DNA - Published





As China works to prevent split, Nepal FM says won't allow foreign interference

Amid Chinese efforts to prevent a split in the ruling Nepal Communist Party (NCP), visiting Nepal foreign minister Pradeep Gyawali Saturday said while some countries may have concerns about the current..




IndiaTimes - Published





Nepal's focus on boundary issue draws measured India response




IndiaTimes - Published





Have agreed on way to solve India boundary issue: Nepal

Speaking to a select audience at the Indian Council for World Affairs, Gyawali said he and foreign minister S Jaishankar took up the boundary issue. "However, there are issues that need to be sorted..




IndiaTimes - Published





COVID-19 vaccine, border issue discussed during India-Nepal talks in Delhi

On the COVID-19 vaccine, the Indian side assured that Nepal's requirement will be a priority consideration.




DNA - Published





India, Nepal discuss cooperation on border management, political, security issues

India and Nepal on Friday discussed several areas of cooperation including political and security issues and border management and exchanged views on cross-border rail connectivity projects, including..




IndiaTimes - Published





India plans 20 million doses of vaccine supply to neighbours

India plans to offer 20 million doses of coronavirus vaccine to its neighbours as it draws up a policy to supply vials to countries across the globe, people with knowledge of the matter said. An Indian..




IndiaTimes - Published





Border talks with Nepal only under appropriate mechanism: India

Ahead of the foreign minister-level Joint Commission Meeting (JCM) on Friday, India ruled out any substantive dialogue with Nepal on the Kalapani border dispute saying there was a separate mechanism to..




IndiaTimes - Published





Nepal foreign minister embarks on three-day India visit




IndiaTimes - Published





Nepal will not compromise on sovereign equality in its engagement with either India or China: PM Oli




IndiaTimes - Published





Gayatri Mantra is the 'mantra of mantras', says Nepal Prime Minister KP Oli

KP Oli said that Nepal is very proud of its history and what the nation gave to the world.




DNA - Published





Ready to mediate between India, China: Nepal PM KP Sharma Oli

In an exclusive interview with Zee News Editor-in-Chief Sudhir Chaudhary, Oli said that he has nothing to do with the Galwan episode.




DNA - Published





DNA Special: When two PMs meets, it is not the big PM and the small PM, says Nepal Prime Minister Oli

"PM Modi has no objection to this, but there are many people who consider it bad as I have projected my stature equal to that of Modi ji," says PM Oli




DNA - Published





Both India and China are our neighbours, have nothing to do with Galwan episode: Nepal PM KP Oli

Nepal PM Oli said that Kathmandu has nothing to do with Galwan episode between India and China and both the nations are my neighbour.




DNA - Published





Indo-Nepal relationship is not that of bigger and smaller nation, both are equal sovereign countries: Nepal PM

Resolution of outstanding issues between India and Nepal would pave way for better development and further help in cementing of ties.




DNA - Published





Will retrieve Kalapani from India through talks: Nepal PM KP Oli

Even as he reached out to India saying he wanted to be a real friend, Nepal PM K P Oli on Sunday said Nepal will "retrieve" Kalapani, Limpiyadhura and Lipulekh from India through diplomatic dialogue...




IndiaTimes - Published





Gorkha leader pens letter to PM Modi, demanding 'constitutional justice' for community

Tamang requested PM Modi to review and scrap the country's treaties with Nepal and Bhutan based on the issues of the public and Gorkhas of the area.




DNA - Published





In boost to ties, Nepal foreign minister's visit likely this month




IndiaTimes - Published





Indo-Nepal ties are close, says Nepal envoy to India Nilamber Acharya

Nepal's envoy to India Nilamber Acharya has said that India and Nepal have "enormous goodwill" and "close friendship" at a high political level.




DNA - Published





Nepal: Prachanda faction hardens stance, to follow 'policy of balance' with India, China




IndiaTimes - Published





Amid political instability, Nepal says upward trend in relations with India will hold

Nepal's reciprocation of the willingness expressed by India to build upon the recent improvement in ties is significant at a time when India refuses to turn itself into a factor in Nepal's domestic..




IndiaTimes - Published





Oli's move to dissolve House Nepal's internal affair: India

Even as China seemed to be wading into Nepal's latest political crisis, India sought to maintain a safe distance from it saying Thursday that the developments this week in Kathmandu, triggered by PM..




IndiaTimes - Published





Nepal must learn from Lanka, be vigilant about China: CDS

Nepal should learn from other countries like Sri Lanka and stay vigilant in its dealings with China, said chief of defence staff General Bipin Rawat on Thursday, in remarks that may not go down well..




IndiaTimes - Published





India-Nepal air travel corridor gets go-ahead, first flight to take off soon

Air bubbles are an arrangement that has come amid the COVID-19 pandemic impacting global air transport.




DNA - Published





India, Nepal decide to resume flight services under air bubble arrangement




IndiaTimes - Published





As ties thaw, India & Nepal decide to resume flights




IndiaTimes - Published





India, Nepal bypass border row, talk trade




IndiaTimes - Published





India, Nepal review progress on wide-ranging bilateral agenda

A meeting of the India-Nepal Inter-Governmental Committee (IGC) on Trade and Transit was held on Monday, during which both sides reviewed the progress made on wide-ranging bilateral agenda including..




IndiaTimes - Published





Despite a thaw in ties, Nepal may not drop Kalapani claim

In a sign that Nepal is unlikely to back down on the Kalapani dispute, despite the renewed engagement with India, its foreign ministry has listed publication of its new map among the highlights of..




IndiaTimes - Published