Kolkata
Capital city of West Bengal, India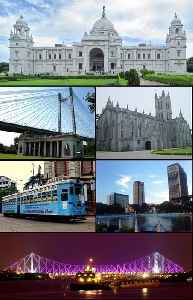 Kolkata is the capital of the Indian state of West Bengal. Located on the east bank of the Hooghly River approximately 80 kilometres (50 mi) west of the border with Bangladesh, it is the principal commercial, cultural, and educational centre of East India, while the Port of Kolkata is India's oldest operating port and its sole major riverine port. The city is widely regarded as the "cultural capital" of India, and is also nicknamed the "City of Joy". According to the 2011 Indian census, it is the seventh most populous city; the city had a population of 4.5 million, while the suburb population brought the total to 14.1 million, making it the third-most populous metropolitan area in India. Recent estimates of Kolkata Metropolitan Area's economy have ranged from $60 to $150 billion making it third most-productive metropolitan area in India, after Mumbai and Delhi.


Central agencies threatening TMC leaders, asking them to join BJP: Mamata Banerjee
Addressing the Martyrs' Day rally in Kolkata, the Trinamool Congress (TMC) chief accused the saffron party of luring TMC MLAs with money and other perks.
DNA - Published
Also reported by •IndiaTimes
Kolkata: Triple talaq petitioner abused for reciting Chalisa wearing hijab
She also told the police that she was threatened by hundreds of people in Golabari while she was returning home from her son's school on Wednesday for attending the recital in a hijab.
DNA - Published
Saradha scam: Ex-Kolkata top cop Rajeev Kumar tells Calcutta HC that 'CBI indulging in pick and choose game'
Kumar's counsel Milan Mukherjee submitted that he looked after the day to day operations of an SIT formed by the West Bengal government to investigate ponzi scams, but the CBI did not consider calling..
DNA - Published
Never heard of allegations of sexual misconduct by MJ Akbar, witnesses tell court
Tapan Chaki, a corporate communications consultant based in Kolkata, and Sunil Gujral, a businessman and Akbar's neighbour and family friend in Kolkata, deposed before Additional Chief Metropolitan..
DNA - Published
CBI in pick-and-choose game in summoning me: Ex-Kolkata top cop Rajeev Kumar to Calcutta HC
IndiaTimes - Published
Bengal: FIR lodged against Kolkata metro after man dragged by train to death
According to eyewitnesses, Kanjilal fell on the tracks as the train entered the tunnel. The train came to a halt, with four of its eight coaches still at the platform, after staff and passengers..
DNA - Published
Kolkata: Man killed as Metro door jammed
One of the hands of Sajal Kumar Kanjilal, 66, a South Kolkata resident, got stuck in the door after it got jammed due to a sensor failure.
DNA - Published
You Might Like