Supreme court
Highest court in a jurisdiction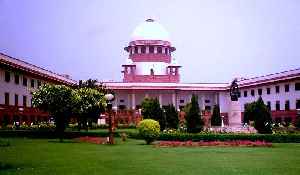 The supreme court is the highest court within the hierarchy of courts in many legal jurisdictions. Other descriptions for such courts include court of last resort, apex court, and high court of appeal. Broadly speaking, the decisions of a supreme court are not subject to further review by any other court. Supreme courts typically function primarily as appellate courts, hearing appeals from decisions of lower trial courts, or from intermediate-level appellate courts.


Rath Yatra 2020: BJP leaders, petitioner welcome SC's decision

Supreme Court on June 22 allowed Rath Yatra to be conducted in Puri, Odisha with certain restrictions. Union Minister of Petroleum and Natural Gas Dharmendra Pradhan welcomed the decision and said the..
Credit: ANI Duration: 02:29
Published
Trump will try again after Supreme Court DACA decision

President Donald Trump on Friday said his administration will make a filing on "Dreamer" immigrants in the United States, without providing details, to address the Supreme Court's ruling that said he..
Credit: Reuters Studio Duration: 01:39
Published
You Might Like



Rajasthan Speaker to move Supreme Court over HC 'direction'

Rajasthan Assembly Speaker on Wednesday said he will move the Supreme Court, a day after receiving a "direction" from the high court to defer action on the disqualification notices sent to..




IndiaTimes - Published





Vikas Dubey encounter: UP agrees to include ex-SC judge in probe panel

The Supreme Court Monday asked the Uttar Pradesh government to consider adding a former apex court judge and a retired police officer in the inquiry committee which is probing the encounter of gangster..




IndiaTimes - Published





Brazil's Bolsonaro says time to end 'abuses' by Supreme Court

Brazil's President Jair Bolsonaro on Wednesday told supporters it is necessary to stop "abuses" from the nation's Supreme Court and that time was nearing to put "everything in its rightful place," his..




Reuters - Published





No coercive action against employers for not paying salaries during lockdown: Supreme Court

The apex court said that the employees and employers should negotiate with each other.




DNA - Published





Lawyers' body requests SC to resume physical court hearings from July

In a letter addressed to the CJI and other judges of the Supreme Court, lawyers' body SCAORA has said, "The common feedback seems to be that the lawyers are unable to present their cases effectively in..




IndiaTimes - Published





Supreme Court adjourns hearing on plea seeking changing name from India to 'Bharat'

The Supreme Court on Tuesday adjourned to another day, without giving any date, a petition seeking directions to the Centre to amend the Constitution and replace the word India with 'Bharat' claiming..




IndiaTimes - Published





Don't charge fare from stranded migrant workers, provide food and water: Supreme Court to states

Taking suo moto cognizance of the matter, the Supreme Court passed interim directions in regard to the migrant crisis.




DNA - Published





Brazil's Bolsonaro says he expects top court to end probe into his conduct over police

Brazilian president Jair Bolsonaro expects the Supreme Court to find no wrongdoing and end an investigation into potential political interference in the federal police, according to a statement from..




Reuters - Published





Executive has substantial emergency powers, but it is courts' responsibility to protect citizens' right: SC judge

Emergencies vest substantial power in the executive as increased government action may be necessary to preserve public health, Supreme Court judge Justice D Y Chandrachud has said, while emphasising..




IndiaTimes - Published





SC judge quarantined after residence staff tests Covid-19 positive

A Supreme Court judge and his family were advised by health officials to undergo precautionary self-quarantine as one of his residential staff tested positive for Covid-19. ​​​​Sources said the..




IndiaTimes - Published





Supreme Court refuses to restore 4G internet in J&K; directs setting up of Special Committee headed by MHA Secy

The high-powered committee headed by the MHA Secretary should also look into the contentions raised by various petitioners, ruled the apex court.




DNA - Published





'This institution is not hostage of government ', says Supreme Court

"This institution is not hostage of government," the Supreme Court said on Monday as it sought reply from the Centre on a plea seeking direction to authorities to allow migrant workers across the..




IndiaTimes - Published





Supreme Court heard 593 matters, delivered verdicts in 215 cases during Covid-19 lockdown

As COVID-19 infections spread in the country, the Supreme Court shut its doors to litigants and lawyers on March 23, two days before the lockdown came into force, but opened up to a virtual new way of..




IndiaTimes - Published





Brazil public prosecutor Aras asks Supreme Court to authorize Bolsonaro investigation

Brazilian public prosecutor Augusto Aras asked the Supreme Court on Friday to authorize the investigation of allegations made by former minister Sergio Moro against President Jair Bolsonaro, his office..




Reuters - Published





Video conferencing software used by judiciary and govt pose security threat: PIL

Swadeshi activist K N Govindacharya, whose PIL for live streaming of court proceedings is pending apex court's consideration, has moved the Supreme Court saying the video-conferencing software being..




IndiaTimes - Published





PM Modi thanks SC judges for contributing to PM-CARES fund

Prime Minister Narendra Modi on Wednesday thanked judges of the Supreme Court for contributing to the PM-CARES fund set up to tackle the threat arising out of coronavirus.




IndiaTimes - Published





Israeli parliament speaker, a Netanyahu ally, resigns in clash with Supreme Court

The speaker of Israel's parliament, an ally of Prime Minister Benjamin Netanyahu, resigned on Wednesday, sharpening a battle with the Supreme Court over its concerns that democracy could be a casualty..




Reuters - Published





Navy will have to train women for warship postings

After the Supreme Court judgement on Tuesday, which granted permanent commission (PC) to women officers in the Navy, India too will eventually have to look to follow suit. The Navy will have to get..




IndiaTimes - Published





Govt: CAA not an answer to all religious persecution in world

The Centre on Tuesday responded to petitions challenging the constitutional validity of the Citizenship Amendment Act (CAA) in the Supreme Court, asserting that it was a narrowly tailored law..




IndiaTimes - Published





Delhi violence: Police file affidavit in SC, seek contempt action against Harsh Mander

Delhi Police on Wednesday filed an affidavit in the Supreme Court against activist Harsh Mander and sought initiation of contempt proceedings against him for his alleged "derogatory remarks" making..




IndiaTimes - Published





Guinea-Bissau Supreme Court accuses army of occupying courts

A dozen soldiers have occupied the grounds of Guinea-Bissau's Supreme Court, the court said on Tuesday, deepening a post-election crisis that has resulted in the appointment of rival presidents and the..




Reuters - Published





UN body goes to Supreme Court on CAA; 'internal matter', says government

The UNHCHR sought to intervene as amicus curiae, or friend of the court, to assist the Supreme Court in adjudicating the constitutional validity of the Citizenship (Amendment) Act (CAA). The MEA hit..




IndiaTimes - Published





No need to refer pleas challenging Article 370 abrogation to larger bench: Supreme Court

The five-judge bench will continue to hear the petitions.




DNA - Published





Supreme Court to hear Nirbhaya convict Pawan Gupta's curative petition today

The Supreme Court on Monday will hear one of the convicts of the Nirbhaya gangrape-murder case, Pawan Kumar Gupta's plea seeking a stay in the execution of the death warrant issued earlier this month...




DNA - Published




SC to decide on Monday if Article 370 pleas should be referred to a larger bench

A five-judge Constitution bench of the Supreme Court will pronounce on Monday its order on whether petitions challenging the constitutional validity of the Centre's decision to abrogate Article 370 be..




IndiaTimes - Published





Pleas relating to Delhi violence reach SC & HC, hearing on Wednesday

The pleas relating to the north-east Delhi violence, which has claimed 10 lives, reached the Supreme Court and the Delhi High Court on Tuesday and they will hear the matter on Wednesday. The first plea..




IndiaTimes - Published





NGO alleges EC junked '19 paper trail, cries foul

NGO 'Association for Democratic Reforms' through advocate Prashant Bhushan told the Supreme Court on Monday that RTI responses had revealed the Election Commission had destroyed all Voter..




IndiaTimes - Published





NGOs allege destruction of VVPAT data of 2019 LS polls before expiry of mandatory one-year period

Two NGOs alleged in the Supreme Court on Monday that the Election Commission (EC) has violated election rules by destroying the VVPAT (voter verifiable paper audit trail) data of last year's Lok Sabha..




IndiaTimes - Published





CJI: Single system of laws needed to save environment

Addressing an international judicial conference organised by the Supreme Court in which judges and jurists from 24 countries are participating, the CJI said judiciary was the guardian of constitutional..




IndiaTimes - Published





As world changes, judiciary needs to keep pace with change in expectations: Justice Kaul

Justice Kaul was delivering the vote of thanks at the culmination of the International Judicial Conference, 2020 held at the Supreme Court which was attended by Chief Justices and Judges from various..




IndiaTimes - Published





'Versatile genius who thinks globally and acts locally': Supreme Court judge all praise for PM Modi

Justice Mishra was delivering the vote of thanks at the inaugural function of the International Judicial Conference 2020 at the Supreme Court when he made the remarks praising Prime Minister Narendra..




DNA - Published





Army ready with roadmap to grant permanent commission to women, will seek responses from eligible officers

Swinging into action after the Supreme Court judgement on Monday, the Army has prepared a roadmap for granting permanent commission (PC) to women officers and will soon issue letters to those eligible..




IndiaTimes - Published





Will go to SC and share ideas on tackling vehicular pollution: Nitin Gadkari

Road transport and highways minister Nitin Gadkari on Wednesday said he was ready to go to the Supreme Court and share his ideas on how to tackle vehicular pollution and gradually transition from..




IndiaTimes - Published





Supreme Court-appointed interlocutors begin talks with Shaheen Bagh protesters

The Supreme Court-appointed interlocutors visited Shaheen Bagh on Wednesday to hold talks with the Shaheen Bagh protesters and find a way to end the road blockade in the area.




DNA - Published





Women officers in army: Shiv Sena attacks Centre for 'regressive' views, says India won 1971 war under Indira Gandhi

In a landmark decision, the Supreme Court on Monday (February 17) directed the central government to grant permanent commission to all women officers in the Indian Army within three months.




DNA - Published





'Despite my achievements, things didn't feel complete... until today'

Moments after the Supreme Court announced permanent commission and command posting for women in the Army on Monday, Lt Col Seema Singh's phone rang. Her husband, who retired as a colonel from..




IndiaTimes - Published





Sabarimala: SC commences hearing to deliberate on issues relating to scope of freedom of religion

A nine-judge bench of the Supreme Court on Monday commenced hearing to deliberate upon issues relating to scope of freedom of religion and whether a person who does not belong to a particular faith can..




IndiaTimes - Published





SC order on tainted candidates: Congress says order already torn to shreds by PM

With the Supreme Court directing parties to upload online details of pending criminal cases against candidates contesting polls, the Congress on Thursday attacked the BJP over appointing a minister in..




IndiaTimes - Published





Shaheen Bagh protesters can't block public roads indefinitely, says Supreme Court

The court observed that though people are entitled to protest, they have to do it in a designated area.




DNA - Published





Philippines seeks scrapping of 'abusive' broadcaster's franchise

The Philippine government on Monday urged the Supreme Court to cancel the franchises of the country's top broadcaster, ABS-CBN Corp, a move slammed by opposition lawmakers and activists as an attack..




Reuters - Published




Supreme Court takes cognisance of infant's death during Shaheen Bagh protest

The Supreme Court on Friday took cognisance on its own to "stop involvement of children and infants in demonstrations" following the death of an infant on January 30 at Shaheen Bagh here. The apex..




IndiaTimes - Published





SC reserves order on whether it can refer question of law to larger bench in review jurisdiction

A nine-judge Constitution bench of the Supreme Court on Thursday reserved order on the legal issue of whether the top court can refer questions of law to a larger bench while exercising its review..




IndiaTimes - Published





Overcrowding in jails related to courts' performance, will pass orders, says SC

Overcrowding in jails is connected to "performance of courts", the Supreme Court observed on Wednesday and said it will pass directions to deal with the issue affecting 1,341 prisons in the country..




IndiaTimes - Published





Nirbhaya case: Centre, Delhi govt move SC challenging HC verdict on hanging of convicts

The Centre and the Delhi government moved the Supreme Court on Wednesday challenging the rejection of their plea by the Delhi high court against the trial court's order staying the execution of four..




IndiaTimes - Published





Despite SC collegium's 3 iterations, Centre sits on appointment of HC judge

Karnataka judicial officer P K Bhat's name was first recommended by the Supreme Court collegium on August 23, 2016. But the law ministry returned it, enclosing a May 3, 2016, complaint by a woman..




IndiaTimes - Published





SC starts process to frame norms to define equality in religious practices

A nine-judge constitution bench of the Supreme Court on Monday started the process to lay down constitutional guidelines for examining equality in religious practices.




IndiaTimes - Published





Shaheen Bagh agitation: Plea in SC seeks removal of protesters

A plea was filed in the Supreme Court on Monday seeking a direction to the authorities to remove from Shaheen Bagh protesters agitating against CAA since December 15 last year, saying they are causing..




IndiaTimes - Published





Muslim women free to enter mosques for prayers, not appropriate for courts to question religious practices: AIMPLB to SC

In a reply filed in the Supreme Court in response to a PIL, the AIMPLB said Muslim women like men are permitted to enter mosques to offer prayers.




DNA - Published





Death penalty not open-ended, can't be challenged forever: SC

Revealing judicial discomfort over death row convicts exploiting procedural loopholes to avoid or delay execution for years, the Supreme Court on Thursday said "it is extremely important for death..




IndiaTimes - Published





Judge who issued death warrants against Nirbhaya rapists transferred to Supreme Court registry

A Delhi court judge who issued death warrants for all four convicts in Nirbhaya case has been transferred to the Supreme court registry.




DNA - Published