Punjab, India
State in Northern India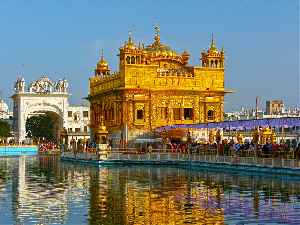 Punjab is a state in northern India. Forming part of the larger Punjab region of the Indian subcontinent, the state is bordered by the Indian states of Jammu and Kashmir to the north, Himachal Pradesh to the east, Haryana to the south and southeast, Rajasthan to the southwest, and the Pakistani province of Punjab to the west. The state covers an area of 50,362 square kilometres, 1.53% of India's total geographical area. It is the 20th-largest Indian state by area. With 27,704,236 inhabitants at the 2011 census, Punjab is the 16th-largest state by population, comprising 22 districts. Punjabi is the most widely spoken and official language of the state. The main ethnic group are the Punjabis, with Sikhs (58%) forming the demographic majority. The state capital is Chandigarh, a Union Territory and also the capital of the neighbouring state of Haryana. The five rivers from which the region took its name were Sutlej, Ravi, Beas, Chenab and Jhelum; Sutlej, Ravi and Beas are part of the Indian Punjab.


IAF carries out major readiness exercise along Pakistan border
The Indian Air Force carried out a major readiness exercise last night over Punjab and Jammu in which a large number of fighter aircraft participated
DNA - Published
India, Pak hold 'cordial' meeting on Kartarpur corridor
India and Pakistan on Thursday held in a "cordial environment" their first meeting to finalise the modalities for a corridor linking Gurudwara Darbar Sahib in Pakistani town of Kartarpur with Gurdaspur..
IndiaTimes - Published
No Cong-AAP alliance in Punjab, former PM Manmohan Singh won't contest LS polls: Amarinder Singh
"Former prime minister Manmohan Singh was never in the reckoning for candidature as he had made it clear that he was not interested in contesting elections," Punjab Chief Minister Amarinder Singh said.
DNA - Published
No alliance talks with AAP, anyone else: Punjab CM Amarinder Singh
Punjab chief minister Amarinder Singh on Tuesday categorically denied any alliance talks with the Aam Aadmi Party (AAP) or any other party for the May 19 Lok Sabha elections in the state.
IndiaTimes - Published
Rains lash various parts of Punjab, Haryana
IndiaTimes - Published
Kartarpur Corridor could play a major role in swaying votes in Punjab
Sources informed that both Congress as well as SAD-BJP leaders have already started campaign of taking credit of opening of Kartarpur Corridor in Gurdaspur Lok Sabha constituency and had held series of..
IndiaTimes - Published
Gurdaspur ticket lands Congress unit in thick of controversy
"I have just raised a point so that Congress could achieve Mission 13 in Punjab" said Bajwa while talking to TOI on Monday adding that current CM Captain Amarinder Singh and PPCC chief Sunil Jakhar..
IndiaTimes - Published
Congress & allies set to retrace UPA-1 alliance route
Even AAP seems ready for a standalone pact in Delhi by giving up its earlier claims for alliances in Punjab and Haryana.
IndiaTimes - Published
You Might Like