Punjab, India
State in northern India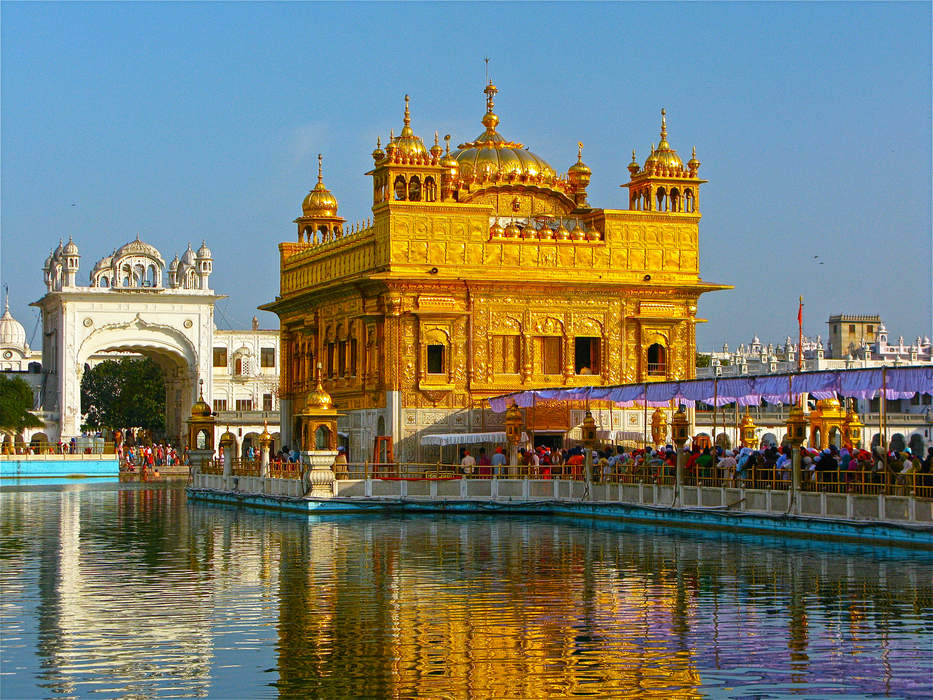 Punjab is a state in northern India. Forming part of the larger Punjab region of the Indian subcontinent, the state is bordered by the Indian union territories of Jammu and Kashmir to the north, Chandigarh to the east, the Indian states of Himachal Pradesh to the north and northeast, Haryana to the south and southeast, and Rajasthan to the southwest. It is bordered by Punjab, a province of Pakistan to the west. The state covers an area of 50,362 square kilometres, 1.53% of India's total geographical area. It is the 20th-largest Indian state by area. With 27,704,236 inhabitants at the 2011 census, Punjab is the 16th-largest state by population, comprising 22 districts. Punjabi, written in the Gurmukhi script, is the most widely spoken and official language of the state. The main ethnic group are the Punjabis, with Sikhs (57.7%) and Hindus (38.5%) as the dominant religious groups. The state capital is Chandigarh, a Union Territory and also the capital of the neighbouring state of Haryana. The five tributary rivers of the Indus River from which the region took its name are the Sutlej, Ravi, Beas, Chenab and Jhelum rivers; the Sutlej, Ravi and Beas rivers flow through the Indian Punjab.


Farmers' protest continues at Shambhu border near Ambala

Farmers' protest continues at Shambhu border near Haryana's Ambala as police stopped them from proceeding to Delhi. Protestors pelted stones at the Shambhu border on November 26. Security personnel..
Credit: ANI Duration: 01:59
Published
Police use water cannon, tear gas on agitating farmers near Delhi-Haryana border

Delhi's borders continie to remain under tight security in view of farmers' 'Delhi Chalo' protest march. Farmers from Punjab, Haryana have called for a two-day protest over Centre's new farm laws...
Credit: HT Digital Content Duration: 02:07
Published
'Delhi Chalo' protest: Heavy security at Haryana border to stop agitating farmers

In the wake of farmers' 'Delhi Chalo' protest march, heavy security has been deployed at Singhu border (Haryana-Delhi border) to stop the agitating farmers. Proper barricading is also being done and..
Credit: ANI Duration: 01:45
Published
Farmers from Ambala begin protest march to Delhi

Heavy security has been deployed as farmers gathered to proceed to the national capital to stage demonstration against amended farm laws. Police deployed water cannon to disperse farmers who have..
Credit: ANI Duration: 01:37
Published
Stubble burning in Haryana, Punjab played major role in poisoning Delhi's air: Gopal Rai

Delhi's Environment Minister Gopal Rai on November 24 said that stubble burning in Haryana and Punjab over last 15 days played a major role in poisoning Delhi's air. "Stubble burning in Haryana and..
Credit: ANI Duration: 01:47
Published
Punjab farmers continue to block tracks even as Railway announces restoration of trains

Farmers in Punjab's Amritsar continued their protest against the new farm laws, saying that they will not allow the passenger trains to run, even as Western Railway (WR) announced to restore the..
Credit: ANI Duration: 02:32
Published
Punjab state icon Sonu Sood clicked in Juhu

Bollywood actor cum 'social worker' Sonu Sood was snapped in Mumbai's Juhu. Sonu Sood has been making to headlines for his generous work amid COVID. Recently, the actor was appointed as Punjab's state..
Credit: ANI Duration: 01:08
Published
Trucks carrying 400 smuggled gold bars intercepted in Delhi

DRI, Delhi Police intercepted 2 trucks carrying smuggled gold into India through Indo-Myanmar border. Police seized 400 gold bars weighing 66.4 kgs valued at Rs 35 crore. The gold was concealed in fuel..
Credit: ANI Duration: 01:17
Published
1 dead, more than 20 injured in bus and truck collision in Moradabad

One person died and more than 20 were injured after a truck collided with a private bus in Uttar Pradesh's Moradabad. The incident took place at zero point on Lucknow-Delhi highway. Injured have been..
Credit: ANI Duration: 01:49
Published
11 kg heroin seized in Punjab's Jalandhar, 4 held

Punjab Police have seized 11 kg heroin from Shahkot area in Jalandhar on November 17. Four people have been arrested under Narcotic Drugs and Psychotropic Substances Act. An investigation is underway..
Credit: ANI Duration: 01:06
Published
Daily Punch - Sonu Sood appointed as state icon of Punjab by Election Commission

Sonu Nigam Does Not Want Son Nevaan Nigam To Become A Singer, Reveals He Is One Of The Top Gamers Of UAE. In other news Late Sushant Singh Rajput's ex-girlfriend, Ankita Lokhande trolled for sharing..
Credit: HT Digital Content Duration: 03:23
Published
As rain showers continue, mercury dips in Amritsar

Heavy rainfall continued in several parts of Amritsar on November 16, which led to dip in temperature. The India Meteorological Department on November 15 had predicted rainfall in Delhi-NCR, Punjab and..
Credit: ANI Duration: 01:00
Published
Chances of drizzle, rain in Delhi-NCR today: IMD

There are chances of drizzle and rain in Delhi-NCR on November 15, informed, Dr VK Soni, Head, Environment and Research Centre, IMD while speaking to ANI. He said, "There are chances of drizzle and..
Credit: ANI Duration: 01:27
Published
Bandi Chhor Divas: Devotees offer prayers at Golden Temple

On the auspicious occasion of Bandi Chhor Divas, devotees offered prayers at Golden Temple in Punjab's Amritsar. Devotees also took holy dip in 'Sarovar'. Bandi Chhor Divas is celebrated to mark the..
Credit: ANI Duration: 01:37
Published
Watch: Huge crowd gather at Chura Bazaar in Ludhiana ahead of Diwali

Large number of people gathered at Chura Bazaar area in Punjab's Ludhiana ahead of Diwali. Social distancing norms were flouted as people came out for Diwali shopping. A local said, "I've come here for..
Credit: ANI Duration: 01:24
Published
You Might Like



Haryana blocks farmers marching to Delhi

Farmers in large numbers reached the interstate borders of Punjab and Haryana on tractor trolleys on Wednesday to march towards Delhi — which would begin on Thursday — even as police in Haryana..




IndiaTimes - Published





Haryana seals borders with Punjab, deploys cops to foil farmers' 'Delhi Chalo' march




IndiaTimes - Published





Amarinder meets Sidhu over lunch, sets off speculation on MLA's reinduction into Punjab cabinet




IndiaTimes - Published





Punjab imposes night curfew from Dec 1; doubles fine for flouting COVID-19 norms

Night curfew in Punjab will remain in force from 10 pm to 5 am, announced the Chief Minister Captain Amarinder Singh on Wednesday.




DNA - Published





Farmers' march: Haryana to keep Delhi, Punjab borders sealed from Nov 25-27; check details

A large number of protestors are likely to enter Haryana from Punjab through various border entry points for their onward journey towards Delhi.




DNA - Published





Haryana to seal borders to prevent 'Delhi Chalo' stir

The Haryana government on Tuesday said it will seal borders with Punjab on November 26-27 to prevent farmers of that state from marching into Delhi for their "Delhi Chalo" protest event in the national..




IndiaTimes - Published





Contribution of stubble-burning to PM2.5 levels in Delhi-NCR went up from 10% in 2019 to 15% this year

Average contribution of stubble burning to the concentration of PM2.5 in Delhi-NCR during peak phase has increased from 10% in 2019 to over 15% this year with Punjab reporting an increase of 48% in..




IndiaTimes - Published





Amarinder Singh invites Navjot Sidhu for lunch

Punjab chief minister Amarinder Singh has invited Navjot Singh Sidhu for lunch on Wednesday, indicating a possible patch-up with the former cricketer who quit the state cabinet after being stripped of..




IndiaTimes - Published





Railways restore train operations in Punjab




IndiaTimes - Published





Rail services resume in Punjab, says Piyush Goyal




IndiaTimes - Published





Punjab farmers stock up for 'Dilli Chalo'

Farmer groups of Punjab have started preparations for mobilising people for their proposed protest in Delhi on November 26 and 27.Activists are approaching villagers to persuade them to join the..




IndiaTimes - Published





Combating Covid-19: Centre rushes high-level teams to UP, Punjab and Himachal

The Government of India has decided to depute high-level Central teams to Uttar Pradesh, Punjab and Himachal Pradesh to support these States in Covid-19 response and management, according to a release..




IndiaTimes - Published





Amid shortage of essentials, Punjab farmers end rail roko

Punjab farmer unions agreed on Saturday to accept chief minister Capt Amarinder Singh's appeal and decided to allow passenger trains to run in the state from November 23 till December 10. However they..




IndiaTimes - Published





Rail operation may resume in Punjab from Tuesday




IndiaTimes - Published





Agitating farmers in Punjab allow train services to resume from November 23




IndiaTimes - Published





Punjab ready to help Delhi govt to fight Covid crisis: Amarinder Singh




IndiaTimes - Published





Amarinder Singh invites agitating farmers for meeting today

Punjab Chief Minister Amarinder Singh has invited protesting farmers for a meeting here on Saturday, a day after seeking the Union government's support to create a "congenial environment" for ending..




IndiaTimes - Published





Marriage between first cousins per se iIllegal, says Punjab and Haryana High Court

21-year-old man moved the HC against state of Punjab seeking anticipatory bail in a case registered under Sections 363, 366A of the IPC on August 18.




DNA - Published

Also reported by •IndiaTimes


Rail roko triggers urea shortage in Punjab




IndiaTimes - Published





Punjab trains stalled, FCI moves more grains from other states




IndiaTimes - Published





DNA Special: Plight of Punjab farmers, how they are forced to commit suicide due to mounting debts

In Punjab, more than 3,500 farmers have committed suicide in the past 10 years and 97 per cent of these suicides have occurred in the Malwa region of the state.




DNA - Published





Farmers' agitation in Punjab disrupts train services; 9 cancelled, 30 short-terminated

According to a circular released by the Indian Railways, 27 festival special trains have been cancelled and 37 have been short-terminated due to the farmers' agitation.




DNA - Published





Punjab farmers' stir costs railways 26 crore a day




IndiaTimes - Published





No sign of rail operation resuming in Punjab




IndiaTimes - Published





Political parties in Punjab gearing up for 2022 assembly elections

Congress party's main political opponents Shiromani Akali Dal (SAD(B)) and BJP are fighting their own battle of survival. The Bhartiya Janta Party (BJP) after a dismal end of its political honeymoon..




DNA - Published





Stubble burning: Maximum cases in Punjab; anger over farm bills among major reasons

Punjab has recorded around 74,000 incidents of stubble burning this season, the maximum in four years, with experts saying anger over farm bills and the government not paying the Supreme Court-ordered..




IndiaTimes - Published





Centre to hold further talks with Punjab farmers on new farm laws: Narendra Singh Tomar

Union agriculture minister Narendra Singh Tomar on Friday said the Centre will hold another round of discussion with Punjab farmers protesting against new farm laws amid differences on certain issues.




IndiaTimes - Published





Meeting of farmer leaders and central ministers on farm laws fail to bring any result, blockade of railway tracks to continue in Punjab




IndiaTimes - Published





Punjab becomes 8th non-BJP state to put curbs on CBI




IndiaTimes - Published





Punjab withdraws general consent accorded to CBI to probe cases




IndiaTimes - Published





Covid-19: India performed better than any big developed country: Harsh Vardhan

Union health minister Dr Harsh Vardhan held a virtual meeting with Health Ministers of Andhra Pradesh, Assam, Haryana, Himachal Pradesh, Kerala, Punjab, Rajasthan, Telangana, and West Bengal to review..




IndiaTimes - Published





Won't allow passenger trains: Punjab farmers




IndiaTimes - Published





Blockades in Punjab still not cleared: Railways




IndiaTimes - Published





Air pollution may lead to faster spread of Covid-19 infections, officials tell Par panel

Air pollution may lead to a faster spread of Covid-19 infections as it causes coughing and sneezing, government officials told a parliamentary panel on Friday, according to sources. Top officials of..




IndiaTimes - Published





Commission constituted to curb pollution; officials from Delhi, Haryana, UP, Rajasthan, Punjab included

Union Minister Prakash Javadekar said on Friday that Mukesh Khare of IIT, Ramesh KJ, former Director-General of Metrological Department, Arvind Kumar Nautiyal, Joint Secretary, Ministry of Environment,..




DNA - Published





Piyush Goyal urges Punjab govt to clear entire Railway network from blockages to resume train services




IndiaTimes - Published





After Goyal, Shah to meet MPs from Punjab over goods trains




IndiaTimes - Published





Blockade in Punjab costs Railways Rs 1,200 cr




IndiaTimes - Published





Nearly 40,000 stubble burning incidents reported in Punjab this year

The incidents of stubble burning were reported mainly in Sangrur, Bathinda, and Tarn Taran districts.




DNA - Published





Centre's imposing 'economic blockades' on Punjab: Navjot Sidhu at Jantar Mantar




IndiaTimes - Published





Amarinder leads 'relay dharna' at Jantar Mantar in Delhi

Taking the fight of Punjab farmers to Delhi and to highlight the crisis of supplies in the state due to suspension of goods trains, Chief Minister Amarinder Singh on Wednesday led the 'relay dharna' by..




DNA - Published





Punjab CM Amarinder Singh to stage dharna at Jantar Mantar over Centre's farm laws

Acting on the advice of Delhi Police, Punjab Chief Minister Amarinder Singh will now stage dharna along with his Cabinet colleagues and legislators at Delhi's Jantar Mantar in place of Rajghat.




DNA - Published





Coal trains stopped, Punjab faces crisis; Capt plans stir

With Punjab on the brink of a power crisis and the President declining Punjab chief minister Captain Amarinder Singh's request for a meeting on November 4, the latter announced on Tuesday that he..




IndiaTimes - Published





MP 65th foundation day: Facts about 'The heart of India', its history and significance

Madhya Pradesh is celebrating its 65th foundation day on November 1 along with Chhattisgarh and four other states, Karnataka, Kerala, Punjab, and Haryana.




DNA - Published





After Punjab, Rajasthan becomes second state to introduce bills to counteract impact of Centre's farm laws

Earlier this month Punjab Assembly passed four bills to negate the Centre's controversial legislation.




DNA - Published





Fear of power woes as Punjab sees no goods train service




IndiaTimes - Published





Income Tax department busts Rs 500-crore racket; raids 42 locations across India

The Income Tax Department has seized cash over Rs 2.3 crore and jewellery worth Rs 2.8 crore during searches at 42 locations in Delhi-NCR, Haryana, Punjab, Uttarakhand and Goa.




DNA - Published





Punjab sends out SOS call as goods trains stay suspended




IndiaTimes - Published





Punjab must ensure safety for trains to resume: Piyush Goyal




IndiaTimes - Published





Punjab govt acted swiftly in Hoshiarpur case in contrast to UP govt in Hathras incident: Amarinder Singh




IndiaTimes - Published