Punjab, India
State in northern India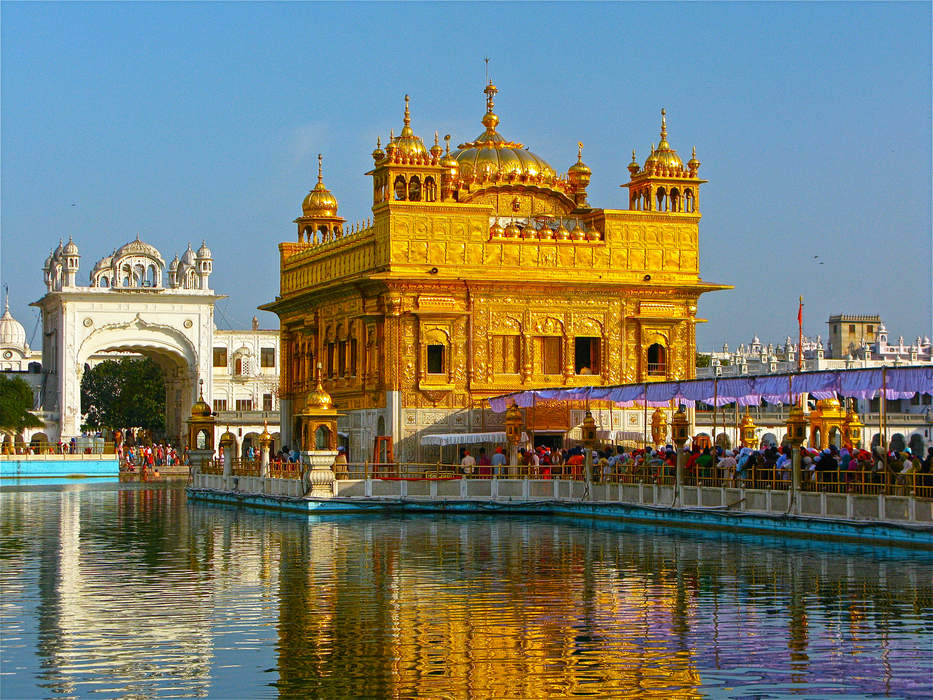 Punjab is a state in northern India. Forming part of the larger Punjab region of the Indian subcontinent, the state is bordered by the Indian union territories of Jammu and Kashmir to the north, Chandigarh to the east, the Indian states of Himachal Pradesh to the north and northeast, Haryana to the south and southeast, and Rajasthan to the southwest. It is bordered by Punjab, a province of Pakistan to the west. The state covers an area of 50,362 square kilometres, 1.53% of India's total geographical area. It is the 20th-largest Indian state by area. With over 27 million inhabitants, Punjab is the 16th-largest state by population, comprising 22 districts. Punjabi, written in the Gurmukhi script, is the most widely spoken and official language of the state. The main ethnic group are the Punjabis, with Sikhs and Hindus as the dominant religious groups. The state capital is Chandigarh, a Union Territory and also the capital of the neighbouring state of Haryana. The five tributary rivers of the Indus River from which the region took its name are the Sutlej, Ravi, Beas, Chenab and Jhelum rivers; the Sutlej, Ravi and Beas rivers flow through the Indian Punjab.


Punjab CM takes COVID vaccine jab in Mohali

Punjab Chief Minister Captain Amarinder Singh took his first dose of the COVID-19 vaccine at Civil Hospital in Mohali on March 05. The 2nd phase of COVID vaccine drive began on March 01 in the country.
Credit: ANI Duration: 01:03
Published
Farmers getting summer-ready to continue agitation in Delhi

As the farmers' protest is going on for around 100 days at different border areas of the national capital, the protesting farming community is also preparing to brave the upcoming summers of Delhi to..
Credit: ANI Duration: 03:28
Published
Watch: Architect builds 'jet-shaped' vehicle, names it 'Punjab Rafale'

An architect in Punjab's Bathinda has built a vehicle inspired by the Rafale. The jet-shaped vehicle can run at a speed of 15 to 20 kmph. The vehicle, that cost ₹ 3 lakhs to build, is painted light..
Credit: HT Digital Content Duration: 02:55
Published
Watch: Jet-shaped vehicle on round in Bathinda

An architect from Punjab's Bathinda designed a vehicle inspired by Rafale. The jet-shaped vehicle runs at 15-20km/h speed in Bathinda's Rama Mandi. "This (vehicle) cost me about Rs 3 lakh and will be..
Credit: ANI Duration: 02:35
Published
Make In India: Punjab Architect designs jet-shaped vehicle | Oneindia News

An Architect from Punjab designs a jet-shaped vehicle that runs at 15-20km/h speed in Bathinda's Rama Mandi. Watch the video. #MakeInIndia #MadeInIndia #Automobile
Credit: Oneindia Duration: 01:12
Published
Mamata to ties up with RJD | WB seat sharing discussed | Oneindia News

RJD leader Tejashwi Yadav called on the Bengal Chief Minister at her office in Kolkata and the two reportedly discussed seat-sharing; Bihar Chief Minister Nitish Kumar declared that the entire state of..
Credit: Oneindia Duration: 02:15
Published
Passengers will undergo COVID antigen, screening test at airport: Odisha Health Min

While speaking to ANI in Bhubaneswar on February 27, the Health and Family Welfare Minister of Odisha, Naba Kisore Das spoke on rising cases of coronavirus pandemic. Kisore Das said, "Passengers..
Credit: ANI Duration: 01:16
Published
'Will visit Singhu border': Nodeep Kaur granted bail by Punjab, Haryana HC

Labour rights activist Nodeep Kaur was granted bail on Friday. Kaur was arrested during a protest by workers in Haryana on January 12. Nodeep was granted bail in two of three cases filed against her...
Credit: HT Digital Content Duration: 01:43
Published
Nodeep Kaur released from Karnal prison after Punjab, Haryana HC granted bail

Labour rights activist Nodeep Kaur released from prison after Punjab and Haryana High Court granted her bail earlier today. 23-year-old was arrested on January 12 after she had participated in the..
Credit: ANI Duration: 01:13
Published
Gujarat Municipal Polls: BJP's big win, PM Modi thanks people of Gujarat| Oneindia News

The BJP has swept the municipal polls in Gujarat with a winning performance in elections to six municipal corporations of Gujarat, winning Jamnagar, Bhavnagar, Rajkot and Surat. Disha Ravi, the..
Credit: Oneindia Duration: 02:28
Published
Watch: Lakha Sidhana, wanted for R-day violence, seen at meeting in Bathinda

Lakha Sidhana, the gangster turned activist who is wanted in connection with the violence in Delhi on Republic Day, was seen at a meeting in Punjab's Bathinda in support of the ongoing farmers'..
Credit: HT Digital Content Duration: 01:33
Published
Rising COVID-19 cases is matter of concern: Punjab Health Minister

On the rising COVID-19 cases from past 3-4 days, Punjab Health Minister Balbir Singh Sidhu said that it is a matter of concern. Balbir Singh Sidhu said that he has instructed the healthcare workers to..
Credit: ANI Duration: 01:35
Published
Up to 130,000 Indian farmers protest farm laws

A massive crowd of farmers and farm workers gathered in India's northern Punjab state on Sunday in a show of strength against new farm laws. Edward Baran reports.
Credit: Reuters Studio Duration: 01:16
Published
Haryana to mull over reduction of fuel prices after discussion with neighbouring states

Speaking on the fuel hike problem across the nation, Deputy Chief Minister of Haryana, Dushyant Chautala on February 20 said the state government has urged the neighbouring states to have a joint..
Credit: ANI Duration: 01:03
Published
Watch: Congress leader shot dead by masked men in Punjab's Faridkot

A 34-year-old youth Congress leader Gurlal Singh Bhullar was allegedly shot dead in Punjab's Faridkot on Thursday evening, said police. Two unidentified motorcycle-borne men fired around 12 shots at..
Credit: HT Digital Content Duration: 01:20
Published
You Might Like



Farmers plan major road blockade to mark 100th day of protests

Farmers who have been protesting against the new farm laws plan to block a Western Peripheral Expressway outside New Delhi on Saturday, the 100th day of their campaign. Farmers from Punjab, Haryana and..




IndiaTimes - Published





Sidhu targets Capt, slams state of Punjab finances




IndiaTimes - Published





Punjab cites Ambedkar to stop BSP MLA's UP transfer




IndiaTimes - Published





Punjab 3rd state to hit 1,000+ daily tally

While Maharashtra and Kerala have been posting daily cases in four digits for over seven months now, no other state had touched the 1,000 mark since January 9, when Chhattisgarh had recorded 1,014 new..




IndiaTimes - Published





Weather Alert: IMD predicts rain in THESE states over next few days

The IMD has predicted maximum temperature over most areas of Delhi, Haryana, Punjab, Chandigarh, and west Uttar Pradesh to be 28-33 degrees Celsius.




DNA - Published





Covid-19: Maharashtra, Kerala, Punjab, Tamil Nadu, Gujarat, Karnataka continue to see upsurge in new cases

Maharashtra, Kerala, Punjab, Tamil Nadu, Gujarat and Karnataka continue to report a surge in fresh Covid-19 cases and they account for 85.95 per cent of the cases reported in a span of 24 hours, the..




IndiaTimes - Published





Covid-19 cases rise for 16th day in a row

Total of 98 fatalities reported in India on Tuesday. Maharashtra again accounted for more than half of India's death toll with 54 fatalities, followed by Kerala (16), Punjab (10) and Karnataka (7)...




IndiaTimes - Published





India's present overall case positivity rate suggests Covid-19 close to being under control

Addressing a weekly press conference, Union health secretary Rajesh Bhushan said though certain states, including Maharashtra, Kerala, Tamil Nadu, Punjab, Gujarat and Madhya Pradesh, are seeing a surge..




IndiaTimes - Published





Ahead of 2022 Punjab polls, Prashant Kishor joins CM Amarinder Singh as principal adviser




IndiaTimes - Published





Punjab CM says Prashant Kishor has joined him as principal advisor

Punjab chief minister Amarinder Singh Monday said poll-strategist Prashant Kishor has joined him as his principal advisor. ​​"Happy to share that @PrashantKishor has joined me as my Principal..




IndiaTimes - Published





New laws spare Punjab farmers of jail: Piyush Goyal

Pointing out that the existing farm laws in Punjab have the provision to send a farmer to jail, Union minister for commerce and industries Piyush Goyal said the Centre, with its new agri-reform laws,..




IndiaTimes - Published





Centre, Congress government in Punjab should slash fuel prices: Harsimrat Kaur




IndiaTimes - Published





Don't lower guard, deal firmly with violations: Centre tells states amid fresh spurt in Covid cases

The Centre on Saturday advised states and UTs reporting a surge in Covid-19 cases to not lower their guard, enforce Covid appropriate behaviour and deal firmly with violations. "Six states –..




IndiaTimes - Published





Guru Ravidas Jayanti 2021: Know historical, social significance of this day

The Jayanti is especially celebrated in North India including Chandigarh, Himachal Pradesh, Haryana and Punjab.




DNA - Published





Activist Nodeep's med report reveals injuries on her body

The medical examination of labour activist Nodeep Kaur has highlighted injuries on her body. In her petition before Punjab and Haryana HC, Nodeep had alleged that Sonipat police personnel had beaten..




IndiaTimes - Published





Punjab woman wins lottery, becomes 'crorepati' overnight

Expressing happiness for the godsend amount, the winner, Renu Chauhan said that the blessing has come as a huge relief to her middle-class family.




DNA - Published





Punjab 'shamelessly' protecting Mukhtar Ansari: UP govt to SC

Solicitor General Tushar Mehta, representing the UP government, slammed the Punjab government before a bench headed by Justice Ashok Bhushan. Senior advocate Dushyant Dave, representing the Punjab..




IndiaTimes - Published





Centre asks 5 states to expedite Covid vaccination of healthcare workers

The Union health ministry on Tuesday asked Maharashtra, Madhya Pradesh, Punjab, Jammu and Kashmir and Chhattisgarh to expedite the vaccination of healthcare and frontline workers so as to confer..




IndiaTimes - Published





COVID-19: Fresh curbs on gatherings from March 1 in THIS state, details here

Punjab Chief Minister Amarinder Singh on Tuesday ordered a slew of restrictions from March 1 amid rising COVID-19 cases.




DNA - Published





PM Narendra Modi addressed meeting of BJP's new national office-bearers

Addressing a media briefing on the meeting, BJP general secretary Arun Singh said that during the course of the meet, discussions will be held on farm laws, Aatmanirbhar Bharat and upcoming state..




IndiaTimes - Published




COVID-19: India reports 6,112 new infections as daily cases surge in Kerala, Maharashtra

Like Maharashtra, Punjab has also shown a sudden spike in the number of daily new cases reported in the last seven days with 383 daily new cases.




DNA - Published





Elderly woman onboard IndiGo flight suffers heart attack, dies

The woman hailed from Punjab's Ludhiana.




DNA - Published





Daily cases cross 14k, highest in 27 days

Daily Covid-19 cases in India rose to a 27-day high on Friday, crossing the 14,000 mark for the first time since January 23, as the sharp surge in infections continued in Maharashtra while states such..




IndiaTimes - Published





Inappropriate to link results of Punjab civic polls with farmers' protest, says Tomar




IndiaTimes - Published





What helped Congress govt of Amarinder Singh in Punjab sweep municipal polls

After several setbacks, the Congress finally had reasons to cheer about after its decisive victory in Punjab municipal elections. However, more than the Congress, it was a win for state chief minister..




IndiaTimes - Published





Rail roko: Protesting farmers sit on tracks in Punjab, Haryana; officials stop trains at stations

Farmers on Thursday sat on railway tracks at many places in Punjab and Haryana as part of the 'rail roko' protest against the Centre's new agri laws, with officials stopping trains at stations as a..




IndiaTimes - Published





Rail Roko Andolan: DMRC closes entry, exit at four metro stations

The security at the borders of Delhi with Haryana and Punjab as well as at the Ghaziabad border with Uttar Pradesh has been increased as well.




DNA - Published




Does Modi govt still believe farm laws are popular, asks Chidambaram after Congress win in Punjab




IndiaTimes - Published





Rail Roko: Railways deploys 20 additional RPSF companies, focus on Punjab, Haryana, UP




IndiaTimes - Published





Punjab local body polls: Clean sweep for Congress in seven municipal corporations

Bathinda's result was the most important for the Congress party as it was after 53 years that the party managed to win the city.




DNA - Published





Counting of votes for Punjab urban local bodies underway

The main contest in the urban local bodies is among the Congress, the opposition Aam Aadmi Party (AAP) and the Shiromani Akali Dal (SAD).




DNA - Published





Maharashtra farmer buys helicopter to sell milk, read the full story here

Janardhan says he often has to travel to Punjab, Haryana, and Gujarat due to his dairy business and hence decided to make the hefty purchase.




DNA - Published





Terrorists roping in students from Kashmir studying in Punjab to smuggle weapons: DGP




IndiaTimes - Published





Massive earthquake hits Afghanistan, tremors felt across north India

Earthquake of 6.1 magnitude was felt across north India, including Delhi, on Friday night and its epicentre was in Punjab's Amritsar.




DNA - Published





Earthquake hits Delhi-NCR, strong tremors felt in Jammu and Kashmir

An earthquake of magnitude 6.1 on the Richter scale hit Amritsar, Punjab at 10:34 pm on Friday night.




DNA - Published





DNA Special: Priyanka Gandhi Vadra spreads fake news in the name of farmers' protest, Twitter takes no action

The Congress leader shared photos from Punjab but said those were from the farmers' agitation on the borders of national capital Delhi.




DNA - Published





Have full faith in EVMs, says Ajit Pawar

"Congress government came to power in Rajasthan and Punjab even when elections took place through EVMs. What political parties generally do is, if a party wins with a huge mandate then everything is..




IndiaTimes - Published





Minor Muslim girls can marry on attaining puberty, rules Punjab and Haryana High Court

While hearing a petition moved by a Muslim couple from Punjab, the judge observed that a Muslim girl is governed by the Muslim Personal Law.




DNA - Published





Punjab records highest prevalence of high blood pressure: ICMR study




IndiaTimes - Published





Agitating farmers not summoned by NIA: Govt tells Rajya Sabha

Farmers participating in the ongoing protests against newly enacted three agri laws were not summoned by the National Investigation Agency, the government told Rajya Sabha on Wednesday. Thousands of..




IndiaTimes - Published





After actor Deep Sidhu, another accused wanted in Red Fort violence arrested from Punjab

This comes a day after the prime accused in the violence Deep Sidhu, who carried a reward of Rs 1 lakh, was nabbed by the police.




DNA - Published





One more wanted in Red Fort case arrested from Punjab

Delhi Police Special Cell has arrested Ikbal Singh, a wanted in the Red Fort Republic Day case, from Hoshiarpur in Punjab. Singh carrying a bounty of Rs 50,000 on his head, was arrest on Tuesday night...




IndiaTimes - Published





Deep Sidhu, key accused in R-Day riots case, arrested

The special cell of Delhi Police on Tuesday arrested Deep Sidhu, a Punjabi actor-activist and a key player in the Red Fort riots during the Republic Day tractor rally — ending a 13-day manhunt spread..




IndiaTimes - Published





Wife entitled to increase in alimony if husband's salary increases: Punjab and Haryana HC

Varun Jagota, a resident of Panchkula in Haryana, challenged the order of Panchkula Family Court after which the case was taken up by the High Court.




DNA - Published





Punjab experts' panel endorsed agri reform




IndiaTimes - Published





Chakka jam stalls traffic on key routes in stir heartland

Traffic stalled for three hours along arteries in the heartland of the farmer agitation on Saturday, but farm groups enforcing the chakka jam across Punjab and Haryana ensured there were no..




IndiaTimes - Published





'Chakka' jam' affects Punjab, Haryana, Rajasthan; farmers firm on repeal of laws




IndiaTimes - Published




Farmers' 'chakka' jam' protest draws response in Punjab, Haryana, Rajasthan; scattered demonstrations in other states




IndiaTimes - Published





'Chakka jam': Farmers block roads in Punjab, Haryana




IndiaTimes - Published




Punjab farmers should grow what they eat, develop farm marketing strategy: Navjot Sidhu

The need to return to growing more crops than wheat-paddy – the way it was before the Green Revolution era – with an effective marketing policy and support for other crops was highlighted at a..




IndiaTimes - Published