Punjab, India
State in northern India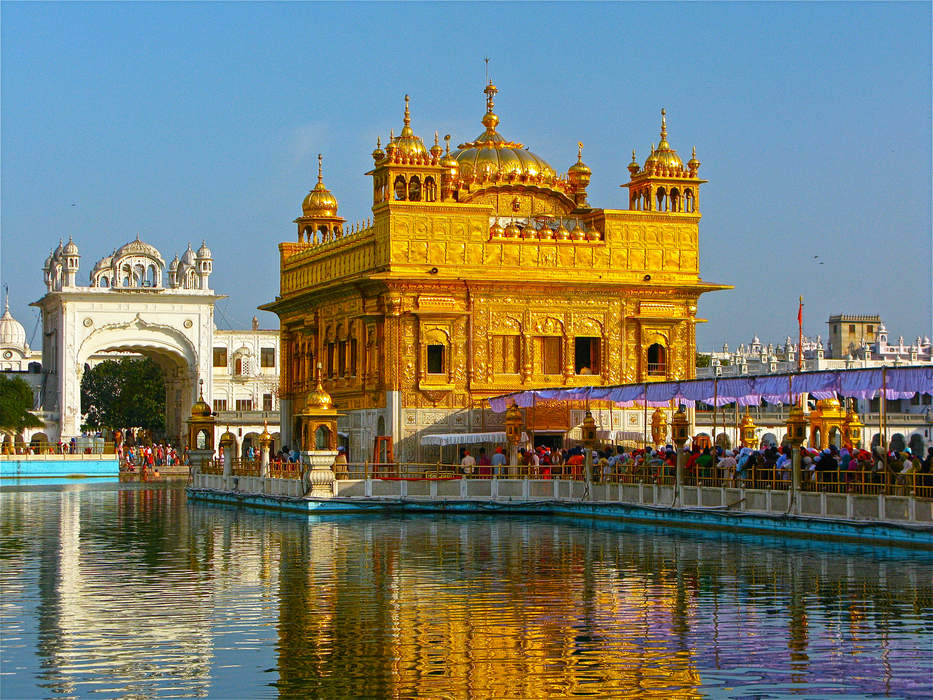 Punjab is a state in northern India. Forming part of the larger Punjab region of the Indian subcontinent, the state is bordered by the Indian union territories of Jammu and Kashmir to the north, Chandigarh to the east, the Indian states of Himachal Pradesh to the north and northeast, Haryana to the south and southeast, and Rajasthan to the southwest. It is bordered by Punjab, a province of Pakistan to the west. The state covers an area of 50,362 square kilometres, 1.53% of India's total geographical area. It is the 20th-largest Indian state by area. With over 27 million inhabitants, Punjab is the 16th-largest state by population, comprising 22 districts. Punjabi, written in the Gurmukhi script, is the most widely spoken and official language of the state. The main ethnic group are the Punjabis, with Sikhs and Hindus as the dominant religious groups. The state capital is Chandigarh, a Union Territory and also the capital of the neighbouring state of Haryana. The five tributary rivers of the Indus River from which the region took its name are the Sutlej, Ravi, Beas, Chenab and Jhelum rivers; the Sutlej, Ravi and Beas rivers flow through the Indian Punjab.


Massive fire breaks out at dry fruit factory in Amritsar

Massive fire broke out at a dry fruit trading factory in Punjab's Amritsar on May 07. Fire tenders are present on the spot. No injuries have been reported so far. More details are awaited.
Credit: ANI Duration: 01:22
Published
Watch: Punjab cop kicks vegetable vendor's basket; suspended

A Station House Officer in Punjab has been suspended after a video showing him kicking a vegetable basket of a street vendor went viral on social media. Navdeep Singh, SHO (City) Phagwara, was seen..
Credit: HT Digital Content Duration: 02:23
Published
Viral video: SHO kicks vegetable vendor's basket in Punjab, gets suspended

In a viral video from Punjab's Kapurthala, a police official was seen kicking a basket kept on a vegetable vendor's cart. The incident took place on May 05 and after preliminary investigation, the SHO..
Credit: ANI Duration: 01:02
Published
Rain lashes in Amritsar

Amritsar received light spell of rainfall on May 04. It brought relief from scorching heat among the locals. The India Meteorological Department (IMD) have predicted lash of rainfall in Punjab, Delhi..
Credit: ANI Duration: 01:16
Published
Need 300 MT oxygen/day: Punjab Health Minister

Amid oxygen crisis in Punjab, state Health Minister Balbir Singh Sidhu on April 29 said Punjab needs 300 Metric Ton oxygen per day. "We need 300 MT oxygen per day. We generate 36 MT in the state,"..
Credit: ANI Duration: 01:40
Published
Amritsar NGO feeding the needy since pandemic

In a bid to help people struggling to earn livelihood due to the ongoing COVID-19 crisis, an NGO in Amritsar is providing free food labourers and Rickshaw operations in the city. People reached to the..
Credit: ANI Duration: 02:07
Published
Covid vaccination registration for all above 18 yrs opens today: How to register

Indians above 18 years of age can start registering themselves for Covid-19 vaccination from 4 pm today as the government gears up to launch the third phase of immunisation drive on May 1. Even as the..
Credit: HT Digital Content Duration: 03:27
Published
COVID: Migrants in Amritsar head home amid lockdown fear

Scores of migrant workers gathered at the Amritsar railway station to return to their native places amid the rising fear of complete lockdown due to COVID-19 pandemic. One of the migrants said, "We are..
Credit: ANI Duration: 02:25
Published
Covid update: India's new oxygen trains; 20 patients escape in Uttarakhand

From the Indian Railways planning new Oxygen Express trains, to 20 patients escaping from a care centre in Uttarakhand - here are the top news updates on the Covid-19 pandemic. The central government..
Credit: HT Digital Content Duration: 03:04
Published
Punjab woman's bizarre petition 'Price Harry promised marriage' dismissed by court| Oneindia News

Social media users couldn't be more amused after a petitioner moved Punjab and Haryana High Court, seeking legal action against UK's Prince Harry for allegedly not fulfilling his promise to marry..
Credit: Oneindia Duration: 01:11
Published
Devotees visit Golden Temple to offer prayers on Baisakhi

Baisakhi, also known as the harvest festival of Punjab is being celebrated on April 13. Devotees in large numbers thronged Amritsar's Golden temple to offer prayers. They took holy dip in the sarovar..
Credit: ANI Duration: 02:02
Published
Grain market in Punjab deserted despite beginning of procurement process

Grain market in Amritsar wore deserted look despite the state government announced the beginning of procurement of produce on Apr 10. Commission agents and farmers had staged strike in support of the..
Credit: ANI Duration: 02:27
Published
PM Modi holds meeting with Chief Ministers on COVID situation

Prime Minister Narendra Modi held meeting with Chief Ministers on the current COVID19 situation on April 08 via video conferencing. Terming the second wave a grave concern, PM Modi said, "We need to..
Credit: ANI Duration: 02:34
Published
Mukhtar Ansari under strict surveillance in Banda jail

Gangster-turned-politician Mukhtar Ansari has been kept in highly-secured isolation barrack in the District Jail Banda, the authorities are monitoring him 24*7 via CCTV. DG (Prisons) Anand Kumar is..
Credit: ANI Duration: 01:20
Published
Narottam Mishra takes a dig at CM Mamata, Mukhtar Ansari, says 'wheelchairs are quite famous'

While addressing a press conference in West Bengal's Asansol on April 07, Madhya Pradesh Home Minister and BJP leader Narottam Mishra draw comparison between state Chief Minister Mamata Banerjee and..
Credit: ANI Duration: 01:14
Published
UP Police arrives at Banda jail with Mukhtar Ansari

Uttar Pradesh Police has arrived at Banda jail with gangster-turned-politician Mukhtar Ansari on April 07. UP Police had gone to Punjab's Rupnagar jail on April 06 to take the Bahujan Samaj Party (BSP)..
Credit: ANI Duration: 01:25
Published
Mukhtar Ansari's brother questions intentions of Banda jail administration

As Uttar Pradesh police is taking gangster-turned-politician Mukhtar Ansari from Punjab's Rupnagar jail to Banda, his brother Afzal Ansari said that Mukhtar Ansari will reach safely with god's..
Credit: ANI Duration: 02:57
Published
You Might Like



Transfer Punjab & Haryana HC chief justice: Lawyers




IndiaTimes - Published





Wheat procurement in Haryana crosses target, Punjab set to surpass




IndiaTimes - Published





Consensus among MLAs that Badals ruling Punjab, instead of Congress: Navjot Singh Sidhu

Sidhu's fresh salvo against his own government has come a day after he alleged that it was chief minister Amarinder Singh's "incompetence" that the government was forced to accept the Punjab and..




IndiaTimes - Published





PM Modi speaks to chief ministers of Punjab, Karnataka, Bihar, Uttarakhand on Covid-19 situation in their states

Prime Minister Narendra Modi on Sunday spoke to chief ministers of Punjab, Karnataka, Bihar and Uttarakhand about the Covid-19 situation in their respective states, government sources said. For the..




IndiaTimes - Published





Delhi has most Covid cases & deaths per million population

Following Delhi in terms of deaths per million from April onwards is Chhattisgarh with Maharashtra not too far behind. If we consider all deaths so far, the two states flip positions. Uttarakhand and..




IndiaTimes - Published





India records 3,460 deaths as 5 states see highest-ever tolls

On Tuesday, at least five big states reported their highest daily fatalities— UP, where 352 deaths were reported, Karnataka (292), Punjab (173), Haryana (153) and Bengal (107). Deaths surged to 891..




IndiaTimes - Published





Signs of Covid slowdown in Gujarat, Delhi, Maharashtra, Punjab, UP: Government

Some states and UTs such as Maharashtra, Punjab, Delhi, Uttar Pradesh, Telangana, Madhya Pradesh and Uttarakhand are showing early signs of plateauing or a decrease in daily new cases of Covid-19,..




IndiaTimes - Published





Will impose complete lockdown in Punjab if needed: CM Capt Amarinder Singh

The state is currently in a soft lockdown situation, with strong curbs in place, with additional restrictions imposed by the government on Sunday.




DNA - Published





India better prepared this year to beat Covid-19 compared to 2020: Harsh Vardhan

He made while inaugurating a series of blood donation camps at 13 locations in Chandigarh, Punjab, Haryana and Himachal Pradesh through a webinar in the presence of minister of state for finance and..




IndiaTimes - Published





Rs 13,000 crore given to farmers directly

The government has transferred about Rs 8,180 crore to the accounts of Punjab farmers and Rs 4,670 crore to Haryana farmers directly against the sale of their wheat crop, the food ministry said on..




IndiaTimes - Published





Punjab: Night curfew from 6 pm, full lockdown on weekends imposed - Details inside

The Punjab government on Monday imposed daily lockdown and weekend lockdown owing to the surge in COVID-19 cases.




DNA - Published





Punjab, Kerala, Karnataka impose stricter curbs amid Covid surge: Key points




IndiaTimes - Published





Ziqitza HealthCare Ltd wins tender for 108 EMS operations in Punjab

245 Basic Life Support & 25 Advance Life Support Ambulances - committed to serve people of Punjab




DNA - Published





COVID-19: Complete lockdown in Punjab's Mohali, night curfew timings extended across state

The Punjab government on Monday announced stricter curbs, including extension of night curfew and closure of bars, cinema halls till April 30.




DNA - Published





Have convinced CM to accept resignation, says Punjab IGP




IndiaTimes - Published





Congress, SAD, BJP seek to woo Dalits in Punjab on Ambedkar Jayanti




IndiaTimes - Published





Farmers confused as Punjab arthiyas seek blank cheques




IndiaTimes - Published





Second wave dispersing to more states; MP, Punjab lagging behind in vaccination: Report

More Indian states are experiencing the 'second wave' of Covid-19 infections, while Madhya Pradesh and Punjab are "lagging behind" in vaccination, a report said on Monday.




IndiaTimes - Published





Health secretary writes to Maharashtra, Punjab, Chhattisgarh over Covid surge




IndiaTimes - Published





SC asks Centre, four states to respond on plea seeking repeal of provisions criminalising begging

The top court had in February sought a response from the Centre, and the states of Maharashtra, Gujarat, Punjab, Haryana and Bihar on the plea which has claimed that the sections of the statute..




IndiaTimes - Published





Amid arhtiyas' strike call, Punjab to start buying wheat

A day before wheat procurement begins in Punjab, the arhtiyas (commission agents) on Friday decided to go ahead with their pre-announced strike against the Centre's direct benefit transfer (DBT) of..




IndiaTimes - Published





Punjab bows to Centre, agrees to transfer cash directly to farmers




IndiaTimes - Published





Ten states showing upward trajectory of daily new Covid-19 cases

Ten states including Maharashtra, Chhattisgarh, Karnataka, Uttar Pradesh, Delhi, Madhya Pradesh, Tamil Nadu, Gujarat, Kerala and Punjab have shown a steep rise in the daily Covid-19 cases accounting..




IndiaTimes - Published





Punjab, MP, UP, Chhattisgarh tighten restrictions as cases surge




IndiaTimes - Published





Punjab CM orders ban on political gatherings; leaders to be booked under DMA & Epidemics Act

As Covid cases continue to remain high in the state, Punjab chief minister Amarinder Singh, on Wednesday ordered a "total ban" on political gatherings till April 30 and said that violators,..




IndiaTimes - Published





Night curfew imposed in Punjab: Know what's allowed, what's not

The night curfew will be in place from 9 pm to 5 am. The Punjab government also banned political gatherings till April 30.




DNA - Published





Major reason for surge in cases is laxity in following Covid-appropriate behaviour: Union health minister Harsh Vardhan

Union health minister Harsh Vardhan, who reviewed the Covid-19 situation and progress of vaccination in Chhattisgarh, Delhi, Gujarat, Haryana, Himachal Pradesh, Jharkhand, Karnataka, Madhya Pradesh,..




IndiaTimes - Published





Maharashtra, Punjab, Chhattisgarh states of maximum concern: Centre on Covid-19 surge




IndiaTimes - Published





Lockdown in Punjab? Night curfew in Chandigarh - What's allowed, what's not

According to the Chandigarh administration, no gatherings, parties, non-essential activities will be allowed during the period.




DNA - Published





3 UP police teams, 3 routes to get Ansari back from Punjab




IndiaTimes - Published





150-strong UP Police team heads for Punjab to bring back Mukhtar Ansari; kin voice apprehension about his security




IndiaTimes - Published





Who is Mukhtar Ansari? The dreaded gangster-turned Uttar Pradesh politician who is accused of several heinous crimes

Mukhtar Ansari is to be transferred from Punjab's Rupnagar jail, before April 8 on the orders of the Supreme Court.




DNA - Published





Farmers not leaving protest sites near Delhi: BKU's Rakesh Tikait

Farmers, mainly from Punjab, Haryana, western Uttar Pradesh and Rajasthan, have been protesting at the Delhi border for over 4 months now against the Centre's three agri marketing laws, and have..




IndiaTimes - Published





Take custody of Mukhtar Ansari by April 8: Punjab to UP govt

Punjab's home department has asked the Uttar Pradesh government to take custody of gangster-turned-politician Mukhtar Ansari from the Rupnagar jail on April 8, with BSP MP Afzal Ansari on Sunday saying..




IndiaTimes - Published




'Conspiracy to defame Punjab's farmers': Amarinder slams MHA letter flagging 'bonded labourers'




IndiaTimes - Published





Eight states account for over 80% of new Covid-19 cases

India's total active caseload has reached 6,91,597 and now comprises 5.54 per cent of the country's total infections. A net rise of 32,688 cases recorded in the total active caseload in a span of 24..




IndiaTimes - Published




'Bonded labourers' on Punjab farms: MHA says no charges framed, calls reports 'distorted'




IndiaTimes - Published





Active cases continue to grow exponentially; punjab reports 12 times hike in last two months

The number of active cases grew exponentially in states categorised as "grave concern" by the ministry of health. The active cases have reported the highest rise in Punjab where they have increased by..




IndiaTimes - Published





India records 89,129 new Covid-19 cases, highest single-day rise since September

Maharashtra, Punjab, Karnataka, Kerala, Chhattisgarh, Chandigarh, Gujarat, Madhya Pradesh, Tamil Nadu, Delhi and Haryana are states of grave concern.




DNA - Published





In unusual move, MHA flags Punjab on 'bonded labourers'




IndiaTimes - Published





'Bonded labourers' on Punjab farms: MHA prods Punjab govt for action




IndiaTimes - Published





Punjab CM Amarinder Singh assures support to arhtiyas




IndiaTimes - Published





FCI helps Punjab stave off crisis by lifting wheat stock

In Punjab, farmers sell their foodgrains to five state procuring agencies (SPAs) and they pay the money to farmers. Later this amount is reimbursed by FCI. To pay the amount to farmers immediately,..




IndiaTimes - Published




Mantri: Punjab let Mukhtar Ansari use own ambulance to reach court




IndiaTimes - Published





What is delaying Navjot Sidhu's comeback in Punjab?

What is stopping cricketer-turned-politician Navjot Singh Sidhu from actively rejoining the Congress party despite meeting Punjab CM Amarinder Singh nearly two weeks ago, to sort out the differences?




IndiaTimes - Published





Positivity rate in Maharashtra past its peak of July '20

Maharashtra is fit for imposing a fresh lockdown in its containment zones with the Covid-19 positivity rate, total confirmed cases per 100 tests, doubling almost every fortnight since January 26. It..




IndiaTimes - Published





After hooliganism in Punjab's Abohar, MP Subhash Chandra receives threat from so-called farmer leader

In the video, the man can be heard provoking farmers of Hisar district to stop Dr Subhash Chandra from attending a programme in Hisar.




DNA - Published





BJP MLA beaten up, stripped by Punjab 'farm protesters'




IndiaTimes - Published





Bharat Bandh: Roads and rail traffic affected in Punjab, Haryana; partial response elsewhere

The Bharat Bandh on Friday was called by the Samyukta Kisan Morcha (SKM), an umbrella body of farmer unions protesting against the three contentious farm laws.




IndiaTimes - Published





SC directs Punjab govt to hand over custody of Mukhtar Ansari to UP police

The Supreme Court on Friday directed the Punjab government to hand over the custody of gangster-turned-politician Mukhtar Ansari, who is lodged in Rupnagar jail there, to Uttar Pradesh Police.




IndiaTimes - Published