Lalu Prasad Yadav
Indian politician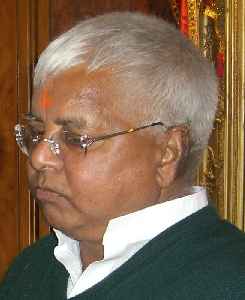 Lalu Prasad is an Indian politician from the state of Bihar. He is the President of the Rashtriya Janata Dal, former Chief Minister of Bihar, former UPA Minister of Railways, and former Member of Parliament of the 15th Lok Sabha.


Lalu Prasad's RJD may contest 19 Lok Sabha seats, Congress- nine and RLSP - four seats in Bihar
Gohil said Tejashwi would soon hold a joint press conference in the state capital here along with the state level leaders of all GA partners and inform people about the seat sharing. He said State..
IndiaTimes - Published
Lalu Prasad Yadav hopes for release so he can ensure 'fair polls'
SC agrees to hear bail plea, which says his presence crucial for 'free, fair election'
DNA - Published
Sushil Modi asks EC to take note of Lalu using social media for politics
Bihar Deputy Chief Minister Sushil Kumar Modi Friday asked the Election Commission to take note of jailed RJD chief Lalu Prasad who is being "politically active" through social media.
IndiaTimes - Published
Fodder scam: Supreme Court seeks CBI response on Lalu Yadav's bail plea
Lalu Yadav is lodged in the Birsa Munda Central Jail in Ranchi after being convicted in fodder scam cases.
DNA - Published
Fodder scam: SC to hear Lalu Yadav's bail plea on Friday
IndiaTimes - Published
Ailing, but Lalu Prasad Yadav to take all election decisions: RJD
RJD MP and spokesperson Manoj Jha, who proposed the resolution, said it did not feel right to celebrate the festival while the country was still mourning the Pulwama martyrs.
DNA - Published
You Might Like