Gujarat
State in western India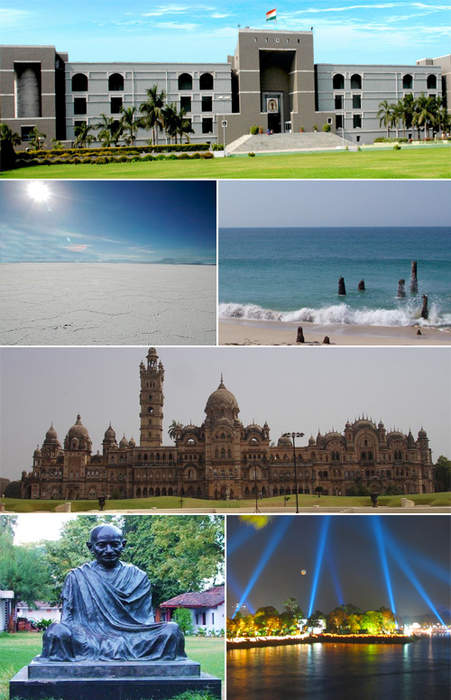 Gujarat is a state along the western coast of India. Its coastline of about 1,600 km (990 mi) is the longest in the country, most of which lies on the Kathiawar peninsula. Gujarat is the fifth-largest Indian state by area, covering some 196,024 km2 (75,685 sq mi); and the ninth-most populous state, with a population of 60.4 million. It is bordered by Rajasthan to the northeast, Dadra and Nagar Haveli and Daman and Diu to the south, Maharashtra to the southeast, Madhya Pradesh to the east, and the Arabian Sea and the Pakistani province of Sindh to the west. Gujarat's capital city is Gandhinagar, while its largest city is Ahmedabad. The Gujaratis are indigenous to the state and their language, Gujarati, is the state's official language.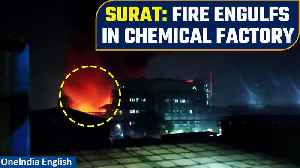 Breaking News: Massive Chemical Factory Fire in Surat, Gujarat | Oneindia News

A major fire has erupted in a chemical factory in the Sachin GIDC area of Surat, Gujarat. Firefighters are on the scene battling the blaze. Stay tuned for live updates and more details on this..
Credit: Oneindia Duration: 01:17
Published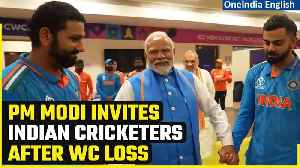 World Cup 2023: PM Modi Meets Indian Cricketers In Dressing Room After The Defeat | Oneindia News

Prime Minister Narendra Modi meets team India in their dressing room after the ICC World Cup Finals at Narendra Modi Stadium in Ahmedabad, Gujarat on 19th November. The PM spoke to the players and..
Credit: Oneindia Duration: 02:10
Published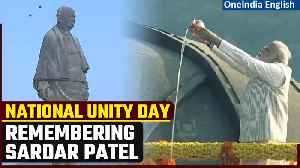 National Unity Day:PM Modi Administers Pledge, Leaders Pay Tribute| Remebering Sardar Patel|Oneindia

On the birth anniversary of Sardar Vallabhbhai Patel, PM Modi administers the 'National Unity Day' pledge in Gujarat's Ekta Nagar. President Droupadi Murmu, Union Home Minister Amit Shah, Vice..
Credit: Oneindia Duration: 08:33
Published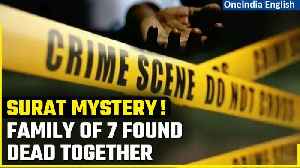 Tragic Loss in Gujarat: Seven Family Members, Including Children, Found Deceased | Oneindia News

Heartbreaking news from Gujarat, India, as a shocking incident unfolds. Seven family members, including three children, have been found deceased. Stay tuned for updates on this devastating event as..
Credit: Oneindia Duration: 01:51
Published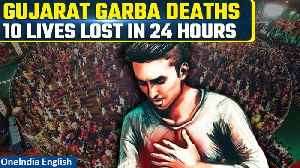 Navratri 2023: 10 heart attack deaths in 24 hours at garba events in Gujarat | Oneindia News

At least 10 heart attack deaths have been reported at garba events across Gujarat in the past 24 hours and the youngest of the victims was just 17 years old. Over 500 ambulance calls were made in 24..
Credit: Oneindia Duration: 02:01
Published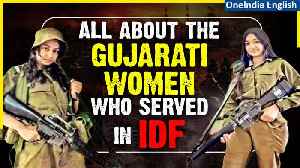 Israel-Palestine War: 2 women of Gujarati origin used to serve in Israeli Army | Oneindia News

The war between Israel and the Hamas militants entered its sixth day on Thursday. As the conflict intensifies, reports emerge of two women of Indian origin serving in the Israeli Army. According to..
Credit: Oneindia Duration: 03:04
Published
You Might Like



Gujarat court acquits Congress MLA Jignesh Mevani, 6 others in 2016 rioting case

A metropolitan court on Tuesday acquitted Congress MLA and Dalit activist Jignesh Mevani and six others of the criminal case lodged against them for staging a demonstration and blocking traffic on..




IndiaTimes - Published





Azaan on loudspeakers no noise pollution: High court

The Gujarat high court dismissed a PIL seeking a ban on the use of loudspeakers for azaan, observing that the call to prayer does not create noise pollution as it lasts less than 10 minutes. The bench..




IndiaTimes - Published





Lightning kills 9 in Gujarat, 5 in Maharashtra




IndiaTimes - Published





20 killed in lightning strikes amid unseasonal rains in Gujarat

All the fatalities were attributed to lightning strikes during unseasonal rainfall which battered the state on Sunday.




DNA - Published





Poll-related cash seizures hit cattle trade at Pushkar fair

​​The vote count is a week away but Rajasthan's Pushkar animal fair is already counting losses — from election-time cash curbs. Poll-related cash seizures have hit cattle trade at the November..




IndiaTimes - Published





Gujarat tech students caught in Gurugram start-up's 'loan scam'

Over 100 students of a prominent Ahmedabad engineering college are caught up in an alleged scam involving a dubious Gurgaon startup that they claim misused documents taken for their employment to take..




IndiaTimes - Published





20 lives lost as unseasonal rains lash Gujarat, most deaths due to lightning

Unseasonal rains caused by the western disturbance lashed Gujarat, resulting in flight diversions and lightning deaths. The heavy showers, accompanied by strong winds and hailstorms, caused widespread..




IndiaTimes - Published





995 loco pilots failed breathalyser tests in 5 years, says RTI reply

Nearly 1,000 loco pilots failed breathalyser tests in three zones in the last five years, a third of them at the moment of signing off from a shift, says an RTI query reply. It's New Delhi that..




IndiaTimes - Published





Weather update: IMD issues orange alert, predicts heavy rain for several states; check IMD forecast for next 4 days

According to the IMD's forecast, there will be sporadic heavy rainfall on Sunday in the regions of Gujarat, north Konkan, north Madhya Maharashtra, Marathwada, southeast Rajasthan, and southwest Madhya..




DNA - Published





Make me win as I am a Rajasthani, says Ashok Gehlot taking a jibe at PM Modi, Amit Shah

On the eve of polling in Rajasthan, Chief Minister Ashok Gehlot played the 'son of the soil' card, urging people to vote for him as a 'Rajasthani' over two 'Gujaratis' (Prime Minister Narendra Modi and..




IndiaTimes - Published





IMD Weather update: Heavy rainfall predicted in these states from November 25; yellow alert issued

The forecast also indicates that thunderstorm activity is likely over Maharashtra, Madhya Pradesh, Gujarat and south Rajasthan till next week.




DNA - Published





Mumbai-Ahmedabad bullet train project achieves milestone: 100 km of viaduct, 250 km of pier construction completed

The National High-Speed Rail Corporation Limited (NHSRCL) has achieved another milestone in the Mumbai-Ahmedabad High-Speed Rail Corridor project by completing the construction of 100 km of viaduct and..




IndiaTimes - Published





DATUM solution helps in diesel management at Bullet sites

Repos Energy's IoT tech enabled, diesel storage-dispensing tank, Datum, has come as a blessing for the construction industry. The construction of the Ahmedabad-Mumbai Bullet train is witnessing the..




IndiaTimes - Published





'Vishwaguru' should answer why malnutrition is increasing in India: Karnataka CM Siddaramaiah

Karnataka Chief Minister Siddaramaiah on Wednesday expressed concern over malnutrition in the country and said that it is increasing in Gujarat and India. He stated that Prime Minister Modi, who refers..




IndiaTimes - Published





Asiatic lion's empire now spreads to 10th Gujarat district

The population of Asiatic lions in Gujarat, India, is expanding, with the big cats now present in 10 districts. Previously, lions were confined to just one district, Junagadh, but their numbers have..




IndiaTimes - Published





Eighty fishermen released from Pakistan jail arrive in Gujarat, reunited with kin for Diwali

Eighty fishermen released from a jail in Karachi in Pakistan reached Vadodara in Gujarat by train on Sunday, from where they were taken to Veraval in the state's Gir Somnath district by bus to be..




IndiaTimes - Published





Migration for employment continues in tribal-dominated Jhabua; BJP and Congress pass the blame

Migration for employment is a major concern in the Jhabua assembly constituency in Madhya Pradesh. Residents, like Ran Singh, migrate to Gujarat for work due to limited opportunities in Jhabua. The..




IndiaTimes - Published





Fema violation case: ED searches 10 locations linked to Ojasvi Foundation in Surat

The Enforcement Directorate (ED) has conducted searches at 10 locations in Gujarat's Surat as part of an investigation into a Fema violation case. The searches were carried out at the premises of..




IndiaTimes - Published





2 Australian universities to start operations in Gujarat from next year

Two Australian universities are all set to operate their campuses in Gujarat's Gandhinagar from next academic year. This announcement was made by Union education and skill development minister..




IndiaTimes - Published





Navy staffer 'shoots self' in Gujarat

A navy staffer allegedly killed himself with his rifle while he was on duty at INS Valsura, a base station near Gujarat's Jamnagar, on Sunday. He shot himself in the chest and hands at a watchtower,..




IndiaTimes - Published





Navy's under-construction guided missile destroyer 'Surat' unveiled

The crest of the Indian Navy's latest guided missile destroyer, 'Surat', was unveiled in a ceremony attended by the Chief Minister of Gujarat and the Chief of the Naval Staff. The crest depicts the..




IndiaTimes - Published





RSS pays homage to Pak-born scribe for 'contribution to nation'

RSS began its national conference in Gujarat's Bhuj on Sunday with a tribute to, among others, the late Pakistan-born Canadian journalist Tarek Fatah, a strident critic of the Pakistani religious and..




IndiaTimes - Published





Two held from Telangana & Gujarat for threat emails to Mukesh Ambani

Two youths from Telangana and Gujarat have been arrested by Mumbai police for sending threatening emails to Reliance Industries chairman, Mukesh Ambani. The emails demanded a total of Rs 900 crore from..




IndiaTimes - Published





Supreme Court shields 2 journalists in Adani case

The Supreme Court on Friday granted interim protection to two journalists who were summoned by Gujarat police for their article alleging stock manipulation by the Adani group and directed the police..




IndiaTimes - Published





Cardiac arrest kills 9 standard girl in exam hall

A 15-year-old girl studying in Class 9 died of cardiac arrest while entering the examination hall of her school in Amreli town, Gujarat, on Friday. The deceased was identified as Sakshi Rajosara, a..




IndiaTimes - Published





Article on Adani-Hindenburg row: SC grants interim protection to 2 journalists

The Supreme Court has granted interim protection to two journalists who wrote an article on the Adani-Hindenburg row, preventing their arrest. A bench of Justices BR Gavai and PK Mishra issued notice..




IndiaTimes - Published





Gujarat high court's bail to Teesta Setalvad, husband Javed Anand OK but they must join probe: Supreme Court

The Supreme Court has refused to intervene in the anticipatory bail granted to activist Teesta Setalvad and her husband in a case of alleged misappropriation of funds. The court has directed the couple..




IndiaTimes - Published





Odisha, Bihar make big power moves, Goa tops household use

India's annual electricity consumption has increased by nearly 70% in the past decade, with the industrial and domestic sectors driving this growth. Maharashtra is the leading state in terms of overall..




IndiaTimes - Published





India is moving forward with pledge of abandoning mentality of slavery: PM Modi in Gujarat




IndiaTimes - Published





PM Modi flags off Gujarat's first heritage train




IndiaTimes - Published





PM Modi flags off Gujarat's first Kevadia-Ahmedabad AC heritage train, check timings, features, other details

The three-coach heritage train will be hauled by an electric engine that has been designed to look like a steam locomotive, replete with foggers to produce exhaust fumes and a sound system to produce..




DNA - Published





'Next 25 years, the most important 25 years of this century for India,' PM Modi in Gujarat on Rashtriya Ekta Diwas

Prime Minister Narendra Modi addressed a National Unity Day parade in Gujarat to commemorate the birth anniversary of Sardar Vallabhai Patel. He emphasized the importance of unity and brotherhood in..




IndiaTimes - Published





PM Narendra Modi addresses National Unity Day event in Gujarat

PM Modi on Tuesday said the way August 15 is a day of celebration of India's Independence and January 26 of our Republic, October 31 has become "a festival of communication of nationalism". He was..




IndiaTimes - Published





PM Modi chairs meeting of Shree Somnath Trust at Raj Bhavan in Gujarat

Prime Minister Narendra Modi's tenure as the chairman of the Shree Somnath Trust has been extended by five years. During a meeting of the board, various aspects of the temple's operations were..




IndiaTimes - Published





PM Modi lays foundation stone, inaugurates development works in Mehsana

Prime Minister Narendra Modi inaugurated and laid the foundation stone of various development projects worth around Rs 5800 crores in multiple sectors in Gujarat's Mehsana on Monday. The projects that..




IndiaTimes - Published





PM Modi offers prays at Ambaji temple during Gujarat visit

Prime Minister Narendra Modi visited the Ambaji temple in Gujarat's Banaskantha district during his two-day visit to the state. After being welcomed by local leaders and priests, Modi performed pooja..




IndiaTimes - Published





'Severe Covid patients must...': Health Minister Mansukh Mandaviya after rising heart attack cases

The trend of deaths due to heart attacks in Gujarat is not stopping. Across the state, young and middle-aged people are dying. Especially in Saurashtra, the cases of heart attack are increasing..




DNA - Published

Also reported by •IndiaTimes


PM Modi to launch multiple development projects worth Rs 5,950 crore on 2-day Gujarat visit from today

PM Modi will also pay tribute to Sardar Vallabhbhai Patel at the Statue of Unity in Narmada district during the visit.




DNA - Published

Also reported by •IndiaTimes


Tamil Nadu's blue carbon initiative offers key lessons for coastal states at climate summit

At a climate summit in Mumbai, Supriya Sahu emphasized the importance of blue carbon ecosystems, specifically mangrove forests, seagrass beds, and salt marshes, in combating climate change. She..




IndiaTimes - Published





In Gujarat, another four-day-old becomes an organ donor

A four-day-old baby in Surat, Gujarat, has become an organ donor after being declared brain dead. This is the second case in the city in the past 10 days. The baby's parents, who had previously..




IndiaTimes - Published





Seven of family dead in Surat; police suspect mass suicide

Seven members of a family, including three children, were found dead in the Adajan locality apartment in Surat, Gujarat on Saturday, with one person hanging and the others apparently poisoned in a..




IndiaTimes - Published





Mindset shifts fuel women'S empowerment in gujarat

A village in Kutch, India, is supporting women in completing their education to become financially independent. The village installed computers and a smart classroom, and convinced teachers from urban..




IndiaTimes - Published





High court notice to Gujarat govt on Teesta's plea seeking FIR quashing

The Gujarat high court on Wednesday issued a notice to the state government over a petition filed by activist Teesta Setalvad seeking the quashing of an FIR against her for allegedly fabricating..




IndiaTimes - Published





Gujarat HC judge apologises for snapping at colleague

Justice Biren Vaishnav of the Gujarat high court apologised on Wednesday for expressing resentment over a difference of opinion with his junior colleague on the division bench, Justice Mauna Bhatt, and..




IndiaTimes - Published





11-year-old wins 'best garba' prize, organisers bludgeon dad to death

An 11-year-old girl's father was beaten to death by six individuals, including the Navratri organizers, in Gujarat. The incident occurred after the girl's mother inquired about her daughter receiving..




IndiaTimes - Published





'Nano urea will help farmers switch to natural farming': Amit Shah

Union Home Minister Amit Shah inaugurated a nano DAP manufacturing plant at the IFFCO unit in Gujarat. He stated that the use of nano urea and nano DAP will enable farmers to shift to natural farming..




IndiaTimes - Published





Gujarat HC judges spar openly in courtroom, one leaves in huff

Differences of opinion on a two-judge Gujarat high court bench took an acrimonious turn on Monday when the presiding member openly sparred and ticked off the other before retiring to his chamber in a..




IndiaTimes - Published





Wagh Bakri scion dies of injury suffered in fall while dodging stray dogs

Parag Desai, the executive director of tea brand Wagh Bakri, has died in Ahmedabad after suffering a head injury while trying to escape a pack of stray dogs outside his home. Desai, a fourth-generation..




IndiaTimes - Published





Ahead of Rajasthan polls, PM pays tribute to ex-vice president Bhairon Singh Shekhawat

Prime Minister Narendra Modi paid tribute to former Vice-President Bhairon Singh Shekhawat on his 100th birth anniversary. Modi praised Shekhawat's leadership and efforts towards the progress of the..




IndiaTimes - Published





Bridge under construction collapses in Gujarat, 2 killed

Two people were crushed to death under a portion of an under-construction railway overbridge (ROB) that collapsed on National Highway 58 in Palanpur town, in Gujarat's Banaskantha district, on Monday...




IndiaTimes - Published