Amit Shah
31st and current Home Minister of India (born 1964)
Amit Anil Chandra Shah is an Indian politician who is currently serving as the 31st Minister of Home Affairs since 2019 and the 1st Minister of Co-operation of India since 2021. He served as the 10th President of the Bharatiya Janata Party (BJP) from 2014 to 2020. He has also served as chairman of the National Democratic Alliance (NDA) since 2014. He was elected to the lower house of Parliament, Lok Sabha, in the 2019 Indian general elections from Gandhinagar. Earlier, he had been elected as a member of the upper house of Parliament, Rajya Sabha, from Gujarat from 2017 to 2019.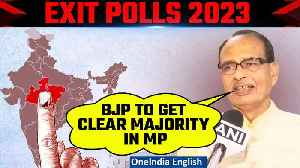 Exit Polls 2023: CM Shivraj Singh says no 'kaante ki takkar' after BJP win prediction | Oneindia

While speaking to ANI on Madhya Pradesh (MP) assembly polls, MP Chief Minister Shivraj Singh Chouhan said that there is no competition in Madhya Pradesh and BJP is going to get a clear majority...
Credit: Oneindia Duration: 02:17
Published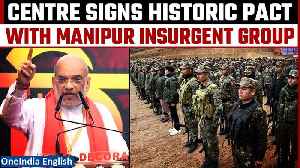 Manipur insurgent group UNLF signs peace deal, Amit Shah calls it historic milestone | Oneindia News

In a historic development, Union Home Minister Amit Shah announced that the United National Liberation Front (UNLF), the oldest valley-based armed group in Manipur, has signed a peace agreement with..
Credit: Oneindia Duration: 03:54
Published
Rajasthan Elections|Amit Shah blames Cong for Corruption, says Red Diary Symbolises Scandal|Oneindia

Amit Shah Labels 'Red Diary' as Congress's Corruption Symbol, Asserts BJP's Confidence in Forming Rajasthan Government, Citing Popular Dissatisfaction with Congress Administration's Failures. Shah..
Credit: Oneindia Duration: 02:47
Published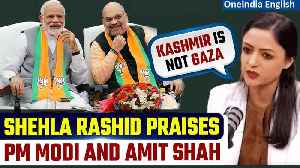 Shehla Rashid credits PM Modi and HM Amit Shah for 'bloodless' solution in J&K | Oneindia News

Shehla Rashid has said that Kashmir is not comparable to Gaza. She expressed gratitude for the current situation, crediting PM Modi and Home Minister Amit Shah for a "bloodless" political solution in..
Credit: Oneindia Duration: 01:20
Published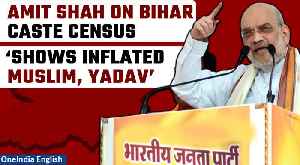 Amit Shah's Explosive Claims on Bihar Caste Survey | Tejashwi Yadav Replies | Oneindia News

Amit Shah's recent allegations against the Bihar government's caste survey have ignited a significant debate. Explore the contentious accusations of inflated population figures for Muslims and Yadavs..
Credit: Oneindia Duration: 04:31
Published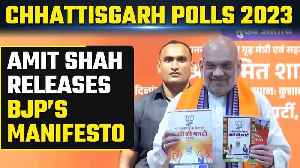 Chhattisgarh Election 2023: Amit Shah releases BJP's manifesto, 'Modi ki guarantee 2023' | Oneindia

Union Home Minister Amit Shah on Friday released the Bharatiya Janata Party's (BJP) election manifesto for the poll-bound Chhattisgarh in the presence of state party leaders in the state capital..
Credit: Oneindia Duration: 02:41
Published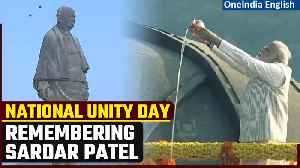 National Unity Day:PM Modi Administers Pledge, Leaders Pay Tribute| Remebering Sardar Patel|Oneindia

On the birth anniversary of Sardar Vallabhbhai Patel, PM Modi administers the 'National Unity Day' pledge in Gujarat's Ekta Nagar. President Droupadi Murmu, Union Home Minister Amit Shah, Vice..
Credit: Oneindia Duration: 08:33
Published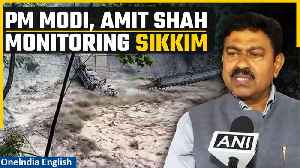 Sikkim Flash Floods: Ajay Kumar Mishra says massive loss to road and infrastructure | Oneindia News

Minister of State for Home Affairs Ajay Kumar Mishra on October 8 held a meeting with Sikkim Chief Minister Prem Singh Tamang at the CM's residence in Gangtok to discuss the situation of flash floods..
Credit: Oneindia Duration: 03:11
Published
You Might Like



Naxalism now in last stages, finish it off, Shah tells forces

Home Minister Amit Shah reiterated that left-wing extremism is in its final stages, with counter-Naxal forces restricting Maoists' area of operation. The influence of Maoists has shrunk to 176 police..




IndiaTimes - Published





India on verge of eliminating Naxalism: Amit Shah




IndiaTimes - Published





'A country can never be developed and prosperous if its borders are not secure': Amit Shah on BSF 59th Raising Day

On the occasion of the 59th Raising Day of the Border Security Force (BSF), Union Home Minister Amit Shah on Friday emphasised the crucial role of border security in the nation's development and said,..




IndiaTimes - Published





Centre approves 1,658 crore recovery plan for Joshimath

The Centre approved a Rs 1,658-crore recovery plan for Joshimath in Uttarakhand to make the hill town an excellent example of ecological sustainability. The plan will be implemented in three years,..




IndiaTimes - Published




Manipur CM Biren Singh meets home minister Amit Shah

Manipur Chief Minister N Biren Singh met Union Home Minister Amit Shah to express gratitude for the peace agreement signed with the United National Liberation Front (UNLF), Manipur's oldest militant..




IndiaTimes - Published





Telangana polls: Congress accuses BRS MLC K Kavitha of violating model code of conduct

Telangana Congress Leader G Niranjan filed a complaint against BRS MLC K Kavitha for violating the model code of conduct during the Telangana assembly polls. Kavitha appealed to vote for BRS, which was..




IndiaTimes - Published





Centre signs peace pact with Manipur's oldest armed outfit UNLF

The Indian government signed a peace agreement with the United National Liberation Front (UNLF), the oldest valley-based armed group in Manipur. The UNLF, formed in 1964, had resisted peace overtures..




IndiaTimes - Published





'Will enforce CAA': Amit Shah vows to stop infiltration

Home Minister Amit Shah virtually kicks off the BJP's 2024 Lok Sabha campaign in Kolkata, emphasizing the implementation of the Citizenship (Amendment) Act (CAA) and asserting the rights of Hindu..




IndiaTimes - Published





TMC rejects Amit Shah's CAA Implementation statement as 'jumla'




IndiaTimes - Published





'CAA law of country, no one can stop its implementation': Amit Shah's open dare to Mamata Banerjee at Kolkata rally

Union home minister Amit Shah has reiterated that the Citizenship Amendment Act will be implemented in the country. Addressing a BJP rally in Kolkata, Amit Shah accused West Bengal Mamata Banerjee of..




IndiaTimes - Published





Manipur's oldest militant group UNLF signs peace pact with centre, Amit Shah says 'historic milestone'

The United National Liberation Front (UNLF), an extremist group operating in Manipur, signed a peace agreement with the government.




DNA - Published





In letter to Amit Shah, Mamata urges him to build consensus on criminal-penal laws among stakeholders




IndiaTimes - Published





Manipur's UNLF has agreed to renounce violence and join the mainstream, says Amit Shah




IndiaTimes - Published





Amit Shah holds rally in Kolkata




IndiaTimes - Published





'Lost a son a year ago, didn't want tragedy again'

Desperate family members and colleagues burst into tears of joy as their trapped loved ones were rescued from the tunnel. Chaudhary Lal expressed relief for his son's safe return after being skeptical..




IndiaTimes - Published





Congress delegation meets EC, seeks action against PM Modi over 'moorkhon ka sardar' remark

The Congress urged the Election Commission to take action against Prime Minister Narendra Modi and home minister Amit Shah for their alleged violation of the model code of conduct during poll..




IndiaTimes - Published





BJP gears up for mega rally in Kolkata, likely to set tone for party's Lok Sabha campaign in West Bengal

The BJP in West Bengal is gearing up for Union home Minister Amit Shah's mega rally in Kolkata. The rally is likely to set the tone for the BJP's campaign for the 2024 Lok Sabha polls in the state...




IndiaTimes - Published





My aim is to end hatred in the country, Modi needs to be defeated for it, says Rahul Gandhi

Rahul Gandhi aims to end hatred in the country by defeating Prime Minister Narendra Modi, whom he accuses of spreading hatred along with RSS and hardliners. During his Bharat Jodo Yatra, Gandhi coined..




IndiaTimes - Published





BJP leader from backward community will become CM: Piyush Goyal exudes confidence in BJP's victory in Telangana

Union Minister Piyush Goyal expresses confidence in BJP winning Telangana elections and a backward community leader becoming Chief Minister. Corruption, appeasement politics, and nepotism will be..




IndiaTimes - Published





Union Minister Amit Shah alleges BRS, Congress of having 'secret understanding', says 'any vote for...'

Union Home Minister Amit Shah also promised to make a backward-class person the Chief Minister after the party came to power in the state. He said that a four percent reservation being extended to..




DNA - Published





People are angry with BRS, no one wants KCR govt to come back to power: Amit Shah

Union Home Minister Amit Shah claimed there is anger against the ruling BRS in Telangana. He stated that people do not want the KCR-led government to come back to power. Shah attacked the BRS and..




IndiaTimes - Published





BJP to have chief minister from Backward Class community if voted to power: Amit Shah in Telangana

Home Minister Amit Shah targets BRS and Congress in Telangana, promises a Chief Minister from the Backward Class community if BJP wins. BJP will make free arrangements for visiting Ram Temple in..




IndiaTimes - Published





BJP to purify Telangana politics through development: Amit Shah

Union home minister Amit Shah declared Sunday that politics in Telangana is tainted and promised BJP's commitment to purify it through a development agenda. He addressed massive rallies in Makthal,..




IndiaTimes - Published





Polls will decide future of Telangana, says Amit Shah as he launches blistering attack on KCR

Union Home Minister Amit Shah criticizes the ruling BRS in Telangana and highlights the significance of the upcoming Assembly elections. He accuses the incumbent government of corruption and..




IndiaTimes - Published





'Below the belt': Amit Shah on Rahul Gandhi's 'panauti' jibe at PM Modi

Amit Shah criticizes Rahul Gandhi for using 'below the belt' language against PM Narendra Modi. Shah expresses confidence that voters in Telangana will respond through voting. Election Commission..




IndiaTimes - Published





BJP alone can bring in change in Telangana, says Union Home Minister Amit Shah

Union Home Minister Amit Shah asserts that only the BJP can bring change in Telangana, criticizing the track record of AIMIM and Congress for supporting the BRS. He denies any ideological or tactical..




IndiaTimes - Published





People are tired of KCR's appeasement politics, says Amit Shah ahead of Telangana polls

Ahead of Telangana Assembly elections, Union Home Minister Amit Shah targeted the Bharat Rashtra Samithi (BRS) government in the state, alleging corruption and involvement of Chief Minister K...




IndiaTimes - Published





BRS gave terrorists a free run, BJP won't says Amit Shah

Terrorists garnered local patronage and operated with impunity in a part of Telangana right under the noses of police until the National Investigation Agency (NIA) began a crackdown, Union home..




IndiaTimes - Published





KCR indulged in scams worth thousands of crores, alleges Union home minister Amit Shah

Amit Shah has accused Telangana chief minister K Chandrasekhar Rao of corruption and has promised to investigate and imprison those involved in graft if BJP is voted to power in the state. The Union..




IndiaTimes - Published





Make me win as I am a Rajasthani, says Ashok Gehlot taking a jibe at PM Modi, Amit Shah

On the eve of polling in Rajasthan, Chief Minister Ashok Gehlot played the 'son of the soil' card, urging people to vote for him as a 'Rajasthani' over two 'Gujaratis' (Prime Minister Narendra Modi and..




IndiaTimes - Published





'In 10 years, KCR only accumulated crores for son, did nothing for Telangana': Amit Shah in Telangana

Union home minister Amit Shah launched a scathing attack on the BRS government in Telangana, accusing chief minister K Chandrasekhar Rao of corruption and nepotism. Shah promised that if the BJP is..




IndiaTimes - Published





There's a strong undercurrent in favour of Congress: Rajasthan CM Ashok Gehlot

CM Ashok Gehlot expresses optimism about Congress' chances in Rajasthan polls, citing a strong undercurrent in favor of the ruling party. He believes that the pro-incumbency wave and the benefits of..




IndiaTimes - Published





Voters will make magician Gehlot vanish on December 3: Amit Shah

On Friday, the last day of campaigning for the Rajasthan elections, Congress's Sachin Pilot rebutted PM Modi's remarks about his late father. "I heard the PM's statement (about Rajesh Pilot..




IndiaTimes - Published





Rajasthan polls: Amit Shah holds mega roadshows in Chittorgarh, Nathdwara on last day of campaign

On the last day of campaigning for the Rajasthan assembly elections, Union Home Minister Amit Shah held mega roadshows in Chittorgarh and Nathdwara constituencies. He expressed confidence in BJP..




IndiaTimes - Published





Appeasement politics crossed all limits during Congress regime in Rajasthan: Amit Shah

Union minister Amit Shah on Thursday criticised the ruling Congress government in Rajasthan, alleging that the communal clashes took place in the state with planned strategies and that CM Ashok Gehlot..




IndiaTimes - Published





Congress, Gandhis Rahu-Ketu of India's destiny: Amit Shah

During an election rally in Pali, Union Home Minister Amit Shah compared the Congress party and the Gandhi family to bad omens for India's destiny. He blamed the challenges faced by the country on them..




IndiaTimes - Published





PM Modi, Amit Shah to lead election campaign in poll-bound Telangana, Nadda, Rajnath Singh, CM Yogi to join

Prime Minister Narendra Modi will visit the state of Telangana for three days, from November 25 to 27, to campaign for the BJP in the upcoming assembly polls. Union Home Minister Amit Shah, BJP..




IndiaTimes - Published





'Sonia ji launched Rahul 20 times, but this vehicle is such that...': Amit Shah's swipe at Congress

Comparing the governance of BJP and Congress, Union Home Minister Amit Shah said that the policies of PM Modi has taken the country's economy from 11th to 5th position globally while Congress leader..




IndiaTimes - Published





Mallikarjun Kharge hits out at PM Modi over ED's action against National Herald, says Congress will not be scared

AICC President Mallikarjun Kharge criticized Prime Minister Narendra Modi for the Enforcement Directorate's action of attaching assets of the National Herald newspaper. Kharge stated that the Congress..




IndiaTimes - Published





Congress has always done appeasement politics: Amit Shah




IndiaTimes - Published





Gehlot govt guarantee for appeasement politics: Shah

Union Home Minister Amit Shah criticized Rajasthan Chief Minister Ashok Gehlot's seven guarantees, claiming that the Congress government is responsible for appeasement politics, paper leaks, and crime..




IndiaTimes - Published





Amit Shah accuses Congress, Ashok Gehlot government of being 'anti-backward class'




IndiaTimes - Published





PM Modi holds mega roadshow in poll-bound Rajasthan's Bikaner

Prime Minister Narendra Modi conducted a large roadshow in Rajasthan, accompanied by Union minister Arjun Ram Meghwal. The roadshow, held ahead of the state's assembly elections, saw Modi engaging with..




IndiaTimes - Published





'Will do away with 4 per cent reservation for Muslims to give...': Amit Shah in Telangana

The Bharatiya Janata Party (BJP) has announced that it will eliminate the four percent reservation for Muslims in Telangana and distribute it among Scheduled Castes, Scheduled Tribes, and Other..




IndiaTimes - Published





Telangana polls: Amit Shah calls BRS, AIMIM and Congress as 2G, 3G and 4G parties

Union home minister Amit Shah, during a rally in Jangaon, referred to opponents in Telangana as dynastic parties. He called KCR-led BRS, AIMIM, and Congress parties as 2G, 3G, and 4G parties..




IndiaTimes - Published





'All four generations of Gandhi family were against...': Union Home Minister Amit Shah in Rajasthan's Ajmer

Union Home Minister Amit Shah further hit out at the Ashok Gehlot-led Rajasthan government and said that he had never seen a more corrupt government in his entire life.




DNA - Published





Amit Shah takes swipe at Rahul Gandhi over Ram Mandir inauguration date

Union Home Minister Amit Shah took a jibe at Congress leader Rahul Gandhi during a rally in Jabalpur, Madhya Pradesh. Shah mentioned how Gandhi used to taunt him about the dates for the inauguration of..




IndiaTimes - Published





Under CM Shivraj, MP turned bemisaal from bimaru: Amit Shah

Listing out of the key takeaways and works done by the BJP government in election-bound Madhya Pradesh, Union Home Minister Amit Shah on Tuesday urged people to vote the saffron party back to power,..




IndiaTimes - Published





Uttarakhand tunnel collapse: CM Pushkar Dhami reviews rescue operations

Rescue operations are underway to save 40 people trapped in the Silkyara tunnel on the Uttarkashi-Yamnotri road in Uttarakhand. Chief Minister Pushkar Singh Dhami is closely monitoring the situation..




IndiaTimes - Published





In last 18 years, BJP has turned MP from Bimaru to a bemisaal state, says Amit Shah

Union home minister Amit Shah addressed election rallies in Madhya Pradesh, urging voters to choose BJP for good governance. He accused Congress of mishandling the pandemic and blocking the Mandal..




IndiaTimes - Published