Indian Air Force
Air warfare branch of India's military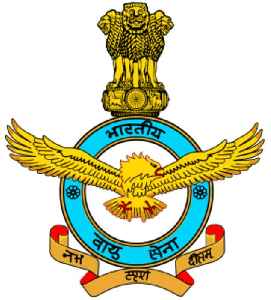 The Indian Air Force (IAF) is the air arm of the Indian Armed Forces. Its complement of personnel and aircraft assets ranks fourth amongst the air forces of the world. Its primary mission is to secure Indian airspace and to conduct aerial warfare during armed conflict. It was officially established on 8 October 1932 as an auxiliary air force of the British Empire which honoured India's aviation service during World War II with the prefix Royal. After India gained independence from the United Kingdom in 1947, the name Royal Indian Air Force was kept and served in the name of Dominion of India. With the government's transition to a Republic in 1950, the prefix Royal was removed after only three years.


Attempted break-in at IAF's Paris office handling Rafale procurement
The sources said the IAF has briefed the defence ministry about the incident and that the Indian mission in Paris has been in touch with French authorities.
DNA - Published
Also reported by •IndiaTimes
IAF launches air-to-land Brahmos from Su-30 MKI in the Andamans
IndiaTimes - Published
IAF carries out aerial version of BrahMos missile fired from Sukhoi-30MKI
IndiaTimes - Published
IAF successfully test fires aerial version of BrahMos missile
The 2.5 tonne air-to-surface missile has a range of around 300 km, and it will significantly enhance the IAF's combat capability, military officials said.
DNA - Published
Also reported by •IndiaTimes
Budgam helicopter crash: Senior IAF officer, 3 others likely to face stringent action
IndiaTimes - Published
CoI into helicopter crash in Budgam: Commanding officer of IAF's Srinagar base shifted
The IAF has transferred the Air Officer Commanding of the Srinagar base in the midst of a court of inquiry (CoI) probing the crash of an Mi-17 helicopter in Kashmir during a standoff with Pakistan on..
IndiaTimes - Published
Air India flight lands at Jamnagar IAF base after passenger suffers cardiac arrest
It is rare when commercial flights are allowed to land on IAF bases.
DNA - Published
Forces find terror plot to attack IAF bases in Jammu and Kashmir
The plot unravelled after they found a map, shared with DNA by security forces, on the person of a terrorist killed in an encounter in the state on Thursday.
DNA - Published
If Indira can be given credit for 1971 war, why not Modi for Balakot: Jitendra Singh
Singh, the minister of state in the Prime Minister's Office, said, that throughout the Lok Sabha election campaign, the Congress and its allies have been attacking the BJP and the PM for allegedly..
IndiaTimes - Published
Wing Commander Abhinandan's unit comes out with 'Falcon Slayers' shoulder patches
The new patches brought out by the 51 Squadron of IAF depict a MiG21 in the foreground along with a red-coloured F-16 with 'Falcon Slayers' written on top and 'AMRAAM Dodgers' written at the bottom of..
DNA - Published
You Might Like