Aam Aadmi Party
Political party in India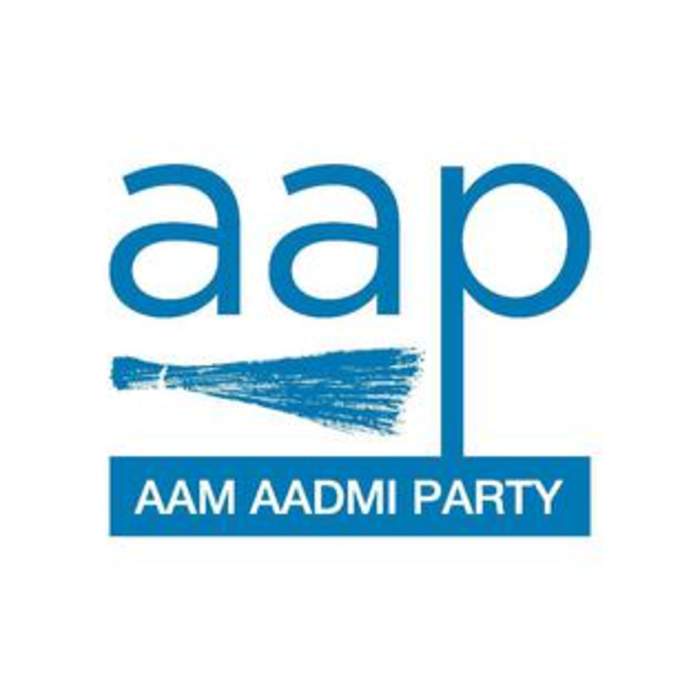 Aam Aadmi Party is a political party in India, whose central policies include free electricity, water, healthcare and public transport. It styles itself as an alternative to the mainstreaam Bharatiya Janata Party and Indian National Congress. It currently runs the state government in Delhi, having held a supermajority in the Delhi Legislative Assembly since the 2015 election, limiting BJP to a few seats and pushing Congress out entirely. It retained its supermajority in the 2020 elections.


For last 9 days, AAP leaders on hunger strike in Odisha over power tariff

Aam Aadmi Party (AAP) in Odisha is leading an indefinite strike since last 9 days over hike in power tariffs in the state. Party's state head Nishikanta Mohapatra said despite Odisha being a power..
Credit: ANI Duration: 03:01
Published
Covid vaccine | 'Personal vasooli...': Govt on states seeking age limit removal

Union health minister Harsh Vardhan hit out at state governments seeking widening of the Covid-19 vaccine net amid a surge in infections. He accused governments of states like Maharashtra and Delhi of..
Credit: HT Digital Content Duration: 05:30
Published
Are Indians less important than Pakistanis: AAP slams Centre over vaccine agreement

Aam Aadmi Party on April 05 criticised central government over media reports which state that India will be providing COVID-19 vaccine doses to Pakistan. The party asked if lives of Indian people less..
Credit: ANI Duration: 01:00
Published
Centre exporting vaccines at cost of people's lives for improving PM Modi's global image: AAP

Aam Aadmi Party on April 05 hit out at Centre for exporting COVID-19 vaccine instead of speeding up the domestic vaccination program, saying the government is more concerned about Prime Minister..
Credit: ANI Duration: 02:57
Published
'Modi govt insecure about Kejriwal's popularity': Sisodia on passing of NCT bill

Deputy Chief Minister Manish Sisodia Thursday slammed the Centre over the GNCTD bill alleging that it is feeling insecure as Chief Minister Arvind Kejriwal is "emerging as an alternative" to Prime..
Credit: HT Digital Content Duration: 02:50
Published
More Powers to LG Law passed: What now? l On the Record with Rajeev Dhawan

On Wednesday, Rajya Sabha cleared the NCT bill which empowers the Lieutenant Governor of Delhi with powers over all of Delhi Government's decisions. It appears to be in direct contradiction to what the..
Credit: HT Digital Content Duration: 27:04
Published
'PM Modi is afraid of Kejriwal': Sanjay Singh hits out Centre over NCT Bill

Aam Aadmi Party leader Sanjay Singh hit out at Centre after Parliament gave nod to the NCT of Delhi (Amendment) Bill, 2021. Singh said PM Modi was afraid of Delhi chief minister Arvind Kejriwal and..
Credit: HT Digital Content Duration: 02:46
Published
GNCTD Amendment Bill must not be allowed in Rajya Sabha: Sanjay Singh

Aam Aadmi Party (AAP) Rajya Sabha Member of Parliament Sanjay Singh on March 24 claimed that GNCTD Amendment Bill is 'unconstitutional' and that's why the party is opposing it in upper house. He also..
Credit: ANI Duration: 01:59
Published
'Elections mean nothing?': Kejriwal, AAP protest over bill on powers of Delhi LG

Chief Minister Arvind Kejriwal on Wednesday urged the Centre to take back the bill that seeks to define certain roles and powers of the Lieutenant Governor of Delhi. He asked where the chief minister..
Credit: HT Digital Content Duration: 02:42
Published
Watch: Yamuna river covered in toxic foam; Delhi residents react to pollution

Toxic foam was seen covering the Yamuna river in the national capital. Massive amount of pollution was seen on the river near the Kalindi Kunj area. Local residents complained about the rising..
Credit: HT Digital Content Duration: 01:49
Published
Delhi govt presents 'Deshbhakti Budget', announces free Covid-19 vaccine for all

The Delhi government presented a Rs 69,000-crore budget themed on 'patriotism' for financial year 2021-22 on Tuesday. It announced free Covid-19 vaccination to all in its hospitals in the coming phases..
Credit: HT Digital Content Duration: 04:27
Published
'People have faith in AAP's work': Kejriwal as AAP wins 4 seats in MCD bypolls

The AAP on Wednesday won four of the five civic wards in Delhi in a bypoll, with Chief Minister Arvind Kejriwal asserting that people were desperate to bring the party to power in the three municipal..
Credit: HT Digital Content Duration: 04:11
Published
People upset with BJP's 15-year work in MCD: CM Kejriwal

After Aam Aadmi Party wins 4 of 5 seats in Delhi Civic bypolls, Delhi Chief Minister Arvind Kejriwal said that people are happy with AAP's 6-year work and upset with BJP's 15-year work in MCD. "It..
Credit: ANI Duration: 01:46
Published
AAP wins big in Delhi Municipal Corporation bye-elections | Oneindia News

The Aam Aadmi Party has bagged four of five seats in the Municipal Corporation bye-elections including Kalyanpuri, Rohini-C, Shalimar Bagh (North), and Trilokpuri. Congress won the Chauhan Banger ward...
Credit: Oneindia Duration: 01:08
Published
You Might Like



Delhi COVID-19 news: All government and private schools closed till further notice

Arvind Kejriwal-led Aam Aadmi Party government took this decision on Friday.




DNA - Published





BJP stages protest for farmers, says AAP should buy wheat on 'promised rate'

Delhi BJP chief Adesh Gupta took a jab at AAP and called the Delhi government anti-farmers.




DNA - Published





HC refuses to entertain plea to direct govt to take steps for controlling Covid-19 second wave

The Delhi High Court Thursday refused to entertain a plea seeking to direct the AAP government to take immediate measures for controlling and minimising the impact of another wave of the COVID-19..




IndiaTimes - Published





GNCTD Bill passed by Rajya Sabha among pandemonium

Members of the Trinamool Congress, the Aam Aadmi Party and the Congress, among many other opposition leaders, raised slogans against the legislation.




DNA - Published





AAP in talks with opposition parties to counter bill on Delhi L-G powers in Rajya Sabha

The Government of National Capital Territory of Delhi (Amendment) Bill, 2021 was passed in Lok Sabha on Monday amidst strong opposition from the Congress and the AAP. The bill makes it mandatory for..




IndiaTimes - Published





AAP, BJP trade charges over bill to extend Delhi LG powers




IndiaTimes - Published





AAP leader Raghav Chadha tests COVID-19 positive

Delhi recorded 409 new coronavirus cases on Thursday, the highest daily count in nearly two months.




DNA - Published





AAP again exposed on farm laws issue: Punjab CM

Punjab Chief Minister Amarinder Singh on Friday lashed out at the Aam Aadmi Party (AAP) for once again exposing its "true colours" on the issue of the farm laws and the farmers' agitation by walking..




IndiaTimes - Published





MCD bypoll results: What it means for AAP, Congress and BJP




IndiaTimes - Published





Delhi MCD by-poll results 2021: AAP wins four out of five wards, Manish Sisodia congratulates workers

Of the five wards, four were held by AAP councillors who went on to become MLAs on party tickets. Shalimar Bagh North had a BJP councillor.




DNA - Published





Miss India Delhi 2019 Mansi Sehgal joins AAP

Miss India Delhi 2019 Mansi Sehgal joined Aam Aadmi Party (AAP) on March 1, 2021, in the presence of party leader Raghav Chadha.




DNA - Published





Manmohan Singh's half brother refutes claims of joining AAP, slams party for misusing ex-PM's name




IndiaTimes - Published





Top takeaways from Gujarat civic polls as BJP registers impressive win, AAP beats Congress in Surat




IndiaTimes - Published





Gujarat Municipal Election Results 2021: BJP sweeps civic polls, big setback for Congress

In Surat, the BJP has won 93 seats, while the Aam Aadmi Party bagged 27 seats. The Congress drew a blank.




DNA - Published





Counting of votes for Punjab urban local bodies underway

The main contest in the urban local bodies is among the Congress, the opposition Aam Aadmi Party (AAP) and the Shiromani Akali Dal (SAD).




DNA - Published





CM Kejriwal to address 'kisan mahapanchayat' at Meerut on Feb 28

Aam Aadmi Party (AAP) national convenor and Delhi Chief Minister Arvind Kejriwal will address a 'kisan mahapanchayat' at Meerut on February 28 in support of farmers protesting the Centre's new agri..




IndiaTimes - Published





SC grants protection to AAP leader Sanjay Singh in alleged hate speech cases in UP

The Supreme Court on Tuesday granted protection from coercive action to Aam Aadmi Party leader and Rajya Sabha MP Sanjay Singh in alleged hate speech cases lodged against him in Uttar Pradesh. However,..




IndiaTimes - Published





Sisodia visits Ghazipur border to review arrangements for farmers, says this about R-Day violence

The AAP leader condemned the Republic Day violence but blamed BJP for the incident.




DNA - Published





AAP leader Somnath Bharti gets 2-year jail term for assaulting AIIMS security staff

The case was lodged on the basis of a complaint from R S Rawat, Chief Security Officer, AIIMS




DNA - Published





How AAP's decision to join farmers' tractor parade on Jan 26 reminds one of Arvind Kejriwal's 2014 dharna

The threat by Aam Aadmi Party (AAP) to join the protesting farmers' "tractor parade" in the national capital on Republic Day could be a deja vu moment. This is the second time in seven years when..




IndiaTimes - Published





Yearender: Why 2020 was a year of BJP, AAP in elections

While the year 2019 would be remembered for the victory of Prime Minister Narendra Modi-led NDA in the Lok Sabha elections, 2020 would be recalled as the year when the BJP made handsome gains in the..




IndiaTimes - Published





Delhi's AAP government to install free WiFi hotspots at Singhu Border for protesting farmers

After the farmers complained of limited internet availability in the Singhu border, the AAP government promised to install multiple internet hotspots.




DNA - Published





AAP to contest all 70 seats in Uttarakhand Assembly polls: Delhi Deputy CM Manish Sisodia

Elections for the 70-seat Assembly in Uttarakhand is due in 2022. BJP and Congress are the two main political parties in the state.




DNA - Published





AAP alleges Rs 2500 crore scam in BJP-ruled MCD, passes resolution for CBI probe

The Aam Aadmi Party (AAP) MLAs moved a motion in the Legislative Assembly for a CBI probe in the alleged MCD scam, which was opposed by the BJP MLAs.




DNA - Published





Why Arvind Kejriwal's plans for AAP to contest 2022 UP assembly elections may be over-ambitious




IndiaTimes - Published





AAP to contest 2022 Uttar Pradesh assembly elections, says Kejriwal

The Aam Aadmi Party national convener and Delhi chief minister Arvind Kejriwal today announced that the party will contest Uttar Pradesh assembly elections in 2022. He said his party will seek votes in..




IndiaTimes - Published




Delhi: BJP workers protest outside CM Kejriwal's house, CCTV cameras broken

The Aam Aadmi Party (AAP) has also released a video of the BJP workers and councillors breaking the cameras.




DNA - Published





Atishi, Raghav Chadha, other AAP leaders detained ahead of protest outside Amit Shah, LG's homes

AAP has been alleging that there is a misappropriation of over Rs 2,400 crore done by BJP-led NDMC with the amount it had taken from SDMC.




DNA - Published





Delhi Deputy CM Manish Sisodia's residence attacked by goons, alleges AAP; 6 arrests made

CM Arvind Kejriwal condemned the attack and tweeted, "I strongly condemn the systematic, organised and violent attack on Dy CM Manish Sisodia's home."




DNA - Published





AAP claims Delhi CM Arvind Kejriwal put under house arrest

The Delhi Police has, however, denied any claims that CM Kejriwal has been put under house arrest.




DNA - Published





Kejriwal visits Singhu border, reviews arrangements for protesting farmers

Delhi chief minister Arvind Kejriwal on Monday visited the Singhu border, where thousands of farmers are protesting against the Centre's new farm laws, and reviewed arrangements made for them by the..




IndiaTimes - Published





Amarinder Singh behaving like BJP CM, says Manish Sisodia

Hitting out at Punjab Chief Minister Captain Amarinder Singh for speaking on the lines of Bharatiya Janata Party over the ongoing farmers' protest, AAP leader Manish Sisodia on Friday alleged that the..




IndiaTimes - Published





COVID-19: No night curfew in Delhi for now, AAP government informs high court

The Delhi High Court had on Nov 26 asked the Arvind Kejriwal-led government whether night curfew would be imposed in Delhi to contain COVID spread.




DNA - Published





COVID-19: Delhi High Court asks AAP government to urgently take call on night curfew

The AAP government was also directed by the court to take concrete steps in managing market places including crowded areas.




DNA - Published





Actively considering imposing lockdown, night curfew in Delhi: AAP govt to HC

AAP govt informed the Delhi High Court that it is actively considering imposing night curfews or lockdown and the same would depend on COVID situation




DNA - Published





Political parties in Punjab gearing up for 2022 assembly elections

Congress party's main political opponents Shiromani Akali Dal (SAD(B)) and BJP are fighting their own battle of survival. The Bhartiya Janta Party (BJP) after a dismal end of its political honeymoon..




DNA - Published





Arvind Kejriwal to discuss Covid, pollution with Union Home Minister Amit Shah today

The Aam Aadmi Party (AAP) had earlier urged Shah to help the Delhi government in handling the alarming Covid-19 situation and sought additional beds in the Centrally run hospitals in the city.




DNA - Published





Delhi High Court lifts stay on AAP govt order reserving 80% beds for COVID-19 patients

The bench, however, added that no person in a health emergency can be allowed to run from pillar to post when there is a bed available.




DNA - Published




Delhi riots: AAP govt, MHA give nod to prosecute JNU's Umar Khalid under UAPA

The Arvind Kejriwal-led AAP government has given sanction to Delhi Police for the prosecution of former JNU student Umar Khalid in a UAPA case related to the February communal violence in northeast..




DNA - Published





Only green crackers allowed in Delhi this Diwali, up to Rs 1 lakh fine for violation

The AAP government is starting an anti-cracker campaign from November 3, for which 11 teams of DPCC will be formed.




DNA - Published





Kejriwal, Amarinder in Twitter spat over farms bills issue

Delhi chief minister Arvind Kejriwal and his Punjab counterpart Amarinder Singh locked horns on Twitter on Wednesday over the farm laws issue, with the AAP supremo questioning the legality of the bills..




IndiaTimes - Published





Farm laws: AAP MLAs spend night in Punjab assembly

The Aam Aadmi Party MLAs spent Monday night inside Punjab assembly demanding copies of the farm bill which the state's Congress government is now expected to introduce on Tuesday.




IndiaTimes - Published





COVID-positive AAP MLA Kuldeep Kumar visits Hathras family flouting quarantine rules

AAP MLA from Kondli Assembly constituency Kuldeep Kumar on September 29 tweeted that he had tested positive for the novel coronavirus. On Sunday, Kuldeep Kumar took toTwitter to post several videos of..




DNA - Published





Hathras: Attacked with ink, AAP leader Sanjay Singh slams 'coward' Yogi govt

AAP leaders Sanjay Singh and Rakhi Birla were attacked with black ink today in Uttar Pradesh's Hathras, where the alleged gang rape and murder of a 20-year-old Dalit woman took place.




DNA - Published





Section 144 imposed at India Gate ahead of AAP's planned protest over Hathras gang-rape

The order comes after the Aam Aadmi Party (AAP) has planned a protest at the India Gate on Friday against Hathras gangrape and murder case.




DNA - Published





Making false excuses to hide Congress's failures: AAP leader Sanjay Singh hits back at Rahul Gandhi

Rahul Gandhi is making false excuses to hide his party's failures, Aam Aadmi Party leader Sanjay Singh said on Tuesday after the Congress leader alleged that the India Against Corruption (IAC) movement..




IndiaTimes - Published





Delhi assembly panel to issue 'final notice' to Facebook after representative skips proceedings

A Delhi assembly panel decided on Tuesday to issue a "final notice" to Facebook after no representative appeared before the committee that is hearing allegations against the social media giant. During..




IndiaTimes - Published





India Against Corruption movement, AAP propped by RSS-BJP to bring down UPA govt: Rahul Gandhi

Rahul Gandhi cited AAP founder member and civil rights lawyer Prashant Bhushan's reported claim that the movement was to a large extent supported and propped by the BJP-RSS to bring down the Congress..




IndiaTimes - Published





AAP to support Manoj Jha for Rajya Sabha deputy chairman's post

The Aam Aadmi Party (AAP) will support Opposition candidate Manoj Jha for the post of Deputy Chairman in the Upper House, said AAP leader Sanjay Singh on Monday.




IndiaTimes - Published





CM Amarinder asks Kejriwal to stay out of Punjab as AAP plans drive to check oxygen levels




IndiaTimes - Published