Aam Aadmi Party
Political party in India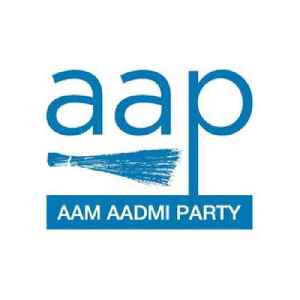 Aam Aadmi Party is an Indian political party, formally launched on 26 November 2012, and is currently the ruling party of the National Capital Territory of Delhi. It came into existence following differences between the activists Arvind Kejriwal and Anna Hazare regarding whether or not to politicise the popular India Against Corruption movement that had been demanding a Jan Lokpal Bill since 2011. Hazare preferred that the movement should remain politically unaligned while Kejriwal felt the failure of the agitation route necessitated direct political involvement.


Covid: Is Delhi witnessing the third wave? Health minister answers

Delhi Health Minister Satyendar Jain on Thursday said the AAP government has changed its strategy by conducting aggressive tracing and testing in the city, attributing it as one of the reasons for a..
Credit: HT Digital Content Duration: 02:18
Published
EVMs to be used for 1st time in Leh council polls

Political campaigning and rallies have been ended ahead of the Leh Autonomous Hill Development Council (LAHDC) election scheduled to take place on October 22 in which people of the region are going to..
Credit: ANI Duration: 02:54
Published
'Sack my govt if you want': Punjab CM hands over legislation against farm laws

Punjab Chief Minister Captain Amarinder Singh handed over to Governor the resolution passed against Centre's farm laws. Singh said he doesn't care if President's rule is imposed or if his..
Credit: HT Digital Content Duration: 02:59
Published
Don't care about President's Rule, doing this for farmers: Punjab CM Amarinder

Punjab Chief Minister Captain Amarinder Singh, Aam Aadmi Party MLA Harpal Singh Cheema and Shiromani Akali Dal leader Sharan Jit Singh Dhillon on October 20 handed over to Governor VP Singh Badnore the..
Credit: ANI Duration: 01:56
Published
AAP MLAs protest against Punjab govt, demand state assembly to pass resolution against Farm Laws

Aam Aadmi Party (AAP) MLAs protested against Punjab government on October 19. They demanded that state assembly should pass resolution against recently enacted Farm Laws. While speaking to ANI, AAP MLA..
Credit: ANI Duration: 01:57
Published
Delhi CM Kejriwal joins protest against farm laws

Aam Aadmi Party's Punjab unit held protest against the recently enacted farm laws, at Jantar Mantar in Delhi on October 12. Chief Minister and AAP chief Arvind Kejriwal also participated in the..
Credit: ANI Duration: 02:22
Published
Will 'odd-even' return? Delhi Minister answers as air quality remains 'poor'

The air quality in Delhi continues to dip with every passing day. From vehicular pollution, to stubble burning in neighbouring states and dust from construction sites, several factors contribute to..
Credit: HT Digital Content Duration: 01:24
Published
Hathras rape case: Covid-positive AAP MLA meets victim's kin, booked by cops

AAP MLA Kuldeep Kumar slammed BJP after Hathras police registered a case against him. This comes after the Delhi AAP MLA had gone to meet Hathras victim's family on October 4. Police said that Kumar,..
Credit: HT Digital Content Duration: 03:35
Published
Hathars case: AAP delegation meets victim's family

Sanjay Singh-led delegation of Aam Aadmi Party leaders met the family members of the alleged gang-rape victim in Hathras on October 05. Sanjay Singh said, "This incident showcases that in Yogi ji's..
Credit: ANI Duration: 02:01
Published
Watch: Ink thrown at AAP MP Sanjay Singh after he met Hathras victim's family

AAP MP Sanjay Singh faced an ink attack when he was speaking to the media after meeting Hathras victim's family members. The attacker could be heard raising 'PFI agents go back' slogans after he..
Credit: HT Digital Content Duration: 02:00
Published
Delhi protest over Hathras gang rape: Who said what at Jantar Mantar

The protest intensified in Delhi to demand justice over Hathras gangrape. Delhi Chief Minister Arvind Kejriwal, Bhim Army chief and left parties were present at the protest. Delhi CM, gathered along..
Credit: HT Digital Content Duration: 05:20
Published
Hathras case: Kejriwal, Bhim Army chief join Delhi protesters demanding justice

Thousands gathered at Jantar Mantar on Friday to protest over Hathras gang rape. Several student organizations were seen at the protest site. Delhi Chief Minister Arvind Kejriwal with other AAP leaders..
Credit: HT Digital Content Duration: 02:10
Published
Farm Bills: 'Rail roko' protest held in Ferozepur

Members of Kisan Mazdoor Sangharsh Committee continued their 'rail roko' agitation in Ferozepur against the agriculture reform bills. Police personnel are present at the spot to maintain law and order...
Credit: ANI Duration: 01:37
Published
Covid: Delhi Dy CM Manish Sisodia hospitalised, 9 days after testing positive

Delhi deputy chief minister Manish Sisodia has been hospitalised on Wednesday. Sisodia had tested positive for novel coronavirus on September 14. The 48-year-old AAP leader has been admitted to..
Credit: HT Digital Content Duration: 01:44
Published
Watch: Opposition MPs stage protest against agriculture bills in Parliament

Opposition MPs protested in parliament premises against the agriculture bills. They held demonstrations in front of the Gandhi statue in parliament. They also took out a march from Gandhi statue..
Credit: HT Digital Content Duration: 01:51
Published
You Might Like



Only green crackers allowed in Delhi this Diwali, up to Rs 1 lakh fine for violation

The AAP government is starting an anti-cracker campaign from November 3, for which 11 teams of DPCC will be formed.




DNA - Published





Kejriwal, Amarinder in Twitter spat over farms bills issue

Delhi chief minister Arvind Kejriwal and his Punjab counterpart Amarinder Singh locked horns on Twitter on Wednesday over the farm laws issue, with the AAP supremo questioning the legality of the bills..




IndiaTimes - Published





Farm laws: AAP MLAs spend night in Punjab assembly

The Aam Aadmi Party MLAs spent Monday night inside Punjab assembly demanding copies of the farm bill which the state's Congress government is now expected to introduce on Tuesday.




IndiaTimes - Published





COVID-positive AAP MLA Kuldeep Kumar visits Hathras family flouting quarantine rules

AAP MLA from Kondli Assembly constituency Kuldeep Kumar on September 29 tweeted that he had tested positive for the novel coronavirus. On Sunday, Kuldeep Kumar took toTwitter to post several videos of..




DNA - Published





Hathras: Attacked with ink, AAP leader Sanjay Singh slams 'coward' Yogi govt

AAP leaders Sanjay Singh and Rakhi Birla were attacked with black ink today in Uttar Pradesh's Hathras, where the alleged gang rape and murder of a 20-year-old Dalit woman took place.




DNA - Published





Section 144 imposed at India Gate ahead of AAP's planned protest over Hathras gang-rape

The order comes after the Aam Aadmi Party (AAP) has planned a protest at the India Gate on Friday against Hathras gangrape and murder case.




DNA - Published





Delhi High Court stays AAP government's decision to reserve 80% ICU beds for COVID-19 patients

The court came down heavily on the Aam Aadmi Party government and sought to know if other (non-COVID) patients had a right to life.




DNA - Published





Making false excuses to hide Congress's failures: AAP leader Sanjay Singh hits back at Rahul Gandhi

Rahul Gandhi is making false excuses to hide his party's failures, Aam Aadmi Party leader Sanjay Singh said on Tuesday after the Congress leader alleged that the India Against Corruption (IAC) movement..




IndiaTimes - Published





Delhi assembly panel to issue 'final notice' to Facebook after representative skips proceedings

A Delhi assembly panel decided on Tuesday to issue a "final notice" to Facebook after no representative appeared before the committee that is hearing allegations against the social media giant. During..




IndiaTimes - Published





India Against Corruption movement, AAP propped by RSS-BJP to bring down UPA govt: Rahul Gandhi

Rahul Gandhi cited AAP founder member and civil rights lawyer Prashant Bhushan's reported claim that the movement was to a large extent supported and propped by the BJP-RSS to bring down the Congress..




IndiaTimes - Published





AAP to support Manoj Jha for Rajya Sabha deputy chairman's post

The Aam Aadmi Party (AAP) will support Opposition candidate Manoj Jha for the post of Deputy Chairman in the Upper House, said AAP leader Sanjay Singh on Monday.




IndiaTimes - Published





CM Amarinder asks Kejriwal to stay out of Punjab as AAP plans drive to check oxygen levels




IndiaTimes - Published





Delhi riots case: ED arrests suspended AAP councillor Tahir Hussain under money laundering charges

Hussain was arrested in connection with an ongoing PMLA investigation into his role in money laundering and funding of anti-CAA protests and organising riots in northeast Delhi on February 24-25 this..




DNA - Published





AAP alleges BJP script behind Shaheen Bagh protests after activists join saffron party

AAP Chief spokesperson Saurabh Bharadwaj on Monday attacked BJP, a day after some key organisers of the Shaheen Bagh protest joined the saffron party. The spokesperson said that the BJP fought the..




DNA - Published





Whole Shaheen Bagh protest scripted by BJP: AAP

The AAP Monday claimed the entire Shaheen Bagh protest was "scripted by the BJP" and its leadership dictated each and every move of the agitators for electoral benefits in Delhi polls, drawing a..




IndiaTimes - Published





Fight against COVID-19: AAP to make oximeters available in 30,000 villages

In a bid to combat COVID-19, the Delhi Government will now set up 'Oxygen Jaanch Kendra' in 30,000 villages across the country. CM Arvind Kejriwal on Saturday urged people to donate oximeters to Aam..




DNA - Published





Embarrasment for AAP: Party leader Mukesh Tokas arrested for allegedly raping 25-year-old woman

The 25-year-old woman filed an FIR in Delhi's Kishangarh police station.




DNA - Published





'Mind your own business': Punjab CM tells Kejriwal for demanding CBI probe over hooch tragedy

Capt. Amarinder Singh asked Kejriwal to not exploit the tragic affair for reviving his "defunct" Aam Aadmi Party's stake in the state.




DNA - Published





Delhi Riots: Cops say ex-AAP councillor Tahir Hussain confessed to being mastermind behind communal violence

Police said that during the interrogation the now suspended AAP councillor revealed that he wanted to teach Hindus a lesson using his political power and money. He told police that he was the..




DNA - Published




Combating COVID-19 in Delhi: Kejriwal, Sisodia discuss key strategies with Amit Shah

In a tweet, AAP said that government is closely monitoring COVID-19 situation in Delhi.




DNA - Published





AAP MLA Atishi tests positive for Covid-19: Party colleagues




IndiaTimes - Published





Home Minister Amit Shah to chair all-party meet over COVID-19 situation in Delhi

Representatives of BJP, AAP, Congress, BSP, apart from officials of the Delhi government and the Centre, are likely to be present.




DNA - Published





COVID-19 testing in Delhi ten times more than UP, Haryana: Health minister Satyendra Jain

The minister also informed that the AAP government is working as per the predictions made by the experts.




DNA - Published





Delhi Covid-19 situation: BJP, Congress thank SC for showing mirror to AAP govt over shortcomings

The opposition BJP and the Congress in Delhi on Friday thanked the Supreme Court for "showing the mirror" to the AAP government over its "shortcomings" in dealing with the coronavirus pandemic.




IndiaTimes - Published





Centre asks Delhi to ramp up testing, surveillance

With Covid-19 cases rising rapidly in Delhi, the Centre has asked the AAP government to immediately ramp up testing, coupled with aggressive surveillance, contact tracing and stringent containment and..




IndiaTimes - Published





People with medical emergency can get e-pass to enter Delhi, AAP govt tells HC




IndiaTimes - Published





Delhi Riots: Chargesheet filed in IB officer Ankit Sharma murder case, suspended AAP councillor Tahir Hussain named

Both these cases are related to the communal violence which erupted in Delhi's in February claiming over 50 lives.




DNA - Published





Delhi Riots: Two chargesheets to be filed for Chandbagh, Jaffrabad incidents; ex-AAP leader Tahir Hussain named

The charge sheet will be filed in the Karkardooma court.




DNA - Published





SIT may submit charge sheet in northeast Delhi violence case in next two days, includes Tahir Khan as accused

Over 15 people, including suspended AAP councillor Tahir Hussain and his brother, have been named in the chargesheet for plotting the riots.




DNA - Published





Lockdown 4.0: AAP attacks Manoj Tiwari after he goes to Haryana to play cricket

Delhi BJP chief Manoj Tiwari on Monday came under fire from the Aam Aadmi Party for playing cricket in neighbouring Haryana by crossing the "borders sealed" due to the Covid-19, and allegedly violating..




IndiaTimes - Published





Take a decision on removal of DMC chief Zafarul Islam Khan within 2 weeks: Delhi HC directs AAP govt

The court directed to conclude the process under Section 4(4)(f) of the Delhi Minorities Commission Act against Zafarul-Islam Khan in accordance with the law.




DNA - Published





SP, BSP to skip Cong-led oppn meeting, AAP not invited yet

SP and BSP will stay away from the meeting of opposition parties called by Congress president Sonia Gandhi to discuss Centre's response to the coronavirus pandemic on Friday. Sources said SP and BSP..




IndiaTimes - Published





Yashwant Sinha taken into police custody while on dharna at Rajghat over migrant workers' plight

Former Union minister Yashwant Sinha sat on a dharna at the Rajghat here on Monday, demanding that the armed forces be deployed to help migrant workers reach their homes.Sinha was joined by AAP leaders..




IndiaTimes - Published





AAP MLA Prakash Jarwal arrested in connection with doctor's suicide

A non-bailable warrant was issued against him on Friday.




DNA - Published




UP, Bihar hit out at Delhi for exodus

UP has blamed Delhi's AAP government for the influx of thousands of migrant workers and others in the state, defying the 21-day lockdown order to counter COVID-19. Joining the politcal slugfest,..




IndiaTimes - Published





Shops providing essential services to remain open 24x7, food delivery allowed: Delhi CM Arvind Kejriwal

The AAP chief further informed that Mohalla clinics will continue to function but with all precautions.




DNA - Published





Sisodia presents Rs 65,000 crore Budget of Delhi govt, allocates Rs 50 cr for fighting coronavirus - Highlights

The Budget focuses on health and education, a recurring theme in the Aam Aadmi Party government's earlier budgets.




DNA - Published





AAP has launched massive membership drive in Odisha: Sanjay Singh




IndiaTimes - Published





Suspended AAP leader Tahir Hussain, accused in IB staffer Ankit Sharma's murder, sent to 7-day police custody

Ankit Sharma, a 26-year-old IB staffer was brutally stabbed to death multiple times by unidentified people, and his body was found in a drain near his home in the Chand Bagh area during the Delhi..




DNA - Published




Congress, AAP, TMC MPs hold separate protests against govt over Delhi riots




IndiaTimes - Published





AAP govt nod to prosecution of Kanhaiya Kumar, 2 others in 2016 JNU sedition case

Delhi Police has charged Kumar, Umar Khalid and Anirban Bhattacharya with raising 'anti-national slogans' during an event in February 2016.




DNA - Published





Pleas moved in HC seeking FIR against Sonia, Rahul, Priyanka, others for alleged hate speech

One of the pleas has sought registration of FIR against Delhi Deputy Chief Minister Manish Sisodia and Aam Aadmi Party leader Amanatullah Khan for allegedly making hate speeches. The plea has also..




IndiaTimes - Published





AAP corporator Tahir Hussain behind violence and IB official's murder, allege Delhi riot victims

As a tense environment continues to prevail in northeast Delhi, a controversy has erupted after an Aam Aadmi Party (AAP) Councillor Tahir Hussain is alleged to have played an active role in the riots..




DNA - Published





AAP urges Centre to deploy Army, says Amit Shah holding meetings for 'formality'

Senior AAP leaders Sanjay Singh and Gopal Rai on Wednesday urged the Centre to deploy the Army in the violence-hit northeast Delhi, as it urged Union home minister Amit Shah to take action and not just..




IndiaTimes - Published





Two complaints filed against BJP leader Kapil Mishra for inciting violence in North-East Delhi

One complaint filed by Aam Aadmi Party (AAP) Corporator Reshma Nadeem while the second by Haseeb ul Hasan.




DNA - Published





SAD, AAP condemn Punjab DGP's statement over Kartarpur corridor

The Shiromani Akali Dal said if the clarification was not issued, the party will stall proceedings of the budget session of the Vidhan Sabha on February 24. The Aam Aadmi Party too lashed out at the..




IndiaTimes - Published





Arvind Kejriwal, Manish Sisodia barred from attending Melania Trump's Delhi govt school visit: AAP

US First Lady Melania Trump is scheduled to visit a Delhi government school in South Delhi to attend a "happiness class". The curriculum was introduced by Manish Sisodia two years ago.




DNA - Published





How Arvind Kejriwal model of development poses threat to BJP in upcoming state polls

After sweeping Delhi assembly election, AAP now plans to go national and also replicate the 'Kejriwal model of development' in other states. Also, several states have started emulating this model..




IndiaTimes - Published





Delhi Police sends reminder to AAP govt on sanction to prosecute Kanhaiya Kumar after direction from court




IndiaTimes - Published





Top News of the Day | Feb 19, 2020: Kejriwal's meeting with Amit Shah, talks with Shaheen Bagh protesters and more

In top news of the day on Wednesday, February 19, 2020, Delhi Chief Minister Arvind Kejriwal on Wednesday met Union Home Minister Amit Shah. This was their first meeting after the AAP trounced the BJP..




DNA - Published