Assam
State in northeast India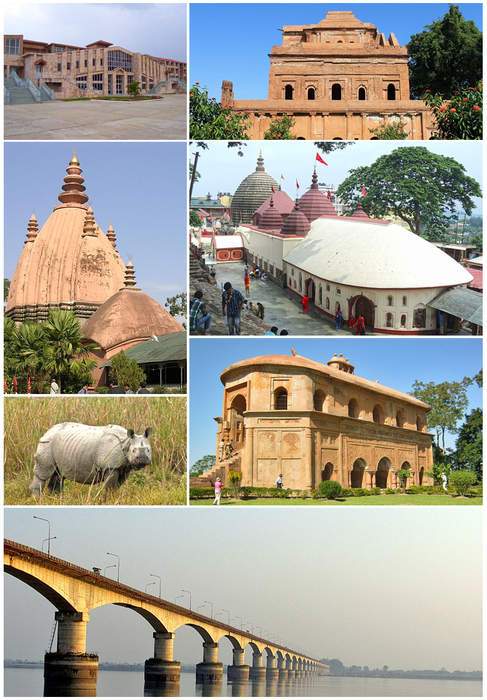 Assam is a state in northeastern India, situated south of the eastern Himalayas along the Brahmaputra and Barak River valleys. Assam covers an area of 78,438 km2 (30,285 sq mi). The state is bordered by Bhutan and Arunachal Pradesh to the north; Nagaland and Manipur to the east; Meghalaya, Tripura, Mizoram and Bangladesh to the south; and West Bengal to the west via the Siliguri Corridor, a 22 kilometres (14 mi) wide strip of land that connects the state to the rest of India. It is also one of the world's most populous subdivisions. Assamese is the official and most commonly spoken language of the state, followed by Bengali, which is official in the Barak Valley and Bodo which is official in Bodoland Territorial Region.


Assam prepared to meet any necessity for treatment of COVID-19: Health Dept

Mahendra Mohan Choudhury Hospital (MMCH) an annex hospital of Gauhati Medical College and Hospital (GMCH) witnessed a surge in consultation as the number of coronavirus cases rise in the state. "The..
Credit: ANI Duration: 03:05
Published
Hatred spreads wherever BJP, RSS go: Rahul Gandhi in Bengal

Congress leader Rahul Gandhi took a pot shot at BJP by saying that wherever the party and its ideologue RSS go, hatred starts to intensify there. He said, "People of Assam say their history and culture..
Credit: ANI Duration: 01:41
Published
Assam celebrates Rongali Bihu with precautions

The Assamese New Year -Rongali Bihu, also known as Bohag Bihu began from April 14. Assam Government decided to allow celebrations this year, but with restrictions in public places. The festival will..
Credit: ANI Duration: 02:43
Published
Assam prepares for Rongali Bihu celebrations

Assam is all set to celebrate Rongali Bihu- the festival of mirth and merriment time. The Assam government decided to allow celebrations this year, but with restrictions in public places. As per the..
Credit: ANI Duration: 03:43
Published
Mehbooba Mufti urges JandK youth to leave guns and start dialogue

Jammu and Kashmir Peoples Democratic Party (JKPDP) chief Mehbooba Mufti on April12 appealed to the youth of Union Territory to leave weapons and start advocating for the welfare of JandK. Underlining..
Credit: ANI Duration: 02:13
Published
COVID testing compulsory for Mumbai, Karnataka flight passengers: Himanta Biswa

Assam Health Minister Himanta Biswa Sarma informed that the state government has made COVID-19 testing mandatory at the airport for passengers coming from Mumbai and Karnataka. "Even if they have got..
Credit: ANI Duration: 01:18
Published
Assam writer arrested for Facebook post on Bijapur Naxal attack

Guwahati police arrested an Assamese writer on April 6 over a Facebook post on the security forces after 22 personnel were killed in a deadly Naxal attack in Chattisgarh. The 48-year old Assamese..
Credit: ANI Duration: 01:02
Published
Assam polls: Himanta Biswa Sarma casts vote in Guwahati

Assam Minister and Bharatiya Janata Party (BJP) leader Himanta Biswa Sarma cast his vote at a polling booth in Amingaon area under Jalukbari constituency. "There're 40 seats in this phase, we are..
Credit: ANI Duration: 01:48
Published
Election Battle: Voting in Kerala, Tamil Nadu, West Bengal, Assam and Puducherry | Oneindia News

Over 20 crore people from Assam, Bengal, Kerala, Tamil Nadu and Puducherry are voting in a huge electoral exercise today. For the latter three, this is the first and only phase of polling. It is..
Credit: Oneindia Duration: 01:40
Published
Assembly elections: Voting begins in Assam, West Bengal

Voting for the final phase of polling in Assam and third phase in West Bengal, started on the morning of April 06. Where elections are being held in 40 constituencies of Assam, West Bengal is..
Credit: ANI Duration: 01:16
Published
TN, Kerala, Puducherry all set to vote tomorrow for new govts

The election fever is going on in the country and election-bound states are all set to undergo polling on April 06. On April 05, polling parties arrived at their respective polling stations in..
Credit: ANI Duration: 02:13
Published
Chhattisgarh CM Baghel busy in Assam polls despite Naxal attack: Raman Singh

Drawing an analogy with "Nero playing flute while Rome was burning", Chhattisgarh former chief minister Raman Singh slammed state Chief Minister Bhupesh Baghel and said that CM is busy in election..
Credit: ANI Duration: 01:42
Published
Rahul Gandhi calls Chhattisgarh anti-Naxal op 'poorly designed'; BJP slams CM

A political war has broken out over the Naxal attack that left at least 22 security personnel dead on Saturday. Congress leader Rahul Gandhi said that this was poorly designed and incompetently..
Credit: HT Digital Content Duration: 02:47
Published
Assembly polls: 'BJP leading in states', claims JP Nadda

As five states of India is undergoing assembly elections, BJP chief JP Nadda said the party is confident of gaining power. He added that signals from West Bengal clearly states that BJP is walking..
Credit: ANI Duration: 01:30
Published
16-ft-long King Cobra rescued in Assam

A 16-feet-long King Cobra was rescued at a tea estate in Nagaon on April 03. Massive snake weighed around 20 kgs. Snake catcher took timely action and rescued King Cobra. The Cobra was later released..
Credit: ANI Duration: 01:13
Published
You Might Like



Assam govt issues fresh COVID-19 guidelines, markets to shut by 6 PM - Check other details

The new guidelines have been put in place with immediate effect and will remain in effect till April 30.




DNA - Published





Covid vaccine: Assam turns away even those due for 2nd shot

The pace of Assam's Covid vaccination drive slackened further on Tuesday amid a delay in arrival of fresh stocks and reports of even recipients scheduled for a second dose being turned away from..




IndiaTimes - Published





Covid-19: Daily cases hit new peak of 1.85 lakh

India continued to report new peaks in daily Covid-19 cases with a record 1.85 lakh fresh infections added to the caseload on Tuesday, an 8.5% rise from the previous peak of 1.7 lakh recorded on..




IndiaTimes - Published





Repolling in four Assam polling stations on April 20




IndiaTimes - Published





EC announces re-polling in 4 Assembly constituencies of Assam on April 20




IndiaTimes - Published





Assam polls over, Congress packs off 18 AIUDF candidates to Rajasthan

Fearing horse-trading, Congress on Friday morning flew out 18 of the 19 candidates of AIUDF, its ally in the "mahajot" in Assam, to a hotel on the outskirts of Jaipur, three weeks ahead of the..




IndiaTimes - Published





Fear of 'D voter' tag drives Assam Muslims to poll booths in droves

Assam's Muslim voters, who account for 35% of the electorate, also form the biggest chunk of voters who turn up at polling stations to vote in almost every election. One of the reasons they do so is..




IndiaTimes - Published





WHO features Assam's Covid-19 frontline workers




IndiaTimes - Published





BJP-led alliance will return to power in Assam, claims Sonowal

He said the three-phase polling was by and large peaceful and it reflected that his government was successful in restoring peace in Assam after decades of insurgency and violence. "We will return to..




IndiaTimes - Published





I am a Bengal tigress, will break but won't bend: Mamata Banerjee

Speaking at a public gathering in Cooch Behar, Banerjee said: "They (BJP) will bring goons from Assam. They will explode bombs and threaten people. Do not be afraid. They do not want our mothers and..




IndiaTimes - Published





West Bengal, Tamil Nadu, Kerala, Assam, Puducherry exit polls results on April 29




IndiaTimes - Published





Assembly Election 2021: Peaceful voting in 5 states/UT, Assam records highest voter turnout

As per Election Commission data, Assam recorded the highest voter turnout at over 80%, followed by Puducherry, West Bengal, Kerala, and Tamil Nadu.




DNA - Published





Cast your votes, India is counting on you: Rahul Gandhi to voters

With polling taking place for assembly elections in four states and a Union Territory, Congress leader Rahul Gandhi on Tuesday urged people to cast their vote, saying "India is counting on you"...




IndiaTimes - Published





After Assam, now EVMs found outside TMC leader's house in West Bengal, EC suspends official

Several sealed EVMs were found kept outside the house of TMC leader Gautam Ghosh.




DNA - Published





Assembly elections 2021: Voting underway in 475 assembly constituencies in Tamil Nadu, Kerala, Assam, Bengal, Puducherry




IndiaTimes - Published

Also reported by •DNA


Earthquake strikes Sikkim, tremors also felt in Bihar, Assam, Bengal




IndiaTimes - Published





Earthquake of magnitude 5.4 hits Sikkim-Nepal border, tremors felt in Assam, Bihar, West Bengal

Earthquake tremors also felt in parts of Assam, Bihar and West Bengal.




DNA - Published





171 votes cast in Assam booth that has 90 voters; poll officials suspended

Total 171 votes were cast in a booth in Assam's Dima Hasao district, even though 90 people were eligible to exercise their franchise, officials said on Monday, revealing a massive irregularity. As the..




IndiaTimes - Published





Amid surge, Assam health minister says needn't wear mask




IndiaTimes - Published





Campaigning for last phase of Assam polls ends




IndiaTimes - Published





Flying to Assam? People from THESE cities need mandatory negative RT-PCR report

India recorded 93,249 new cases of COVID-19 on Sunday, the highest single-day rise this year, taking the total COVID-19 tally to 1,24,85,509.




DNA - Published





Befitting reply to Chattisgarh Maoist attack will be given at appropriate time: Amit Shah

''As far as the numbers are concerned, both sides have suffered losses and exact casualty figures cannot be ascertained immediately'', Shah said, after cutting short his election campaigning in Assam...




IndiaTimes - Published





EC cuts Himanta Biswa Sarma's campaign ban in half

Granting relief to Assam minister and senior BJP leader Himanta Biswa Sarma, the Election Commission reduced his campaign ban from 48 hours to 24 hours on Saturday after he tendered an unconditional..




IndiaTimes - Published





Modi urges Assam militants to join mainstream




IndiaTimes - Published





Assam assembly elections: 'Mahajhooth' of 'Mahajot' disclosed, NDA govt will be formed in Assam, PM Modi says




IndiaTimes - Published





After Sarma, EC should aslo bar PM Modi, Amit Shah from campaigning in Assam: Congress




IndiaTimes - Published





EC suspends 4 poll workers for ferrying EVMs in BJP neta's car

Amid a political outcry and trading of charges, the Election Commission on Friday ordered suspension of four polling personnel in Ratabari (SC) assembly constituency in Assam after they violated EVM..




IndiaTimes - Published





Assam polls: EC bars BJP leader Himanta Biswa from campaigning for 48 hours

The Election Commission of India on Friday barred Assam minister and BJP leader Himanta Biswa Sarma from campaigning for ongoing Assam elections for 48 hours. The action by the Election Commission was..




IndiaTimes - Published




Raiding the opposition is BJP's coping mechanism: Rahul Gandhi

Rahul Gandhi on Friday slammed the Election Commission hours after the poll body ordered repolling in Assam's Ratabari after reports of EVMs in a BJP candidate's car. The candidate, Krishnendu..




IndiaTimes - Published





Assam elections: EVM found in BJP candidate's car, EC suspends four officials

In a statement, the ECI has said that the seals of the EVM were found to be intact.




DNA - Published





Assam EVM row: EC suspends four poll officials; repoll likely in booth

The Election Commission of India (ECI) on Friday suspended four poll officials in Assam's Karimganj who hitched a ride with a polled EVM in the vehicle of a BJP candidate yesterday. The poll panel is..




IndiaTimes - Published





Serious re-evaluation of use of EVMs needs to be done by all national parties: Priyanka Gandhi

​​ Her remarks came over a video which surfaced on social media allegedly showing electronic voting machines (EVMs) in what was claimed to be the car of a BJP candidate in Assam. Tagging the tweet..




IndiaTimes - Published





In next 2 days, seven PM rallies in poll-bound states as BJP top guns fire on all cylinders

Leading from the front, Prime Minister Narendra Modi will address seven big rallies over the next two days. The rallies will be covering a distance of over 5000km in four poll-bound states of West..




IndiaTimes - Published





Ajmal flings gamosa, PM calls it insult to Assam




IndiaTimes - Published





BPF candidate joins BJP in the midst of polls in Assam




IndiaTimes - Published





Assam polls: EC issues notice to BJP leader Himanta Biswa Sarma for threatening remarks on BPF chief Hagrama Mohilary




IndiaTimes - Published





Voting begins in West Bengal, Assam for 2nd phase of elections: Top developments




IndiaTimes - Published





Assembly elections: PM Modi urges people of Bengal, Assam to vote in 'record numbers'

Taking to Twitter, PM Modi said: "Second phase of the Assam polls takes place today. Requesting all eligible voters of this phase to strengthen the festival of democracy by exercising their franchise."..




IndiaTimes - Published





Voting in second phase of Assembly Elections in Assam, West Bengal begins

COVID-19 protocols for the voters including social distancing and thermal screening are being maintained.




DNA - Published

Also reported by •IndiaTimes


In bitter battle for Bengal, it's Mamata vs ex-loyalist today

The second phase of polling in Assam and West Bengal features probably the most high-profile contest of these elections — the showdown between Mamata Banerjee and Suvendu Adhikari in Nandigram. That..




IndiaTimes - Published





264 crorepatis contesting election in Assam, 2nd phase voting to begin tomorrow

Assam Assembly Election 2021: In the 2nd phase polling, 73,44,631 voters (37,34,537 males, 36,09,959 women) will decide the fate of 345 candidates.




DNA - Published





Every promise in Bodo agreement will be fulfilled before 2022 for peaceful Assam: Amit Shah

Union home minister Amit Shah on Wednesday, while addressing a public meet in Assam's Chirang, said Bharatiya Janata Party will fulfil every promise made in the Bodoland agreement before 2022.




IndiaTimes - Published





Rahul's poll promise rekindles fears of Assam's fragmentation




IndiaTimes - Published





Congress used minorities as commodity, exploited their sentiments for vote bank politics: Jitendra Singh

He said the Congress-AIUDF (All India United Democratic Front) alliance in Assam has virtually outsourced its campaign to communal elements, and its leaders are using such tone and expression in..




IndiaTimes - Published





Congress moves EC, seeks action against Nadda, Sonowal for full page ads claiming sweep in Assam




IndiaTimes - Published





Mann ki Baat: PM Modi hails Assam man on mission to document Karbi language

"Tisso of Karbi Anglong district of Assam has been documenting Karbi language for 20 years. Language is now disappearing from the mainstream, so he decided to protect the identity of theirs. Today his..




IndiaTimes - Published





Phase 1 of polls kicks off: 80% voting in Bengal, 77% in Assam




IndiaTimes - Published





Nearly 80% turnout in West Bengal, over 72% in Assam till 5pm: EC




IndiaTimes - Published





Assembly Election 2021: West Bengal records 70.17% voting, voter turnout in Assam 62.09% till 3 pm

Polling booths opened at 7 am and will close at 6 pm. Polling has been extended by an hour due to the COVID-19 pandemic.




DNA - Published





Vote for progress, golden future of Assam: Priyanka to people




IndiaTimes - Published