Assam
State in northeast India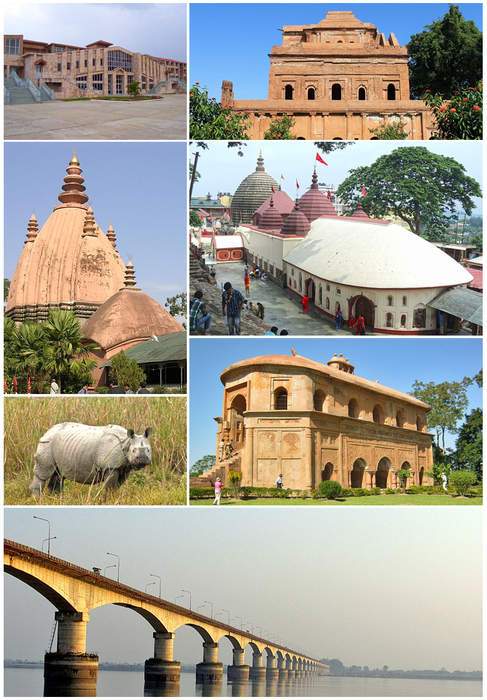 Assam is a state in northeastern India, south of the eastern Himalayas along the Brahmaputra and Barak River valleys. Assam covers an area of 78,438 km2 (30,285 sq mi). The state is bordered by Bhutan and Arunachal Pradesh to the north; Nagaland and Manipur to the east; Meghalaya, Tripura, Mizoram and Bangladesh to the south; and West Bengal to the west via the Siliguri Corridor, a 22 kilometres (14 mi) wide strip of land that connects the state to the rest of India. Assamese is the official and most commonly spoken language of the state, followed by Bengali, which is official in the Barak Valley and Bodo which is official in Bodoland Territorial Region.


6 Assam Police personnel dead in Assam-Mizoram border, says CM Himanta Biswa Sarma | Oneindia News

According to virologists and epidemiologists. the Delta variant is capable of infecting fully vaccinated people at a greater rate than previous versions; Today, violence broke out at the disputed..
Credit: Oneindia Duration: 02:43
Published
RSS chief: Organised attempt to increase Muslim population since 1930s | Oneindia News

Speaking at an event in Assam's Guwahati, RSS chief Mohan Bhagwat on Wednesday alleged that there has been an organised attempt to increase Muslim population in India since 1930. Listen in. #RSS..
Credit: Oneindia Duration: 02:27
Published
Lok Sabha: Day 2 of chaos| Opposition members stoop to well of house| Pegasus Row| Oneindia News

In another day of chaos, some opposition members stooped to the well of the lower house, raising placards and shouting slogans like snooping government. Prime Minister Narendra Modi today said the..
Credit: Oneindia Duration: 02:42
Published
Cabinet Reshuffle: Thawarchand Gehlot to be Karnataka Governor| Jyotiraditya Scindia| Oneindia News

Thawarchand Gehlot, who was also the BJP's Rajya Sabha leader, will take over as Governor of Karnataka. PS Sreedharan Pillai, the Governor of Mizoram, has been moved to Goa. Tripura Governor Ramesh..
Credit: Oneindia Duration: 02:49
Published
Covishield cleared by 7 EU nations, Switzerland for travellers amid row | Oneindia News

Seven European Union countries - Austria, Germany, Slovenia, Greece, Iceland, Ireland and Spain - and Switzerland have cleared the Serum Institute of India's Covishield amid travel pass row, sources..
Credit: Oneindia Duration: 02:47
Published
Rajnath Singh: INS Vikrant will be commissioned next year| Oneindia News

India's first 'made-in-India' Aircraft Carrier - INS Vikrant - will be commissioned next year, Defence Minister Rajnath Singh said at the southern naval command in Kochi today. The oxygen audit..
Credit: Oneindia Duration: 02:34
Published
Assam may bring law to enforce 2-child policy next month| Himanta Biswa Sarma | Oneindia News

The Assam government, that has made headlines with its advocacy of a two-child policy, may bring new legislation during next month's budget session of the state assembly to enforce it widely. The law..
Credit: Oneindia Duration: 02:01
Published
Assam evictions: Indian gov't accused of 'anti-Muslim drive'

India's Assam state is on an eviction drive. Victims say they are being targeted for their faith.
Credit: Al Jazeera STUDIO Duration: 02:36
Published
Mukul Roy set to meet Mamata Banerjee, likely to ditch BJP and return to TMC | Oneindia News

Once a close aide of Mamata Banerjee, Mukul Roy, who joined the BJP with much fanfare, is likely to return to Trinamool Congress along with his son Subhrangshu Roy. Chief Minister Yogi Adityanath met..
Credit: Oneindia Duration: 02:50
Published
Nigeria govt joins Indian-made Koo app as country bans Twitter | Oneindia

Uttar Pradesh Chief Minister Yogi Adityanath on Thursday arrived in New Delhi, where he met Amit Shah and is likely to meet PM odi and BJP chief JP Nadda; Assam Chief Minister Himanta Biswa Sarma urged..
Credit: Oneindia Duration: 03:55
Published
Doctors beaten, Ramdev's allopathy comments | Covid warriors fight 'apathy' | Oneindia News

Yoga Guru Ramdev's remarks about allopathy and assault on doctors in Assam and Karnataka have angered the medical fraternity, who feel that not enough has been done to address their..
Credit: Oneindia Duration: 05:02
Published
Assam doctor assaulted by relatives of dead Covid patient | Oneindia News

A doctor in Assam's Hojai, around 140 km from state capital Guwahati, was brutally assaulted by relatives of a patient and also allegedly by locals. Dr Seuj Kumar Senapati was on duty at a Covid..
Credit: Oneindia Duration: 02:01
Published
North East viral clip | 5 arrested in Bengaluru | Bangladeshi traffickers | Oneindia News

Days after a video of a woman being tortured and went viral in Assam, the Bengaluru police have arrested 5 people. The survivor and the six accused are all thought to be Bangladeshi nationals and were..
Credit: Oneindia Duration: 01:19
Published
You Might Like



Assam-Mizoram border violence: Congress questions effectiveness of Amit Shah's meeting with NE CMs




IndiaTimes - Published





Border row: Assam, Mizoram CMs spar on Twitter over clashes




IndiaTimes - Published





Six Assam policemen killed in border clashes with Mizoram, Amit Shah talks to CMs

Assam CM Hemanta Biswa Sarma said that there was firing by miscreants from the Mizoram side along the inter-state border in the Cachar district.




DNA - Published





Six Assam cops killed in border violence with Mizoram: CM Himanta Sarma

As many as six Assam Police personnel were killed as violence along the Assam-Mizoram border spiralled out of control on Monday. The tweet comes just hours after Union home minister Amit Shah asked the..




IndiaTimes - Published





Amit Shah to Assam, Mizoram: 'Resolve border dispute, maintain peace'




IndiaTimes - Published





Assam, Mizoram CMs in heated Twitter exchange as border tensions flare up




IndiaTimes - Published





Cong rejigs Assam party unit, names Bhupen Bora as chief




IndiaTimes - Published





To cut crowds, Assam starts e-sale of booze




IndiaTimes - Published





CAA and NRC not anti-Muslim, says RSS chief in Assam




IndiaTimes - Published





CAA, NRC nothing to do with Hindu-Muslim divide: RSS chief

RSS chief Mohan Bhagwat, who is in Assam on a two-day visit, said on Wednesday that the Citizenship Amendment Act (CAA) and the National Register of Citizens (NRC) have nothing to do with Hindu-Muslim..




IndiaTimes - Published





Assam imposes total curfew in 5 districts with high Covid positivity rate - know what's allowed, what's not

There will be a complete curfew in these districts on July 20 from 5 am onwards and will continue till further orders.




DNA - Published





RSS chief Mohan Bhagwat arrives in Assam on 2-day visit




IndiaTimes - Published





BSF nabs Assam man near IB in Jammu after 'suspicious' movements




IndiaTimes - Published





34 shot at in 2 months in Assam 'encounter spree'




IndiaTimes - Published





Mizoram, Assam step up slugfest over border row




IndiaTimes - Published





High Covid rates in North East; PM Narendra Modi to meet CMs

Even as the overall weekly Covid-19 positivity rate has come down to 2.32%, most states in the northeast have many districts with a positivity rate above 10%. Arunachal Pradesh leads the list with 10..




IndiaTimes - Published





Boundary row: Mizoram and Assam in war of words




IndiaTimes - Published





Rainfall: IMD issues orange alert for Rajasthan, J&K; yellow for many north Indian states

The India Meteorological Department has issued an orange alert for Rajasthan and Jammu and Kashmir, and yellow alert for Himachal Pradesh, Uttarakhand and Uttar Pradesh for Tuesday with warning of..




IndiaTimes - Published





Assam govt tables Bill to regulate slaughter, transportation of cattle




IndiaTimes - Published





Mizoram vows to protect its boundary from alleged Assam aggression




IndiaTimes - Published





Assam cops on 'encounter spree': Plaint filed with NHRC




IndiaTimes - Published





Assam-Mizoram border spat hots up with 3 blasts in 2 days




IndiaTimes - Published





As cases surge, Army marches in Assam district




IndiaTimes - Published





In Assam, a new department of indigenous faith and culture

The decision to form a new department of indigenous faith and culture is in line with the BJP-led government's repeated assertions that the state's demography and indigenous cultures need..




IndiaTimes - Published





Himanta's 'shooting criminals' remark has ramifications of turning Assam into police state: Congress




IndiaTimes - Published





Act immediately: 8 states with high positivity rates told

Health secretary Rajesh Bhushan has written to eight states with high positivity rates, urging them to take immediate action to bring down cases. The states that have received the communication sent..




IndiaTimes - Published





Former Assam CM Sarbananda Sonowal takes oath as Union minister in PM Modi's Cabinet




IndiaTimes - Published





5.2 magnitude earthquake jolts Assam; tremors felt in Meghalaya, North Bengal

A National Center for Seismology report said the quake was recorded at 8.45 am, having an epicentre at Goalpara in Lower Assam at a depth of 14 km.




DNA - Published





Lockdown in Assam: Complete lockdown in 7 districts as COVID-19 cases surge - check SOPs

The seven districts where complete lockdown has been announced are Goalpara, Golaghat, Jorhat, Sonitpur, Biswanath, Lakhimpur and Morigaon.




DNA - Published





RSS rides on vax drive to make inroads into Assam's Muslim belt




IndiaTimes - Published





Monsoon session of parliament to commence on July 19

This will be the first session of parliament since the results of assembly polls in Assam, West Bengal, Tamil Nadu, Kerala and Puducherry.




DNA - Published





Assam MLA Akhil Gogoi acquitted by special NIA court in last UAPA case

Nearly 19 months after being arrested for allegedly inciting violence during anti-CAA agitation, Akhil Gogoi walked out of judicial custody Thursday.




DNA - Published





Akhil Gogoi walks free as court acquits him in last UAPA case

Nearly 19 months after being arrested for allegedly inciting violence during the anti-CAA agitation, Assam activist and newly-elected MLA Akhil Gogoi walked out of judicial custody on Thursday after a..




IndiaTimes - Published





Assam: Nadda calls Cong leaders 'political tourists' in second wave, Cong hits back




IndiaTimes - Published





12 Covid deaths in 24 hours at main Guwahati hospital

The death of 12 Covid patients on Monday at the premier Gauhati Medical College Hospital (GMCH) came as a blow to the Assam health department at a time when the positivity rate in the state had dropped..




IndiaTimes - Published





Good news for travellers to Assam! BIG decision by Himanta Biswa Sarma-led government - Know details

People who have been vaccinated with two doses of the vaccine will be exempted from mandatory rapid antigen test on arrival at stations or airports.




DNA - Published





Assam Unlock: Further lockdown relaxations announced, fully vaccinated employees to resume office from July 1

Earlier, the Assam government announced a fresh set of guidelines including shortening of curfew hours in districts where COVID cases have declined.




DNA - Published





Earthquakes in Northeast India: Three low-intensity quakes hit Assam, Manipur, Meghalaya

Three low-intensity earthquakes struck the northeastern states of India within a difference of few hours during the early hours of Friday morning.




DNA - Published

Also reported by •IndiaTimes


'Enforce SC/ST act in Assam rape-murders'




IndiaTimes - Published





Assam students move SC, seek cancellation of class X, XII board exams of state boards due to Covid




IndiaTimes - Published





Suspected to be cattle thief, man killed in Assam




IndiaTimes - Published





Assam Muslims have recorded sharpest fall in fertility since 2005-06: Govt data

While Assam chief minister Himanta Biswa Sarma has called on the state's 'immigrant Muslim' population to practise 'decent family planning practice', the fifth National Family Health Survey..




IndiaTimes - Published





India's Covid vaccination drive: UP must up vax rate 9x to meet 100% target by Dec

If India is to meet the target of fully vaccinating its adult population by year end, it will have to step up the average daily vaccination levels close to five times from what has been achieved from..




IndiaTimes - Published





Youth Congress member attacks doctor in Assam




IndiaTimes - Published





COVID-19: Assam to extend curfew from today for next 10 days - what's allowed, what's not

The state administration announced that the ongoing curfew will be implemented from 1 pm to 5 am on June 6 till June 16 across Assam.




DNA - Published





Assam lockdown: COVID curbs extended till June 16 - What's allowed, what's not

The curfew, which remained in force from 12 noon to 5 am will now be in place from 1 pm to 5 am with total ban on movement of individuals.




DNA - Published





NHRC seeks action-taken report on Assam doctor assault




IndiaTimes - Published





Kerala bags top slot in SDG India index; Bihar, Jharkhand, Assam at bottom




IndiaTimes - Published





OPD boycott after assault on Assam doctor by mob; 24 held




IndiaTimes - Published





Earthquake of magnitude 3.8 hits Assam's Tezpur

An earthquake of magnitude 3.8 on the Richter scale hit Assam's Tezpur on Monday morning, as per the National Centre for Seismology (NCS).




IndiaTimes - Published