Assam
State in northeastern India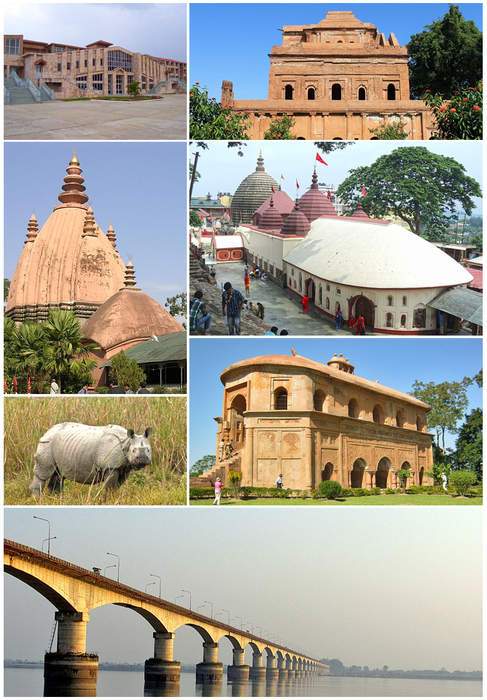 Assam is a state in northeastern India, south of the eastern Himalayas along the Brahmaputra and Barak River valleys. Assam covers an area of 78,438 km2 (30,285 sq mi). The state is bordered by Bhutan and Arunachal Pradesh to the north; Nagaland and Manipur to the east; Meghalaya, Tripura, Mizoram and Bangladesh to the south; and West Bengal to the west via the Siliguri Corridor, a 22 kilometres (14 mi) wide strip of land that connects the state to the rest of India. Assamese is the official and most commonly spoken language of the state, followed by Bengali, which is official in the Barak Valley and Bodo which is official in Bodoland Territorial Region.


NCB panchnama says Aryan Khan consumed narcotics; Imitiaz Khatri summoned | Oneindia News

The NCB said that Aryan Khan admitted to consuming charas; Chief of the Army Staff General MM Naravane said it is a matter of concern that the Chinese troops are building up the infrastructure and..
Credit: Oneindia Duration: 02:38
Published
Assam photographer arrested after viral video shows him attacking shot protester | Oneindia News

A photographer in Assam who was seen attacking a protester who was shot in the chest has been arrested, according to the state police. Bijoy Bonia's actions were captured in a viral video of the..
Credit: Oneindia Duration: 01:47
Published
2500 Rhino horns burnt by Assam Government on World Rhino Day | Oneindia News

The Assam government burnt around 2500 Rhino horns to mark World Rhino Day 2021. As many as six giant gas furnaces, each with three tiers were used to burn these horns which have been preserved for..
Credit: Oneindia Duration: 02:05
Published
Assam teen wrapped in curtain after shorts considered revealing by examiner | Oneindia News

A 19-year-old student was wrapped In a curtain for an exam after the shorts she showed up in were considered apparently inappropriate. #assam #neet #MoralPolice
Credit: Oneindia Duration: 01:57
Published
Karnataka BJP MLA blames Taliban crisis for fuel and gas price hikes in India | Oneindia News

Today, fresh fighting was reported between the Taliban and resistance forces in Afghanistan's Panjshir Valley, as the hardline Islamists finalise a new government; A Karnataka BJP MLA, Aravind Bellad's..
Credit: Oneindia Duration: 02:39
Published
Floods in India's Assam force villagers and wildlife to flee

More than three million people have been affected by the annual monsoon deluge as torrential rains pummelled eastern India, officials said Wednesday, with villagers fleeing to higher ground and vast..
Credit: euronews (in English) Duration: 01:00
Published
Assam flood situation worsens, lakhs affected as villages submerge | Oneindia News

Thousands of people have been displaced and lakhs affected by the worsening flood situation in Assam. A bulletin issued by the state's disaster management agency on Friday said over 1.33 lakh people..
Credit: Oneindia Duration: 01:37
Published
Assam and Mizoram again at loggerheads, this time over bridge construction| Oneindia News

Assam and Mizoram were again at loggerheads, with Assam accusing its neighbouring state of constructing a bridge in its territory and Mizoram police filing a case against Assam police on Saturday for..
Credit: Oneindia Duration: 02:18
Published
Union Minister Hardeep Puri cites Afghan crisis to back Citizenship Amendment Act | Oneindia News

Today, Union minister Hardeep Singh Puri cited the evacuations from Afghanistan to support the controversial Citizenship Amendment Act; The finance ministry has summoned Infosys chief Salil Parekh..
Credit: Oneindia Duration: 02:40
Published
Assam police arrest 15 people for making Pro Taliban posts | Oneindia News

Assam police has arrested 15 people for allegedly putting up social media posts that support the Taliban takeover of Afghanistan. An 18-year-old B.Com student, a 24-year-old medical student, a..
Credit: Oneindia Duration: 01:59
Published
Delhi shops can stay open beyond 8 pm, restaurants beyond 10 pm | Oneindia News

The Delhi government has lifted the 8 pm deadline for shops following a slide in Covid cases; 14 people have been arrested from 11 districts of Assam for allegedly putting up posts on social media and..
Credit: Oneindia Duration: 02:31
Published
You Might Like



COVID-19 update: India reports 15,981 fresh infections, recoveries outnumber new cases in Assam

The national recovery rate was at 98.07%, the data updated at 8 am showed. The total recoveries from COVID-19 infection have jumped to 3.33 crore.




DNA - Published





Centre extends BSF jurisdiction in Punjab, West Bengal, Assam- Here's WHY

The central government has recently decided to extend the BSF jurisdiction in three border states, which has sparked a row.




DNA - Published





BSF jurisdiction: Its Cong vs Cong in Punjab again

The Home Ministry's order extending the jurisdiction of the Border Security Force (BSF) in West Bengal, Punjab and Assam — giving them powers of arrest, search and seizure deeper inside these..




IndiaTimes - Published





BSF can now seize, arrest deep inside Assam, West Bengal, Punjab




IndiaTimes - Published





Assam, Meghalaya ministers meet to try resolve border disputes




IndiaTimes - Published





Nirmala Sitharaman lays foundation of ADB-aided projects in Assam




IndiaTimes - Published





Assam: Congress suspends MLA Sherman for disrespecting Assam Agitation martyrs




IndiaTimes - Published





Union minister Sarbananda Sonowal resigns from Assam assembly




IndiaTimes - Published





Assam planning to lift COVID-19 restrictions from November 1 to revive tourism sector: CM

CM said that the tourism industry is hit badly due to COVID and the state government is making efforts to revive the sector as situation has improved.




DNA - Published





Panchayat president, ex-official held for Assam violence




IndiaTimes - Published





Naik Gurjant Singh who died on duty in Assam mishap cremated with full state honours




IndiaTimes - Published





Union Minister Sarbananda Sonowal elected unopposed to Rajya Sabha from Assam

With this, the ruling BJP's tally in the Rajya Sabha from Assam has increased to three.




DNA - Published





Twice the area of Goa under encroachment in Assam




IndiaTimes - Published





Assam Cong issues show-cause notices to 212 members

Assam Pradesh Congress Committee (PCC) has served show-cause notices on 212 party workers, including several leaders, who were allegedly found indulging in anti-party activities in the last assembly..




IndiaTimes - Published





Assam is on state-sponsored fire: Rahul Gandhi




IndiaTimes - Published





In message to poachers, Assam sets 2,400 rhino horns on fire




IndiaTimes - Published





Assam, Nagaland CM's hold closed door meetings with NSCN(IM)

Assam chief minister Himanta Biswa Sarma and his Nagaland counterpart Neiphiu Rio held closed door interaction with NSCN(IM) chief negotiator Thuingaleng Muivah at Dimapur on Tuesday, a government..




IndiaTimes - Published





Rajya Sabha bypolls: Union Minister Sarbananda Sonowal files nomination from Assam

Union Minister Sarbananda Sonowal on Tuesday filed his nomination for the upcoming Rajya Sabha bypolls from Assam. He was accompanied by the Assam chief minister Himanta Biswa Sarma. In Assam, a Rajya..




IndiaTimes - Published





Assam girl denied entry into exam hall for wearing shorts, allowed after wrapping curtain around legs

The student told that after a lot of debate, they asked her father to bring a pant from outside. But he could not do this.




DNA - Published





Don't pass consequential orders, Assam tells foreigners tribunals

The Assam judicial department has expressed that it is not necessary for the members of Foreigners Tribunals (FT) to pass "consequential directions/orders" while rendering opinion after it found..




IndiaTimes - Published





4 lakh Bangladeshi pills seized in Assam




IndiaTimes - Published





Assam accident: Several feared drowned, many missing as boats collide in Brahmaputra river

National Disaster Response Force (NDRF) and State Disaster Response Force (SDRF) launched a rescue operation. More than 120 passengers were on board.




DNA - Published





Assam flood situation improves, number of affected people comes down to 1.18 lakh




IndiaTimes - Published





Centre, Assam ink pact with Karbi-Anglong ultra groups

A tripartite peace accord was inked on Saturday by representatives of the Centre, Assam government and five Karbi-Anglong groups, as part of which 1,000 armed cadres have abjured violence and joined..




IndiaTimes - Published





Centre, Assam govt sign tripartite agreement with Karbi Anglong outfits




IndiaTimes - Published





Assam flood situation improves marginally; one more die, over 1.76 lakh hit




IndiaTimes - Published





Covid: Assam to give Rs 1 lakh each to kin of poor victims




IndiaTimes - Published





Assam government removes Rajiv Gandhi's name from Orang National Park




IndiaTimes - Published





Assam imposes night curfew from 9 pm to 5 am in all districts; issues new COVID-19 containment measures

Assam on Wednesday announced a night curfew across the state, implementing new COVID-19 guidelines to contain the spread of coronavirus




DNA - Published





Two die as floods hit 21 of 34 Assam districts




IndiaTimes - Published





Assam floods affect 21 districts, disrupts wildlife and kills 2 children

The Assam State Disaster Management Authority has provided 44 shelters for relocated people following COVID-19 protocols




DNA - Published





Mysterious viral fever 'Scrub Typhus' detected in UP, Assam - Symptoms, prevention, treatment, other details

After spreading in Uttar Pradesh, the virus has now entered the state of Assam and affected almost 29 people in Guwahati




DNA - Published





Assam flood situation deteriorates; two dead, 3.63 lakh people affected




IndiaTimes - Published





Congress ends alliance with BPF, Ajmal's AIUDF in Assam




IndiaTimes - Published





COVID-19 created in God's supercomputer, it decides who will get infected: Assam minister

A minister in Assam has claimed that that the Covid-19 was a creation of God's supercomputer, which decides who would get infected




DNA - Published





Flood situation worsens in Assam, nearly 86,000 people affected




IndiaTimes - Published





Assam, Arunachal, Meghalaya to receive heavy rainfall this week




IndiaTimes - Published





Three suspected bank dacoits shot dead by Assam police




IndiaTimes - Published





Assam says Mizoram tried to construct bridge in its territory, stopped




IndiaTimes - Published





14 arrested in Assam for social media post supporting Taliban: Police

Fourteen people were arrested from across Assam for alleged social media posts supporting the Taliban takeover of Afghanistan, police said on Saturday.




IndiaTimes - Published





3 govt colleges in Assam seek caste identity in entry forms

Three state-run colleges in Assam have released online admission forms that require applicants for seats to specify their caste, stoking outrage among student groups and academics even as the..




IndiaTimes - Published





Tension along Assam-Mizoram border escalates again




IndiaTimes - Published





Union health minister describes his meeting with Assam chief minister on Covid management as 'fruitful'




IndiaTimes - Published





Apprised Union health minister regarding Assam's proactive Covid management, says Himanta Biswa Sarma




IndiaTimes - Published





Cong slams Modi govt for denying Scheduled Tribe tag to 6 Assam communities




IndiaTimes - Published





Milkmen in Assam come to fund-starved school's rescue




IndiaTimes - Published





NRC applicants' biometric data locked: Assam pursing matter with Centre




IndiaTimes - Published





Peace restored along Assam-Mizoram border, but such disputes can't be resolved overnight: Himanta Sarma

Underlining that peace and tranquility have been restored at the shared border with Mizoram, Assam chief minister Himanta Biswa Sarma on Monday said there cannot be an overnight resolution of the..




IndiaTimes - Published





After 13 days, trucks move from Assam into Mizoram




IndiaTimes - Published





Mamata-led alliance of regional parties in making to unseat BJP from power at Centre in 2024: Akhil Gogoi

Raijor Dal chief Akhil Gogoi on Sunday said that an alliance of regional parties under the leadership of West Bengal chief minister Mamata Banerjee is in the making to oust the BJP from power at the..




IndiaTimes - Published