Noida
City in Uttar Pradesh, India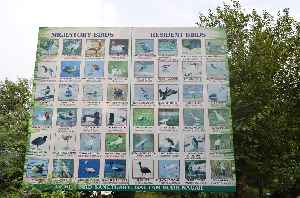 Noida, short for New Okhla Industrial Development Authority, is a planned city located in Gautam Buddh Nagar district of the Indian state of Uttar Pradesh. It is a satellite city of Delhi and is a part of the National Capital Region of India. As per provisional reports of Census of India, the population of Noida in 2011 was 642,381. The city is managed by New Okhla Industrial Development Authority (NOIDA). The district's administrative headquarters are in the nearby city of Greater Noida.


40% COVID cases can increase during winters on daily basis in India: Cardiologist

Air Quality Index (AQI) of national capital remained in poor condition on October 19 amid fear of coronavirus pandemic. Speaking to ANI, the Senior Director of Interventional Cardiology in Max Super..
Credit: ANI Duration: 01:38
Published
Residents concerned over 'poor' air quality in Delhi-NCR

The air quality of national capital Delhi and its neighbouring city Noida is continuously deteriorating. According to System of Air Quality and Weather Forecasting and Research (SAFAR), the Air Quality..
Credit: ANI Duration: 02:41
Published
Man starts food stall in Noida after losing MNC job

Number of people lost their jobs during pandemic, Noida's resident Ravi being one of them. Ravi worked for a multinational company in tour and travels sector. Ravi didn't lose hope after being laid off..
Credit: ANI Duration: 01:25
Published
Noida's 1st musical fountain to open for public today

Noida's first musical fountain will open for the public at the medicinal park in Sector 91 at 07:00 pm on October 06. There will be no entry fee for visitors. As of now only limited number of people..
Credit: ANI Duration: 02:06
Published
Noida Police

After massive outrage over an Uttar Pradesh policeman manhandling Congress General Secretary Priyanka Gandhi on Saturday, now the Noida police has issued an apology and also launched a probe into the..
Credit: HT Digital Content Duration: 01:14
Published
Encounter breaks out between police, miscreants in Noida

An encounter broke out between police and miscreants in Uttar Pradesh's Noida on September 29. Criminals got injured during encounter and taken to hospital for medical treatment. The incident took..
Credit: ANI Duration: 03:00
Published
Woman allegedly raped by neighbour in Noida

A woman was allegedly raped by her neighbour in Uttar Pradesh. The heinous crime happened in Noida's Sector 20 area. "Prima facie it appears to be some other matter. However, we have registered the..
Credit: ANI Duration: 01:00
Published
Farmers protest with human skull, Delhi-Noida road blocked l Latest updates

Farmers intensified their protests across the country on Friday. Several roads were blocked by the protesting farmers. Farmers in Uttar Pradesh occupied the streets and several political parties joined..
Credit: HT Digital Content Duration: 06:10
Published
News Package -Yogi Film City

Uttar Pradesh Chief Minister Yogi Adityanath on Tuesday held a meeting with several leading members of film fraternity. The virtual meeting was over the UP CM's proposal of a new film city in the..
Credit: HT Digital Content Duration: 01:21
Published
Bhim Army chief joins protest of sanitation workers in Noida

Bhim Army president Chandrashekhar on September 19 joined the ongoing protest of sanitation workers in Noida. Hundreds of cleaning staff are protesting from yesterday against the state government over..
Credit: ANI Duration: 02:33
Published
Chain snatchers injured in gunfight with police in Noida

Two chain snatchers got injured in a gunfight with police personnel at sector 58 area of Noida. They have received bullet injuries, the criminals have been admitted to hospital. "An incident of chain..
Credit: ANI Duration: 02:10
Published
6 arrested for stealing cars in Noida

Noida Police has arrested six criminals for vehicle theft on September 13. So far, criminals have stolen 100 cars out of which 13 cars were recovered by the police. According to the police, they were..
Credit: ANI Duration: 02:12
Published
Watch: Moving car catches fire in UP's Noida

A moving car caught fire in Transport Nagar area of Sector-67 in Noida. The driver jumped out of the car to save his life. Fire was later brought under control by the Fire Department. Further details..
Credit: ANI Duration: 01:06
Published
COVID-19: India may soon overtake Brazil as second-most affected country

With the number of COVID-19 cases breaching the 41-lakh mark on September 06, India is expected to overtake Brazil as the second-most affected country in the world. The total number of coronavirus..
Credit: ANI Duration: 02:54
Published
Medical apathy! Dead bodies kept in open due to inadequate facilities at mortuary in Noida

A situation highlighting lack of basic infrastructure at a hospital in Noida came into light. The bodies are kept in open on the floor in Noida hospital mortuary. The old deep freezers are no longer in..
Credit: ANI Duration: 01:37
Published
Rave party busted in Noida, 11 foreign nationals held

Acting on a tip off, Noida Police arrested 11 foreign nationals from the rave party on August 30. Illegal materials have also been recovered from them. Further investigation is underway.
Credit: ANI Duration: 01:27
Published
You Might Like



Massive fire breaks out in Noida slum, no reports of casualties

The massive fire led to a stampede like situation in the area.




DNA - Published





No respite for Delhi-NCR as air quality remains 'poor', may deteriorate further due to stubble burning

There's no respite for residents of Delhi and adjoining NCR as the air quality in the region continues to deteriorate. On Sunday, the Air Quality Index in parts of Gurugram remained 'very poor' while..




DNA - Published





Noida: Drunk man dies after falling asleep in car with AC on

The body of the man was found by his brother on Sunday but the family did not lodge any complaint as they didn't suspect any foul play.




DNA - Published





Ex-CBI director Ashwani Kumar cremated in Shimla

A number of people, including Himachal Pradesh Power Minister Sukhram Chaudhary, Congress Legislative Party leader Mukesh Agnihotri and former state Congress chief Sukhvinder Sukhi, and Kumar's..




IndiaTimes - Published





Noida's Jewar International Airport will open floodgates of development in western Uttar Pradesh, here's how

Uttar Pradesh is soon to make its new identity on the global stage. Jewar Airport is already going to be constructed in the state, in addition to this, Western Uttar Pradesh will be developed with Film..




DNA - Published





Mother, baby die during quack-assisted delivery in Noida, bodies dumped

The clinic owner dumped the bodies outside the facility and ran away in fear of being caught.




DNA - Published





Rahul, Priyanka among 5 allowed to proceed to Hathras: Noida Police

Only five members of a delegation of MPs led by Congress leader Rahul Gandhi have been permitted to go to Hathras via Noida considering the restrictions imposed under CrPC Section 144, Police said on..




IndiaTimes - Published





FIR against Rahul, Priyanka, 200 other Congress workers in Noida




IndiaTimes - Published





Air pollution control on government's top priority, preparations on in Delhi-NCR hotspots before winter

Haryana also Sonipat, Gurugram, Panipat, Faridabad, and Jhajjar. In Uttar Pradesh Ghaziabad, Noida, Bulandshahr, Gautam Budh Nagar and Meerut and Rajasthan's Bhiwadi, were identified as hotspots.




DNA - Published





Bharat Bandh: Farmers block roads in Noida near Delhi border, traffic diverted

Additional police forces were deployed in the area to control the situation and traffic was also diverted from the area for the convenience of the travellers.




DNA - Published





Singapore-based firm offers to invest in film academy for new film city in Uttar Pradesh

The proposal was made during the interaction of Chief Minister Yogi Adityanath with a group of filmmakers and artists over the new film city that will be developed along the Yamuna Expressway near..




DNA - Published





Yamuna Expressway Industrial Development Authority sends proposal for new film city in Noida to UP govt

The Yamuna authority has sent the proposal on Sunday




DNA - Published





UP CM Yogi Adityanath promises 'most beautiful' film city in Noida

UP CM Yogi Adityanath has promised to make the 'most beautiful' film city in Noida that will be a better alternative to film producers




DNA - Published





UP CM announces to set up country's 'biggest' film city in Noida

Uttar Pradesh chief minister Yogi Adityanath on Friday announced to set up the country's "biggest" film city in the state's Gautam Buddh Nagar, officials said here.




IndiaTimes - Published





2 Noida, 4 Mumbai healthcare workers are confirmed cases of reinfection

Two healthcare workers from a Noida hospital could be the country's first genetically proven cases of Covid-19 reinfection, according to the preprint of a research paper submitted by the prestigious..




IndiaTimes - Published





Supreme Court directs Mahagun real-estate firm to deposit Rs 240 crore over land given to Amrapali group

The Supreme Court on Monday directed the real estate company Mahagun to deposit Rs 240 crore before the court by March 31 regarding the dispute over a plot of land which was given to the Amrapali..




DNA - Published





ZEE News thanks the auto-rickshaw drivers of Delhi and Noida

The role of these auto-rickshaw drivers went unnoticed and unrecognized during this pandemic but team ZEE News has yet again stood by their values of a responsible news channel. Here's what they did




DNA - Published





UP: Noida Authority starts sterilisation of stray dogs, over 1,000 sterilised in August

Seeing the increase in the number of stray dogs in Noida, the authority's Health Department has decided to sterilise all the stray dogs across the city. 1,119 dogs were sterilised in the month of..




DNA - Published





Noida Metro to resume operations on Aqua Line from September 7

The Noida metro trains will be run as per the COVID-19 protocols and the guidelines announced by the Centre.




DNA - Published





Uttar Pradesh: Pakistani woman arrested for violating visa norms in Noida

A Pakistani woman was arrested by Gautam Buddh Nagar Police officials on Saturday after she allegedly violated visa rules in Uttar Pradesh's Noida.




DNA - Published





Fire breaks out at toy manufacturing factory in Noida's Sector 63

Several fire tenders are at the spot and fire fighting operation is underway. Police personnel were also at the site.




DNA - Published





Thunderstorm with moderate intensity rain expected in Delhi, neighbouring areas in next 2 hours: IMD

Earlier, rains continued to lash Delhi, Noida, Ghaziabad, Faridabad and Gurgaon on Thursday morning, the second day in a row. Heavy rains caused flooded roads, triggering long traffic snarls in..




DNA - Published





Weather Update: IMD predicts thunderstorm, moderate rainfall in Delhi, Noida, parts of UP

Thunderstorm with light to moderate intensity rain would occur over and adjoining areas of Agra, Noida, Delhi during the next two hours, IMD predicted.




DNA - Published





Delhi: Rise in COVID-19 caseload due to 'outside patients', says Health Minister Satyendar Jain

"There have been reports that coronavirus cases are increasing in the national capital. People are coming from out of Delhi, places like Ghaziabad, Noida, Faridabad, and are getting tested in Delhi...




DNA - Published





UP CM Yogi Adityanath inaugurates 400-bed COVID-19 hospital in Noida

Due to Adityanath's visit, Section 144 has been imposed in Noida.




DNA - Published





Elgar Parishad case: NIA conducts search at DU professor Hany Babu's house in Noida




IndiaTimes - Published





Unlock 3: Gyms to open in Noida from August 5; cinema halls, swimming pools remain closed

As per the Centre's guidelines on Unlock 3.0 recently, "Yoga institutes and gymnasiums will be allowed to open from August 5, 2020




DNA - Published





Unlock 3: Noida, Ghaziabad open borders with Delhi; will e-pass be required?

Huge relief to thousands of commuters between Noida, Ghaziabad and Delhi from today as both Noida-Delhi and Ghaziabad-Delhi borders are open after Unlock 3.0 began on August 1.




DNA - Published





Portion of under-construction building collapses in Noida; 4 rescued, operation underway

Four persons have been rescued from the site. A team of National Disaster Response Force (NDRF) is on the site and the rescue operation is underway.




DNA - Published





Two dead as portion of building collapses in Noida, 3 injured

Five people were rescued from the site out of which two succumbed to injuries while three are in a hospital.




DNA - Published





Relaxation in weekend lockdown in Noida for Rakshabandhan; shops selling sweets, rakhi allowed to open

A two-day weekend lockdown on in place in Uttar Pradesh from 10 PM on Friday to 5 AM on Monday every week. However, in view of Rakshabandhan on upcoming Sunday, the district administration in Noida has..




DNA - Published





On ventilator for 7 days, 105-year-old Afghan woman in Noida beats coronavirus

Rabia Ahmad, an Afghan citizen, was discharged from Sharda Hospital on Friday after being on the ventilator for seven days. The centenarian was admitted to the hospital on July 16 with complaints of..




DNA - Published





PM Modi launches Covid-19 testing facilities in Noida, Mumbai and Kolkata: Highlights




IndiaTimes - Published





Active cases of COVID-19 in Noida falls below 800, recovery rate nears 83%

The last time the district had less than 800 active cases was on June 30 (776) and June 29 (756).




DNA - Published





PM Narendra Modi to inaugurate 3 new high throughput labs of ICMR on July 27

Prime Minister Narendra Modi will inaugurate three new high-throughput labs of the Indian Council of Medical Research (ICMR) in Noida, Kolkata, and Mumbai through video conference on July 27. These..




IndiaTimes - Published





PM Modi to launch 'high throughput COVID-19 testing' facilities in Kolkata, Mumbai, Noida on July 27

According to a release from the PMO, these facilities will ramp up testing capacity in the country and help in strengthening early detection and treatment, thus assisting in controlling the spread of..




DNA - Published





Noida man files FIR against Volkswagen, Audi for installing cheat devices to misrepresent emissions

An FIR has been filed against automakers Volkswagen and Audi in Noida for installing cheat devices in their cars that misrepresent emissions.




DNA - Published





Viral video: Noida's DLF Mall of India roof collapses, faces reopening delay

A video currently going viral on social media shows the roof of popular Noida shopping mall DLF Mall of India collapsing. The video showing the immediate aftermath of roof collapse, with a cloud of..




DNA - Published





Noida couple dies as car falls into Doon gorge




IndiaTimes - Published





IMD declares monsoon onset over Delhi, capital receives season's first shower

The IMD also predicted heavy rainfall at isolated places in the national capital and its adjoining areas such as Noida, Gurugram, Faridabad and Ghaziabad.




DNA - Published





Covid-19 cases in Delhi 40 times more than that of Noida, Ghaziabad: UP govt tells SC

The Uttar Pradesh government on Friday submitted before the Supreme Court that it will have to continue travel restrictions at Delhi border as there are 40 times more Covid-19 cases in the national..




IndiaTimes - Published





SC directs Noida authorities not to burden builders with exorbitant rate of interest on delay payment, fixes it at 8%




IndiaTimes - Published





Noida woman has a stillborn on the road

A 26-year-old woman allegedly refused admission by the Noida District Hospital in Sector 30 delivered a stillborn on a pavement outside the government health facility on Thursday, reports Shikha..




IndiaTimes - Published





3.2 magnitude earthquake strikes near Noida




IndiaTimes - Published





Tremors felt in Delhi-NCR as earthquake of magnitude 3.2 hits Faridabad

An earthquake of magnitude 3.2 (Richter scale) struck 19km South-East of Noida at 10:42 pm today, National Center for Seismology (NCS) said.




DNA - Published




CNG prices up by Re 1 per Kg in Delhi and NCR

CNG (compressed natural gas) will become costlier by Re 1 per Kg in Delhi and its neighbouring townships of Ghaziabad, Noida and Greater Noida from Tuesday. IGL on Monday tweeted saying CNG will be..




IndiaTimes - Published





Delhi-Noida border to remain closed for movement of people

The Gautam Budh Nagar administration on Sunday announced that the Noida-Delhi border will continue to remain closed for the movement of public.




DNA - Published





Tremors in Delhi, Noida, Gurugram; earthquake epicentre in Haryana's Rohtak

According to early reports, the intensity of the earthquake was 4.6 on the Richter scale and the epicentre was in Haryana's Rohtak.




DNA - Published





Zurich Airport gets security clearance to build Noida's Jewar airport

The airport has sparked hopes for the long-delayed project that will act as the second airport for the national capital.




DNA - Published





COVID-19 live updates: Markets allowed to open in Noida

The total number of confirmed cases crossing the 1 lakh-mark on Tuesday.




DNA - Published