Indian Army
Land based branch of the Indian Armed Forces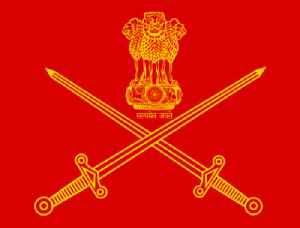 The Indian Army is the land-based branch and the largest component of the Indian Armed Forces. The President of India is the Supreme Commander of the Indian Army, and its professional head is the Chief of Army Staff (COAS), who is a four-star general. Two officers have been conferred with the rank of field marshal, a five-star rank, which is a ceremonial position of great honour. The Indian Army originated from the armies of the East India Company, which eventually became the British Indian Army, and the armies of the princely states, which were merged into the national army after independence. The units and regiments of the Indian Army have diverse histories and have participated in a number of battles and campaigns around the world, earning many battle and theatre honours before and after Independence.


Indian Army foils infiltration bid in Poonch

Indian Army on August foiled infiltration bid in Poonch's Krishna Ghati sector, Jammu and Kashmir. On 7 August, a group of terrorists were attempting to infiltrate across LoC in Krishna Ghati Sector...
Credit: ANI Duration: 01:11
Published
Terror hideout busted in JandK's Poonch, arms and ammunition recovered

In a joint search operation of Indian Army and police Special Operations Group (SOG), a militant hideout was busted in Mangnar forest area of Jammu and Kashmir's Poonch. The team recovered arms and..
Credit: ANI Duration: 02:28
Published
Motorway connecting Uttarakhand's Dharchula to China border closed due to damage

Motorway connecting Dharchula to China border is closed from past 20 days due to damage in Uttarakhand's Pithoragarh district. It is causing trouble to Indian Army and locals. While speaking to ANI,..
Credit: ANI Duration: 02:01
Published
Indian Army organises free veterinary camp at Kupwara's Bangus valley

A veterinary camp was organised by Indian Army at Bangus Valley in Kupwara district on August 03 to help local villagers living in the remote area of the Union Territory. The Army veterinarians, with..
Credit: ANI Duration: 02:36
Published
Nityanand Rai remembers bravery of Indian Army during 1959 Indo-China war on 82nd Raising Day of CRPF

Minister of State for Home Affairs, Nityanand Rai visited Central Reserve Police Force (CRPF) headquarters in Delhi on July 27 on the occasion of 82nd Raising Day of CRPF. During his speech, Rai..
Credit: ANI Duration: 01:56
Published
Rajnath Singh holds delegation level talks with his Indonesian counterpart in Delhi

Union Defence Minister Rajnath Singh held delegation level talks with Indonesian Defence Minister, Prabowo Subianto on July 27. The Chief of Defence Staff, Bipin Rawat, Chief of Indian Army, MM..
Credit: ANI Duration: 01:09
Published
'Shouldn't tolerate Chinese incursions into Indian territories': Kargil War hero Vikram Batra's father

As the nation is observing the 21st anniversary of India's victory in Kargil war, Captain Vikram Batra's father GL Batra commented over current events happening in eastern Ladakh at Line of Actual..
Credit: ANI Duration: 03:22
Published
Watch: Indian Army releases video on Kargil Vijay Diwas showcasing indomitable valour of soldiers

On 21st Kargil Vijay Diwas, Indian Army released a video showcasing indomitable valour and sacrifice of soldiers. The video tells the 'Shorya' of soldiers, who had defeated Pakistan on July 26, 1999...
Credit: ANI Duration: 02:16
Published
Ranbir Garh encounter: 2 terrorist neutralised by security forces

Two unidentified terrorists have been neutralised by the security forces on July 25 in an encounter in Ranbir Garh area of Srinagar. The Commanding Officer of 10 Sector of Indian Army, Naresh Mishra..
Credit: ANI Duration: 01:47
Published
Watch: Indian Army convoy head towards LAC via Rohtang Pass

The Indian Army convoy is headed towards Line of Actual Control (LAC) along Chinese border in Jammu and Kashmir via Rohtang Pass. The Army convoy crossed the Rohtang Pass at an altitude of over 13,000..
Credit: ANI Duration: 01:33
Published
3 terrorist killed in Shopian encounter on July 18: Brigadier Ajay Katoch

The Commander Officer of 12 Sector Rashtriya Rifles of Indian Army, Brigadier Ajay Katoch informed that total number of three militants got killed in an encounter at Ashmipora area of Jammu and..
Credit: ANI Duration: 01:55
Published
India opens suspension bridge for Nepal resident Rtd soldier of Indian Army, other stranded for 30 mins

India opened the suspension bridge for Nepal resident retired soldier in Indian Army on July 18. The suspension bridge in Dharchula between India and Nepal was opened for 30 minutes to repatriate..
Credit: ANI Duration: 01:47
Published
Watch: Rajnath Singh offers prayers at Amarnath cave shrine

Defence Minister Rajnath Singh on July 18 offered prayers at Amarnath Temple. He was accompanied by Chief of Defence Staff, General Bipin Rawat, and Army Chief General MM Naravane. The Defence Minister..
Credit: ANI Duration: 02:19
Published
'Not an inch of our land can be taken by any power in world': Rajnath Singh in Ladakh

Defence Minister Rajnath Singh, who is on two-day visit to Leh and Jammu and Kashmir interacted with Indian Army and ITBP personnel at Lukung. "Talks are underway to resolve the border dispute but to..
Credit: ANI Duration: 02:02
Published
You Might Like



J&K: Indian Army stops infiltration attempt along LoC in Poonch; terrorist gunned down

The infiltration bid was scuttled in the Krishna Ghati sector on Friday when the alert troops noticed a group of terrorists attempting to sneak into this side from across the LoC and immediately..




DNA - Published





India-China hold Major General-level talks for disengagement in Depsang

The Major General-level talks between India and China, being held at Daulat Beg Oldi area to discuss disengagement by the Chinese side along the Line of Actual Control (LAC) in Ladakh sector, concluded..




IndiaTimes - Published





Army begins process to grant women officers Permanent Commission

Last month, the Supreme Court had directed that all eligible women officers should be granted permanent commissions and command posts in the Indian Army.




DNA - Published





Indian Army prepares to maintain current strength in eastern Ladakh during winter months

The Indian Army is preparing to maintain its current strength of troops, tanks and other weaponry in all key areas in eastern Ladakh in the harsh winter months amid stand-off with China. They said the..




IndiaTimes - Published





Indian Army conducts rescue ops in Uttarakhand's Dharchula, provides medical aid to locals

Troops of the Indian Army conducted rescue operations in Uttarakhand's Dharchula on Saturday following heavy rains in the region, informed the Additional Directorate General of Public Information (ADG..




IndiaTimes - Published





Army jawan killed in firing by Pak along LoC

In the incident, Sepoy Rohin Kumar was critically injured and he later succumbed to his injuries, a defence spokesperson added. Kumar, a resident of Himachal Pradesh, was a brave, highly motivated and..




IndiaTimes - Published





Indian Army jawan killed in ceasefire violation by Pakistan in J&K's Poonch




IndiaTimes - Published

Also reported by •DNA


Names of soldiers killed in Galwan clash to be inscribed on National War Memorial

The names of 20 Indian Army personnel, who were killed after valiantly fighting Chinese troops in Galwan Valley in eastern Ladakh on June 15, will be inscribed on the National War Memorial, said..




IndiaTimes - Published





Army porter killed in J&K as Pak breaches truce




IndiaTimes - Published





Indian Army neutralises two live Pak bombs along LoC in Poonch




IndiaTimes - Published





Narco terror module busted in J&K; 10 kg brown sugar, arms and ammunition seized

A statement issued by the Indian Army reads, "A huge consignment of warlike stores and narcotics was apprehended last night at Sadhna Pass at the mouth of Tangdhar in Kupwara."




DNA - Published





J&K: Pak violates ceasefire along LoC in Pooch

Indian Army retaliated befittingly.




DNA - Published





Indian Army means bravery, sacrifice: MoS Home Nityanand Rai




IndiaTimes - Published





Kargil Vijay Diwas: Gunjan Saxena, India's first female IAF pilot, pays tributes to martyrs

The Indian Air Force's role in acting jointly with Indian Army ground troops during the war was aimed at flushing out regular and irregular troops of the Pakistani Army from vacated Indian Positions in..




DNA - Published





Centre issues order to grant permanent commission to women officers in 10 streams of Indian Army

The apex court had directed that all the Short Service Commission (SSC) women officers have to be considered for Permanent Commissions (PCs) irrespective of the duration of service.




DNA - Published





Permanent Commission for women in Indian Army: Govt issues formal sanction letter

The Union government on Thursday issued a formal sanction letter for grant of Permanent Commission to women officers in Indian Army, paving the way for empowering women officers to shoulder larger..




IndiaTimes - Published





Breaking: Ceasefire violation by Pak in J&K's Poonch, Indian Army retaliates befittingly

Pak initiated unprovoked ceasefire violation by firing with small arms & shelling with Mortars along LoC in Kirni & Qasba sectors in District Poonch.




DNA - Published





Indian Army gets 'Bharat' drones for accurate surveillance along China border




IndiaTimes - Published





LAC face-off: Disengagement process intricate, needs constant verification, Indian Army says

The process of complete disengagement of troops in eastern Ladakh is "intricate" and requires constant verification, the Indian Army said on Thursday after the fourth round of marathon military talks..




IndiaTimes - Published





India army on high alert as China refuses to step back from Finger 4 area in Ladakh

Indian Army is on high alert and has increased the deployment of tanks along the East Ladakh borders to repel any threat from the Chinese army.




DNA - Published





Rajnath Singh, Army chief to visit Ladakh on July 17-18

Rajnath Singh and Army Chief General Manoj Mukund Naravane will visit forward locations in Ladakh.




DNA - Published





Abide by Army' app ban or quit, HC tells Lt Col

The Delhi high court on Tuesday took a senior Indian Army officer to task for challenging a recent policy banning armed forces personnel from using social networking platforms. The HC said he must..




IndiaTimes - Published





India, China to hold Corps Commander-level talks tomorrow

Corps Commander-level talks between India and China will be held on July 14 at Chushul in Eastern Ladakh.The talks will focus mainly on the second phase of disengagement along the Line of Actual..




IndiaTimes - Published





Army chief visits forwards areas along IB in Pathankot-Jammu region, reviews security situation

Army Chief Gen M M Naravane on Monday visited forward areas along the International Border (IB) and reviewed the security situation and operational readiness of the troops deployed on ground in the..




IndiaTimes - Published





Army chief Gen Narvane visits forward areas in Jammu, reviews operational readiness

General Narvane reviewed the current security situation and operational readiness of the troops deployed on ground in Jammu-Pathankot region.




DNA - Published





Indian Army to buy 72,000 more Sig 716 assault rifles from US

India had acquired the rifles under the fast-track procurement (FTP) programme.




DNA - Published





250-300 terrorists stationed in launch pads across LoC ready to infiltrate into India, says Indian Army

GoC said Pakistan is trying hard to push more and more terrorists into the valley, an attempt to disrupt the peace in Kashmir.




DNA - Published





2 terrorists killed in J&K's Kupwara; ammunition, Pakistan currency recovered

Two terrorists were killed in an ambush by the Indian Army at Nougam sector in north Kashmir along the Line of Control (LoC) on Saturday. The Army recovered arms and ammunition, along with Pakistani..




IndiaTimes - Published





Army jawan killed in twin breach of truce by Pak




IndiaTimes - Published





India, China to engage in another round of talks over border dispute on Friday

Yesterday, the disengagement process between troops of India and China was completed on Wednesday at Patrolling Point 15 and the Chinese troops moved back by approximately 2 kilometers, according to..




DNA - Published





Indian Army orders personnel to delete 89 apps including Facebook, Instagram, Tinder: Report

It is to be noted that Centre has already banned 59 Chinese apps citing that these are"prejudicial to sovereignty and integrity of India, defence of India, security of state and public order."




DNA - Published





As border tension with China rages on, Ladakh Scouts joins Indian army to thwart potential Chinese aggression

As border tensions with China escalates, the Ladakh Scouts have joined the Indian Army to give a befitting reply to Chinese aggression on the high hills of Ladakh.




DNA - Published





Chinese military withdraws troops, removes structures in Hot Springs, Gogra: Sources

Chinese military removed temporary infrastructure and continued gradual withdrawal of troops from face-off sites in Hot Springs and Gogra in eastern Ladakh for the second consecutive day on Tuesday,..




IndiaTimes - Published





India-China disengagement at Hot Springs, Gogra to be completed in next few days

The disengagement process between armies of India and China at friction points Hot Springs and Gogra began on Monday and is expected to be completed at both locations in the next few days, said Indian..




IndiaTimes - Published





Congress lauds Army, seeks PM's apology

Congress lauded the "valour" of Indian Army after reports of partial Chinese withdrawal from some points in Ladakh, even as it demanded that Prime Minister Narendra Modi apologise for his "no..




IndiaTimes - Published





NSA Ajit Doval monitoring border situation, LAC stand-off expected to be resolved amicably soon: Sources

National Security Advisor Ajit Doval is monitoring the India and China border situation continuously with the Indian Army and the standoff between the troops of two countries is expected to be resolved..




IndiaTimes - Published





With over 30,000 troops in Ladakh, Indian Army to place emergency orders for extreme cold weather tents

The need for the tents is being felt as the deployment on the LAC is expected to be prolonged.




DNA - Published

Also reported by •IndiaTimes


Indian Army delpoys armoured combat vehicles to counter Chinese threat in Galwan Valley

Even as the Chinese troops have taken a step back amid de-escalation along the Line of Actual Control (LAC), the Indian Army has deployed its armoured combat vehicles in Galwan Valley along with..




DNA - Published




Chinese army moves back tents, vehicle by 1-2 km in Galwan Valley: Sources

The Chinese Army has moved back tents, vehicles and troops by 1-2 km from locations where disengagement was agreed upon at Corps Commander level talks, Indian Army sources reported on Monday. However,..




IndiaTimes - Published





DRDO to name its Covid hospital wards after soldiers killed in Galwan clash, ICU unit named after Col Santosh Babu

The Defence Research and Development Organisation (DRDO) has decided to name different wards of new Sardar Vallabhbhai Patel Covid-19 Hospital in Delhi after the Indian Army troops who lost their lives..




IndiaTimes - Published





'Age of expansionism is over': PM Modi sends message to China

Prime Minister Narendra Modi on Friday sent a clear message to China — that India will not back off — by paying a surprise visit to troops at a forward location in Ladakh where he said the era of..




IndiaTimes - Published





Amidst tension with China, Indian Army deploys more troops in eastern Ladakh

Taking the deployment of this division, the Indian Army now has four divisions in east Ladakh alone. Before May, only one division was stationed in the area. A division consists of 15,000-20,000..




DNA - Published





View of women soldiers on battlefield at border is inspiring: PM Modi in Ladakh

Lauding the participation of women in the Indian Army, Prime Minister Narendra Modi on Friday said that the view of women soldiers on the battlefield at the border is inspiring.




IndiaTimes - Published





Rajnath Singh thanks PM Modi for Ladakh visit, says meeting soldiers boosted morale

"The borders of the country have always been secure under the Indian Army. Prime Minister Narendra Modi visiting Ladakh to meet and encourage the soldiers has certainly boosted the morale of the Army...




IndiaTimes - Published





Pakistan army resorts to firing along LoC in two sectors in Poonch

Pakistani troops resorted to firing in various forward areas in twin sectors along the Line of Control (LoC) in Jammu and Kashmir's Poonch district on Thursday, prompting the Indian Army to give a..




IndiaTimes - Published





India to ban Chinese companies from highway projects, says Gadkari

Gadakri also said the government will ensure that Chinese investors are not entertained in various sectors like Micro, Small and Medium Enterprises (MSMEs). The senior minister's assertions assume..




IndiaTimes - Published





Corps Commander-level meeting between India, China begins in Ladakh's Chushul

Corps Commander-level meeting between armies of India and China has started in Chushul on Tuesday, to resolve the ongoing dispute over Chinese aggression along the Line of Actual Control in Eastern..




IndiaTimes - Published





Two terrorists gunned down by joint security forces in Anantnag

The operation was launched by a joint team of J&K Police, the Indian Army, and the Central Reserve Polie Force (CRPF)




DNA - Published





From boosting Indian Army to ending License Raj: 5 facts about PV Narasimha Rao, the man who liberated Indian economy

Did you know Rao was also referred to as 'Chanakya' for his ability to steer economic and political legislation? Read on to know more.




DNA - Published





Ladakh face-off: Zomato employees in Kolkata set company T-shirts on fire in protest

Back on June 16, the Indian Army confirmed violent border clash with Chinese troops in eastern Ladakh had claimed the lives of 20 Indian jawans, most of whom were "exposed to sub-zero temperatures in..




DNA - Published