Indian Army
Land based branch of the Indian Armed Forces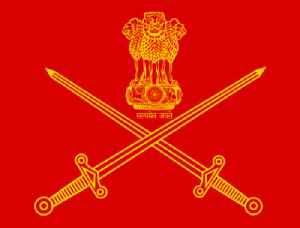 The Indian Army is the land-based branch and the largest component of Indian Armed Forces. The President of India is the Supreme Commander of the Indian Army, and it is commanded by the Chief of Army Staff (COAS), who is a four-star general. Two officers have been conferred with the rank of field marshal, a five-star rank, which is a ceremonial position of great honour. The Indian Army originated from the armies of the East India Company, which eventually became the British Indian Army, and the armies of the princely states, which finally became the national army after independence. The units and regiments of the Indian Army have diverse histories and have participated in a number of battles and campaigns across the world, earning a large number of battle and theatre honours before and after Independence.


First train commemorating bravery of Armymen during Kargil conflict flagged off
The Delhi-Varanasi Kashi Vishwanath Express with vinyl wrappings commemorating bravery of the Indian Army personnel during the Kargil conflict was flagged off Monday on the occasion Kargil Vijay Diwas...
IndiaTimes - Published
'Technology key driver in future wars', says Army chief Bipin Rawat
Army chief says soon conflict will involve attacks on nation's cyber infrastructure
DNA - Published
Any misadventure by Pakistan will be thwarted with punitive response: Army chief
IndiaTimes - Published
No intrusion by Chinese troops in Leh's Demchok: Army chief General Bipin Rawat
"There has been no intrusion," Army Chief General Bipin Rawat said on the sidelines of an event to mark the completion of 20 years of Kargil war.
DNA - Published
Also reported by •IndiaTimes
Humanity precedes protocol as Indian Army hands over PoK boy's body to Pakistan
IndiaTimes - Published
Indian Army hands over Pak boy's body recovered from stream along LoC to Pak Army
In a humanitarian gesture, the Indian Army Thursday handed over to the Pakistan Army the body of a seven-year-old boy it recovered from a stream flowing from across the Line of Control (LoC).
DNA - Published
Inflict blows on Indian Army, govt: Ayman al-Zawahiri
He also brought to light Pakistan's involvement in fuelling cross-border terrorism in the message titled "Don't Forget Kashmir"
DNA - Published
Indian Army places order for procuring Spike missiles
The Army has placed an order for procuring Israeli anti-tank Spike missiles, known for their precision targeting with an ability to pierce even bunkers, under emergency purchases to meet operational..
IndiaTimes - Published
You Might Like