Indian Army
Land based branch of the Indian Armed Forces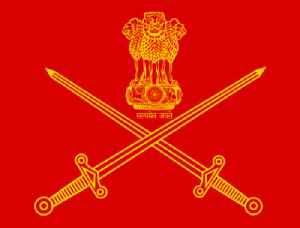 The Indian Army is the land-based branch and the largest component of Indian Armed Forces. The President of India is the Supreme Commander of the Indian Army, and it is commanded by the Chief of Army Staff (COAS), who is a four-star general. Two officers have been conferred with the rank of field marshal, a five-star rank, which is a ceremonial position of great honour. The Indian Army originated from the armies of the East India Company, which eventually became the British Indian Army, and the armies of the princely states, which finally became the national army after independence. The units and regiments of the Indian Army have diverse histories and have participated in a number of battles and campaigns across the world, earning a large number of battle and theatre honours before and after Independence.


Indian Army and Assam Rifles launch massive combing operations in Arunachal following MLA's killing
Sources in the in Eastern Army Command say that entry, exit points, likely routes of escape of the militants have been effectively blocked.
DNA - Published
India, Myanmar joint military operation in Sagaing may deal crippling blow to NSCN(K), other insurgent groups in North East
The Myanmar Army and Indian Army's joint operation to flush out fighters of of the ULFA (Independent), PLA and the UNLF from Myanmar's Sagaing region could serve a crippling blow to insurgency in the..
Firstpost - Published
Indian Army Claims It Found Mysterious 'Yeti Footprints'
On its official Twitter account, the Indian Army claimed it found "Yeti footprints" in the Himalayas of Nepal. Geek.com reports, the strange and mysterious "footprints" were discovered on April..
Credit: Wochit News Duration: 00:44Published
India Finds The Abominable Snowman's Footprints In The Himalayan Mountains
India's army claims to have found footprints for the elusive Abominable Snowman, or Yeti. An Indian mountaineering expedition team said it found the footprints belonging to the "mythical beast" in..
Credit: Wochit News Duration: 00:33Published
Algeria protests: Army chief backs call for president's exit
Algeria's army chief has repeated his call to apply article 102 of the constitution to remove President Bouteflika from office.
Credit: Al Jazeera STUDIO Duration: 02:05Published
Indian Army clerk honey-trapped by Pakistan ISI on MI radar since December 2018
Honey-trapped Indian army clerk arrested in a joint operation by the Madhya Pradesh ATS and central intelligence agency from Mhow has allegedly shared some 'significant' information to a Pakistani..
IndiaTimes - Published
Search this site and the web:
You Might Like