Bangladesh
Country in South Asia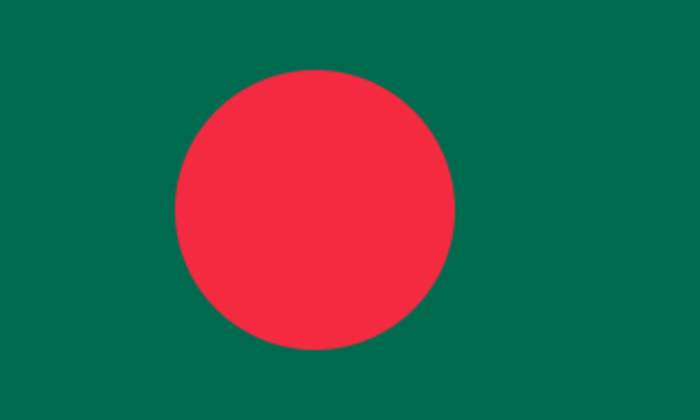 Bangladesh, officially the People's Republic of Bangladesh, is a country in South Asia. It is the eighth-most populous country in the world, with a population exceeding 163 million people, in an area of 147,570 square kilometres (56,980 sq mi), making it one of the most densely populated countries in the world. Bangladesh shares land borders with India to the west, north, and east, Myanmar to the southeast, and the Bay of Bengal to the south. It is narrowly separated from Nepal and Bhutan by the Siliguri Corridor, and from China by the Indian state of Sikkim in the north, respectively. Dhaka, the capital and largest city, is the nation's economic, political, and cultural hub. Chittagong, the largest seaport is the second-largest city.


HRW says UN shared Rohingya data without their 'informed consent'

Rights group calls for a probe into the UN sharing data about more than 800,000 refugees with Bangladesh, which passed it on to Myanmar.
Credit: Al Jazeera STUDIO Duration: 02:33
Published
Bangladesh: Actress Pori Moni seeks justice from PM Hasina for alleged assault | Oneindia News

Bangladeshi film actress Shamsunnahar Smriti, popularly known as Pori Moni, was allegedly a victim of attempted rape. She has sought justice from Prime Minister Sheikh Hasina in a Facebook post. She..
Credit: Oneindia Duration: 01:24
Published
Bangladesh's Madhumati river sees dramatic increase in salinity

The impact of the increase in salinity of Madhumati river water is having a devastating effect on public health, agriculture, and the environment.
Credit: Al Jazeera STUDIO Duration: 02:47
Published
Global Chit Chat | Bangladesh Growth Story | 2021 Economic Star of South Asia | One India News

The World Bank yesterday upgraded Bangladesh's GDP growth forecast for this fiscal year by 2 percentage points to 3.6 percent, making it the second best-performing economy in South Asia behind the..
Credit: Oneindia Duration: 14:22
Published
Bangladeshi initiative gives alternative to plastic bags| Jute bags| Germany | Oneindia News

Plastic belongs to the past – natural fibers are the future. A Bangladeshi initiative has come up with an alternative to the plastic bag – made of jute. And natural fibers are also experiencing a..
Credit: Oneindia Duration: 04:28
Published
West Bengal: Tiger travels 100 km to reach Bangladesh Sunderbans | Know all | Oneindia News

A tiger has reportedly travelled around 100km to reach Sundarbans in Bangladesh over a period of four months. The male tiger was radio-collared in December 2020 to enable foresters to track his..
Credit: Oneindia Duration: 01:26
Published
Bangladesh: A surge in COVID cases near India border prompts alarm


Credit: Al Jazeera STUDIO Duration: 02:35
Published
Can safety be assured in Bangladesh's garment industry? | Inside Story


Credit: Al Jazeera STUDIO Duration: 25:25
Published
North East viral clip | 5 arrested in Bengaluru | Bangladeshi traffickers | Oneindia News

Days after a video of a woman being tortured and went viral in Assam, the Bengaluru police have arrested 5 people. The survivor and the six accused are all thought to be Bangladeshi nationals and were..
Credit: Oneindia Duration: 01:19
Published
Waiter at Indian restaurant saves customer with Heimlich manoeuvre

A waiter at an Indian restaurant was applauded by customers after saving a young man's life with the Heimlich manoeuvre.Sheakh Rifat, 24, a student in the UK from Bangladesh, was working at Bangor..
Credit: PA - Press Association STUDIO Duration: 00:50
Published
Over 40 countries offered assistance to India amid COVID 2nd wave: MEA

At the time when India is battling with second wave of COVID-19, over 40 countries have come forward to offer assistance to the country. During a press conference in Delhi, Foreign Secretary of India,..
Credit: ANI Duration: 02:17
Published
Movement of stranded Bangladeshis patients to be considered: Bangladesh Assistant High Commission

Bangladesh closed borders with India for 14 days amid surge in COVID-19 cases. "Bangladesh borders have been sealed for two weeks. Although movement of passengers has been restricted, we're considering..
Credit: ANI Duration: 02:00
Published
Centenarian Dabir-ul Choudhry walks for charity

Inspired by Captain Sir Tom Moore, another Centenarian has been walking in his garden to raise money for the NHS. Dabir-ul Islam Choudhury challenged himself to walk 100 laps during Ramadan "for the..
Credit: ODN Duration: 00:53
Published
Bangladesh: Climate change creates a new migration crisis.

Among the hardest-hit places is Bhola Island - the largest in the country. Often called the ground zero of global warming, it's also home to some of the world's first climate refugees. Al Jazeera's..
Credit: Al Jazeera STUDIO Duration: 02:45
Published
WB polls: Last villages at Indo-Bangladesh border demand pending ST cards, water supply

The last village at the India - Bangladesh border in West Bengal's Nadia district along with its two neighbouring villages is demanding the long-pending Schedule Tribe card this election season. The..
Credit: ANI Duration: 01:57
Published
You Might Like



India handed over 577 intruders to Bangladesh since 2018

In a gesture of mutual cooperation and emphasis on the well-being of the border populations of both the countries, India has handed as many as 577 Bangladeshi intruders to the neighbouring country..




IndiaTimes - Published





Chinese man caught on Bangladesh border, smuggled 1,300 Indian SIM cards to China




IndiaTimes - Published





Chinese national held by BSF along India-Bangladesh border in WB




IndiaTimes - Published





Bid to ease citizenship process for Pakistan, Afghanistan and Bangladesh minorities

The home ministry late on Friday expanded the list of states and districts where the respective home secretaries and collectors can exercise delegated powers of the central government to grant..




IndiaTimes - Published





MHA empowers collectors of 13 more districts; home secretaries of 2 more states to grant citizenship to minorities from Pakistan, Afghanistan & Bangladesh




IndiaTimes - Published





MHA invites applications for Indian citizenship from non-Muslim refugees from Afghanistan, Pakistan, Bangladesh

The ministry of home affairs on Friday invited applications for Indian citizenship from non-Muslim refugees from Afghanistan, Pakistan, Bangladesh living in 13 districts. The Union home ministry issued..




IndiaTimes - Published





Bengaluru: 5 Bangladeshi nationals arrested for brutal gangrape

Five people including a woman were arrested in Bengaluru on Thursday (May 27) for allegedly raping a woman and torturing her.




DNA - Published





Risk of death in Bangladeshi and Pakistani communities higher in second COVID wave, data shows

Mortality rates for people of Bangladeshi and Pakistani backgrounds in England increased during the second COVID-19 wave, while other ethnic groups saw a drop in relative risk compared to white..




Sky News - Published





Very severe cyclone may hit east coast on May 26: IMD

"A 'low pressure area' has formed over east central Bay of Bengal on May 22 morning. It is very likely to concentrate into a 'depression' over east-central Bay of Bengal by May 23 morning…..




IndiaTimes - Published





'We are waiting to die': Hope wanes for world's poor after India halts Covid vaccine exports

From Kenya and Ghana to Bangladesh and Indonesia, poor nations reliant on COVAX have no option but to halt vaccination drives and delay second doses due to the export curb by India.




IndiaTimes - Published





India unlikely to resume sizable Covid-19 vaccine exports until October: Sources

Battling the world's biggest jump in coronavirus infections, India halted vaccine exports a month ago after donating or selling more than 66 million doses. The move has left countries including..




IndiaTimes - Published





Crisis at home, India may still have to rush vaccine to neighbours

Despite the overwhelming public opinion against India's vaccine exports, the government may have to consider exporting some vaccines in the coming months, especially in the country's immediate..




IndiaTimes - Published





Bangladesh PM writes to new CM of Assam, focuses on shared economic development

Bangladesh PM extended an "invite" to Assam to "reap benefits from our socio-economic development and growth trajectory."




DNA - Published





China threatens Bangladesh, says ties will be hit if it joins Quad




IndiaTimes - Published





Why can't all get free Covid jabs under national scheme: Supreme Court to Centre

The Supreme Court on Friday asked the Centre why it could not vaccinate the entire Indian population against Covid-19 free of cost under the National Immunisation Programme, and whether it could take a..




IndiaTimes - Published





India approaches Egypt, UAE, Uzbekistan, Bangladesh for Remdesevir




IndiaTimes - Published





Bangladesh yet to respond on India's offer to manufacture Covaxin

Even as Bangladesh is shopping for Chinese and Russian vaccines, Dhaka missed an opportunity to become a production centre for Covaxin, with Indian assistance, which could have made them more..




IndiaTimes - Published





Bengal needs peace for development, says PM Modi in virtual address

​​Prime Minister Narendra Modi on Friday accused the ruling Trinamool Congress (TMC) government of partonising illegal immigration from Bangladesh and extortion syndicates. While addressing a..




IndiaTimes - Published





West Bengal Election 2021: Voting for Phase 6 today, 306 candidates in fray

Members of the Matua community and those who reside in Nadia district on the India-Bangladesh border would play a key role in the sixth phase of polls




DNA - Published





Rich brats speeding in high-end cars can't seek relief: Supreme Court

The Supreme Court on Monday rejected a plea by Kolkata's biryani baron Akhtar Parwez seeking bail for his son Raghib, who is accused of causing death of two Bangladeshi nationals while driving his..




IndiaTimes - Published





General MM Naravane attends 'Army Chief's Conclave' in Bangladesh




IndiaTimes - Published





Army chief Naravane in Bangladesh to further boost bilateral military ties




IndiaTimes - Published





Army chief Gen Naravane meets Bangladesh's Navy, Air Force chiefs; holds defence talks




IndiaTimes - Published





Army Chief Gen Naravane leaves for Bangladesh on 5-day visit

Chief of Army Staff Gen MM Naravane on Thursday left for Bangladesh on a five-day visit to further expand cooperation and coordination between the two countries on a host of strategic issues.




IndiaTimes - Published




4 Bangladeshi nationals involved in over 100 burglaries across India held: Police




IndiaTimes - Published





Indian Army delegation in Bangladesh for multinational military exercise 'Shantir Ogroshena 2021'

The Multinational Military Exercise is being held from April 4-12 to mark the birth centenary of the Bangabandhu Sheikh Mujibur Rahman and the golden jubilee of the liberation of Bangladesh.




IndiaTimes - Published





Four more countries added to England's travel 'red list'

Pakistan, Kenya, Bangladesh and the Philippines have been added to England's coronavirus red list.




Sky News - Published





India, Bhutan, Sri Lanka & Bangladesh to hold joint military exercise




IndiaTimes - Published





New Zealand v Bangladesh: Hosts win second T20 after DLS confusion

New Zealand beat Bangladesh by 28 runs in the second Twenty20, despite play being stopped to adjust the Duckworth-Lewis-Stern target.




BBC Sport - Published





PM Modi in Bangladesh: Not the first time a row over 'campaign' got stirred

Prime Minister Narendra Modi's visit to Bangladesh on Saturday is being viewed as an extension of the BJP's campaign for the West Bengal assembly elections on a day when the state faced the first..




IndiaTimes - Published





India, Bangladesh to recognise December 6 as 'Maitri Diwas'




IndiaTimes - Published





PM Modi's visit to temples in Bangladesh should be seen in larger context: Shringla




IndiaTimes - Published





PM Modi meets Sheikh Hasina for talks

Modi, who is visiting Bangladesh on his first trip to a foreign country since the outbreak of the coronavirus, will hold substantive discussions with Hasina following which the two sides would ink a..




IndiaTimes - Published





Have brought love of 130 crore Indians for you: PM Modi tells Matua community in Bangladesh

Addressing the Matua community in Bangladesh's Orakandi, PM Modi said, "With the grace of Sri Sri Harichand Thakur, I have got the privilege of bowing down to this holy place of Orakandi." Harichand..




IndiaTimes - Published





Shashi Tharoor says 'sorry' for slamming PM Modi on Bangladesh speech

Tharoor also attached a news report quoting the PM for hailing the role of ex-PM Indira Gandhi for her contribution in the freedom of Bangladesh.




DNA - Published

Also reported by •IndiaTimes


Bangladesh is strong example of communal harmony: Modi

Visiting Indian Prime Minister Narendra Modi on Saturday said that Bangladesh is a strong example of communal harmony, adding that New Delhi will deeply cooperate with Dhaka "all the time".




IndiaTimes - Published





Instead of terror, both India and Bangladesh want to see love in entire world: PM Modi

PM also interacted with members of the Matua community during which NSA Ajit Doval and Foreign Secretary Harsh Vardhan Shringla were also present.




DNA - Published





I always wanted to visit, says PM Modi at Matua Temple in Bangladesh: Highlights




IndiaTimes - Published





PM Modi offers prayers at Orakandi Temple in Bangladesh's Gopalganj




IndiaTimes - Published




Modi refers to Jan Sangh Satyagrah demanding expedited Indian support to Bangladesh liberation war

While conferring the Bangladesh Liberation War honour on former prime minister Atal Bihari Vajpayee in 2015, the Bangladesh government had given a detailed account of how the Bharatiya Jan Sangh had..




IndiaTimes - Published





PM Modi visits mausoleum of 'Bangabandhu' Sheikh Mujibur Rahman, pays floral tributes

Prime Minister Narendra Modi on Saturday visited the mausoleum of 'Bangabandhu' Sheikh Mujibur Rahman at Tungipara in Bangladesh's southwestern Gopalganj district and paid floral tributes to him.




IndiaTimes - Published





Shared future with Bangladesh can be vaccine against radicalism: PM Modi




IndiaTimes - Published





PM Modi invites 50 Bangladeshi entrepreneurs to visit India, announces scholarships

Addressing Bangladesh's 50th Independence Day anniversary at the National Parade Square, Modi said: "It is a happy coincidence that the 50th anniversary of Bangladesh's liberation and the milestone of..




IndiaTimes - Published





Four die in violence as India's Modi helps celebrate Bangladesh independence

Violence marred a visit by India's prime minister to Bangladesh, as the country celebrated the 50th anniversary of its independence.




Sky News - Published





PM Modi hails Bangabandhu's leadership, Indian army's contribution in Bangladesh's independence war

Addressing Bangladesh's 50th Independence anniversary at the National Parade Square, Modi recalled the role played by Indian Army in the freedom war and said the blood of those who fought for their..




IndiaTimes - Published





PM Modi meets political and community leaders in Bangladesh




IndiaTimes - Published





PM Modi's Bangladesh visit: Key points




IndiaTimes - Published





PM Modi arrives in Bangladesh on his first foreign trip since Covid-19 outbreak

Prime Minister Narendra Modi arrived here on Friday on a two-day visit to Bangladesh during which he will attend the celebrations of the golden jubilee of the country's independence, the birth..




IndiaTimes - Published





PM Modi arrives in Dhaka, Bangladesh PM Sheikh Hasina welcomes him

Following his arrival, he will attend an event at the National Martyr's Memorial at 10:50 am.




DNA - Published





It's time to chart a bold ambition for partnership between India, Bangladesh: PM Modi

Prime Minister Narendra Modi has said that the assassination of Bangabandhu Sheikh Mujibur Rahman in 1975 deprived the region of the destiny that could and should have been "ours to share" as he..




IndiaTimes - Published