Bangladesh
Country in South Asia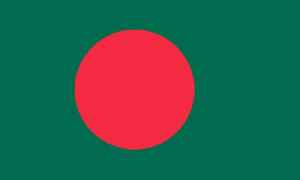 Bangladesh, officially the People's Republic of Bangladesh, is a country in South Asia. It is the eighth-most populous country in the world, with a population exceeding 162 million people. In terms of land mass, Bangladesh ranks 92nd, spanning 148,460 square kilometres (57,320 sq mi), making it one of the most densely-populated countries in the world. Bangladesh shares land borders with India to the west, north, and east, Myanmar to the southeast, and the Bay of Bengal to the south. It is narrowly separated from Nepal and Bhutan by the Siliguri Corridor, and from China by Sikkim, in the north, respectively. Dhaka, the capital and largest city, is the nation's economic, political and cultural hub. Chittagong, the largest sea port, is the second-largest city.


Demonstrators chant 'Modi, Modi', praise India in Toronto's anti-China protests

Anti-China protests were held in Canada's Toronto on August 01. It was organized by Canada Hong Kong Link & Bangladesh Minority Rights Alliance. Indian, Tibetan, Vietnamese & Taiwanese diaspora..
Credit: HT Digital Content Duration: 01:47
Published
Anti-China protest in Toronto against Chinese oppression

A protest was carried out in downtown Toronto against Chinese oppression on August 01. Protestors urged the international community to take measures to tackle Chinese oppression. The protest was..
Credit: ANI Duration: 01:57
Published
'We follow western way of doing things in economic system': Muhammad Yunus

Congress leader Rahul Gandhi on Friday spoke with Nobel laureate and founder of the Grameen Bank, Muhammad Yunus, and discussed ideas that could re-shape the post pandemic world. The duo delved into..
Credit: HT Digital Content Duration: 03:16
Published
Nearly one-third of Bangladesh affected by monsoon floods

After losing their homes and livelihoods, hundreds of thousands in Bangladesh wait for help amid rising floodwaters.
Credit: Al Jazeera STUDIO Duration: 02:16
Published
S Jaishankar, Piyush Goyal hand over 10 locomotives to Bangladesh Railways

External Affairs Minister S Jaishankar and Railway Minister Piyush Goyal flagged off 10 diesel locomotives on July 27. The locomotives were handed over by the Indian Railways to Bangladesh Railways..
Credit: ANI Duration: 01:29
Published
More than 3 million affected by flooding in Bangladesh

Monsoon flooding has left millions homeless, with lost crops and livelihoods. More than 7.5 million more are at risk of flooding according to the National Need Assessment Working Group.View on euronews
Credit: euronews (in English) Duration: 01:00
Published
BSF seizes goods worth Rs 46.5 lakhs from goods train in WB's Nadia

Border Security Force (BSF) seized goods worth Rs 46.5 lakhs from a wagon which were being smuggled to Bangladesh at Gede railway station. It was seized during checking a goods train going to Darshana..
Credit: ANI Duration: 01:06
Published
How COVID-19 Drew The Curtain Back On India's Inability To Provide Basic Public Health Services

India is now third on the Johns Hopkins University tally of countries struggling with the novel coronavirus COVID-19, following the US and Brazil. Far from flattening the curve, CNN reports India's..
Credit: Wochit News Duration: 00:34
Published
Bangladesh arrests health workers for selling fake COVID-19 certificates

Mohammad Shahed, accused of issuing thousands of fake COVID-19 certificates, arrested after a nine-day manhunt.
Credit: Al Jazeera STUDIO Duration: 02:59
Published
One-third of Bangladesh underwater due to flooding

One-third of Bangladesh is submerged under floodwater as the situation continues to worsen with over 1 million villagers forced to leave their homes.View on euronews
Credit: euronews (in English) Duration: 00:50
Published
Alarm over Rohingya refugee testing COVID-19 positive in Bangladesh

The refugee is among the first two confirmed cases in the world's biggest and most densely populated camps.
Credit: Al Jazeera STUDIO Duration: 02:02
Published
Cyclone Amphan: India and Bangladesh clean up after devastation

The cyclone tore through West Bengal and neighbouring Odisha state, uprooting trees, and destroying homes and vehicles.
Credit: Al Jazeera STUDIO Duration: 02:05
Published
India, Bangladesh order evacuation of millions ahead of cyclone

Cyclone Amphan with a wind speed of up to 200 kph expected to hit coastal areas of India and Bangladesh on Wednesday.
Credit: Al Jazeera STUDIO Duration: 02:20
Published
Deaths reported as Cyclone Amphan tears into India, Bangladesh

Most powerful cyclone in 20 years makes landfall, packing winds of up to 190km/h as millions are evacuated from its path.
Credit: Al Jazeera STUDIO Duration: 01:53
Published
Dozens die in Bangladesh ferry accident: Officials

Vessel hit by another ferry in capital Dhaka, close to the country's largest river port, killing at least 30 people.
Credit: Al Jazeera STUDIO Duration: 01:46
Published
Bangladesh economy: Tens of thousands of people left jobless

Like other countries, the pandemic in Bangladesh has robbed tens of thousands of workers of their jobs and income.
Credit: Al Jazeera STUDIO Duration: 02:16
Published
Can Bangladesh deal with mountains of COVID-19 medical waste?

Experts say more resources and public awareness are urgently needed in Bangladesh to ensure discarded medical waste does not make the coronavirus pandemic worse.
Credit: Al Jazeera STUDIO Duration: 02:02
Published
You Might Like



Deeply shocked about tragic accident of Air India Express flight: Bangladesh foreign minister




IndiaTimes - Published




Centre urges West Bengal to allow entry of denizens stranded in Bangladesh




IndiaTimes - Published





BSF orders 'Independence Day walk' at border posts along Pak, Bangladesh on August 15

The headquarters of the about 2.5 lakh personnel strong force has asked all its formation commanders to ensure that a senior officer spends two nights - August 14 and 15 - at each border post along the..




IndiaTimes - Published





June deadline over, MHA seeks 3 months to frame CAA rules

Though CAA was passed by both Houses of Parliament on December 11 and a notification issued fixing January 10, 2020, as the date from which the Act would come into effect, the absence of rules has held..




IndiaTimes - Published





Eid-ul-Azha 2020: PM Modi sends Bakrid greetings to Bangladesh PM Sheikh Hasina, assures support in COVID fight

Lauding the steps taken by Hasina govt to deal with the COVID crisis, Modi said he is "confident that Bangladesh will tide over these challenging times."




DNA - Published





India hands over 10 broad gauge locomotives to Bangladesh




IndiaTimes - Published




India stands prepared to cooperate with Bangladesh amid Covid-19: Jaishankar

Underlining that India and Bangladesh partnership is a role model in the region for good neighbourly relations, External Affairs Minister S Jaishankar on Monday said New Delhi stands prepared to..




IndiaTimes - Published





India begins reconstruction of 300-year-old temple in Bangladesh

Sree Sree JoyKali Matar temple is one of the oldest temples situated in Natore, Bangladesh and was built in the beginning of 18th century by Dayaram Roy, Dewan of Queen Bhahani of Natore and the..




DNA - Published





India ramps up rail cooperation with Dhaka

India will on Monday hand over 10 broad gauge (BG) locomotives to Bangladesh as a part of its grant assistance to the eastern neighbour. India sees rail cooperation with Bangladesh, a country where..




IndiaTimes - Published





Bangladesh refused to take Imran's J&K bait: India




IndiaTimes - Published





First-ever container cargo from Kolkata via Bangladesh port reaches Agartala: MEA




IndiaTimes - Published





Amid looming Chinese presence, India woos Bhutan with trade and connectivity

From identifying more trade points to carrying out a feasibility study for a railway link, the government is going all out to thwart China's attempts to wean Bhutan away from India's sphere of..




IndiaTimes - Published





Cattle in the way: India, Bangladesh trade smuggling charges




IndiaTimes - Published





8 routes to bond with Bangladesh




IndiaTimes - Published





India speeds up connectivity projects in south Asia

Last one week saw projects being announced or completed in three south Asian counties -- Maldives, Bhutan and Bangladesh -- with the main focus being the faster movement of people and goods, and also..




DNA - Published





Cargo vessel sent to Agartala via Bangladesh after 55 years




IndiaTimes - Published




Jharkhand: School teacher makes pupils memorise Pakistan, Bangladesh national anthems; row over 'anti-national mindset'

The district administration has launched a probe against the teacher to verify the basis of the allegations.




DNA - Published





Parcel train takes chillies to Bangladesh, creates history

In a first, the Indian Railways operated a special parcel train beyond borders to Bangladesh on Friday. The train carried bulk dry chillies from Guntur in Andhra Pradesh. The Guntur Zone of South..




IndiaTimes - Published





India-Bangladesh trade via Bengal border resumes

The trade impasse between India and Bangladesh through the Petrapole-Benapole border came to an end on Sunday afternoon when five trucks from each side crossed over to the other side, reports Debasish..




IndiaTimes - Published





Movement of goods resumes at West Bengal-Bangladesh border: FIEO




IndiaTimes - Published





BSF alerts units along B'desh border against spurt in human trafficking during Covid-19

The Border Security Force (BSF) has sounded an alert all along the 4,096 km long India-Bangladesh front to check cross-border human trafficking instances that may witness a spurt in wake of the..




IndiaTimes - Published





Bengal bump hits Bangladesh ties




IndiaTimes - Published





Visas of 2,679 of 2,765 foreign tablighis cancelled, Centre tells SC

The Union government has cancelled visas of 2,679 foreigners, majority from Bangladesh and Indonesia, for indulging in tablighi activities impermissible under the tourist visa granted to them and said..




IndiaTimes - Published





Nepal on its side, China now woos Bangladesh

Just when India-China ties suffered a new low following the recent clashes at Galwan Valley in Ladakh, Beijing seems to be aggressively wooing Bangladesh, a strong ally of India in the neighbourhood,..




IndiaTimes - Published





Nepal, Bangladesh growth to top India, China

Guyana's economy is projected to expand dramatically this year as phase 1 oil production of the offshore Liza oil field comes online and phase 2 development begins.




IndiaTimes - Published





Malaysia to ask Bangladesh to take back Rohingya refugees found at sea

Malaysia will ask Bangladesh to take back about 300 Rohingya refugees detained after a boat carrying them entered its waters this week, the southeast Asian nation's defence minister said on Tuesday.




Reuters - Published





Fear stops Rohingya getting tested as virus hits refugee camps

Rohingya refugees in Bangladesh with symptoms of the novel coronavirus are not coming forward to get tested because they fear being separated from their families and held in isolation, community..




Reuters - Published

Also reported by •Reuters India


4.3 magnitude earthquake hits India-Bangladesh border

A moderate intensity earthquake, measuring 4.3 on the Richter scale, rocked the India- Bangladesh border on Wednesday morning but there were no reports of any damage, officials said.




IndiaTimes - Published





First Rohingya refugee dies from coronavirus in Bangladesh camps

An elderly Rohingya refugee has become the first person to die from coronavirus in the world's largest refugee settlement in Bangladesh, where there are fears the disease could spread fast due to..




Reuters India - Published

Also reported by •Reuters


Bangladeshis killed in Libya were abducted and tortured, Foreign Ministry says

The 30 migrants slain by traffickers in Libya on Wednesday had been abducted while crossing the country in search of work and then tortured to extract a ransom, Bangladesh's Foreign Ministry said on..




Reuters - Published





129 Indians return from Bangladesh, quarantined




IndiaTimes - Published





Eighty Indians including 38 fishermen lodged in Bangladesh's prisons: MEA in reply to RTI plea




IndiaTimes - Published





Five coronavirus patients die in Bangladesh hospital fire

Five coronavirus patients died in a hospital fire in the Bangladesh capital Dhaka on Wednesday, a fire service official said.




Reuters India - Published

Also reported by •Reuters


Bangladesh hospital fire kills five coronavirus patients

A fire broke out in a hospital on Wednesday in Bangladesh's capital, killing five coronavirus patients, a fire service official said.




Reuters - Published





PM Modi greets UAE crown prince, Bangladesh PM on Eid-ul-Fitr

Prime Minister Narendra Modi on Monday conveyed Eid-ul-Fitr greetings to Crown Prince of Abu Dhabi Sheikh Mohamed bin Zayed Al Nahyan and Bangladesh Prime Minister Sheikh Hasina, and discussed the..




IndiaTimes - Published





No Eid sweets exchanged by BSF with Pakistan; done with Bangladesh

The event was given a miss as the relations between the two countries are strained at present, they added. Incidents of cross-border terrorism are continuing as usual on the Western front and hence,..




IndiaTimes - Published





Cyclone Amphan: UN chief commends India, Bangladesh for life-saving work




IndiaTimes - Published





Pakistan expresses sadness over deaths caused by cyclone Amphan in India, Bangladesh




IndiaTimes - Published





Cyclone Amphan loss estimated at $13 billion in India, may rise in Bangladesh

A powerful cyclone that tore through India's eastern state of West Bengal this week has caused a damage of 1 trillion rupees ($13 billion) to infrastructure and crops, state officials said.




Reuters - Published

Also reported by •Reuters India


UN chief following cyclone Amphan situation in India, Bangladesh; saddened by loss of lives




IndiaTimes - Published





Cyclone Amphan leaves thousands homeless in eastern India, Modi offers help

Several thousand people have been left homeless after the most powerful cyclone in more than a decade hit India and Bangladesh this week, officials said, as Indian Prime Minister Narendra Modi visited..




Reuters India - Published

Also reported by •Reuters


Modi offers help to cyclone stricken Kolkata, Bangladesh counts cost

Prime Minister Narendra Modi, peering down from his aircraft on Friday, saw the devastation and flooding caused by the most powerful cyclone to strike India and Bangladesh in more than a decade, before..




Reuters India - Published

Also reported by •Reuters


Cyclone Amphan considered even more destructive than Cyclone Aila: UN

Cyclone Amphan, which has killed 77 people and left thousands homeless in West Bengal, is now considered even more destructive than Cyclone Aila which slammed southern Bangladesh and eastern India in..




IndiaTimes - Published





Asia Rice: India prices scale one-year peak, cyclone hits Bangladesh crop

Rice prices in top exporter India hit a more than one-year peak this week bolstered by robust demand from African and Asian countries, while a cyclone damaged some crops in Bangladesh.




Reuters India - Published