Bangladesh
Country in South Asia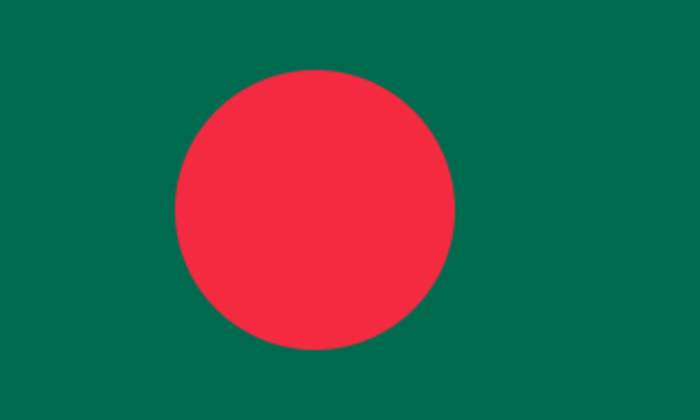 Bangladesh, officially the People's Republic of Bangladesh, is a country in South Asia. It is the eighth-most-populous country in the world, with a population of around 169 million people in an area of 148,460 square kilometres (57,320 sq mi). Bangladesh is among the most densely populated countries in the world, and shares land borders with India to the west, north, and east, and Myanmar to the southeast; to the south it has a coastline along the Bay of Bengal. It is narrowly separated from Bhutan and Nepal by the Siliguri Corridor; and from China by the Indian state of Sikkim in the north. Dhaka, the capital and largest city, is the nation's political, financial and cultural centre. Chittagong, the second-largest city, is the busiest port on the Bay of Bengal. The official language is Bengali, one of the easternmost branches of the Indo-European language family.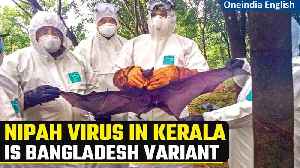 Nipah virus in Kerala is reportedly a Bangladesh variant with 'high mortality rate' | Oneindia News

On Wednesday, the Kerala government said in the assembly that the Nipah virus, which has killed two people out of four infected, was a strain of the Bangladesh variant. Kerala Health Minister Veena..
Credit: Oneindia Duration: 03:01
Published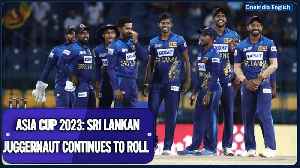 Asia Cup 2023: Sri Lanka beat Bangladesh by 21 runs in Super 4 encounter | Oneindia News

Sri Lankan cricket team bagged a dominating victory against Bangladesh, led by their captain Dasun Shanaka and standout performances from spinner Maheesh Theekshana and Matheesh Pathirana, shouldering..
Credit: Oneindia Duration: 02:18
Published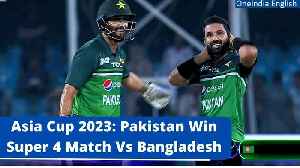 Asia Cup 2023: Pakistan beat Bangladesh by 7 wickets in Super 4 game | Oneindia News

A superb exhibition of pace bowling from Haris Rauf proved to be hot for Bangladeshi batters to handle in the Asia Cup 2023 Super 4 match one held at Gaddafi Stadium. #pakistanvsbangladesh..
Credit: Oneindia Duration: 01:58
Published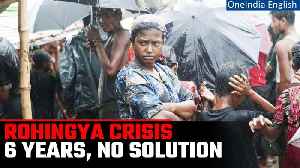 Six Years after Myanmar Genocide Rohingya Dream of Home | OneIndia News

It has been six years since up to a million Rohingya Muslims fled Myanmar after the army launched a brutal campaign against them. Most ended up in neighboring Bangladesh, where they live in overcrowded..
Credit: Oneindia Duration: 03:10
Published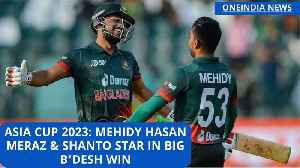 Asia Cup 2023: Bangladesh register comprehensive victory over Afghanistan in must-win game 

Bangladesh registered an emphatic 89-run win over Afghanistan by 89 runs at the Gaddafi Stadium in Lahore in the Asia Cup 2023. With this win, the Shakib al Hasan-led side stays in the hunt for the..
Credit: Oneindia Duration: 02:29
Published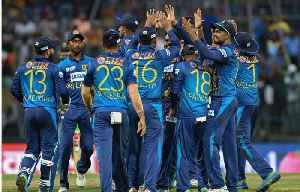 Asia Cup 2023: Clinical Sri Lanka Beat Bangladesh By 5 Wickets

#AsiaCup2023 ~HT.98~
Credit: Oneindia Duration: 02:12
Published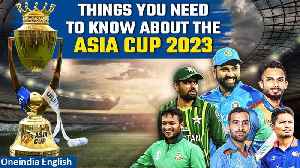 Asia Cup 2023: Interesting facts about the tournament ahead of the latest edition | Oneindia News

The much-awaited Asia Cup in the ODI format is commencing on August 30. The tournament is being looked at as a perfect preparation for the teams like India, Pakistan, Bangladesh and Sri Lanka ahead of..
Credit: Oneindia Duration: 03:17
Published
Political Unrest in Bangladesh, Clashes on Streets| Headache for PM Sheikh Hasina| Oneindia

It's Sheikh Hasina vs Khaleda Zia in Bangladesh. Political tensions and unrest have escalated due to a dispute over the oversight of the upcoming general election in January 2024. Watch this video on..
Credit: Oneindia Duration: 03:28
Published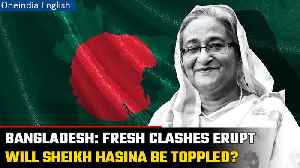 Bangladesh: Fresh round of massive protests demanding Sheikh Hasina's resignation begin|Oneindia

The resentment in Bangladesh against the Sheikh Hasina regime is growing everyday. As general elections next year looms large, people are vociferatley expressing their anguish. Yesterday, supporters of..
Credit: Oneindia Duration: 03:16
Published
You Might Like



G20 leaders arrive at Rajghat to pay homage to Mahatma Gandhi

Prime Minister Narendra Modi on Sunday received G20 leaders at the rain-drenched Rajghat where they will pay tributes to Mahatma Gandhi. United Nations Secretary General António Guterres, IMF head..




IndiaTimes - Published





'India has honoured us': Foreign Minister Momen on Bangladesh invited as guest country at G20

Bangladesh Foreign Minister Abdul Momen on Saturday expressed gratitude for the invitation extended by Prime Minister Narendra Modi. Momen said that throughout the summit, PM Modi encouraged his..




IndiaTimes - Published





Finance Minister interacts with Bangladesh PM Sheikh Hasina at G20 dinner

Union Finance Minister Nirmala Sitharaman on Saturday had a brief interaction with Bangladesh Prime Minister Sheikh Hasina at the G20 Dinner at Bharat Mandapam in the national capital.




IndiaTimes - Published





PM Modi holds bilateral talks with Italy's Giorgia Meloni

Prime Minister Narendra Modi on Saturday held bilateral talks with his Italian counterpart Giorgia Meloni as the two leaders discussed a range of issues. Modi has been holding bilateral talks with a..




IndiaTimes - Published





Chandy Oommen surpasses father's record

BJP's success in Tripura's Boxanagar and Dhanpur, both Muslim-dominated assembly constituencies bordering Bangladesh, is seen as a wider message about minorities standing with the saffron party...




IndiaTimes - Published





Bangladesh inducted women cadets in 2000s, India in 2022 only: Naravane

Former Chief of Army Staff General Manoj Naravane (Retd) highlighted that while Bangladesh had started inducting women cadets into its armed forces training institutes in the early 2000s, India delayed..




IndiaTimes - Published





PM Modi to hold more than 15 bilaterals with world leaders on G20 sidelines

Prime Minister Narendra Modi is scheduled to hold more than 15 bilateral meetings with world leaders at the G20 Summit in India. The meetings will take place on September 9-10, and include discussions..




IndiaTimes - Published





Bangladeshi flyer from Muscat flashes at cabin crew, arrested

Police arrested a Bangladesh citizen for allegedly flashing at flight attendants and appearing to masturbate during a flight from Muscat to Mumbai on Thursday, reports V Narayan. The accused, Mohammad..




IndiaTimes - Published





Who is Sonia Akhtar, Bangladeshi woman who came to Noida with 1-year-old son to be with her alleged husband?

Bangladeshi woman Sonia Akhtar learned after coming to Noida that her husband is already married and has 2 children.




DNA - Published





'He is not agreeing now...': Bangladeshi woman comes to Noida with child to be with husband, seeks police's help

The Indian man worked for a private firm in Dhaka and got married to Sonia Akhtar in Islamic style while he was married to an Indian woman with whom he has 2 children.




DNA - Published





Bangladeshi woman claims Noida man married her, then fled; police launch probe

A Bangladeshi woman on Monday accused a local man of marrying her while he was working in Dhaka and then fleeing after they had a child together, the Noida Police said.




DNA - Published





Bangladesh approves 4 routes for transportation of goods to northeastern Indian states

Bangladeshi government has approved four routes for the transportation of goods to merchants in Tripura and other northeastern Indian states.




DNA - Published





Northeast Diary: Disguised as refugees, Kuki-Chin militants from Bangladesh entered Mizoram




IndiaTimes - Published





Kaur banned for two matches after Bangladesh outburst

India captain Harmanpreet Kaur has been suspended for two matches for two breaches of the ICC code of conduct.




BBC Sport - Published





Bangladesh-India ODI dramatically ends in tie

The third women's one-day international between Bangladesh and India dramatically ends in a tie because time runs out before a super over can take place.




BBC Sport - Published





Another Seema Haider case? Bangladesh's Julie marries Moradabad's Ajay, cross border love story takes mysterious turn

After the bizarre Seema Haider-Sachin love story sparking controversy in India, another such case of Bangladesh's Julie marrying a man from Uttar Pradesh has surfaced.




DNA - Published





India, Bangladesh launch trade transaction in rupees




IndiaTimes - Published





US official to be in India to talk to civil society

In India, the Indian-American diplomat will also meet government officials to discuss the deepening US-India partnership, the state department said in a release on Friday. Under secretary for civilian..




IndiaTimes - Published





Tearful Tamim announces shock retirement

Bangladesh's one-day international captain Tamim Iqbal retires from international cricket with immediate effect.




BBC Sport - Published





No evidence to corroborate Arms haul accused went to Bangladesh: HC




IndiaTimes - Published





BSF, its Bangladesh counterpart to undertake 5 developmental projects each in border areas




IndiaTimes - Published





Bangladesh PM Sheikh Hasina sends seasonal mangoes as gifts to President Murmu, PM Modi

She also gave mangoes to Sonia Gandhi, the former leader of the Indian National Congress, and other dignitaries, according to the Indian High Commission in Dhaka, reported Dhaka Tribune.




IndiaTimes - Published





4 ultras of Bangladesh-based outfit held in Assam




IndiaTimes - Published





India-Bangladesh border talks to begin in Delhi from Sunday




IndiaTimes - Published





India-Bangladesh border haat in Tripura likely to reopen by July

The Kamalasagar-Kasba border haat (weekly market) in Tripura's Sepahijala district along the India-Bangladesh border, which was shut during the Covid-19 pandemic, is expected to reopen by next month,..




IndiaTimes - Published





BSF seizes smuggled clothing items worth Rs 13 lakh at Meghalaya-Bangladesh border




IndiaTimes - Published





India hands over 20 broad gauge locomotives to Bangladesh




IndiaTimes - Published





Bangladesh edge Irish to win Chelmsford ODI series

Bangladesh defeat Ireland by five runs in the final ODI on Sunday to secure a 2-0 series win in Chelmsford.




BBC Sport - Published





Cyclone Mocha in West Bengal: Here's what tourists are advised not to do

Tourists have been barred from entering the beaches of West Bengal as as cyclone Mocha made landfall along the coasts of Bangladesh and Myanmar.




DNA - Published





Bangladesh and Myanmar 'preparing for the worst' ahead of cyclone

Tens of thousand of people living along the coast of Bangladesh and Myanmar have been urged to seek shelter as the nations brace for an extremely severe cyclone - known as Storm Mocha - on Sunday.




Sky News - Published




Bangladesh beat Ireland despite Tector's 140

Bangladesh beat Ireland by three wickets in a dramatic second one-day international at Chelmsford to take a 1-0 lead in the series.




BBC Sport - Published





'Very severe' cyclone heading towards Bangladesh could wipe out world's largest refugee camp

Authorities are preparing to rescue hundreds of thousands of people ahead of a "very severe" tropical cyclone on course to hit the biggest refugee camp in the world.




Sky News - Published




Cyclone 'Mocha': Heavy rains predicted in 6 states, UTs over next 3 days, check latest IMD forecast

Cyclone Mocha intensified into a 'Very Severe Cyclonic Storm' on Friday morning and was located around 520 km west-northwest of Port Blair and 1010 km south-southwest of Cox's Bazar in Bangladesh.




DNA - Published





Cyclone Mocha

On May 9, Cyclone Mocha is most likely to become a depression, and on May 10, it's most likely to become a cyclone. According to the met department, around May 12, the storm is anticipated to approach..




IndiaTimes - Published





IMD: Cyclone 'Mocha' to move towards Myanmar-Bangladesh coast




IndiaTimes - Published





Balbirnie confident as Ireland seek World Cup spot

Irish captain Andrew Balbirnie says their sole focus is on Tuesday's opening ODI against Bangladesh as they aim for a 3-0 win to keep their World Cup hopes alive.




BBC Sport - Published





BSF nabs postman for smuggling Phensedyl bottles along India-Bangla border in Bengal




IndiaTimes - Published





Young returns to Irish squad for Bangladesh ODIs

Ireland pace bowler Craig Young is back for the one-day international series against Bangladesh at Chelmsford next month.




BBC Sport - Published





The Rana Plaza factory collapse: 10 years on, how much has changed?

On 24 April 2013, a tower block in Bangladesh collapsed - killing 1,134 people and leaving thousands more with life-changing injuries.




Sky News - Published





Bangladesh complete seven-wicket win over Ireland

Ireland's hopes of claiming a first Test victory are ended by Bangladesh on day four of their one-off Test as the hosts seal a seven-wicket win.




BBC Sport - Published




Tucker leads Ireland fightback in Bangladesh Test

Lorcan Tucker becomes only the second Irishman to hit a Test century as Ireland give themselves a slim chance of an improbable Test win in Bangladesh.




BBC Sport - Published





Ireland facing innings defeat in Bangladesh Test

Bangladesh are on course to secure victory inside three days in the one-off Test against Ireland in Mirpur after totally dominating day two.




BBC Sport - Published





McBrine strikes late to boost Irish hopes in Mirpur

Andy McBrine took a wicket with the final ball of the opening day of the Test to leave Bangladesh 34-2 after Ireland were dismissed for 214.




BBC Sport - Published





Remembering Sam Manekshaw on his 109th birth anniversary: Field Marshal who created Bangladesh




IndiaTimes - Published





Ireland secure first victory on Bangladesh tour

Ireland defeat Bangladesh by seven wickets in the final T20 encounter after losing their opening five matches against the Tigers.




BBC Sport - Published





How millions of Indian cattle end up in Bangladesh




IndiaTimes - Published





Bangladesh rout Ireland to complete ODI series win

Bangladesh outclass Ireland by 10 wickets in Sylhet to clinch a 2-0 victory in the one-day series.




BBC Sport - Published





Second Bangladesh-Ireland ODI abandoned

The second one-day international between Bangladesh and Ireland is rained off after the hosts set a new record total.




BBC Sport - Published





Bangladesh PM Sheikh Hasina offers India to use Chattogram, Sylhet ports




IndiaTimes - Published





Modi, Hasina inaugurate fuel pipeline to Bangladesh




IndiaTimes - Published