Ganesh Chaturthi
Multi-day annual Hindu festival revering god Ganesh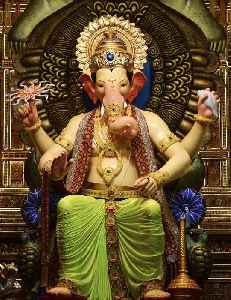 Ganesh Chaturthi, also known as Vinayaka Chaturthi, is a Hindu festival celebrating the arrival of Ganesh to earth from Kailash Parvat with his mother Goddess Parvati/Gauri. The festival is marked with the installation of Ganesh clay idols privately in homes, or publicly on elaborate pandals. Observations include chanting of Vedic hymns and Hindu texts such as, prayers and brata (fasting). Offerings and prasadam from the daily prayers, that are distributed from the pandal to the community, include sweets such as modaka as it is believed to be a favourite of Lord Ganesh. The festival ends on the tenth day after start, when the idol is carried in a public procession with music and group chanting, then immersed in a nearby body of water such as a river or sea. In Mumbai alone, around 150,000 statues are immersed annually. Thereafter the clay idol dissolves and Ganesh is believed to return to Mount Kailash to Parvati and Shiva. The festival celebrates Lord Ganesh as the God of New Beginnings and the Remover of Obstacles as well as the god of wisdom and intelligence and is observed throughout India, especially in the states such as Maharashtra, Goa, Karnataka, Rajasthan, Madhya Pradesh, Andhra Pradesh, Telangana, Odisha, West Bengal, Gujarat and Chhattisgarh, and is usually celebrated privately at home in Tamil Nadu. Ganesh Chaturthi is also observed in Nepal and by the Hindu diaspora elsewhere such as in Australia, New Zealand, Canada, Singapore, Malaysia, Trinidad and Tobago, Guyana, Suriname, other parts of the Caribbean, Fiji, Mauritius, South Africa United States, and Europe. In the Gregorian calendar, Ganesh Chaturthi falls between 22 August and 20 September every year.


Ganesh Chaturthi and Muharram unite people across faiths

The festivals in India do not just offer a temporary reprieve from the daily grind but also serve as a medium to promote peace and brotherhood as people from across faiths gather at one place to..
Credit: ANI Duration: 03:05
Published
Ganpati Visarjan: Uddhav Thackeray, Devendra Fadnavis, others immerse idols

The immersion of Lord Ganesha idols, marking the conclusion of 11-day long Vinayaka Chaturthi festivities, was held here on Tuesday with participants wearing masks and following social distancing norms..
Credit: HT Digital Content Duration: 02:35
Published
Ludhiana's Sikh restaurateur makes chocolate Ganesha for Hindu festival

When it comes to celebrating festivals in India, the differences of caste and faith dilute and people come together to create a strong bond of humanity. The same can be witnessed amidst Ganesha..
Credit: ANI Duration: 03:14
Published
Ankita Lokhande performs Gauri Ganpati puja with mother, shares video

Actor Ankita Lokhande performed Mahalaxmi puja at home. The Manikarnika actor performed the puja post Ganesh Chaturthi. Ankita shared a glimpse of the puja with her mother on Instagram. She decked up..
Credit: HT Digital Content Duration: 01:50
Published
Ganesh Chaturthi: Watch Sanjay Dutt performing aarti with wife Maanayata, kids

Sanjay Dutt celebrated Ganesh Chaturthi with his wife Maanayata and kids Iqra and Shahraan. In a video, Sanjay and his family is seen performing aarti on the occasion. The video was shared by Maanayata..
Credit: HT Digital Content Duration: 01:15
Published
Salman Khan, other celebs gather at Sohail Khan's house for Ganesh visarjan

Actor Salman Khan attended the Ganpati celebrations at Sohail Khan's residence on August 23. Salman's family members had welcomed Lord Ganesha on August 22 as Ganesh Chaturthi began and took part in..
Credit: ANI Duration: 02:23
Published
Lord Ganesha features as doctor in COVID hospital themed pandal

To celebrate the Ganesh Chaturthi festival, a COVID-19 hospital themed Ganesh pandal has been set up in Nagpur. The pandal is made to look like a COVID hospital in which Lord Ganesha is represented as..
Credit: ANI Duration: 01:14
Published
Watch: Salman Khan's family welcomes Ganpati at their house like every year

Nation is celebrating Ganesh Chaturthi festival with much zeal. Devotees are visiting temples and offering prayers to Lord Ganesha. Priests are perform 'arti' and 'hawan' of Bappa, donning face masks..
Credit: HT Digital Content Duration: 01:49
Published
Ganesh Chaturthi: PM Modi, Bollywood celebs, other politicians extend wishes

Nation celebrates Ganesh Chaturthi festival with fervour. Prime Minister Narendra Modi and Union Home Minister Amit Shah extended greetings to people on the occasion. Union Ministers Rajnath Singh and..
Credit: HT Digital Content Duration: 05:13
Published
Watch: How you can stay safe on this Ganesh Chaturthi

The 11-day Ganesh Chaturthi festival is being celebrated with fervour across India. The Covid pandemic, however, has altered many aspects of the festivities. In Maharashtra, Ganesh Chaturthi is being..
Credit: HT Digital Content Duration: 02:25
Published
Ganesh Chaturthi: Indore woman makes coronavirus-themed Ganpati idol

A woman from Indore made a unique Ganpati idol ahead of Ganesh Chaturthi. Nidhi Sharma made a coronavirus-themed Ganpati idol using chocolate to pay tribute to COVID warriors as well as to spread..
Credit: ANI Duration: 02:24
Published
Khairatabad Ganesha Association sets up 9-feet tall Dhanvantari Ganesh idol in Hyderabad

Khairatabad Ganesha Association made a 9-feet tall Ganesha idol in Hyderabad ahead of Ganesh Chaturthi. The idol is in Dhanvantari avatar of Lord Vishnu, Dhanvantari means doctor of Gods. Khairatabad..
Credit: ANI Duration: 02:04
Published
Artist makes 'sanitizer Ganesha idols' ahead of Ganesha Chaturthi in Mumbai

An artist from Mumbai's Ghatkopar made 'sanitizer Ganesha idols' ahead of Ganesha Chaturthi. Idol maker, Nitin Ram Das said, "COVID-19 is still here, so I have made idols that dispense sanitizer. It..
Credit: ANI Duration: 01:41
Published
Idol makers' business suffer ahead of Ganesh Chaturthi due to COVID-19 pandemic in Chandigarh

Business of idol makers has been severely affected to due to COVID-19 pandemic. Idol makers, preparing idols of Lord Ganesh ahead of Ganesh Chaturthi are facing shortage of work as orders have reduced..
Credit: ANI Duration: 01:39
Published
Ganesh Chaturthi: COVID-19 diminishes demand for large-sized Ganesha idols in Haryana

The demand for Ganesha idols dropped due to COVID-19 ahead of Ganesh Chaturthi in Haryana. Many of the idol makers claimed that they are not receiving any demand for large-sized Ganesha idols. An idol..
Credit: ANI Duration: 01:32
Published
Artist creates eco-friendly, dissolvable Ganesha idols in Punjab

As Ganesh Chaturthi is approaching, an artist from Jodhpur is making eco-friendly Ganesha idols in Punjab's Mohali. Organic colours have been used in the making of idols. Keeping in view the..
Credit: ANI Duration: 02:35
Published
You Might Like



US Presidential candidate Joe Biden, running mate Harris extend Ganesh Chaturthi greetings to Indians

It is to be noted that Kamala Harris' Indian heritage has dominated headlines in India.




DNA - Published





How COVID-19 has dialled down Ganesh Chaturthi celebrations across India

For the first time in 127 years, Pune's Dagdusheth Halwai Ganpati will hold the 10-day Ganeshotsav inside the temple premises.




DNA - Published





PM Modi, Shah greet nation on Ganesh Chaturthi, wish for everyone's joy, prosperity

"Greetings on the auspicious festival of Ganesh Chaturthi. May the blessings of Bhagwan Shri Ganesh always be upon us. May there be joy and prosperity all over," Prime Minister Modi's tweet read...




IndiaTimes - Published





PM Narendra Modi greets people on Ganesh Chaturthi

Prime Minister Narendra Modi on Saturday greeted people on Ganesh Chaturthi and wished joy and prosperity everywhere. "Greetings on the auspicious festival of Ganesh Chaturthi. May the blessings of..




IndiaTimes - Published





High Court permits individuals to install & immerse Ganesha idols in Tamil Nadu, amid Govt ban on public celebration

Court has also emphasized that the Tamil Nadu's government's ban on public celebrations, processions, installation of idols in public on Ganesh Chaturthi will be in force.




DNA - Published





SC allows Jain temples at Mumbai's Dadar, Byculla, Chembur to open for worshippers on Aug 22, 23

The court said this concession cannot be applied to any other temple or for Ganesh Chaturthi celebrations which involve large congregations.




DNA - Published





BJP leader questions AIADMK government's 'manliness' over disallowing Ganesh Chaturthi celebrations

The Tamil Nadu government has prohibited erecting Ganesha idols, celebrations in public, carrying them around the city in processions and also immersing them in water bodies due to COVID-19.




DNA - Published





Ganesh Chaturthi: Indore woman makes coronavirus-themed eco-friendly idol using chocolate

A woman in Indore has made Lord Ganesha idol using chocolate on the theme of coronavirus and is planning to immerse it in milk.




DNA - Published





DDMA bars public procession on Ganesh Chaturthi, Muharram in view of COVID-19

In view of the COVID-19 outbreak, the Delhi Disaster Management Authority (DDMA) has issued instructions to the District Magistrates (DMs) ahead of Ganesh Chaturthi and Muharram. While no idol of Lord..




DNA - Published





Railways to run 162 special trains for Maharashtra's Konkan region to handle Ganesh Chaturthi rush

Every year, lakhs of devotees from Mumbai and other cities travel to their native places in Konkan for the Ganesh Chaturthi festival.




DNA - Published





Tamil Nadu: Low-key celebrations for I-Day, Ganesh Chathurthi amid COVID-19 crisis

Regarding, Independence Day which falls on Saturday, the government has emphasized that senior citizens, school, and college students must not take part in the event, owing to the unprecedented..




DNA - Published





Ganpati Utsav 2020: Mumbai's famous Lalbaughcha Raja to not keep Ganesh idol this year

The Ganesh Chaturthi festival starts from August 22, 2020.




DNA - Published





PM Narendra Modi urges use of eco-friendly idols during Ganesh Chaturthi

Prime Minister Narendra Modi gave a clarion call to citizens to use eco-friendly idols during Ganesh Chaturthi. He also requested people for promoting rainwater harvesting during the rainy season.




IndiaTimes - Published




Akhilesh postpones Rampur visit over prohibitory orders by govt

Samajwadi Party supremo Akhilesh Yadav on Monday postponed his visit to Rampur to September 13-14 in view of prohibitory orders imposed in the city due to Muharram and Ganesh Chaturthi, even as he..




IndiaTimes - Published





Watch: 8 arrested for drunken revelry at Ganesh Puja pandal in Surat

The video from the dry state showed a group of men dancing and singing to loud Bollywood music in front of a Ganpati idol even as they consumed beer.




DNA - Published





Union Home Minister Amit Shah seeks blessings of Lalbaugcha Raja

Earlier in the day, he visited the revered Siddhivinayak Temple in the city on the auspicious occasion of Ganesh Chaturthi.




DNA - Published





President Kovind, PM Modi greet citizens on Ganesh Chaturthi

Wishing for happiness and prosperity in the lives of citizens, President Kovind tweeted: "Ganpati Bappa Morya! Greetings and good wishes to fellow citizens on the occasion of Ganesh Chaturthi. May the..




IndiaTimes - Published





Mumbai: Security beefed up for Ganeshotsav

More than 50,000 cops deployed for the 10-day-long celebrations, 5,000 CCTVs installed across Mumbai




DNA - Published





Ganesh Chaturthi: Mumbai police issues traffic advisory, over 14,000 personnel to be deployed for security

While there will be restrictions on some roads during the 10day festival, some roads will be completely closed for vehicular movement.




DNA - Published




Ganesh Chaturthi 2019: Iconic Lalbaugcha Raja unveiled in Mumbai, check out live stream

The iconic Ganesh idol even has its own Twitter id where the aarti on the occasion of Ganesh Chaturthi is live-streamed.




DNA - Published





Mumbai: Bomb squad meet Ganpati mandals over security measures

In a bid to ensure safety during the 14 day-long Ganesh festival Bomb Detection and Disposal Squad (BDDS) of the Mumbai police has been conducting meetings with Ganesh pandals and trust members across..




DNA - Published