Parliament
Legislative body of government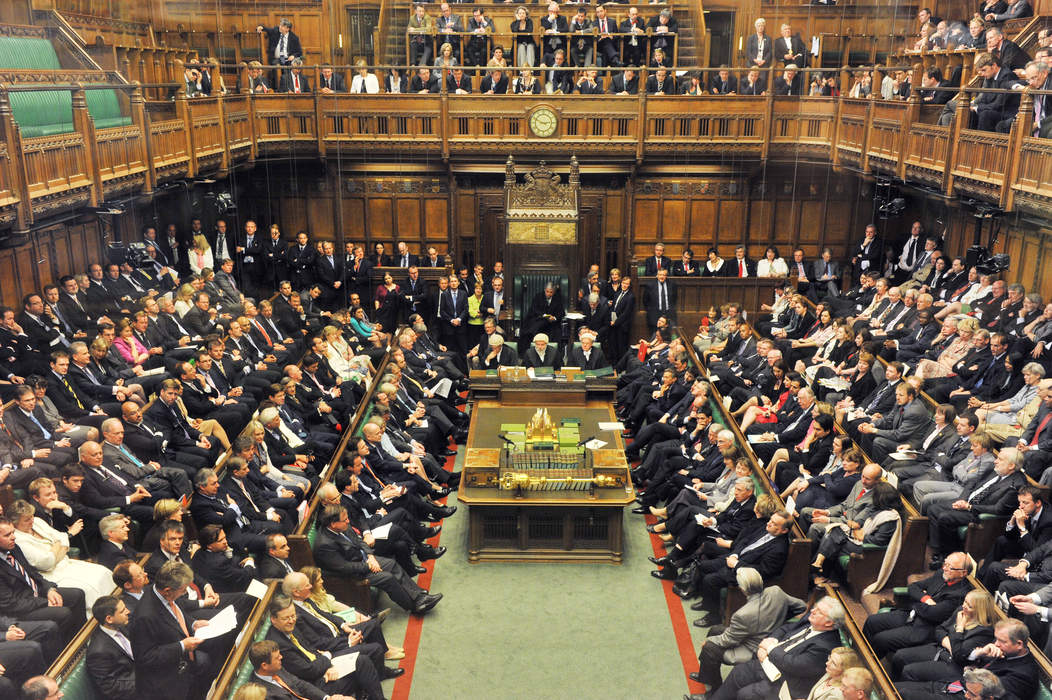 In modern politics and history, a parliament is a legislative body of government. Generally, a modern parliament has three functions: representing the electorate, making laws, and overseeing the government via hearings and inquiries. The term is similar to the idea of a senate, synod or congress, and is commonly used in countries that are current or former monarchies, a form of government with a monarch as the head. Some contexts restrict the use of the word parliament to parliamentary systems, although it is also used to describe the legislature in some presidential systems, even where it is not in the official name.


Parliament dissolution a political issue, SC should dismiss case: Nepal PM

Calling the Nepal government's move to dissolve the lower house of the Parliament to be a 'political move', Prime Minister KP Sharma Oli said the Supreme Court should dismiss the case. Oli's comments..
Credit: ANI Duration: 02:05
Published
Nepal Foreign Minister to visit India on Jan 14: PM OlI

Addressing an extraordinary session of the Upper House of Parliament on Sunday, Nepal Caretaker Prime Minister K.P. Sharma Oli announced that Foreign Minister Pradeep Kumar Gyawali will visit India on..
Credit: ANI Duration: 02:08
Published
Preparations of Budget Session are comprehensive: LS Speaker

Lok Sabha Speaker Om Birla on January 08 said that the preparations of Budget Session are comprehensive and the session will run in the Parliament by following all the guidelines. The Budget Session of..
Credit: ANI Duration: 01:16
Published
Student union of ruling NCP rival faction burns effigy of caretaker PM Oli

A student union of the ruling Nepal Communist Party (NCP)'s rival faction led by Pushpa Kamal Dahal and Madhav Kumar Nepal on Thursday burnt the effigy of caretaker Prime Minister KP Sharma Oli as a..
Credit: ANI Duration: 01:32
Published
Watch: Amid China tension, Tibetans in India vote for Parliament-in-exile

Tibetans exiled in India due to Chinese occupation of their homeland cast their vote to elect members of their 17th Parliament, and choose a 'Sikyong'. First phase voting was held in Himachal Pradesh's..
Credit: HT Digital Content Duration: 02:48
Published
Kerala govt doing 'futile' exercise by passing resolution against farm laws: V Muraleedharan

As the Kerala Assembly passed a resolution against the three contentious farm laws brought by the Centre on December 31, V Muraleedharan said that it is a 'futile exercise' as law has been passed by..
Credit: ANI Duration: 02:02
Published
Starmer: Labour will accept and vote for Government's Brexit deal

Labour leader Sir Keir Starmer said his party will "accept it and vote for it"when the Government's deal with the EU reaches Parliament.
Credit: PA - Press Association STUDIO Duration: 00:41
Published
'No doubt' Parliament will approve possible Brexit deal, says Benn

Head of the Commons Brexit Committee Hilary Benn says it's likely that anyBrexit trade deal negotiated between the UK and EU today will be approved byParliament.
Credit: PA - Press Association STUDIO Duration: 00:49
Published
'His point is justifiable': MoS Muraleedharan on Kerala Guv rejecting special session proposal

Speaking to ANI in the national capital on December 23, Minister of State (MoS) for External Affairs and Parliamentary Affairs, V Muraleedharan spoke on Kerala Governor rejecting proposal for a special..
Credit: ANI Duration: 02:18
Published
'Nehru's biggest legacy is democracy': ANI Chairman Prem Prakash

Jawaharlal Nehru's biggest legacy is democracy, said ANI Chairman Prem Prakash during his 'Reporting India' book launch event. "Jawaharlal Nehru's biggest legacy is democracy. He saw us as a nation..
Credit: ANI Duration: 01:41
Published
Arvind Kejriwal tears farm laws during special session of Delhi Assembly

Delhi Chief Minister Arvind Kejriwal on December 17 tore copies of the three farm laws in Delhi Assembly and lambasted at BJP and the Centre over the farm laws. "What was the hurry to get farm laws..
Credit: ANI Duration: 02:04
Published
Watch: BJP's Narottam Mishra equates Sonia Gandhi to 'Kaikeyi', mocks Rahul

BJP leader Narottam Mishra has launched a veiled attack on Congress president Sonia Gandhi and Rahul Gandhi. The BJP leader read out what he said was a Whatsapp forward that likened Sonia Gandhi to the..
Credit: HT Digital Content Duration: 02:07
Published
Watch: Protesting farm leaders observe day-long fast, AAP joins hunger strike

Farm union leaders have begun a day-long fast at various border points near Delhi. Farmers are protesting against the Centre's three contentious agricultural laws. Delhi CM Arvind Kejriwal and AAP..
Credit: HT Digital Content Duration: 03:51
Published
Inside view of new Parliament building: How final building will look

The foundation stone for the new Parliament building was laid on Thursday by Prime Minister Narendra Modi. Construction of the new building is expected to be completed by 2022. The new Parliament..
Credit: HT Digital Content Duration: 01:53
Published
You Might Like



Union budget set to be presented on February 1, Budget Session of Parliament to commence on Jan 29

As per the CCPA recommendation, President Ram Nath Kovind is likely to address the customary joint sitting of both Houses of Parliament on January 29.




DNA - Published





Parliament session cancelled to avoid debate on farmers' stir: Sanjay Raut

In his weekly column 'Rokhthok' in the Sena mouthpiece 'Saamana', Raut also questioned the need for spending "Rs 1,000 crore" on the Central Vista project when the Narendra Modi government was not..




IndiaTimes - Published





PM Modi says farm laws were long-pending demand, SAD demands winter session of Parliament: Top developments




IndiaTimes - Published





DNA Special: Can Supreme Court revoke or review law passed in Parliament?

In the show DNA, let's analyse what can happen if there is ever a confrontation between the Supreme Court and the government over the farm laws.




DNA - Published





Convene special Parliament session of resolve farm issues: NCP

With the farmers stir against the Centres new farm laws continuing near Delhi borders, the NCP on Thursday demanded that Prime Minister Narendra Modi convene a special session of Parliament to address..




IndiaTimes - Published





Rahul writes to Lok Sabha Speaker, claims he was not allowed to speak in parliamentary panel meet

Congress leader Rahul Gandhi on Thursday wrote to Lok Sabha Speaker Om Birla claiming he was not allowed to speak freely in the meeting of the parliamentary Committee on Defence and sought his..




IndiaTimes - Published





Forming new committee no solution: Protesting farmer leaders on SC suggestion

Protesting farmer unions on Wednesday said constituting a new panel to break the stalemate on the three new agriculture laws, as indicated by the Supreme Court, is not a solution as they want a..




IndiaTimes - Published





Govt cites Covid-19, nixes winter session; opposition cries foul

The government on Tuesday said the winter session of Parliament will not be held due to the Covid-19 pandemic, drawing criticism from opposition parties which claimed they were not consulted with..




IndiaTimes - Published





No winter session of Parliament, govt suggests convening budget session in January 2021




IndiaTimes - Published





No Winter Session in Parliament this year due to COVID-19, budget session to be called in January

Parliamentary Affairs Minister Prahlad Joshi informed that the decision was taken after meetings with the leaders from several parties.




DNA - Published





December 13, 2001: When Parliament was attacked




IndiaTimes - Published





Farmers picket toll plazas in Haryana

Intensifying their protest against the Centre's new agri laws, farmers took over some toll plazas in Haryana on Saturday, not allowing authorities to collect fees from commuters. The agitating farmers..




IndiaTimes - Published





SC refuses to entertain plea to ascertain feasibility of confiscating black money

A bench headed by Justice SK Kaul said it can't issue a mandamus for Parliament to create a law. As the apex court refused to hear the plea, the petitioner withdrew the same. The petition, filed by..




IndiaTimes - Published





Following India protests closely, says UK after Boris Johnson gaffe

The UK Foreign Office is closely following the protests by farmers in India, a government spokesperson said on Thursday as it clarified that Prime Minister Boris Johnson had "clearly misheard" a..




IndiaTimes - Published





Netflix 'The Crown' Triggers Anger Over Portrayal of Prince Charles/Diana's Relationship

Prince Charles comes off as a gigantic a-hole in the latest installment of Netflix's "The Crown," and it has royally pissed off his fam and at least one member of Parliament. The hubbub is over the way..




TMZ.com - Published





BJP govt only understands language of street protests: Adhir on farmers stir

"When Congress opposed the anti-farmers Bills, the ruling party accused us of undermining the interest of farmers, and even suspended our members in Parliament when division was sought before clearance..




IndiaTimes - Published





Convene winter session of Parliament at earliest: Manish Tewari

Congress leader Manish Tewari on Thursday demanded that the winter session of Parliament be convened at the earliest to debate various pressing issues facing the country like the ongoing farmers'..




IndiaTimes - Published





Farmers demand special Parliament session to repeal new laws

Farmers' representatives, who had met Union ministers Narendra Singh Tomar and Piyush Goyal on Tuesday, called for an intensification of protests from Saturday even as the Centre offered to..




IndiaTimes - Published




Congress MP Manish Tewari urges govt to urgently convene winter session of Parliament




IndiaTimes - Published





No place for disruption, be it in Parliament or state assemblies: LS Speaker Om Birla




IndiaTimes - Published





Parliament may skip winter session, reopen Jan-end, before Budget

With virus cases on the rise in the national capital, Parliament is unlikely to be convened before the last week of January, raising the possibility that there may be no winter session. However, the..




IndiaTimes - Published





Govt decides dates: Speaker Om Birla on holding winter session of Parliament




IndiaTimes - Published





Covid surge in Delhi casts shadow on winter session

Amid mounting speculation about the schedule of the winter session of Parliament — where it will be delayed or even merged with the Budget session — due to the third Covid wave in Delhi, sources..




IndiaTimes - Published





Covid-19: Govt deliberating on holding next Parliament session in January

With no respite in the rising Covid-19 cases across the country, the Centre has taken a cautious approach and is likely to decide against holding the Parliament's winter session this year. Sources in..




IndiaTimes - Published





Viral video: When NZ's first Indian origin MP greeted parliament in Malayalam

Union Civil Aviation Minister Hardeep Singh Puri shared a three-year-old video on twitter of New Zealand's first-ever Indian-origin minister, Priyanca Radhakrishnan, addressing the country's Parliament..




DNA - Published





Modi mocks Cong's contracting clout in Parliament, says people punishing it for false promises

Prime Minister Narendra Modi on Tuesday mocked the Congress for its shrinking numbers in the two Houses of Parliament which have dropped below 100, claiming people were punishing the party for its..




IndiaTimes - Published





Quizzed by Parliament panel, FB skirts posers on sharing Indian users' data




IndiaTimes - Published





Make PM-CARES accountable to Parliament, CPM MP tells PM Modi




IndiaTimes - Published





New agri laws are death sentence for farmers: Rahul Gandhi

Days after agriculture Bills were passed in the Parliament leading to protests by a number of farmer organisations and political parties in various states, Congress leader Rahul Gandhi on Monday called..




IndiaTimes - Published




'Kicked' chair when Centre decided to bring farm bills in Parliament: Harsimrat Kaur Badal

Days after resigning from the Union cabinet, Bathinda MP Harsimrat Kaur Badal on Thursday said she "kicked" her chair as she felt it was a "shame" to continue as a minister after the Centre..




IndiaTimes - Published





Opposition's politics directionless, they shouldn't have boycotted the Parliament session: Prakash Javadekar




IndiaTimes - Published





4th-shortest Rajya Sabha monsoon session ends 8 days ahead of schedule

With over 30 members of Parliament and several more staffers testing positive for coronavirus, the monsoon session was curtailed on Wednesday with both Houses managing to hold only 10 sittings instead..




IndiaTimes - Published





Parliament passes 3 key labour reform bills

Parliament on Wednesday approved three key labour reform bills that will remove impediments for winding up of companies and allow firing of staff without government permission in firms with up to 300..




IndiaTimes - Published





Opposition parties conduct silent protest march in Parliament over farm Bills

Various opposition parties Wednesday took out a silent protest march in the Parliament complex against the contentious farm Bills passed recently.




IndiaTimes - Published





Mayawati slams both Opposition, govt over Monsoon Session chaos

In a tweet in Hindi, she said "Although Parliament is called the temple of democracy, its dignity has been shredded many times. Even during the ongoing Parliament session, the functioning of the..




IndiaTimes - Published





Parliament's Monsoon session likely to end on Wednesday

The Monsoon Session of Parliament is likely to conclude on Wednesday, eight days before it is scheduled to end, due to Covid-19 concerns among lawmakers, sources said. Rajya Sabha is likely to adjourn..




IndiaTimes - Published





Essential Commodities Bill passed in Parliament; cereals, pulses, edible oils dropped from 'essential commodities list'

The Essential Commodities (Amendment) Bill, 2020, was passed by the Parliament's Upper House - Rajya Sabha - on Tuesday, thereby legitimising the legislation. The law removes cereals, pulses, oilseeds,..




DNA - Published





MPs suspended for their conduct; opposition should rethink, introspect, and return to House: Venkaiah Naidu

The suspension of the eight members of Parliament had to be carried out due to their conduct, said Rajya Sabha chairman M Venakaiah Naidu on Tuesday. The eight MPs from the Upper House were suspended..




IndiaTimes - Published





Deputy Chairman bringing tea for suspended RS MPs shows 'excellent democratic values': Naidu

"The incident happened day before yesterday in the Rajya Sabha has damaged parliamentary dignity. But I was told that ... despite all this ... Today the Deputy Chairman Shri Harivansh ji himself took..




IndiaTimes - Published





RS deputy chairman Harivansh arrives with tea for 8 suspended MPs who camped overnight at Parliament lawns

The eight MPs suspended for continuing with their protests against farm bills inside the Upper House who had spent the night on the lawns of Parliament in protest had a visitor in Rajya Sabha deputy..




IndiaTimes - Published





Oppn parties hit out at govt over suspension of 8 MPs, hold protest on Parliament premises

Opposition parties hit out at the government on Monday over the suspension of eight Rajya Sabha MPs and are holding an "indefinite" protest at Parliament premises against the move.The eight members..




IndiaTimes - Published





SAD leaders meet President Kovind, urge to withhold assent to farm Bills

Coming out of the meeting, SAD leader Sukhbir Badal, told the media: "We have requested the President against signing the anti-farmer Bills passed in Parliament by force. We requested him to send back..




DNA - Published





Muting of democratic India continues: Rahul Gandhi on Rajya Sabha MPs suspension

"'Muting Of Democratic India' continues: by initially silencing and later, suspending MPs in the Parliament & turning a blind eye to farmers' concerns on the black agriculture laws," Rahul Gandhi said..




IndiaTimes - Published





Parliament's Monsoon Session likely to be cut short early as more legislators test positive for COVID-19

Amid a surge in Covid-19 cases in the country, all political parties in a Business Advisory Committee (BAC) of Parliament on Saturday agreed to curtail the ongoing Monsoon Session as early as September..




DNA - Published





Avoid making allegations without facts, everyone equal for me: Lok Sabha Speaker to MPs

Lok Sabha Speaker Om Birla on Friday urged members of Parliament to avoid making allegations without facts and said that everyone in House is equal for him.




IndiaTimes - Published





Rajya Sabha passes bills for reduction of MPs, ministers' salaries, opposition demands restoration of MPLAD

Parliament on Friday passed a bill to reduce for one year the salaries of MPs by 30 per cent "to meet the exigencies arising out of the Covid-19 pandemic". ​​​​​The bill was passed in Rajya..




IndiaTimes - Published





BSP not in support of two bills related to farmers passed in Parliament, says Mayawati

Bahujan Samaj Party (BSP) chief Mayawati on Friday said that her party is against the passing of two bills in the Lok Sabha related to "reforms" in agriculture marketing. In a tweet in Hindi, Mayawati..




IndiaTimes - Published





No force can stop us from patrolling Ladakh borders: Rajnath Singh

Defence minister Rajnath Singh on Thursday made a strong assertion in Parliament that no force in the world can stop Indian soldiers from patrolling the country's borders in the Ladakh region.




IndiaTimes - Published





BJP Rajya Sabha MP Vinay Sahasrabuddhe attends Parliament Session then tests COVID positive

BJP Rajya Sabha MP Vinay Sahasrabuddhe, who attended Parliament's ongoing Monsoon Session, on Thursday evening said he has tested positive for the coronavirus infection.




DNA - Published





BJP Rajya Sabha MP Vinay Sahasrabuddhe tests COVID positive after attending Parliament Session

BJP Rajya Sabha MP Vinay Sahasrabuddhe, who attended Parliament's ongoing Monsoon Session, on Thursday evening said he has tested positive for the coronavirus infection.




DNA - Published