Parliament
Legislative body of government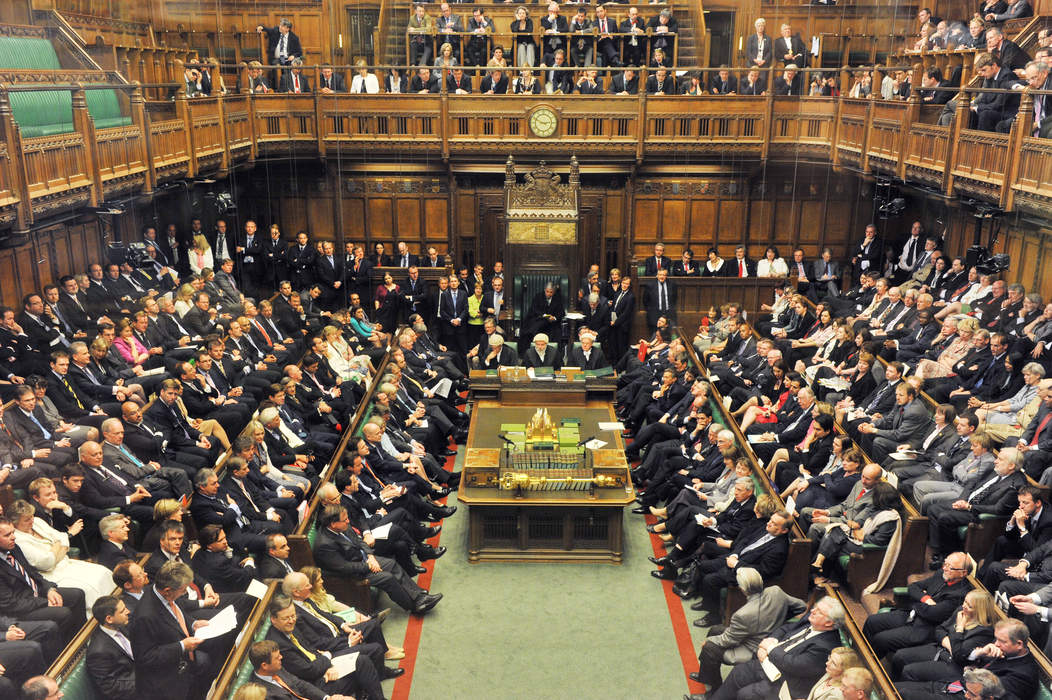 In modern politics, and history, a parliament is a legislative body of government. Generally, a modern parliament has three functions: representing the electorate, making laws, and overseeing the government via hearings and inquiries. The term is similar to the idea of a senate, synod or congress and is commonly used in countries that are current or former monarchies. Some contexts restrict the use of the word parliament to parliamentary systems, although it is also used to describe the legislature in some presidential systems, even where it is not in the official name.


Jeremy Hunt makes way to Parliament for Autumn Statement

The Chancellor has left Number 11 Downing Street and arrived at Parliament where he will deliver his Autumn Statement. Jeremy Hunt appeared with a large green folder for the fiscal statement, rather..
Credit: ODN Duration: 00:38
Published
PM arrives at Parliament

Prime Minister Rishi Sunak has arrived at the Houses of Parliament where he will deliver a statement following his return from the G20 summit in Bali. Report by Buseld. Like us on Facebook at..
Credit: ODN Duration: 00:18
Published
Mordaunt: I was a minister before Sunak was even elected

Penny Mordaunt lays out her case for why she should be the next PM. The MP says she "was a minister before Rishi Sunak was even elected to Parliament". Report by Czubalam. Like us on Facebook at..
Credit: ODN Duration: 00:50
Published
Jacob Rees-Mogg says he saw no 'pushing or shoving'

Business Secretary Jacob Rees-Mogg admits there was "some confusion" at the chaotic Commons fracking vote on Wednesday night, but denies seeing any "pushing or shoving". Rees-Mogg himself has been..
Credit: ODN Duration: 01:04
Published
Hunt announces new economic advisory council for UK growth

Jeremy Hunt has announced in Parliament the inception off an economic advisory council which will help the government form economic policies. The chancellor also announced to MPs the reversal of..
Credit: ODN Duration: 02:13
Published
Tory MP: We're British, we don't throw ladies under the bus

Conservative MP Daniel Kawczynski said he is "not sure" why the media "are always trying to attack the prime minister" as he made his way to Parliament on Thursday. He added that most..
Credit: ODN Duration: 01:07
Published
Conor Burns vows to clear his name and return to Parliament

Conor Burns has hit out at the decision to have his whip withdrawn over allegations of serious misconduct, saying he has "still not been told the nature" of the complaint made against him. Speaking to..
Credit: ODN Duration: 00:42
Published
You Might Like



Winter session to begin on December 7, govt may table data protection bill

The winter session of Parliament will commence from December 7 and will continue until December 29, "subject to exigencies of government business", the Lok Sabha secretariat said on Saturday...




IndiaTimes - Published





District court encroaching on powers of SC, Parliament: Muslim leaders

Muslim leaders termed the district court order as "encroaching on the powers of the Supreme Court and Parliament which have made it crystal clear that no further changes could be made at religious..




IndiaTimes - Published





Govt eyeing on to get one chamber ready in New Parliament before winter session




IndiaTimes - Published





1998 JMM verdict review: SC to examine legislative immunity in bribe-for-vote

The Supreme Court Tuesday decided to examine whether lawmakers can claim complete immunity for their conduct in Parliament or assemblies even in case of taking bribe for voting. The court will take a..




IndiaTimes - Published





Congress slams its removal from Parliamentary panel chair

With Congress removed from the chair of yet another parliamentary committee, the party protested against the move with a sharp letter to Vice President Jagdeep Dhankar, arguing that it was..




IndiaTimes - Published





Rahul unlikely to attend Parliament's winter session due to Bharat Jodo Yatra

Congress leader Rahul Gandhi is unlikely to attend the upcoming winter session of Parliament due to the ongoing Bharat Jodo Yatra, the party said on Saturday. The winter session of Parliament is likely..




IndiaTimes - Published





Parliament's Winter Session likely to commence from December first week in old building




IndiaTimes - Published





All inhabited villages in northeast to be connected with 4G network by December 2023: Kiren Rijiju

All inhabited villages in the northeastern region and border areas must be connected with 4G network by December 2023, Union minister Kiren Rijiju said on Tuesday. In February 2022, the government had..




IndiaTimes - Published





Centre to make 'some changes' in age-old sedition law, issue to be taken up in next Parliament session

The central government might make several changes to the existing sedition law in the country over the next Parliament session.




DNA - Published





Order putting sedition law on hold to continue, SC grants time to Centre

The Supreme Court was told by Attorney General that more time be granted to the Centre as "something may happen in the winter session of Parliament".




DNA - Published





SC didn't agree with will of people: Union law minister Kiren Rijiju on NJAC

The NJAC Act, unanimously passed by both the Houses of Parliament and ratified by more than half of all the states, was struck down by a Constitution bench of the apex court as unconstitutional in..




IndiaTimes - Published





Over 1500 obsolete and archaic acts to be repealed in coming Parliament session: Rijiju




IndiaTimes - Published





Vice President Jagdeep Dhankhar to host Rajya Sabha floor leaders for dinner

Though various party leaders have been calling on Dhankhar since he took over as Vice President, this would be his first formal interaction with floor leaders of Rajya Sabha. The dinner meet comes..




IndiaTimes - Published





Demeaned, berated and fired: Fresh evidence of toxic bullying culture in parliament emerges

Fresh evidence of a toxic bullying culture in Parliament has emerged, as a Sky News investigation reveals numerous shocking allegations of abusive behaviour by MPs.




Sky News - Published





Mentality of north India and Parliament still not conducive for women's quota: Sharad Pawar

Nationalist Congress Party (NCP) president Sharad Pawar has said the "mentality" of north India and Parliament seems not conducive yet to giving reservation to women in the Lok Sabha and legislative..




IndiaTimes - Published





EWS quota: Supreme Court refuses to consider plea of no-debate in Parliament

The bench declined to see the lack of debate in Parliament as a challenge, stating "we are losing our energy if we talk about that".




DNA - Published





Busy week ahead when politics returns from mourning the Queen

After the death of the Queen was announced last Thursday, MPs and peers stepped away from Parliament to observe a period of mourning for the monarch.




Sky News - Published





SC refuses to consider plea of no-debate in Parliament as ground to challenge EWS quota




IndiaTimes - Published





Repercussions would have been less grave if govt acted on time during second wave of Covid: Parliamentary panel




IndiaTimes - Published





Make cancer a notified disease: Parliament panel

Cancer should be classified a notifiable disease, the parliamentary standing committee on health and family welfare has recommended. In its 139th report, which was submitted to the Rajya Sabha..




IndiaTimes - Published





Citizenship Law: Supreme Court adjourns hearing of petitions challenging CAA to September 19

CAA was passed by Parliament in December 2019, after which it met with protests all across the country. The CAA came into effect on January 10, 2020.




DNA - Published





Rahul Gandhi out to unite country in a foreign T-shirt: Amit Shah

Amit Shah said: "I want to remind Rahul baba and other Congress members about his speech given in Parliament. Rahul baba had said India is not a nation. Rahul baba, in which book have you read this?..




IndiaTimes - Published





Court cannot stop govt from bringing law in Parliament on cryptocurrencies: SC




IndiaTimes - Published





CJI recalls lawyers' contribution in drafting Constitution, freedom struggle, says their percentage in Parliament declining




IndiaTimes - Published





Citizens have right to voice opinion on laws: Gandhis to HC

Preventing a citizen from expressing a genuine opinion against any bill or law passed by Parliament is violative of the right to free speech and principles of democracy, Congress leaders Sonia Gandhi..




IndiaTimes - Published





Video: Man run over by truck after falling from bike due to pothole in Thane

In December 2021, the government informed Parliament that over 3,500 road accidents occurred in the year 2020 due to potholes.




DNA - Published





Responsibility of Parliament to act according to people's expectations and aspirations: Om Birla




IndiaTimes - Published





China looks to delay sanctioning of another Pakistan based terrorist

China has put on hold a joint India-US proposal to sanction a Pakistan based terrorist, Abdul Rauf Asghar, who's an accused in the 1999 IC 814 hijacking and also Parliament attack. Beijing had in June..




IndiaTimes - Published





Pralhad Joshi slams opposition for alleging lower Parliament productivity

Parliamentary affairs minister Pralhad Joshi on Tuesday alleged that opposition leaders Jairam Ramesh and Gaurav Gogoi peddled lies at a press conference as the decision to adjourn the Parliament..




IndiaTimes - Published





Uniform adoption law should cover all religions, LGBTQ community, suggests Parliamentary panel

The Parliamentary panel has made a suggestion that the uniform adoption law in India should be applicable for all religions and the LGBTQ community.




DNA - Published





Why was Monsoon Session 2022 of Parliament adjourned? Know what 'sine die' means

The Monsoon Session 2022 of the Parliament has adjourned sine die by the Centre on Monday, four days ahead of the official schedule.




DNA - Published





'PM Modi, Amit Shah turning Parliament into Gujarat Gymkhana': TMC MP Derek O'Brien's jibe at Centre

After the Parliament session was cut short by the government, TMC leader Derek O'Brien hit out at the Centre and PM Modi for the decision.




DNA - Published





Allow LGBTQ to adopt kids, Parliament panel suggests

A parliamentary panel in its report tabled on Monday has recommended allowing LGBTQ community members to adopt a child, apart from asserting the need for a uniform and comprehensive legislation on..




IndiaTimes - Published





CAG smells a rat as import of pearls pips global output

Suspecting large-scale round-tripping of black money, the Comptroller and Auditor General (CAG) which has tabled a report in Parliament on Monday said India's import of diamonds and pearls during 2010..




IndiaTimes - Published





Constantly disrupted, monsoon session of Parliament ends four days early

The monsoon session which ended on Monday was to conclude on August 12. It witnessed the Lok Sabha and Rajya Sabha passing seven and five bills respectively. While the Lower House saw a total of 16..




IndiaTimes - Published




Electricity Bill introduced in Lok Sabha, sent to parliamentary panel for scrutiny, opposition walks out in protest

With protests raging inside and outside of Parliament to oppose the amendment that the government is proposing to the Electricity Act, a bill was introduced in Lok Sabha by power minister R K Singh on..




IndiaTimes - Published





People will keep calling him for something or other: PM at Vice President M Venkaiah Naidu's farewell

Addressing an event at the Parliament House complex organised by members of Parliament to bid farewell to Naidu, he said a collection of good words was in order to carry forward the legacy of Naidu who..




IndiaTimes - Published





'His legacy will guide the nation for years': PM Modi bids farewell to Vice President Venkaiah Naidu in Parliament

PM Narendra Modi bid farewell to outgoing Vice President Venkaiah Naidu during his speech in the Parliament, praising his legacy and tenure.




DNA - Published





Electricity Amendment Bill to be introduced in Parliament today: Why power sector employees are opposing it?

Opposing the bill, AIPEF has demanded that it should be referred to the Parliamentary Standing Committee on Energy for wider consultation.




DNA - Published





Veering to conclusion Parliament 'dysfunctional'; democracy 'gasping for breath': P Chidambaram

In an interview with PTI, Chidambaram also dismissed Home Minister Amit Shah's remarks linking the Congress' demonstration against price rise on Friday to the Ram temple foundation day, saying the..




IndiaTimes - Published





Venkaiah Naidu: MPs don't enjoy immunity in criminal cases

Rajya Sabha chairman M Venkaiah Naidu on Friday clarified that members of Parliament do not enjoy any immunity from arrest in criminal cases when the House is in session and that they cannot avoid..




IndiaTimes - Published





Wearing black clothes, Congress MPs stage protest in Parliament

Wearing black clothes, Congress MPs, led by party chief Sonia Gandhi and Rahul Gandhi, staged a protest in the Parliament House complex on Friday as they marched towards the Rashtrapati Bhawan as part..




IndiaTimes - Published





Focused on Aam Aadmi, Congress to hold mega protest against price rise today, plans to gherao PM residence

The party plans a 'Chalo Rashtrapati Bhavan' march from Parliament to President's House, to be undertaken by Lok Sabha and Rajya Sabha MPs.




DNA - Published





Enforcement Directorate quizzes Kharge amid protests in Parliament, outside

The Enforcement Directorate (ED) on Thursday resumed its investigation into the Young Indian case by extensively quizzing leader of opposition in the Rajya Sabha, Mallikarjun Kharge, at the Herald..




IndiaTimes - Published





ED questions Mallikarjun Kharge in National Herald case, Congress says 'Modishahi' reaching a new low

Congress said Kharge's summoning during working hours of Parliament was an "insult" to the legislature and alleged "Modishahi" is reaching a new low.




DNA - Published





Vice Presidential Elections 2022: In Margaret Alva vs Jagdeep Dhankhar, know expected vote share

VP candidates Margaret Alva and Jagdeep Dhankhar will battle for the post on August 6, when Parliament members will cast their vote.




DNA - Published





After 5 years of work, govt retracts data protection bill

The government on Wednesday sprung a surprise as it spiked the much-debated, and contentious Data Protection Bill from Parliament, promising to introduce a new legislation "very soon but without any..




IndiaTimes - Published





Parliament passes National Anti-Doping Bill




IndiaTimes - Published





'Jholewala Fakir in Parliament': Mahua Moitra reacts to viral video of her 'hiding' Louis Vuitton handbag

Her apparent jibe was at Prime Minister Narendra Modi who had called himself a `fakir` after winning the 2019 Lok Sabha polls.




DNA - Published





Country battling 'epidemic of unemployment' but govt polishing image of 'arrogant king': Rahul Gandhi

Gandhi claimed that the Congress had attempted to persuade the government to respond to public inquiries during the present Monsoon session of Parliament. However, everyone witnessed how the House was..




IndiaTimes - Published