Parliament
Legislative body of government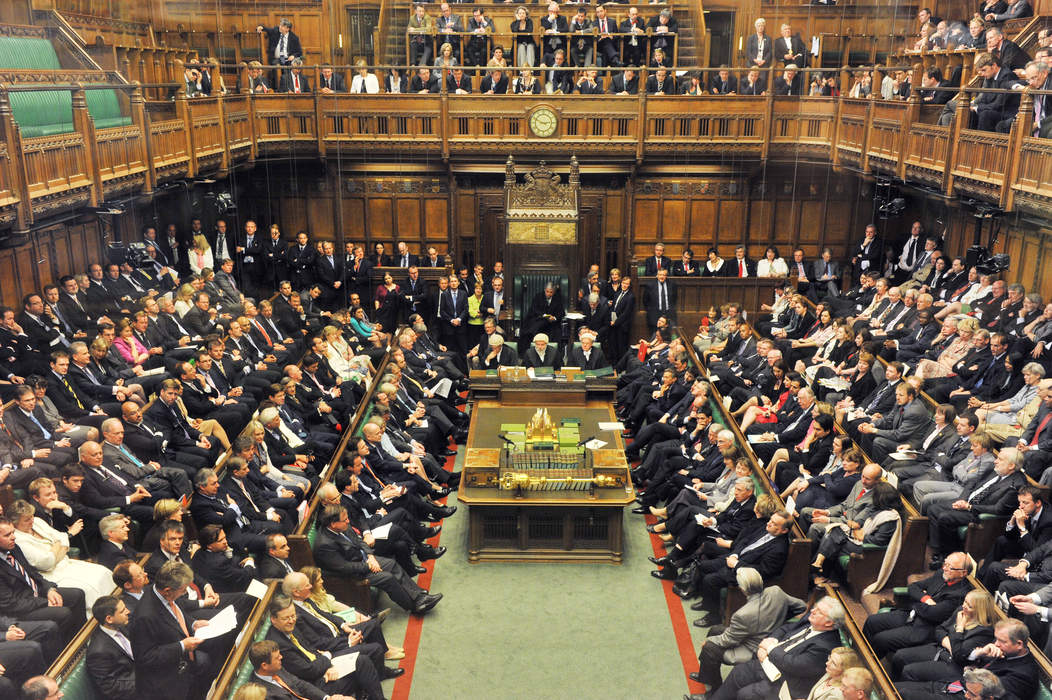 In modern politics and history, a parliament is a legislative body of government. Generally, a modern parliament has three functions: representing the electorate, making laws, and overseeing the government via hearings and inquiries. The term is similar to the idea of a senate, synod or congress, and is commonly used in countries that are current or former monarchies, a form of government with a monarch as the head. Some contexts restrict the use of the word parliament to parliamentary systems, although it is also used to describe the legislature in some presidential systems, even where it is not in the official name.


Assam polls: Nadda terms Congress' '5 guarantees' as 'display of mental bankruptcy'

For the ongoing elections in Assam, Congress had offered 5 guarantees in their manifesto. Tearing their guarantees apart and calling it 'display of mental bankruptcy', JP Nadda asked that how limited..
Credit: ANI Duration: 01:30
Published
'PM Modi is afraid of Kejriwal': Sanjay Singh hits out Centre over NCT Bill

Aam Aadmi Party leader Sanjay Singh hit out at Centre after Parliament gave nod to the NCT of Delhi (Amendment) Bill, 2021. Singh said PM Modi was afraid of Delhi chief minister Arvind Kejriwal and..
Credit: HT Digital Content Duration: 02:46
Published
Rakesh Tikait: No mandi can be better than Parliament | Oneindia News

During his address at Jaipur Kisan Mahapanchayat, Bharatiya Kisan Union leader Rakesh Tikait warned that the farmers may have to go to Delhi when asked and have to breach barricades again. Quoting..
Credit: Oneindia Duration: 01:27
Published
'Farmers will sell their produce in the Parliament…': Rakesh Tikait

Bharatiya Kisan Union leader Rakesh Tikait on Tuesday said that farmers, if required, will sell their produce at the Parliament complex as part of their protest against the Centre's new farm laws...
Credit: HT Digital Content Duration: 02:24
Published
MP Navneet Rana to lodge FIR against Shiv Sena's Arvind Sawant

After accusing Shiv Sena MP Arvind Sawant of threatening her, Independent MP from Amravati in Maharashtra, Navneet Rana, on March 23 said that she will lodge a police complaint against the leader. On..
Credit: ANI Duration: 01:22
Published
Arvind Sawant rubbishes allegation levelled by MP Navneet Rana of threatening her in Parliament premises

Shiv Sena Member of Parliament Arvind Sawant disapproved allegation levelled by MP from Amravati Navneet Ravi Rana of threatening her inside Parliament premises, said her way of taking and body..
Credit: ANI Duration: 01:47
Published
Will protect you, won't step back: Rahul Gandhi in Assam

Congress leader Rahul Gandhi on March 20 again targeted central government over farm laws and accused them of not letting him speak in the Parliament. However, he assured people of Assam that Congress..
Credit: ANI Duration: 01:45
Published
'They have majority in Parliament', quips Himanta Biswa on Congress' no CAA promise in Assam

Assam Minister and BJP leader Himanta Biswa Sarma mocked Congress' for its promise of not implementing CAA in the state if they come to power. "I think they have huge majority in the Parliament and..
Credit: ANI Duration: 01:01
Published
Nepal takes inspiration from India's democracy: Envoy

Ambassador of Nepal to India, Nilamber Acharya visited Parliament and met Lok Sabha Speaker Om Birla. He said, "It was really good. We (India and Nepal) are close friends. Nepal draws inspiration from..
Credit: ANI Duration: 02:19
Published
After recovering from critical car accident, Shripad Naik back in Parliament

Union Minister Shripad Naik arrived at the Parliament on March 17. He was injured in car accident in Karnataka on Jan 11. The mishap took place near a village in Ankola Taluk of Uttara Kannada..
Credit: ANI Duration: 01:00
Published
UK government's crime bill adds to anger over Everard's death

The UK government is attempting to justify flagship legislation that critics say would hand the police and ministers powers that could seriously curb the ability of citizens to protest at a very..
Credit: Bleacher Report AOL Duration: 02:01
Published
PM Modi interacts with IPU President Duarte Pacheco at Parliament's Central Hall

Prime Minister Narendra Modi interacted with President of Inter-Parliamentary Union, Duarte Pacheco at the Central Hall of Parliament on March 16. The IPU President addressed the MPs today. President..
Credit: ANI Duration: 01:26
Published
'Next target Parliament; who'll stop tractors?': Farmer leader Rakesh Tikait

Farmer leader Rakesh Tikait is on a visit to poll-bound West Bengal. Tikait addressed a 'Mahapanchayat' or mega farmer meet in Kolkata. Tikait also visited Nandigram from where Mamata Banerjee is..
Credit: HT Digital Content Duration: 03:38
Published
Next target Parliament, will sell crops at MSP there: Rakesh Tikait

Warning the central government of another massive tractor march by protesting farmers, BKU leader Rakesh Tikait on March 13 said the next target will be Parliament, and the day the Samyukt Kisan Morcha..
Credit: ANI Duration: 01:11
Published
You Might Like



Expedite setting up of fast track special courts for speedy disposal of POCSO cases: Parliament panel




IndiaTimes - Published





CSIR suggests sewage, air surveillance systems in Parliament to detect Covid-19 prevalence




IndiaTimes - Published





Parliament passes National Commission for Allied, Healthcare Professions Bill

A bill to set up a Commission for regulating and prescribing uniform education standards for allied and healthcare professionals was approved by Parliament with Lok Sabha giving a nod to the..




IndiaTimes - Published





Time to frame CAA rules extended by Parliament

The government has been granted time till April 9 by Lok Sabha and July 9 by Rajya Sabha to frame rules under the citizenship law.




IndiaTimes - Published





In Parliament, BJP MPs & mantris seek MVA govt's dismissal




IndiaTimes - Published





NHAI deploys 550 ambulances at toll plazas

National Highways Authority of India (NHAI) has deployed 550 ambulances at toll plazas to ensure the medical treatment to accident victims, Parliament was informed on Monday.




IndiaTimes - Published





Incentives for inter-caste marriages may help curb atrocities on Dalits: Parliament panel




IndiaTimes - Published





Be careful, follow Covid-19 guidelines: RS chairman tells MPs as infections rise

Rajya Sabha Chairman M Venkaiah Naidu urged the Members of Parliament on Friday to remain extra careful and strictly follow the coronavirus-related guidelines in the wake of rise in the number of cases..




IndiaTimes - Published





Labour ministry should delve into constraints impeding optimal fund utilisation: Parliament panel




IndiaTimes - Published





Rs 2000 notes to discontinue? Here's what Minister said in Parliament

Anurag Thakur, the Minister of State for finance on Monday said that 2000-rupee notes were not sent to the printing press in 2019-20 and 2020-2021.




DNA - Published





'Will open mandi outside Parliament': In Nandigram, Rakesh Tikait attacks Centre, BJP




IndiaTimes - Published





Ravneet Bittu to assume charge as leader of Congress in Lok Sabha temporarily

Congress MP from Ludhiana Ravneet Singh Bittu would function as the leader of the Congress party in Lok Sabha for the remaining part of the Budget session of Parliament, sources said on Thursday...




IndiaTimes - Published





Fuel price war paralyses Parliament

Both Houses of Parliament failed to function on Tuesday with leader of Congress in Lok Sabha Adhir Ranjan Chowdhury alleging "digital discrimination" against the opposition in the lower House,..




IndiaTimes - Published





Truth about government collecting high revenues from petrol, diesel clear now: Rahul Gandhi

He cited a news report claiming that petroleum minister Dharmendra Pradhan in a reply in Parliament stated that in the last 7 years, LPG rates have doubled and tax collection on petrol and diesel has..




IndiaTimes - Published





In view of polls, Budget session likely to be curtailed

While normal Parliament proceedings are expected to resume from Tuesday after disruptions on Monday, the month-long second part of the Budget session, which was to conclude on April 8, will now be..




IndiaTimes - Published





Both Houses of Parliament to commence usual functioning from Tuesday

The second part of the Budget session of Parliament commenced from Monday with all COVID-19 precautionary measures in place.




DNA - Published





Abdullah seeks passage women's reservation bill in Parliament

"The BJP is enjoying majority in the Parliament, and had passed farm bills and that of revocation of Article 370 even as the people were not in their favour. Why are they not passing this (women..




IndiaTimes - Published





Rajya Sabha Chairman to MPs: Attend Parliament, observe debates

On the first day of the second part of the Budget Session, Naidu said that he has been told that some members do not attend the proceedings even when they are in the national capital.




IndiaTimes - Published





TMC demands adjournment of Parliament session due to assembly polls

The Trinamool Congress on Monday wrote to Rajya Sabha Chairman seeking adjournment of Parliament session in wake of assembly polls in several states. The second part of the Budget session of Parliament..




IndiaTimes - Published





Second part of Parliament's Budget Session to commence today

The Rajya Sabha would function from 9 am to 2 pm while the Lok Sabha would function between 4 pm to 9 pm.




DNA - Published

Also reported by •IndiaTimes


Amid campaigning in states, Parliament session starts today

The second part of the Budget session of Parliament begins on Monday at a time when most parties are involved in campaigning for the assembly polls in four states and one Union Territory and also when..




IndiaTimes - Published





2nd part of Parliament's Budget session from Monday; curtailment on cards due to Assembly polls

The main focus of the government is to get various demands of grants for the financial year 2021-22 passed along with the Finance Bill which carries various tax proposals. Some of the bills listed by..




IndiaTimes - Published





Curtailment of Parliament session on cards amid assembly polls in various states




IndiaTimes - Published





West Bengal assembly polls: Former TMC MP Dinesh Trivedi joins BJP

Former TMC MP Dinesh Trivedi on Saturday joined the BJP in the presence of BJP president JP Nadda and Union minister Piyush Goyal. Trivedi had resigned as an MP on February 12 during the Budget session..




IndiaTimes - Published





Tunnels to link PM, VP homes to new Parliament building

The concept behind the tunnels is simple enough: If VIP movement could be insulated from the buzz and bustle of Parliament, there would be fewer interruptions as when carcades move in and out of the..




IndiaTimes - Published





New social media rules lack Parliament's assent, bureaucrats may misuse vast powers: Congress




IndiaTimes - Published





Rakesh Tikait threatens Centre, says repeal farm laws or will march to Parliament with 40 lakh tractors




IndiaTimes - Published





Farmers will gherao Parliament if government doesn't repeal three agriculture laws: Tikait

He appealed to farmers to be ready as the call for 'Delhi march' can be given at any time. Tikait was addressing the Kisan Mahapanchayat of United Kisan Morcha in Sikar, Rajasthan Tuesday. "This time..




IndiaTimes - Published





Congress MP Jairam Ramesh cautions Lok Sabha Speaker against certifying bills as 'Money Bill'

Congress MP Jairam Ramesh has written to Lok Sabha Speaker Om Birla asking him to not certify as 'Money Bills' at least 7 proposed legislations that Finance Minister Nirmala Sitharaman said she..




IndiaTimes - Published





Parliament approves J&K reorganisation amendment bill

A bill to merge the Jammu and Kashmir (J&K) cadre of all-India services officers with the Arunachal Pradesh, Goa, Mizoram Union Territory (AGMUT) cadre was passed by Lok Sabha on Saturday by a voice..




IndiaTimes - Published





Union Budget has set pace for India to become Aatmanirbhar: FM Sitharaman in Lok Sabha

Finance Minister had presented the Union Budget 2021-22 in Parliament on February 1.




DNA - Published





President's address to Parliament reflected India's 'sankalp shakti', says PM Modi




IndiaTimes - Published





No one ready to say what is 'black' in farm laws: Agriculture minister Tomar

Union agriculture minister Narendra Singh Tomar on Friday said those opposing the new farm laws are not ready to say what is black in what they have described as "black laws". "The farm laws have been..




IndiaTimes - Published





Farm stir: Tomar defends farm laws; says opposition couldn't point out shortcomings

Union agriculture minister Narendra Singh Tomar on Friday said those opposing the new farm laws are not ready to say what is black in what they have described as "black laws". "The farm laws have been..




IndiaTimes - Published





BKU leader Rakesh Tikait says this on Rihanna, Greta Thunberg's remarks on farmers' protest

The BKU leader also said that 15 Members of Parliament that visited Ghazipur yesterday should have sat down on the other side of the barricades.




DNA - Published





'You should be ashamed of protecting such a man': Sanjay Raut raises Arnab's Whatsapp chat issue in Parliament

Shiv Sena MP Sanjay Raut raised the issue of Arnab Goswami's Whatsapp chat in Parliament on Friday, saying the BJP-led NDA government "should be ashamed of protecting" him.




IndiaTimes - Published





BJP MPs in Rajya Sabha: Opposition should not make farm stir another Shaheen Bagh

Asserting that the new farm laws were passed after extensive deliberations in Parliament, BJP MPs on Wednesday said in the Rajya Sabha that doors are always open for farmers to resolve the issue..




IndiaTimes - Published





Barricades at protest sites, ruckus in Parliament over farmers demands

Cement barriers, barbed wire, spikes on roads and policemen in large numbers dominated farmers protest sites on the city's borders Tuesday as the opposition created a ruckus in Parliament over the..




IndiaTimes - Published





Bill to ban private cryptocurrency likely in budget session of Parliament

The government is set to introduce the Cryptocurrency and Regulation of Official Digital Currency Bill during the current session of Parliament to ban private cryptocurrencies while putting in place a..




IndiaTimes - Published





President mentions railways' Kisan Rail in his address in Parliament




IndiaTimes - Published





Budget 2021: President condemns R-Day violence, says insult to Tricolour unfortunate - Key highlights

The budget session of Parliament began with an address by President Kovind, a customary speech delivered ahead of the commencement of the Budget.




DNA - Published





Congress, 15 other opposition parties to boycott President's address

With the government seizing on the violence during the tractor rally to corner protesting farm unions, 16 opposition parties on Thursday announced a boycott of the President's address to Parliament..




IndiaTimes - Published





BJD MPs to attend President's address in Parliament

The ruling Biju Janata Dal in Odisha on Thursday said its MPs will attend the President's address to the joint sitting of both houses of Parliament, which commences its budget session on January 29.




IndiaTimes - Published





Ten pointers on tractor rally violence aftermath, Delhi police names Deep Sidhu

Farmer unions on Wednesday also called off their proposed march to the Parliament on February 1, in view of Republic Day violence.




DNA - Published





Farmers put off February 1 Parliament march

A day after violence during the tractor parade rocked the capital, farm unions agitating for repeal of the new central agri laws put off their 'Sansad March' (march towards Parliament) scheduled..




IndiaTimes - Published





Farmer leaders postpone Feb 1 foot march to Parliament in wake of Jan 26 violence

Protesting farmer leaders are considering postponement their foot march to Parliament on February 1 against the three farm laws in wake of the violence in the national capital during the tractor parade..




IndiaTimes - Published




Now, Parliament canteen's menu gets bigger and pricier




IndiaTimes - Published





Tight security for tractor parade on Republic Day, farmers to hold rally to Parliament on Budget day: 10 key developments




IndiaTimes - Published





Farmer unions now announce plan to march towards Parliament on Budget day

Ahead of their proposed tractor parade on Republic Day, protesting farmer unions on Monday announced they will march towards Parliament from different locations on February 1 when the annual Union..




IndiaTimes - Published





Ahead of budget session, Opposition to decide on attending all-party meet called by PM Modi

Ahead of the forthcoming budget session of Parliament, Opposition parties are likely to meet to decide whether they will attend the customary all-party meeting, called Prime Minister Narendra Modi on..




IndiaTimes - Published