National Capital Region (India)
Region in India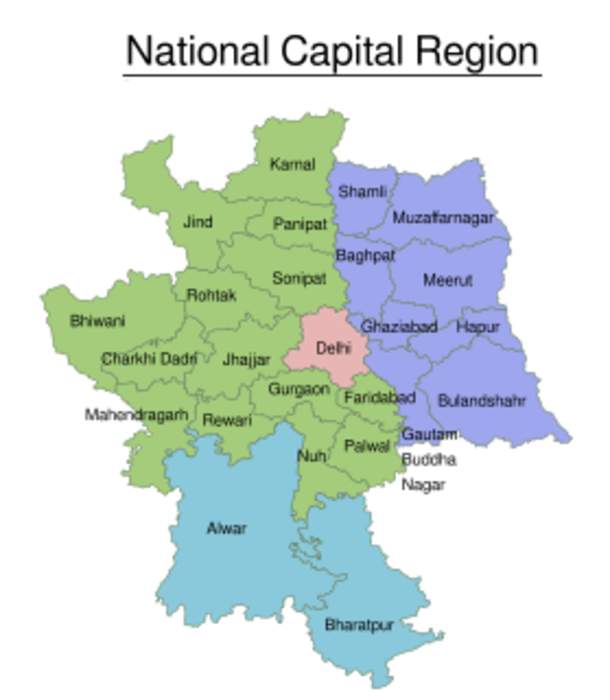 The National Capital Region (NCR) is a central planning region centred upon the National Capital Territory (NCT) of Delhi in India. It encompasses Delhi and several districts surrounding it from the states of Haryana, Uttar Pradesh and Rajasthan. The NCR and the associated National Capital Region Planning Board were created in 1985 to plan the development of the region and to evolve harmonized policies for the control of land-uses and development of infrastructure in the region. Prominent cities of NCR include Faridabad, Ghaziabad, Gurgaon, New Delhi and Noida.


Foggy weekend for Delhi-NCR

Delhi-NCR woke up to foggy morning on February 13. A thick layer of fog covered parts of Delhi and almost zero visibility was witnessed in the national capital. Even, DND flyway in Noida was covered..
Credit: ANI Duration: 01:33
Published
Farmers' stir: Security tightened, many metro stations shut ahead of chakka jam

Delhi Police has deployed additional security in view of 'chakka jam' called by farmers. Police intensified vigil at city borders to deal with situation arising out of 'chakka jam'. Protesting..
Credit: HT Digital Content Duration: 02:28
Published
Chakka Jam: Around 50,000 police, paramilitary forces deployed in Delhi-NCR, borders

Drone cameras deployed around Tikri border to monitor the situation in the wake of 'Chakka Jam' call by farmers. Around 50,000 personnel of Delhi Police, Paramilitary and Reserve Forces are on alert in..
Credit: ANI Duration: 02:03
Published
Dense fog envelops Delhi-NCR: Visibility drops to zero, flight services hit

Dense fog gripped Delhi-NCR with visibility dropping to zero at most places. The IMD said that minimum temperatures are likely to fall by 2-4 °C over parts of northwest India. Flight services from..
Credit: HT Digital Content Duration: 01:59
Published
Delhi-NCR reels under icy winds, fog hits normal life

The temperature has further dipped in Delhi-NCR. A low visibility was witnessed at Singh border. The border area was reeling under thick layer of fog. The area near India Gate was also under cold..
Credit: ANI Duration: 01:43
Published
Light showers expected in Delhi-NCR: Delhi's IMD

Today mercury has dropped about five degree Celsius compared to yesterday (January 07) informed Kuldeep Srivastava, Head, India Meteorological Department (IMD), Delhi on January 08. "With the mercury..
Credit: ANI Duration: 01:08
Published
Mega waterproof tent installed at Singhu Border as farmers' protest continues amid rain

As Delhi-NCR is witnessing downpour amid chilly weather, farmers agitating against the agricultural laws at Singhu border installed a mega tent at centre stage where their leaders address protesters..
Credit: ANI Duration: 02:10
Published
Farmers construct 'semi-pucca' shelter to face harsh weather at Tikri Border

Incessant rainfall in parts of Delhi-NCR continues to test the ongoing farmers' protest. Farmers constructed concrete brick floor using cement and gravel at Tikri Border. Farmers agitating against new..
Credit: ANI Duration: 01:07
Published
Delhi-NCR wakes up to sound of hailstorm and rain

Parts of national capital and Haryana's Gurugram received hailstorm and rain on January 06. However, the continuous rainfall in Delhi kept the minimum temperature at tolerable level of around 12 Degree..
Credit: ANI Duration: 02:08
Published
You Might Like



Air quality remains 'severe' in Delhi-NCR, AQI falls to 428

People in Noida also suffered because of poor air quality where both PM10 and PM2.5 pollutants remained in the 'severe' category, according to SAFAR.




DNA - Published





No relief from rain in Delhi-NCR, second round of cold wave from January 7

The weather department has predicted that till the morning of January 6, Delhi-NCR weather will be cloudy and will clear only after the morning.




DNA - Published





Moderate to heavy rain lashes parts of Delhi-NCR for second day in a row

The minimum temperature in Delhi is likely to rise to 9 degrees Celsius in the next two to three days, IMD said.




DNA - Published





Commercial vehicles without RFID tags will not be allowed entry in Delhi from Jan 1: Air quality panel

The Commission for Air Quality Management for Delhi NCR and adjoining areas has called for strict implementation of the RFID system at 13 toll plazas.




DNA - Published





BREAKING: Earthquake hits Delhi-NCR

Earthquake hits Delhi-NCR




DNA - Published





COVID-19: Haryana limits gatherings to 50 people in halls in these six districts

To contain the surge in Covid-19 cases in six NCR districts, Haryana government decided to limit the number of people allowed for social gatherings.




DNA - Published





Air quality in Delhi-NCR turns 'severe' post Diwali

A layer of haze was seen over Delhi-NCR on Diwali night as people defied ban and bursted firecrackers with calm winds allowing accumulation of pollutants.




DNA - Published





Delhi gasps for clean air as air quality remains 'severe' for fifth consecutive day

At Delhi's IIT, the AQI was recorded at 476, 433 in Ayanagar and 489 at Mathura Road. NCR areas also recorded severe AQI with 527 in Noida and 439 in Gurugram.




DNA - Published





Will bring new law to tackle Delhi-NCR air pollution, Centre tells SC

Solicitor General Tushar Mehta informed the Supreme Court that the Centre has taken a holistic view of the issue of air pollution in Delhi NCR and it intends to bring out legislation in next three to..




DNA - Published





Amidst Trump's comment calling India's air filthy, Delhi-NCR already chokes

It seems that this year the smog season has already started. The air quality of Delhi NCR is fast deteriorating due to which it's becoming increasingly difficult for people to go out of their houses.




DNA - Published





Tata Housing comes up with unique scheme, 'Wow is Now' for homebuyers

There is some good news for homebuyers who are planning to purchase their dream homes this year. Tata Housing has come up with a unique scheme, 'Wow is Now' for homebuyers across Mumbai, Bengaluru,..




DNA - Published





DNA EXPLAINED: How 'stubble burning' in Haryana-Punjab suffocates Delhi-NCR

Today we will tell you what this stubble is and why there is an uproar on burning it. We will also tell you the effect on people's health due to the pollution caused by burning it.




DNA - Published





No respite for Delhi-NCR as air quality remains 'poor', may deteriorate further due to stubble burning

There's no respite for residents of Delhi and adjoining NCR as the air quality in the region continues to deteriorate. On Sunday, the Air Quality Index in parts of Gurugram remained 'very poor' while..




DNA - Published





65 staffers at Amrik Sukhdev Dhaba in Murthal test COVID-19 positive

The Amrik Sukhdev Dhaba in Murthal is an extremely popular place among people and sees a heavy footfall every day, especially of people from Delhi-NCR.




DNA - Published





Delhi-NCR to get moderate to heavy rain for next 3 days: IMD

The India Meteorological Department on Tuesday issued an alert for "moderate to heavy" rains in Delhi-NCR over the next three days.




DNA - Published





Heavy rains lash parts of Delhi-NCR, IMD forecasts more rainfall, thunderstorms

IMD had predicted rainfall in Delhi till August 25.




DNA - Published





Massive fire breaks out at Noida Power Company Limited substation; fire tenders at site

A massive fire broke out on Wednesday morning at a power substation of the Greater Noida Power Company Limited (NPCL) in Noida Sector 148, amid the heavy rains that swept Delhi and the adjoining..




DNA - Published





Ahead of Independence Day celebrations, security beefed up in Delhi-NCR

A day before Independence Day celebrations on August 15, security has been beefed up in Delhi-NCR.




DNA - Published





IMD warns of heavy rains in Mumbai, Thane, Raigad, Palghar and Delhi-NCR

The India Meteorological Department (IMD) issued a warning of heavy rains at isolated places in Mumbai, Thane, Raigad, Palghar and some ghat regions.




DNA - Published





Delhi-NCR jolted as earthquake of magnitude 4.5 hits Alwar in Rajasthan

According to the National Centre for Seismology, the earthquake of magnitude 4.5, with its epicentre 63 km southwest of Gurugram, Haryana, struck at 7 pm.




DNA - Published





Amit Shah suggests UP, Haryana to use rapid kits to bolster testing in NCR; early hospitalisation




IndiaTimes - Published





Strong earthquake cannot be ruled out in Delhi: Wadia Institute of Himalayan Geology

"The recent events cannot be defined as foreshocks. If a big earthquake takes place in a region, all smaller events that occurred in the immediate past at that region are categorized as the foreshocks...




DNA - Published





Dust storm, heavy rains hit Delhi-NCR

National capital and its nearby areas were hit by a spell of dust storm and heavy rains on Wednesday.




DNA - Published





Earthquake tremors felt in parts of Delhi, NCR




IndiaTimes - Published




Chaos reigns supreme as thousands of migrants reach Ghaziabad to take Shramik Specials to UP, Bihar

Thousands of migrant workers from Delhi and other NCR towns reached Ramlila Maidan here in the city on Monday to secure passes for Shramik Special trains to their homes in Bihar and Uttar Pradesh amid..




IndiaTimes - Published





'Bois Locker Room': Admin of Instagram group, a class 12 student, arrested

Police said the arrested person is an 18-year-old class 12 student of a school in Delhi-NCR and appeared for his board examinations this year.




DNA - Published





Delhi breathes cleaner air as lockdown brings down pollution levels significantly

The pollution levels in Delhi NCR have come down significantly from 600 to 72




DNA - Published





CBI searches 13 locations in J&K, NCR in connection with arms licence case

This is the first major operation of the agency after the reorganisation of Jammu and Kashmir as an Union Territory. It has given CBI the jurisdiction to operate there under the Delhi Special Police..




IndiaTimes - Published





Tremors in Delhi-NCR, Jammu and Kashmir, other parts of north India

Tremors were felt in Delhi-NCR and some parts of north India on Friday evening.




DNA - Published




Strong winds, rains lash Delhi-NCR, bring respite from 'severe' air quality

IMD predicted that the chilly wind will continue in the National Capital Region because of heavy snowfall in the Himalayan region.




DNA - Published





NHAI to explore e-way links to Jewar

As all decks get cleared for the development of Jewar airport in the NCR by 2024, the highways ministry has started exploring possibility of providing a direct link to the airport from upcoming..




IndiaTimes - Published





Snow, rain likely to hit north India this week

Snow chasers planning a trip to the hills this weekend could well be in for a treat. December's first major snow spell is expected this week, particularly on Thursday and Friday, in all the three..




IndiaTimes - Published





Tremors in Lucknow, Delhi-NCR as earthquake of magnitude 5.1 rocks India-Nepal border

Tremors were felt in Delhi-NCR on Tuesday evening.




DNA - Published




Pollution comes down as wind speed increases in Delhi-NCR, likely to improve further

The wind speed is predicted to reach 20-22 kilometers per hour till 4 PM, improving the 'poisonous' air that Delhi-NCR has been witnessing for the last few days.




DNA - Published





Delhi NCR schools to remain shut till Tuesday; govt issues health advisory

All government and private schools up to Class 12 in the National Capital Region will remain closed till Tuesday in the wake of spike in pollution levels, officials said. The Delhi government issued a..




IndiaTimes - Published





Public health emergency in Delhi-NCR, declares pollution control body, bans construction work, bursting of firecrackers

Air Quality Index (AQI) in Delhi-NCR is under hazardous category.




DNA - Published





Government's pollution control measures have led to more 'good air days' in Delhi: Prakash Javadekar

"Goods days have increased and bad days have reduced in Delhi's pollution status," said Javadekar, who attended the 29th BASIC (Brazil, South Africa, India and China) ministers' meeting here on..




IndiaTimes - Published





Delhi: Air quality tanks after consistent 'Poor' status, govt to undertake strict measures from tomorrow

Starting October 15, strict measures to combat the menace of air pollution will come into force in the national capital and its adjoining areas such as Gurugram, Noida, Ghaziabad and Faridabad as part..




DNA - Published





National capital region is also India's startup capital region

Delhi, Gurgaon and Noida — collectively, Delhi-NCR — together are far ahead in the number of startups than Bangalore. Another reason to call the National Capital Region India's startup capital..




IndiaTimes - Published





Paddy stubble burning declines 41% in Punjab, Haryana, UP, Delhi-NCR




IndiaTimes - Published





Monsoon showers finally hit Delhi-NCR, more rainfall in next 48 hours

According to IMD, Delhi-NCR and nearby regions will witness rainfall over the weekend as the southwest monsoon is set to advance further in the coming days.




DNA - Published





Heatwave spike ozone level in Delhi, NCR: CSE

CSE study shows that this summer, when the mercury levels were rising, the average ozone levels exceeded the prescribed standard on 28 days, as compared to 17 days during the same period in 2018




DNA - Published