Rajya Sabha
Upper house of the Parliament of India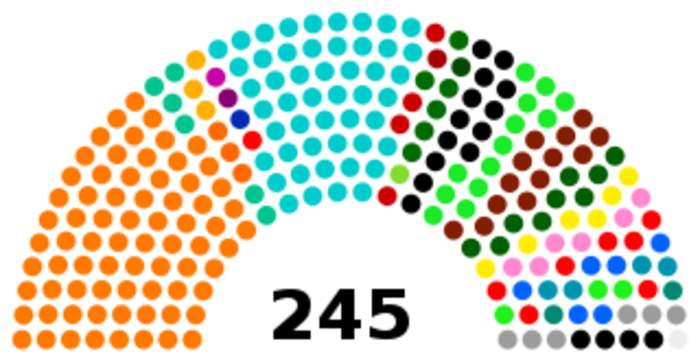 The Rajya Sabha or Council of States is the upper house of the bicameral Parliament of India. It currently has a maximum membership of 245, of which 233 are elected by the legislatures of the states and union territories using single transferable votes through Open Ballot while the President can appoint 12 members for their contributions to art, literature, science, and social services. The potential seating capacity of the Rajya Sabha is 250, according to article 80 of the Indian Constitution. Members sit for staggered terms lasting six years, with elections every year but almost a third of the 233 designates up for election every two years, specifically in even-numbered years. The Rajya Sabha meets in continuous sessions, and unlike the Lok Sabha, being the lower house of the Parliament, the Rajya Sabha, which is the upper house of Parliament, is not subjected to dissolution. However, the Rajya Sabha, like the Lok Sabha can be prorogued by the President.


Harsh Vardhan inaugurates new infrastructure at RIMS hospital in Manipur

Union Health and Family Welfare Minister Dr. Harsh Vardhan inaugurated several new infrastructure facilities at the Regional Institute of Medical Sciences (RIMS), Imphal on March 1. Newly inaugurated..
Credit: ANI Duration: 03:07
Published
COVID vaccine should be given to youngsters first: Mallikarjun Kharge

Leader of Opposition in Rajya Sabha, Mallikarjun Kharge on March 01 said the vaccine should be given to youngsters first who have longevity in life. He said,"I am above 70 years of age. You should give..
Credit: ANI Duration: 01:45
Published
'We have political differences but..': Ghulam Nabi Azad praises PM Modi

Senior Congress leader Ghulam Nabi Azad lavished praise on Prime Minister Narendra Modi while addressing a function by Gujjar Desh Charitable Trust in Jammu. 'I admire several things about a number..
Credit: HT Digital Content Duration: 02:22
Published
'Congress weakening', 'we didn't drop from above': Show of strength by 'G23'

A group of leaders who had earlier written to Indian National Congress chief Sonia Gandhi seeking reform in the party, held an event in Jammu on February 27. The programme was held in honour of Ghulam..
Credit: HT Digital Content Duration: 09:38
Published
BJP demands suspension of 3 Kolkata policemen over 'breach' in poll process

Soon after meeting with state Chief Electoral Officer (CEO) in Kolkata, BJP leader and Rajya Sabha Member of Parliament Swapan Dasgupta said that BJP "detected the conspiracy" by 3 Kolkata policemen..
Credit: ANI Duration: 02:16
Published
Retired from Rajya Sabha, not politics: Ghulam Nabi Azad

Congress leader Ghulam Nabi Azad during a "peace conference" in Jammu on February 27 said that he has retired from only Rajya Sabha, not from politics. In reference to Jammu and Kashmir's statehood,..
Credit: ANI Duration: 02:36
Published
Days not far when countrymen won't allow BJP leaders to enter any town, city: Pratap Khachariyawas

Rajasthan Minister of Transport and Soldiers Welfare Department, Pratap Khachariyawas slammed Centre over farmers' issue. He said that the days are not far when BJP ministers will not be able entering..
Jaipur Literature Festival | Exclusive inside stories | Pavan K Varma

Pavan K. Varma is an award-winning writer-diplomat and now in politics, where he was till recently an MP in the Rajya Sabha, and earlier Advisor to the Chief Minister of Bihar. The man, who has..
Credit: Oneindia Duration: 01:01
Published
'Ask protesting farmers about democracy': Sanjay Raut on foreign envoys' visit

As envoys from 24 nations are visiting Jammu and Kashmir to take stock of the situation in the region, Shiv Sena leader Sanjay Raut has mocked the visit. The Shiv Sena Rajya Sabha MP said that they..
Credit: HT Digital Content Duration: 02:02
Published
1% conviction rate in 140 sedition cases in 6 years: Rajya Sabha MP

"In past 6 years, 140 sedition cases registered out of which conviction rate has been around 1%," according to Congress Rajya Sabha Member of Parliament Syed Nasir Hussain. "In the last 6 years, 140..
Credit: ANI Duration: 01:24
Published
Centre afraid of Rahul as it doesn't has answer: Sachin Pilot on Sitharaman's 'Doomsday Man' statement

Congress MLA from Tonk, Sachin Pilot reacted on Finance Minister Nirmala Sitharaman's 'Doomsday man for India' statement on Rahul Gandhi. Terming Gandhi's Rajasthan visit as success, he said that Rahul..
Credit: ANI Duration: 01:43
Published
Mind is full of fear, head is in gutter: Former TMC MP Dinesh Trivedi

"At the moment the mind is full of fear and head is in the gutter," said Dinesh Trivedi who resigned as TMC MP in Rajya Sabha on February 13. "If Mamata Banerjee, rightly says 'I want to keep my head..
Credit: ANI Duration: 01:00
Published
Proposal sent for visit of MPs to Eastern Ladakh after May 15: BJP's Jual Oram

The Parliamentary Standing Committee on Defence (SCOD) has sent a proposal to Central government to facilitate visit of members to the Eastern Ladakh region after May 15, informed Chairperson of..
Credit: ANI Duration: 01:28
Published
You Might Like



'I appreciate him for...': Ghulam Nabi Azad heaps praise on PM Modi, says THIS

Earlier this month, Azad, who served as Leader of Opposition (LoP) in Rajya Sabha, retired from the House




DNA - Published





Retired from Rajya Sabha not politics, will continue my fight for Jammu and Kashmir statehood: Azad




IndiaTimes - Published





AG declines consent to initiate contempt proceedings against ex-CJI Ranjan Gogoi

Attorney General K K Venugopal has refused to grant sanction to initiate contempt proceedings against former Chief Justice of India (CJI) and Rajya Sabha lawmaker Ranjan Gogoi for his alleged..




IndiaTimes - Published





Rajya Sabha bypolls: BJP wins both seats from Gujarat, 1 of them held by Ahmed Patel




IndiaTimes - Published





Jolt to LJP in Bihar as its 200 leaders and workers join JD(U)

Chirag Paswan-led Lok Janshakti Party (LJP) on Thursday received a major jolt in Bihar as its around 200 senior leaders and workers, led by its former state general secretary Keshav Singh, quit the..




IndiaTimes - Published





First fight Abhishek, then me: Mamata Banerjee challenges Amit Shah

Addressing a party rally in Pailan in the South 24 Parganas district, Mamata Banerjee said that Abhishek could have taken the easy route of being an MP by choosing to be a Rajya Sabha member but he..




IndiaTimes - Published





Rajya Sabha: Attendance of parliamentary panels improves by 15 per cent, meetings duration by over 16 per cent

The functioning of the eight Department Related Parliamentary Standing Committees (DRSCs) of Rajya Sabha has improved substantially with a 15 per cent increase in attendance and more than 16 per cent..




IndiaTimes - Published





Investigate how Trivedi could resign in Rajya Sabha, TMC asks Naidu




IndiaTimes - Published





DNA Exclusive: After Rajya Sabha resignation, 'suffocated' Dinesh Trivedi says TMC has been outsourced to a consultant

Dinesh Trivedi in his interview said that the principles and ideals on which the Trinamool Congress was formed does not exist anymore.




DNA - Published





Spent Rs 8cr on ads to bust farm bill myths: Govt to Rajya Sabha

Amid protests against farm laws, the Centre has spent nearly Rs 8 crore on advertisements and production of promotional films for clarifying contentious issues on the legislations ever since these were..




IndiaTimes - Published





India exported Covid vaccines worth Rs 338cr till Feb 8: Goyal

India has exported Covid-19 vaccines worth Rs 338 crore till February 8, said commerce and industry minister Piyush Goyal in Rajya Sabha on Friday. ​​​​The exports, which began in January,..




IndiaTimes - Published





Mallikarjun Kharge is new Leader of Opposition in Rajya Sabha - Know his journey in 10 points

Mallikarjun Kharge will be the 17th Leader of the Opposition in Rajya Sabha since December, 1969.




DNA - Published





Centre has spent Rs 7.95 crore on campaign to bust myths about farm laws: Agriculture minister Narendra Singh Tomar

Agriculture minister Narendra Singh Tomar, in a written reply in the Rajya Sabha, further said the print advertisements have been published through the Bureau of Outreach and Communication (BOC) in..




IndiaTimes - Published





Trinamool Congress MP Dinesh Trivedi resigns from Rajya Sabha

In another jolt to the Trinamool Congress ahead of the West Bengal assembly polls, party's MP Dinesh Trivedi resigned from his Rajya Sabha seat on Friday. "I am resigning from Rajya Sabha today. There..




IndiaTimes - Published





'I feel soffocated': TMC's Dinesh Trivedi announces resignation as Rajya Sabha MP

In another shocker for West Bengal Mamata Banerjee, All India Trinamool Congress Rajya Sabha member Dinesh Trivedi on Friday announced his resignation on the floor of the House (Rajya Sabha) citing the..




DNA - Published





Congress names Mallikarjun Kharge for leader of opposition in Rajya Sabha

The Congress has given the name of party veteran Mallikarjun Kharge for the post of the leader of opposition in the Rajya Sabha.




IndiaTimes - Published





'Dalit converts to Christianity, Islam won't get quota'

Dalit converts to Islam or Christianity will not be eligible for contesting parliamentary or assembly elections from constituencies reserved for Scheduled Castes (SC), and cannot claim other..




IndiaTimes - Published





No decision on exempting IITs from faculty reservation: Government

The panel submitted its report last June and it was circulated to all the ministries concerned and their comments have been received, education minister Ramesh Pokhriyal Nishank said in a written reply..




IndiaTimes - Published





India-China row: Full statement of Rajnath Singh in Rajya Sabha




IndiaTimes - Published





Defence minister to make statement on 'present situation in Eastern Ladakh' in Rajya Sabha today

Amid the ongoing standoff with China at the Ladakh border area, defence minister Rajnath Singh is set to make a statement in Rajya Sabha on Thursday regarding the 'present situation in Eastern Ladakh'..




IndiaTimes - Published





1cr workers returned home during pandemic: Govt

Around one crore migrant workers are estimated to have gone back to their native states during the Covid-19 pandemic and most of them have now returned and are getting employment, labour and employment..




IndiaTimes - Published





Now, govt ports get greater autonomy

The Rajya Sabha on Wednesday passed the Major Port Authorities Bill, which seeks to provide greater autonomy and flexibility to ports under the central government by creating a Board of Major Port..




IndiaTimes - Published





Agitating farmers not summoned by NIA: Govt tells Rajya Sabha

Farmers participating in the ongoing protests against newly enacted three agri laws were not summoned by the National Investigation Agency, the government told Rajya Sabha on Wednesday. Thousands of..




IndiaTimes - Published





'Proud Indian' Ghulam Nabi Azad's Rajya Sabha tenure comes to an end, who next from Congress as Leader of Opposition?

In his partying speech Azad said that he counts himself among those fortunate people who did not go to Pakistan and are proud to be Hindustani Muslim.




DNA - Published





I feel proud to be a Hindustani Muslim, says Ghulam Nabi Azad as he retires from Rajya Sabha




IndiaTimes - Published





SC grants protection to AAP leader Sanjay Singh in alleged hate speech cases in UP

The Supreme Court on Tuesday granted protection from coercive action to Aam Aadmi Party leader and Rajya Sabha MP Sanjay Singh in alleged hate speech cases lodged against him in Uttar Pradesh. However,..




IndiaTimes - Published





'Ghulam Nabi Azad is a true friend': PM Modi gets emotional as he bids farewell to Rajya Sabha members




IndiaTimes - Published





PM gets emotional in Rajya Sabha during farewell to Cong leader Ghulam Nabi Azad

PM Modi narrated an anecdote of Congress MP Ghulam Nabi Azad, when he talked to PM Modi on the phone crying.




DNA - Published





PM Modi gives sharp reply to opposition in Rajya Sabha, quotes Manmohan Singh over farm laws

PM Modi also said that the need of the hour is to improve the lives of the country's small farmers.




DNA - Published





Rafale induction ceremony cost exchequer over Rs 41 lakh: Defence minister Rajnath

The induction ceremony of the first five Rafale jets at the Ambala Air Force base on September 10 last cost the exchequer a little over of Rs 41 lakh including Rs 9.18 lakh GST, Defence Minister..




IndiaTimes - Published





MSP is there, was there, will remain in future: PM Modi in Rajya Sabha on farm laws




IndiaTimes - Published





To those who took U-turn on farm laws, I did what Manmohan said: PM Modi

Political parties who have taken a U-turn on the new farm reforms should be proud that Modi has introduced policies which their leaders had once endorsed, said Prime Minister Narendra Modi on Monday..




IndiaTimes - Published





PM Modi takes a dig at Derek O'Brien's remarks on 'freedom of speech', 'intimidation'

PM Modi on Monday, replying to the motion of thanks on President's address in the Rajya Sabha, took a dig at Trinamool Congress leader Derek O'Brien for using phrases which the PM said were better..




IndiaTimes - Published





MSP tha, MSP hai aur MSP rahega, assures PM Modi

'MSP (Minimum Support Price) tha, MSP hai aur MSP rahega' (MSP was there, MSP is there, MSP will remain in the future) said Prime Minister Narendra Modi in Rajya Sabha on Monday amid the ongoing..




IndiaTimes - Published





Prime Minister Narendra Modi addresses Rajya Sabha: Highlights




IndiaTimes - Published





World has eyes on India with hopes, expectations: PM Modi in Rajya Sabha

The Prime Minister also said that the coronavirus period has added new strength to the federal structure and the spirit of cooperative federalism.




DNA - Published





Tomar has given detailed info on every aspect of farm laws in Rajya Sabha: PM Modi

Prime Minister Narendra Modi on Friday lauded Agriculture Minister Narendra Singh Tomar's remarks on the new farm reform laws in Rajya Sabha, saying he has given detailed information on every aspect of..




IndiaTimes - Published





BJP defends farm laws, Congress seeks their repeal

The ruling BJP on Friday defended the three new farm laws in Rajya Sabha, while the opposition Congress sought their repeal and a probe by a Supreme Court judge into the violence during the Republic..




IndiaTimes - Published





'I am with farmers': Azad wears mask to proclaim support in RS

The leader of opposition sat sporting the mask in the Upper House, which earlier saw heated exchanges as both the treasury and opposition benches attacked each other on the issue. Speaking on the..




IndiaTimes - Published





Govt committed to welfare of farmers: Scindia

The ruling BJP on Thursday defended the three new farm laws in Rajya Sabha saying the government was committed to farmers' welfare, and questioned the opposition parties for changing their stance on..




IndiaTimes - Published





Congress failed to utilise health budget under its rule, says Jyotiraditya Scindia

"When there was United Progressive Alliance (UPA) government, the health budget was not utilised fully. Congress-led UPA's 5-year budget was Rs 1.75 trillion while NDA one-year health budget is Rs 2.23..




IndiaTimes - Published





'Whichever party you stay in...': Digvijaya Singh's blessing to Jyotiraditya Scindia evokes laughter in Rajya Sabha




IndiaTimes - Published





Farm laws are not 'anti-farmers' from any angle: JD(U) president RCP Singh in Rajya Sabha

JD (U) president and Rajya Sabha member RCP Singh on Wednesday said that the three farm legislations against whom the farmers have been agitating near the national capital, were not "anti-farmers..




IndiaTimes - Published





FIRs against Tharoor, journalists raised in Rajya Sabha

Raising the issue through a zero hour mention, Digvijaya Singh of the Congress said FIRs had been filed against politicians, journalists and civil society activists under felonious sections in the past..




IndiaTimes - Published





BJP MPs in Rajya Sabha: Opposition should not make farm stir another Shaheen Bagh

Asserting that the new farm laws were passed after extensive deliberations in Parliament, BJP MPs on Wednesday said in the Rajya Sabha that doors are always open for farmers to resolve the issue..




IndiaTimes - Published





Quick Edit: Rajya Sabha discussion should constructively attenuate the farm laws impasse




IndiaTimes - Published





M Venkaiah Naidu warns Rajya Sabha MPs against recording proceedings on mobile phones

Some opposition MPs had on Tuesday used their cell phones to record the disruption in proceedings over farm bills. These videos were shared on social media and aired on television channels. When the..




IndiaTimes - Published





Second extension granted to home ministry for framing Citizenship (Amendment) Act rules

In what may indicate further wait for operationalisation of the Citizenship Amendment Act (CAA), the home ministry on Tuesday informed the Lok Sabha that the committees on subordinate legislation for..




IndiaTimes - Published





Rajya Sabha proceedings adjourned thrice over farmers' issue

Congress and other opposition parties on Tuesday forced adjournment of Rajya Sabha proceedings for the third time in the pre-noon session as they insisted on taking up a discussion on the issue of..




IndiaTimes - Published





Opposition stages walkout after RS Chairman rejects suspension notice over farm laws

The opposition on Tuesday staged a walkout from the Rajya Sabha after chairman M Venkaiah Naidu rejected the 'Suspension of Business Notice' to discuss on ongoing protest over the contentious farm..




IndiaTimes - Published