Sonia Gandhi
Indian politician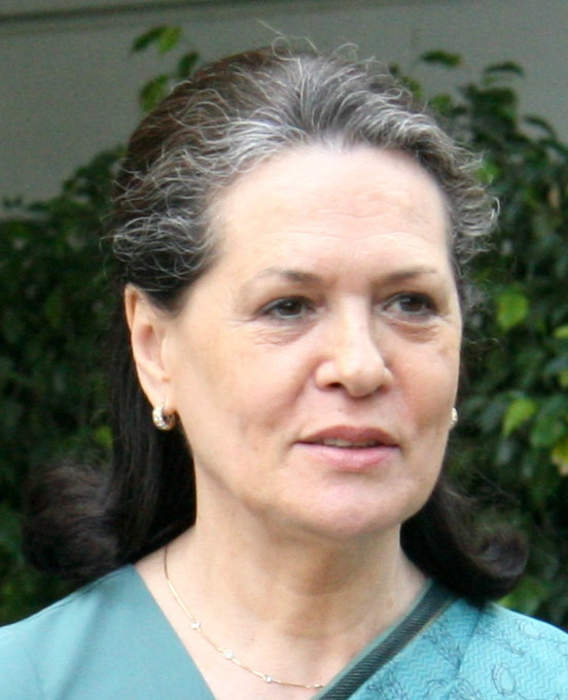 Sonia Gandhi is an Indian politician. She is the longest serving president of the Indian National Congress, a social democratic political party, which has governed India for most of its post-independence history. She took over as the party leader in 1998, seven years after the assassination of Rajiv Gandhi, her husband and a former Prime Minister of India, and remained in office until 2017 after serving for twenty-two years. She returned to the post in 2019 and remained the President for another three years.


Dussehra Celebrations| 'Ravan Dahan' Attended by PM Modi, Sonia Gandhi, Arvind Kejriwal | Oneindia

In a festive celebration of Dussehra, 'Ravan Dahan' rituals unfolded in Delhi with various prominent figures in attendance. Prime Minister Narendra Modi witnessed the event at Dwarka Sector 10 Ram..
Credit: Oneindia Duration: 07:32
Published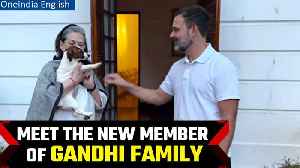 Rahul Gandhi gives surprise gift, a puppy named 'Noorie', to mother Sonia Gandhi | Oneindia News

On the occasion of World Animal Day, Congress MP Rahul Gandhi introduced the world to the newest addition to their family, a puppy. The puppy, Noorie, was adopted as a present for his mother, Sonia..
Credit: Oneindia Duration: 02:51
Published
You Might Like



Revanth Reddy to celebrate with party workers as Congress continues to grow in Telangana

Revanth Reddy, the president of Telangana Congress committee, is celebrating the party's victory in Telangana. He is leading from both the Kodangal and Kamareddy seats. Congress workers are rejoicing..




IndiaTimes - Published





Rahul Gandhi praises healthcare in Kerala

Rahul Gandhi praises Kerala's healthcare system, highlighting its pioneer role in palliative care. He appreciates the level of community participation and education in the state. Speaking at the..




IndiaTimes - Published





'Sonia ji launched Rahul 20 times, but this vehicle is such that...': Amit Shah's swipe at Congress

Comparing the governance of BJP and Congress, Union Home Minister Amit Shah said that the policies of PM Modi has taken the country's economy from 11th to 5th position globally while Congress leader..




IndiaTimes - Published





ED attaches Rs 750 crore AJL assets, including Herald House in city

The Enforcement Directorate on Tuesday attached properties worth over Rs 750 crore, including the well-known Herald House near ITO, belonging to Associated Journals Ltd (AJL), the publisher of National..




IndiaTimes - Published





'Life, dedicated duty to country': Congress commemorates former PM Indira Gandhi on her 105th birth anniversary

Congress leaders Sonia Gandhi, Rahul Gandhi, Mallikarjun Kharge , and KC Venugopal paid tribute to former Prime Minister Indira Gandhi on her 105th birth anniversary. They praised her leadership,..




IndiaTimes - Published





Sonia Gandhi in Jaipur to avoid air pollution in New Delhi: Jairam Ramesh

Congress General Secretary Jairam Ramesh announced that Congress leader Sonia Gandhi will be staying in Jaipur for a few days to avoid air pollution in Delhi. Rahul Gandhi will also be based in Jaipur..




IndiaTimes - Published





Mallikarjun Kharge, Sonia Gandhi pay tribute to Jawaharlal Nehru on his birth anniversary

Congress President Mallikarjun Kharge and Congress Parliamentary Party Chairperson Sonia Gandhi paid tribute to former Prime Minister Jawaharlal Nehru on his birth anniversary. Kharge praised Nehru for..




IndiaTimes - Published





Vote for Congress to ensure peace, prosperity: Sonia's appeal to Mizoram voters

Sonia Gandhi has appealed to the people of Mizoram to vote for Congress in the upcoming assembly polls. In a video message, she emphasized that the Congress is the only party that can ensure the..




IndiaTimes - Published





Had important role in building strong, progressive India: Mallikarjun Kharge hails Indira Gandhi on death anniversary

Kharge and former party chiefs Sonia Gandhi and Rahul Gandhi paid floral tributes to the ex-prime minister at her memorial 'Shakti Sthal' here. "Humble tributes to Indira Gandhi, India's first woman..




IndiaTimes - Published





Israel exacting revenge from blameless: Sonia Gandhi

Sonia Gandhi, the leader of the Congress, has criticized India for not voting in favor of the latest UN general assembly resolution on the crisis in West Asia. She claimed in a newspaper article that..




IndiaTimes - Published





Congress 'strongly opposed' to India's abstention on UN resolution on Israel-Hamas conflict: Sonia Gandhi

Sonia said her party's longstanding position has been to support direct negotiations for a sovereign independent, viable and secure state of Palestine coexisting in peace with Israel. In an article,..




IndiaTimes - Published




Israel-Hamas war: Congress leader Sonia Gandhi says this on India's abstention on UN resolution

Congress leader Sonia Gandhi also said her party's longstanding position has been to support direct negotiations for a sovereign independent, viable, and secure state of Palestine coexisting in peace..




DNA - Published





Congress releases revised list of star campaigners for MP assembly polls

The Congress party has released its revised list of star campaigners for the upcoming Madhya Pradesh assembly election. The list includes top leaders such as Mallikarjun Kharge, Sonia Gandhi, Rahul..




IndiaTimes - Published





Opposition has set up industry for 'new ideas of graft': BJP

The BJP has accused opposition parties of creating an industry for generating new ideas for corruption. The party referred to the opposition bloc as the "Indian Notorious Dacoits of India Association"..




IndiaTimes - Published





Congress holds meet to decide names of candidates for Telangana polls

Chaired by Congress president Mallikarjun Kharge, the meeting was attended by former party chief Sonia Gandhi, besides members of the Committee and Telangana leaders, including PCC chief A Revanth..




IndiaTimes - Published





Rahul Gandhi says BJP leaders in Telangana queuing up to join Congress, winds up three-day tour

During a rally in Telangana, former AICC president Rahul Gandhi compared BJP leaders to "Bollywood heroes" and claimed that they are now queuing up to join the Congress party. Gandhi also highlighted..




IndiaTimes - Published





Congress CEC meeting begins in Delhi, to finalise candidates in Rajasthan, Chhattisgarh, Madhya Pradesh

The meeting is being attended by Rajasthan Chief Minister Ashok Gehlot and senior leader and Congress MP Rahul Gandhi, Sonia Gandhi along with members of CEC and screening committee members of the..




DNA - Published





Parliament Special Session LIVE updates: Sonia Gandhi asks 'how many years' amid Women's Reservation Bill debate

Congress MP Sonia Gandhi posed tough questions to the NDA government over the Women's Reservation Bill, which is currently in debate in the Lok Sabha.




DNA - Published





'Is he jealous that ...': Amit Shah again taunts Adhir Ranjan Choudhary in Lok Sabha

A light-hearted exchange took place between Union Home Minister Amit Shah and Leader of Opposition in Lok Sabha Adhir Ranjan Choudhury during a discussion on the women's reservation bill. Former..




IndiaTimes - Published





Parliament special session: Congress demands immediate implementation of women's quota bill with quota for SCs, STs, OBCs, Sonia Gandhi says




IndiaTimes - Published





Stand in support of women's reservation bill, Sonia Gandhi says in Lok Sabha: Key points




IndiaTimes - Published





'Smriti Irani's portfolio to abuse Congress, Gandhi family': KC Venugopal

"BJP and Prime Minister have given a portfolio for her (Smriti Irani) to abuse the Congress party and Gandhis. She is doing that duty to appease her master," Venugopal said. Earlier, on Tuesday, Smriti..




IndiaTimes - Published





Women Reservation Bill was initiated by UPA: Adhir Ranjan Chowdhury in Lok Sabha

After the Cabinet approved the Women Reservation Bill, Congress leader Adhir Ranjan Chowdhury has said that demand for the Women Reservation Bill was initiated by the United Progressive Alliance (UPA)..




IndiaTimes - Published





Liberation Day or National Integration Day? Big political battle on cards in Hyderabad on September 17 as Amit Shah, Sonia Gandhi, KCR take stance

After the Indian Army marched its troops to Hyderabad State, The 7th Nizam Mir Osman Ali Khan acceded to the Indian Union on September 17, 1948 and welcomed the then Union home minister Sardar..




IndiaTimes - Published





'It is ours, Apna Hai': Sonia Gandhi on women's reservation bill




IndiaTimes - Published





"Bill was initiated by UPA": Adhir Ranjan Chowdhury on Women Reservation Bill

Congress leader Adhir Ranjan Chowdhury has expressed support for the Women Reservation Bill, which was recently approved by the Cabinet. He credited the demand for the bill to the United Progressive..




IndiaTimes - Published





BJP slams INDIA bloc meeting as get-together of 'anti-Hindu coordination committee'

The BJP criticized the INDIA bloc meeting, calling it an "anti-Hindu coordination committee." They accused the opposition leaders of facing corruption cases and attacked Sonia Gandhi and Rahul Gandhi..




IndiaTimes - Published





Government hits back, says 'perhaps you don't pay attention to traditions'

Union parliamentary affairs minister Pralhad Joshi on Wednesday accused Congress leader Sonia Gandhi of trying to politicise the functioning of Parliament and create unnecessary controversy and said it..




IndiaTimes - Published





Sonia's letter to Modi raises prospects of stormy session

Expressing surprise that the special session of Parliament has been convened without consultation with other parties and without an agenda, Congress leader Sonia Gandhi on Wednesday shot off a letter..




IndiaTimes - Published





Sonia Gandhi's letter to PM Modi sparks row; Piyush Goyal attacks Congress amid political warfare

Union Minister Piyush Goyal attacked Sonia Gandhi and Congress over the recent letter she wrote to PM Modi about the special Parliamentary session.




DNA - Published





How much will you mislead? Jairam Ramesh hits back at Union minister over special session of Parliament

Hitting back at Parliamentary Affairs Minister Pralhad Joshi for his criticism of Sonia Gandhi, the Congress on Wednesday said the agenda of every special session or sitting in the past was well known..




IndiaTimes - Published





'Unfortunate you are trying to politicise functioning of Parliament,' Union minister responds to Sonia Gandhi's letter to PM Modi

The Centre has accused Congress leader Sonia Gandhi of politicizing Parliament's functioning and creating unnecessary controversy. In response to Gandhi's letter to Prime Minister Narendra Modi about..




IndiaTimes - Published





INDIA alliance won't boycott Parliament Special Session, Sonia Gandhi raises 9 issues in letter to PM Modi

Congress general secretary Jairam Ramesh said the INDIA bloc of opposition parties will not boycott the special session of Parliament to be held from September 18-22.




DNA - Published





Sonia Gandhi writes to PM Modi: 'No agenda given for special Parliament session, discuss issues raised by opposition'

Congress leader Sonia Gandhi has written to Prime Minister Narendra Modi highlighting nine issues, including violence in Manipur, for discussion in the special Parliament session. Gandhi expressed..




IndiaTimes - Published





Congress leader Sonia Gandhi admitted to hospital due to fever, condition stable

Congress Parliamentary Party Chairperson Sonia Gandhi has been admitted to Delhi's Sir Gangaram Hospital with symptoms of mild fever on Sunday. Currently, Sonia Gandhi is under doctors' observation and..




IndiaTimes - Published





Framing joint campaign strategy on cards during INDIA bloc's meet; Nitish, Sonia Gandhi's name likely to be discussed

They would chalk out a joint campaign strategy to take on the NDA in the 2024 Lok Sabha elections and iron out the differences among themselves.




DNA - Published





Sonia Gandhi to attend INDIA alliance logo unveiling ceremony in Mumbai

Senior Congress leader Sonia Gandhi will attend this week's meeting of the INDIA bloc in Mumbai and the gathering will see the unveiling of the opposition grouping's logo.




DNA - Published





Rajiv Gandhi birth anniversary: Sonia Gandhi, Priyanka Gandhi, Mallikarjun Kharge pay tribute to former PM




IndiaTimes - Published





Sonia Gandhi calls meeting of Lok Sabha MPs over Adhir Ranjan's suspension for alleged 'misconduct'

Reacting to the suspension, Congress leader Adhir Ranjan Chowdhury said that 'Nirav' means to be silent and his intention was not to insult Prime Minister Narendra Modi.




DNA - Published





'Sonia, Rahul Gandhi should be tried for treason': BJP's Rajyavardhan Singh Rathore during no-trust debate

Demanding that Sonia Gandhi and Rahul Gandhi should be tried for treason, Bharatiya Janata Party (BJP) leader Rajyavardhan Singh Rathore on Thursday claimed that Congress Parliamentary party chief and..




IndiaTimes - Published





Restoring expunged records on NewsClick row unprecedented, says Adhir Chowdhury

Leader of the Congress in Lok Sabha Adhir Ranjan Chowdhury on Tuesday registered his objection to the restoration of expunged remarks and said it has happened never before. BJP MP from Godda in..




IndiaTimes - Published





Rahul Gandhi gets back Tughlaq lane bungalow, may shift soon

They said Gandhi would be shifting back to his residence soon. He is currently staying with his mother Sonia Gandhi.




DNA - Published





No-trust motion: BJP MP Nishikant Dubey's 'bete, damaad' jibe at Sonia Gandhi, Rahul Gandhi

Starting the debate from the government side on the no-confidence motion in the Lok Sabha, Nishikant Dubey focused a large part of his speech on Congress party and its leaders Sonia Gandhi and Rahul..




IndiaTimes - Published





BJP's Nishikant Dubey accuses Congress of defending Newsclick to break India, Adhir asks Lok Sabha speaker Om Birla to expunge remarks

A New York Times report on a news portal NewsClick, alleging that it receives funds from China, caused uproar in the Lok Sabha on Monday. BJP MP from Godda in Jharkhand Nishikant Dubey, while speaking..




IndiaTimes - Published





'Find a girl for him': Sonia Gandhi to Haryana women farmers on Rahul's marriage

During one of the conversations at her 10, Janpath residence, a woman asked Sonia to get Rahul married, to which the former Congress chief replies, "You find a girl for him". Meanwhile, Rahul can be..




IndiaTimes - Published





Sonia Gandhi meets AAP MP Sanjay Singh




IndiaTimes - Published





Government must discuss Manipur in House, Sonia Gandhi tells PM Modi

Congress leader Sonia Gandhi on Thursday directly asked Prime Minister Narendra Modi for a discussion on Manipur in Parliament, setting the tone for a turbulent monsoon session, even as the joint..




IndiaTimes - Published





From Sonia Gandhi to Netta D'Souza, what top Congress leaders said on Manipur violence

Both houses of Parliament were adjourned on the very first day of the monsoon session which commenced on Thursday following pandemonium over the ongoing ethnic clashes in Manipur and parading of two..




IndiaTimes - Published





Parliament Monsoon session: PM Modi engages in brief conversation with Sonia Gandhi




IndiaTimes - Published





Basement flooding destroyed Vadra companies' records: Bank to SIT

The SIT is investigating an FIR registered against Congress leader Sonia Gandhi's son-in-law Vadra and former Haryana CM Bhupinder Singh Hooda in an alleged corruption-riddled real estate deal that..




IndiaTimes - Published