Sonia Gandhi
Indian politician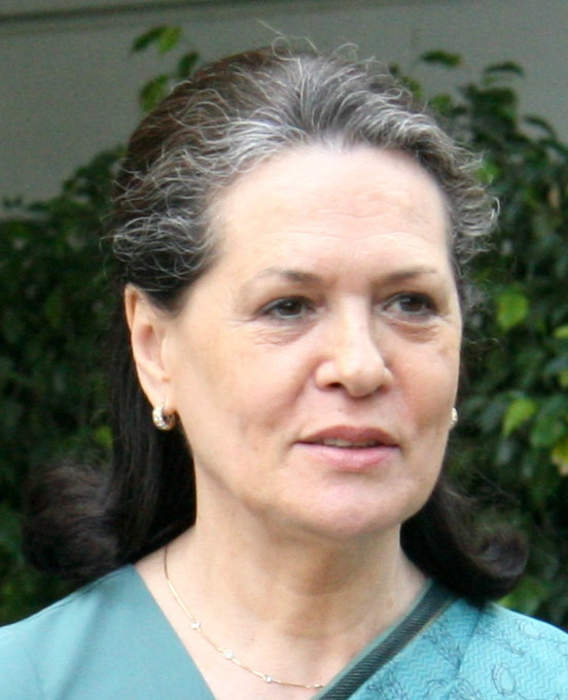 Sonia Gandhi is an Indian politician. She is the president of the Indian National Congress, a big tent political party, which has governed India for most of its post-independence history. She took over as the party leader in 1998, seven years after the assassination of Rajiv Gandhi, her husband and a former Prime Minister of India, and remained in office until 2017 after serving for twenty-two years. She returned to the post in 2019 after her son, Rahul Gandhi, resigned.


Former Punjab CM Amarinder Singh officially resigns from Congress | Oneindia News

Former Punjab CM Captain Amarinder Singh officially resigned from the Congress party today. In a letter to party chief Sonia Gandhi he leveled a series of accusation on Congress Chief, Rahul Gandhi and..
Credit: Oneindia Duration: 01:53
Published
Sonia Gandhi asks Congress leaders to maintain unity amid infighting in state units | Oneindia News

In an address to Congress party leaders, Sonia Gandhi has called for 'the paramount need for discipline and unity' in the party in order to fight the BJP and RSS. #SoniaGandhi #Congress..
Credit: Oneindia Duration: 01:29
Published
Punjab to probe Captain's friend Aroosa Alam for ISI link, Amarinder hits back | Oneindia News

Former Punjab CM Captain Amarinder Singh shared a picture of his friend, Pakistani journalist Aroosa Alam shaking hands with Congress President Sonia Gandhi hoping to end the debate of whether or not..
Credit: Oneindia Duration: 02:06
Published
Navjot Singh Sidhu writes to Sonia Gandhi says 'Punjab's last chance' | Oneindia News

Navjot Singh Sidhu wrote a letter a Sonia Gandhi saying its Punjab's last chance. Sidhu has drawn 13 point agenda on governance and said the government must deliver upon. #NavotSinghSidhu..
Credit: Oneindia Duration: 01:32
Published
Rahul Gandhi says he will consider becoming Congress president | CWC meeting | Oneindia News

Today, the CWC sat down for a vital meeting chaired by interim president Sonia Gandhi; State-run Coal India Ltd has temporarily stopped auctioning coal to non-power customers; Union Finance Minister..
Credit: Oneindia Duration: 02:39
Published
Mahatma Gandhi jayanti: PM Modi, President Kovind, Sonia Gandhi, others pay tribute | Oneindia News

On the occasion of Mahatma Gandhi's 152nd birth anniversary, several leaders, including Prime Minister Narendra Modi and President Ram Nath Kovind, on Saturday paid floral tributes to the Father of the..
Credit: Oneindia Duration: 01:36
Published
You Might Like



Sonia, Rahul to address Congress rally against price rise, inflation on Dec 12

The Congress president and the party have decided to draw the country's attention to price rise and inflation' by holding a massive "Mehngai Hatao rally" in Delhi on December 12, AICC general secretary..




IndiaTimes - Published





Congress to press for repealing 3 farm laws on day 1 of Parliament's Winter Session

The Congress on Thursday decided it will press for repealing the three farm laws on the very first day of the upcoming Winter Session of Parliament besides seeking Rs 4 lakh compensation for the..




IndiaTimes - Published





Repeal of three farm laws is victory of farmers, my wife Priyanka: Robert Vadra

The son-in-law of Congress interim president Sonia Gandhi, Robert Vadra on Friday said the announcement of rolling back of farm laws by Prime Minister Narendra Modi is the "victory of farmers" and also..




IndiaTimes - Published





Sachin Pilot calls on Sonia Gandhi, Baghel meets Priyanka Gandhi




IndiaTimes - Published





Sachin Pilot meets Congress president Sonia Gandhi amid Rajasthan cabinet reshuffle buzz




IndiaTimes - Published





Sachin Pilot likely to meet Sonia Gandhi today




IndiaTimes - Published





Rajasthan CM Ashok Gehlot meets Sonia Gandhi, talks cabinet rejig




IndiaTimes - Published





Gehlot calls on Sonia to discuss cabinet reshuffle in Rajasthan

Rajasthan CM Ashok Gehlot met Congress president Sonia Gandhi on Thursday and the two leaders are learnt to have discussed the political situation as well as the impending cabinet reshuffle in the..




IndiaTimes - Published





2022 polls: Sonia Gandhi, Manipur leaders discuss political situation in state




IndiaTimes - Published




Sonia Gandhi accepts Amarinder Singh's resignation from Congress

Congress president Sonia Gandhi has accepted former Punjab chief minister Amarinder Singh's resignation from primary membership of the party, AICC general secretary (organisation) KC Venugopal said on..




IndiaTimes - Published





Navjot Sidhu an acolyte of Pakistan deep state, Harish Rawat most dubious person: Amarinder rips into Congress, Gandhi family in resignation letter

Former Punjab chief minister Amarinder Singh resigned from the Congress on Tuesday and sent a seven-page resignation letter to party president Sonia Gandhi wherein he attacked the functioning of the..




IndiaTimes - Published





Former Punjab CM Amarinder Singh resigns from Congress, announces new party Punjab Lok Congress

Former Punjab chief minister Captain Amarinder Singh on Tuesday resigned from Congress. In his letter of resignation addressed to Congress president Sonia Gandhi, Singh wrote that he is quitting in the..




IndiaTimes - Published





Congress president Sonia Gandhi dials RJD chief Lalu Prasad amid 'trouble' in Bihar grand alliance

Congress and RJD broke off the alliance ahead of the by-polls in Kusheshwar Asthan (SC) and Tarapur constituencies in Bihar scheduled on October 30.




DNA - Published





Fight to defend democracy begins with countering false propaganda: Sonia Gandhi at key AICC meet

Congress President Sonia Gandhi on Tuesday chaired a meeting of top party leaders to evolve a strategy for assembly elections in five states early next year.




IndiaTimes - Published





Assembly elections: Sonia Gandhi chairs meeting of top Congress leaders

Congress president Sonia Gandhi on Tuesday chaired a meeting of top party leaders to evolve a strategy for assembly elections in five states early next year. Assembly elections in the states of Punjab,..




IndiaTimes - Published





All matters will be resolved, says Channi after Sidhu flags issues in letter to Sonia Gandhi




IndiaTimes - Published





Sidhu seeks audience with Sonia Gandhi; says hard decisions needed to bring Punjab back from brink




IndiaTimes - Published





Sonia Gandhi and her children want to retain full control over Congress: G-23 member on CWC meet

The G-23 (group of 23 dissenting senior Congress leaders) does not see any hope in the party's revival after what its interim president Sonia Gandhi said in her opening remarks at the Congress..




IndiaTimes - Published





'I am full-time, hands-on Congress President,' says Sonia Gandhi at CWC meeting

Sonia Gandhi said the schedule for full-fledged organisational elections has been finalised and will bring clarity on the matter "once and for all."




DNA - Published

Also reported by •IndiaTimes


CWC meet: Sonia Gandhi slams Congress leaders for speaking to media




IndiaTimes - Published





Congress Working Committee meets to discuss organizational polls, political situation: Key points

Congress interim President Sonia Gandhi on Saturday morning chaired the Congress Working Committee (CWC) meeting to hold a discussion on key issues such as organisational elections, forthcoming..




IndiaTimes - Published





Congress names Chhattisgarh CM Bhupesh Baghel senior observer for UP assembly polls

Congress president Sonia Gandhi on Saturday appointed Chhattisgarh chief minister Bhupesh Baghel as AICC senior observer for the upcoming Uttar Pradesh assembly elections. Terming it a huge..




IndiaTimes - Published





PC lends voice to G-23 protest on 'orchestrated hooliganism'

The Congress dissident bloc G 23 Thursday condemned the protest outside the residence of senior colleague Kapil Sibal, calling it orchestrated and demanding party chief Sonia Gandhi take action against..




IndiaTimes - Published





Anand Sharma slams 'hooliganism' outside Kapil Sibal's house, urges Sonia Gandhi to take action




IndiaTimes - Published





Loyalists target Sibal, G-23, accuse them of betrayal

The turmoil in Punjab Congress and the G-23 offensive against the leadership has triggered a bitter war of words, with Congress leaders slamming Kapil Sibal and some others for raising concerns about..




IndiaTimes - Published





Punjab Congress Crisis: Not aware who is taking decisions, says senior leader Kapil Sibal

A delegation of 23 members of Congress last year wrote a letter to Sonia Gandhi demanding a slew of organisational reforms.




DNA - Published





After Navjot Singh Sidhu's resignation, here are the top runners for Punjab Congress chief's post

In a letter addressed to Sonia Gandhi, Sidhu said that he can never compromise on Punjab's future and the agenda for the welfare of Punjab.




DNA - Published





Social Humour: Twitter erupts into memes as Sidhu resigns

Navjot Singh Sidhu on Tuesday resigned as the chief of the Punjab Pradesh Congress Committee. In a letter to Congress president Sonia Gandhi, Sidhu, however, said he will continue to serve the party...




IndiaTimes - Published





'Can't compromise on welfare of Punjab': Navjot Singh Sidhu resigns as state Congress chief

Navjot Singh Sidhu on Tuesday announced his resignation as Punjab Pradesh Congress Committee (PCC) president. The cricketer-turned-politician made the announcement on Twitter. The leader said that he..




IndiaTimes - Published





Congress likely to take decision on new Punjab CM today

The Congress Legislature Party meeting had passed a resolution authorising Congress president Sonia Gandhi to take a decision on new CM.




DNA - Published





Punjab: 'Humiliated' Captain retires hurt, Sidhu in race to take crease

"I had made a decision in the morning. I had a word with the Congress president (Sonia Gandhi), and I conveyed it to her that I will resign today. 'I am sorry, Amarinder," said Sonia Gandhi when I..




IndiaTimes - Published





Shashi Tharoor pitches for new leadership in Congress, says 'If Rahul Gandhi wishes to take over, it should happen quickly'

Senior Congress leader Shashi Tharoor on Saturday pitched for a new leadership in the party and said "if the Congress has to come back, the change should happen quickly." Tharoor, who was part of the..




IndiaTimes - Published





Amarinder Singh decides to quit as Punjab CM: Sources

Punjab Chief Minister Amarinder Singh has decided to put in his papers ahead of the crucial Congress Legislature Party meeting in Chandigarh on Saturday evening, sources close to him said. The chief..




IndiaTimes - Published





Sonia Gandhi to take final call on Prashant Kishor's induction into Congress

As Prashant Kishor wants a full-fledged role and decision making authority on election related issues, Congress leaders are averse of giving free hand to one person on the selection of candidates.




IndiaTimes - Published




Maharashtra Congress now has 18 VPs, 65 general secretaries, 104 secretaries

Congress interim president Sonia Gandhi on Thursday reconstituted the Maharashtra Pradesh Congress Committee (MPCC) and appointed a large number of vice-presidents, general secretaries and secretaries.




IndiaTimes - Published





'We all have our compulsions, but ... ': Sonia Gandhi urges opposition parties to plan for 2024 Lok Sabha polls

Congress interim president Sonia Gandhi on Friday called upon the opposition parties to plan systematically for the 2024 Lok Sabha elections with a single-minded objective of giving the country a..




IndiaTimes - Published





Sonia to have virtual meet with Oppn netas today

Top opposition leaders, including four CMs, will join a virtual discussion on Friday with Congress president Sonia Gandhi on the future agenda and strategy against the ruling BJP. The meeting is a..




IndiaTimes - Published





Stalin likely to take part in meet of opposition by Sonia Gandhi




IndiaTimes - Published





Sonia Gandhi likely to chair opposition meet on August 20




IndiaTimes - Published





After Kapil Sibal's dinner, Sonia Gandhi to host meeting of opposition leaders




IndiaTimes - Published





Sonia Gandhi to meet CMs of Congress-ruled states, Thackeray on Aug 20, says Sanjay Raut




IndiaTimes - Published





Sonia Gandhi's nod to formation of UP poll panel ahead of 2022 assembly election

Ahead of the 2022 Uttar Pradesh assembly election, Congress interim president Sonia Gandhi on Wednesday gave her assent to the formation of the party's state election committee.




IndiaTimes - Published





Rare photo-op: PM Modi, Amit Shah with Sonia Gandhi and Sukhbir Badal as they met speaker Om Birla

It was one of those rare moments. After the Lok Sabha was adjourned sine die on Wednesday, top leaders of several political parties went to meet speaker Om Birla in his official chamber in Parliament...




IndiaTimes - Published





Amarinder meets Amit Shah, Sonia Gandhi in his first visit to Delhi since Navjot Singh Sidhu's promotion

Punjab chief minister Amarinder Singh met Union home minister Amit Shah here and sought help to counter Pakistan-backed terror forces. Earlier, he also met Congress interim president Sonia Gandhi.




IndiaTimes - Published





'Work together': Sonia Gandhi advises Captain Amarinder amid Sidhu's 'attacks' on Punjab government




IndiaTimes - Published





Mamata Banerjee meets Sonia Gandhi amid call for united opposition




IndiaTimes - Published





Sonia Gandhi rejigs House panels, brings in G23 members

After stressing the importance of close coordination with opposition parties in a party strategy meeting last week, Congress chief Sonia Gandhi again on Sunday emphasised its urgency as she along with..




IndiaTimes - Published





Sonia Gandhi appoints Navjot Sidhu Punjab Congress chief




IndiaTimes - Published





Sonia Gandhi sets up parliament groups, Adhir Ranjan Chowdhury to stay as floor leader

Sonia Gandhi, as Chairman of the Congress Parliamentary party, on July 15 issued a letter which said, "I have decided to reconstitute the following groups to facilitate and ensure effective functioning..




IndiaTimes - Published





Punjab chief minister Captain Amarinder Singh accepts Navjot Singh Sidhu as PCC chief, with caveat

Even as Punjab chief minister Captain Amarinder Singh reiterated his "acceptance" of Congress president Sonia Gandhi's decision on his leading critic Navjot Singh Sidhu being made state Congress..




IndiaTimes - Published