Sonia Gandhi
Indian politician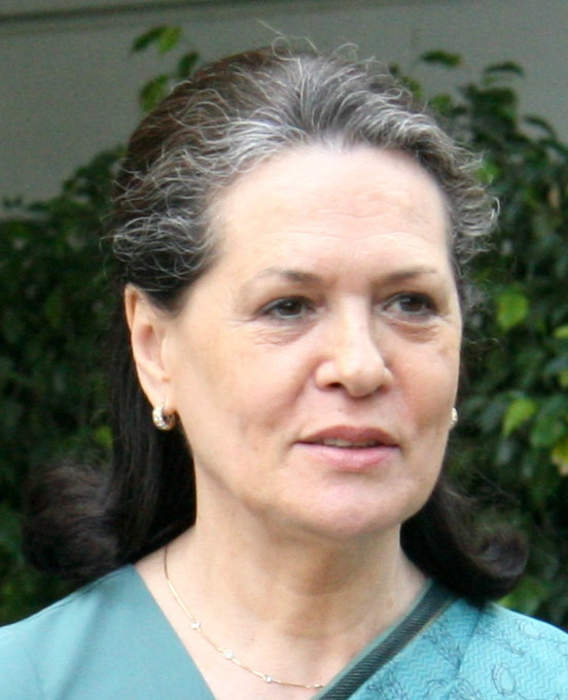 Sonia Gandhi is an Indian politician. She is the president of the Indian National Congress, the left-of-centre political party, which has governed India for most of its post-independence history. She took over as the party leader in 1998, seven years after the assassination of her husband, Rajiv Gandhi, a former Prime Minister of India, and remained in office for twenty-two years.


Will come out with flying colours: Kerala Congress chief after poll meeting with Rahul

Congress leaders from Kerala and Rahul Gandhi had a meeting on January 18 ahead of state Assembly elections in which they decided that no leader will be projected as a Chief Minister candidate in next..
Credit: ANI Duration: 01:23
Published
'There has been no tax evasion': Robert Vadra on interrogation by IT officials

Sonia Gandhi's son-in-law and businessman Robert Vadra questioned in connection with a 'benami' assets case. Speaking on this, he said that "there has been no tax evasion and every question was..
Credit: ANI Duration: 01:38
Published
'Will make Congress vacate Rae Bareli seat in 2024': Smriti Irani in Amethi

Union Minister Smriti Irani on Saturday accused former Amethi MP and Congress president Rahul Gandhi of using foul language against Prime Minister Narendra Modi and resorting to lies to spread..
Credit: HT Digital Content Duration: 01:35
Published
Congress trusts Sonia, Rahul Gandhi's leadership: Harish Rawat

Former Chief Minister of Uttarakhand and senior Congress leader, Harish Rawat after party meeting with party's Interim President Sonia Gandhi at 10, Janpath on December 19, said that there is doubt in..
Credit: ANI Duration: 01:06
Published
Watch: BJP's Narottam Mishra equates Sonia Gandhi to 'Kaikeyi', mocks Rahul

BJP leader Narottam Mishra has launched a veiled attack on Congress president Sonia Gandhi and Rahul Gandhi. The BJP leader read out what he said was a Whatsapp forward that likened Sonia Gandhi to the..
Credit: HT Digital Content Duration: 02:07
Published
Mortal remains of Ahmed Patel brought to hometown Bharuch

The mortal remains of senior Congress leader Ahmed Patel were brought to Sardar Patel Hospital in his hometown of Bharuch in Gujarat on November 25. His last rites will likely be performed on November..
Credit: ANI Duration: 01:30
Published
PM Modi, Rahul Gandhi pay tribute to Ahmed Patel

Senior Congress leader Ahmed Patel, who was undergoing treatment at a Gurugram hospital after testing positive for COVID-19, breathed his last after multi-organ failure in the wee hours of November 25..
Credit: ANI Duration: 01:42
Published
Senior Congress leader Ahmed Patel passes away, tributes pour in

Congress leader Ahmed Patel passed away in early hours of Nov 25. He died due to multiple organ failure after testing Covid positive last month. In a tweet, his son, Faisal Patel confirmed that the..
Credit: HT Digital Content Duration: 02:05
Published
You Might Like



Sonia Gandhi to hold meeting with party general secretaries, in-charges on farmers issue

According to sources, a virtual meeting has been called to discuss the situation and to chalk out a strategy to support farmers protests. Congress has been in support of the farmers in their movement..




IndiaTimes - Published





Sonia slams govt over fuel price hike & farmer stir, says country standing at crossroads

Congress president Sonia Gandhi on Thursday attacked the Modi government over the ongoing farmer agitation and the hike in fuel prices, and said the country is today standing at the crossroads for the..




IndiaTimes - Published





Narendra Modi 'earned and achieved' prime ministership: Pranab Mukherjee in memoir

The decisive mandate the BJP got in two consecutive general elections in 2014 and 2019 indicated voters' preference for political stability, according to late former president Pranab Mukherjee, who..




IndiaTimes - Published





Benami assets case: I-T officials at Robert Vadra residence to record statement

A team of income tax department officials on Tuesday reached the residence of Robert Vadra, son-in-law of Congress president Sonia Gandhi, for the second consecutive day to record his statement in..




IndiaTimes - Published





Still time for Modi govt to repeal farm laws, follow ''raj dharma": Sonia Gandhi

Despite rains and the ongoing cold wave across North India, farmers stood strong at Delhi borders and continued their protest on Sunday.




DNA - Published





First time such arrogant government in power, must withdraw farm laws unconditionally: Sonia Gandhi

In a scathing attack on the Centre over the farmers' protests, Congress president Sonia Gandhi on Sunday said that for the first time since independence such an "arrogant" government has come to power..




IndiaTimes - Published





Why Rahul Gandhi skipped Congress 136th foundation day event

Congress MP Rahul Gandhi's absence at the party's 136th Foundation Day celebrations triggered a row on Monday. While senior party leaders defended their former president, rival BJP attacked him for..




IndiaTimes - Published




Congress Foundation Day: Sonia Gandhi urges partymen to unite in fighting dictatorship

Congress president Sonia Gandhi on Monday urged party leaders and workers to unite in fighting dictatorship and protecting the country's democracy, Constitution and the countrymen.




IndiaTimes - Published





Sonia, Rahul assure Congress seniors of 'respect' in party

With the Gandhi family listening, Congress leaders said that an impression has been created that seniors were unwanted in the party and were not considered relevant, prompting Sonia Gandhi and Rahul..




IndiaTimes - Published





Sonia Gandhi holds four-hour-long meeting with Congress rebels

A Congress leader said that the senior leaders wanted to hold a brainstorming session 'Chintan Shivir' in the near future.




DNA - Published

Also reported by •IndiaTimes


'No pressure politics': Shiv Sena on Sonia's letter to Uddhav Thackeray

The Shiv Sena has said there was no pressure politics by the Congress after Sonia Gandhi wrote a letter to Uddhav Thackeray seeking welfare measures for dalits and tribals in Maharashtra. The letter..




IndiaTimes - Published





Sonia Gandhi writes to Uddhav Thackeray, seeks measures for welfare of SC/STs

Congress chief Sonia Gandhi has written to Maharashtra chief minister Uddhav Thackeray, reminding him of the Common Minimum Program (CMP) of the government and seeking the implementation of certain..




IndiaTimes - Published





Sonia Gandhi calls emergency meeting of Congress, to meet 23 dissenters who sought internal reforms

Through the meeting, Congress' top leadership has begun taking steps to redress grievances and other pending issues of the party.




DNA - Published





On eve of Sonia's meeting with 'letter writers', Congress asserts Rahul best suited to lead party

Ahead of a crucial meeting of Sonia Gandhi with a section of senior leaders who had written to her in August demanding an overhaul of the organisation, the Congress on Friday downplayed any internal..




IndiaTimes - Published





Sonia Gandhi to hold meetings with several Congress leaders including dissenters from Saturday

After the demise of Ahmed Patel, a former chief minister and party leader met Gandhi and urged her to meet leaders and settle down the ongoing issues.




DNA - Published





Sonia Gandhi to meet 'G23' partymen tomorrow

Congress chief Sonia Gandhi has invited the G23 functionaries — who wrote to her in August seeking "full time" leadership and elections to party posts — for a discussion on Saturday where the..




IndiaTimes - Published





Congress wants Sonia Gandhi's biography in Telangana's school syllabus

Sravan Dasoju had made this appeal to the Telangana government at an intellectual summit organised on Wednesday at Gandhi Bhavan.




DNA - Published





PM Modi, Nitin Gadkari wish Cong chief Sonia Gandhi on her birthday




IndiaTimes - Published




Sonia Gandhi not to celebrate birthday in view of pandemic, farmers' agitation

Congress Interim President Sonia Gandhi has decided not to celebrate her birthday on December 9 in support of farmers' agitation against the farm laws and Covid-19 situation in the country.




IndiaTimes - Published





Farmers stir gives opposition rallying point; 18 parties support bandh

Leaders of 11 parties, including Congress president Sonia Gandhi, DMK chief M K Stalin, NCP patriarch Sharad Pawar, Samajwadi Party chief Akhilesh Yadav and Left Front's Sitaram Yechury and D Raja,..




IndiaTimes - Published





Prominent opposition leaders issue joint statement backing farmers' stir and Dec 8 Bharat Bandh

Prominent opposition leaders including Congress president Sonia Gandhi, NCP leader Sharad Pawar, CPM general secretary Sitaram Yechury, DMK chief MK Stalin and PAGD chairman Farooq Abdullah issued a..




IndiaTimes - Published





Day after Congress' Randeep Surjewala slammed PM's visit to vaccine hubs, colleague Anand Sharma hails it

Anand Sharma, who is a party spokesperson and part of the group of 23 Congress leaders who wrote to party chief Sonia Gandhi seeking large scale changes in the organisation, said the Prime Minister's..




IndiaTimes - Published





Ahmed Patel, Congress's man for all seasons, dies at 71

The passing of veteran Congress leader Ahmed Patel, or 'AP' as he was referred to, on Wednesday morning at a Gurgaon hospital after a long battle with Covid-related complications brings the curtain..




IndiaTimes - Published





Ahmed Patel: Sonia Gandhi's top lieutenant and key Congress strategist

Ahmed Patel, a staunch loyalist of Nehru-Gandhi family and Congress Party's top strategist, died in a Gurugram hospital on Wednesday due to multi-organ failure. He was suffering from complications..




IndiaTimes - Published





Lost an irreplaceable comrade: Sonia Gandhi on Patel's demise

Congress president Sonia Gandhi condoled senior party leader Ahmed Patel's demise on Wednesday, saying she has lost an "irreplaceable comrade, a faithful colleague and a friend" whose entire life was..




IndiaTimes - Published





Sonia Gandhi expresses condolences on 'irreplaceable comrade, faithful collegaue and friend' Ahmed Patel's death

Ahmed Patel worked for years as the political secretary to Sonia Gandhi and was one of the most influential leaders in the Congress.




DNA - Published





Rahul Gandhi, Priyanka Gandhi Vadra, other Congress leaders condole Ahmed Patel's death

Patel, who was Congress interim chief Sonia Gandhi's close aide, was a Nehru-Gandhi family loyalist.




DNA - Published





Ahmed Patel: Sonia Gandhi's most trusted advisor, top Congress troubleshooter

A Nehru-Gandhi family loyalist, Ahmed Patel worked for years as the political advisor to Congress interim president Sonia Gandhi.




DNA - Published





Tarun Gogoi was admired and respected for his extraordinary wisdom, vision, ability: Sonia Gandhi




IndiaTimes - Published





No leadership crisis in Congress; support for Sonia, Rahul apparent to 'anyone not blind': Khurshid

Khurshid, who is among the leaders considered close to the Gandhi family, also said there are enough forums in the Congress for airing views and doing so outside the party "hurts" it, remarks that come..




IndiaTimes - Published





Amid sniping, Congress puts critics on new panels to aid Sonia

Congress on Friday constituted three panels on economic affairs, foreign affairs and national security, falling back on former Prime Minister Manmohan Singh to head them while accommodating some of the..




IndiaTimes - Published





As Delhi chokes, Sonia Gandhi and Rahul Gandhi arrive in Goa on private visit




IndiaTimes - Published





Sonia Gandhi sets up panel on economic, foreign affairs and national security, Manmohan Singh part of all three




IndiaTimes - Published




Sonia Gandhi advised to briefly shift out of Delhi in view of her chronic chest infection: Sources

Congress president Sonia Gandhi has been advised to shift out of Delhi for a few days to avoid the heavy pollution in the national capital in view of her chronic chest infection, party sources said on..




IndiaTimes - Published





Sonia Gandhi pays tribute to Indira Gandhi on her 103rd birth anniversary

Congress leader Rahul Gandhi was also present alongside his mother to pay respect to his grandmother today. He also remembered her as a symbol of impressive leadership via a tweet.




IndiaTimes - Published





We are not part of Gupkar alliance: Kashmir Congress

Taking to Twitter, Home Minister Amit Shah asked Congress interim President Sonia Gandhi and party leader Rahul Gandhi if they support the People's Alliance for Gupkar Declaration which, he said,..




DNA - Published





Sonia Gandhi, Rahul Gandhi should explain Congress stand on Gupkar declaration, says Amit Shah




IndiaTimes - Published





Gupkar gang insults tricolour, wants foreign forces to intervene in J&K: Amit Shah

Shah asked Congress interim President Sonia Gandhi and party leader Rahul Gandhi if they support the People's Alliance for Gupkar Declaration which, he said, insults India's tricolour.




DNA - Published





Special AICC panel may discuss Bihar debacle, internal rumblings

The special AICC committee to assist Congress President Sonia Gandhi is likely to meet on Tuesday in the wake of the fresh setback in the Bihar elections and renewed rumblings from members of the G-23..




IndiaTimes - Published





Sonia's beauty, Rahul's aptitude, Manmohan's integrity: What Obama's memoir says about Congress leaders?

Former US President Barack Obama's memoir, 'A Promised Land', is making headlines in India. From former Indian Prime Minister Manmohan Singh, to the Congress President Sonia Gandhi and not to forget..




DNA - Published





Sonia Gandhi sends congratulatory letters to Biden, Harris, hails their electoral triumph

Gandhi also hailed Vice President-elect Kamala Harris' success as a "triumph for Black Americans and Indian Americans". The Congress chief said she knew Harris would work to heal and unite a "bitterly..




IndiaTimes - Published





Looking forward to working together: PM Modi, Prez Kovind congratulate Biden, Harris on US poll win

Prime Minister Narendra Modi, President Ram Nath Kovind, Congress leader Sonia Gandhi along with other Indian leaders on Sunday congratulated Joe Biden and Kamala Harris on their US presidential win.




DNA - Published





President, PM, Sonia congratulate Biden, Harris on US poll win

President Ram Nath Kovind, PM Modi, Congress leader Sonia Gandhi along with other Indian leaders congratulated Joe Biden on his US presidential poll win and said they look forward to the strengthening..




IndiaTimes - Published





'Certainly', says Scindia on whether Sonia Gandhi should pull up Kamal Nath over 'item' jibe

"Though, it is an internal matter (of Congress). I certainly think so. In a country where 50 per cent of the population comprises of women, every political party must set a standard," stated Scindia..




IndiaTimes - Published





The more Congress hates PM, the more people support Modi: Nadda

In a series of tweets, BJP chief Nadda lambasted both Congress president Sonia Gandhi and her son and MP Rahul Gandhi for their reproval of the Prime Minister on a range of issues.




IndiaTimes - Published





'No place for arrogance, breaking of promises in a ruler's life': Sonia Gandhi's Dussehra message

Vijaya Dashami's biggest message is that people are paramount in governance and there is no place for arrogance, falsehood and breaking of promises in a ruler's life, Congress president Sonia Gandhi..




IndiaTimes - Published





Javadekar attacks Congress leaders Sonia Gandhi, Rahul, Priyanka over Hoshiarpur rape and murder incident

Union Information and Broadcasting Minister Prakash Javadekar on Saturday made a scathing attack on Congress president Sonia Gandhi, party leaders Rahul Gandhi and Priyanka Gandhi Vadra over the rape..




IndiaTimes - Published





Sonia asks Congress leaders to wage struggle for people's issues

Congress president Sonia Gandhi on Sunday exhorted party leaders to wage a struggle for people's issues while noting that democracy was passing through "most difficult times".




IndiaTimes - Published





Endorse PC's 370 stand, Shah dares Sonia Gandhi, Rahul Gandhi

BJP on Saturday raised its ante over Congress leader P Chidambaram's demand for restoration of Article 370, with home minister Amit Shah challenging Congress president Sonia Gandhi and Rahul Gandhi..




IndiaTimes - Published





Congress may replace Sonia Gandhi as party president by early 2021: Report

This comes after a letter was written by 23 leaders in the party demanding organisational elections from top to the bottom and visible leadership on the ground to Congress interim president Sonia..




DNA - Published