Jammu
City in Jammu and Kashmir, India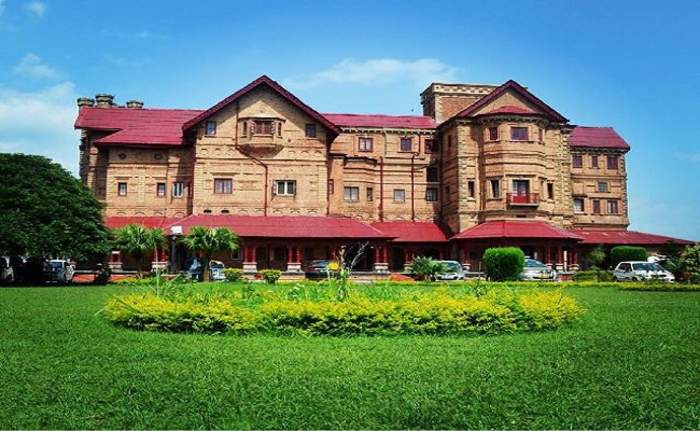 Jammu is the winter capital of the Indian union territory of Jammu and Kashmir. It is the headquarters and the largest city in Jammu district of the union territory. Lying on the banks of the river Tawi, the city of Jammu, with an area of 240 km2 (93 sq mi), is surrounded by the Himalayas in the north and the northern-plains in the south. Jammu is the second most populous city of the union territory.


J&K district magistrates in CBI net| India's arms licence scam| Oneindia News

India today lodged a strong protest over drone activities by Pakistan authorities in Jammu areas during a sector commander-level meeting between the Border Security Force and the Pakistan Rangers...
Credit: Oneindia Duration: 02:36
Published
CBI raids IAS officer Shahid Iqbal's home in J&K | Illegal gun license scam | Oneindia News

Today morning, the CBI raided 40 locations across Jammu and Kashmir and Delhi, including the residence of senior J&K IAS officer Shahid Iqbal Choudhary in Srinagar. The raids were in connection with..
Credit: Oneindia Duration: 02:00
Published
Drone shot down six kilometers inside the Indian border | Jammu & Kashmir| Oneindia News

The drone shot down around six kilometres inside the Indian border in the Kanachak area of Jammu and Kashmir has been identified as a Hexacopter. As per the Jammu and Kashmir Police, approximately 5 kg..
Credit: Oneindia Duration: 01:39
Published
Delhi Police to meet farmers to suggest alternative venue for their protest | Oneindia News

Today, Olympics organisers said that a person has tested positive for Covid-19 at the Tokyo Olympics athletes' village; Delhi Police said it would meet the farmer leaders to suggest alternative venues..
Credit: Oneindia Duration: 02:28
Published
Srinagar encounter: 2 LeT terrorists killed | J&K encounter | Oneindia News

An encounter broke out between the security forces and militants in Srinagar in the early hours of Friday. Two Lashkar-e-Taiba terrorists were gunned down by the security forces in the encounter in the..
Credit: Oneindia Duration: 01:55
Published
How do Anti Drone Systems work? IAF to purchase 10 systems to 'kill' drones | Oneindia News

After the multiple drone sightings in Jammu recently, the Indian Air Force has decided to purchase 10 anti-drone systems— specifically from Indian vendors. How do these systems detect and neutralise..
Credit: Oneindia Duration: 02:49
Published
Kashmir leaders: Disappointed with PM Modi meet, statehood before election | Oneindia News

In their first public statement since their meeting with PM Narendra Modi, the Gupkar Alliance of Kashmir parties have said that Assembly elections should be held in Jammu and Kashmir only after the..
Credit: Oneindia Duration: 02:01
Published
Jammu Drone Attack: Eyewitnesses tell ANI, 'two drones used in attack'| Oneindia News

Eyewitnesses' testimony has enabled the National Investigation Agency to piece together the route used by the drones which bombed Jammu airport last month. The Supreme Court on Monday expressed..
Credit: Oneindia Duration: 02:42
Published
Srinagar bans the use of drone after UAV attack on Jammu's Air Force attack | Oneindia News

A week after the drone attack at an Air Force base in Jammu, the Srinagar administration has imposed restrictions on the use, possession and sale of drones; The Congress today lashed out at the..
Credit: Oneindia Duration: 02:29
Published
Haryana CM to farmers: We are patient but don't cross limits| Farmer Protest| Oneindia News

Haryana CM said on Wednesday that political leaders have been patient in the face of protests but it won't be good for anyone to cross their limit. An anti-drone system has been installed at the Indian..
Credit: Oneindia Duration: 02:36
Published
PM Modi's meeting on counter-drone policy; DRDO & IAF to provide tech to tackle UAVs | Oneindia News

Yesterday, in a high-level meeting chaired by PM Modi, measures and tactics to tackle 'weaponised drones used for terror purposes' were discussed. The meeting was attended by Defence Minister Rajnath..
Credit: Oneindia Duration: 01:45
Published
Indian Army spots another drone near 3 military stations in Jammu for the third time | Oneindia News

A drone was spotted at three different locations in Jammu. The first drone was spotted at the Kaluchak cantonment area, the second in the Ratnuchak cantonment area and the third was spotted from..
Credit: Oneindia Duration: 02:02
Published
India test fires nuclear capable Agni-Prime missile successfully | Oneindia News

The Army says a major threat was averted after two drones were seen last night near a military station in Jammu and fired at by alert troops, hours after drones were used in a terror attack on the..
Credit: Oneindia Duration: 03:07
Published
2 drones spotted at Kaluchak Military Station in Jammu; Soldiers fire to neutralise | Oneindia News

Last night, two drones were spotted at Kaluchak military station in Jammu. One Unmanned Aerial Vehicle was seen flying inside the Army base at 11.30 pm and another at 1.30 am. Indian soldiers fired at..
Credit: Oneindia Duration: 01:24
Published
PM Modi to meet political leaders of J&K at his Delhi residence at 3 pm today | Oneindia News

Supreme Court said today that the State boards need to prepare an internal assessment scheme for Class 12 exams and declare the results on the basis of the assessment by July 31. Madhya Pradesh on..
Credit: Oneindia Duration: 02:29
Published
You Might Like



One dead, 12 injured in Jammu and Kashmir accident




IndiaTimes - Published





India lodges protest with Pak over drone activity in Jammu area




IndiaTimes - Published




Another drone spotted near Army area in Jammu




IndiaTimes - Published




Another Drone activity noticed near Army establishment in Jammu outskirts

A suspected drone was spotted near an Army area late night on Friday in the city outskirts barely after few hours when J&K Police shot down an IED laden hexacopter. Sources said that at about 2025..




IndiaTimes - Published





Jammu airport to start night flight operations from today; Go Air first to take off

Jammu airport with start night operation of commercial flights from today, July 23




DNA - Published





Terror attack foiled, IED laden hexacopter shot down in bordering Kanhachak of Jammu

n a major development, the security forces on Friday shot down an aerial object - 'hexacopter' carrying an IED weighing 5 kgs in border town Kanachak of Jammu, officials said.




IndiaTimes - Published





India, Pakistan forces exchange Eid sweets for first time since Pulwama

The Indian Army and Border Security Force (BSF) on Wednesday exchanged sweets and pleasantries with their Pakistani counterparts on the occasion of Eid-ul-Adha at different border posts in Jammu and..




IndiaTimes - Published





Drones spotted near Jammu Air Force station

Drone activity was detected near the Jammu Air Force station once again on Wednesday morning, less than a week after a flying machine was spotted along the Line of Control (LoC) in Pallanwala area of..




IndiaTimes - Published





Drones spotted near Air Force Station Jammu again, alert sounded

Drone activities were detected again near the Jammu airbase, on early Wednesday morning. Less than a week when drones were spotted near Jammu Air Force Station and along the Line of Control (LoC) in..




IndiaTimes - Published





Indian Army holds workshop for village defence committee at Sangiot-Poonch in Jammu and Kashmir




IndiaTimes - Published





J&K: Top LeT commander among two terrorists killed in Shopian encounter

Two terrorists, including a top commander of the proscribed terror outfit Lashkar-e-Taiba, were killed in an encounter with security forces in Jammu and Kashmir's Shopian, an official said on Monday...




IndiaTimes - Published





BSF nabs Assam man near IB in Jammu after 'suspicious' movements




IndiaTimes - Published





Lashkar trio killed in Jammu and Kashmir encounter




IndiaTimes - Published





Pakistan drone spotted over Jammu border, forced to retreat




IndiaTimes - Published





BSF personnel open fire at flying object spotted near border in Jammu




IndiaTimes - Published





Three LeT militants killed in encounter with security forces in J&K's Pulwama

Three Lashkar-e-Toiba (LeT) militants, including a Pakistani national, were killed in an encounter with security forces in Pulwama district of Jammu and Kashmir on Wednesday, police said. A gunbattle..




IndiaTimes - Published





Anti-tank mine found along international border in Jammu and Kashmir




IndiaTimes - Published





Rainfall: IMD issues orange alert for Rajasthan, J&K; yellow for many north Indian states

The India Meteorological Department has issued an orange alert for Rajasthan and Jammu and Kashmir, and yellow alert for Himachal Pradesh, Uttarakhand and Uttar Pradesh for Tuesday with warning of..




IndiaTimes - Published





Islamic seminary head among six detained in NIA raids in Jammu and Kashmir




IndiaTimes - Published





Jammu IAF base attack: Security sources say 'pressure fuse' in bombs indicates role of Pak military

The 'pressure fuse' used in the bombs that were dropped on the Indian Air Force station in Jammu through drones indicates that some elements of the Pakistan army or the ISI helped terror group..




IndiaTimes - Published





Attempts being made to create wedge between Kashmir, Jammu: Mehbooba




IndiaTimes - Published





Raj Bhawan, civil secretariat in Jammu declared 'no-fly' zones




IndiaTimes - Published





IAF now wants to acquire 10 counter-drone systems after Jammu attack

The IAF now wants to acquire 10 counter-unmanned aircraft systems (CUAS) in the aftermath of the first-ever drone terror strike in the country at the Jammu air force station on June 27. A day after the..




IndiaTimes - Published





BSF fires at drone trying to enter Indian territory from Pakistan

The Border Security Force (BSF) on Friday opened fire on an unmanned aerial vehicle that tried to enter the Indian territory near the International Border with Pakistan, on the outskirts of Jammu. The..




IndiaTimes - Published





India protests drone breach, harassment in Pakistan

India has twice lodged protests with Pakistan in the past couple of weeks over developments involving the Indian high commission in Islamabad. While the latest protest relates to a drone which was..




IndiaTimes - Published





MoS home Reddy reviews security situation along border with senior BSF officers in Jammu




IndiaTimes - Published





BSF opens fire after on 'Pakistani Quadcopter' on IB in Jammu, repels it




IndiaTimes - Published





Jammu Air Force Station attack: Army chief says fight against drones will be a see-saw battle




IndiaTimes - Published





Defence personnel observed drones entering Jammu air base seconds before they dropped bombs: Sources

A Defence Security Corps sentry deployed on a watch tower guarding the perimeter of the Indian Air Force base in Jammu had on Sunday observed two drones flying over the station around 30 seconds before..




IndiaTimes - Published





Drone activity spotted again in Jammu




IndiaTimes - Published




Drones again spotted hovering over Military & Air Force establishments in Jammu




IndiaTimes - Published




Jammu bombs factory-made, were not crude ones: Experts




IndiaTimes - Published





Jammu attack: 'LeT hand likely, drones may have come from across border'

Pakistan-based Lashkar-e-Taiba is likely to be the mastermind of the unprecedented drone attack at the IAF station in Jammu airport, J&K police DGP Dilbag Singh said on Tuesday.Two IAF officers..




IndiaTimes - Published





India raises Jammu attack at UN, says use of weaponised drones for terrorism needs serious attention

India also appealed to the global community to remain united against tendencies of labelling terrorism based on terrorist motivations.




DNA - Published





Drone spotted on 2nd consecutive day near Military Stations in Jammu outskirts




IndiaTimes - Published





Jammu hit could be tied to attack on LeT chief's home




IndiaTimes - Published





Preliminary analysis indicates use of RDX in explosives dropped on Jammu IAF station: Officials

A preliminary analysis of the payload carried by the two drones used in attacking the IAF station in Jammu Sunday indicates that a cocktail of chemicals including RDX may have been used, officials said..




IndiaTimes - Published





Suspected drone movement near Jammu's Kaluchak puts security agencies on high alert

The Army fired at two drones hovering near Military Station in Kaluchak area on the city outskirts, sources said on Monday. The incident was reported 24 hours after a drone strike dropped two bombs..




IndiaTimes - Published




Two explosions rock technical area of Jammu Air Force Station, investigation on

Two explosions rocked Jammu Air Force station's technical area on the intervening night of June 26-27 at around 1:45 AM.




DNA - Published





Farooq Abdullah invites party leaders from Jammu for consultation on Wednesday




IndiaTimes - Published





Drone found abandoned in Jammu outskirts




IndiaTimes - Published





All-weather Jammu-Srinagar link ready




IndiaTimes - Published





Jammu, Ganderbal and Shopian achieve milestone of 100% vaccination for people aged above 45




IndiaTimes - Published





Black Fungus declared as Epidemic In Jammu and Kashmir; issue instructions to all concerned to follow guidelines.




IndiaTimes - Published





Covid: Central team calls for genome study to probe high death rate in Jammu

Observing that the high mortality among Covid-19 patients in Jammu may be because of the double mutant Indian strain, a team of doctors deputed by Union ministry of health and family welfare on Monday..




IndiaTimes - Published





Army chief reviews security situation in Jammu's forward areas along LoC




IndiaTimes - Published





500 bed-hospital for Covidto come up in Jammu




IndiaTimes - Published





Jammu and Kashmir administration establishes 24x7 control room in Jammu for distribution of medical oxygen




IndiaTimes - Published





Detained separatist leader Ashraf Sehrai dies in Jammu hospital




IndiaTimes - Published





Jammu and Kashmir extends 'corona curfew' in 4 districts of J&K till May 10, check details

Jammu and Kashmir have recorded the highest positive case in the last 24 hours since the pandemic broke.




DNA - Published