Jammu
City in Jammu and Kashmir, India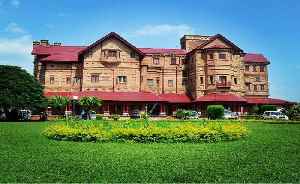 Jammu is the winter capital and the largest city in Jammu district of the Indian union territory of Jammu and Kashmir. Lying on the banks of the river Tawi, the city of Jammu, with an area of 26.64 km2 (10.29 sq mi), is surrounded by the Himalayas in the north and the northern-plains in the south. Jammu is the second most populous city of the union territory.


'6 associated with LeT arrested,' informs IGP Jammu

Jammu, Inspector General of Police, Mukesh Singh on August 08 informed that a total of 6 people associated with terrorists outfit Lashkar-e-Taiba were arrested. "On inputs about a terror-financing..
Credit: ANI Duration: 02:34
Published
The 2 other 'dangerous airfields' in India: Capt Ranganathan on Kerala crash

A day after the deadly plane crash in Kerala's Kozhikode, Captain Mohan Ranganathan, an aviation safety consultant, warns that other airports in India may see similar mishaps. Speaking to Hindustan..
Credit: HT Digital Content Duration: 04:20
Published
Watch: Manoj Sinha takes oath as new L-G of Jammu and Kashmir

Former Union minister Manoj Sinha was on Friday was sworn in as the new lieutenant governor of Jammu and Kashmir, the first political leader to take charge of the union territory. The 61-year-old, who..
Credit: HT Digital Content Duration: 03:05
Published
Kashmiri youth to hone their skills with better sports infrastructure

Youth in Kashmir will have more opportunities to hone their skills in sports with the enhancement of required infrastructure. After Jammu and Kashmir became the Union Territory, construction of..
Credit: ANI Duration: 04:36
Published
COVID-19: Jammu goes under weekend lockdown

Amid increasing cases of COVID-19 in the UT, weekend lockdown has been imposed in Jammu to curb the spread of the dreadful virus. The state has reported over 290 deaths till now due to COVID-19. Over..
Credit: ANI Duration: 01:22
Published
PMDP helping progressive apple growers in J-K's Anantnag

The Prime Minister's Development Package (PMDP), announced by Prime Minister Narendra Modi in 2015 for Jammu and Kashmir, has proved to be a breather for the farmers in the Union Territory as the..
Credit: ANI Duration: 02:33
Published
Dry fruit sellers suffer huge losses due to COVID-19 in Jammu

Coronavirus cases are growing in India which has impacted the economy. Dry fruit sellers in Jammu are suffering huge losses due to COVID-19. President of Fruit Retailers Association, Jyoti Gupta said,..
Credit: ANI Duration: 02:17
Published
BJP's Manzoor Ahmad seeks HM Shah's intervention in kidnapping of party leader in Kashmir

Bharatiya Janata Party (BJP) leader in Jammu and Kashmir, Manzoor Ahmad Bhat, has appealed to Home Minister Amit Shah to intervene and urged him to provide security to grassroots level leaders of the..
Credit: ANI Duration: 01:32
Published
'Agripreneurs meet' held to encourage farmers for agricultural production in JandK's Kathua

Sher-e-Kashmir University of Agricultural Sciences and Technology of Jammu organized 'Agripreneurs meet' in JandK's Kathua. The meeting was held at Krishi Vigyan Kendra (KVK) in Kathua on July 12. It..
Credit: ANI Duration: 02:19
Published
Did it in time despite continuous border firing: Rajanth Singh on inauguration of 6 bridges built by BRO

Defence Minister Rajnath Singh on July 09 inaugurated six new bridges built by Border Roads Organisation (BRO) in Jammu through video conferencing. These bridges have been constructed at the cost of..
Credit: ANI Duration: 02:52
Published
J-K government to reopen parks, gardens for public from July 08

Baseer Ahmed Khan, Advisor to Lieutenant Governor of J-K informed that all parks and gardens in Jammu and Kashmir will reopen for the public from tomorrow i.e. July 08. He said, "All parks and gardens..
Credit: ANI Duration: 01:45
Published
Vegetables price goes high in Jammu and Chhattisgarh

The price of vegetables has raised the graph in Chhattisgarh and Jammu and Kashmir. Not only has the rain affected the supply and sale of vegetables but the ongoing Corona issue has also stayed the..
Credit: ANI Duration: 02:01
Published
BSF Jawans intensify patrolling along international border in Jammu

The Border Security Force (BSF) soldiers are on high alert at the international border with Pakistan in Jammu region. The soldiers are doing their routine patrolling with promptness to stop any..
Credit: ANI Duration: 01:49
Published
250 residents of J and K return from Pakistan via Attari-Wagah border

A batch of 250 residents of Jammu and Kashmir returned from Pakistan on June 25 via the Attari-Wagah border. Shivraj Singh Bal, SDM, Amritsar-2, said, "748 Indians have registered themselves to return..
Credit: ANI Duration: 01:53
Published
CRPF personnel perform Yoga in Jammu

Central Reserve Police Force (CRPF) on June 21 celebrated International Yoga Day by performing various Asanas. This was the sixth edition of International Yoga Day. The CRPF personnel also maintained..
Credit: ANI Duration: 01:26
Published
After Galwan valley clash, 'Boycott Chinese masks' trend in Jammu

After the nation has made mask wearing as a mandatory step at public places to prevent infection from spreading, a shop in Jammu is selling designer masks for the people. After Galwan valley clash with..
Credit: ANI Duration: 02:32
Published
Mughal Road reopens after 7-month gap for fruit-loaded trucks

Jammu and Kahsmir's Mughal Road reopened after gap of 7 months for fruit loaded trucks. The road was closed in winters due to heavy snowfall followed by COVID-19 lockdown. The fruit merchants thanked..
Credit: ANI Duration: 01:22
Published
Farmers cultivate 'summer zone apple' in J-K's Samba

Farmers have cultivated 'Hariman 99 Summer Zone Apple' in Samba district. A worker at the apple orchard said,"40-45 degrees Celsius temperature is recorded here. You must have heard that apple is..
Credit: ANI Duration: 02:01
Published
You Might Like



Centre to bring new law to protect land rights of Jammu and Kashmir natives

Notably, there has been a marked rise in fear among the natives of Jammu and Kashmir regarding the settlement of outsiders in the union territory following Article 370 abrogation.




DNA - Published





Man dies after Chinese kite string slits throat in Jammu




IndiaTimes - Published





6 members of LeT terror financing network arrested in J&K

The network was busted on the information provided by the Army, which gave intelligence inputs about efforts to revive it in Jammu city, a senior police officer said. On the basis of the input,..




IndiaTimes - Published





LeT terror financing network busted in Jammu, 6 held

Singh told a press conference, "We got information that a terror financing network is operating in Jammu. Special Operations Group (SOG), Jammu, called up Mudasir Farooq Bhat, resident of Doda, for..




IndiaTimes - Published





Don't delay call on 4G in Kashmir: SC to govt

The Supreme Court on Friday frowned upon the delay on part of the Jammu and Kashmir administration and the Centre in taking a coordinated and considered stand on the possibility of providing 4G..




IndiaTimes - Published





Dialogue with people will start soon, there should be peace in J&K: new LG Manoj Sinha

Pitching for peace and stability in Jammu and Kashmir, the union territory's new lieutenant governor Manoj Sinha on Friday said the administration would soon initiate direct dialogue with the people to..




IndiaTimes - Published





Manoj Sinha, the man who almost became UP CM in 2017, now takes oath as L-G of Jammu and Kashmir

Manoj Sinha was administered the oath of office by Jammu and Kashmir Chief Justice Gita Mittal in Raj Bhavan.




DNA - Published





Manoj Sinha takes oath as LG of Jammu and Kashmir

Former Union minister Manoj Sinha was on Friday was sworn in as the new lieutenant governor of Jammu and Kashmir, the first political leader to take charge of the Union territory.




IndiaTimes - Published





Manoj Sinha to take charge as Jammu and Kashmir's new Lieutenant Governor

Senior BJP leader Manoj Sinha is the new L-G of Jammu and Kashmir as President has accepted the resignation of former L-G GC Murmu.




DNA - Published





GC Murmu resigns as Lieutenant Governor of Jammu and Kashmir

GC Murmu was appointed as the first Lieutenant-Governor of Jammu and Kashmir on October 31, 2019




DNA - Published





'Don't comment on internal affairs': India warns China after Beijing's remarks on Jammu and Kashmir

MEA was responding to a media query on the Chinese Ministry of Foreign Affairs spokesperson's comment on Jammu and Kashmir.




DNA - Published





Three arrested for murdering a man over PUBG in Jammu




IndiaTimes - Published





No 4G internet in Jammu and Kashmir for now, Centre tells SC

People in Jammu and Kashmir will not be getting 4G internet anytime soon as the central government has decided to continue the restrictions in the region.




DNA - Published





Lashkar's terror-funding module busted in Jammu, one arrested with Rs 1.5L cash




IndiaTimes - Published





Video: Rajnath Sigh visits Amarnath Temple in Jammu and Kashmir

Union Defence Minister Rajnath Singh visited the Amarnath temple in Jammu and Kashmir on Saturday.




DNA - Published





Registration mandatory for all road travellers coming to Jammu




IndiaTimes - Published





Earthquake of magnitude 3.9 hits Jammu and Kashmir

There have been no immediate reports of any damage.




DNA - Published





Jammu cops in a tizzy over drone found in village




IndiaTimes - Published





In Jammu, Army chief warns of 'zero tolerance' on ceasefire violations




IndiaTimes - Published





Collaborative projects have significance in J&K, NE: Minister Jitendra Singh

"The collaborative projects have special significance for regions like Jammu and Kashmir, Ladakh and the Northeast due to the constraints of topography, climatic challenges and geographical issues," he..




IndiaTimes - Published





Army chief visits forward areas to review operational preparedness in Jammu-Pathankot region

The Chief of Army staff (COAS), General M M Naravane on Monday visited forward areas under the strategic, Rising Star corps of army to review the current security situation and operational readiness of..




IndiaTimes - Published





Army chief Gen Narvane visits forward areas in Jammu, reviews operational readiness

General Narvane reviewed the current security situation and operational readiness of the troops deployed on ground in Jammu-Pathankot region.




DNA - Published





Suspended cop Devender Singh shared 'sensitive' info with Pakistan high commission: Officials

The NIA filed a chargesheet against Singh, at present lodged in Jammu jail, and five others on July 6 in a case of allegedly waging "war against India" with the help of Pakistan-based terror groups..




IndiaTimes - Published





Domicile certificate distribution among deprived communities commences in Jammu




IndiaTimes - Published





BSF intensifies patrolling along international borders in Jammu




IndiaTimes - Published





India-China face-off: People in Jammu buy ''Boycott China'' face masks

People were seen buying indigenously manufactured `Boycott China` face masks to fight coronavirus.




DNA - Published





Army jawan injured in accidental mine blast in Jammu




IndiaTimes - Published





People of PoK will demand to be part of India: Rajnath Singh

Defence minister Rajnath Singh on Sunday said that under Prime Minister Narendra Modi's leadership Jammu and Kashmir will touch great heights. "Just wait, soon people of Pakistan occupied Kashmir (PoK)..




IndiaTimes - Published





93 terrorists killed by security forces till June 8 in Jammu and Kashmir

"Till today morning, 93 terrorists have been killed by the security forces in Jammu and Kashmir. In the last two days, nine terrorists have been killed in the valley without any own fatal casualty,"..




IndiaTimes - Published





Jammu and Kashmir government evacuates 1.09 lakh stranded residents

As per official data received in this regard, the administrations of Jammu and Kashmir districts have received 43 special trains at Jammu and Udhampur railway stations from different states and UTs, so..




IndiaTimes - Published





Army's White Knight Corps commemorates 49th raising day in Jammu

The White Knight Corps was raised on June 1, 1972, and is operationally committed in pursuit of guarding and maintaining the sanctity of the LoC and combating terrorism.




IndiaTimes - Published





Asymptomatic passengers who travelled in different IndiGo flights test Covid-19 positive

"Few asymptomatic passengers who travelled on IndiGo flights were tested positive for COVID-19 on May 28. A total of 3 passengers onboard from Delhi to Jammu on May 26 tested positive for COVID-19, 6..




IndiaTimes - Published





Domicile rules change lives of two lakh in Jammu




IndiaTimes - Published





No Eid sweets exchanged by BSF with Pakistan; done with Bangladesh

The event was given a miss as the relations between the two countries are strained at present, they added. Incidents of cross-border terrorism are continuing as usual on the Western front and hence,..




IndiaTimes - Published





Army Commander takes stock of security situation in Jammu




IndiaTimes - Published





Western Army commander reviews operational readiness in Jammu




IndiaTimes - Published





Centre withdraws 10 CAPF companies from Jammu; sends nine to Maharashtra




IndiaTimes - Published





J&K: Indian Army sets up two COVID-19 hospitals in 15 days

Another 100-bed COVID-19 center has come up at the Army Public School Domana in Jammu.




DNA - Published





Jammu and Kashmir chalks out plan for phase-wise return of stranded people

The official said that the decisions were taken by Chief Secretary B V R Subrahmanyam during a video conference interaction with Deputy Commissioners while discussing the action plan for allowing local..




IndiaTimes - Published





Supply of essential commodities, other goods normal in J&K: Govt

Asserting that the supply of essential commodities and other goods is normal despite the Covid-19 lockdown, the Jammu and Kashmir administration on Tuesday sought continued cooperation of the people to..




IndiaTimes - Published





Nearly 700 army personnel reach Jammu through special train to join their units in Jammu and Kashmir




IndiaTimes - Published





Probe Rohingya link with Jamaat meet, screen them: MHA to states

The home ministry has asked all states and Union territories to screen Rohingya Muslims living in their jurisdictions, for possible Covid-19 infection. This comes amid reports that some Rohingya..




IndiaTimes - Published





Lieutenant governor G C Murmu e-inaugurates Jammu and Kashmir's first coronavirus call centre

The call centre and the web and mobile applications were e-inaugurated by lieutenant governor G C Murmu, the spokesperson added. Deputy commissioner, Srinagar, Shahid Iqbal Chaudhary said the magnitude..




IndiaTimes - Published





Army arranges special train to ferry personnel to formations along Pakistan, China borders

The trains were arranged following approval from the Union home ministry and the railways to facilitate deployment of the personnel at various frontline field formations along the borders with the two..




IndiaTimes - Published





Covid-19: Women in Jammu help enforce lockdown




IndiaTimes - Published





Cops recover mobile phones from terrorists in Jammu jail




IndiaTimes - Published





Kashmir-based Jaish operative arrested from Jammu




IndiaTimes - Published





Parcel train with masks reaches Jammu




IndiaTimes - Published





Centre redefines domicile for J&K, extends it to those living in UT for over 15 years

In a major decision, the Centre on Tuesday notified changes in domicile rules for the Union Territory of Jammu and Kashmir providing that anyone residing in J&K for 15 years or more will be eligible..




IndiaTimes - Published





Several areas surrounding location of positive, untraced contact cases sealed in J&K: Rohit Kansal

"Aggressive contact tracing of positive cases key to control spread of #Coronavirus. Y'day several areas surrounding location of positive cases or untraced contact cases had to be sealed in Jammu,..




IndiaTimes - Published