Enforcement Directorate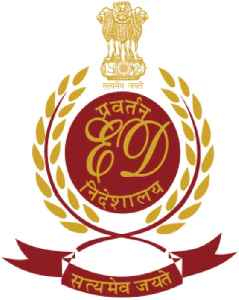 The Directorate of Enforcement is a law enforcement agency and economic intelligence agency responsible for enforcing economic laws and fighting economic crime in India. It is part of the Department of Revenue, Ministry of Finance, Government Of India. It is composed of officers from the Indian Revenue Service, Indian Police Service and the Indian Administrative Service. The origin of this Directorate goes back to 1 May 1956, when an 'Enforcement Unit' was formed, in Department of Economic Affairs, for handling Exchange Control Laws violations under Foreign Exchange Regulation Act, 1947. In the year 1957, this Unit was renamed as 'Enforcement Directorate'.


Enforcement Directorate starts extradition process for Mehul Choksi
Choksi surrendered his Indian passport to the High Commission in Guyana, and took up the citizenship of Antigua & Barbuda, a country in the Caribbean Sea.
DNA - Published
Nirav's extradition case may move much faster than Mallya's
CBI and Enforcement Directorate officials expect the process of Nirav Modi's extradition to be a "much faster" affair than the exercise to bring back Vijay Mallya and feel it should not take more..
IndiaTimes - Published
Robert Vadra moves Delhi HC, seeks quashing of money laundering case by ED
Robert Vadra on Wednesday moved the Delhi High Court seeking quashing of an FIR registered by the Enforcement Directorate in a money laundering case
DNA - Published
PNB fraud: Nirav Modi likely to be arrested by March 25
The Enforcement Directorate officials are also of the view that Nirav Modi's extradition case is progressing at a good pace since after handling fugitive liquor baron Vijay Mallya's case, officials are..
DNA - Published
Court extends Robert Vadra's anticipatory bail till March 25
A Delhi court on Tuesday extended Robert Vadra's anticipatory bail in a money laundering case till March 25 and asked him to join the probe in the matter after the Enforcement Directorate said he was..
IndiaTimes - Published
AgustaWestland: Court asks Tihar authorities to produce CCTV footage on Michel's torture allegation
Special public prosecutors D P Singh and N K Matta, appearing for the Central Bureau of Investigation (CBI) and the Enforcement Directorate (ED) respectively, had told the court that the accused was a..
IndiaTimes - Published
Enforcement Directorate to question lobbyist Deepak Talwar on Airbus aircraft deal in jail
Talwar is currently in judicial custody and the court has allowed the agency to interrogate him on jail premises from Monday to Friday between 9 am and 6 pm.
DNA - Published
AgustaWestland case: No objection if Rajeev Saxena becomes approver, ED tells Delhi court
The Enforcement Directorate told a Delhi court that if Saxena turns approver it would be very useful for the agency.
DNA - Published
ED suspects role of Pak High Commission in terror funding case
In the coming days, the Enforcement Directorate can attach more properties, which could again worth in crores. According to reports, ED has received information that separatists in Kashmir received Rs..
DNA - Published
AgustaWestland scam: Delhi Court allows ED to interrogate 'middleman' Christian Michel for 2 more days
A Delhi Court on Tuesday allowed the Enforcement Directorate (ED) to quiz AgustaWestland deal 'middleman' Christian Michel for two more days
DNA - Published
Terror funding: ED attaches J-K businessman Zahoor Ahmmad Watali's assets worth Rs 1.03 crore
Watali allegedly held this property for terror outfits operating in the Kashmir Valley. The Enforcement Directorate (ED) case is based on a charge sheet filed by the NIA as part of its probe against..
DNA - Published
VVIP choppers case: ED attaches Paris property of Christian Michel's ex-wife
It said a provisional order under the Prevention of Money Laundering Act (PMLA) has been issued to attach the asset at 45 Avenue, Victor Hugo in France and it is in the name of Ms SCI Solaime and..
IndiaTimes - Published
INX Media case: HC allows CBI to submit additional documents in Chidambaram's anticipatory bail plea
Justice Sunil Gaur took the submissions on record and again reserved the order on the anticipatory bail of the senior Congress leader. The court had earlier on January 25 reserved its order on..
IndiaTimes - Published
You Might Like