All India Trinamool Congress
Political party in India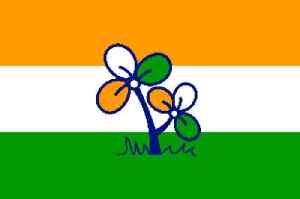 All India Trinamool Congress is an Indian national political party mostly active in West Bengal. The party is led by its founder and current chief minister of West Bengal Mamata Banerjee. Following the 2019 general election, it is currently the fifth-largest party in the Lok Sabha with 22 seats. Since its inception the party has been at the forefront of the anti-communist movement in West Bengal.


TMC, BJP supporters clash over Bengal BJP MLA's death case

Following the shocking death incident of Bengal BJP MLA Debendra Nath Ray, a clash had been ignited between Trinamool Congress and BJP supporters over the 12-hour 'bandh' called by BJP. Police have..
Credit: ANI Duration: 01:15
Published
BJP demands CBI inquiry in killing of West Bengal BJP MLA

While speaking to media in Kolkata on July 13, the National Secretary of Bharatiya Janata Party (BJP), Rahul Sinha spoke on death of BJP MLA Debendra Nath Ray. He said, "We demand Central Bureau of..
Credit: ANI Duration: 02:00
Published
TMC MP's remark on FM Sitharaman is racist, misogynistic: Sambit Patra

Speaking on the controversial remarks given by the TMC MP Kalyan Banerjee on the Finance Minister Nirmala Sitharaman, BJP leader and spokesperson Sambit Patra on July 05 said that the remark in not..
Credit: ANI Duration: 01:47
Published
Trinamool Congress councilor shot at by miscreants in West Bengal

Trinamool Congress councilor from ward number 2 of North Barrackpore Municipality, Champa Das has been shot at by miscreants in West Bengal. She has been admitted to a hospital. She has suffered bullet..
Credit: ANI Duration: 01:10
Published
TMC, BJP workers clash over construction of party office in WB's Bardhaman

Clash erupted between TMC and BJP workers over the construction of a party office in the Jamalpur Police Station area. Later, the situation was controlled by the police.
Credit: ANI Duration: 01:21
Published
BJP Mahila Morcha protests against TMC over alleged attack on leader Sabyasachi Dutta

Bharatiya Janata Party (BJP) Mahila Morcha staged a protest in Kolkata on June 09 over alleged attack on party leader Sabyasachi Dutta by All India Trinamool Congress (TMC). Dutta is the former mayor..
Credit: ANI Duration: 01:27
Published
You Might Like



All West Bengal BJP MPs are with party: Kailash Vijayvargiya

BJP general secretary Kailash Vijayvargiya on Monday dismissed speculation that some party MPs from West Bengal may join the ruling Trinamool Congress (TMC) before next year's Assembly polls in that..




IndiaTimes - Published





No infighting in West Bengal BJP, TMC spreading canards to mislead people: Dilip Ghosh

Amid reports of infighting in the BJP unit of West Bengal, the party's state president, Dilip Ghosh, on Monday asserted that all was well in the organisation, and charged the TMC with spreading canards..




IndiaTimes - Published





Kailash Vijayvargiya dismisses rumours about BJP MPs joining TMC

BJP leader and Central observer for West Bengal Kailash Vijayvargiya on Monday dismissed the news appearing on a section of news channels that some Bharatiya Janata Party (BJP) parliamentarians are..




IndiaTimes - Published





Poll-strategist Prashant Kishor's inputs played key role in TMC reshuffle: Party leader

Poll-strategist Prashant Kishor's inputs and his team's year-long assessment of the ground realities have played a key role in effecting one of the biggest reshuffles in the TMC leadership in the..




IndiaTimes - Published





Mamata announces major rejig in TMC ahead of 2021 Bengal polls

Trinamool Congress chief Mamata Banerjee on Thursday announced a major reshuffle in the party's organisation as she gave leadership roles to younger and new faces with an eye on next year's assembly..




IndiaTimes - Published





BJP will be thrown out of Bengal in 2021 polls, says Mamata Banerjee; Dilip Ghosh hits back

We will throw the BJP out of West Bengal in the 2021 Assembly elections, Mamata Banerjee said at annual Martyr's Day rally of TMC.




DNA - Published





Bengal BJP MLA found hanging outside shop

The body of CPM-turned-BJP MLA from Hemtabad, Debendra Nath Roy was found hanging in front of a closed shop 1.5km from his residence on Monday morning, sparking a war of words between the BJP and..




IndiaTimes - Published





Hindutva leader Tapan Ghosh dies battling Covid-19

A former RSS leader, Ghosh is the second politician in the state to die due to Covid-19. Last month, Trinamool Congress MLA succumbed to the contagion. Condoling Ghosh's death, senior BJP leader Swapan..




IndiaTimes - Published





TMC government has to go lock, stock and barrel: J P Nadda

Lauding Jana Sangh founder Syama Prasad Mookerjee for fighting for a united India and opposing the "appeasement politics" of Jawaharlal Nehru, Nadda said it is an honour to celebrate his birth..




IndiaTimes - Published





TMC MP Kalyan Banerjee draws criticism over his 'venomous snake' comment




IndiaTimes - Published





'Racist, misogynist': Sambit Patra slams TMC leader for likening FM Nirmala Sitharaman to 'Kala Nagini'

Meanwhile, the Centre and the state have been in a state of conflict, with the BJP eyeing to wrench West Bengal away from the TMC as the assembly election approaches, scheduled to take place in early..




DNA - Published





TMC MP Kalyan Banerjee calls Nirmala Sitharaman 'venomous snake'

In controversial remarks, TMC MP Kalyan Banerjee has equated Union finance minister Nirmala Sitharaman with a "venomous snake" for her handling of the economy, drawing sharp reaction from the BJP which..




IndiaTimes - Published





Mamata warns TMC leaders of stern action for corruption in Amphan aid distribution

West Bengal chief minister Mamata Banerjee on Friday warned a section of the TMC leaders of stern administrative action for indulging in corruption over distribution of relief materials among people..




IndiaTimes - Published





Mamata Banerjee offers free ration in Bengal till June 2021 as PM Modi announces extension of scheme till Nov 2020

Assembly elections in Bengal is likely to be held in April-May 2021 and Banerjee's Trinamool Congress is facing a strong challenge from Modi's BJP.




DNA - Published





Banning apps not enough, China needs to be given befitting reply: Mamata Banerjee

West Bengal chief minister Mamata Banerjee on Tuesday said banning apps will not be enough, asserting that China needs to be given a befitting reply. The Trinamool Congress supremo, however, said she..




IndiaTimes - Published





TMC MLA Tamonash Ghosh dies at 60, had tested COVID-19 positive in May

He was a 3-time MLA from Falta and the party treasurer since 1998.




DNA - Published





BJP kick-starts battle for Bengal, TMC says time to deal with Covid and not politics




IndiaTimes - Published





Amit Shah accuses Mamata of insulting migrants; TMC hits back, says 'BJP hungry for votes'

Amit Shah has accused Mamata Banerjee of "insulting" migrant workers returning to the state on 'Shramik Special' trains by calling them 'Corona Express'. Hitting back, the ruling Trinamool Congress..




IndiaTimes - Published





TMC appeals to Centre to clear WB dues, wants MPLADS money credited to migrants

The Trinamool Congress (TMC) on Sunday appealed to the Centre to clear its dues to West Bengal, claiming that the Union government owes Rs 53,000 crore to the state under different heads.




IndiaTimes - Published





TMC, BJP gear up for 2021 polls in Bengal with virtual campaigns, rallies

With less than a year to go before West Bengal assembly polls, the political face-off between the ruling TMC and its principal challenger BJP is set to get intense, with both the parties pulling out..




IndiaTimes - Published





TMC raises questions over railways' 'isolation' coaches for corona care

The Trinamool Congress (TMC) on Monday demanded to know how many of the 5,312 modified isolation coaches of the railways that were earmarked for coronavirus patients were put to use.




IndiaTimes - Published





Mamata Banerjee borrowing money to run West Bengal: BJP

The Trinamool Congress government is borrowing money to run the state and Chief Minister Mamata Banerjee announced a package for relief operations in Cyclone Amphan-hit areas without getting proper..




IndiaTimes - Published





People will remember first year of 2nd Modi govt as 'zero': TMC

The Trinamool Congress on Saturday termed the achievements of the second Narendra Modi government in its first year as "zero", claiming the country witnessed attempts to undermine parliamentary..




IndiaTimes - Published





TMC dubs PM's address 'incomplete and disappointing'

The Trinamool Congress on Tuesday termed Prime Minister Narendra Modi's address to the nation "incomplete and disappointing", saying there was no proper direction on how the financial package of Rs 20..




IndiaTimes - Published





Bengal being politically targeted over Covid-19: Mamata to PM Modi

West Bengal is being "unnecessarily targeted" over its handling of Covid-19, chief minister Mamata Banerjee told Prime Minister Narendra Modi on Monday, insisting she wants to fight the pandemic..




IndiaTimes - Published





Resuming passenger train services will increase risk of virus transmission: TMC

Accusing the Union government of "doublespeak" over lockdown enforcement, the Trinamool Congress (TMC) on Monday came down heavily on the BJP-led Centre for its decision to resume passenger train..




IndiaTimes - Published





TMC hits out at Amit Shah after his letter to Mamata




IndiaTimes - Published





TMC MP Aparupa Poddar gives birth to baby girl, nicknamed Corona

The two-time Lok Sabha MP has nick-named her baby girl as Corona as she was born during the outbreak of the pandemic.




DNA - Published





TMC blames Centre for spike in Covid-19 cases in Bengal; BJP hits back

The Trinamool Congress on Tuesday alleged that the "callous approach" of the BJP-led central govt in allowing international flights to operate till the last week of March resulted in the spike in..




IndiaTimes - Published





Why CSR for PM Cares and not for CM relief fund, asks TMC MP




IndiaTimes - Published





Delhi govt levies 70% 'Special Corona Fee' on sale of liquor; Andhra Pradesh charges 75%

In West Bengal, too, the Mamata Banerjee-led TMC government in the state had hiked the price of liquor by 30% a week back.




DNA - Published





Covid-19: Eminent personalities slam TMC MP Moitra for criticising NRI doctors




IndiaTimes - Published





'IMCT= India's Most Callous Team': TMC says central team spreading political virus in Bengal

The ruling Trinamool Congress on Saturday described the two inter-ministerial central teams (IMCT) visiting West Bengal to assess the COVID-19 situation as "India's Most Callous Team", which, it said,..




IndiaTimes - Published





Didi hits back, says attack on federal norms; TMC questions Centre's intent

A full-scale political battle has broken out between the BJP-led Centre and the Trinamool Congress-led West Bengal government, sparked off by the "unannounced" landing of a central team of..




IndiaTimes - Published





Bengal obstructing Centre's Covid-19 teams, says MHA

The Centre on Tuesday said while Maharashtra and Rajasthan were fully cooperating with inter-ministerial teams sent to boost anti-Covid-19 actions, the West Bengal government had restrained the teams..




IndiaTimes - Published





'Adventure tourism': TMC leaders slam visit of Central teams to West Bengal

The TMC on Tuesday dubbed as "adventure tourism" the visit of Inter-Ministerial Central Teams (ICMTs) to West Bengal to monitor some districts over coronavirus cases and questioned why teams were not..




IndiaTimes - Published





In a rethink, TMC decides to attend PM Modi's interaction with floor leaders

Giving up its initial reluctance, the Trinamool Congress (TMC) has decided to attend a video conference interaction with Prime Minister Narendra Modi on Wednesday after the government reached out to..




IndiaTimes - Published





TMC MPs write to Venkaiah Naidu, Om Birla requesting to defer Parliament amid COVID-19 surge

Trinamool Congress MPs on Sunday wrote to Lok Sabha Speaker Om Birla and Rajya Sabha chairman M Venkaiah Naidu over the denial of the request to defer the working of Parliament as COVID-19 cases..




IndiaTimes - Published





Will speak in Parliament today as Delhi needs urgent healing: Derek O'Brien

Accusing the Central government of disrupting Parliament and not allowing discussion over Delhi violence, TMC leader in Rajya Sabha Derek O'Brien on Friday said he will find a way to speak in the House..




IndiaTimes - Published





Trinamool sets up fund for victims of violence




IndiaTimes - Published





Congress, AAP, TMC MPs hold separate protests against govt over Delhi riots




IndiaTimes - Published





Odisha CM Naveen Patnaik hosts lunch for Amit Shah, Mamata Banerjee and Nitish Kumar

Union home minister Amit Shah and TMC supremo Mamata Banerjee, who have been bitter critics of each other, had a lunch together on Friday at Odisha chief minister Naveen Patnaik's residence, where they..




IndiaTimes - Published





Mamata to meet Shah; BJP says she's making 'futile attempts' to save scam-tainted TMC leaders

The Trinamool Congress leadership was quick to return fire saying Banerjee attending the meeting was an attempt to maintain a working relationship with the Centre. Banerjee, who has been a bitter..




IndiaTimes - Published





Mamata Banerjee blames Centre's 'vendetta politics' for Tapas Paul's death

Bengal CM Mamata Banerjee on Wednesday blamed the Centre's "vendetta politics" for the "untimely demise" of former Trinamool Congress MP and matinee idol Tapas Paul. Paul passed away at a..




IndiaTimes - Published





Mamata blames Centre for Tapas Paul's death

West Bengal chief minister Mamata Banerjee on Wednesday alleged that "pressure" created by central agencies and "vendetta politics" led to the death of Trinamool Congress leader and actor Tapas Paul...




IndiaTimes - Published





Bengali actor, former TMC MP Tapas Pal dies of cardiac arrest at 61

Pal was in Mumbai to visit his daughter where he complained of chest pain.




DNA - Published





Mahua Moitra, Manish Tewari included in par panel on data protection bill

The government's proposal to include Mahua Moitra of the TMC and Manish Tewari of the Congress in the joint committee was approved by voice vote in the lower house. Moitra and Tewari will replace..




IndiaTimes - Published





PM Modi pursuing agenda of 'persecute and polarise" against Muslims: TMC in Lok Sabha

TMC member Saugata Roy on Wednesday accused Prime Minister Narendra Modi of pursuing an agenda of "persecute and polarise" against Muslims as he attacked the Union government over its citizenship..




IndiaTimes - Published





BJP has betrayed its mandate: TMC MP Mahua Moitra

Speaking in the Lok Sabha on Monday, the TMC MP accused the government of "betrayal of body politic" and said that the people were on the streets against the Citizenship Amendment Act (CAA), the..




IndiaTimes - Published





TMC's Derek O'Brien endorses AAP for Delhi polls, says Kejriwal delivered on promises

In a tweet on Thursday, TMC spokesperson Derek O'Brien backed AAP and shared a video batting for Arvind Kejriwal, AAP's Rajendra Nagar candidate Raghav Chadha and other party nominees of assembly..




DNA - Published