Hyderabad
Metropolis in Telangana, India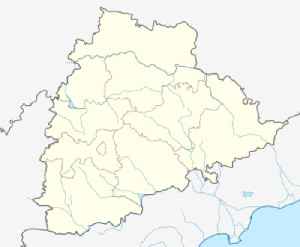 Hyderabad
is the capital of the Indian state of Telangana and
de jure
capital of Andhra Pradesh. Occupying 650 square kilometres (250 sq mi) along the banks of the Musi River, Hyderabad City has a population of about
6.9 million
and about
9.7 million
in Hyderabad Metropolitan Region, making it the fourth most populous city and sixth most populous urban agglomeration in India. At an average altitude of 542 metres (1,778 ft), much of Hyderabad is situated on hilly terrain around artificial lakes, including Hussain Sagar—predating the city's founding—north of the city centre.
Lok Sabha polls 2019: AIMIM chief Owaisi files nomination in Hyderabad, seeks 4th term as MP
With the ruling Telangana Rashtra Samithi (TRS) making it clear that it would back his candidature, Owaisi seems to be on a strong wicket in this Muslim-dominated segment, a stronghold of the All India..
DNA - Published
Also reported by •IndiaTimes
New Zealand terror attack: One of 5 Indians killed hailed from Hyderabad
One more victim of the terror attack on two mosques in Christchurch belonged to Telangana and family members of him and of another feared dead are on their way to New Zeland.
DNA - Published
7 from India killed in mosque massacre in New Zealand, say families
Four Indians — one from Hyderabad, a woman from Kerala and two from Gujarat—were among those killed in the Christchurch terror attack in New Zealand on Saturday, their families confirmed to TOI on..
IndiaTimes - Published
'9 Indians missing, 2 injured' in New Zealand mosques shooting
Ahmed Iqbal Jahangir of Hyderabad and Mehboob Khokhar of Ahmedabad are said to have been injured. The Indian high commission in New Zealand has set up 24x7 helpline numbers to offer assistance and..
IndiaTimes - Published
Hyderabad man injured in New Zealand mosque attack
IndiaTimes - Published
Operation to capture Avni's male cub scaled down
Tigress T1 was shot dead on November 2, by Asghar, son of controversial Hyderabad-based hunter Nawab Shafath Ali Khan.
DNA - Published
BJP Telangana chief throws down challenge to Rama Rao
Rao recently said during campaigning that neither the NDA nor UPA would be able to form a government on its own post Lok Sabha polls and that TRS should get 16 Lok Sabha seats (leaving Hyderabad..
IndiaTimes - Published
You Might Like