Hyderabad
Capital of Telangana, India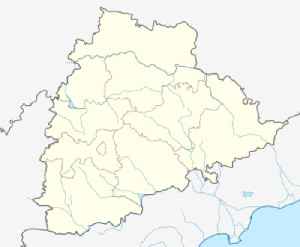 Hyderabad
is the capital and largest city of the Indian state of Telangana and
de jure
capital of Andhra Pradesh. Occupying 625 square kilometres (241 sq mi) along the banks of the Musi River, located on the Deccan Plateau in the northern part of South India at an average altitude of 542 metres (1,778 ft), much of Hyderabad is situated on hilly terrain around artificial lakes, including Hussain Sagar lake—predating the city's founding—north of the city centre. Hyderabad City has a population of about
6.9 million
, with about
9.7 million
in Hyderabad Metropolitan Region, making it the fourth-most populous city and sixth-most populous urban agglomeration in India. With an output of
US$
74 billion, Hyderabad is the fifth-largest contributor to India's overall gross domestic product.
Demolition of old Telangana Secretariat begins after HC order

Following the High Court decision clearing the way for the construction of the new Secretariat of Telangana government, the demolition of the old Secretariat complex began in Hyderabad. The demolition..
Credit: ANI Duration: 01:54
Published
Fighter! 94-year-old Hyderabad woman wins battle against COVID-19

A 94-year-old woman, who was undergoing treatment for COVID-19 was discharged from Gandhi Hospital after winning the battle against the virus on July 06. P. Vijayalakshmi, who is from Hyderabad's..
Credit: ANI Duration: 01:01
Published
COVID-19: Hyderabad start-up company creates unique way to take attendence of employees

A start-up company at Hyderabad invented contactless, facial-recognition based thermal screening of employees. This step was taken to avoid spread of coronavirus infection. Sushanth, CEO of Arvi..
Credit: ANI Duration: 02:38
Published
Smuggled cigarettes worth Rs 1.3 crore seized in Hyderabad

Hyderabad City Police intercepted one auto trolley in Siddiamber Bazar under Shahinayathgunj Police Station limits and seized smuggled cigarettes worth about Rs. 1.03 crore. Five persons were arrested..
Credit: ANI Duration: 02:16
Published
COVID-19 patient succumbs in Hyderabad, family alleges hospital of negligence

A COVID-19 infected patient succumbed at a government hospital in Hyderabad on June 30. In a self-made video, he alleged that there was no one in the hospital and that he was all by himself. Family..
Credit: ANI Duration: 01:08
Published
Hyderabad, Dehradun get pleasant rains, Bihar and WB brave heavy showers

Monsoon has knocked over most of the states of the country. Parts of Hyderabad received pleasant rain on June 29. Rains also lashed Uttarakhand's Dehradun. India Meteorological Department has predicted..
Credit: ANI Duration: 02:01
Published
Double whammy for Hyderabad salons as expenses go up with fewer footfalls

Salon workers in Hyderabad are facing hardships as very few customers are turning up for grooming due to fear of COVID-19. The salons have brought sanitising products and gloves to maintain hygiene in..
Credit: ANI Duration: 01:50
Published
Hyderabad techie commits suicide after accusing pilot husband of harassment in FB video

A Software engineer, Lavanya, committed suicide on June 26 in Hyderabad after posting a video on Facebook narrating harassment by her husband, police said. "She has posted a video on Facebook in which..
Credit: ANI Duration: 01:18
Published
COVID-19: Hyderabad's Begum Bazar to remain under voluntary lockdown for 1 week

In wake of COVID-19 pandemic, the Hyderabad Kirana Merchants Association has voluntarily announced the lockdown of shops at Begum Bazar. Begum Bazar will be under voluntarily lockdown from June 28 to..
Credit: ANI Duration: 02:20
Published
STelangana Health Minister inspects TIMS amid COVID-19 crisis

The Health and Family Welfare Minister of Telangana Eatala Rajender visited Telangana Institute of Medical Sciences. He visited the institute in Hyderabad amid coronavirus pandemic on June 24. There..
Credit: ANI Duration: 02:07
Published
7-year-old Kashmiri girl features in school textbook for campaign to clean Dal lake

Story of a 7-year-old girl Jannat who has been cleaning Dal lake in Srinagar from past 2 years has been published in a textbook of a school in Hyderabad. Jannat's Dal cleaning goes popular in hindi..
Credit: ANI Duration: 02:01
Published
COVID-19 suspect in Hyderabad missing for 15 days, claims family

A man, whose family says that he is likely infected with COVID-19, has been allegedly missing for last 15 days. The incident recorded in Hyderabad, where the family claimed that he was admitted at..
Credit: ANI Duration: 01:58
Published
Man seeks Telangana CM help as brother's body goes missing from hospital

Aamir, a resident of Asif Nagar in Hyderabad has sought help from Telangana Chief Minister K Chandrashekar Rao after the body of his brother allegedly went missing from a hospital. According to Aamir,..
Credit: ANI Duration: 01:52
Published
COVID-19 survivor develops AI-based screening system in Hyderabad

A COVID-19 survivor, Punna Reddy has developed an artificial intelligence based screening system. It detects people who have high temperature or those not wearing masks. The system has been installed..
Credit: ANI Duration: 01:33
Published
Doctors protest in Hyderabad after attack by deceased patient's kin

Doctors, hospital staff staged protest against alleged attack by deceased patient's kin attendants in Hyderabad after they were allegedly attacked at Gandhi Hospital. Attendants tuned violent after a..
Credit: ANI Duration: 01:09
Published
Rain lashes Raipur, Hyderabad

Grey clouds on May 31 brought pleasant rain in parts of Raipur and Hyderabad. The showers dipped the temperature and brought respite to the residents from heat. India Meteorological Department (IMD)..
Credit: ANI Duration: 01:34
Published
Forest officials rescue leopard in Telangana's Nalgonda

Forest officials on May 28 rescued a leopard stuck in a wire snare loop in a village of Nalgonda district. One of the officials faced a minor injury during the rescue operation. Wild cat will be sent..
Credit: ANI Duration: 01:27
Published
Vande Bharat Mission: 184 Indian nationals return to Hyderabad from Doha

Air India Express (IX 244) from Qatar's Doha landed Hyderabad International Airport. 184 passengers were evacuated under 2nd phase of Vande Bharat Mission. The stranded Indian nationals across globe..
Credit: ANI Duration: 01:11
Published
Lockdown 4.0 kick-starts economic activities even as COVID-19 threat looms large

With some new relaxations in the fourth phase of nationwide lockdown, several services have been started in the country. Delhi government has allowed resumption of auto, taxi, private cab and bus..
Credit: ANI Duration: 01:33
Published
Vande Bharat Mission: 166 Indian nationals arrive from Oman to Hyderabad

166 Indian nationals arrived from Oman's Muscat to Hyderabad under Vande Bharat mission. All passengers were facilitated with safety protocols due to coronavirus. State government had quarantined all..
Credit: ANI Duration: 01:15
Published
Vande Bharat Mission: 121 Indians land in Hyderabad from USA

Air India special flight carrying 121 Indian passengers returned to Hyderabad from Newark (USA) on May 16. The special flight landed at 3:14 am today. India began phased repatriation of its citizens..
Credit: ANI Duration: 01:11
Published
Vande Bharat Mission: Air India's special flight arrives in Hyderabad from Kuala Lumpur

Air India Express special flight landed at Rajiv Gandhi International Airport in Telangana's Hyderabad. The flight carrying around 117 passengers came from Kuala Lumpur. Repatriation flight Air India..
Credit: ANI Duration: 01:09
Published
MP migrant worker wheels pregnant wife, child on makeshift cart amid lockdown

A migrant worker along with his wife and daughter travelled from Hyderabad on foot to reach their native place in Madhya Pradesh. He wheeled his daughter and pregnant wife for most part of the 700-km..
Credit: ANI Duration: 01:32
Published
You Might Like



Kanpur encounter: Reminiscent of gunning down of four accused in Hyderabad vet's rape & murder case

The killing of gangster Vikas Dubey and some of his henchmen in a series of alleged encounters in Uttar Pradesh is reminiscent of a similar incident here in which four people, accused of rape and..




IndiaTimes - Published





Plea filed in Supreme Court seeking CBI probe into 'suicide' of BHEL employee

The case pertains to the unfortunate death of the petitioner's daughter due to sexual harassment at the latter's workplace at BHEL, Hyderabad.




DNA - Published





Bharat Biotech's indigenous COVID-19 vaccine 'COVAXIN' gets approval for phase I & II human clinical trials

The SARS-CoV-2 strain was isolated in NIV, Pune and transferred to Bharat Biotech. The indigenous inactivated vaccine was developed and manufactured in Bharat Biotech's BSL-3 (Bio-Safety Level 3) High..




DNA - Published





Hyderabad company develops India's first DCGI-approved vaccine candidate, gets nod for human trials




IndiaTimes - Published





Narasimha Rao was neither an economic nor social liberal: Owaisi

"Rao was neither an economic nor a social liberal, and he represents the worst of the cynical Congress, of deceitful Indian politics and of the weak ambivalence of the Indian state in the face of..




IndiaTimes - Published





Hyderabad likely go for lockdown again in wake of rising COVID-19 cases

A high-level review meeting was held at Chief Minister's residence cum office on Sunday to discuss measures to contain the spread of coronavirus.




DNA - Published





Covid-19: 12-hour night curfew in Assam, Hyderabad market traders to shut shops for 8 days

With coronavirus cases on the rise, the Assam government announced a 12-hour night curfew across the state from Friday and a 14-day complete lockdown in Kamrup (Metro) district, of which Guwahati city..




IndiaTimes - Published





Boycott of Chinese products must be done 'slowly but surely', say Hyderabad dealers

Dealers across Hyderabad say that Chinese products must be boycotted "slowly but surely".




DNA - Published





Hyderabad: Congress leader V Hanumantha Rao tests positive for COVID-19

The 72-year-old senior Congress leader confirmed this development and said that he had started to feel sick shortly after his birthday.




DNA - Published





'Sacrifices of our brave soldiers will not go in vain': IAF chief warns China, says forces prepared for any contingency

The IAF chief made the comment at a Combined Graduation Parade (CGP) at Air Force Academy (AFA) Dundigal in Hyderabad.




DNA - Published





Determined to deliver, geared up for any contingency: IAF chief

The Air Force is determined to deliver and is well prepared and suitably deployed to respond to any contingency, IAF chief, Air Chief Marshal RKS Bhadauria said on Saturday addressing a Combined..




IndiaTimes - Published





Why only Muslims booked for violating curbs, look at US crisis: HC to Hyd cops

Telangana high court on Wednesday asked Hyderabad police officials why it had booked a disproportionally high number of Muslims for violating lockdown rules.




IndiaTimes - Published





Living on the edge, Pakistani Hindus still feel safer in India

Seven years ago, Dharamveer Solanki, a Hindu, left his home in Pakistan's Hyderabad city, never to return. When his train crossed the border into India, Solanki said he felt happier than ever before.




Reuters - Published

Also reported by •Reuters India


Telangana workers in Saudi unable to return as no special flight landing permission given in Hyderabad




IndiaTimes - Published





Scientists at Hyderabad-based CSIR institution develop low cost Covid-19 test

Scientists at Centre for Cellular and Molecular Biology (CCMB), Hyderabad - premier institution under Council of Scientific and Industrial Research (CSIR) - have developed a "new low-cost and..




IndiaTimes - Published





Hyderabad man announces Rs 2 L reward for those assisting in finding Kerala elephant's killer




IndiaTimes - Published





Pregnant woman seeks EAM's help to return home to Hyderabad from Sharjah




IndiaTimes - Published





Hyderabad builders pay for migrants' air tickets to lure them back to work

Migrant workers from Hyderabad may have suffered nightmarish journeys in their bid to escape the lockdown and return to their homes in UP, Bihar and Jharkhand. But many of them are all set to return,..




IndiaTimes - Published





Consortium with Hyerabad company to get $14m grant for chikungunya vaccine, & $2m fund from Modi govt




IndiaTimes - Published





Vande Bharat Mission flight with 148 Indians departs from Riyadh

"Air India AI 1936 bound for Hyderabad has departed from King Khalid International Airport Riyadh with 148 passengers, including 3 infants on board," Indian Embassy in Saudi Arabia tweeted. India had..




IndiaTimes - Published





Indian from Hyderabad dies under suspicious circumstances in hospital in Riyadh

A 27-year-old man from Hyderabad, Shaik Ghouse, died under suspicious circumstances in the bathroom of a hospital he was working at in Riyadh in Saudi Arabia on Saturday.




IndiaTimes - Published





Activist Varavara Rao admitted to hospital in Mumbai; Family seeks bail for him

Activist Varavara Rao, who has been arrested and in jail in Maharashtra in the Elgar Parishad case, was admitted to a hospital in Mumbai, police said, while his family members on Saturday demanded his..




IndiaTimes - Published





Delhi, Hyderabad airports partner up with HOI for contactless travel experience amidst COVID-19 crisis

The app gauges customer's needs during different stages of their travel.




DNA - Published





TDP President Chandrababu Naidu addresses party's annual conclave via video-conferencing

Stuck up in Hyderabad for more than 50 days due to lockdown, Chandrababu Naidu reached Andhra Pradesh on Monday ( May 25 ). Also, Naidu is completing 25 years as party president since he took over.




DNA - Published





YSR Congress seeks Chandrababu Naidu's quarantine, says 'lockdown norms violated'

Alleged violation of lockdown rules by former Andhra Pradesh chief minister N Chandrababu Naidu while returning from Hyderabad after more than two months, sparked a row with the leaders of ruling YSR..




IndiaTimes - Published





AirAsia's Jaipur-Hyderabad flight develops technical snag; lands safely

An AirAsia India Jaipur-Hyderabad flight with 70 passengers on board developed a technical snag during the flight, forcing the pilot to shut an engine before landing at Rajiv Gandhi International..




IndiaTimes - Published





No domestic flights in West Bengal and Andhra on Monday; Mumbai, Hyderabad & Chennai to see reduced ops




IndiaTimes - Published





Hyderabad company, University of Philadelphia ink deal to accelerate work on novel vaccine against Coronavirus




IndiaTimes - Published





Diplomat TS Tirumurti arrives in New York to assume charge as India's new Ambassador to UN

Seasoned diplomat TS Tirumurti arrived here to assume charge as India's new Permanent Representative to the United Nations. ​​​​A 1985-batch Indian Foreign Service (IFS) officer, Tirumurti..




IndiaTimes - Published





Vande Bharat Mission: 331 stranded Indians from UK reach Hyderabad

The national carrier, a Boeing 773 aircraft from the UK arrived at 02.21 AM, airport sources said. Later, the same aircraft departed with 87 passengers to the US via Delhi. The passengers were serviced..




IndiaTimes - Published




7 special flights to reach India on Day 5 of 'Vande Bharat Mission'

The special flights include London to Delhi to Bengaluru, San Francisco to Mumbai to Hyderabad, Dhaka to Mumbai, Dubai to Kochi, Abu Dhabi to Hyderabad, Kaula Lampur to Chennai and Bahrain to..




IndiaTimes - Published





No proposal on record so far to run 'Shramik Special' trains to West Bengal: Railway officials

The Indian Railways reaction came minutes after the TMC said they have already planned to run eight trains to ferry migrants from Karnataka, Tamil Nadu, Punjab and Telangana. The railway said they did..




IndiaTimes - Published





IAF conducts fly-past over Delhi saluting 'corona warriors'

The military jets, including Sukhoi-30 MKI, MiG-29 and Jaguar, flew over Rajpath, Delhi's centrepiece boulevard, and then orbited over the city for around 30 minutes from 11 am. IAF is carrying out..




IndiaTimes - Published





'Secret' midnight train from Hyderabad puts migrant return on track

In a hush-hush midnight exercise meant to avoid a Bandra-like situation, 1,225 migrant workers from Jharkhand were picked up from a camp near IIT-Hyderabad on Thursday and put on a train home at the..




IndiaTimes - Published





Unpaid for a month, over 2,000 migrants attack cops in Hyderabad




IndiaTimes - Published





Asaduddin Owaisi sends groceries to 30 poor families following distress call by Hyderabad woman

In the afternoon, a lady named Madhavi made a distress call to Owaisi on his mobile.




DNA - Published





Covid-19: Centre to assess Ahmedabad, Hyderabad, Surat, Chennai

These teams will issue necessary directions to state authorities for redressal of the situation and submit their report to the Central government "in larger interest of general public", said the..




IndiaTimes - Published





Coronavirus Outbreak: 4 more central teams formed to assess ground situation in Ahmedabad, Surat, Hyderabad, Chennai

Four new teams will be sent to Ahmedabad and Surat in Gujarat, Hyderabad in Telangana and Chennai in Tamil Nadu.




DNA - Published





Ramadan 2020 begins from Apr 25: First roza sehri & iftar timing for Delhi, Mumbai, Chennai, Bengaluru, Patna

Muslims across India will start fasting on Saturday (April 25) as the crescent moon was sighted on Friday, officially announcing the beginning of the holy month of Ramzan. Here is first roza sehri and..




DNA - Published





Covid-19 situation especially serious in Ahmedabad, Surat, Hyderabad, Chennai: MHA




IndiaTimes - Published





COVID-19: Centre sends 4 interministerial teams to Gujarat, Telangana, TN

The Union home ministry has sent four new interministerial teams to monitor the COVID-19 situation in Gujarat, Telangana and Tamil Nadu, officials said Friday. These teams, headed by additional..




IndiaTimes - Published





Ramadan 2020: Significance, sehri and iftar timings for Delhi, Mumbai, Bengaluru, Hyderabad, Chennai, Trivandrum

Muslims in coastal Karnataka and Kerala will start fasting on Friday as the crescent moon was sighted on Thursday, officially announcing the beginning of Ramzan.




DNA - Published





Probe Rohingya link with Jamaat meet, screen them: MHA to states

The home ministry has asked all states and Union territories to screen Rohingya Muslims living in their jurisdictions, for possible Covid-19 infection. This comes amid reports that some Rohingya..




IndiaTimes - Published





Ulemas, muftis urge Muslims to observe Ramzan, offer 'Taraveeh' prayers at home due to COVID-19 lockdown

A press note issued by Jamia Nizamia in Hyderabad specifically appeals to the Muslim community asking them to perform the 'Taraveeh Prayers' at home in view of the nationwide lockdown due to the..




DNA - Published





SpiceJet operates first freighter flight to China to bring medical supplies to Hyderabad

The flight left from Kolkata airport at 8.25 am Wednesday and landed at 3.30 pm (local time) at Shanghai, it said.




IndiaTimes - Published





Across India migrants protest, clamour to be allowed to go home

Protests broke out in Mumbai, Hyderabad and Surat soon after PM Modi's announcement of the lockdown extension on Tuesday with hundreds of migrant workers spilling out on the roads demanding that they..




IndiaTimes - Published





Asaduddin Owaisi accuses PM Modi of 'ignoring' plight of poorer sections

. Referring to Modi's latest address to the nation in which he announced extension of the lockdown till May 3, the Hyderabad MP said these "are things that can be done through a single tweet...




IndiaTimes - Published





Rising COVID-19 cases in Hyderabad is a serious concern, admits Telangana CM KC Rao

In an important development, Telangana Chief Minister K Chandrashekhar Rao instructed officials of the Greater Hyderabad Municipal Corporation concerned to pay more attention to Hyderabad city as there..




DNA - Published





UK to send 12 more charter flights to India, including Amritsar, to fly back its nationals

The UK is sending 12 more charter flights to India in the second round between April 13 to 20 to take back its nationals from Amritsar, New Delhi, Mumbai, Goa, Chennai, Hyderabad, Kochi, Bengaluru,..




IndiaTimes - Published





Two youngsters caught stealing liquor bottles from Hyderabad shop amidst lockdown

The police could manage to recover some liquor bottles from the youngster.




DNA - Published