Hyderabad
Capital of Telangana, India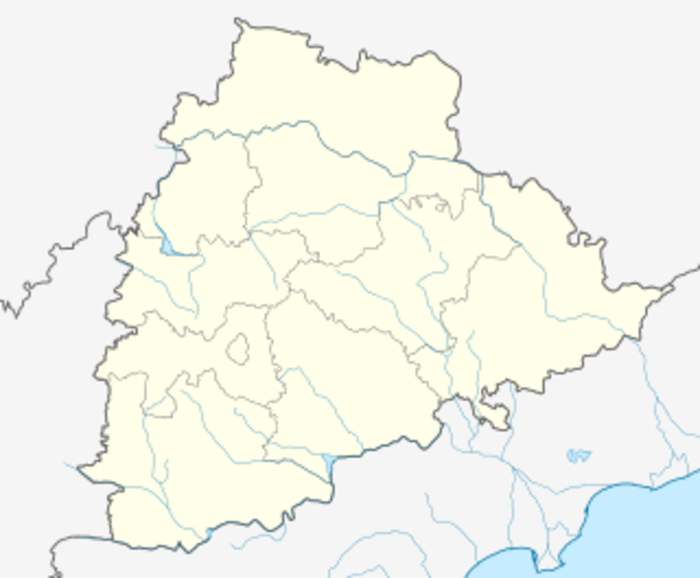 Hyderabad
is the capital and largest city of the Indian state of Telangana. It occupies 650 km
2
(250 sq mi) on the Deccan Plateau along the banks of the Musi River, in the northern part of Southern India. With an average altitude of 542 m (1,778 ft), much of Hyderabad is situated on hilly terrain around artificial lakes, including the Hussain Sagar lake, predating the city's founding, in the north of the city centre. According to the 2011 Census of India, Hyderabad is the fourth-most populous city in India with a population of
6.9 million
residents within the city limits, and has a population of
9.7 million
residents in the metropolitan region, making it the sixth-most populous metropolitan area in India. With an output of
US$
74 billion, Hyderabad has the fifth-largest urban economy in India.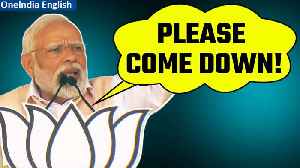 Telangana polls: PM Modi requests supporter to climb down tower during a rally | Oneindia News

On Sunday, Prime Minister Narendra Modi paused his speech at a poll rally in Telangana to ask people to climb down from towers, expressing concern that they may fall off. A video of the Prime..
Credit: Oneindia Duration: 03:01
Published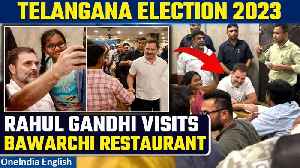 Rahul Gandhi woos Voters with Hyderabadi Cuisine at Iconic Bawarchi Restaurant | Oneindia

In the final stages of Telangana's election campaign, Rahul Gandhi visits a Hyderabad restaurant, engaging in a casual interaction with staff and patrons.The former Congress president was captured in a..
Credit: Oneindia Duration: 02:01
Published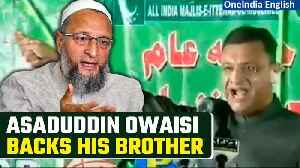 Asaddudin Owaisi backs his brother's 'controversial' remark, questions police "behaviour" | Oneindia

AIMIM Chief Asaddudin Owaisi backed his brother Akbaruddin Owaisi. Recently, while addressing a public gathering in Lalitha Bagh, Hyderabad, Akbaruddin threatened a police inspector to leave after the..
Credit: Oneindia Duration: 03:18
Published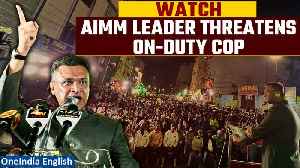 Telangana Assembly Elections: AIMIM Leader Akbaruddin Owaisi Threatens On-Duty Police| Oneindia News

In a recent campaign event in Lalitabagh, Hyderabad, AIMIM leader Akbaruddin Owaisi found himself in hot water as he openly clashed with a police inspector on duty. The officer had requested adherence..
Credit: Oneindia Duration: 03:23
Published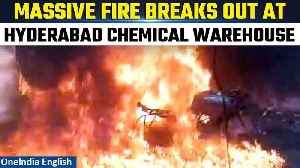 Hyderabad chemical warehouse fire: Death toll rises to 9; rescue operations underway | Oneindia News

A deadly fire broke out at a chemical warehouse in Hyderabad on Monday morning. Reports revealed that at least nine workers died and several others were injured after the blaze started at Bazarghat..
Credit: Oneindia Duration: 01:43
Published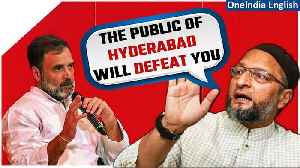 Telangana Election 2023: AIMIM chief Asaduddin Owaisi takes a jibe at Rahul Gandhi | Oneindia News

AIMIM chief Asaduddin Owaisi took a jibe at Congress and Rahul Gandhi and said, "You (Rahul Gandhi) bring everyone here and try your best but still you will lose from Hyderabad. The public of Hyderabad..
Credit: Oneindia Duration: 03:47
Published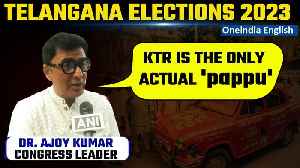 Congress Accuses KCR of Swindling Money | 'ByeByeKCR' Campaign Launched | Oneindia News

Congress leader Dr. Ajoy Kumar in Hyderabad alleges that the National Dam Safety Authority has found financial irregularities in Telangana's Kaleshwaram project, implicating the state government. The..
Credit: Oneindia Duration: 02:10
Published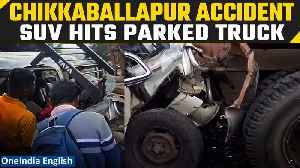 Chikkaballapur Accident: 12 people killed, in road accident on NH44, chilling visuals | Oneindia

Twelve people were killed as an SUV rammed into a parked truck on the Bengaluru-Hyderabad highway on the outskirts of Chikkaballapur near Bengaluru on Thursday. Authorities have reported that two..
Credit: Oneindia Duration: 01:31
Published
Telangana Assembly Elections 2023| High Drama After Cong First List |OneIndia

Emotional Outbursts and Turmoil Grip Telangana Congress Headquarters. The release of the first list of 55 candidates for the Telangana Assembly elections by the Congress sparked a storm of emotions and..
Credit: Oneindia Duration: 03:29
Published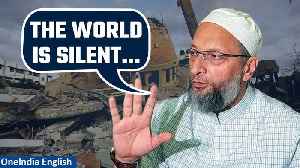 Israel-Gaza War: AIMIN Chief Asaduddin Owaisi on Israel-Palestine conflict | Oneindia News

Speaking at an event in Hyderabad on the Israel-Palestine conflict, All India Majlis-e-Ittehadul Muslimeen (AIMIM) chief Asaduddin Owaisi showed solidarity with Gaza and stated that for 70 years Israel..
Credit: Oneindia Duration: 02:04
Published
You Might Like



Ousting 'corrupt BRS' is BJP's duty to people, PM says in Hyderabad

PM Narendra Modi considers 'liberating Telangana' from the allegedly corrupt BRS government of K Chandrashekar Rao a responsibility towards the people. He believes that the next CM of Telangana will be..




IndiaTimes - Published





PM Narendra Modi holds roadshow in Telangana's Hyderabad

Prime Minister Narendra Modi held a mega roadshow in Hyderabad, Telangana, ahead of the state assembly elections. He received a warm welcome from a massive crowd. Union Minister G Kishan Reddy and BJP..




IndiaTimes - Published





'Will rename Hyderabad as...': BJP's poll promise ahead of Telangana Assembly Elections 2023

Assembly elections 2023 are scheduled to be held in Telangana on November 30, 2023 to elect all 119 members.




DNA - Published





Will rename Hyderabad as Bhagyangar if BJP comes to power, says Kishan Reddy

Union Minister G Kishan Reddy stated that if the BJP comes to power in Telangana, Hyderabad will be renamed as 'Bhagyanagar'. He questioned the need for the name Hyder and mentioned that cities like..




IndiaTimes - Published





Telangana polls: Rahul Gandhi drops in at Hyderabad eatery, interacts with people

Rahul Gandhi, Congress leader, had a candid interaction with staff and visitors at a restaurant in Hyderabad during his hectic campaigning in Telangana. The former Congress national president, clad in..




IndiaTimes - Published





Election Commission issues notice to BRS leader KT Rama Rao, alleges violations of Model Code of Conduct

The Election Commission of India (ECI) issued a notice to Bharat Rashtra Samithi (BRS) leader KT Rama Rao for alleged violations of the Model Code of Conduct in the upcoming Telangana elections in..




IndiaTimes - Published





Uttarakhand tunnel rescue op: Plasma cutter being flown in from Hyderabad, manual drilling to begin tomorrow

After visiting the site of tunnel inside which 41 labourers have been trapped after it collapsed on November 12, Dhami said that auger machine that was involved in drilling through the debris from..




DNA - Published





Congress flattened BJP's tyres in Telangana, will do it in Delhi also, says Rahul Gandhi

Rahul Gandhi claims Congress punctured BJP's tires in poll-bound Telangana and will do the same in Delhi. He reminds Chandrasekhar Rao that Congress built the school, university, airport, and outer..




IndiaTimes - Published





BRS gave terrorists a free run, BJP won't says Amit Shah

Terrorists garnered local patronage and operated with impunity in a part of Telangana right under the noses of police until the National Investigation Agency (NIA) began a crackdown, Union home..




IndiaTimes - Published





KCR promises special IT park for Muslims

Telangana CM K Chandrasekhar Rao has promised to set up a special information technology (IT) park for Muslim youth at Pahadishareef near Hyderabad, if the BRS is voted back to office. Addressing a..




IndiaTimes - Published





Afghanistan consulates scotch claim embassy shutting down

As diplomats owing allegiance to the previous government in Afghanistan announced they were shutting down the embassy, the Afghan consul general in Mumbai, along with the acting consul general in..




IndiaTimes - Published





KCR promises special IT Park for Muslim youths in Hyderabad if BRS voted to power

BRS president and Chief Minister K Chandrasekhar Rao promises to set up a special Information Technology park near Hyderabad for minority youths to win minority voters. The government is focused on the..




IndiaTimes - Published





Telangana gets a 3D-printed temple, touted as world's first

A 3D-printed temple, touted as the first such structure in the world, has come up at Burugupally in Siddipet dsitrict of Telangana. Built by Hyderabad-based Apsuja Infratech in collaboration with..




IndiaTimes - Published





Akbaruddin Owaisi booked for threatening Police official, BJP says "KCR unable to manage law and order"

AIMIM leader Akbaruddin Owaisi has been booked for allegedly threatening a police officer in Hyderabad. BJP leader Syed Zafar Islam criticized Telangana Chief Minister K Chandrashekar Rao for his..




IndiaTimes - Published





ED: Amway siphoned off Rs 2,859 crore, Hyderabad court has taken up plaint

The Enforcement Directorate has accused Amway India of running a multi-level marketing operation and siphoning off over Rs 2,859 crore. The agency claims that Amway India cheated the public. The ED's..




IndiaTimes - Published





Hiring staff to hasten visa process: US envoy

The India-US joint statement from the 2+2 ministerial dialogue emphasized their commitment to promoting a rules-based international order in the Indo-Pacific region through mechanisms like the Quad...




IndiaTimes - Published





Telangana has been eclipsed by KCR and BRS: BJP President JP Nadda in roadshow in Hyderabad

Telangana will go for assembly elections on November 30 and the counting of votes, along with other four poll-bound states, has been scheduled for December 3.




DNA - Published





Telangana polls: Hyderabad Police freeze Rs 8 crore belonging to private firm

The Hyderabad police have frozen a sum of Rs 8 crore that was transferred online from a bank account of Visaka Industries to a security service provider. The transaction was flagged due to its high..




IndiaTimes - Published





Seven of family among nine dead in Hyderabad apartment fire

A fire broke out at an apartment complex in Hyderabad, killing seven members of a family and two others. One person was severely injured. Twelve residents were rescued by the state disaster response..




IndiaTimes - Published





Nine-time CPM MP Basudeb Acharia dies at 81

On Monday, Basudeb Acharia, an esteemed trade unionist and CPM (Communist Party of India-Marxist) leader, passed away in Hyderabad at the age of 81 due to age-related ailments. Born into a..




IndiaTimes - Published





Veteran CPI(M) leader Basudeb Acharia passes away in Hyderabad

Basudeb Acharia, a veteran CPI(M) leader and nine-time member of Parliament, passed away at the age of 81 due to ill health. He had been suffering from respiratory and other health issues. Acharia was..




IndiaTimes - Published





Aviation forensics gets wings in India

The National Forensic Sciences University (NFSU) has entered into a partnership with GMR, the operator of airports in Delhi, Hyderabad, and Goa, to establish "aviation forensics" as a field of study...




IndiaTimes - Published





BJP's Raja Singh confident of hat-trick victory from Goshamahal assembly seat in Hyderabad

T Raja Singh, a BJP legislator, is confident of winning for the third time from the Goshamahal constituency in the upcoming Telangana assembly elections. He criticized AIMIM president Asaduddin Owaisi..




IndiaTimes - Published





Watch: 'Beta, aap neeche aaiye, main apki baat..,' Dramatic scenes at PM Modi's Hyderabad rally

PM Modi had to interrupt his speech for a moment after he noticed a young woman climbing a structure on which lights were fixed in the Parade Grounds.




DNA - Published





Woman creates flutter in PM Modi's rally in Hyderabad

Prime Minister Narendra Modi who addressed a rally here on Saturday had to interrupt his speech for a moment after he noticed a young woman climbing a structure on which lights were fixed in the Parade..




IndiaTimes - Published





'I am here for atonement...': PM Modi in Hyderabad ahead of Telangana Assembly Election

PM Modi also reiterated his party's commitment to ensuring social justice for the poor and deprived.




DNA - Published





Telangana polls: AIMIM president Owaisi campaigns door-to-door for Karwan constituency candidate

Asaduddin Owaisi, the president of All India Majlis-E-Ittehadul Muslimeen (AIMIM), conducted door-to-door election campaigning in the Karwan assembly constituency in Hyderabad. Supporters and residents..




IndiaTimes - Published





PM Modi to address rally in Hyderabad on Saturday




IndiaTimes - Published




Assembly polls: Ahead of PM Modi's Telangana meet, buzz over SC sub-categorisation

Prime Minister Modi is expected to announce the sub-categorization of scheduled castes (SC) in a public meeting in Hyderabad. This move is aimed at gaining the support of the Madigas, who make up 60%..




IndiaTimes - Published





Finnish Lindström opens cleanroom, workwear facility in Hyderabad at Euro 5 million investment

Finnish textile rental company Lindström has opened its second cleanroom facility in Hyderabad, India, along with a workwear facility in a €5m ($5.6m) investment. The facility, set up by..




IndiaTimes - Published





'BJP helping BRS to win elections in Telangana, to get support in 2024 polls': Congress' Manikrao Thakare

Congress Telangana in-charge Manikrao Thakare on Tuesday alleged that Prime Minister Narendra Modi's silence on the controversial Kaleshwaram project reflects that BJP is trying to help the ruling..




IndiaTimes - Published





Telangana: Minister Sabitha Indira Reddy's escort in-charge found dead in Hyderabad




IndiaTimes - Published





Oral insulin spray in a few years, says Hyderabad firm




IndiaTimes - Published





Hyderabad man pleads guilty to attempting to murder Kerala student in London biryani restaurant

A 24-year-old Indian man from Hyderabad has pleaded guilty to attempting to murder a student from Kerala working at a restaurant in East London. The man choked and almost collapsed in court while..




IndiaTimes - Published





Amit Shah reviews passing out parade of IPS probationers in Hyderabad

Union Home Minister Amit Shah attended the passing-out parade of the 75th batch of Indian Police Service (IPS) probationers at at Sardar Vallabhbhai Patel National Police Academy in Hyderabad. The..




IndiaTimes - Published





Telangana: BJP leader Ramchander Rao condemns cases registered against K Laxman, others

BJP leader Ramchander Rao criticized the police for registering cases against BJP MP K Laxman and others for protesting the suicide of a student in Hyderabad. The woman, who was preparing for an exam,..




IndiaTimes - Published





Pakistan beat Sri Lanka with record World Cup chase

Pakistan superbly chase a World Cup record 345 to beat Sri Lanka in the game of the 2023 tournament so far in Hyderabad.




BBC Sport - Published





'Mighty' Mendis scores 122 off 77 balls - best shots

Watch the best shots of Sri Lanka's Kusal Mendis' 122 against Pakistan at the Cricket World Cup in Hyderabad.




BBC Sport - Published





New Zealand cruise past Netherlands at World Cup

Watch as New Zealand continue their perfect start to the Men's Cricket World Cup with a dominant 99-run win over the Netherlands in Hyderabad.




BBC Sport - Published




Pakistan seal 81-run win over Netherlands

Watch the highlights as Pakistan started their 2023 Cricket World Cup campaign with an 81-run win over a spirited Netherlands side at Hyderabad.




BBC Sport - Published





'What a comedy of errors!' - Nawaz run out by Ackermann

A mix-up between Pakistan batters Mohammad Nawaz and Shaheen Afridi results in a run out against Netherlands in the Cricket World Cup clash at Hyderabad.




BBC Sport - Published





Pakistan 'in trouble' as De Leede takes two wickets in over

Netherlands' Bas de Leede takes the wickets of Pakistan's Muhammad Rizwan and Iftikhar Ahmed in the same over during the World Cup match at Hyderabad.




BBC Sport - Published





Ackermann claims 'huge' wicket of Babar

Pakistan batter Babar Azam is dismissed on five of the bowling of Netherlands' Colin Ackermann in the 2023 Cricket World Cup in Hyderabad.




BBC Sport - Published





Aurobindo arm inks licence pact with Singapore's Hilleman for paediatric pentavalent vaccine candidate

Aurobindo Pharma's subsidiary, Auro Vaccines Pvt Ltd said it has signed a license agreement with Hilleman Laboratories Singapore to develop and commercialize a paediatric pentavalent vaccine candidate...




IndiaTimes - Published





Asaduddin Owaisi challenges Rahul Gandhi to contest elections from Hyderabad




IndiaTimes - Published





Bengaluru-Hyderabad Vande Bharat Express train to take 8.5 hours; check timings, fares, stops

PM Modi virtually flags off Kacheguda (Bangalore) to Yeshwantpur (Hyderabad) Vande Bharat train. Check all the details here.




DNA - Published





Weather update: IMD issues yellow alert for Northeastern Telangana, check rain forecast here

Hyderabad is expected cloudy conditions and rains from night to morning.




DNA - Published





Liberation Day or National Integration Day? Big political battle on cards in Hyderabad on September 17 as Amit Shah, Sonia Gandhi, KCR take stance

After the Indian Army marched its troops to Hyderabad State, The 7th Nizam Mir Osman Ali Khan acceded to the Indian Union on September 17, 1948 and welcomed the then Union home minister Sardar..




IndiaTimes - Published





IRCTC tour package: Explore Hyderabad and Ramoji Film City with package starting at Rs 13,900

IRCTC offers budget-friendly tours to Hyderabad and Ramoji Film City, starting at just Rs 13,900.




DNA - Published





Cabinet okays FDI of up to Rs 9,589 crore for 76.1% stake in Hyderabad-based Suven Pharma

The Cabinet Committee on Economic Affairs (CCEA) has approved a foreign direct investment (FDI) of up to Rs 9,589 crore by Cyprus-based Berhyanda Ltd in Hyderabad-based Suven Pharmaceuticals Ltd for a..




IndiaTimes - Published