Hyderabad
Metropolis in Telangana, India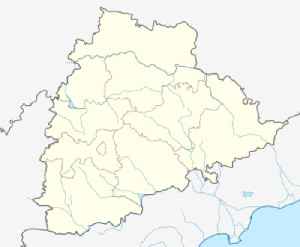 Hyderabad
is the capital of the Indian state of Telangana and
de jure
capital of Andhra Pradesh. Occupying 650 square kilometres (250 sq mi) along the banks of the Musi River, Hyderabad City has a population of about
6.9 million
and about
9.7 million
in Hyderabad Metropolitan Region, making it the fourth-most populous city and sixth-most populous urban agglomeration in India. At an average altitude of 542 metres (1,778 ft), much of Hyderabad is situated on hilly terrain around artificial lakes, including Hussain Sagar—predating the city's founding—north of the city centre.
10 booked for harassing Chiranjeevi's son-in-law on Instagram
Hyderabad police have booked ten people for allegedly harassing actor Chiranjeevi's son-in-law Kalyan Dev on social media.
DNA - Published
Top Maoist commanders Narmada, her husband Kiran arrested in Gadchiroli IED blast case
"We intercepted Narmada and Kiran in Sironcha town on Monday evening while they were returning from Hyderabad and arrested them later," said Superintendent of Police, Gadchiroli Shailesh Balkawde .
DNA - Published
Mother of Hyderabad-based man stranded in Riyadh seeks Indian Embassy's help
A Hyderabadi woman has urged the Indian Embassy in Riyadh to rescue her son who is stranded in the Gulf nation.
DNA - Published
Hyderabad: 2 illegal firearms traders from Bihar arrested
The traders have been identified as Arun Yadav and Shankar Yadav, both from Munger district of Bihar.
DNA - Published
Hyderabad woman caught in Balakot fire, citizenship wait gets longer
Just before the Balakot strikes, Sumayra had gone to Pakistan with her two kids (who were born here and have Indian citizenship) to visit her ailing father. She was to return on a Lahore-Delhi flight..
IndiaTimes - Published
Non-believers fighting for the right to not believe
It was during his college years that D V Ramakrishna Rao, a 49-year-old agriculture scientist in Hyderabad, became a non-believer. But though he is bringing up his daughters caste- and religion-free,..
IndiaTimes - Published
You Might Like