Uttar Pradesh
State in Northern India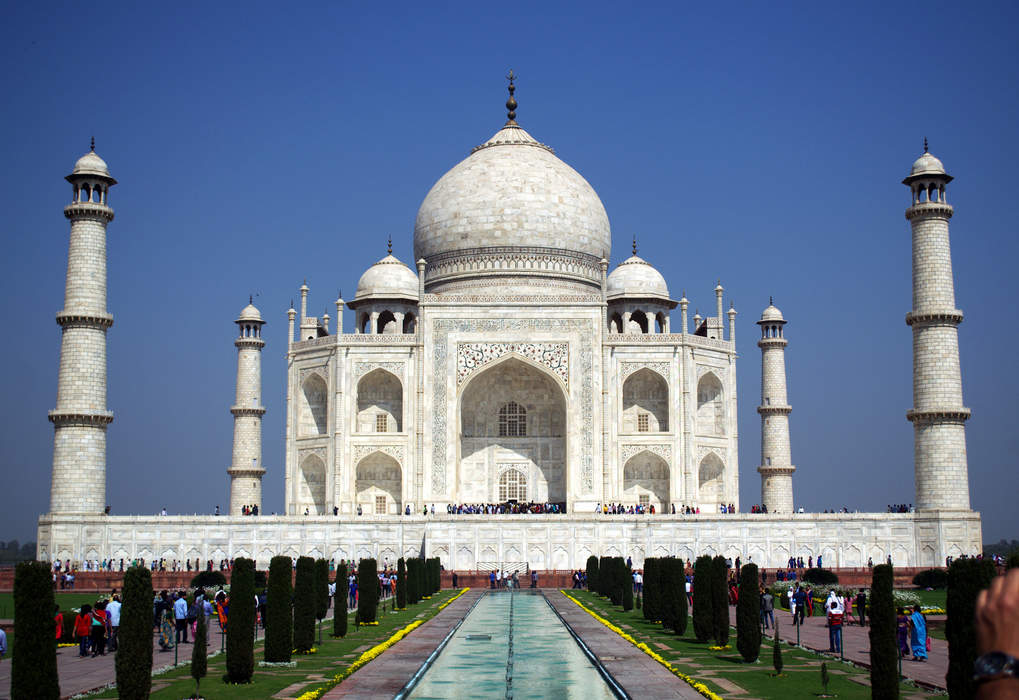 Uttar Pradesh is a state in northern India. With over 241 million inhabitants, it is the most populated state in India as well as the most populous country subdivision in the world – more populous than all but three other countries outside of India. – accounting for 16.5 percent of the total population of India. It was established in 1950 after India had become a republic. It is a successor to the United Provinces, established in 1935 by renaming the United Provinces of Agra and Oudh, in turn, established in 1902 from the North-Western Provinces and the Oudh Province. Lucknow serves as the state capital, with Prayagraj being the judicial capital. The state is divided into 18 divisions and 75 districts. On 9 November 2000, a new state, Uttaranchal, was created from Uttar Pradesh's western Himalayan hill region. The two major rivers of the state, the Ganges and its tributary Yamuna, meet at the Triveni Sangam in Prayagraj, a Hindu pilgrimage site. Other notable rivers are Gomti and Saryu. The forest cover in the state is 6.1 per cent of the state's geographical area. The cultivable area is 82 per cent of the total geographical area and the net area sown is 68.5 per cent of the cultivable area.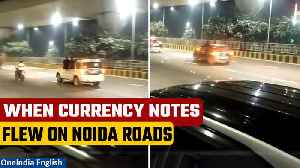 Uttar Pradesh: Dozens of Vehicles Violate Traffic Rules, Throwing Currency Notes Out of Cars

A video in Noida, Uttar Pradesh, shows cars violating traffic rules, gaining attention on social media. The Noida Traffic Police initiated an investigation, emphasizing the need to address the..
Credit: Oneindia Duration: 02:01
Published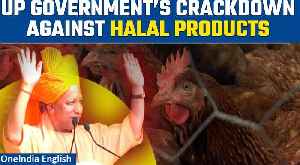 Yogi Adityanath led UP bans sale of 'halal products' with immediate effect | Oneindia News

The Uttar Pradesh government on Saturday banned the production, storage, distribution and sale of food products with halal certification with immediate effect while exempting products manufactured for..
Credit: Oneindia Duration: 04:11
Published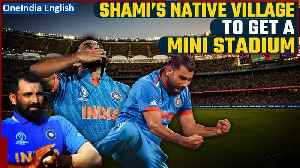 World Cup 2023: Mohammed Shami's village to get mini-stadium, gymnasium | Oneindia News

Mohammed Shami's exceptional performance in the ongoing World Cup has been a key factor in India reaching the ICC Men's World Cup Finals. The 7-wicket haul by Shami in the semi-final against New..
Credit: Oneindia Duration: 02:12
Published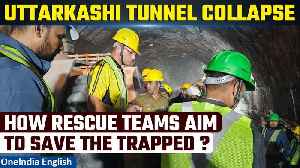 Uttarakhand Tunnel Collapse: Trucks arrive with pipes to aid in the rescue of workers | Oneindia

Rescue operations are ongoing to evacuate 40 workers trapped inside a collapsed tunnel in Uttarakhand for over 48 hours now. Videos from the spot showed huge piles of concrete blocking the tunnel,..
Credit: Oneindia Duration: 03:47
Published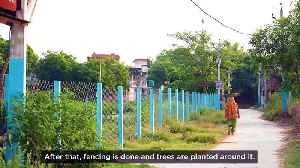 Meet India's superhero saving ponds from stagnation

"Our purpose is not only to fill the pond with water but also to promote biodiversity," says Ramveer Tanvar, the 'Pondman of India'. He's not a costumed crusader but his environmental heroics are..
Credit: euronews (in English) Duration: 06:06
Published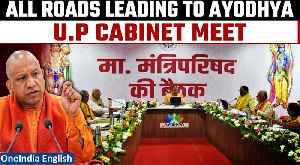 Grand Diwali Celebrations Planned | U.P Cabinet Meeting in Ayodhya| Yogi Adityanath speaks| Oneindia

The Uttar Pradesh cabinet held a historic meeting in Ayodhya, coinciding with the anniversary of the Supreme Court's 2019 verdict in the Ram Janmabhoomi case. Chief Minister Yogi Adityanath and..
Credit: Oneindia Duration: 03:10
Published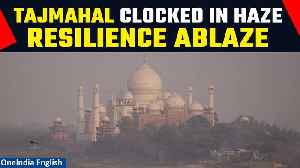 Uttar Pradesh: Taj Mahal, Agra,under a pollution catastrophe | OneIndia News.

Uttar Pradesh: Taj Mahal, once an iconic symbol, now bears the burden of pollution. Despite the haze, the monument steadfast, urging us to preserve its magnificence and to protect its heritage.Join us..
Credit: Oneindia Duration: 03:04
Published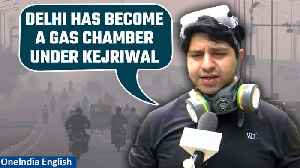 Delhi-NCR Air Pollution: BJP's Shehzad Poonawalla blames Kejriwal-led AAP | Watch | Oneindia News

On air pollution in Delhi, BJP leader Shehzad Poonawalla says, "...Delhi has become a gas chamber under Arvind Kejriwal... He has ensured that AQI levels are at their highest in the last four to five..
Credit: Oneindia Duration: 02:07
Published
Uttar Pradesh Shocker| Prisoner Goes Live on Facebook, Threatens Enemies En Route to Court| Oneindia

A shocking incident in Mahoba, Uttar Pradesh, revealed a prisoner, Kartoos Yadav, using a mobile device to broadcast a live video on Facebook from a police van en route to court. Threatening..
Credit: Oneindia Duration: 01:28
Published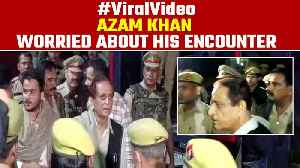 Azam Khan Viral Video: Azam Khan expresses fear as UP police shifts him to another jail | Oneindia

Senior Samajwadi Party (SP) leader Azam Khan and his son Abdullah Azam Khan were shifted to the Sitapur jail and Hardoi jail, respectively, from the Rampur jail in Uttar Pradesh Sunday morning. "We..
Credit: Oneindia Duration: 02:21
Published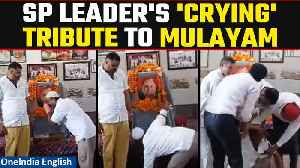 Mulayam Singh Yadav death anniversary: SP leader trolled for breaking down in tears | Oneindia News

On 10th October, the Samajwadi Party observed the first anniversary of the passing of its patriarch and former Uttar Pradesh Chief Minister, Mulayam Singh Yadav. The party organised numerous memorial..
Credit: Oneindia Duration: 03:04
Published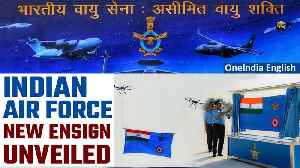 Indian Air Force day: Air Chief Marshal unveils the new Indian Air Force ensign | Oneindia News

Indian Air Force (IAF) Chief Air Chief Marshal VR Chaudhari unveiled the new Indian Air Force ensign during the Air Force Day celebrations at Bamrauli Air Force Station in Prayagraj,..
Credit: Oneindia Duration: 03:13
Published
You Might Like



'Cruelty by husband or his relatives' accounts for majority of cases of crime against women, shows NCRB data

The overall cases of crime against women rose by 4% in 2022, according to the NCRB's 'Crime In India' report. 'Cruelty by husband or his relatives' accounted for a majority of the cases at 31.4%. Delhi..




IndiaTimes - Published





Rioting cases dipped in Assam & Uttar Pradesh, rose in Chhattisgarh in last 5 years

According to the latest crime data compiled by the NCRB, incidents of rioting in Assam and Uttar Pradesh decreased by 80% and 50% respectively between 2018 and 2022. However, Chhattisgarh recorded a..




IndiaTimes - Published





India records 51 cases of crime against women every hour; over 4.4 lakh cases in 2022: NCRB report

The National Crime Records Bureau (NCRB) released its annual crime report, revealing a concerning surge in crimes against women in India. In 2022, there were 4,45,256 cases of crime against women, an..




IndiaTimes - Published





28,522 murder cases registered in India in 2022, 78 every day: NCRB

In 2022, India witnessed a total of 28,522 FIRs for murder, with the highest number of cases motivated by 'disputes', followed by 'personal vendetta or enmity' and 'gain'. The murder rate per lakh..




IndiaTimes - Published





Man, daughter killed in Uttar Pradesh as truck hits tractor in thick fog




IndiaTimes - Published





Four held in Uttar Pradesh for poaching Siberian birds




IndiaTimes - Published





SP blames Kamal Nath's 'Akhilesh-Vakhilesh' comment for Congress rout in MP

Samajwadi Party blames Congress leader Kamal Nath's statement against Akhilesh Yadav for the Congress' poor performance in Madhya Pradesh. SP will fight the 2024 Lok Sabha elections with the Congress..




IndiaTimes - Published





BJP rules 12 states, Congress 3: India's political landscape after assembly election results

BJP is set to take power from the Congress in Rajasthan and Chhattisgarh, while retaining power in Madhya Pradesh. With this, the Congress, the second-largest national party, will be left with..




IndiaTimes - Published





Assembly Election Results 2023: BJP on way to rule 12 states on its own, Congress down to 3

The BJP, which rules the centre, is in power in Uttarakhand, Haryana, Uttar Pradesh, Gujarat, Goa, Assam, Tripura, Manipur, and Arunachal Pradesh, and is all set to get Madhya Pradesh back and snatch..




DNA - Published

Also reported by •IndiaTimes


A temple where a dog is the deity

In Sikandrabad town of Uttar Pradesh's Bulandshahr district lies a unique temple where the deity is a dog. Surrounded by Hindu gods, there's a special grave and statue of the dog that draws pilgrims..




IndiaTimes - Published





Exhausted drivers leave trains at station in UP, passengers left in lurch

Over 2,500 passengers of two express trains were left stranded at Burhwal junction in Uttar Pradesh after the train staff cited duty hours over and the loco pilot claimed uneasiness. The passengers..




IndiaTimes - Published





Weather update: IMD predicts rain in UP, MP, Chattisgarh; check detailed forecast here

Today, there is a good chance of isolated areas of light rain and snowfall across Jammu & Kashmir, Ladakh, Gilgit, Baltistan, Muzaffarabad, Himachal Pradesh, and Uttarakhand. Up until Monday, there's a..




DNA - Published





Another NEET aspirant hangs self, 26th this year

Another NEET aspirant hanged herself from the ceiling fan of her hostel room in Kota on Wednesday night, making it the second student suicide in the coaching hub of Rajasthan this week and the 26th..




IndiaTimes - Published





2,500 stranded as train driver says duty over

Over 2,500 passengers of two express trains were left stranded at Burhwal junction of Barabanki district in Uttar Pradesh on Wednesday, after staff of one of the trains said the duty hours were over,..




IndiaTimes - Published





Milk, egg, meat, wool output increased in 2022-23: Government data

The latest 'basic animal husbandry statistics' show that Uttar Pradesh has replaced Rajasthan as the top milk producer in 2022-23. However, Rajasthan reported the highest number of cattle deaths due to..




IndiaTimes - Published





Will rename Hyderabad as Bhagyangar if BJP comes to power, says Kishan Reddy

Union Minister G Kishan Reddy stated that if the BJP comes to power in Telangana, Hyderabad will be renamed as 'Bhagyanagar'. He questioned the need for the name Hyder and mentioned that cities like..




IndiaTimes - Published





PM Modi mentions Amroha's 'radio man' in 'Mann Ki Baat'

In his 'Mann Ki Baat' programme on Sunday, Prime Minister Narendra Modi appreciated the efforts made by 67-year-old Ram Singh Bouddh, a resident of Gajraula in UP's Amroha district, who has so..




IndiaTimes - Published





Statue of BR Ambedkar vandalised in UP, FIR filed

A statue of BR Ambedkar was found vandalised in Uttar Pradesh's Kaushambi district Sunday, sparking tension in the area as the nation celebrated Constitution Day. Scores of angry locals gathered at..




IndiaTimes - Published





Uttar Pradesh deputy chief minister Maurya challenges Akhilesh Yadav to clarify his stand on Krishna temple in Mathura

Deputy CM Maurya accuses SP of not wanting to build Shri Krishna temple; challenges Akhilesh Yadav to clarify stand. PM Modi offers prayers at Mathura temple for Mirabai Janmotsav. UP Braj Teerth Vikas..




IndiaTimes - Published





Dalit boy thrashed, forced to drink urine in UP village

A teenaged Dalit boy was allegedly assaulted, forced to drink urine, and his eyebrows shaved by at least two men from his village under Sujanganj police station in Uttar Pradesh's Jaunpur district on..




IndiaTimes - Published





Uttar Pradesh stores get 15 days to remove 'halal certificated' foods




IndiaTimes - Published





PM Modi points to Kashi, Ujjain & Ayodhya, says Mathura & Braj won't be left behind

The Braj region is gaining prominence with the development project collaboration between the BJP governments at the Centre and in UP. PM Narendra Modi visited Vrindavan to participate in Mirabai's..




IndiaTimes - Published





Uttar Pradesh govt declares 'no non-veg day' today, here's why

As per the official notice, all slaughterhouses and meat shops in the state will remain closed today.




DNA - Published





Allahabad HC: UP curbs only on transporting cattle, not on carrying beef

Allahabad HC has said that there is no restriction on transportation of beef from any place outside Uttar Pradesh to any location within the state as per the UP Prevention of Cow Slaughter Act, 1955...




IndiaTimes - Published





NIA raids 31 locations in 5 districts to tame Maoists

The NIA conducted raids in Bihar to expose and foil the CPI (Maoist) conspiracy to revive and strengthen the outfit in the Magadh zone. The raids aimed at uncovering the involvement of top CPI (Maoist)..




IndiaTimes - Published





'Akin to Jizya tax': Giriraj demands ban on halal products in Bihar

Union Rural Development Minister Giriraj Singh called for a ban on the sale of halal certified products in Bihar, accusing it of being a 'jihad' aimed at the 'Islamisation of businesses'. Singh urged..




IndiaTimes - Published





UP CM Yogi Adityanath pays tribute to Captain Shubham Gupta, killed in Rajouri encounter

Uttar Pradesh Chief Minister Yogi Adityanath paid tribute to Army Captain Shubham Gupta, who was killed in action during an encounter with terrorists in Rajouri, Jammu and Kashmir. Four army personnel,..




IndiaTimes - Published





PM Modi, Amit Shah to lead election campaign in poll-bound Telangana, Nadda, Rajnath Singh, CM Yogi to join

Prime Minister Narendra Modi will visit the state of Telangana for three days, from November 25 to 27, to campaign for the BJP in the upcoming assembly polls. Union Home Minister Amit Shah, BJP..




IndiaTimes - Published





Formerly notorious for Naxal activities, UP's Sonbhadra set to become hub of development

Sonbhadra district in Uttar Pradesh, once known for Naxalite activities, has become the second most important district for development in the state after Noida. The district has attracted 43 investment..




IndiaTimes - Published





PM Modi to visit Uttar Pradesh's Mathura on November 23, preparations underway

PM Modi will participate in the 'Braj Raj Utsav' in Mathura on Thursday, where he will also witness a presentation by Hema Malini, actor cum parliament member from Mathura, on the birth anniversary of..




DNA - Published





5-year jail for 3 in fake currency case

Three people were sentenced to hard labour by a special NIA court in Uttar Pradesh on Tuesday. The case concerned the distribution of high-grade counterfeit Indian currency notes (FICN) that were..




IndiaTimes - Published





SUV speeding at 150kmph kills senior UP cop's 10-year-old son

An SUV speeding at 150 kmph allegedly knocked down the 10-year-old son of a senior police officer, killing him on the spot on G20 road near Janeshwar Mishra Park, in Gomtinagar Extension, at 5.30 am on..




IndiaTimes - Published





Rape survivor axed to death by suspect's

A 19-year-old who had lodged a rape complaint was axed to death in full public view late Monday evening by the suspect's brother in UP's Kaushambi after months of resisting pressure to withdraw the..




IndiaTimes - Published





Riots, curfew are Congress' identity; petrol costliest in Rajasthan: UP CM Yogi Adityanath

Uttar Pradesh Chief Minister Yogi Adityanath drew massive crowds during his visit to Rajasthan to campaign for the BJP in the upcoming elections. Adityanath conducted five rallies throughout the day,..




IndiaTimes - Published





Engineer killed in turbine blast in Ayodhya

Arshad Afzaal Khan claims that an electrical engineer was killed by a strong blast in the turbine of a sugar mill in Uttar Pradesh's Ayodhya. Vipin Singh, a 38-year old, was identified as the deceased..




IndiaTimes - Published





Woman dies trying to save son from mob

In the Uttar Pradeshi district of Siddharthnagar, a 58-year-old mother lost her life attempting to protect her son from a crowd in the Shohratgarh region. While they look for further attackers, police..




IndiaTimes - Published





After 'halal' ban, UP teams raid multiple stores but found nothing

The Uttar Pradesh government recently banned the production, storage, distribution, and sale of the 'Halal-certified' food products. Two days after the ban, the Food Safety and Drugs Authority..




IndiaTimes - Published





We're in bad condition, please get us out fast: Trapped men's desperate cry

Forty-one workers trapped in the Silkyara tunnel in Uttarkashi are struggling with worsening conditions. In a conversation with an official from the Uttar Pradesh government, the workers expressed..




IndiaTimes - Published





BJP to assess MPs' performance to decide their fate for Lok Sabha polls

The BJP in Uttar Pradesh is set to begin the process of assessing the performance of its MPs ahead of the 2024 Lok Sabha elections. The party aims to evaluate its MPs on various parameters, including..




IndiaTimes - Published





'Congress will have to learn to say 'Bharat Mata Ki Jai' otherwise...': BJP leader Dilip Ghosh

BJP MP Dilip Ghosh criticized Rahul Gandhi's suggestion to replace "Bharat Mata Ki Jai" with "AdJi Ki Jai", stating that the Congress party must learn to say the former. He made these remarks after..




IndiaTimes - Published





Pedestal fan wire claims 4 siblings' lives at UP home

A pedestral fan in a house took away the lives of four minor siblings after accidentally coming in contact with it. According to the reports, in Lalman Kheda village of Uttar Pradesh's Unnao..




IndiaTimes - Published





UP teacher booked for 'converting', 'abusing' boy

A woman teacher and three other people were detained by the UP police in Kanpur on court-mandated accusations of forcing a Class X kid to convert and sexually abusing him. The boy's parents, who are..




IndiaTimes - Published





Charges framed against 4-time BJP MLA in 2019 land fraud case in UP

Anil Sharma, a four-time MLA, has been charged with land fraud in Bulandshahr, Uttar Pradesh. Sharma allegedly forged documents to claim ownership of a 980 sqm plot belonging to a private company in..




IndiaTimes - Published





UP deputy jailer, 3 others booked for undertrial's death in April

Four jail officials in Sitapur have been booked for the murder of an undertrial prisoner. The victim's mother filed a complaint accusing the officials of torturing her son and negligence in his..




IndiaTimes - Published





Akhilesh Yadav pushes for caste census, says will work to ensure backward classes get their rights

The former Uttar Pradesh chief minister was addressing a gathering at a rally here organised by Balraj Kundu, an Independent legislator, who represents Meham in the Haryana assembly.




DNA - Published





PM Modi extends wishes countrymen on auspicious occasion of Chhath Puja

Prime Minister Narendra Modi and Uttar Pradesh Chief Minister Yogi Adityanath extended their wishes to the people on the occasion of 'Chhath', an ancient Hindu festival where prayers are offered to the..




IndiaTimes - Published





Massive fire breaks out in New Delhi-Darbhanga express train near UP's Etawah, no injuries reported

A coach in a train passing through Sarai Bhopat railway station in UP's Etawah district caught fire on Wednesday evening, said an official from North Central Railways.




DNA - Published





Over 900 ghats prepared for Chhath, other arrangements will be made: Saurabh Bharadwaj

Delhi minister Saurabh Bharadwaj announced the preparation of over 900 Chhath ghats for the upcoming festival, ensuring tents, lighting, sound, and other amenities for devotees. The four-day Chhath..




IndiaTimes - Published





UP police officer gunned down outside home

A police officer in Uttar Pradesh, India, was shot and killed outside his home in Prayagraj. The officer, Satish Kumar, was shot by an unidentified assailant as he was returning home with his wife and..




IndiaTimes - Published





Uttar Pradesh: Woman gang-raped in Agra hotel; five arrested

Agra Police say that five people including one woman have been arrested after the incident was reported.




DNA - Published