Omar Abdullah
Indian politician and former chief minister of erstwhile state of Jammu and Kashmir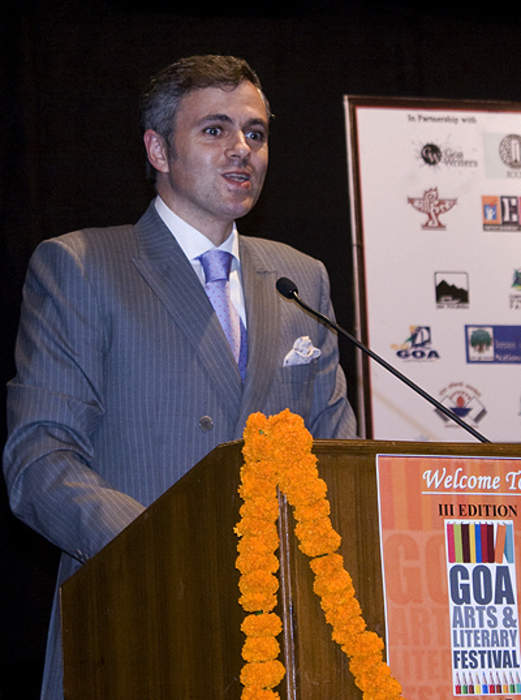 Omar Abdullah is an Indian politician and former Chief Minister of the erstwhile state of Jammu and Kashmir.


'Our winning candidate forced to join Apni Party,' alleges Omar Abdullah

JandK National Conference leader Omar Abdullah on December 26 alleged that after results of DDC polls, government tried to 'forcefully'make their candidate join Apni Party who won from Shopian. Omar..
Credit: ANI Duration: 02:52
Published
J&K DDC poll results: Omar slams BJP; Ram Madhav says 'Centre's policy won'

National Conference's Omar Abdullah hit out at BJP as results of Jammu and Kashmir DDC polls poured in. Abdullah said that after this defeat BJP won't conduct Assembly polls in J&K anytime soon...
Credit: HT Digital Content Duration: 04:03
Published
'NC has pan JandK presence': Omar Abdullah on DDC election results

Speaking to ANI on December 23, Vice President (VP) of Jammu Kashmir National Conference, Omar Abdullah spoke on DDC election results. Abdullah said, "I congratulate them (Bharatiya Janata Party) for..
Credit: ANI Duration: 02:27
Published
'You can't put an end to NC': Omar Adbullah on JandK DDC election results

Counting of DDC polls are underway but so far the Gupkar Alliance is leading the elections. On the other hand, BJP has come out as the single largest party. On the results, National Conference vice..
Credit: ANI Duration: 01:34
Published
Watch: Shooting in J&K on voting day, DDC candidate injured; Omar condemns

In a shocking incident during third phase voting in the Jammu and Kashmir District Development Council elections, a candidate was shot in Kokernag area of Anantnag. Anees ul Islam, of the Apni Party,..
Credit: HT Digital Content Duration: 02:36
Published
You Might Like



Covid-19 vaccines don't belong to any political party, but humanity: Omar Abdullah

Covid-19 vaccines do not belong to any political party, but humanity, National Conference leader Omar Abdullah said on Saturday, hours after Samajwadi Party chief Akhilesh Yadav termed coronavirus..




IndiaTimes - Published





Allegations by Omar Abdullah baseless, this time we are single largest party next time we will be victorious: BJP

Our main aim was free and fair election in Jammu and Kashmir where people should exercise their democratic right and it happened this time." "During this election, we won hearts of people of Jammu and..




IndiaTimes - Published





Admin, police facilitating horse-trading after DDC poll results: Omar

National Conference president Omar Abdullah on Friday accused the police and the administration in Jammu and Kashmir of facilitating horse-trading and defections following the announcement of DDC..




IndiaTimes - Published





Gupkar alliance due to adversity; we didn't want sympathy votes: Omar Abdullah

Former Jammu & Kashmir CM Omar Abdullah, whose party National Conference fought along with PDP under People's Alliance for Gupkar Declaration, spoke to Rohan Dua on their recent performance in the..




IndiaTimes - Published





Centre should listen to the voice of people of J&K: Omar Abdullah




IndiaTimes - Published





Candidates in fray for DDC polls being stopped from campaigning, says Omar

National Conference (NC) vice-president Omar Abdullah on Wednesday alleged that candidates in fray for the District Development Council (DDC) polls beginning later this month in Jammu and Kashmir were..




IndiaTimes - Published





I can understand the frustration: Omar Abdullah on Amit Shah's 'Gupkar Gang' remarks

Former Jammu and Kashmir chief minister Omar Abdullah reacted sharply on Tuesday to comments of home minister Amit Shah terming the People's Alliance for Gupkar Declaration a "gang", and said the..




IndiaTimes - Published





Valley's youth being pushed to pick up arms again: Omar Abdullah

"In 2012, 2013, and 2014, there was barely any youth resorting to arms. The number of men, who joined the militancy over a period of 12-13 years, is now being matched in a matter of months these days,"..




IndiaTimes - Published





Gupkar declaration Alliance headed by Omar Abdullah on Ladakh tour

The delegation first stopped in Drass to meet local leaders and discussed with them their agenda.




DNA - Published





Other states, UTs have laws to protect their land, why not J&K: Omar Abdullah

National Conference leader Omar Abdullah on Thursday said many states especially in the northeast have special laws relating to land ownership whereby people from other parts of the country cannot buy..




IndiaTimes - Published





Amended land laws smack of BJP's cheap politics, deceit: Omar Abdullah




IndiaTimes - Published





Gupkar Declaration: What does three former Jammu and Kashmir chief ministers meet mean

The three former Chief Ministers, Jammu and Kashmir, met for the first time after the repeal of Article 370 and the state's bifurcation. Wednesday's meeting was held at Mufti's residence. During this,..




DNA - Published





Farooq, Omar Abdullah meet Mehbooba Mufti, what does this mean for future of Kashmir

Mehbooba Mufti was released on Tuesday after 14 months of detention. Mehbooba Mufti was in custody since Jammu and Kashmir was declared a Union Territory on August 5 last year.




DNA - Published





PDP chief Mehbooba meets Farooq, Omar Abdullah




IndiaTimes - Published





Jaswant Singh was perfect boss and mentor: Omar Abdullah

Jaswant Singh was the perfect boss and mentor, National Conference vice president Omar Abdullah said as he remembered his stint as a junior to the former External Affairs minister who passed away on..




IndiaTimes - Published





Shopian encounter: Omar says disciplinary action process against guilty must be transparent

National Conference leader Omar Abdullah on Friday said the process of disciplinary action against those found guilty of killing three young men from Rajouri in an alleged fake encounter in Shopian..




IndiaTimes - Published





Omar Abdullah seeks time to vacate Srinagar Gupkar Road government bungalow




IndiaTimes - Published





Omar Abdullah to vacate govt accommodation in Srinagar

Former Jammu and Kashmir chief minister Omar Abdullah on Wednesday said he was voluntarily vacating the government accommodation provided to him 18 years ago due to the change in rules of entitlement..




IndiaTimes - Published

Also reported by •DNA


Abdullahs' pleas for release of 16 NC leaders: J&K admin tells HC none of them detained

The Jammu and Kashmir administration has informed the high court that none of the 16 National Conference leaders, for whom the party's president Farooq Abdullah and vice president Omar Abdullah had..




IndiaTimes - Published





'Strange coincidence' in resignation of Murmu and last J&K governor: Omar Abdullah




IndiaTimes - Published





While people boycott Chinese products, IPL to retain Chinese sponsors: Omar Abdullah




IndiaTimes - Published





Omar Abdullah's article creates ripples, NC chief spokesman quits

Taking note of the "ripples" created within his party over his write-up in a national daily, National Conference vice-president Omar Abdullah on Tuesday backtracked from his earlier demand of..




IndiaTimes - Published





'Fed up': Omar Abdullah to sue Chhattisgarh CM Baghel for linking his release with Sachin Pilot's revolt

Baghel had asked why Omar Abdullah was released while Mehbooba Muftij is still languishing, wondering if it was due to Sachin Pilot's relationship with Abdullah family.




DNA - Published





Omar to sue CM Baghel for defamation for suggesting links between his release and Pilot's revolt

Omar Abdullah on Monday reacted angrily to Chhattisgarh chief minister Bhupesh Baghel's comments apparently linking the former Jammu and Kashmir CM's release from nearly nine months of detention to the..




IndiaTimes - Published





Farooq, Omar Abdullah move HC against detention of 16 partymen




IndiaTimes - Published





Order for increasing LPG stock in Kashmir Valley issued in view of monsoon: Official

A government order asking oil marketing companies to stock up two months' supply of LPG cylinders in Kashmir Valley has sparked speculations, especially in the wake of the LAC face-off, with Omar..




IndiaTimes - Published





Govt order to companies for stocking up 2 months' LPG supply in Kashmir sparks speculations

A government order asking oil marketing companies to stock up two months' supply of LPG cylinders in Kashmir Valley has sparked speculations, especially in the wake of the LAC face-off, with NC leader..




IndiaTimes - Published





Imagine how escalated situation must be: Omar Abdullah on killing of Indian soldiers by Chinese army




IndiaTimes - Published





Nothing political about my visit to Delhi: Omar Abdullah

National Conference vice-president Omar Abdullah on Tuesday denied there were political reasons for his current visit to Delhi and dismissed as "time pass for bored minds" speculation that the party..




IndiaTimes - Published





Satya Pal Malik says NC, PDP refused to participate in J&K polls; Omar hits back

National Conference leader Omar Abdullah on Saturday hit out at former Jammu and Kashmir governor Satya Pal Malik for "lying frequently", saying he does not live up to his name. According to media..




IndiaTimes - Published





Don't use Naikoo's death to provoke violence, protest: Omar Abdullah




IndiaTimes - Published





Extension of lockdown necessary step in view of Covid-19 threat: Omar Abdullah




IndiaTimes - Published





Omar Abdullah criticises J&K govt order of keeping 'Move offices' functional in both regions




IndiaTimes - Published





Omar Abdullah showers praise on Uddhav Thackeray

Former chief minister of Jammu and Kashmir Omar Abdullah on Sunday showered praise on Maharashtra chief minister Uddhav Thackeray, apparently for the way the latter is handling the COVID-19 situation..




IndiaTimes - Published





J&K parties slam Centre's new domicile rules

While the National Conference termed the new domicile rules for Jammu and Kashmir as hollow, the Peoples Democratic Party (PDP) said the rules will give rise to massive problems for residents of J&K...




IndiaTimes - Published





'Insult is heaped on injury': Omar Abdullah slams government over new J&K domicile rule

National Conference leader Omar Abdullah criticised the govt's new domicile rule for the Union Territory of Jammu and Kashmir. "Insult is heaped on the injury when we see the law offers none of the..




IndiaTimes - Published





Muslims should not be blamed for spread of coronavirus: Omar Abdullah




IndiaTimes - Published





PM appreciates Omar Abdullah's call for social distancing following his uncle's death




IndiaTimes - Published





Release Mehbooba Mufti, others from detention: Omar Abdullah

Former Jammu and Kashmir Chief Minister Omar Abdullah who was released from detention on Tuesday, has expressed hope that PDP chief Mehbooba Mufti and others will be released from detention as well.




IndiaTimes - Published





It's a very different world, first task to fight coronavirus: Omar Abdullah

It's a very different world, former Jammu and Kashmir chief minister Omar Abdullah said on Tuesday after being released from nearly eight months in detention, adding that the first task was to fight..




IndiaTimes - Published




NC welcomes Omar Abdullah's release, calls it step in right direction

NC provincial president Devender Singh Rana on Tuesday welcomed the release of former chief minister Omar Abdullah after nearly eight months of detention, describing it a "step in the right direction"...




IndiaTimes - Published





Restore constitutional rights of J&K citizens: Priyanka Gandhi Vadra after Omar Abdullah's release




IndiaTimes - Published





J&K CPM welcomes revocation of PSA against Omar Abdullah




IndiaTimes - Published





Omar Abdullah released after nearly 8 months of detention

Omar Abdullah release order was issued after charges under the Public Safety Act (PSA), slapped on him in February, were revoked. Abdullah, who turned 50 on March 10, had spent 232 days in custody..




IndiaTimes - Published





Former J&K CM Omar Abdullah's detention revoked, to walk free after 7 months

Abdullah had been in detention since August last year when the Centre abrogated Article 370 from the erstwhile state of Jammu and Kashmir.




DNA - Published




Do you plan to free Omar, SC asks J&K administration

Days after National Conference chief Farooq Abdullah's release from detention, the Supreme Court on Wednesday asked the Jammu & Kashmir administration to inform whether it was also thinking of..




IndiaTimes - Published





SC asks Centre, J&K administration to inform by next week if it is releasing Omar Abdullah

The Supreme Court on Wednesday asked the Centre and Jammu and Kashmir administration to inform by next week if it is releasing former chief minister Omar Abdullah, who has been detained since the..




IndiaTimes - Published




SC instructs Centre to give details on Omar Abdullah's release in 7 days

The matter is scheduled to be heard next week.




DNA - Published





PM assured that Omar, Mehbooba, other political prisoners in J&K will be released soon: PDP leader

Prime Minister Narendra Modi on Monday assured that all detained political leaders in Jammu and Kashmir, including former chief ministers Omar Abdullah and Mehbooba Mufti, would be released soon, PDP's..




IndiaTimes - Published





NC chief Farooq Abdullah meets his son Omar Abdullah in sub-jail in Srinagar

It was an emotional meeting when NC president Farooq Abdullah met his son Omar Abdullah in the sub-jail in Srinagar where he has been under detention for over the last seven months. On Friday, Farooq..




IndiaTimes - Published