Pulwama
City in Jammu and Kashmir, India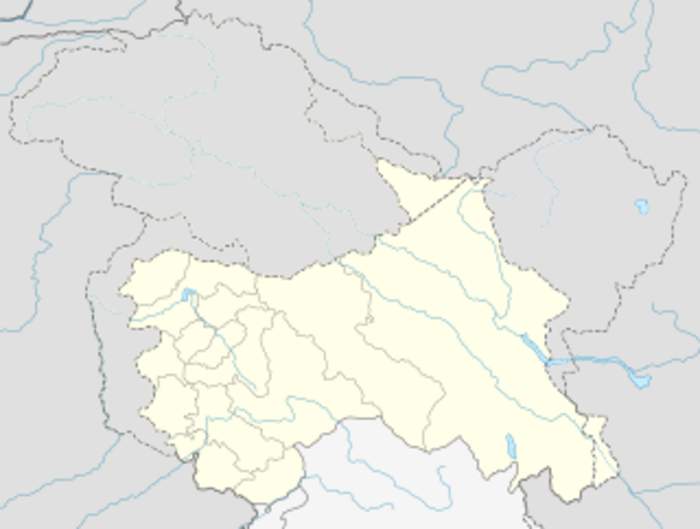 Pulwama is a city and notified area council in the Pulwama district of the Indian-administered territory of Jammu and Kashmir. It is located approximately 30 kilometres (19 mi) south of the summer capital of Srinagar.


IED neutralized in J and K's Pulwama

The Bomb Disposal Squad has neutralized Improvised Explosive Device (IED) detected at Circle Road in J and K's Pulwama. Jammu and Kashmir Police reported the incident. More details awaited.
Credit: ANI Duration: 01:05
Published
3 terrorists gunned down in Pulwama encounter: Kashmir IGP

An encounter happened in Pulwama on April 02 where three terrorists were gunned down by the police. Kashmir IGP, Vijay Kumar said, "When we interrogated, we got to know that three terrorists have been..
Credit: ANI Duration: 01:02
Published
Pulwama administration organises beekeeping workshop

The district administration of Pulwama in Jammu and Kashmir in collaboration with JK Khadi and Village Industries Board organised a workshop on beekeeping under a skill development programme for SCs..
Credit: ANI Duration: 02:44
Published
You Might Like



Pulwama encounter: 2 terrorists involved in attack on BJP leader's house among 3 killed




IndiaTimes - Published




J&K: Encounter breaks out in Pulwama, 2-3 terrorists trapped

The terrorists were given a chance to surrender but they opened fire on the searching party, which was retaliated.




DNA - Published




NIA attaches two residential houses in Pulwama fidayeen attack case




IndiaTimes - Published





J&K Police averted Pulwama-like suicide attacks in south Kashmir: IGP Kashmir

J&K Police on Wednesday claimed to have averted a series of potential Pulwama-type terror attacks planned by Lashkar-e-Taiba and Jaish-e-Mohammad after arresting seven newly recruited terrorists tasked..




IndiaTimes - Published





Jammu and Kashmir: Low intensity IED blast in Pulwama, grenade attack in Kupwara

A senior police official said that no loss of life or injury was reported in the explosion.




DNA - Published





Security forces bust Hizbul Mujahideen hideout in Pulwama forests




IndiaTimes - Published





Pulwama terror attack: Rahul slams PM for his ignorance on intelligence inputs




IndiaTimes - Published





Two years on, unkept promises haunt kin of Pulwama martyr




IndiaTimes - Published





Omar cries detention of Abdullah clan on Pulwama attack anniversary




IndiaTimes - Published





On Pulwama 2nd anniversary, J&K police nabs man with 6.5kg IED




IndiaTimes - Published





Pulwama attack anniversary: People hold candle march at Singhu border




IndiaTimes - Published





Major attack averted in J&K on Pulwama anniversary, 6.5kg IED recovered




IndiaTimes - Published





J&K: 7 kg IED recovered from Jammu bus stand, major terror plan foiled - Details inside

Officials told PTI that terrorists devised a plan to set off an explosion on the second anniversary of the 2019 Pulwama attack.




DNA - Published





PM Modi pays tributes to Pulwama martyrs




IndiaTimes - Published





Amit Shah pays tribute to soldiers who died in Pulwama, says India will never forget their supreme sacrifice

"I bow down to the brave martyrs who lost their lives in the gruesome Pulwama attack on this day in 2019. India will never forget their exceptional courage and supreme sacrifice," Shah tweeted today.




IndiaTimes - Published





Pulwama terror attack anniversary: What happened and how India responded




IndiaTimes - Published





Rahul Gandhi pays tribute to brave soldiers who died in Pulwama terror attack

Congress leader Rahul Gandhi on Sunday paid tribute to the 40 CRPF personnel who lost their lives in the Pulwama terror attack, in which a suicide bomber rammed an IED-laden vehicle into the convoy..




IndiaTimes - Published





'Never forget, never forgive': Netizens remember sacrifice of CRPF soldiers on 2nd anniversary of Pulwama terror attack




IndiaTimes - Published





Pulwama terror attack 2nd anniversary: Why Pakistan is still fearful of India's stand after the attack

The explosion was triggered by a suicide bomber carrying explosives in a car and the bomber targeted a CRPF convoy in order to inflict maximum damage.




DNA - Published





Unions to escalate stir in Feb with rail roko, 'free' toll plazas

In order to intensify the farmers' movement against the farm laws, the Sanyukta Kisan Morcha (SKM) on Wednesday decided to make all road toll plazas in Rajasthan "free" from February 12 and hold..




IndiaTimes - Published





2 terrorists trapped during encounter with security forces surrender in J&K's Pulwama




IndiaTimes - Published





First encounter of 2021: Three terrorists gunned down in J&K's Pulwama

This is the first encounter of 2021 where security forces succeeded to kill three terrorists and recovered arms and ammunition from spot also.




DNA - Published





J&K: Unidentified terrorist killed in Pulwama




IndiaTimes - Published





Pulwama martyr, Jharkhand ASI get Prez police medal




IndiaTimes - Published





Pulwama attack martyr CRPF ASI Mohan Lal awarded President Police Medal for Gallantry posthumously




IndiaTimes - Published





LeT hideout busted in J&K's Pulwama, one terrorist associate arrested




IndiaTimes - Published





6 hurt in grenade attack in Jammu and Kashmir's Pulwama

The terrorists lobbed a grenade towards security forces personnel at the Tral bus stand in the south Kashmir district, a police official said. He said the grenade missed the intended target and..




IndiaTimes - Published





Security forces bust Al-Badr terror module in J&K's Pulwama




IndiaTimes - Published





Jailed PDP leader, accused in terror case, wins in Pulwama




IndiaTimes - Published





Civilian shot at, injured by terrorists in J&K's Pulwama




IndiaTimes - Published





Al-Badr trio killed, civilian hurt in Pulwama encounter




IndiaTimes - Published

Also reported by •DNA


2 terrorists killed in encounter in J&K's Pulwama




IndiaTimes - Published




Mehbooba Mufti claims 'house arrest' after police stops her from visiting Pulwama




IndiaTimes - Published





Mehbooba Mufti, daughter allegedly put under house arrest

Former J&K chief minister Mehbooba Mufti on Friday claimed that she and her daughter, Iltija Mufti, have been put under house arrest for last two days and not allowed to visit the Pulwama residence of..




IndiaTimes - Published





PDP accuses BJP of using NIA against youth leader Waheed Para

The PDP says that the Centre was using NIA to target its youth wing leader Waheed Para, who was to contest the upcoming DDC election from Pulwama.




DNA - Published




How Indian forces foiled Jaish attack planned by Masood Azhar's brother

The four terrorists who were gunned by security forces during an encounter in Jammu & Kashmir's Nagrota on Thursday were tasked by the Pakistani spy agency ISI to carry out a Pulwama-like suicide..




IndiaTimes - Published





Mehbooba claims she was prevented from visiting area in Pulwama




IndiaTimes - Published





Two JeM associates held in J&K's Pulwama




IndiaTimes - Published





13 civilians injured in Pulwama grenade attack




IndiaTimes - Published





J-K: 12 civilians injured as terrorists lob grenade on security forces in Pulwama

Police sources said that terrorists tried to target security forces' deployment, however, the grenade missed the target and exploded on road causing injures.




DNA - Published

Also reported by •IndiaTimes


Exclusive Interview: NDA alliance on strong footing in Bihar, says BJP President JP Nadda

In the midst of Bihar Assembly election 2020, BJP President JP Nadda spoke exclusively to Sudhir Chaudhary, the Editor-in-Chief of Zee News on several issues including the Bihar elections and Pakistan..




DNA - Published





Exclusive: BJP President JP Nadda speaks to Zee News at 8 pm today

In an exclusive interview to Sudhir Chaudhary, Editor-in-Chief of Zee News BJP President JP Nadda took on Congress leader Rahul Gandhi for questioning the Pulwama attack.




DNA - Published





PM Modi uses Pakistan's Pulwama boast to roast rivals at home

Armed with a Pakistan federal minister's admission in parliament that the February 2019 Pulwama attack was the Imran Khan government's doing, PM Narendra Modi on Saturday tore into rivals at home..




IndiaTimes - Published





Still figuring out what Congress needs to apologise for? Shashi Tharoor slams BJP for queries over Pulwama attack

The attack on the CRPF convoy, moving from Jammu towards Srinagar on February 14, 2019, at Pulwama, with an IED-laden vehicle had claimed the lives of 40 CRPF personnel and grievously injured many..




DNA - Published





Tejashwi's guru Rahul Gandhi should apologise to country over Pulwama: MoS Nithyanand Rai

"Pakistan accepted the responsibility of Pulwama attack, I want to ask Tejashwi Yadav that when will his political guru Rahul Gandhi apologise to the country for his remarks," he said.




IndiaTimes - Published





Pulwama terror attack truth revealed after claims in Pakistan Parliament: PM Modi

"The country can never forget that some people were not saddened at the sacrifice of the security personnel during the Pulwama attack. At that time, these people were only doing politics. I request..




IndiaTimes - Published





PM Modi slams Opposition, says Pulwama admission exposed faces of those who politicized attack

Prime Minister Narendra Modi on Saturday, while addressing the nation on the birth anniversary of Sardar Vallabhbhai Patel said that when the entire nation was mourning the death of brave soldiers in..




DNA - Published





Opposition should now apologise for Pulwama remarks: BJP

Pakistani minister Fawad Choudhry's bragging in the National Assembly that the Pulwama attack which killed 40 Indian paramilitary personnel was an "achievement" of PM Imran Khan saw BJP question..




IndiaTimes - Published





Those who called Pulwama a 'conspiracy' must apologise: Javadekar

Javadekar`s response came after the statement of Pakistan Minister Fahad Chaudhry in Pakistan`s parliament on Thursday saying that the attack in Pulwama was a big success for Pakistan under the..




DNA - Published