Tokyo
Capital of Japan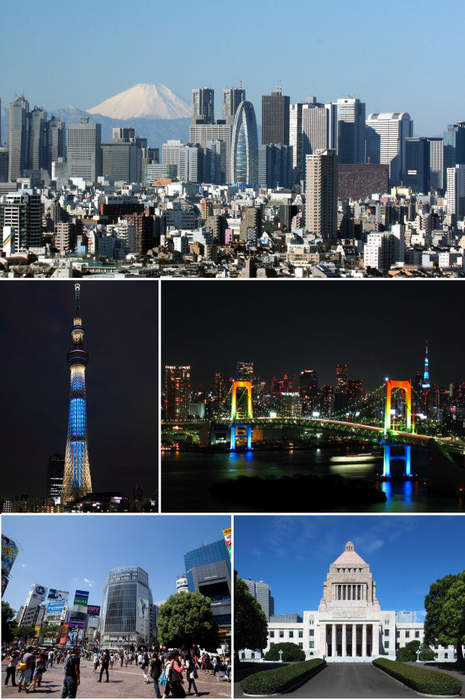 Tokyo
, officially
Tokyo Metropolis
, is the de facto capital and most populous prefecture of Japan. Located at the head of Tokyo Bay, the prefecture forms part of the Kantō region on the central Pacific coast of Japan's main island of Honshu. Tokyo is the political and economic center of the country, as well as the seat of the Emperor of Japan and the national government. As of 2021, the prefecture has an estimated population of 13,960,236. The Greater Tokyo Area is the most populous metropolitan area in the world, with more than 37.393 million residents as of 2020.
Swim champ Ledecky ready for Tokyo competition

Fears that training disruptions due to the COVID-19 pandemic will lead to subpar performances at the Tokyo Games are overblown as many athletes will emerge from lockdowns stronger than ever, five-time..
Credit: Reuters Studio Duration: 01:14
Published
Tokyo Olympic committee chief pledges 'safe' Olympics

The governor of Tokyo, Yuriko Koike, congratulated Seiko Hashimoto on her new role as president of the Tokyo Olympic organising committee.Ms Hashimoto pledged a "safe" Olympics for all.
Credit: PA - Press Association STUDIO Duration: 01:15
Published
Thousands march in Tokyo to protest Myanmar coup

Thousands of mostly silent demonstrators paraded through central Tokyo on Sunday in protest against the coup in Myanmar, many carrying photos of detained leader Aung San Suu Kyi in what organizers said..
Credit: Reuters Studio Duration: 01:04
Published
Head of Tokyo 2020 organising committee quits over sexist remarks

The head of Tokyo's Olympic and Paralympic Games organising committee has quit over remarks he made about women.Yoshiro Mori has stepped down as the organisation's president after suggesting..
Credit: PA - Press Association STUDIO Duration: 00:42
Published
File photos of Saburo Kawabuchi, reported successor of Tokyo 2020 chief Mori

VIDEO SHOWS: FILE PHOTOGRAPHS OF OLYMPICS VILLAGE MAYOR SABURO KAWABUCHI WHO WAS REPORTED TO SUCCEED TOKYO 2020 PRESIDENT YOSHIRO MORI RESENDING WITH COMPLETE SCRIPT SHOWS: TOKYO, JAPAN (FILE -
Credit: Reuters - Sports Duration: 00:48
Published
'It's the right thing to do' - locals welcome Tokyo 2020 chief's reported resignation

The People of Tokyo believe Yoshiro Mori is doing the right thing by stepping down as the president of the organising committee for this year's Olympic Games in the Japanese capital.
Credit: Reuters - Sports Duration: 02:18
Published
Profile of Tokyo Olympics chief Mori, who made sexist remarks at Games meeting

VIDEO SHOWS: FILE OF FORMER JAPANESE PRIME MINISTER AND TOKYO 2020 PRESIDENT YOSHIRO MORI SHOWS: Yoshiro Mori was Prime Minister from April 2000 - April 2001. TOKYO, JAPAN (FILE - APRIL 5, 2000) (
Credit: Reuters - Sports Duration: 07:27
Published
Athletes at the Tokyo Olympics will not need a vaccine to participate, organizers say

Athletes and officials will not be required to receive a Covid-19 vaccine in order to take part in the Tokyo Games, organizers announced on February 3. It comes as the IOC published its first version..
Credit: Bleacher Report AOL Duration: 01:57
Published
COVID shuts down the cute in Tokyo

A famous cafe in Tokyo symbolic of Japan's widely-celebrated 'kawaii' cute culture has shut its doors for good, in the midst of financial struggle brought on by the pandemic. Emily Wither reports.
Credit: Reuters Studio Duration: 02:31
Published
Team GB Olympic chief 'hugely confident' Tokyo games will go ahead

Chef de Mission Mark England says nothing he is hearing suggests Olympics will be cancelled or postponed again
Credit: Reuters - Sports Duration: 02:02
Published
Prices dive at Tokyo's new year tuna auction

Tokyo's biggest fish market held its new year auction on Tuesday, but the priciest tuna went for just ten percent of last year's top catch. The pandemic has slashed tuna prices, with diners staying at..
Credit: Reuters Studio Duration: 01:12
Published
Japan weighs state of emergency amid 'severe' COVID-19 surge

PM mulls emergency declaration for greater Tokyo area amid record high COVID-19 cases.
Credit: Al Jazeera STUDIO Duration: 02:18
Published
You Might Like



Helen Glover: Tokyo 2020 comeback bid inspired by children

Double Olympic champion Helen Glover says proving herself to her baby daughter inspired her attempt a comeback at next summer's Tokyo games.




BBC Sport - Published





Japan denies claims that Olympics are going to be cancelled, as report says Tokyo may host in 2032

Japanese officials have denied claims the Tokyo Olympic Games are being cancelled because of the coronavirus pandemic.




Sky News - Published




Quad officials meet virtually, discuss ways for cooperation on countering disinformation, Covid response

The senior officials from the United States, Australia, India, and Japan met virtually today as part of regular Quad consultations to advance a "free, open, and inclusive" Indo-Pacific region,..




IndiaTimes - Published





China has deployed 60K soldiers on India's northern border: Pompeo

China has amassed more than 60,000 troops on India's northern border, US Secretary of State Mike Pompeo has said as he hit out at Beijing for its "bad behaviour" and the threats it poses to the Quad..




IndiaTimes - Published





Quad: US corners China; India and others more discreet

The second meeting of the Quad (Australia-India-Japan-US) foreign ministers in Tokyo saw them reaffirming their "collective vision" of maintaining a free, open and inclusive Indo-Pacific in the face of..




IndiaTimes - Published





QUAD FM meet: Foreign ministers of India, Japan, US, Australia set to meet in Tokyo today

Quad -- India, Japan, US and Australia foreign ministers will meet on Tuesday (October 6) in Tokyo at 5 pm local time or 1.30 pm IST.




DNA - Published





EAM S Jaishankar to visit Japan during Oct 6-7 for Quad FMs meet

India's External Affairs Minister S Jaishankar will visit Tokyo next week from October 6 to 7 for Quad FMs meet. Quad is a grouping of four countries -- India, Japan, Australia, and the United States.




DNA - Published





Japan's ruling party eyes foreign workers for financial sector

Japan's ruling Liberal Democratic Party is drafting a proposal to attract high-skilled workers from abroad for Tokyo's financial sector, the lawmaker heading the LDP's committee on foreign labourers..




Reuters - Published





Black Lives Matter protesters march through Tokyo

Thousands of protesters in Tokyo took part in a Black Lives Matter march on Sunday, calling for an end to racial discrimination and police abuse after the killing of African American George Floyd in..




Reuters - Published





Governor of Japan's capital and rival to PM to seek new term

Tokyo Governor Yuriko Koike, whose support has surged with her efforts against the coronavirus, said on Friday she would run for a second term as governor of the Japanese capital, raising the prospect..




Reuters - Published





Japan air force pilots fly over Tokyo to salute medical workers

The Japanese air force's aerobatic demonstration squadron, Blue Impulse, flew over central Tokyo on Friday in a salute to medical workers on the frontline against the coronavirus pandemic.




Reuters - Published





Tokyo to further relax coronavirus curbs on Monday, governor says

Curbs in Japan's capital of Tokyo to contain the coronavirus are to be eased further from Monday, Governor Yuriko Koike said, citing the recommendation of an advisory panel.




Reuters - Published





Japanese face 'new normal' after coronavirus emergency lifted

A day after Japan ended its state of emergency, Tokyo residents took to the streets with a mixture of relief and trepidation as they prepared for a "new normal" of living with the coronavirus.




Reuters - Published





Japan lifts Tokyo's state of emergency, eyes fresh stimulus

Japanese Prime Minister Shinzo Abe said on Monday that Japan will lift a state of emergency for Tokyo and four remaining areas later in the day but that it could be reimposed if the pace of infections..




Reuters - Published

Also reported by •Reuters India


Japan's elderly workers, once key to Abenomics, suffer as pandemic closes businesses

On a recent Saturday in Tokyo's Shinjuku district more than 100 people, many of them elderly men, stood close together in a long queue waiting for food hand-outs.




Reuters India - Published

Also reported by •Reuters


Japan may lift Tokyo state of emergency as early as next week: PM

Japanese Prime Minister Shinzo Abe on Thursday said that it was possible that a state of emergency in Tokyo and its surrounding regions could end as early as next week if the number of coronavirus..




Reuters - Published





In blow to Japan's Abe, Tokyo top prosecutor set to resign: media

Tokyo's top prosecutor was set to resign after a report that he gambled illegally during Japan's coronavirus state of emergency, media said on Thursday, in another blow to Prime Minister Shinzo Abe..




Reuters India - Published

Also reported by •Reuters


Tokyo's top prosecutor set to resign, media say, in blow to Japan PM Abe

Tokyo's top prosecutor was set to resign after a report that he gambled illegally during Japan's coronavirus state of emergency, media said on Thursday, in a blow to Prime Minister Shinzo Abe, whose..




Reuters - Published





Japan's regions emerge from virus emergency while Tokyo enters 'new normal'

Large parts of Japan marked the first day out of a state of emergency on Friday while Tokyo's governor asked residents to prepare for the "new normal" as restrictions stay in place in the capital and..




Reuters - Published





Japan expected to lift emergency in most areas except Tokyo

Japan is expected to lift a state of emergency across a large part of the country on Thursday but the capital Tokyo will likely remain under restrictions until there is a convincing containment of the..




Reuters India - Published

Also reported by •Reuters


Japan seeks to end state of emergency for most regions; Tokyo to stay on alert

Japan was expected to lift a state of emergency across a large part of the country on Thursday, but the capital Tokyo will remain under restrictions until there is a convincing containment of the..




Reuters - Published




Tokyo reports 36 new cases of coronavirus infection on Saturday: TV Asahi

Tokyo reported 36 new cases of coronavirus infections on Saturday, TV Asahi said, three less than a day earlier and the seventh consecutive day that new infections have remained below 100.




Reuters - Published




Tokyo governor Koike to ask businesses to refrain from operating until end of May: NHK

Tokyo Governor Yuriko Koike will ask businesses in Japan's biggest city to refrain from operating until the end of this month, following the central government's extension of the state of emergency, a..




Reuters - Published





Call centres expose fault line in Japan's pandemic fight

Almost a month after Tokyo declared a state of emergency, dozens of call centre employees for telecom KDDI Corp still commute into their crowded office, where the fear of coronavirus infection has..




Reuters - Published





Tokyo governor Koike, a PM Abe rival, takes tough stance on coronavirus

With blunt warnings, flip-charts and daily online briefings, Tokyo Governor Yuriko Koike has been delivering a tough message to the Japanese capital's residents and shops: stay home and shut down to..




Reuters - Published





Tokyo seeks shop shutdowns, Kyoto warns tourists away as coronavirus threatens Japan economy

Metropolitan Tokyo asked some businesses to close and the ancient capital of Kyoto warned tourists to stay away as Japan battles a fast-spreading outbreak of the new coronavirus, amid fears the..




Reuters - Published





Japan's modern, ancient capitals to tighten coronavirus curbs

Tokyo will ask a range of businesses to close during a month-long emergency to fight the new coronavirus, the governor of the Japanese capital said on Friday, as the ancient capital Kyoto warned of..




Reuters - Published





Tokyo, Japan central government reach agreement over coronavirus shutdowns

Tokyo and Japan's central government have resolved a high-profile feud over what businesses should shut down during a month-long emergency to fight the new coronavirus, the city's governor said,..




Reuters - Published





Japan set to announce coronavirus emergency, finalise near $1 trillion stimulus

Japanese Prime Minister Shinzo Abe is set to announce a state of emergency on Tuesday for the capital Tokyo and six other prefectures to stem a worrying rise in coronavirus infections in major..




Reuters - Published





Running out of beds and gear, Tokyo medical staff say Japan's 'state of emergency' already here

As Japan faces a fresh wave of coronavirus infections and the government prepares for a state of emergency, medical staff say a shortage of beds and a rise in cases linked to hospitals are pushing..




Reuters - Published





U.S. sounds alarm on coronavirus in Japan, Tokyo pushes for state of emergency

The U.S. government on Friday sounded alarm about the surge in coronavirus cases in Japan, adding to a chorus of prominent domestic voices - including the governor of Tokyo - who have called for..




Reuters - Published





As Japan coronavirus cases rise, Tokyo nudges PM Abe to declare state of emergency

Tokyo Governor Yuriko Koike said on Friday that Japan declaring a national state of coronavirus emergency would send a "strong message" that could help dodge an explosive outbreak, her most explicit..




Reuters - Published





Tokyo records most new coronavirus cases in a day as pressure for lockdown builds

Tokyo recorded more than 70 new coronavirus infections on Tuesday for its highest tally in a single day, as pressure built on Prime Minister Shinzo Abe to order a lockdown with a minister saying..




Reuters - Published





Smoking diners to take it outside as Tokyo ban kicks in

Patrons of Tokyo restaurants and bars will be able to light up indoors for the last time on Tuesday as one of the world's most cigarette-friendly cities starts enforcing anti-smoking laws from April 1.




Reuters - Published





Line survey finds 7% of users in Tokyo have at least one coronavirus symptom

A survey of Line Corp's chat app users in Tokyo and neighboring prefectures in partnership with Japan's health ministry found 7.1% of respondents in the capital reporting at least one of the symptoms..




Reuters - Published





Tokyo governor calls for fewer outings, says state of coronavirus emergency up to PM

Tokyo's governor on Monday called on residents to avoid outings in the evenings and at weekends as the coronavirus crisis deepened, but said it was up to Prime Minister Shinzo Abe to declare a state of..




Reuters - Published





Tokyo governor asks residents to stay away from bars to slow coronavirus spread

Tokyo Governor Yuriko Koike on Monday asked residents to stay away from bars and music venues, stepping up her call for people to cut back on unnecessary travel as Japan's capital braces for a rise in..




Reuters - Published




Japan is 'not planning' a coronavirus emergency but entry bans loom

Japan has no plan to declare a state of emergency from April, its top government spokesman said on Monday, seeking to dispel mounting fears a recent spike in coronavirus cases could lead to a..




Reuters - Published





Japan to ban U.S., China, Europe travelers as coronavirus spread stokes Tokyo lockdown fears

Japan will step up its efforts to stop the spread of coronavirus by banning the entry of foreign citizens traveling from the United States, China, South Korea and most of Europe, the Asahi newspaper..




Reuters - Published





Cherry blossoms must wait, Tokyo governor says, amid supply queues in coronavirus battle

Residents of the Japanese capital formed long queues at supermarkets and stores on Friday, in preparation for a weekend at home, after Tokyo's governor urged them to stay indoors in a bid to keep a..




Reuters - Published





Japan PM says lockdown of Tokyo would have severe impact on economy

Japanese Prime Minister Shinzo Abe said on Friday a lockdown of Tokyo would have a severe impact on the economy given its huge population and the key role it plays as the center of the country.




Reuters - Published





Japan's Abe calls coronavirus a 'national crisis' after surge in Tokyo

Japan banned entry from Europe on Thursday and warned of a high risk the coronavirus would become rampant after a surge in Tokyo, setting up a task force - a step toward a possible state of emergency -..




Reuters - Published





Rickshaws, kimonos, but no tourists - Tokyo's Asakusa hit by coronavirus, Olympics delay

Japanese and foreign tourists flock in their hundreds of thousands every spring to this old district of Tokyo to see the cherry trees in full bloom and the bright red gate to the Sensō-ji temple, and..




Reuters - Published