Haryana
State in northern India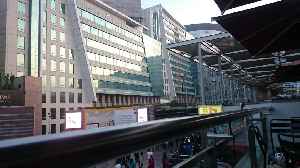 Haryana is one of the 28 states in India, located in the northern part of the country. It was carved out of the former state of East Punjab on 1 November 1966 on a linguistic basis. It is ranked 22nd in terms of area, with less than 1.4% of India's land area. Chandigarh is the state capital, Faridabad in National Capital Region is the most populous city of the state, and Gurugram is a leading financial hub of the NCR, with major Fortune 500 companies located in it. Haryana has 6 administrative divisions, 22 districts, 72 sub-divisions, 93 revenue tehsils, 50 sub-tehsils, 140 community development blocks, 154 cities and towns, 6,848 villages, and 6222 villages panchayats.


Watch: Noida man arrested for dialing 100 and threatening to harm PM Modi

Noida police arrested a man for threatening to harm Prime Minister Narendra Modi, officials said. The man called up emergency number '100' and threatened to harm PM Modi on Sunday. The accused has been..
Credit: HT Digital Content Duration: 01:19
Published
Two Thailand women allegedly raped in Hisar hotel

A horrific incident recently came to light where two women from Thailand were allegedly raped inside a hotel in Haryana's Hisar on August 07, police said. Informing about the details, a police official..
Credit: ANI Duration: 01:10
Published
Covid update: 100 virus-free days of New Zealand; Amit Shah's next test

From the testing of Union Home minister Amit Shah, to New Zealand completing 100 days without domestic transmission of the virus - here are the top news updates on the Covid-19 pandemic. Shah is likely..
Credit: HT Digital Content Duration: 02:21
Published
LPG container overturns on NH-19 in Haryana's Palwal

A liquefied petroleum gas (LPG) container overturned on national highway-19 in Palwal. The accident took place on August 08. Police and fire department personnel reached at the spot and the container..
Credit: ANI Duration: 01:20
Published
Haryana CM meets Sushant Rajput's father in Faridabad

Haryana Chief Minister Manohar Lal Khattar met actor Sushant Singh Rajput's father KK Singh and his sister Rani Singh in Faridabad. The actor died by suicide at his residence in Mumbai, Maharashtra on..
Credit: ANI Duration: 01:42
Published
Specially-abled Haryana student given 2 marks in maths, after re-evaluation scores 100

A specially-abled student in Haryana's Hisar claimed that she was erroneously given 2 marks in maths by Haryana Board in class 10 exam. Student claimed that her sheet meant for 'blind candidate' was..
Credit: ANI Duration: 02:15
Published
Caught on cam: Neighbour brutally thrashes 2-year-old child in Hisar

In a shocking video, man was seen brutally thrashing 2-year-old girl child in Haryana's Hisar. "The man was the neighbour, he used to brutally beat up the child on a continuous basis, after the video..
Credit: ANI Duration: 01:52
Published
UPSC Civil Services exam 2019 result out, meet topper Pradeep Singh from Haryana

The result of UPSC Civil Services Exam 2019 was declared on Tuesday. Pradeep Singh topped UPSC civil services examination 2019. Jatin Kishore and Pratibha Verma secured second and third positions..
Credit: HT Digital Content Duration: 03:17
Published
Shun BJP's hospitality, police security to hold talks: Randeep Surjewala on Congress MLAs staying at Manesar resort

Congress Leader Randeep Surjewala on Congress MLAs staying at the resort in Manesar said that they should return to the party. Randeep Surjewala said, "The Congress MLAs who are staying at the resort..
Credit: ANI Duration: 01:26
Published
Water supply in Delhi decreased by 25% due to polluted water being released from Haryana: Satyendar Jain

Addressing the issue of scarcity of water in Delhi, Health Minister Satyendar Jain said that the water supply in Delhi has decreased by 25% and the efficiency of water treatment plants has been..
Credit: ANI Duration: 01:11
Published
Watch: First batch of Rafale fighter jets take off from France to join Indian Air Force

The first batch of Rafale jets took off from France to join the Indian Air Force on July 27. The jet will join Indian Air Force fleet at Ambala in Haryana on July 29. The aircraft will be refuelled by..
Credit: ANI Duration: 02:02
Published
Stray dogs' sterilization drive begins in Haryana's Ambala

Municipal Corporation and Cantonment Municipal Council carry out dog sterilization drive in Ambala. More than 700 dogs have been sterilised till now. Sterilization has proved to be effective in..
Credit: ANI Duration: 01:24
Published
Committed to cleaning Yamuna in next 3-4 years: Satyendar Jain

Delhi Minister of Health Satyendar Jain on July 25 reacted on Yamuna River are getting polluting again after lockdown. He said, "Dirty water and industrial waste come in Yamuna River from Badshahpur,..
Credit: ANI Duration: 01:41
Published
2 men brutally beaten by goons at SDO office in Haryana's Munak

Police has registered a case against five people for brutally thrashing 2 men at SDO office in Haryana's Munak. The unidentified persons can be seen recklessly beating two men. The incident got..
Credit: ANI Duration: 01:50
Published
AAP demands resignation of Tripura CM over his comments on Punjabis, Jats

While addressing a press conference in the national capital on July 22, the Transport Minister of Delhi, Kailash Gahlot lamented on statement of Tripura Chief Minister Biplab Kumar Deb. He said, "I ask..
Credit: ANI Duration: 02:03
Published
New Haryana BJP chief, OP Dhankar interacts with party workers in Jhajjar

After being appointed as Bharatiya Janata Party (BJP) president in Haryana, the former state minister Om Prakash Dhankar interacted with party workers in Jhajjar. Dhankar said, "We will face every..
Credit: ANI Duration: 01:32
Published
You Might Like



UP, Haryana likely to receive rainfall today: IMD

Places Uttar Pradesh and Haryana likely to receive rainfall in next couple of hours.




DNA - Published





IMD predicts rain in parts of Haryana, UP, Uttarakhand today

IMD also informed that in the latest satellite imagery, moderate to intense convective clouds were seen over the western part of Jammu & Kashmir, Himachal Pradesh, Uttarakhand, Gujarat State, North..




DNA - Published





Haryana CM Manohar Lal Khattar meets Sushant Singh Rajput's father KK Singh, sister Rani Singh

Haryana chief minister Manohar Lal Khattar met late actor Sushant Singh Rajput's father KK Singh and his sister Rani Singh in Faridabad on Saturday




DNA - Published





Specially-abled Haryana girl who scored 2 marks in Maths gets 100 after re-evaluation

Supriya's father Chhajjuram said that she got over 90 marks in all subjects but she got only 2 in Mathematic and hence he applied for re-evaluation.




DNA - Published





Heavy rains batter parts of south India, monsoon subdued in north

Monsoon, however, remained subdued in the northern part of the country. While a few places in Uttar Pradesh received light to moderate rains, Haryana and Punjab witnessed sultry weather conditions. In..




IndiaTimes - Published





FIRs filed against 11 sanitizer companies in Haryana for failing to pass quality checks

FIRs have been filed against 11 sanitizer brands after samples collected from various districts of the state failed.




DNA - Published





Signs of thaw in Rajasthan as Congress sends out feelers to Pilot camp

Amid its ongoing confrontation with Sachin Pilot, conciliatory signals have emerged from Congress with party spokesperson Randeep Surjewala saying the Rajasthan former deputy CM can return to the fold..




IndiaTimes - Published





IRS officer from Haryana tops civil services exam

IRS (customs) officer Pradeep Singh of Haryana, the son of a farmer, ranked first while UP's Pratibha Verma, an income tax officer, topped among women on the list of 829 candidates who qualified in..




IndiaTimes - Published





Locust control operations done so far in over 4.56 lakh hectares: Govt

Continuing fight against desert locusts, the agriculture ministry on Friday said the control operations against the crop threatening migratory pest have so far been carried out in more than 4.56..




IndiaTimes - Published





Rajasthan police not allowed to enter Haryana hotels to deliver notices to dissident Congress MLAs

A team of Rajasthan police's Anti-Corruption Bureau was on Friday not allowed to enter three hotels in Haryana's Gurgaon and Manesar when they went there to serve notices to two Rajasthan Congress MLAs..




IndiaTimes - Published





SC acquits Haryana shopkeeper 38 years after being accused of selling adulterated 'haldi'

Prem Chand, now 76 years old, was charged after sample of haldi (turmeric) taken from his shop in a village in Sonepat district in 1982 by a food inspector along with a medical officer was found..




IndiaTimes - Published





The name Rafale scares our enemies: Haryana home minister Anil Vij

"Today, the king of fighter planes will arrive in Ambala. The people are awaiting the arrival of Rafale fighter jets. If there was no Covid-19, they would have welcomed the fighters jets with..




IndiaTimes - Published





'Welcome to India, boys': Netizens flood Twitter with greetings as Rafale jets make radio contact with Indian Navy

The first batch of five Rafale jets will land in India, specifically at Haryana's Ambala, today (i.e. Wednesday, July 29). The jets are being flown to Ambala airbase by Indian Air Force (IAF) pilots...




DNA - Published





Rafale Landing: As India awaits arrival of 5 fighter jets, IMD predicts 'cloudy skies, rainfall' weather in Ambala

Indian Air Force has a back-up plan in case the weather conditions do not permit a timely landing of the Rafale jets in Haryana's Ambala.




DNA - Published





Haryana to probe assets of Nehru-Gandhi family




IndiaTimes - Published





BJP holding our colleagues as hostages in Haryana: Rajasthan CM Ashok Gehlot

Ashok Gehlot said that Rajasthan Governor Kalraj Mishra is not calling the state Assembly session due to "pressures from the top".




DNA - Published





Rajasthan seeks help of Haryana, Delhi cops to locate rebel MLA




IndiaTimes - Published





We're in Haryana as Rajasthan cops hounding us: Pilot camp




IndiaTimes - Published





First heavy monsoon rainfall likely in Delhi, parts of north India; flood situation may worsen in NE

From Sunday, Delhi and its adjoining states Punjab and Haryana are likely to experience continuous rainfall typical of the rainy season as the monsoon trough is likely to shift to its normal position,..




IndiaTimes - Published





Thunderstorm, rain likely in parts of Uttarakhand, Haryana:IMD

"Latest satellite imagery shows moderate to intense convection over parts of Uttarakhand, North Rajasthan, South Punjab, Haryana, West UP, Bihar, South Coastal Andhra Pradesh, Sub-Himalayan West..




IndiaTimes - Published





Covid-19: Human trials of desi vaccine begin in Haryana




IndiaTimes - Published





Haryana police stop Rajasthan cops from entering dissidents' hotel in Gurgaon

A Rajasthan police team was on Friday evening stopped by Haryana police from entering a hotel in Gurgaon, where some dissident Congress MLAs are said to be holed up, according to reports. The Rajasthan..




IndiaTimes - Published





Stop accepting BJP 'hospitality', come back, Randeep Surjewala tells Sachin Pilot

Congress general secretary Randeep Surjewala on Wednesday said if dissident leader Sachin Pilot is not joining the BJP, he should stop accepting that party's "hospitality" in Haryana. The reference..




IndiaTimes - Published





As COVID-19 cases rise in Haryana, state govt hints at strict lockdown in Gurgaon, Faridabad, Sonipat

Haryana has a total of 21,894 COVID-19 cases out of which 308 people have succumbed to the disease.




DNA - Published





Political quarantine with Covid front as Haryana resort turns nucleus of Rajasthan Cong drama

A picturesque resort on a rocky sweep of the Aravalis south of Gurgaon became a 'Covid quarantine centre' earlier this week, soon after the 20 Rajasthan legislators loyal to deputy chief minister..




IndiaTimes - Published





Centre to lay highways to push development in south Haryana




IndiaTimes - Published





Gadkari to inaugurate, lay foundation stone for economic corridor projects worth over Rs 20,000 cr in Haryana tomorrow

Gadkari will inaugurate and lay the foundation stones of various Highway projects worth Rs 20,000 as part of a new economic corridor in Haryana on Tuesday.




DNA - Published

Also reported by •IndiaTimes


Students in Haryana can enroll in class 11 through WhatsApp

Students are also not required to submit any fee currently.




DNA - Published





Vikas Dubey escapes from Faridabad hotel before cops arrive

A team of Uttar Pradesh STF and Haryana police detained three aides of Vikas Dubey after it raided a hotel in Faridabad in search of the gangster, who is the main accused in the Bikru village shootout..




IndiaTimes - Published





SC grants interim bail to Unitech promoter Sanjay Chandra

The apex court had approved the name of retired Haryana cadre IAS officer Yudvir Singh Malik as chairman and managing director (CMD) of the new board and directed that existing board of directors of..




IndiaTimes - Published





West Bengal's unemployment rate at 6.5 per cent in June 'far better' than that of India: Mamata Banerjee

"We've implemented a robust economic strategy to tackle #COVID19 and the devastation caused by Amphan. Proof lies in West Bengal's unemployment rate for the month of June 2020 which stands at 6.5 per..




IndiaTimes - Published





Delhi-NCR jolted as earthquake of magnitude 4.5 hits Alwar in Rajasthan

According to the National Centre for Seismology, the earthquake of magnitude 4.5, with its epicentre 63 km southwest of Gurugram, Haryana, struck at 7 pm.




DNA - Published





4.7 earthquake causes tremors in Delhi-NCR, north India

Earthquake tremors were felt in Delhi-NCR on Friday evening when an earthquake of magnitude 4.5 hit 63 km southwest of Gurugram, Haryana, according to National Centre for Seismology. Earlier today, an..




IndiaTimes - Published





Amit Shah suggests UP, Haryana to use rapid kits to bolster testing in NCR; early hospitalisation




IndiaTimes - Published





Amit Shah meets CMs of UP, Haryana, Delhi; discusses Covid-19 situation




IndiaTimes - Published





Haryana govt orders schools, colleges to remain closed till July end; teachers to join from July 27

In Haryana, there are 14548 COVID-19 cases with 236 deaths, and 9972 recoveries.




DNA - Published





Desert locust swarms divide into three groups, headed towards Haryana, Delhi, Uttar Pradesh

All the groups of locust swarms are being tracked by official teams




DNA - Published





Locust attack: Control operations underway in Rajasthan, Haryana, UP

Swarms of locusts were noticed in Jhunjhunu, Rajasthan, on Friday morning and control teams were deployed for their elimination.




DNA - Published





IAF's Cheetah helicopter makes emergency landing on expressway in Haryana's Sonepat

The helicopter was rectified and recovered back promptly and safely at Hindan, the defence ministry said.




DNA - Published





Haryana government caps Covid-19 treatment cost in private hospitals

The Haryana govt has capped the cost of Covid-19 treatment in private hospitals, fixing the maximum rate at non-NABH accredited facilities for patients who need to be kept in ICU with ventilator care..




IndiaTimes - Published





Monsoon covers entire country nearly two weeks early: IMD

The Southwest Monsoon has covered the entire country nearly two weeks ahead of its schedule, the India Meteorological Department said Friday. ​​​​​The monsoon usually sets over Kerala on June..




IndiaTimes - Published





Coronavirus: India adds 17,000+ new cases, day's toll remains above 400

Covid-19 cases surged in Maharashtra (3,890 fresh infections), Delhi (3,788), Tamil Nadu (2,865), Telangana (891), UP (700), Gujarat (572), Andhra Pradesh (497), Haryana (490), Bengal (445) and Assam..




IndiaTimes - Published





Mercury drops in parts of north India; monsoon to reach Delhi, UP in 2 days

Mercury dropped a few notches in parts of north India which also witnessed rainfall in some places, with the MeT Department stating that monsoon is likely to reach Uttar Pradesh, Punjab, Haryana and..




IndiaTimes - Published





Rain lashes parts of Delhi-NCR; thunderstorm predicted

Conditions may become favorable for the advancement of the southwest monsoon in Delhi and Haryana around June 25




DNA - Published





Lawyer appears in virtual hearing while lying on bed; SC says minimum court etiquette be followed

"This court is of the view that when counsel appear in court video hearings, they should be presentable and avoid showing images, which are not appropriate and can only be tolerable in the privacy of..




IndiaTimes - Published





Nainital-based ARIES of science ministry to organise live telecast of upcoming solar eclipse on social media

The Nainital-based Aryabhatta Research Institute of Observational Sciences (ARIES) of the Union science & technology ministry will on Sunday organise live telecast of upcoming solar eclipse through..




IndiaTimes - Published





Southwest monsoon likely to reach Delhi, Haryana around June 25

The Northern Limit of Monsoon (NLM) continues to pass through Kandla, Ahmedabad, Indore, Raisen, Khajuraho, Fatehpur and Bahraich.




DNA - Published





Earthquake of 2.3 magnitude hits Haryana

There were no immediate reports of loss of life or damage to property.




DNA - Published





Delhi and NCR need to fight Covid as a single unit: Shah

In a region that is organically connected, the message was an important first step in harmonising major administrative decisions that historically have often been at odds with each other — it's the..




IndiaTimes - Published





'Deepest' solar eclipse in India on Sunday

India will witness its "deepest" annular solar eclipse of this century this Sunday (June 21), with the Sun appearing as a necklace of pearls for around 30 seconds during the maximum phase along a..




IndiaTimes - Published