Haryana
State in North India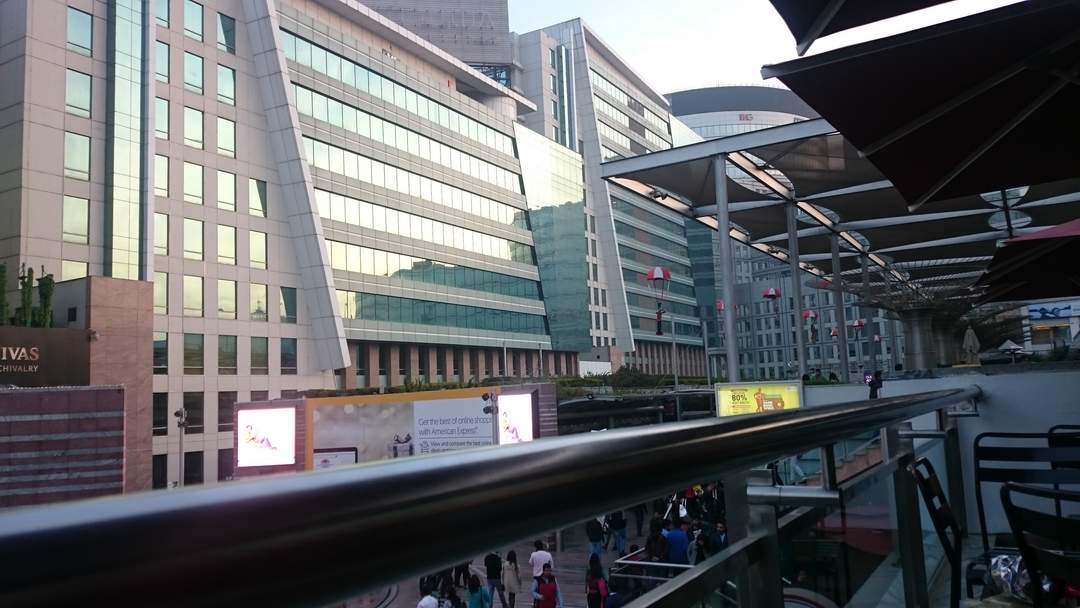 Haryana is a state in India located in the northern-part of the country. It was carved out of the former state of East Punjab on 1 November 1966 on a linguistic basis. It is ranked 20th in terms of area, with less than 1.4% of India's land area. The state capital is Chandigarh and the most populous city is Faridabad, which is a part of the National Capital Region. The city of Gurgaon is among India's largest financial and technology hubs. Haryana has 6 administrative divisions, 22 districts, 72 sub-divisions, 93 revenue tehsils, 50 sub-tehsils, 140 community development blocks, 154 cities and towns, 6,848 villages, and 6,222 villages panchayats.


Amit Shah chairs high level security meet, Kashmir killings also to be discussed | Oneindia News

Union Home minister Amit Shah is chairing a meeting of top security officials today, where Kashmir situation is likely to be discussed, after targeted attacks at non-Muslims; The BJP attacked the..
Credit: Oneindia Duration: 02:39
Published
IMD predicts light shower over Delhi, heavy thunderstorm over Uttarakhand, Haryana | Oneindia News

IMD predicts light rainfall over Delhi on Sunday, while predicting thunderstorms and heavy rainfall over Uttarakhand, West Uttar Pradesh and Haryana on Sunday and Monday. #IMDrainprediction..
Credit: Oneindia Duration: 02:42
Published
Dera chief Ram Rahim convicted of murderof ex-follower for exposing rape| Oneindia News

Dera Sacha Sauda chief Gurmeet Ram Rahim has been convicted of the murderof his disciple, Ranjit Singh. The special CBI court in Haryana's Panchkula also convicted four others in the case. Sentence..
Credit: Oneindia Duration: 01:54
Published
Navjot Singh Sidhu-led march stopped at Haryana-UP border | Lakhimpur violence | Oneindia News

Today, Punjab Congress chief Navjot Singh led a protest march from Punjab to Lakhimpur Kheri in protest against the killing of farmers in Lakhimpur Kheri. He was stopped at the Yamuna Nagar-Saharanpur..
Credit: Oneindia Duration: 01:39
Published
Mumbai woman dies after rape, disturbing reminder of Delhi 2012 case | Oneindia News

The 34-year-old woman rapedand brutalised inside a stationary tempo in suburban Mumbai's Sakinaka in the early hours of Friday has died; A week-long stalemate between farmers and the BJP government in..
Credit: Oneindia Duration: 03:04
Published
Delhi Airport flooded, orange alert issued after heavy rain | Oneindia News

Heavy downpour since Saturday morning submerged several parts of the national capital, bringing the temperature down and triggering an orange alert. The IMD today predicted thunderstorms with moderate..
Credit: Oneindia Duration: 02:44
Published
Haryana government suspends mobile internet in Karnal, ahead of farmer protest | Oneindia News

Mobile internet and SMS services have been suspended in Karnal district by the Haryana government as farmers plan to gherao the mini-secretariat over August 28 lathicharge. The Samyukt Kisan Morcha, a..
Credit: Oneindia Duration: 01:50
Published
Gunshots at Kabul airport as Afghans flee | Taliban 'seals off' airport | Oneindia News

As the US evacuation operation continues in the Afghanistan capital and people throng the Kabul airport in hopes of getting a flight out of the country, gunshots were heard once again outside the Hamid..
Credit: Oneindia Duration: 02:58
Published
You Might Like



Rail roko: Stir halts 210 trains, North India hit hardest

Punjab, Haryana and west UP bore the brunt of the 'Rail Roko' called by Samyukta Kisan Morcha (SKM) on Monday, with the movement of over 70 trains disrupted at 130 locations in Punjab and Haryana..




IndiaTimes - Published





Antibodies against Covid-19 found in 76.3% people in Haryana, says Anil Vij




IndiaTimes - Published





Thunderstorms, moderate rains likely to occur in THESE states: IMD

IMD has stated that UP, Haryana, and Rajasthan are likely to witness thunderstorms and moderate to heavy rainfall in some districts today.




DNA - Published





Singhu border killing: 2 more people arrested; victim's family demand high level probe

In the Singhu border killing case, two more members from the Nihang community have been arrested by the Haryana police




DNA - Published





I-T searches in NCR, Haryana, Bengal reveal large scale under-invoicing of imports

The I-T Department has carried out search and seizure on an importer and trader of laptops, mobile phones and peripheral parts. The search operations commenced on October 10 and were carried out across..




IndiaTimes - Published





Significant decrease in no. of stubble-burning events in Punjab, Haryana and 8 NCR districts of UP

The Commission for Air Quality Management (CAQM) in NCR and Adjoining Areas said according to a report based on the protocol framed by the ISRO, paddy residue-burning events have been reduced by 69.49..




IndiaTimes - Published





Body of man with hand chopped off found near farmers' protest site in Haryana's Kundli: Police

The body of an unidentified man with one of his hands chopped off was found near the farmers' protest site at Kundli in Haryana's Sonipat district on Friday, police said. The deceased was aged around..




IndiaTimes - Published





Thousands gather for final rites of farmers

Around 10am, the antim ardas or final rites for the four farmers — Lovepreet Singh, Gurwinder Singh, Nachattar Singh and Daljeet Singh — were held at the Kaudiyala Sahib gurdwara. After the ritual,..




IndiaTimes - Published





Proposed delineation may reduce total NCR area, Haryana for drastic reduction




IndiaTimes - Published





After 5 decades, Haryana rescinds order banning staff from RSS, Jamaat activities




IndiaTimes - Published





Haryana Congress chief sits on 'maun vrat' demanding MoS Ajay Mishra's resignation




IndiaTimes - Published





SC Collegium approves appointment of 10 additional judges as permanent judges in Punjab & Haryana HC




IndiaTimes - Published





Govt procures 2.87 lakh tonnes paddy in first few days of operation; maximum from Punjab, Haryana




IndiaTimes - Published





Haryana becomes 3rd state to get clean tap water in every rural household under Jal Jeevan Mission

In a major achievement of the Narendra Modi government, Haryana has become the third state of the country where every family in the rural areas has started getting clean tap water in their homes. Goa..




IndiaTimes - Published





Charuni arrested by UP police; Haryana farmers block roads, confront houses of BJP, JJP leaders




IndiaTimes - Published





Lakhimpur violence: Farmers demand sacking of Union minister, Haryana CM

Alleging that Union minister Ajay Mishra "Teni" and his son have "directly" been involved in the farmers' death during Lakhimpur Kheri violence on Sunday, the Samyukta Kisan Morcha (SKM)..




IndiaTimes - Published





Farmers gherao residences of netas across Haryana, Punjab

Hours before the Centre reviewed its order on paddy procurement in Punjab and Haryana and said the same will start from October 3 (Sunday), scores of farmers from both the states gheraoed offices of..




IndiaTimes - Published





Centre changes decision, says paddy procurement to commence in Punjab, Haryana from Oct 3

The Centre on Saturday ordered to start paddy procurement in Punjab and Haryana from Sunday (October 3), barely three days after it had announced to postpone the procurement till October 11 "in the..




IndiaTimes - Published





Farmers face water cannon near CM house

Hours before the Centre reviewed its order on paddy procurement in Punjab and Haryana, scores of farmers from both the states gheraoed offices of several deputy commissioners and residences of MLAs and..




IndiaTimes - Published





Paddy procurement to begin in Punjab, Haryana from October 3, farmers withdraw protest

The procurement usually starts on October 1 but this year the Centre had decided to delay the purchase in Punjab-Haryana till October 11




DNA - Published





Farmers protest across Punjab, Haryana over delay of paddy procurement

New Punjab CM Charanjit Singh Channi had requested PM Modi to take back the decision to postpone the paddy procurement by 10 days




DNA - Published

Also reported by •IndiaTimes


Paddy procurement in Haryana, Punjab from tomorrow, says Centre after farmers stage protests

Paddy procurement in Punjab and Haryana will start from tomorrow, Haryana chief minister Manohar Lal Khattar said after meeting the Union ministers in New Delhi. This comes after farmers in Punjab and..




IndiaTimes - Published





Paddy procurement in Punjab and Haryana to start from October 3

Paddy procurement in Punjab and Haryana will start from tomorrow, Haryana chief minister Manohar Lal Khattar said after meeting the Union ministers in New Delhi. This comes after farmers in Punjab and..




IndiaTimes - Published





Road blockade by farmers inconveniencing commuters: SC

The Supreme Court on Thursday cited its own ruling that barred protesters from blocking public roads and said farmers' grievances could be addressed either by Parliament or judiciary but they cannot..




IndiaTimes - Published





Citing high moisture content, Centre asks Punjab, Haryana to postpone paddy procurement till Oct 11




IndiaTimes - Published





COVID-19 restrictions: Ban on manufacture, sale of guthka, pan masala extended till September 2022 in THIS state

To battle COVID-19, the Haryana government has decided to extend the ban on the sale of gutkha and pan masala in the state.




DNA - Published





Bharat Bandh paralyses Punjab, has limited impact elsewhere

Farm groups in Punjab, which have been at the forefront of the struggle against the Central farm laws, brought the state to near standstill on Monday as the Bharat bandh paralysed rail and road..




IndiaTimes - Published





Bandh has caused inconvenience to public at the cost of politics of opposition: Haryana minister




IndiaTimes - Published





Bharat Bandh today: Farmers block highways in Punjab, Haryana to mark a year of farm laws, traffic to be hit

Bharat Bandh: Heavy police presence could be seen at various places in Haryana and Punjab to maintain law and other in view of the protest by farmers.




DNA - Published





Singhu swells for today's Bharat bandh

Mobilisation of farmers opposed to the new farm laws is in full swing for the Bharat bandh on Monday. Their presence at the Singhu protest site along the Delhi-Haryana border has considerably swelled.




IndiaTimes - Published





There's every possibility of mid-term polls in Haryana: OP Chautala




IndiaTimes - Published





Punjab should come together to foil Cong's ill designs: Haryana home minister

Terming former Punjab chief minister Capt. Amarinder Singh a "nationalist" who was "politically slain" as he was a hurdle in the way of the Congress's "anti-national conspiracy", Haryana..




IndiaTimes - Published





Haryana home minister Anil Vij takes jibe at Punjab's new chief minister




IndiaTimes - Published





Nitin Gadkari reveals he once ordered demolition of his father-in-law's house for road construction

Delhi-Mumbai Expressway covers Delhi, Haryana, Rajasthan, Madhya Pradesh, Gujarat, and Maharashtra, connecting national capital with financial capital




DNA - Published





100 deaths due to fatal fevers across five states in one month

MP, Haryana, West Bengal, Bihar and UP have seen around 100 deaths over the last month due to cases of high fever.




DNA - Published





Judicial probe ordered into August 28 Karnal episode, farmers call off sit-in

The stalemate between farmer groups sitting on an indefinite dharna at the Karnal mini-secretariat and the Haryana government ended on Saturday morning after the state ordered a judicial probe into..




IndiaTimes - Published





Haryana govt employees to face fine, suspension over delay in services

A fine of up to Rs 20,000 can be imposed on the officer or employee who delays the government work.




DNA - Published





Haryana refuses to scalp SDM, Karnal impasse on




IndiaTimes - Published





After UP, private schools in Haryana to come under RTI purview

If a school refuses to give information, a show-cause notice should be given to the school and recognition can be cancelled.




DNA - Published





Talks fail, farmers begin sit-in at Karnal mini secretariat

After a massive gathering in Karnal against the August 28 police action on protesters, farm organisations laid siege to the mini secretariat there on Tuesday and refused to budge until the Haryana..




IndiaTimes - Published





BJP can talk to Taliban but not Farmers, says Congress

The Congress has mounted further attack on the BJP-led government in Haryana for suppressing the voice of the farmers by blocking internet in Karnal. Congress chief spokesperson, Randeep Surjewala said..




IndiaTimes - Published





Farmers to hold 'mahapanchayat' in Haryana's Karnal today; internet suspended, Section 144 imposed

Hundreds of farmers will hold a 'mahapanchayat' in Haryana's Karnal today (September 7) in a demonstration against August 28 lathi charge on farmers.




DNA - Published





Centre, Haryana govts conspiring to crush farmers' protest: Congress




IndiaTimes - Published





Internet services to remain suspended for 24 hours in Haryana's Karnal ahead of farmers' mahapanchayat

The farmer leaders met with the Karnal administration to discuss the Karnal Mahapanchayat on September 7 and the gherao of the mini secretariat.




DNA - Published





Kisan Mahapanchayat: Haryana govt suspends internet services in Karnal




IndiaTimes - Published





Haryana extends lockdown till September 20, educational institutions to remain shut until further notice

Whether students can attend classes physically will be taken post-October 15 after reviewing the COVID-19 situation in the state




DNA - Published





Farmers demand judicial probe into Kajol's death, plan big stir in Haryana from September 6




IndiaTimes - Published





Haryana officer who asked cops to 'break' farmers' heads transferred




IndiaTimes - Published





E-challans worth Rs 1,975 crore since Sept 2019

Uttar Pradesh has collected the maximum fine of Rs 545 crore, followed by Bihar with Rs 488 crore and Delhi Rs 244 crore during September 2019 and July 2021, according to government data. Haryana and..




IndiaTimes - Published





'Lathjivi Sarkar' made people of Haryana bleed in past 2500 days: Surjewala




IndiaTimes - Published