Samajwadi Party
Political party in India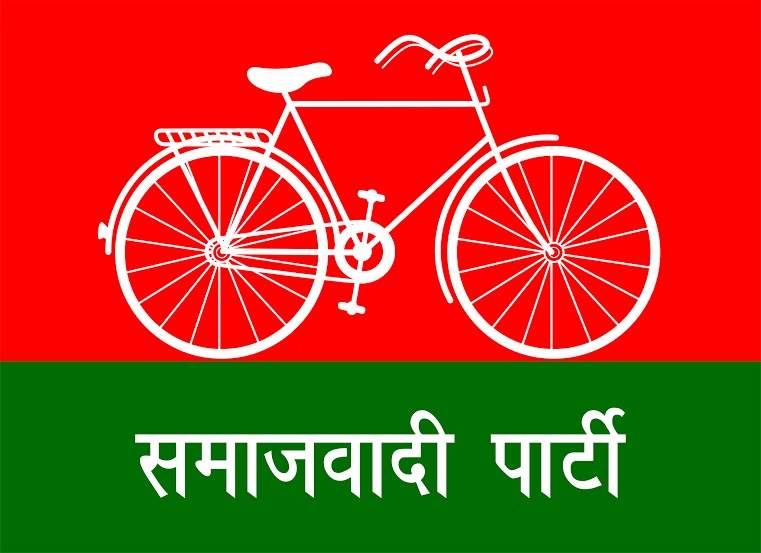 Samajwadi Party is a political party in India headquartered in New Delhi. It is mainly based in Uttar Pradesh.


'SP candidate's family misbehaved with me in Bhainswal,' alleges Sanjeev Balyan

Union Minister Sanjeev Balyan faced wrath in Bhainswal village of Uttar Pradesh during his visit on February 23. He said, "10-12 family members of a Samajwadi Party candidate misbehaved with me in..
Credit: ANI Duration: 02:06
Published
UP Deputy CM hits back at Akhilesh Yadav

"Opposition has no valid points and they are upset. Therefore they are speaking false statements," replied Uttar Pradesh Deputy Chief Minister Dinesh Sharma to Samajwadi chief Akhilesh Yadav's remark..
Credit: ANI Duration: 02:41
Published
Watch: Samajwadi Party MLAs create ruckus, shout slogans inside Assembly

The budget session of the Uttar Pradesh Assembly started off on a stormy note with Samajwadi Party MLAs creating ruckus and shouting slogans against the government. The SP legislators, who were holding..
Credit: HT Digital Content Duration: 02:11
Published
UP Assembly witnesses sloganeering, walkout by SP MLAs during budget session

MLAs of Samajwadi Party sloganeered against the ruling BJP inside the Assembly on February 18 amid the budget session. Later they staged a walkout during Governor Anandiben Patel's address in the Uttar..
Credit: ANI Duration: 01:10
Published
Nation attained independence through agitation: Akhilesh Yadav on PM Modi's 'andolan jivi' remark

Commenting on the Prime Minister Narendra Modi's 'andolanjivi' remark in Rajya Sabha, while replying to the motion of thanks on the President's address, Samajwadi Party chief and former chief minister..
Credit: ANI Duration: 02:12
Published
Veer Savarkar's portrait in UP Assembly irks Congress, SP

A portrait of Hindutva ideologue Veer Savarkar has been installed in the picture gallery of the Uttar Pradesh Legislative Council. The portrait was inaugurated by Chief Minister Yogi Adityanath on..
Credit: ANI Duration: 01:08
Published
Will support Mamata Banerjee to defeat BJP in WB polls: Akhilesh Yadav

Samajwadi Party (SP) chief Akhilesh Yadav on January 18 announced his party's support to West Bengal Chief Minister Mamata Banerjee for the upcoming assembly elections to defeat Bharatiya Janata Party..
Credit: ANI Duration: 01:10
Published
Never questioned experts, researchers over COVID-19 vaccine: Akhilesh Yadav

During press conference on January 04, Samajwadi Party chief Akhilesh Yadav said, "We want to know when the poor will get the vaccine? I would like to ask BJP that how long will it take them to give..
Credit: ANI Duration: 01:42
Published
Covid vaccine: Impotency fear to 'premature' approval, Opposition slams govt

On the day that the Drug Controller General of India announced the approval of two vaccines for Covid-19, a war of words between the government and the Opposition intensified. Congress leaders also..
Credit: HT Digital Content Duration: 05:14
Published
Akhilesh Yadav's fear against COVID vaccine justified: Rashid Alvi

Congress leader Rashid Alvi backed Samajwadi Party (SP) chief Akhilesh Yadav after the latter announced he will not get vaccinated against COVID-19 for now as the 'BJP government cannot be trusted.'..
Credit: ANI Duration: 01:28
Published
Akhilesh doesn't even listen to his father: Narottam Mishra on SP chief's 'BJP vaccine' remarks

Samajwadi Party Chief Akhilesh Yadav said that he won't get vaccinated as it is 'BJP vaccine'. Replying on his statement Madhya Pradesh Home Minister Narottam Mishra said that Akhilesh Yadav never..
Credit: ANI Duration: 01:11
Published
'People might become impotent,' says SP MLC on taking COVID-19 vaccine

Samajwadi Party chief Akhilesh Yadav on January 02 said that he won't get vaccinated because he does not trusts BJP's vaccine. Mirzapur SP MLC Ashutosh Sinha when asked about the same, said that people..
Credit: ANI Duration: 01:07
Published
'Unfortunate': Anurag Thakur on Akhilesh Yadav's 'BJP vaccine' remark

Samajwadi Party president Akhilesh Yadav Saturday termed the COVID-19 vaccines to be rolled out in the country as "vaccine of the BJP" and said he would not take the shot, drawing a sharp retort from..
Credit: HT Digital Content Duration: 02:47
Published
You Might Like



Why Owaisi's AIMIM poses serious challenge to Akhilesh Yadav's Samajwadi Party in UP

After a decent performance in the 2020 Bihar assembly elections, All India Majlis-e-Ittehadul Muslimeen (AIMIM) chief Asaduddin Owaisi has set his eyes on Uttar Pradesh (UP) that goes to polls next..




IndiaTimes - Published





Akhilesh Yadav's 'COVID-19 vaccine of BJP' remark draws sharp reactions

Samajwadi Party (SP) president and former Uttar Pradesh chief minister Akhilesh Yadav's remarks terming Covid-19 vaccines as "vaccine of the BJP" have drawn sharp reactions not just from the BJP..




IndiaTimes - Published





Covid-19 vaccines don't belong to any political party, but humanity: Omar Abdullah

Covid-19 vaccines do not belong to any political party, but humanity, National Conference leader Omar Abdullah said on Saturday, hours after Samajwadi Party chief Akhilesh Yadav termed coronavirus..




IndiaTimes - Published





Won't take Covid vaccine now, can't trust BJP, says Akhilesh

Samajwadi Party president Akhilesh Yadav on Saturday termed the Covid-19 vaccines to be rolled out in the country as "vaccine of the BJP" and said he would not take the shot. "How can I trust the..




IndiaTimes - Published




Farmer's death at Ghazipur border while protesting against farm laws disturbing: Akhilesh Yadav

Samajwadi Party (SP) president Akhilesh Yadav on Saturday termed the death of a 57-year-old farmer due to heart attack while protesting against the Centre's new farm laws at the Ghazipur border as..




IndiaTimes - Published





Muzaffarnagar: Woman player accuses Samajwadi Party leader of rape

The accused also took objectionable pictures of her during the incident and threatened to make them viral.




DNA - Published





Vice President, PM Modi, Speaker Om Birla, ministers pay tributes to Parliament attack heroes

Rajya Sabha deputy chairperson Harivansh, defence minister Rajnath Singh, home minister Amit Shah, leader of opposition in the Upper House Ghulam Nabi Azad, Ram Gopal Yadav of the Samajwadi Party and..




IndiaTimes - Published





BJP govt ignoring farmers: Akhilesh Yadav

Samajwadi Party president Akhilesh Yadav on Friday accused the BJP of adopting a heartless attitude towards the demands of farmers, and said the global response to the stir has "deeply" hurt the image..




IndiaTimes - Published





Cops detain Akhilesh Yadav after he sits on dharna on road, breaks cordon

Police took SP chief Akhilesh Yadav into custody on Monday after party leaders led by him broke through security cordon to sit on a dharna in the heart of the city to oppose the three farm bills..




IndiaTimes - Published





Akhilesh Yadav detained after staging sit-in protest outside his residence in Lucknow

UP police detained former CM and SP president Akhilesh Yadav after he staged a sit-in protest with his supporters on the road outside his residence.




DNA - Published





Farmers stir gives opposition rallying point; 18 parties support bandh

Leaders of 11 parties, including Congress president Sonia Gandhi, DMK chief M K Stalin, NCP patriarch Sharad Pawar, Samajwadi Party chief Akhilesh Yadav and Left Front's Sitaram Yechury and D Raja,..




IndiaTimes - Published





Akhilesh Yadav extends full support to Bharat Bandh call against farm laws

As several opposition parties came out in support of farmers' agitation near Delhi border, former Chief Minister of Uttar Pradesh and Samajwadi Party supremo Akhilesh Yadav has extended his support to..




IndiaTimes - Published





Moradabad MP terms 'love jihad' political stunt, asks Muslim boys to consider Hindu girls their 'sisters'

Samajwadi Party (SP) MP from Moradabad ST Hasan has termed "love Jihad" a political stunt and asked Muslim boys to consider Hindu girls their "sisters".​




IndiaTimes - Published





'One of our most experienced': PM Modi greets Mulayam Singh Yadav on 82nd birthday

Samajwadi Party workers celebrated party supremo Mulayam Singh Yadav's 82nd birthday outside his residence and the party office in Lucknow on Sunday.




DNA - Published





Man shot dead at Samajwadi Party MLC's house in Lucknow during birthday party

It is alleged that the gun accidentally went off during a playful scuffle between friends who were in an intoxicated condition.




DNA - Published





Samajwadi Party chief Akhilesh Yadav reveals plan for 2022 Uttar Pradesh Assembly election

It is to be noted that the Samajwadi Party a few weeks back withdrew its plea for disqualification of party MLA Shivpal Yadav from the Uttar Pradesh Assembly.




DNA - Published





Akhilesh hints at electoral tie-up with estranged uncle for UP Assembly polls

Hinting at a possible electoral tie-up with his estranged uncle's Pragatisheel Samajwadi Party for the Uttar Pradesh Assembly polls, Samajwadi Party chief Akhilesh Yadav on Saturday said Shivpal Yadav..




IndiaTimes - Published





Samajwadi Party attacks BJP over 'injustice and crime' in UP

The Samajwadi Party on Saturday alleged that every section of the society is a victim of injustice and crime under the BJP government in Uttar Pradesh.




IndiaTimes - Published





A BJP sweep in bypolls, crucial gains in MP secure its govt

Overall, the Congress, which had sitting MLAs in more than 40 seats, won 11 seats and was leading in one, while two seats were won by the BJD. One seat each was won by the Samajwadi Party, the JMM and..




IndiaTimes - Published





Union minister Puri, nine others elected unopposed to Rajya Sabha from Uttar Pradesh

Among those elected, eight belonged to the BJP, while one each are from the Samajwadi Party and the Bahujan Samaj Party.




DNA - Published





Big jolt to Mayawati as 5 BSP MLAs join Akhilesh Yadav's Samajwadi Party

The five MLAs have withdrawn their support to the BSP's official candidate, Ramji Gautam, for the Rajya Sabha biennial elections.




DNA - Published





Samajwadi Party patriarch Mulayam Singh Yadav tests positive for Covid-19




IndiaTimes - Published

Also reported by •DNA


SP leader Mulayam Singh tests Covid positive

Samajwadi Party leader Mulayam Singh Yadav on Wednesday tested positive for coronavirus, his party said in a statement. At present, he does not have any symptoms," SP's official handle tweeted.




IndiaTimes - Published





Veteran Samajwadi Party leader Mulayam Singh Yadav passes away

Former MLC of Samajwadi Party and veteran leader Mulayam Singh Yadav passed away on Saturday night in his native village.




DNA - Published





Honestly use PM Cares Fund for public good, online education of students: Akhilesh

Samajwadi Party chief Akhilesh Yadav on Wednesday said that the government should "honestly" turn the PM Cares Fund into a "public cares fund" and make arrangements for online education of students.




IndiaTimes - Published





Jaya Prada extends support to Ravi Kishan, accuses Jaya Bachchan of politicising issue

This comes after Samajwadi Party MP on Tuesday gave a zero hour notice in the Upper House over an alleged conspiracy to defame the film industry.




DNA - Published





Jaya Bachchan slams Ravi Kishan over attempt to 'tarnish' image of industry

Without naming BJP MP Ravi Kishan who had on Monday raised the issue of the use of drugs in the film industry, Samajwadi Party MP Jaya Bachchan on Tuesday stated that she was "ashamed that yesterday..




IndiaTimes - Published





Akhilesh Yadav attacks Centre over India ranking second in Covid cases globally

BJP government's claims have been exposed with India becoming number 2 in the world in corona cases, tweeted SP leader Akhilesh Yadav . He further alleged that, the government took public data from the..




IndiaTimes - Published





UP govt indifferent to people's plight: Akhilesh Yadav

Accusing the Yogi Adityanath government of ignoring the youths' problems, Samajwadi Party chief Akhilesh Yadav on Sunday demanded a "youth charter" envisaging the solution to their problems in a..




IndiaTimes - Published





Akhilesh Yadav backs demand to defer JEE, NEET amid Covid-19

Samajwadi Party chief Akhilesh Yadav on Thursday spoke out against the conduction of Joint Entrance Examination (JEE) and National Eligibility cum Entrance Test (NEET) in the middle of Covid-19..




IndiaTimes - Published





RS bypoll on Sep 11 for seat vacated following Amar Singh's death

The Rajya Sabha bypoll to fill the seat vacated due to the death of former Samajwadi Party leader Amar Singh will be held on September 11, the Election Commission announced Friday. Singh had died in a..




IndiaTimes - Published





Akhilesh Yadav attacks BJP govt for crimes against women in UP

Samajwadi Party (SP) chief Akhilesh Yadav attacked the BJP government in Uttar Pradesh over the incident in which a 13-year-old girl was allegedly raped and murdered in Isanagar in Lakhimpur Kheri and..




IndiaTimes - Published





SP leader Mulayam Singh Yadav admitted to hospital




IndiaTimes - Published





Amar Singh, Rajya Sabha member and former SP leader, passes away




IndiaTimes - Published





People no longer trust BJP govt in UP: Akhilesh

The BJP government in Uttar Pradesh, as far as policy, intention and leadership are concerned, is "crippled" and the people no longer trust it, Samajwadi Party chief Akhilesh Yadav alleged on Sunday.




IndiaTimes - Published





Samajwadi Party announces Rs 2 lakh compensation for journalist Vikram Joshi's family




IndiaTimes - Published





Akhilesh Yadav questions Vikas Dubey's encounter

Samajwadi Party supremo Akhilesh Yadav on Friday raised questions on gangster Vikas Dubey's encounter killing after an accident, saying the car did not topple but it was an effort to save the..




IndiaTimes - Published





Kanpur encounter: Opposition parties slam Yogi Adityanath govt over law and order situation

Opposition parties in Uttar Pradesh, including the Congress and Samajwadi Party, on Friday lashed out at the Yogi Adityanath government over the killing of eight policemen in an encounter in Kanpur,..




IndiaTimes - Published





Congress, Left slam remarks, Jagan & KCR back PM

PM Narendra Modi's no-intrusion-no-encroachment-in-Ladakh remark touched off strong reactions from Congress, Left parties and Samajwadi Party, who said it will have serious repercussions for..




IndiaTimes - Published





Akhilesh Yadav hits out at BJP, says billions being spent on virtual rallies

Samajwadi Party chief Akhilesh Yadav on Tuesday criticized Union home minister for holding virtual rallies for the upcoming Assembly elections in Bihar and West Bengal and said billions are being spent..




IndiaTimes - Published





New Commission for migrant workers by UP govt a diversionary tactic: Akhilesh Yadav

Samajwadi Party leader and former Uttar Pradesh chief minister Akhilesh Yadav on Tuesday criticised the Uttar Pradesh government's decision to create a commission for migrant workers and called it a..




IndiaTimes - Published





Two arrested after Samajwadi Party leader, son shot dead in UP's Sambhal

The shooting was captured on a mobile camera where two people fired at the father-son duo following an argument over the road construction.




DNA - Published





Akhilesh Yadav: Why thousands of buses not utilised to send migrants home?

Samajwadi Party president Akhilesh Yadav said on Tuesday that the people were wondering why thousands of buses were not being used by the Uttar Pradesh government to send the stranded migrant workers..




IndiaTimes - Published





Centre is again making false promises to 133 crore Indians: Akhilesh Yadav on Rs 20 lakh crore special economic package

Samajwadi Party chief Akhilesh Yadav on Wednesday took a jibe at Prime Minister Narendra Modi over announcing Rs 20 lakh crore special economic package to boost the economy saying that the Centre is..




IndiaTimes - Published





Samajwadi Party patriarch Mulayam Singh Yadav admitted to Lucknow hospital again for stomach-related ailments

This is the second time that the Samajwadi leader has been admitted to the hospital within the span of just five days.




DNA - Published





Akhilesh targets UP govt over spraying migrant workers with 'disinfectant'

Samajwadi Party president Akhilesh Yadav on Monday targeted the Yogi Adityanath government over allegedly spraying a group of migrants returning to their homes in Uttar Pradesh with "chemicals" to..




IndiaTimes - Published





Former Union Minister and Samajwadi Party leader Beni Prasad Verma passes away

Verma, a founding member of the Samajwadi Party, had been a close associate of Mulayam Singh Yadav, the founder-patron of the party.




DNA - Published





There can be understanding with SP for 2022 UP polls: Shivpal Yadav

Pragatisheel Samajwadi Party (Lohia) chief Shivpal Singh Yadav has hinted of an "understanding" between his party and the Samajwadi Party, headed by his estranged nephew Akhilesh Yadav, for the 2022..




IndiaTimes - Published





BJP doing 'poaching politics' in Madhya Pradesh, says Adhir Ranjan Chowdhury

Taking to Twitter, another Congress leader Digvijaya Singh had earlier stated (roughly translated from Hindi): "The BJP has started the process of bringing the MPs of BSP, Congress, Samajwadi to Delhi...




IndiaTimes - Published





Samajwadi Party MP Azam Khan surrenders with wife and son, sent to judicial custody till March 2

They had been ignoring summons from the court for a long time, in relation to various warrants issued against them in several different cases.




DNA - Published