Pangong Tso
Soda lake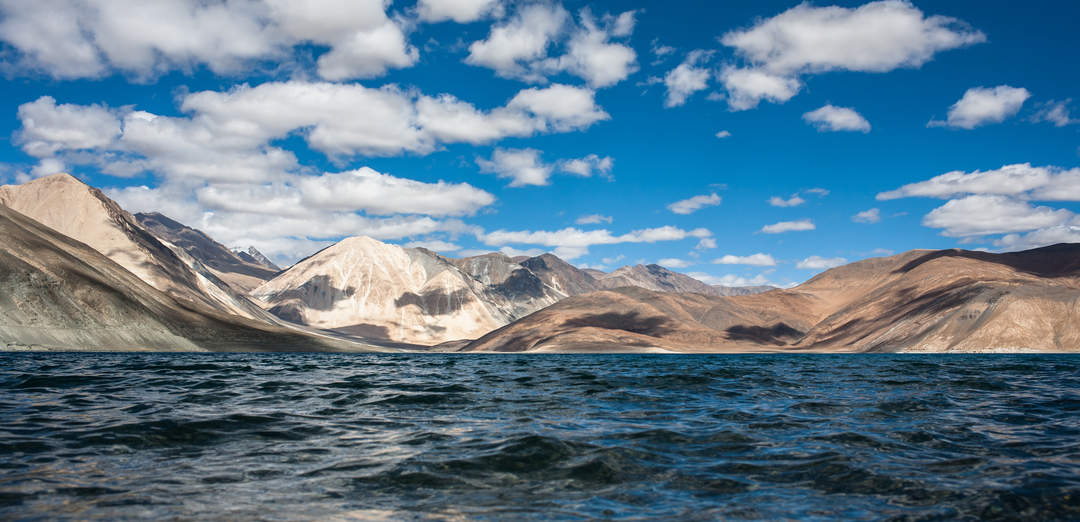 Pangong Tso or Pangong Lake is an endorheic lake spanning eastern Ladakh and West Tibet situated at an elevation of 4,225 m (13,862 ft). It is 134 km (83 mi) long and divided into five sublakes, called Pangong Tso, Tso Nyak, Rum Tso and Nyak Tso. Approximately 50% of the length of the overall lake lies within Tibet, 40% in Ladakh and the rest is disputed but controlled by China. The lake is 5 km (3.1 mi) wide at its broadest point. All together it covers 604 km2. During winter the lake freezes completely, despite being saline water. It has a land-locked basin separated from the Indus River basin by a small elevated ridge, but is believed to have been part of the latter in prehistoric times.


India, a thriving democracy asserting its influence globally: ANI Chairman Prem Prakash at his book launch

India is not just an emerging power but has power of its own in many ways, ANI Chairman and veteran journalist Prem Prakash has said and noted that the withdrawal by China in Pangong Lake area in..
Credit: ANI Duration: 02:00
Published
India-China 10th round of military talks lasted for around 16 hours | Oneindia News

India and China have concluded the tenth round of military talks, which began yesterday morning after 10 AM and lasted for about 16 hours. The talks come as the two neighbouring countries completed the..
Credit: Oneindia Duration: 01:05
Published
Pangong Tso disengagement: Why China blinked after months of deadlock?

India and China have reached an agreement to disengage from the northern and southern banks of Pangong Lake in Eastern Ladakh. This comes after a long standoff between the forces of the two countries..
Credit: HT Digital Content Duration: 23:50
Published
Watch: India, China start withdrawing troops and tanks from Pangong Lake

Indian and Chinese troops and tanks disengaging from the banks of Pangong Lake area in Eastern Ladakh where they had been deployed opposite each other for almost ten months now. The two countries have..
Credit: ANI Duration: 01:34
Published
'India has not ceded any territory': Defence Ministry after Rahul's LAC remarks

India has not "conceded" any territory to China by firming up an agreement on the disengagement process in Pangong Tso in eastern Ladakh, and other outstanding "problems" including in Depsang, Hot..
Credit: HT Digital Content Duration: 04:23
Published
'PM Modi gave Indian territory to China': Rahul Gandhi on LAC disengagement

Politics has erupted over the disengagement at the LAC with China in Ladakh. Congress leader Rahul Gandhi attacked the Prime Minister and accused him of giving India territory to the Chinese. Rahul..
Credit: HT Digital Content Duration: 04:25
Published
Status quo ante pre-April 2020 on LAC restored or not? Owaisi questions Defence Minister

Commenting on Defence Minister's remarks on disengagement of Chinese troops from LAC, AIMIM chief Asaduddin Owaisi claimed that the latter has not revealed whether status quo ante pre April 2020 has..
Credit: ANI Duration: 01:12
Published
Objective is to restore peace and tranquillity along LAC: Rajnath Singh

"India and China have maintained communication with each other through military and diplomatic channels. Our objective was to effect disengagement and maintain status quo along the LAC so as to restore..
Credit: ANI Duration: 01:30
Published
India hasn't conceded anything: Rajnath Singh on disengagement agreement with China

"We have been able to reach with the Chinese side for disengagement in Pangong Lake area," informed Defence Minister Rajnath Singh in Lok Sabha. "Agreement envisages that both sides will cease their..
Credit: ANI Duration: 01:34
Published
Agreement with China on disengagement at Pangong Lake: Rajnath Singh in RS

Amid the ongoing standoff with China at the Ladakh border area, Defence Minister Rajnath Singh makes a statement in Rajya Sabha on February 11, regarding the 'present situation in Eastern Ladakh'...
Credit: ANI Duration: 02:27
Published
You Might Like



Game-changer idea to occupy Pangong south bank heights came up during NSA-led meetings

Sources said the idea to occupy the heights to gain an edge over the Chinese in the conflict zone emerged during the meetings led by National Security Advisor Ajit Doval with military commanders..




IndiaTimes - Published





Pangong disengagement a 'win-win situation' for both sides: Gen Naravane




IndiaTimes - Published





India cleared three proposals from Hong Kong in Feb, scrutiny on Chinese investment remains

The Indian government has cleared three proposals from Hong Kong on February 5, much before the first phase of disengagement began at Pangong lake.




DNA - Published





Disengagement at Pangong lake a significant step forward, India-China in joint statement

India, China agreed to continue their communication and push for a mutually acceptable resolution of the remaining issues along LAC.




DNA - Published





India-China military talks: 'Pangong Lake disengagement key step forward'




IndiaTimes - Published





Disengagement in Pangong over, fresh talks today

India and China have completed troop disengagement on both sides of Pangong Tso in eastern Ladakh, setting the stage for talks on the remaining 'friction points' at Hot Springs, Gogra and Demchok as..




IndiaTimes - Published





India, China to hold military talks on Saturday after completing Pangong Tso disengagement

India and China have completed troop disengagement on both sides of Pangong Tso in eastern Ladakh, setting the stage for talks on the remaining 'friction points' at Hot Springs, Gogra and Demchok as..




IndiaTimes - Published





India, China to discuss disengagement in Gogra, Hot Springs and Depsang plains on Saturday

According to Army sources, India and China are set to hold the 10th round of Corps Commander level talks at 10 am on Saturday on the Chinese side of the LAC in Moldo. Disengagement of troops has been..




IndiaTimes - Published





India-China disengagement complete at Pangong Tso, corps commander-level talks tomorrow

The disengagement process of the Indian and Chinese troops on both sides of Pangong Tso has been completed. The move comes after a nine month long border standoff in eastern Ladakh. The two armies..




IndiaTimes - Published





LAC row: China dismantles jetty, helipad on north bank of Pangong Tso




IndiaTimes - Published





'LAC disengagement in India's favour, China will vacate most prickly parts'

Once concluded, the disengagement at Pangong Tso will work well for India as it means vacation of the most prickly part of Chinese intrusions along the LAC. Top government sources said concerns that..




IndiaTimes - Published





India-China disengagement at Pangong Tso to be over by this week

Once the disengagement is over, no patrolling will take place in the area from Finger 4 to Finger 8 till both sides agree via diplomatic talks.




DNA - Published





Chinese soldiers vacating Finger 4 area of Pangong lake, dismantling shelters




IndiaTimes - Published





Parliamentary panel on defence decides to visit Galwan Valley, Pangong in eastern Ladakh

The parliamentary standing committee on defence has decided to visit the Galwan Valley and Pangong lake in eastern Ladakh region which has been witness to a violent stand-off between the troops of..




IndiaTimes - Published





Indian-Chinese troops disengagement at Pangong Tso lake - Defence Ministry's 10 pointers

Disengagement process between Indian and Chinese armies began on Wednesday on both sides of Pangong Tso lake in Eastern Ladakh.




DNA - Published





Twitter Faceoff: India-China disengagement stirs debate

The process of disengagement between Indian and Chinese armies that began on Wednesday on both sides of Pangong Tso has sparked a debate on micro-blogging platform Twitter with many expressing..




IndiaTimes - Published





Pangong Tso disengagement may be over in just a fortnight




IndiaTimes - Published





Pangong Tso 'done', India to raise Depsang at next meet

India will raise the issue of the strategically located Depsang area in Ladakh with China in the next round of corps commander level talks, amid some concerns that it may have squandered its major..




IndiaTimes - Published





Indian troops on hill tops, we have edge in Ladakh: Rajnath

An agreement has been reached with China on disengagement on the north and south banks of Pangong Tso in east Ladakh, with identification of strategically important points and positioning of Indian..




IndiaTimes - Published





India-China border row: How several rounds of talks led to disengagement at LAC

The process of disengagement between Indian and Chinese armies that began on Wednesday on both sides of Pangong Tso is only the first step. What began with initial talks in June 2020 took over eight..




IndiaTimes - Published





Disengagement pact mandates China to move troops to Finger 8 from Finger 4 in Pangong area




IndiaTimes - Published





India, China agree to disengage in north and south bank of Pangong Lake

An agreement has been reached with China on disengagement in the North and South Bank of Pangong Lake in Ladakh, as part of which both Indian and Chinese troops will cease their forward deployments in..




IndiaTimes - Published





45 Chinese soldiers killed during clashes with Indian troops at Galwan Valley, reveals Russian news agency

TASS made the claim on the day when Indian and Chinese troops started disengagement from the shared border near the Pangong Tso lake.




DNA - Published





India-China border tension: Troops have begun disengagement at Pangong Lake, says China

The Chinese and Indian border troops began disengagement as planned on Wednesday according to the consensus reached in 9th round of talks.




DNA - Published





Ladakh reopens Pangong for tourists amid China standoff

There's good news for adrenaline junkies and mountain lovers. The Ladakh administration has opened up for tourists the iconic Pangong-Tso lake, about six hours drive in summer from capital Leh and..




IndiaTimes - Published





Army finalises deal to procure 12 patrol boats for surveillance of Pangong lake, other water bodies

The Indian Army has finalised procurement of 12 high-performance patrol boats to enhance its surveillance of large water bodies, including the Pangong Lake in eastern Ladakh where India and China are..




IndiaTimes - Published





India-China standoff: India deploys marine commandos at Pangong lake in eastern Ladakh

The Navy commandos are soon going to get new boats for operations in the lake along with the existing infrastructure for operations.




DNA - Published





MARCOS deployed near Pangong Lake in eastern Ladakh, naval commandos to get new boats soon

The idea behind the deployment of the MARCOS in Eastern Ladakh where Indian Air Force's Garud operatives and Indian Army's Para Special Forces is to enhance the integration of the three services and..




IndiaTimes - Published





Modi hints at bold Pangong action that got India the edge

In an acknowledgement of Indian troops claiming the heights on the south bank of Pangong lake in late August, Prime Minister Narendra Modi indicated the action gained the country crucial bargaining..




IndiaTimes - Published





LAC: India, China to dismantle new structures built after April-May timeframe under disengagement plans

As part of the disengagement proposals being discussed between India and China, the two sides would dismantle any new structures that have come up during the ongoing standoff since April-May this year..




IndiaTimes - Published





Ladakh standoff: Chinese troops likely to move back to Finger 8, withdraw tanks from forward locations

After the Chinese tried to make a provocative military move, India occupied critical mountain heights on the southern bank of the Pangong Lake like Rechin La, Rezang La, Mukpari, and Tabletop that were..




DNA - Published





India, China agree on three-step disengagement plan from Pangong lake area, movements to be verified closely

In a major development, the ongoing India-China border conflict may be resolved soon as the armies of the two countries have agreed for disengagement from parts of the Eastern Ladakh sector under which..




IndiaTimes - Published





Winter's bringing LAC 'new normal'

The next round of military talks are on the anvil, but are yet to be scheduled and it is significant that the Indian side does not seem in a hurry to set the date. As movement in and out of areas like..




IndiaTimes - Published





LAC tensions: This is how India is preparing to tame the 'dragon' during winters

India wants the whole of Eastern Ladakh to be discussed, including the southern shore of Pangong Lake, starting from Depsang. China, on the other hand, is continuously engaged in strengthening its..




DNA - Published





We have parity with PLA, can give befitting reply: Rajnath Singh

Rajnath Singh's remark came against the backdrop of the Army's successful manoeuvre in taking control of strategic heights in the Pangong lake region of Ladakh and the warning to PLA commanders..




IndiaTimes - Published





India rejects China's push at military talks on Ladakh standoff to start disengagement from south bank of Pangong Tso: Sources




IndiaTimes - Published





LAC row: Ensure complete disengagement, India tells China

India on Monday asked China for "concrete and complete" troop disengagement from the 'friction points' at Pangong Tso, Chushul and Gogra-Hotsprings as well as finalisation of the roadmap for..




IndiaTimes - Published





Both countries need to focus on easing tensions, India tells China

India on Thursday asked China to sincerely work with the Indian side for complete disengagement "at the earliest" from all friction areas, including Pangong Lake, as well as de-escalation in border..




IndiaTimes - Published





LAC stand-off: India says China should work with it for complete disengagement in eastern Ladakh

India on Thursday said China should sincerely work with it for complete disengagement of troops at the earliest from all friction areas including Pangong lake and take steps to de-escalate the..




IndiaTimes - Published





India reiterates calls to China for complete disengagement at LAC

Ministry of external affairs spokesperson Anurag Srivastava said, "The Chinese side should sincerely work with the Indian side for complete disengagement at the earliest from all friction areas..




DNA - Published





China puts up loudspeakers at Finger 4 area of Pangong Lake, plays Punjabi songs to distract Indian troops

The Chinese forces have resorted to old propaganda of misleading the troops and played Punjabi songs on loudspeakers at the Finger 4 area in eastern Ladakh.




DNA - Published





Chinese troops fired warning shots in air at north bank of Pangong lake in eastern Ladakh: Sources

The Chinese army fired a barrage of "warning shots" in the air at the North Bank of Pangong lake in eastern Ladakh last week to "intimidate" the Indian troops ahead of the talks between foreign..




IndiaTimes - Published





Three firing incidents between India-China in last 20 days in Eastern Ladakh

Having gone 45 years without a bullet being fired along the LAC, India and China had at least 3 firing incidents between their troops in Eastern Ladakh in the last 20 days over the territorial dispute...




IndiaTimes - Published





India has made adequate deployments in response to Chinese troop mobilisation along LAC: Rajnath

"As of now, the Chinese side has mobilized a large number of troops and armaments along the LAC as well as in the depth areas. There are several friction areas in Eastern Ladakh including Gogra, Kongka..




IndiaTimes - Published





'China laying optical fibre cables south of Pangong Tso to boost communication'




IndiaTimes - Published





India, China troops within shooting range at Spanggur Gap

China has mobilised thousands of soldiers, tanks and howitzers within rifle range of Indian Army deployment at Spanggur Gap in the southern part of Pangong Tso in eastern Ladakh, sources said, even as..




IndiaTimes - Published





Indian Army occupies heights overlooking Chinese army positions at Finger 4 along Pangong lake

The Indian Army has occupied heights overlooking the Chinese Army positions at Finger 4 along Pangong lake.The operations to occupy the heights were carried out along with the pre-emptive actions to..




IndiaTimes - Published





China says 'compelled to take measures' after Indian Army rejects cross-border fire allegations

China still maintains that the Indian Army troops had illegally crossed the Line of Actual Control (LAC) and entered the south bank of Pangong Tso Lake in eastern Ladakh on September 7. This statement..




DNA - Published





'Never transgressed across LAC, exercised great restraint,' clarifies Indian Army after China alleges cross-border fire

Amid the escalating border tensions between India and China, the Indian Army has released a statement on the India-China border dispute, clarifying that the Indian Army did not transgress across the..




DNA - Published





China says Indian Army crossed LAC in Shenpao mountain near Pangong Lake, fired 'warning shots'

Amid the escalating border tensions between India and China, Beijing has now said that Indian Army soldiers have crossed the Line of Actual Control (LAC) in Shenpao mountains near the Pangong Tso Lake..




DNA - Published