Tawang
Town in Arunachal Pradesh, India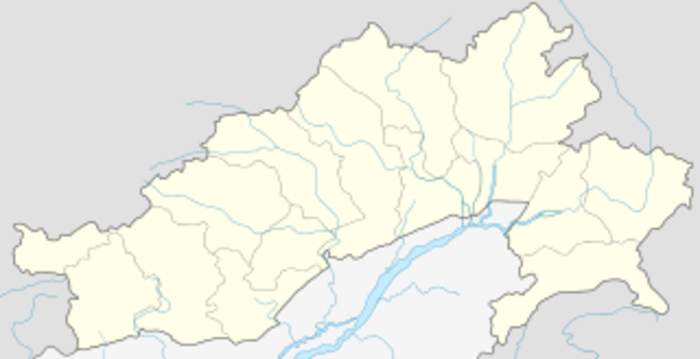 Tawang is a town in the Indian state of Arunachal Pradesh.


You Might Like
Rijiju'latest entrant to Modi stable of Distorians', Congress hits back on claim that Nehru did not want Tawang as part of India
IndiaTimes - Published
Lt-Colonel killed in Cheetah helicopter crash, co-pilot grievously injured
The obsolete single-engine Cheetah and Chetak helicopters, which lack modern avionics, suffer from poor maintainability and have a high crash rate, have taken one more precious life in the armed..
IndiaTimes - Published
Arunachal Pradesh: Indian Army's Cheetah helicopter crashes in Tawang; one pilot killed, other injured
A Cheetah helicopter crash in Tawang claimed the life of one Indian Army pilot, while the other is injured and is undergoing treatment.
DNA - Published
Army Cheetah helicopter crashes in Arunachal Pradesh, 1 pilot killed
An Army chopper crashed near Tawang during a routine sortie on Wednesday morning killing one of the two pilots. According to Army sources, after the crash both the pilots were evacuated to the nearest..
IndiaTimes - Published
Heavily-fortified Tawang to get its first cinema theatre on November 20
IndiaTimes - Published
China does not have any right in choosing next Dalai Lama: Head of Tawang monastery
IndiaTimes - Published
Strategic Sela Tunnel for Tawang to be completed by mid-2022
The Border Roads Organization is feverishly working to complete the over Rs 700 crore Sela Tunnel project, which consists of two tunnels and approach roads, before the deadline of August next year...
IndiaTimes - Published
Minor face-off at Tawang after Chinese troops intrude into Indian territory
The "physical engagement" took place after over 100 Chinese soldiers intruded into what India considers to be its territory around 10 days ago, which led both sides to rush some reinforcements to..
IndiaTimes - Published
Alertness levels very high, China can't surprise us, says ITBP on LAC in Tawang sector
Having already given a bloody nose to the People's Liberation Army troops in Eastern Ladakh during face-offs in the ongoing conflict, the ITBP in the sensitive Tawang sector in Arunachal Pradesh says..
IndiaTimes - Published