Gambia
Latest news and video coverage curated from trusted media outlets
Gambia - The Gambia - THE GAMBIA - An amazing story

Explore the colonial legacy, the twists and turns of history, and the significance of The Gambia's location.
Credit: Rumble Duration: 07:03
Published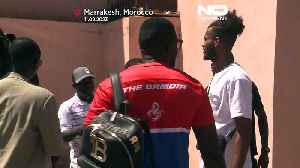 WATCH: Gambian national football team donates blood for Morocco quake victims

The Gambia's national football team players donate blood at a centre in Morocco's Marrakesh after a 6.8-magnitude earthquake struck the country.
Credit: euronews (in English) Duration: 01:00
Published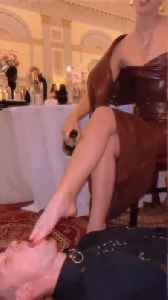 Feet Lovers

#feet #toes #foot #footfetishnation #feetporn #soles #feetlovers #feetpics #feetworship #footfetish #feetfetishworld #prettyfeet #instafeet #legs #barefeet #feetmodel #prettytoes #footmodel #sexyfeet..
Credit: Rumble Duration: 00:41
Published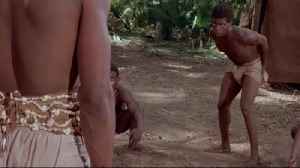 Roots (1977) [1 of 12]

Episode 1 (8 April 1977) - In 1750, in Gambia, West Africa, Kunta Kinte, son of Omoro and Binta, distinguishes himself among his tribesmen in manhood training rituals.
Credit: Rumble Duration: 47:23
Published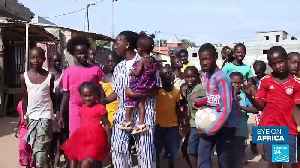 Maryama Cham, rising star in Gambia: Singer's sharp songwriting and striking voice has won over fans


Credit: FRANCE 24 English Duration: 02:02
Published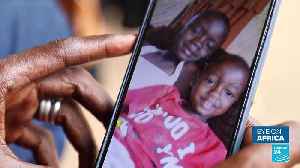 Deadly cough syrup in The Gambia: Bereaved parents sue drugmaker, local authorities


Credit: FRANCE 24 English Duration: 01:59
Published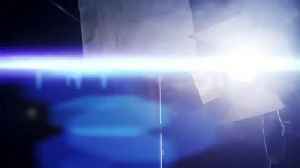 PAN AFRICAN BLISS-THERE IS NO WAY AFRICA GAVE UP ITS HEALTH TO COLONIZERS

Hello fairly kindly join me o9n todays conversation as we shall di8scuss about the situation that happened months ago in gambia,kenya and some parts of Nigeria as well where an indis syrup killed..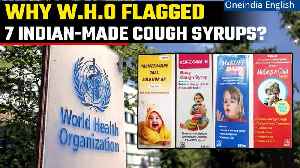 World Health Organisation flags 7 Indian-made cough syrups, Know Why | Oneindia News

The World Health Organisation has flagged 7 Indian-made cough syrups after fatalities in Uzbekistan, Gambia, and Nigeria. #WHO #coughsyrups #medicine ~PR.150~ED.155~HT.96~
Credit: Oneindia Duration: 02:15
Published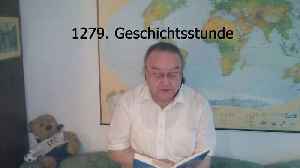 1279. Stunde zur Weltgeschichte - – WOCHENSCHAU VOM 30.09.2013 BIS 06.10.2013

Türkei – Kopftuchverbot für Staatsbedienstete wird aufgehoben / Präsidentschaftswahl auf Dominica / Parlamentswahl in Kamerun / BRD (US-Zone) – "Loewe" meldet Insolvenz an / BRD (US-Zone)..
Credit: Rumble Duration: 03:47
Published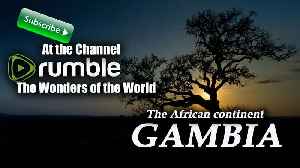 The African continent GAMBIA

The Gambia is a small country located on the western coast of the African continent. Despite its small size, The Gambia offers a unique and captivating experience for visitors.
Credit: Rumble Duration: 03:11
Published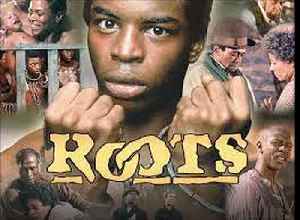 ROOTS (part 1,1977)---in English with Arabic subtitles

A different view of African slavery in the first part of an American TV miniseries, in which Europeans conduct their own slaving raids in Africa. In 1750, in Gambia, West Africa, Kunta Kinte, son of..
Credit: Rumble Duration: 32:12
Published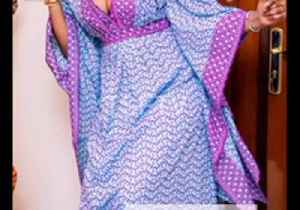 2023 Africaine/ Elegant And Stylish Senegalese Mali Guinea Gambia African Fashion Dress Styles

2023 Mode Africaine/ Elegant And Stylish Senegalese Mali Guinea Gambia African Fashion Dress Styles
Credit: Rumble Duration: 08:02
Published
You Might Like



"Diplomatic Exchange: Building Bridges Beyond Borders" - SRM University-AP Hosts Diplomats from Over 13 Countries

SRM University-AP organised an exclusive gathering of diplomats, academicians, and policy leaders from across the globe at the "*Diplomatic Exchange: Building Bridges Beyond Borders*"**on August 05,..




NewsVoir - Published





MoS Muraleedharan discusses cooperation in trade, health with Gambia High Commissioner




newKerala.com - Published





BRICS CCI WE Outlines Digital Inclusivity as a Key Gamechanger for Women in their Pursuit for Economic Equality

· Hosts Annual Summit and Felicitations on the Theme-Women Shaping the Techade · Smt. Aruna Sundarajan, Former Secretary, Dept. of Telecommunications recognised with the lifetime achievement..




NewsVoir - Published





Cough syrup from India behind deaths of kids, says US-Gambia joint probe




IndiaTimes - Published





WHO Calls for Action to Protect Children After Cough Syrups Linked to More Than 300 Deaths Globally

The four substandard products were identified in the Gambia and reported to the WHO in September 2022.




Zee News - Published





Cough syrup deaths: Congress links Gambia incident with Uzbekistan, BJP hits back




newKerala.com - Published





After Gambia, Uzbekistan claims 18 children deaths linked to India-made cough syrup

The Uzbek health ministry stated that 18 youngsters who died had taken the cough medicine Doc-1 Max, which is produced by Noida-based Marion Biotech.




DNA - Published




Uzbekistan claims 18 children DEAD after consuming cough syrup made in India; WHO to assist in probe

The Health Ministry of Uzbekistan has issued a statement stating that the children who died had consumed cough syrup Dok-1 Max - manufactured by Noida-based Marion Biotech. The Dok 1 Max syrup and..




Zee News - Published





UK: Dead man found in undercarriage of plane at London's Gatwick Airport

The investigations started after an unidentified male was found on the TUI Airways plane flying to London's Gatwick airport from Gambia's Capital, Banjul, reports AP.




Zee News - Published





Gambia panel says Indian manufacturer culpable for cough syrup deaths




newKerala.com - Published





Gambia death case: Drug regulator finds no contamination in syrup, calls out WHO's deduction premature




newKerala.com - Published





Gambia deaths case: Four cough syrups made by Maiden Pharmaceuticals are of standard quality, declares Centre




newKerala.com - Published





India not responsible Gambia cough syrup deaths? WHO drew 'early link' between children deaths, Maiden pharma

WHO said that they drew a "premature link" between the deaths of children in Gambia to the Indian pharmaceutical companies who sold cough syrup.




DNA - Published




WHO`s premature linking of Gambia children deaths to Indian cough syrups adversely affected pharma industry`s image: DGCI

Drugs Controller General of India (DCGI) Dr V G Somani said a statement issued by WHO in October in the wake of the deaths "was unfortunately amplified by the global media which led to a narrative..




Zee News - Published





Cameroon vs Gambia, Match 26, ICC T20 WC 2024 Sub Regional Qualifier B, 2022, December 9, 2022




DNA - Published




WHO report, samples result on mysterious deaths of Gambia children still pending: Sources




newKerala.com - Published





Narayan Murthy says death of Gambia children due to Indian cough syrup shameful

Infosys founder, Narayan Murthy says that the death of children in Gambia due to Indian cough syrup brings shame to the country.




DNA - Published




India awaits WHO information on any cough syrup link to Gambia deaths




IndiaTimes - Published





Cough syrup row: Gambia says it has not yet confirmed syrup as cause of child deaths

In October, WHO had issued a medical product alert for four contaminated medicines identified in Gambia.




DNA - Published




Gambia deaths: India seeks more details from WHO




IndiaTimes - Published





Gambia cough syrup deaths: Govt panel says info shared by WHO so far inadequate to determine aetiology

Rutendo Kuwana from the WHO on October 13 had written to the DCGI seeking to know the progress with the investigation of the manufacturer of the four cough syrups -- the Sonipat-based Maiden..




Zee News - Published

Also reported by •IndiaTimes


Gambia children deaths: DCGI seeks more details from WHO to establish causal relationship

The body said it had shut production in the manufacturing units of the company days.




DNA - Published




Gambia Children Death Case: India-made cough syrup allegedly kills 66 children in Africa - all you need to know

Gambia child death case: The  World Health Organisation has issued alerts of India-made Maiden Pharmaceuticals Limited cough syrup "potentially linked with acute kidney injuries and 66 children`s..




Zee News - Published





Gambia cough syrup deaths: S Jaishankar assures probe to Gambian counterpart

The WHO shared a detailed report on the deaths of 66 children, and the Center has assembled a four-person panel to investigate it.




DNA - Published




India seriously probing deaths of children, Jaishankar tells Gambia

Foreign minister S Jaishankar spoke to his Gambian counterpart Mamadou Tangara on Thursday and conveyed India's deepest condolences on the deaths of children recently in the west African country, while..




IndiaTimes - Published





Govt forms panel to probe WHO report on kids' deaths in Gambia

The Centre on Wednesday formed a four-member committee to examine details and 'adverse event' reports received from the WHO on the deaths of 66 children in Gambia that are being linked potentially to..




IndiaTimes - Published





Centre forms committee to examine WHO details on 66 kid deaths in The Gambia




newKerala.com - Published

Also reported by •Zee News


Centre forms four-member expert team to probe WHO claims on Maiden Pharmaceuticals

LHI: The Central Government on Wednesday formed a four-member expert committee to investigate the report sent by the World Health Organisation (WHO) on the deaths of 66 children in Gambia by..




IndiaTimes - Published





Haryana STOPS cough syrup production by Maiden Pharma linked to 66 child deaths in Gambia

Earlier on Monday, the Indian Pharma company had released a statement over the reports linking its cough syrups to the deaths of 66 children in Gambia.  




Zee News - Published





Maiden Pharma may lose import-export licence over cough syrup controversy in Gambia

The suspension of membership implies that Maiden Pharmaceuticals will not be eligible to receive any incentives.




DNA - Published




Shocked to hear... Maiden Pharma breaks silence on cough syrup deaths in Gambia




newKerala.com - Published





Maiden Pharma under scrutiny after 66 children died consuming cough syrup in Gambia

The drug regulators have obtained samples of cold and cough medicine from Maiden Pharmaceuticals in response to a WHO medical alert.




DNA - Published




Gambia children deaths: Cough syrups not sold in India, says pharma firm




IndiaTimes - Published





Maiden Pharma issues statement after Gambia child deaths case

Maidan Pharma has said that it has been 'obtaining raw materials from certified and reputed companies'.




DNA - Published




Deaths in Gambia due to India-made cough syrups: Centre takes steps to curb damage, Haryana firm remains non-operational

Central Drugs Standard Control Organisation (CDSCO) launched an inquiry and alerted Haryana last week after learning about the Gambia tragedy.




DNA - Published




Firm behind Gambia child deaths a repeat offender in India

The Central Drug Standard Control Organisation (CDSCO) has been quick to assure people that the cough syrup which killed 66 children in Gambia was not being sold locally in India, but the same company,..




IndiaTimes - Published