Brexit
UK withdrawal from the European Union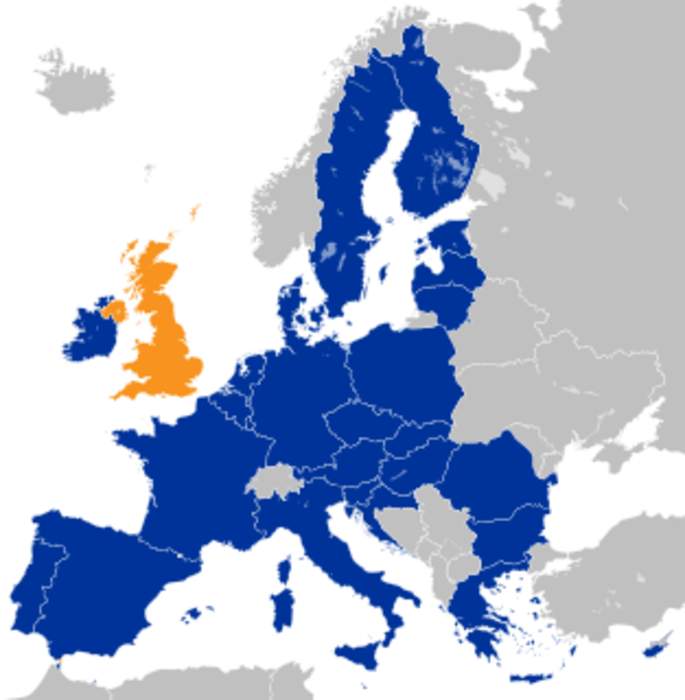 Brexit was the withdrawal of the United Kingdom (UK) from the European Union (EU) at 23:00 GMT on 31 January 2020. The UK is the first and only sovereign country to have left the EU. The UK had been a member state of the EU and its predecessor the European Communities (EC) since 1 January 1973. Following Brexit, EU law and the Court of Justice of the European Union no longer have primacy over British laws, except in select areas in relation to Northern Ireland. The European Union (Withdrawal) Act 2018 retains relevant EU law as domestic law, which the UK can now amend or repeal. Under the terms of the Brexit withdrawal agreement, Northern Ireland continues to participate in the European Single Market in relation to goods, and to be a de facto member of the EU Customs Union.


Donelan: No trade deal with US in near future

Culture Secretary Michelle Donelan says the UK will not be signing a post-Brexit trade deal with the US in the near future as Liz Truss heads to New York for her first bilateral meeting with President..
Credit: ODN Duration: 00:24
Published
UK PM Truss faces "balancing act" forming a new government

Truss takes on the job during a difficult time for the UK - as the country grapples with a cost of living crisis, energy crisis and Brexit issues
Credit: euronews (in English) Duration: 03:29
Published
Boris Johnson bids farewell before meeting the Queen to resign

In his farewell speech, the outgoing British prime minister said that his government had got Brexit done, delivered the fastest vaccine rollout in Europe, and given the country the economic strength to..
Credit: euronews (in English) Duration: 03:42
Published
You Might Like



This England tv drama on Boris Johnson's premiership - will he watch it?

When Michael Winterbottom decided to dramatise the first months of Boris Johnson's time in office, no-one would have anticipated that by the time it aired, Mr Johnson would have navigated not just..




Sky News - Published





Dublin hopeful of fresh bid 'within weeks' to end post-Brexit trade deal row

Irish foreign minister Simon Coveney has expressed "cautious optimism" talks between the UK and Brussels to resolve the dispute over post-Brexit arrangements in Northern Ireland will restart within..




Sky News - Published





Chancellor may scrap cap on bankers' bonuses to boost City's competitiveness

Chancellor Kwasi Kwarteng is reportedly considering a plan to scrap caps on bankers' bonuses as part of a post-Brexit bid to boost the City's competitiveness and the UK economy.




Sky News - Published





Eurostar to axe direct trains between London and Disneyland Paris due to Brexit

Eurostar will no longer operate its direct train service between London and Disneyland Paris from 5 June next year.




Sky News - Published





UK launches legal action against EU for 'persistent delays' over scientific research access

The EU must end "persistent delays" over the UK's access to the bloc's scientific research programmes after Brexit, the government has demanded as it launched legal action.




Sky News - Published





'Fears of new bureaucracy, rules and costs have all come true': Brexit making touring Europe 'unviable' for UK artists

Music industry officials are calling on the government to do more to remove barriers preventing UK artists from touring in the EU since Brexit.




Sky News - Published





Blue badges could be rejected in EU holiday hotspots due to Brexit

Disabled drivers have been warned they may not be able to use their blue badges in many popular European holiday destinations due to an "outrageous" Brexit hangover.




Sky News - Published





EU chief tells UK it's time to get Brexit done in latest salvo over Northern Ireland Protocol

European Commission vice president Maros Sefcovic said it was "high time we got Brexit done" as he fired the latest salvo against Boris Johnson's government over the Northern Ireland Protocol.




Sky News - Published





May attacks Johnson's 'illegal' plan to ditch parts of Brexit deal - and makes pointed remark about his future as PM

Boris Johnson's legislation to scrap parts of the Northern Ireland Protocol has cleared its first Commons hurdle.




Sky News - Published




PM: Plans to override parts of Northern Ireland Protocol could become law 'fairly rapidly'

Government plans allowing ministers powers to override parts of the post-Brexit deal on Northern Ireland could become law "fairly rapidly", Boris Johnson has suggested.




Sky News - Published





Tearing up NI trade deal is 'illegal and unrealistic', EU envoy warns

A move by the British government to rip up post-Brexit trade arrangements in Northern Ireland is "illegal and unrealistic", the European Union's ambassador to the UK has warned.




Sky News - Published





Brexit will leave workers poorer than they would have been and has damaged Britain's competitiveness, new study says

Brexit has damaged Britain's competitiveness, will reduce productivity and leave the average worker poorer than they otherwise would have been, according to a new study.




Sky News - Published





'Govt couldn't run a sweet shop': Ryanair chief blames Brexit labour market issues for airport chaos

Ryanair chief executive Michael O'Leary has added his voice to warnings that the chaos in the aviation sector could last for months.




Sky News - Published





Ripping up NI trade deal is 'economic vandalism', warns Irish leader

Tearing up post-Brexit trade arrangements in Northern Ireland would inflict "economic vandalism", the Irish prime minister has warned.




Sky News - Published





EU Commission threatens 'proportionate actions' over UK government plans to override NI Protocol part of post-Brexit deal

The European Commission has warned it will take "proportionate action" to secure the legal implementation of the Northern Ireland Protocol after the UK government published legislation which will..




Sky News - Published





Ministers insist plans to override NI Protocol part of post-Brexit deal do not breach international law

Legislation which will override the Northern Ireland Protocol section of the post-Brexit deal that the UK agreed with the EU does not breach international law, the government has insisted.




Sky News - Published





UK's new 'High Potential Individual' student visa route to benefit Indians

Graduates from the world's top 50 non-UK universities, including Indian students, can now come and work in Britain through a new High Potential Individual (HPI) visa route launched in London on..




IndiaTimes - Published





PM poised to mark Platinum Jubilee celebrations with post-Brexit pledge to bring back pounds and ounces

Boris Johnson is poised to mark the Queen's Platinum Jubilee with a post-Brexit pledge to bring back pounds and ounces in Britain's shops.




Sky News - Published





Ministers to introduce law to change Northern Ireland Protocol amid 'very grave' situation

Ministers plan to introduce legislation to change Northern Ireland's post-Brexit trade arrangements in coming weeks as it faces a "very grave and serious situation", Foreign Secretary Liz Truss has..




Sky News - Published





Brussels 'unreasonable' over Northern Ireland post-Brexit trade rules, says business secretary

Business Secretary Kwarsi Kwarteng has said it is "absolutely right" the government is ready to tear up parts of post-Brexit trading arrangements in Northern Ireland.




Sky News - Published





'Get back to work': PM tells N Ireland politicians to form government and sort Brexit deal

Northern Ireland's politicians are being told to "get back to work" by Boris Johnson, keen to resolve the deadlock over post-Brexit trade.




Sky News - Published





EU warned about 'school ground tit-for-tat' over post-Brexit deal tussle

Emergency talks between the UK and EU over the Northern Ireland Protocol are due on Thursday as ministers consider whether to override parts of the post-Brexit deal.




Sky News - Published





From the red wall to Brexit: The story of the election so far in charts

Wandsworth, the site of Labour's sensational overnight win, was one of few councils to change hands. Overall, the fortunes of the parties varied geographically as votes from the first English councils..




Sky News - Published





Brexit import checks delayed again to spare squeezed firms a further cost hit

The government is delaying post-Brexit checks on EU imports again, saying it would be wrong to risk fresh disruption during the cost of living crisis.




Sky News - Published





EU firms lost greater volume of trade than UK exporters after Brexit, report finds

The first year of the UK's post-Brexit trade agreement with the European Union (EU) saw firms on the continent lose a greater percentage volume of trade than exporters from the UK, according to..




Sky News - Published





Minister denies NI protocol override would break international law as Labour attacks 'damaging' reported plan

A minister has denied that the UK overriding parts of its its post-Brexit Northern Ireland trade deal would break international law - as the government reportedly looks at sweeping powers to tear it up..




Sky News - Published





Senior Tory asks if move to sell Channel 4 is 'revenge' for Brexit coverage

A senior Tory has questioned whether the government's proposed sale of Channel 4 is being done in an act of "revenge" for "biased coverage" of Brexit.




Sky News - Published





Edible insect industry in limbo due to confusion over post-Brexit trade law

Businesses wanting to sell edible insects say they are being left in limbo due to confusion over post-Brexit trade law.




Sky News - Published





Data watchdog 'in favour of algorithmic transparency' despite Tory proposals

The UK's data protection watchdog said he is "very much in favour of algorithmic transparency" amid government proposals to loosen existing regulations and deliver a Brexit dividend.




Sky News - Published





Car parts supplier TMS blames Brexit impact as it axes UK operation

A supplier of components to Ford and Jaguar Land Rover (JLR) is closing its UK plant after 60 years in a move that will revive the debate about the impact of Brexit on Britain's automotive supply..




Sky News - Published





Sinn Fein deputy leader urges Irish government to prepare for a united Ireland

Sinn Fein deputy leader Michelle O'Neill is urging the Irish government to prepare for a united Ireland as a result of Brexit.




Sky News - Published





Truss to hold fresh Brexit talks with EU amid pressures from N Ireland and Westminster

Foreign Secretary Liz Truss will hold fresh talks with EU vice-president Maros Sefcovic over post-Brexit arrangements for Northern Ireland ahead of a hoped-for deadline for a deal later this month.




Sky News - Published





Costs, paperwork and delays the 'only detectable impact' of Brexit for businesses so far, report says

Higher costs, more paperwork and border delays have been "the only detectable impact so far" of Brexit for British businesses, according to a new report by MPs.




Sky News - Published





Jacob Rees-Mogg made Brexit opportunities minister as Boris Johnson reshuffles top MPs

Jacob Rees-Mogg has been made minister for Brexit opportunities and government efficiency in a mini-reshuffle as Boris Johnson fights for his premiership.




Sky News - Published





Northern Ireland minister says he has ordered halt to Brexit agri-food checks at nation's ports

Northern Ireland's agriculture minister says he has issued an order to halt Brexit agri-food checks at the nation's ports, citing legal advice.




Sky News - Published





Record use of Dover emergency traffic measures as new Brexit border checks bite

Emergency traffic measures to control congestion at the Port of Dover have already been used as many times this year as in the first six months of 2021 combined, following the introduction of new..




Sky News - Published





PM pledges 'Brexit Freedoms Bill' to ease ditching of EU laws - but Scottish minister warns of 'undermining' devolution

Boris Johnson will continue his fightback from the partygate scandal by unveiling plans for a "Brexit Freedoms Bill" to allow retained EU laws to be more easily removed.




Sky News - Published





Foreign Secretary Liz Truss to take over Brexit brief after Lord Frost's resignation

Foreign Secretary Liz Truss will take on Lord Frost's Brexit responsibilities following his resignation, Downing Street has said.




Sky News - Published





PM's Brexit minister resigns from cabinet

Boris Johnson's Brexit minister has resigned from the cabinet and will depart in the new year.




Sky News - Published





UK signs first 'from scratch' post-Brexit trade deal as agreement with Australia completed

The UK and Australia have finally signed a trade deal after months of negotiations, it has been announced.




Sky News - Published




Britain and Jersey grant extra licences for French boats to fish in UK waters

Britain has granted permission for more French fishing boats to trawl UK waters, amid a post-Brexit row over access rights.




Sky News - Published





Farmers to be paid to look after soil – but charities say plans for sustainable land break Brexit promises

Farmers will be paid to look after soil on their land under a new incentive scheme to replace EU subsidies - but environmental charities have said it fails to protect nature and wildlife.




Sky News - Published





French fishermen plan to block Channel Tunnel over post-Brexit fishing licence row

French fishermen will attempt to block the Channel Tunnel and the port of Calais tomorrow in protest at the UK's failure to grant them more fishing licences since Brexit.




Sky News - Published




PM speech criticised by City experts over Peppa Pig reference - as it was bought by US firm amid Brexit fears

City experts have criticised Boris Johnson's speech about Peppa Pig over suggestions it was bought by a US company at the height of Brexit uncertainty.




Sky News - Published





France pledges to 'fight every day' to uphold fishing rights amid row with UK

France has pledged to "fight every day" to uphold its fishermen's rights as the country's post-Brexit dispute with the UK continues.




Sky News - Published




France 'will not yield' to UK in Brexit fishing row, Macron says

France "will not yield" to Britain amid the ongoing dispute over fishing rights, Emmanuel Macron has said.




Sky News - Published




UK and EU need to 'knuckle down' and resolve dispute over Northern Ireland's post-Brexit rules, says Irish premier

The UK and EU need to "knuckle down" and resolve the dispute over Northern Ireland's post-Brexit arrangements, the Irish premier has said. 




Sky News - Published





Government wasn't 'fully prepared' for 'wide-ranging impacts' of pandemic, report finds

The government was not "fully prepared" for the "wide-ranging impacts" of the coronavirus pandemic, according to a new report, which found that Brexit both helped and hindered preparations for future..




Sky News - Published





'Change in tone' from UK in latest Brexit talks, EU says

There has been a "change in tone" from the UK in the latest round of talks on the Northern Ireland Protocol, the EU has said.




Sky News - Published





PM warned against playing 'dangerous game' with post-Brexit Irish border arrangements

Boris Johnson is being warned against triggering Article 16 of the Northern Ireland Protocol to suspend parts of post-Brexit arrangements for the Irish border.




Sky News - Published