Brexit
The United Kingdom's withdrawal from the European Union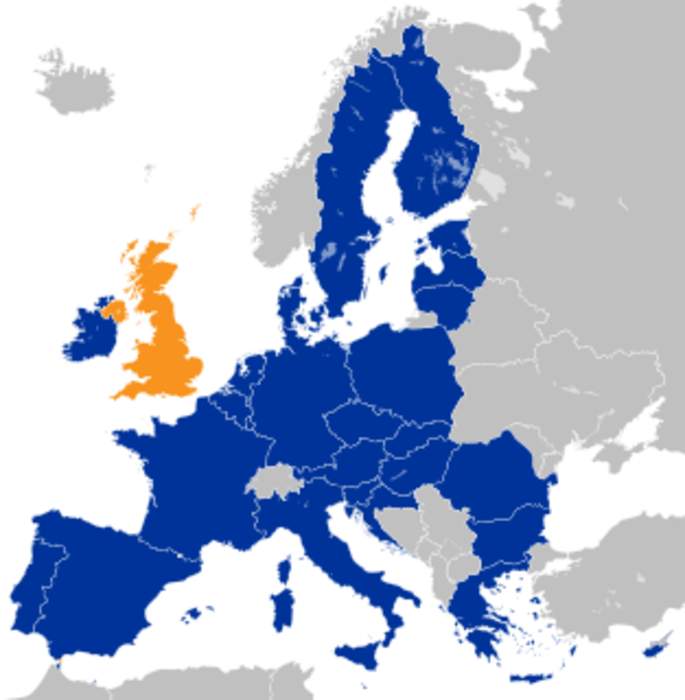 Brexit refers to the withdrawal of the United Kingdom (UK) from the European Union (EU) and the European Atomic Energy Community at the end of 31 January 2020 CET. To date, the UK is the first and only country formally to leave the EU, after 47 years of membership within the bloc, after having first joined its predecessor, the European Communities (EC), on 1 January 1973. It continued to participate in the European Union Customs Union and European Single Market during a transition period that ended on 31 December 2020 at 23:00 GMT.


Greater Manchester mayor calls for regional devolution

Greater Manchester Mayor Andy Burnham calls for regional devolution to dealwith growing inequality across the country. His comments come amid growingnationalism in Scotland and Northern Ireland..
Credit: PA - Press Association STUDIO Duration: 01:39
Published
Nissan Commits to UK's Sunderland Plant After Brexit Deal

Japanese car maker Nissan has confirmed it will maintain its operation in Britain, as a result of the post-Brexit trade deal between the UK and the EU. The future of the company's plant in..
Credit: ODN Duration: 01:03
Published
After Brexit, musicians fear that it is not just live shows - but a way of life - that is over

For generations of British musicians, Europe has been more than just a place to play - it has been a pilgrimage. With Brexit, that decades-long link could have been finally severed.
Credit: euronews (in English) Duration: 01:51
Published
UK music stars concerned over post-Brexit tours

UK music legends including Elton John, Ed Sheeran and the Sex Pistols have co-signed an open letter to the UK government saying it had broken a promise to negotiate visa-free travel for musicians to..
Credit: Reuters Studio Duration: 01:26
Published
Theresa May Attacks Boris Johnson Over UK's Global Position

Former Prime Minister Theresa May has accused Boris Johnson of "abandoning" Britain's "moral leadership". Mrs May wrote an article in the Daily Mail to mark the inauguration of Joe Biden..
Credit: ODN Duration: 00:58
Published
Brexit red tape: UK ports demand government help for fish exporters

Boris Johnson has promised a compensation fund for seafood exporters hit by post-Brexit bureaucracy, but describes their difficulties as "teething problems".
Credit: euronews (in English) Duration: 04:19
Published
UK fishermen protest against post-Brexit rules delaying exports to EU


Credit: FRANCE 24 English Duration: 04:24
Published
'Brexit carnage': UK fishing sector protests extra red tape outside EU

British fishing communities were among the strongest supporters of Brexit. But now some are protesting against the extra red tape it has brought.
Credit: euronews (in English) Duration: 00:50
Published
Calls for Scottish independence gain momentum

The realities of Brexit, coupled with London's handling of coronavirus, have put new energy behind calls for Scottish independence.
Credit: Al Jazeera STUDIO Duration: 03:53
Published
Fishermen protest as new Brexit paperwork leads to waste

Fishermen have protested by parking their lorries of shellfish outside the entrance to Downing Street in Whitehall, complaining that new paperwork imposed after Brexit is causing lengthy delays and..
Credit: ODN Duration: 01:49
Published
British bands stung by post-Brexit touring costs

British bands stung by post-Brexit touring costs
Credit: Euronews English Duration: 01:59
Published
'Outrage': Row after pro-Brexit group moves its website back into EU

Neale Richmond, European Affairs spokesperson for a coalition party, Fine Gael, described the move as an "outrage".
Credit: euronews (in English) Duration: 01:13
Published
Future trade deals won't be negotiated as fast as Brexit, says German MEP

London and Brussels agreed on a post-Brexit trade deal just before Christmas, giving their respective parliaments little time to scrutinise the agreement.
Credit: euronews (in English) Duration: 02:45
Published
Daily politics briefing: January 14

A look at the key figures and dates in the world of politics on January 14.Food and Drink Federation chief executive Ian Wright has warned that withoutchanges to the post-Brexit deal, the industry will..
Credit: PA - Press Association STUDIO Duration: 00:47
Published
Northern Ireland Supermarkets Hit by Shortages

Several supermarkets have been hit by food shortages in Northern Ireland, following the new checks imposed by Brexit. Prime Minister Boris Johnson said there were "teething problems" in trade..
Credit: ODN Duration: 01:07
Published
Brexit shatters supply chain for fish trade

French fishmongers and seafood factories are suspending orders from Britain and battling to salvage just-in-time supply chains, after they were upended by post-Brexit red tape that impedes next-day..
Credit: Reuters Studio Duration: 02:03
Published
Brexit bites: Dutch border guards seize sandwiches

Ham sandwiches - and their owners - have fallen foul of new import rules since Brexit. Dutch officials are seizing the offending items - and other forbidden foods - from bemused drivers at the border...
Credit: Reuters - Politics Duration: 00:44
Published
Falkland Islands back in spotlight after exclusion from Brexit deal

The Falklands have not been included in the EU-UK agreement, a cause for concern among residents, many of whom rely heavily on trade with Europe.
Credit: euronews (in English) Duration: 02:50
Published
You Might Like



Nissan boss says Brexit is 'positive' - and claims new trade deal gives carmaker a 'competitive advantage'

Nissan has hailed the Brexit deal, saying the agreement will give it a "competitive advantage" as it committed to produce new electric vehicle batteries at its Sunderland plant.




Sky News - Published





Freight traffic slumps and costs soar as Brexit friction bites

Freight traffic between Britain and the EU is down almost a third following the end of the Brexit transition, with new red tape and soaring transport costs prompting some small firms to suspend exports..




Sky News - Published





Roger Daltrey responds to backlash over post-Brexit music touring comments

Roger Daltrey says he's not changed his opinion on the EU and is "glad to be free of Brussels", despite signing an open letter calling on the government to urgently establish visa-free travel for..




Sky News - Published





Blame COVID not Brexit for fish export woes, says business secretary

Kwasi Kwarteng has dismissed border delays and the rising cost of transporting goods to Europe as "teething problems" rather than a consequence of Brexit.




Sky News - Published





Shellfish lorries park near Downing Street as Brexit rules cause delays

Lorries used to transport British shellfish have parked on the roads near Downing Street after experiencing delays getting into the EU due to new Brexit rules.




Sky News - Published





Seafood firms 'only have weeks to survive' - as minister admits Brexit 'teething problems'

Scottish seafood companies only have "weeks" to survive without action to ease EU export delays, an industry leader has warned - as the environment secretary blamed "teething problems" due to Brexit.




Sky News - Published





Supermarkets warn of Brexit 'cliff-edge' for Northern Ireland supplies

UK supermarket chains have demanded government intervention to prevent "unworkable" new Brexit regulations causing disruption to food supplies to Northern Ireland.




Sky News - Published





ASOS eyes £15m hit from Brexit costs after 'strong' Christmas

ASOS, the online fashion retailer, has reported a surge in sales over the Christmas season amid coronavirus disruption to the high street but warned it expects a financial hit from Brexit-related costs..




Sky News - Published





UK think tank lists India in 'Difficult 4'; clubs India with China, Saudi, Turkey

Even as UK and India appear to be resetting their relations post Brexit, a major British think tank has a word of caution for the British government. "While giving India the attention it deserves,..




IndiaTimes - Published





Driver's 'illegal' ham sandwiches seized at Dutch border under post-Brexit rules

A driver travelling from the UK had his ham sandwiches confiscated by Dutch border guards, who said they were now prohibited under post-Brexit rules.




Sky News - Published




Brexit trade problems 'just the tip of the iceberg', expert warns

Early trade difficulties are "just the tip of the iceberg" as businesses adjust to new demands after Brexit, according to a compliance expert.




Sky News - Published





A record 250,000 small firms on the brink of closure - industry body

A record 250,000 small firms are set to close this year under combined pressure from the coronavirus pandemic and Brexit, according to an industry body.




Sky News - Published





SNP calls for billions in compensation to counteract 'devastating high price' of Brexit

The Scottish National Party has called for Scotland to be given billions in compensation for the "devastating high price" of Brexit.




Sky News - Published





Lorries delayed and refused entry at ports as Brexit effects begin to be felt

A "high volume" of lorries are being delayed and refused entry at ports including Dover due to "incorrect paperwork" following Brexit, a shipping company has said.




Sky News - Published





BoE governor: Brexit job exodus 'substantially less' than predicted

Between 5,000 and 7,000 financial services jobs have been lost from the UK as a result of Brexit, according to the governor of the Bank of England.




Sky News - Published





British expats 'barred from boarding flight as ID documents not valid post-Brexit'

A number of British expats hoping to return to their homes in Spain say they have been stopped from boarding their flight at Heathrow Airport.




Sky News - Published





British foreign secretary calls on PM; potential of India-UK partnership in post-Brexit world discussed




IndiaTimes - Published





'UK views India as key partner post Brexit'




IndiaTimes - Published





Brexit deadline looms over day of Anglo-French solidarity

Prime Minister Boris Johnson told France's President Emmanuel Macron that talks on a post Brexit deal cannot drag on into the autumn, as the French leader visited London to mark the 80th anniversary of..




Reuters - Published





Macron told PM Johnson France still supports reaching a deal on Brexit: source

French President Emmanuel Macron told British Prime Minister Boris Johnson that France still supports reaching a deal on Brexit, a presidential source said on Thursday after the two leaders met earlier..




Reuters - Published





PM Johnson tells Macron: Brexit talks cannot stretch into autumn

British Prime Minister Boris Johnson told French President Emmanuel Macron that it does not make sense to extend talks on a post-Brexit trade deal with the European Union into autumn, a statement..




Reuters - Published





UK says EU trade deal will be difficult if no progress before October

Britain warned the European Union on Thursday that it would be difficult to conclude a Brexit free trade deal by the end of the year unless broad agreement had been reached by October.




Reuters - Published





UK's Johnson, France's Macron to discuss coronavirus, Brexit: Johnson's spokesman

Prime Minister Boris Johnson and French President Emmanuel Macron will most likely talk about the global fight against the novel coronavirus and Britain's future relationship with the European Union at..




Reuters - Published





Macron visits London to mark de Gaulle's WW2 resistance call and talk Brexit

French President Emmanuel Macron visits London on Thursday for a ceremony to mark the 80th anniversary of General de Gaulle's call for wartime resistance, and also to discuss Brexit and the COVID-19..




Reuters - Published





UK tells EU on Brexit: We won't hang around too much longer

The European Union must intensify Brexit free trade talks as the United Kingdom will not hang around and wait for talks to be dragged out to the end of the year, Foreign Secretary Dominic Raab said on..




Reuters - Published





France's Macron to talk Brexit in London and mark de Gaulle's 'Appel'

President Emmanuel Macron visits the United Kingdom on Thursday to mark the 80th anniversary of General de Gaulle's appeal to the French resistance and to talk Brexit with Prime Minister Boris..




Reuters - Published





EU chief executive: no post-Brexit deal without 'level playing field'

The European Union's chief executive, Ursula von der Leyen, said on Wednesday that the bloc will do its best to seal an agreement on new ties with Britain by the end of the year but will not compromise..




Reuters - Published





EU chief executive sets conditions for Brexit deal this year

The European Union will do its best to seal an agreement on new ties with Britain by the end of the year but will not compromise its core values to achieve that, the bloc's chief executive, Ursula von..




Reuters - Published





Exclusive: Amid Brexit impasse, Germany urges no-deal preparations - document

The German government is urging other EU states to prepare for a no deal Brexit, according an internal document that casts doubt on Britain's optimism over chances of an early agreement on its future..




Reuters - Published





Brexit talks to enter 'hot phase' from September: German government document

Negotiations on the future relationship between Britain and the European Union will enter a hot phase from September, a German government document reviewed by Reuters showed.




Reuters - Published





With a bit of oomph, Brexit deal feasible in July, says UK's Johnson

Leaders from Britain and the European Union agreed on Monday that talks on their future relationship should be stepped up to clinch a deal, with Prime Minister Boris Johnson suggesting an agreement..




Reuters - Published





Britain, EU agree new momentum needed for Brexit deal by year-end

British Prime Minister Boris Johnson and European Union leaders agreed on Monday that talks on the future UK-EU relationship should be stepped up to clinch a deal before time runs out at the end of the..




Reuters - Published





Low expectations as Johnson joins EU leaders to break Brexit deadlock

British Prime Minister Boris Johnson will join a video-conference with EU leaders on Monday, keen to make headway in negotiations on a future EU-UK relationship, but officials in Brussels expect no..




Reuters - Published





Britain says Brexit political declaration is not a treaty

Britain said on Tuesday that the political declaration it agreed with the European Union is not a treaty and so there are differences of interpretation over it and the bloc cannot set itself up as the..




Reuters - Published





UK seeks to boost post-Brexit ties with ASEAN partnership

Britain has applied to become a dialogue partner of the Association of Southeast Asian Nations (ASEAN), the government said on Friday, as it seeks to boost post-Brexit ties in the region.




Reuters - Published





Brexit trade talks make 'no significant progress' as deadline nears

European Union and British negotiators said on Friday they had made very little progress in their latest round of talks about a Brexit free trade agreement, with just weeks left to extend a year-end..




Reuters - Published




Little progress on Brexit free trade deal, EU and UK say

The European Union said on Friday there had been no significant progress in talks with the United Kingdom about a Brexit free trade agreement and that to reach a deal, talks would have to intensify.




Reuters - Published





No progress in latest round of EU-Brexit talks, Barnier says

The latest round of talks between Britain and the European Union made no significant progress this week, the EU's chief negotiator said on Friday, saying London and Brussels remained far apart on..




Reuters - Published





UK says on Brexit: progress remains limited and talks need to speed up

Britain's chief Brexit negotiator said on Friday that progress was limited at talks with the European Union on a free trade deal though the tone had been positive.




Reuters - Published





Fleeing Brexit, Britons drive up German 'naturalisations'

Britons drove up an increase in the number of foreigners obtaining German citizenship last year, with more naturalised than in any year since Britain's 2016 referendum vote to leave the European Union,..




Reuters - Published





UK PM plans Brexit talks with EU's von der Leyen, warned to reach deal pre-autumn: FT

British Prime Minister Boris Johnson is planning to hold Brexit talks with European Commission President Ursula von der Leyen in June, with UK officials warning Johnson that an agreement was needed..




Reuters - Published





EU can move on Brexit, but needs UK to budge, EU trade chief says

The European Union is willing to move in negotiations on future EU-UK relations, but Britain must make a bigger effort to do the same in talks next week, the EU trade chief said on Thursday.




Reuters - Published





UK PM Johnson to go to Brussels next month for Brexit talks: The Times

British Prime Minister Boris Johnson will resume Brexit talks in Brussels next month, the Times newspaper reported on Thursday.




Reuters - Published





France says resumed Brexit talks going badly

French Foreign Minister Jean-Yves Le Drian said on Wednesday that Brexit talks, which have resumed following an interruption caused by the coronavirus crisis, were not going well.




Reuters - Published





UK tells EU: break the Brexit 'impasse' so we can do trade deal

Britain told the European Union on Wednesday it needed to break a fundamental impasse to clinch a Brexit trade deal by the end of the year and said an agreement on fisheries might not be ready by July.




Reuters - Published





EU needs to focus on Brexit negotiations: UK negotiator

The UK's chief negotiator David Frost said the European Union needed to focus on Brexit negotiations and pay attention to certain areas in order for the two sides to come to an agreement.




Reuters - Published





PM takes Brexit decisions, Cummings does not give instructions: UK negotiator

British Prime Minister Boris Johnson takes the main decisions on Brexit policy and his senior advisor Dominic Cummings does not give instructions on negotiations with the European Union, the UK's chief..




Reuters - Published





Cummings and his 'Brexit friends' leave when they should stay, quips EU's Tusk

A senior European Union politician couldn't help a Brexit quip as he waded into Britain's row over Dominic Cummings, Prime Minister Boris Johnson's top adviser and mastermind of leaving the bloc who is..




Reuters - Published





Bust-up over climate weighs on EU-UK talks, risks trade rifts

Britain's refusal to seal climate commitments in a new deal with the European Union to govern their relations after Brexit has become a stumbling block in their deadlocked talks and raises the risk of..




Reuters - Published





Newsmaker: Britain's Brexit mastermind fights for job over claims of lockdown hubris

Dominic Cummings, the mastermind of Brexit who openly scorned the British elite, is fighting for his job as Prime Minister Boris Johnson's senior adviser after claims he flouted the government's..




Reuters - Published