Brexit
UK withdrawal from the European Union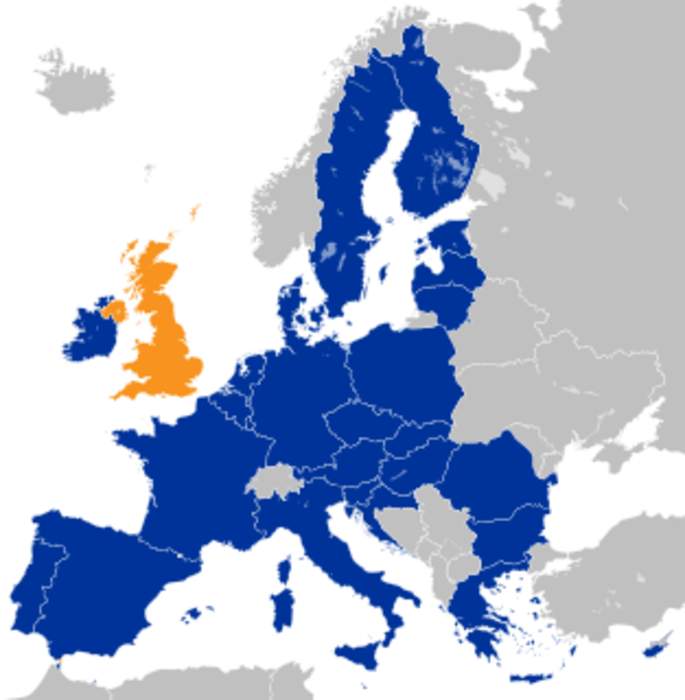 Brexit was the withdrawal of the United Kingdom (UK) from the European Union (EU) and the European Atomic Energy Community at 23:00 31 January 2020 GMT. The UK is the first and so far only country to have left the EU, after 47 years of having been a member state of the EU and its predecessor, the European Communities (EC), since 1 January 1973. It continued to participate in the European Union Customs Union and European Single Market during a transition period that ended on 31 December 2020 at 23:00 GMT.


In Pictures: Boris Johnson's two years as PM marked by unprecedented challenges

The Prime Minister took the reins of office in a Brexit-fixated country but coronavirus would soon present a crisis like no other.Here is a look at those challenging two years in pictures.
Credit: PA - Press Association STUDIO Duration: 01:40
Published
Brexit deal: London appears to be backtracking on the agreement


Credit: FRANCE 24 English Duration: 02:24
Published
Brexit and COVID combine to leave supermarket shelves empty in the UK

Because of Brexit, new drivers from Europe can no longer come to work in the UK as easily as before. Many went home during the COVID pandemic and have not returned.
Credit: Euronews English Duration: 02:20
Published
Daily politics briefing: July 21

The key facts behind the day's headlines on June 21, it comes as ministers are preparing to outline their proposals to Parliament for solving the "serious challenges" caused by the Northern Ireland..
Credit: PA - Press Association STUDIO Duration: 00:47
Published
'Polexit' fears amid row over whether EU or Polish law reigns supreme

Forget Brexit, some think we've moved a step closer to 'Polexit'.
Credit: Euronews English Duration: 03:40
Published
'Devastating': Crops left to rot in England as Brexit begins to bite

Brexit -- the effects of which kicked in at the start of the year -- means hiring migrant pickers from eastern Europe is now much harder.
Credit: Euronews English Duration: 02:43
Published
Bonfire tradition continues amid post-Brexit tensions

CNN's Nic Robertson reports from Belfast, Northern Ireland, where citizens celebrate a centuries-old tradition as post-Brexit tensions loom.
Credit: Bleacher Report AOL Duration: 02:58
Published
Prospect of united Ireland edges closer, but anger on streets is growing

The Unionism that founded Northern Ireland exactly 100 years ago is in crisis and a united Ireland closer than ever. As the climax of the traditionally volatile marching season approaches, anger among..
Credit: Bleacher Report AOL Duration: 03:15
Published
Starmer hears NI parties' concerns about implementation of Brexit

Northern Ireland's political parties have outlined their worries around the implementation of Brexit to Labour leader Sir Keir Starmer.
Credit: PA - Press Association STUDIO Duration: 01:22
Published
"Divorce is always negative" - Michel Barnier gives an overview of Brexit

Michel Barnier, the EU's chief Brexit negotiator, gives his insight on the whole 1600 days of Brexit and discusses his new book on his role and experience during the discussions. He also reveals his..
Credit: euronews (in English) Duration: 20:00
Published
Northern Ireland entrepreneurs face new challenges| Oneindia News

Northern Ireland has had a special status since Brexit. EU and British politicians avoided a hard border between Northern Ireland and the Republic of Ireland to prevent unrest. But moving goods between..
Credit: Oneindia Duration: 02:37
Published
Michel Barnier: Britain needs to respect the Brexit deal in order to maintain its image

Michel Barnier sat down for an in depth discussion on Brexit. Mr. Barnier has just published a diary that details his personal insights into the twists and turns of the negotiations
Credit: Euronews English Duration: 01:40
Published
'Wurst' is behind us in UK-EU 'sausage war' – Boris Johnson

Boris Johnson has suggested that the post-Brexit dispute over chilled meats heading to Northern Ireland from Britain will improve following a meeting with German Chancellor Angela Merkel.The German..
Credit: PA - Press Association STUDIO Duration: 01:59
Published
Merkel visits UK: COVID travel and post-Brexit ties overshadow German Chancellor's trip

Angela Merkel is due to meet Queen Elizabeth at Windsor Castle and Boris Johnson at Chequers during her last official UK visit as German Chancellor.
Credit: Euronews English Duration: 01:40
Published
Sunak: UK to become world's most "advanced" financial hub

Chancellor Rishi Sunak has vowed to make the UK the most "advanced and exciting" financial services hub in the world. Speaking at Mansion House, the Chancellor outlined his ambitions for the UK's..
Credit: ODN Duration: 02:21
Published
Brexit's NI Protocol is lawful but conflicts with Acts of Union, judge rules

Brexit's Irish Sea border conflicts with legislation that created the United Kingdom but is still lawful, a judge in Belfast has ruled.Two legal challenges against the lawfulness of the Northern..
Credit: PA - Press Association STUDIO Duration: 01:02
Published
EU, UK agree to three-month 'sausage war' ceasefire

The European Union agreed on Wednesday to a ceasefire with the United Kingdom in a post-Brexit dispute dubbed the "sausage war" by extending a grace period for shipments of certain meat products from..
Credit: Reuters - Politics Duration: 01:08
Published
Post-Brexit residency: Many EU citizens face uncertainty as UK deadline arrives

Wednesday is the deadline for applications for the UK government's post-Brexit "settled status" scheme for EU nationals living in the country.
Credit: Euronews English Duration: 01:30
Published
You Might Like



Food industry's 'Chicken King' warns of looming Xmas turkey crisis as 'pingdemic' and Brexit hit staffing

The food industry tycoon known as the "Chicken King" has told Sky News the so-called "pingdemic" staffing crisis is just a small part of unprecedented pressures on supplies, with food shortages already..




Sky News - Published





'We will not renegotiate,' EU chief tells PM after UK demands changes to key part of Brexit deal

The president of the European Commission has told Boris Johnson that the bloc "will not renegotiate" a key component of the Brexit deal the two sides negotiated.




Sky News - Published




'It must work in a different way': UK to set out proposals for NI Protocol on Wednesday

The government will set out its proposals for post-Brexit arrangements for Northern Ireland on Wednesday, the Brexit minister has told MPs.




Sky News - Published





Govt to set out N Ireland plans within two weeks - as PM told trust in him at 'all-time low'

The government will set out its plans for post-Brexit arrangements for Northern Ireland within the next two weeks - as Labour claimed trust in Boris Johnson over the issue had fallen to "an all-time..




Sky News - Published





New DUP leader says Brexit Protocol hindering economic opportunities for Northern Ireland

The new DUP leader says Northern Ireland risks losing out on economic opportunities because of the Brexit border in the Irish Sea.




Sky News - Published





Rishi Sunak says financial services deal with EU 'has not happened'

Britain's attempt to reach a post-Brexit financial services deal with the EU "has not happened", Rishi Sunak has told the City.




Sky News - Published





Why are performers upset with the rules on touring after Brexit?

For some time now, high-profile artists have criticised the government over its lack of support for those who tour on the continent.




Sky News - Published





'Don't delay, apply today': Deadline for EU citizens to apply for settled status looms

Ministers have rejected demands to allow more time for EU citizens to register to stay in the UK after Brexit by declaring: "Don't delay, apply today."




Sky News - Published





Puffins under threat as European boats overfish in UK waters post Brexit, RSPB warns

Overfishing by Scandinavian boats in UK waters is threatening the puffin bird, according to wildlife conservation groups.




Sky News - Published




Ousted DUP leader says he nominated a First Minister against party's wishes to fight 'damaging' Brexit protocol

Edwin Poots, the DUP leader ousted after 21 days in the job, has told Sky News he nominated a First Minister against his party's wishes to fight the Brexit Protocol.




Sky News - Published





Brexit, borders and bedlam: The political crisis in Northern Ireland is far from over

To lose one leader may be regarded as misfortune, to lose two looks like carelessness - I'm sure Oscar Wilde will forgive me for plagiarising him.




Sky News - Published





UK asks EU for grace period extension amid Brexit sausage trade row

The UK has asked the European Union to extend the grace period on chilled meats being sent from Great Britain to Northern Ireland.




Sky News - Published





Why the UK-Australia trade deal could have startling wider implications

In political terms, at least, there's no doubting the significance of this moment: the first major trade deal signed since Brexit.




Sky News - Published





PM hails 'new dawn' as UK and Australia agree free trade deal

The UK and Australia have agreed a free trade deal, the first agreement negotiated from scratch after Brexit.




Sky News - Published




Boris Johnson scored an own goal over Brexit at G7 despite favourable conditions

An England football victory as the G7 summit wrapped up in Cornwall was something to celebrate, but even with a home advantage, Prime Minister Boris Johnson did not emerge from this global gathering..




Sky News - Published





PM rejects claims of 'moral failure' by G7 on vaccines - and says Brexit row left no 'sour taste'

Boris Johnson has rejected claims of "moral failure" by the G7 in providing more COVID vaccines for poorer nations - as he dismissed suggestions a Brexit row had overshadowed the world leaders'..




Sky News - Published





'They just need to get that into their heads': PM sends EU message over Northern Ireland row

Boris Johnson has vowed to "do whatever it takes" as he repeated his threat to suspend Brexit agreements with the EU over Northern Ireland.




Sky News - Published





Macron 'tells PM to keep his word' amid Northern Ireland sausage trade row

Boris Johnson has met with EU leaders in Cornwall amid the lingering row over post-Brexit arrangements for Northern Ireland.




Sky News - Published





PM faces Brexit row at breakfast with EU leaders over sausage trade dispute

Boris Johnson could be facing a Brexit row at breakfast as he meets with EU leaders ahead of the second day of the G7 summit in Cornwall.




Sky News - Published





G7 leaders arrive in Cornwall as PM looks for COVID vaccine deal - and to avoid Brexit row

World leaders have arrived in Cornwall for this weekend's G7 summit, as Boris Johnson looks to strike deals on COVID vaccines, girls' education and the environment.




Sky News - Published




Raab says 'ball in EU's court' after Macron raises heat in NI Brexit row

Dominic Raab has said "the ball is very much in the EU's court" with regards to the implementation of the Northern Ireland Protocol , as French president Emmanuel Macron has warned Britain that the..




Sky News - Published





Warm words and positive mood music - but Brexit row will be first test of Biden and Johnson's relationship

The mood music behind closed doors was positive and the words after the first meeting between President Biden and Prime Minister Johnson very warm.




Sky News - Published





Constructive ambiguity needed to solve latest Brexit standoff

For 30 years, intractable problems in Northern Ireland have been solved through the embrace of constructive ambiguity rather than allowing one side to decisively take an advantage.




Sky News - Published





No breakthrough in sausage trade war as UK and EU hold 'frank and honest' talks

Discussions between the UK and the EU over post-Brexit rules in Northern Ireland have ended without an agreement being reached.




Sky News - Published





Sausage ban 'nonsensical', UK tells Brussels ahead of Northern Ireland talks

Environment Secretary George Eustice has described a ban on exporting sausages and processed meats from Great Britain to Northern Ireland agreed as part of the Brexit process as "nonsensical".




Sky News - Published





Brexit supporting Wetherspoons boss calls for more EU migration

The boss of Wetherspoons has urged the government to allow more migrants from the European Union to work in the UK, amid a staffing shortage triggered by the pandemic.




Sky News - Published





Boris Johnson rejects claim UK-Australia trade deal would see farmers 'lose their livelihoods'

Boris Johnson has said post-Brexit trade deals provide a "massive opportunity" for UK farmers - rejecting a claim from the SNP that a tariff-free agreement with Australia would see farmers "lose their..




Sky News - Published





Brexit border in Irish Sea 'playing fast and loose with peace process', warns new DUP leader

The new leader of the Democratic Unionist Party (DUP) says maintaining a Brexit border in the Irish Sea is "playing fast and loose with the peace process".




Sky News - Published





French fisherman says the post-Brexit fishing agreement is 'unfair and unsustainable'

On Monday morning in the harbour of Granville in Normandy, the anchors were up before dawn.




Sky News - Published




Barnier blames Tory 'low blows, quarrels and betrayals' for Brexit talks outcome

The outcome of Brexit negotiations between Britain and the EU was determined by "the quarrels, low blows, multiple betrayals and thwarted ambitions of a certain number of Tory MPs", Michel Barnier has..




Sky News - Published




Stormont minister threatens legal action over Northern Ireland post-Brexit trading

A Northern Ireland minister has threatened legal action against the UK and the EU over post-Brexit trading arrangements.




Sky News - Published





'We don't know how to take risks' - Brexit negotiator Barnier admits EU vaccine 'mistakes'

The EU's lethargic vaccine rollout suffered from a lack of appetite for risk, a "mistrust" of public-private partnerships and an inability of countries to act alone, the bloc's Brexit negotiator has..




Sky News - Published




Andrew Pozzi takes on triple challenge of Brexit, Covid-19 & Tokyo 2020

Hurdler Andrew Pozzi has faced even more obstacles than usual in the past 12 months. But he remains fixed on an Olympic dream.




BBC Sport - Published





PMQs didn't help much - these key unanswered questions remain over Boris Johnson's flat refurb

At Prime Minister's Questions, MPs learnt from Boris Johnson about Tory housing policy, council tax plans, that the Labour opposition voted against his Brexit deal (they didn't), and the amounts of..




Sky News - Published





Artists and performers call on PM to provide clarity on post-Brexit touring visas

More than 300 creative organisations have signed a letter to demand that Boris Johnson delivers on his promise to "fix the Brexit crisis" for their industry.




Sky News - Published





PM hails 'final step in long journey' as European Parliament backs Brexit trade deal

Boris Johnson has hailed the "final step in a long journey" after the European Parliament gave its approval to the post-Brexit trade deal.




Sky News - Published





EU 'won't hesitate' to take 'remedial' action against UK - as MEPs vote on Brexit trade deal

The European Union "will not hesitate" to take action against the UK under the terms of the post-Brexit trade deal, the bloc's top official has warned.




Sky News - Published





Petrol bombs won't demolish a border in the Irish Sea - or turn back the tide of Brexit

"Why do we always think petrol bombs will solve the problem?"




Sky News - Published





Number 10 rejects Juventus chair's claim PM saw European Super League as 'attack to Brexit'

The chairman of Italian football giants Juventus - one of the clubs who attempted a breakaway European Super League - has suggested Boris Johnson was so opposed to the plan because it was viewed as "an..




Sky News - Published




More than half of UK firms have faced disruption due to Brexit, poll finds

Nearly three months into the post-Brexit era, over half of UK businesses say they have faced disruption.




Sky News - Published





National cat and dog food shortage due to pandemic, Brexit and lockdown pet rise

A national shortage of cat and dog food has led one UK pet supplier to ration how much owners can buy.




Sky News - Published





Prince Charles to reassure Greece post-Brexit ties will be 'strong and vital'

The Prince of Wales is to deliver a post Brexit message of friendship to the people of Greece, describing the ties with the UK as "strong and vital".




Sky News - Published





'Teething problems? Try wisdom teeth removal': Firms tell MPs of post-Brexit trading experience

The Northern Ireland Protocol is adding costs and complexity to businesses that risks reducing choice and increasing prices for consumers, while cutting trade with Great Britain, MPs have been told. 




Sky News - Published





Revealed: How Brexit changed trade between Britain and Ireland

The volume of goods being ferried across the Irish Sea between Britain and Ireland has collapsed since the UK left the EU.




Sky News - Published





Economy back in reverse gear in January as lockdowns and Brexit drag

The UK economy rediscovered a reverse gear in January as renewed coronavirus lockdowns and Brexit hit activity, according to official figures.




Sky News - Published





Govt launches post-Brexit scheme allowing students to study and work anywhere in the world

A new exchange scheme enabling students to study or work anywhere in the world, replacing one withdrawn now the UK has left the European Union, is being launched by the government.




Sky News - Published





Brexit import checks delayed 'in the nick of time'

The government has delayed bringing in a range of post-Brexit checks on EU imports by around six months - a change that one business group described as coming "in the nick of time".




Sky News - Published