Indira Gandhi International Airport
International airport in Delhi, India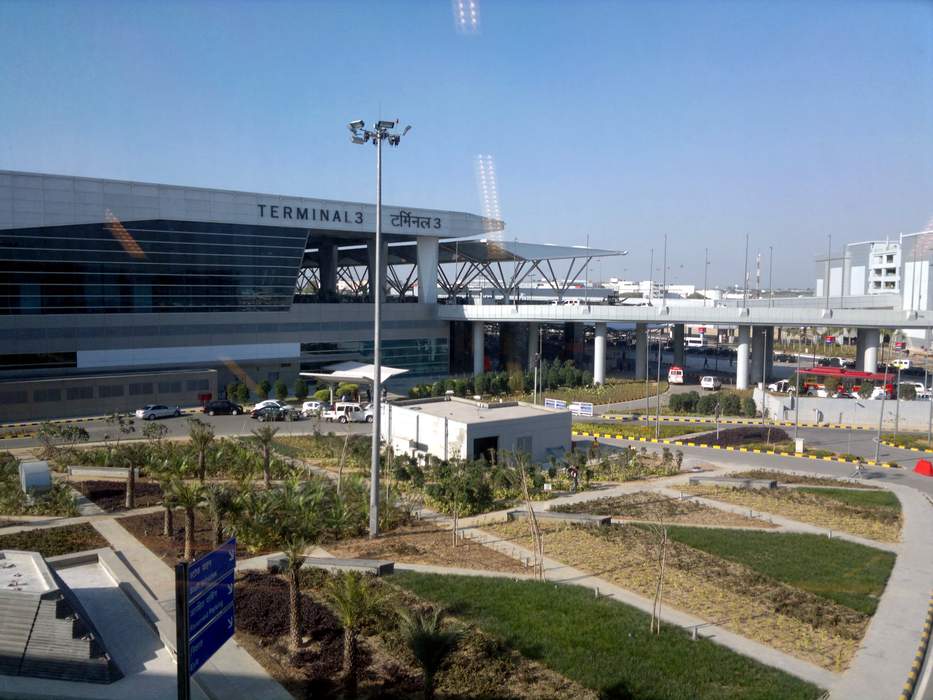 Indira Gandhi International Airport is an airport located in the city of Delhi, India that serves as the international aviation hub of the Indian capital of New Delhi as well as the rest of northern India. The airport, spread over an area of 5,106 acres (2,066 ha), is situated in Palam, 15 km (9.3 mi) south-west of the New Delhi railway station and 16 km (9.9 mi) from New Delhi city centre. Named after former Prime Minister of India Indira Gandhi, it is the busiest airport in India in terms of passenger traffic since 2009. It is also the busiest airport in the country in terms of cargo traffic, overtaking Mumbai during late 2015. In the calendar year 2018, it was the 12th busiest airport in the world and 6th busiest airport in Asia by passenger traffic handling nearly 70 million passengers. It is the world's busiest airport for Airbus A320 aircraft. The under construction expansion program will increase the airport's capacity to handle 100 million passengers by 2030.


Genome sequencing lab launched in view of new COVID-19 strain at Delhi airport

CSIR-Institute of Genomics and Integrative Biology (CSIR-IGIB) and SpiceHealth launched genome sequencing lab at Delhi's Indira Gandhi International Airport on January 14. It has been launched to..
Credit: ANI Duration: 01:06
Published
First batch of Bharat Biotech's 'Covaxin' arrives at Delhi airport

The first consignment of 'Covaxin', the COVID-19 vaccine by Hyderabad-based Bharat Biotech arrived at Delhi's Indira Gandhi International Airport on Jan 13. Three boxes of 'Covaxin' are also being..
Credit: ANI Duration: 01:18
Published
'Covishield' arrives in Delhi Ahmedabad

On January 12, the COVID-19 vaccine 'Covishield' arrived to Delhi's Indira Gandhi International Airport. It was dispatched by Pune's Serum Institute of India today. CEO of Delhi International Airport..
Credit: ANI Duration: 02:08
Published
West Bengal Guv Jagdeep Dhankhar to meet Home Minister Shah

West Bengal Governor Jagdeep Dhankhar arrived at Delhi Airport. He is scheduled to meet Home Minister Amit Shah on January 09. "I will call on Union Home Minister Amit Shah tomorrow," he said.
Credit: ANI Duration: 01:24
Published
Crypto Currency fraud unearthed, mastermind held by Delhi Police

Economic Offences Wing of Delhi Police has arrested accused Umesh Verma from IGI Airport for cheating and misappropriation of funds obtained on the pretext of Crypto Currency. Accused hosted their own..
Credit: ANI Duration: 01:11
Published
Ban on flights from UK likely to be extended: Hardeep Puri

Civil Aviation Minister Hardeep Singh Puri during a press conference on December 29 informed that there might be a short extension on the temporary suspension of flights from United Kingdom in wake of..
Credit: ANI Duration: 02:01
Published
Delhi airport ready to distribute COVID vaccines

As rolling out of COVID vaccines has started in some parts of the world, and is expected to begin soon in India, the Delhi International Airport in the national capital has built up all necessary..
Credit: ANI Duration: 02:15
Published
Covid vaccine: How will Delhi airport store & transport doses? CEO explains

As rollout of Covid-19 vaccines seems to inch closer, Videh Jaipuriar, Chief Executive Officer, Delhi International Airport, briefed the media about facilities aimed at storing and transporting the..
Credit: HT Digital Content Duration: 06:59
Published
No specific date given for vaccine re-distribution: Delhi International Airport CEO

Delhi International Airport (DIAL) CEO Videh Jaipuriar on redistribution of COVID-19 said there is no specific date has been given by the government for vaccine re-distribution. He said, "No specific..
Credit: ANI Duration: 01:35
Published
Delhi Airport cargo terminals equipped with cool chambers to handle COVID vaccines: CEO

Delhi International Airport (DIAL) CEO Videh Jaipuriar on Project Sanjivani, related to handling and redistribution of COVID-19 vaccines said that both cargo terminals of Delhi Airport are equipped..
Credit: ANI Duration: 02:02
Published
How Delhi, Hyderabad airports will ensure speedy distribution of COVID vaccines

As a COVID vaccine will soon become a reality in India, GMR Hyderabad air cargo and Delhi Airport's air cargo are set to play a pivotal role in the distribution of vaccines through state-of-the-art..
Credit: ANI Duration: 01:10
Published
You Might Like



How India's busiest airport is preparing to handle COVID-19 vaccines, read here

Delhi's IGI airport will be a main handling point and has facilities to store 2.7 million vials of COVID vaccines at 2 to 8 degrees Celsius.




DNA - Published





AP flyer who fled IGI has UK strain; 109 untraced in Pune

VISAKHAPATNAM/PUNE/BHUBANESWAR: The Andhra Pradesh government is on high alert after laboratory reports confirmed that the woman (47) who had evaded health authorities at Delhi airport on returning..




IndiaTimes - Published





New passenger tracking system installed at Delhi airport's Terminal 3 to ensure social distancing

Delhi's IGI airport introduced a new passenger tracking system intended to reduce waiting time and manage passenger flow at Terminal 3.




DNA - Published





Miracle work by ambulance, reaches hospital in record 12 minutes!

The heart was flown in from Vadodara and took 12 minutes to reach AIIMS from Terminal 2 of the Indira Gandhi International Airport in Delhi.




DNA - Published





Breaking: CISF nabs passenger at IGI airport with 20 live rounds, case under Arms Act registered

The passenger along-with the seized live rounds was handed over to Delhi Police for further legal action in the matter.




DNA - Published





Banned pro-Khalistan organisation threatens to disrupt Delhi-London flights, security tightened at IGI Airport

A senior police official further said that a meeting was held between officials of Central Industrial Security Force (CISF), Air India, and Delhi International Airport Limited on Wednesday to discuss..




DNA - Published





Delhiites continue to breathe poisonous air as AQI remains 'very poor'

At the Indira Gandhi International airport, the level of PM 2.5 pollutant was recorded at 332 while it was 344 at Delhi University.




DNA - Published





International passengers can opt for Covid-19 test, waiting lounge at Delhi airport for Rs 5,000




IndiaTimes - Published





COVID-19 testing facility set up at Delhi airport for international transit passengers

The result of the COVID-19 test would come in six hours and those who test negative would proceed further to their destinations while those testing positive would be treated as per government protocol.




DNA - Published





COVID-19: Delhi Airport's Air Suvidha portal receives 45288 applications seeking exemption from institutional quarantine

he portal, launched on August 8, 2020, is a medium for passengers to address issues related to exemption from institutional quarantine and submitting self-declaration form which is mandatory for air..




DNA - Published





32% intl flyers at Delhi airport brought Covid-negative reports to avail quarantine exemption: Puri




IndiaTimes - Published





During COVID-19 lockdown, Delhi Airport helped distribute over 20 million essential medical goods

According to the GMR group, these imported medical kits were distributed across the country.




DNA - Published





Students, migrants in India take flight home after weeks of lockdown

Hundreds of people wearing face masks and gloves boarded early morning flights to their hometowns and workplaces from the Delhi airport on Monday as India resumed domestic services after two months,..




IndiaTimes - Published





Amid rising COVID-19 cases, domestic flight services resume after two months

The very first of these flights took off from Terminal 3 of the Indira Gandhi International Airport in New Delhi today at 5 AM and landed in Pune at 6:42 AM.




DNA - Published





Delhi airport to resume flights from Terminal 3, will allot entry gates, check-in bays to airlines

Commercial passenger flights at Delhi airport will initially operate from Terminal 3 after the lockdown ends, said a senior official of its operator DIAL on Sunday, adding that entry gates, self..




IndiaTimes - Published





Delhi Airport witnessed highest social media traffic amid coronavirus lockdown

The airport will continue to respond to people's queries.




DNA - Published





Delhi: 8 Malaysian attendees of Tablighi Jamaat event intercepted at IGI airport

Meanwhile, The Ministry of Home Affairs informed that 2,000 Tablighi Jamaat workers and their contacts have been quarantined.




DNA - Published





Centre overturns Delhi government's order, says domestic flights at IGI airport to continue

As per reports, civil aviation is a Central subject and therefore the DGCA had the power to deem Delhi government's order as null.




DNA - Published





Special Air India flights brings back 263 Indians from Italy, evacuees quarantined at ITBP facility

The special Air India flight from Rome landed at Delhi airport around 10 am.




DNA - Published





Coronavirus: Govt issues SOP for international passenger movement at Delhi airport

The Union health ministry has issued a standard operating procedure (SOP) for movement of international passengers, returning from coronavirus-affected countries, at the Delhi airport.




IndiaTimes - Published





We sent UK MP back from IGI airport 'badi izzat se': MEA




IndiaTimes - Published





'Anti-India acts got Debbie Abrahams' visa cancelled'

Abrahams was detained at Delhi airport and deported to Dubai on Monday. Official sources asserted that issuance and rejection of visas was the sovereign right of any country and said rejection of the..




IndiaTimes - Published





British MP who leads Kashmir group denied entry to India

Indian officials denied a British lawmaker entry on Monday after she landed at New Delhi's Indira Gandhi International Airport, according to an accompanying aide. Debbie Abrahams, a Labour Party Member..




IndiaTimes - Published





'Promise me you'll never run away from my runway': You CAN'T miss Delhi Aiport's proposal to IndiGo on Valentine's Day

On Valentine's Day, the official page of Delhi International Airport took to Twitter and shared a 'heart-melting' tweet for IndiGo.




DNA - Published





Delhi Assembly Elections 2020: All you need to know about Palam Vidhan Sabha constituency

The constituency of Palam is a part of the South Delhi Lok Sabha constituency and lies in the South West Delhi district. The Indira Gandhi International (IGI) Airport lies in this area.




DNA - Published





Coronavirus evacuation: AI's 2nd flight from Wuhan did emergency landing due to window crack

Air India's second special flight that evacuated 323 Indians and seven Maldivians from Wuhan in China had done an "emergency landing" at Delhi airport on February 2 due to a crack in its cockpit..




IndiaTimes - Published





Air India flight carrying 323 Indians, 7 Maldivians evacuated from Wuhan lands in Delhi

Air India special flight carrying 323 Indians and seven Maldivians evacuated from the coronavirus-hit Chinese city of Wuhan, landed in New Delhi on Sunday morning. The flight carrying the first batch..




IndiaTimes - Published





CISF recovers foreign currency worth over Rs 39 lakh from three Chinese nationals at IGI airport

The value of the seized foreign currency is Rs 39 lakh in Indian currency.




DNA - Published





Delhi: CISF personnel at IGI airport act on their feet, administer emergency CPR to save passenger's life

Constable Madhusudan and Constable Manoj Kumar administered Cardiopulmonary resuscitation (CPR) without any delay to the collapsed passenger and managed to successfully revive him.




DNA - Published





Cold wave continues in Delhi, AQI moves to 'hazardous' level

Yesterday, as many as 46 flights were diverted till midnight due to dense fog at Delhi airport.




DNA - Published





By 2022, IGI may get air train for inter-terminal transits

The country's biggest airport IGI could get an air train, or automated passenger mover (APM). IGIA's APM will be located at walking distance from the terminals. IGI's capacity will be 10 crore..




IndiaTimes - Published





Delhi man impersonating as Lufthansa pilot with 'fake ID' nabbed at IGI airport

CISF said the man used the fake ID to get privilege at airports.




DNA - Published





Delhi: Man arrested for smuggling drones, iPhones worth approx Rs 26 lakh at IGI airport

''A large consignment of drone, mobile phones, and memory cards were found from the luggage of the accused,'' the customs department stated.




DNA - Published





Tackling Delhi-NCR Air Pollution: Centre reviews situation, health advisory issued

AQI was recorded at 1690 in Jahangirpuri, 1120 at Delhi airport, and 1974 in Noida.




DNA - Published





Tackling Delhi-NCR Air Pollution: Principal Secretary to Prime Minister, Cabinet Secretary hold urgent meeting

AQI was recorded at 1690 in Jahangirpuri, 1120 at Delhi airport, and 1974 in Noida.




DNA - Published




Delhi-NCR Pollution: CISF distributes N95 anti-pollution masks to security personnel

AQI was recorded at 1690 in Jahangirpuri, 1120 at Delhi airport, and 1974 in Noida.




DNA - Published





No RDX found in unattended bag at IGI Airport, owner traced

The bag contained toys, phone charger, clothes and dry fruits, a Delhi police official said.




DNA - Published




Security tightened at IGI airport after suspicious bag spotted

The cops received a call at around 2 am on Friday about a suspicious bag being spotted in the airport premises following which it swung into action.




DNA - Published





Man held at IGI airport for smuggling gold worth Rs 36 lakh concealed in his shoes

The passenger, who was travelling from Dubai to Delhi, was concealing eight gold bars cumulatively weighing 933 grams inside his shoes.




DNA - Published




CISF seizes 43 kg red sandalwood from two Hong Kong-bound passengers at IGI Airport

During the enquiry, the passengers could not produce any documents for carrying the material.




DNA - Published





Man held at Delhi's IGI airport for hiding gold in his underwear

840 grams of gold and its paste worth more than Rs 29 lakh was recovered by the Customs Department at the airport.




DNA - Published





Afghan passenger, hiding gold worth Rs 45 lakh in sandals, held at IGI airport

The Afghan passenger, travelling from Kabul to New Delhi, was intercepted by the customs officers at terminal 3 of Indira Gandhi International Airport.




DNA - Published




Air India pays tribute to Mahatma Gandhi, puts Bapu's image on aircraft

Air India paid tribute to Mahatma Gandhi on his 150th birth anniversary by painting a sketch of him on the tail of an Airbus A320 aircraft at the Indira Gandhi International Airport. "This is the first..




IndiaTimes - Published





Huge crowd outside Delhi's Palam Airport to welcome PM Modi upon his return from week-long US visit

The BJP had said it was planning a grand welcome the Prime Minister for an 'extremely productive' US visit.




DNA - Published





Hong Kong-bound passenger held at IGI airport with 49 kg of peacock feathers

A Hong Kong-bound passenger, identified as Naseer Ansari (Indian), was held by the CISF during checking at IGI's Terminal-3.




DNA - Published





Sikh community has a demand, 'let's rename our Delhi airport'

The Sikh community demanded that the name of Delhi Airport should be changed from Indira Gandhi International Airport to Guru Nanak Dev International Airport




DNA - Published





Alliance Air flight makes emergency landing in Delhi

The flight, carrying 63 passengers, returned to IGI Airport due to landing gear problem only 12 minutes after it took off




DNA - Published





IndiGo, SpiceJet to shift Delhi operations to T3 from September 5

The initiative came in the wake of Delhi International Airport Limited (DIAL) decisions to enhance the infrastructure of Terminal 2




DNA - Published





Bomb hoax at Delhi Airport's Terminal 2

On Monday, there was a bomb scare at Delhi Airport. An individual called and said that there was a bomb in Terminal 2 and said, 'save as many people as you can'. The police have identified the caller..




DNA - Published





Unnao rape survivor brought to AIIMS Delhi from IGI through green corridor: Police

The Delhi Traffic Police created a green corridor to shift the Unnao rape survivor to the AIIMS Trauma Centre from the IGI Airport on Monday, covering a distance of around 14 km in 18 minutes,..




IndiaTimes - Published