United States Department of the Treasury
United States federal executive department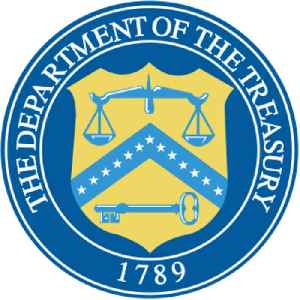 The Department of the Treasury (USDT) is the national treasury of the federal government of the United States where it serves as an executive department. The department oversees the Bureau of Engraving and Printing, and the U.S. Mint; these two agencies are responsible for printing all paper currency and coins, while the Treasury executes its circulation in the domestic fiscal system. The USDT collects all federal taxes through the Internal Revenue Service; manages U.S. government debt instruments; licenses and supervises banks and thrift institutions; and advises the legislative and executive branches on matters of fiscal policy. The Department is administered by the Secretary of the Treasury, who is a member of the Cabinet. The Treasurer of the United States has limited statutory duties, but advises the Secretary on various matters such as coinage and currency production. Signatures of both officials appear on all Federal Reserve notes.


1.1 Million Stimulus Checks Went To Dead People

A congressional watchdog said the federal government sent 1.1 million stimulus payments to dead people. According to Business Insider, these dead people received a total of $1.4 billion. The Government..
Credit: Wochit News Duration: 00:32
Published
Treasury, Fed heads grilled for coronavirus response

Treasury Secretary Steve Mnuchin and Federal Reserve Chairman Jerome Powell were in the hot seat Tuesday as they faced senators for the first time in a required update on the financial response to the..
Credit: Reuters - Politics Duration: 02:47
Published
Treasury Department Says Remainder Of Stimulus Cheks To Be Given In Prepaid Debit Cards

The Treasury Department announced they would give prepaid debit cards to those who haven't received their stimulus payments. According to Business Insider, they said this method is "secure, easy to..
Credit: Wochit News Duration: 00:32
Published
You Might Like



Brazil's Treasury secretary expected to resign soon, source says

Brazil's Treasury Secretary Mansueto Almeida, is expected to resign soon, one source with knowledge of the matter said on Sunday.




Reuters - Published





U.S. sanctions two top Nicaraguan officials: Treasury Department website

The United States has issued fresh sanctions on Nicaragua targeting two top officials, including army chief Julio Cesar Aviles, according a notice posted on the U.S. Department of Treasury's website on..




Reuters - Published





U.S. blacklists Iran's interior minister over human rights abuses

The United States on Wednesday imposed sanctions on Iran's interior minister, accusing him of having a role in serious human rights abuse, including giving orders that led to violence against peaceful..




Reuters - Published





U.S. targets Iran's interior minister in latest sanctions: Treasury Department

The United States has sanctioned Iran's interior minister in its latest action against Tehran, according to a notice posted on the U.S. Treasury's website on Wednesday.




Reuters - Published





Exclusive: FBI probes Mexican, European firms over Venezuela oil trading - sources

The FBI is probing several Mexican and European companies allegedly involved in trading Venezuelan oil as it gathers information for a U.S. Treasury Department inquiry into possible sanctions busting,..




Reuters - Published





U.S. sanctions Iranian-Iraqi businessman over support of Iran's Quds Force

The United States on Friday imposed sanctions on an Iranian-Iraqi businessman and his mining company, accusing him of being involved in efforts by Iran's elite Quds Force to generate revenue illegally..




Reuters - Published




U.S. imposes Iran-related sanctions on mining company, individual: Treasury website

The United States on Friday imposed Iran-related sanctions on an individual and Taif Mining Services LLC, the U.S. Treasury Department's website said.




Reuters - Published




South Africa seeking $5 billion from multilateral lenders to fight virus: Treasury official

South Africa is seeking 95 billion rand ($4.99 billion) from multilateral lenders to help it fight the COVID-19 pandemic, a senior Treasury official said on Sunday.




Reuters - Published





U.S. blacklists Zimbabwe officials over human rights abuse

The United States on Wednesday imposed sanctions on Zimbabwe's state security minister and its ambassador to Tanzania, the U.S. Treasury Department said, accusing them of human rights abuses, including..




Reuters - Published





U.S. targets individuals, entities linked to Lebanon's Martyrs Foundation

The United States on Wednesday added a host of Lebanese individuals and entities it said were linked to the Martyrs Foundation to its designated "global terrorists" lists, according to a notice on the..




Reuters - Published





U.S. targets individuals linked to Martyrs Foundation: Treasury Department website

The United States on Wednesday added a host of Lebanese individuals and entities it said were linked to the Martyrs Foundation to its designated "global terrorists" lists, according to a notice on the..




Reuters - Published





U.S. targets five Iranians in latest sanctions action

The United States on Thursday imposed sanctions on five Iranians in its latest action targeting Tehran, according to a notice posted Thursday on the U.S. Treasury Department's website.




Reuters - Published





U.S. sanctions Iran's nuclear organization, to renew waivers on Iran nuclear work: sources

The United States on Thursday imposed sanctions on Iran's nuclear entity and its top official, the Treasury Department said, but sources said it will allow Russian, Chinese and European firms to..




Reuters - Published





U.S. issues fresh sanctions over Ukraine's Crimea: Treasury

The United States on Wednesday issued a fresh round of sanctions related to Russia's annexation of Crimea, targeting eight individuals and a Moscow-based railway company, the U.S. Treasury Department..




Reuters - Published




Greta rejects U.S. Treasury chief's degree dig in latest climate clash

U.S. Treasury Secretary Steven Mnuchin told Greta Thunberg she should study economics on Thursday, a jibe which prompted the climate activist to say she didn't need a degree to know the world was not..




Reuters - Published





Get an economics degree Greta, then we'll talk: U.S. Treasury chief

Just as the spat between U.S. President Donald Trump and Greta Thunberg seemed to be subsiding, U.S. Treasury Secretary Steven Mnuchin took a new dig at the climate activist on Thursday.




Reuters - Published





GE granted license to help investigate Ukrainian plane downed by Iran

General Electric Co has received a license from the U.S. Treasury Department to help in the investigation of a Ukrainian passenger plane accidentally shot down by Iranian forces, a GE spokesman told..




Reuters - Published





U.S. blacklists aircraft, amends general license in latest Venezuela sanctions

The United States has blacklisted 15 aircraft in its latest sanctions against Venezuela, according to the U.S. Treasury Department website.




Reuters - Published





U.S. allows time to wind down deals hit by fresh Iran sanctions

The U.S. Treasury Department said on Thursday it will allow for a 90-day period to wind down transactions in certain sectors of Iran's economy hit with fresh U.S. sanctions last week.




Reuters - Published





U.S. Treasury Dept will allow 90-day wind-down period for fresh Iran sanctions

The U.S. Treasury Department said on Thursday it would allow for a 90-day period to wind down transactions in certain sectors of Iran's economy hit with fresh U.S. sanctions last week.




Reuters - Published





U.S. imposes sanctions on two North Korean entities over labor export

The U.S. Treasury on Tuesday announced sanctions on two North Korean organizations for facilitating the export of labor in violation of United Nations sanctions.




Reuters - Published





U.S. issues fresh Venezuela-related sanctions: U.S. Treasury

The United States on Monday imposed sanctions on seven Venezuelans, the U.S. Treasury Department said, in Washington's latest action to ramp up pressure on the government of President Nicolas Maduro.




Reuters - Published





Treasury will grant waivers to allow U.S. participation in Iran crash probe

U.S. Treasury Secretary Steven Mnuchin said on Friday the department will grant sanction waivers to allow Americans or any one else to participate in the investigation of Wednesday's crash of an..




Reuters - Published





U.S. imposes sanctions on South Sudanese vice president

The United States on Wednesday imposed sanctions South Sudanese First Vice President Taban Deng Gai, the U.S. Treasury Department said in a statement, in Washington's latest move to pressure the..




Reuters - Published




U.S. imposes sanctions on two Iranian judges for 'oppression'

The United States has imposed sanctions on two Iranian judges whom it accuses of having punished Iranian citizens and dual nationals for exercising their freedoms of speech and assembly, the U.S...




Reuters - Published





U.S. removes sanctions on Latvia's second-largest port

The United States has removed its sanctions on one of Latvia's main ports after the Baltic country's government took control of the port, the U.S. Treasury Department said on Wednesday.




Reuters - Published





United States hits South Sudanese officials with sanctions

The United States has imposed sanctions on two senior South Sudanese officials it accuses of fomenting conflict, the U.S. Treasury Department said on Monday, in its latest move to pressure the..




Reuters - Published





U.S. imposes sanctions on Islamist rebels in eastern Congo

The United States imposed sanctions on the leader of an Islamist rebel group and five others on Tuesday for perpetrating serious human rights abuses including mass rape, torture and killings in eastern..




Reuters - Published





U.S. imposes sanctions on Cambodian PM's associates over alleged corruption

The U.S. Treasury has imposed sanctions on a businessman and a senior government official with close links to Cambodian Prime Minister Hun Sen, accusing them of corruption.




Reuters - Published




U.S. sanctions Latvian oligarch charged with corruption

The United States on Monday sanctioned Aivars Lembergs, the suspended mayor of Latvia's seaport city of Ventspils and an oligarch with substantial influence in the country's politics, over alleged..




Reuters - Published





Washington blacklists Iran-backed Iraqi militia leaders over protests

The United States on Friday blacklisted three Iran-backed Iraqi paramilitary leaders over their alleged role in killings of anti-government protesters in Iraq, the U.S. Treasury Department said.




Reuters - Published





U.S. exempts local baseball league from Venezuela sanctions: document

The U.S. Treasury Department has created an exemption from its Venezuela-related sanctions allowing for transactions with the country's local baseball league, according to a Treasury document seen by..




Reuters - Published





U.S. blocks Venezuela claimants from enforcing judgments, arbitral awards

The U.S. Treasury Department on Thursday said claimants against Venezuela could not enforce liens, judgments, arbitral awards or decrees by seizing property to collect on unpaid debts unless they..




Reuters - Published





Venezuelan baseball's bid to save sanctions-shortened season hits snag

The U.S. Treasury Department has told Major League Baseball that a change to its sanctions on Venezuela last week does not allow MLB to resume a partnership with the Venezuelan baseball league,..




Reuters - Published





U.S. sanctions leader of Mali Islamist militant group

The United States on Thursday imposed sanctions on the leader of an Islamist militant group in Mali called the Macina Liberation Front, the U.S. Treasury Department said in a statement on its website..




Reuters - Published





Egypt, Ethiopia, Sudan to try to resolve dam dispute by January 15: Treasury

The foreign ministers of Egypt, Ethiopia and Sudan agreed on Wednesday to work toward a comprehensive and sustainable agreement on the filling and operation of a massive dam project in Ethiopia by Jan...




Reuters - Published





U.S. sanctions five Venezuela citizens: Treasury Department

The United States issued sanctions on Tuesday against five citizens of Venezuela, according to the Treasury Department website, increasing pressure on the government of socialist President Nicolas..




Reuters - Published





U.S. sanctions nine people, one entity tied to Iran's top leader

The United States imposed sanctions on nine people with ties to Iran's Supreme Leader Ayatollah Ali Khamenei, including his chief of staff, one of his sons and the head of Iran's judiciary, the U.S...




Reuters - Published




U.S., Gulf countries impose joint Iran-related sanctions on 25 targets

The United States and six Gulf countries agreed to jointly impose sanctions on 25 corporations, banks and individuals linked to Iran's support for militant networks including Hezbollah, the U.S...




Reuters - Published




U.S. Treasury's Mnuchin says U.S. will ramp up pressure on Iran

Treasury Secretary Steven Mnuchin said on Monday that the United States will increase economic pressure on Iran over its nuclear program.




Reuters - Published





U.S. targets three people, 16 groups in new Venezuela sanctions

The United States imposed sanctions on Tuesday on three people and 16 groups it says helped Venezuelan President Nicolas Maduro and his government profit from food aid in the economically struggling..




Reuters - Published





U.S. sanctions former Ugandan police boss for rights violations

The U.S. Treasury has frozen all assets in the United States owned by the former inspector general of Ugandan police, Kale Kayihura, accusing him of engaging in serious human rights abuses in the East..




Reuters - Published





U.S. imposes sanctions on North Korean hacking groups blamed for global attacks

The U.S. Treasury on Friday announced sanctions on three North Korean hacking groups it said were involved in the "WannaCry" ransomware attacks and hacking of international banks and customer accounts.




Reuters - Published





U.S. sanctions three North Korean-sponsored hacking groups

The U.S. Treasury on Friday announced sanctions on three hacking groups it said were sponsored by North Korea that were allegedly involved in the "WannaCry" ransomware attacks and had perpetrated cyber..




Reuters - Published