National Cadet Corps (India)
Indian military cadet corps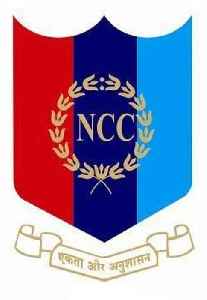 The National Cadet Corps is the youth wing of Armed Forces with its headquarters at New Delhi, Delhi, India. It is open to school and college students on voluntary basis. National Cadet Corps is a Tri-Services Organisation, comprising the Army, Navy and Air Wing, engaged in grooming the youth of the country into disciplined and patriotic citizens. The National Cadet Corps in India is a voluntary organisation which recruits cadets from high schools, higher secondary, colleges and universities all over India. The Cadets are given basic military training in small arms and parades. The officers and cadets have no liability for active military service once they complete their course.


You Might Like
Mobile app for online training of NCC cadets launched
IndiaTimes - Published
Defence Minister Rajnath Singh launches mobile App for NCC training
Defence Minister also interacted with the NCC cadets via video conferencing during the launch of the App and also answered their questions.
DNA - Published
Defence minister approves proposal to expand NCC in 173 border, coastal districts
IndiaTimes - Published
NCC cadets enthused after PM announces plan for expansion in border, coastal areas
IndiaTimes - Published
Expansion of NCC in 173 coastal and border districts: PM
IndiaTimes - Published
In next 1,000 days, Lakshadweep will be connected to submarine optical fibre cable: PM Modi
Prime Minister Narendra Modi on Saturday said that in the next 1000 days, "Lakshadweep will also be connected to submarine optical fibre cable." The Prime Minister announced the expansion of NCC in 173..
IndiaTimes - Published
NCC cadets help adminstration in spreading awareness about Covid-19
IndiaTimes - Published
NCC certificate holders to get advantage in entry examination for paramilitary forces
IndiaTimes - Published
IAF pilot killed, NCC cadet injured as trainer aircraft crashes in Punjab's Patiala
The deceased pilot has been identified as Wing Commander GS Cheema. He succumbed to a serious head injury.
DNA - Published
Rajnath Singh: J&K kids nationalists, sometimes they're motivated in wrong direction
"The kids of Jammu Kashmir are nationalists. They shouldn't be seen in any other way," defence minister Rajnath Singh, who is visiting the NCC Republic Day Camp in Delhi, said when asked about his..
IndiaTimes - Published
Sushma Swaraj was a 'best NCC cadet' in college
During her college days, Sushma remained the best speaker of her college for all three years
DNA - Published
Defence ministry gives nod to increase number of awards given to NCC cadets
IndiaTimes - Published