Kabul
Capital and largest city of Afghanistan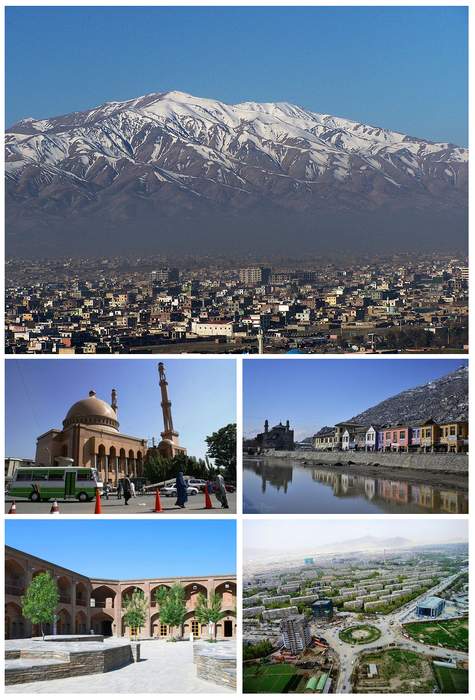 Kabul is the capital and largest city of Afghanistan, located in the eastern section of the country. It is also a municipality, forming part of the greater Kabul Province, and divided into 22 districts. According to estimates in 2021, the population of Kabul was 4.6 million and it serves as Afghanistan's political, cultural and economical center. Rapid urbanization has made Kabul the world's 75th largest city.


Taliban hold military parade with US-made weapons in Kabul in show of strength | Oneindia News

Taliban forces held a military parade in Kabul using captured American-made armoured vehicles and Russian helicopters; Today, the Supreme Court took up the national capital's air quality crisis; PM..
Credit: Oneindia Duration: 02:27
Published
'The Taliban do not see us as human beings', says Afghan presenter who fled Afghanistan

Up until this summer, Masooma Gholamy was presenting the news for Tamadon TV in Kabul.
Credit: euronews (in English) Duration: 02:43
Published
India hosts NSA-level summit chaired by Ajit Doval on Afghanistan; 7 nations attend | Oneindia News

Today, India hosted the third edition of the Delhi Regional Security Dialogue on Afghanistan, two months after the Taliban took control of Kabul. The NSA-level talks were chaired by India's National..
Credit: Oneindia Duration: 02:28
Published
19 dead in IS suicide attack on Kabul military hospital


Credit: FRANCE 24 English Duration: 01:20
Published
Taliban military commander killed in Kabul hospital attack, says Taliban officials | Oneindia News

Taliban military commander in Kabul dead in military hospital attack; In the wake of a sharp rise in prices of petrol and diesel in the country, Rahul Gandhi took a swipe at the Centre; Union Health..
Credit: Oneindia Duration: 02:03
Published
Afghan Sports Couple find New Home in Spain | Makes debut after Leaving Kabul | Oneindia News

After the Taliban seized power in Afghanistan, thousands have been evacuated to Europe. Paralympic wheelchair basketball player Nilofar Bayat and her husband are now living in the Spanish city of..
Credit: Oneindia Duration: 02:52
Published
FRANCE 24 report: On the streets of Kabul with the Taliban police


Credit: FRANCE 24 English Duration: 02:33
Published
What do beleaguered Afghans expect from diplomatic talks? Taliban Russia Meet | Oneindia News

As diplomats gather in Moscow to discuss the situation in Afghanistan with the Taliban, ordinary Afghans are dealing with a freeze on the country's assets that has brought the economy to a halt...
Credit: Oneindia Duration: 02:46
Published
Two months after the final plane left Kabul, families are still stuck in Afghanistan

CNN talks to Second Lt. Fahim Masoud about the struggle to get his and other families out of Afghanistan.
Credit: Bleacher Report AOL Duration: 03:17
Published
Taliban strike journalists at Kabul women's rights protest

The Taliban struck several journalists to prevent media coverage of a women's rights protest in Kabul on Thursday.
Credit: euronews (in English) Duration: 01:00
Published
Afghanistan: A beauty salon becomes a refuge for women in Kabul.

It is one of the last places in Kabul where women can meet outside their households, a bubble of freedom and even frivolity away from the gaze of men.
Credit: euronews (in English) Duration: 01:00
Published
Taliban comes on drug addicts, shave heads of those in rehab | Oneindia News

Taliban came on drug addicts in the country. Hundreds of men were rounded up, and sent to rehab where their heads were shaved. Many of those in the rehab center were homeless people living on the..
Credit: Oneindia Duration: 01:41
Published
Kabul hotels under threat, US & UK warn citizens to leave 'immediately' | Oneindia News

US and UK have warned its citizens to stay away from well known hotels in Afghanistan's capital Kabul due to intelligence of an imminent security threat. The well known Serena in particular can be a..
Credit: Oneindia Duration: 01:54
Published
You Might Like



EU Special envoy on Afghanistan says lauds India's offer of humanitarian support to Kabul

Niklasson has come to Delhi from Doha where he had talks with the Taliban delegation led by its Foreign Minister Amir Khan Muttaqi.




DNA - Published





'Magnetic bomb' blast targets minority Shia area of Afghan capital

A "magnetic bomb" attached to a minivan exploded on Saturday in a predominantly Shia area of Afghanistan's capital Kabul, reports have said.




Sky News - Published




Already fulfilled Delhi meet demands, say Taliban

In another reaction to the Afghanistan conference convened in Delhi, the Taliban foreign ministry said the government in Kabul has already fulfilled the demands raised in the meeting and for the second..




IndiaTimes - Published





NSA Ajit Doval chairs security dialogue on Afghanistan, officials from 7 other countries attend: Key points

National Security Adviser Ajit Doval chaired the Delhi Regional Security Dialogue on Afghanistan here on Wednesday. NSAs and Secretaries of Security Councils of Iran, Kazakhstan, Kyrgyzstan, Russia,..




IndiaTimes - Published





Afghanistan conference: India looks to forge consensus on terror, legitimacy, aid

NSA Ajit Doval set the tone for India's conference on Afghanistan with discussions Tuesday on enhanced terror threat from the country, and also the looming humanitarian crisis it's facing, with his..




IndiaTimes - Published





Child among several people killed following 'IS' bomb and gun attack outside Kabul hospital

Three women and a child were among several people killed in an attack by the Islamic State (IS) group outside Afghanistan's biggest military hospital, according to a Taliban spokesperson.




Sky News - Published




Open to receiving Indian diplomats, humanitarian aid: Taliban

Amid renewed efforts by the government in Kabul to seek international recognition, the Taliban have said they are open to receiving Indian diplomats and providing security to them.




IndiaTimes - Published





Female troops say army has 'learnt a lot' from having women deployed to Kabul evacuation

The British Army is encouraging more women to apply for all roles and says the recent Kabul evacuation shows the value of diversity during sensitive operations. 




Sky News - Published





Hundreds of Afghans gather outside passport office in desperate bid to flee country

Chaotic scenes have broken out in Kabul after hundreds of Afghans flocked to the passport office in an effort to arrange documents to allow them to flee the country.




Sky News - Published





Unidentified armed men ransack gurdwara in Kabul

In first such incident of trespass into a Sikh shrine in Kabul, Afghanistan, since the Taliban takeover in August, a group of unidentified armed militants barged into Gurdwara Dashmesh Pita, Karte..




IndiaTimes - Published





Kabul gurdwara ransacked in broad daylight, guards tethered

A group of 15-17 unidentified people barged into Gurdwara Karte Parwan in the Afghan capital Kabul in broad daylight on Tuesday, ransacked the holy structure, tethered guards and left after breaking..




IndiaTimes - Published





Bomb blast at Kabul mosque leaves a 'number of civilians dead'

A bomb has exploded in the entrance of a mosque in the Afghan capital Kabul, leaving a "number of civilians dead", according to the Taliban.




Sky News - Published




Will India resume flight operations to Afghanistan after Taliban writes to DGCA?

The DGCA received letter from the civil aviation wing of the Islamic Emirate of Afghanistan seeking permission to resume commercial flights to Kabul.




DNA - Published





Kabul bomber was held in Delhi 5 yrs ago, claims IS mag

Islamic State Khorasan Province has claimed that the Afghan suicide bomber who carried out the Kabul airport blast that killed around 170 people, including 13 US Marines, in August, was caught in Delhi..




IndiaTimes - Published





'Tragic mistake': Pentagon apologises for Kabul drone strike that killed 10 civilians, including up to 7 children

The Pentagon has admitted a drone strike in Kabul that killed 10 civilians, including up to 7 children, was a "tragic mistake".




Sky News - Published




India monitoring probe by Afghan authorities into missing Indian national in Kabul, says MEA




IndiaTimes - Published





Indian chemist shop owner abducted in Kabul: Report




IndiaTimes - Published





'Waiting for death': Doctors work without pay and medicines dwindle, a month into Taliban rule

The doctor in front of us has had multiple Taliban death threats - he hasn't been paid for months and yet he's still working at one of the government hospitals in Kabul. Many of his staff are too - for..




Sky News - Published




Afghan origin Indian national allegedly kidnapped in Kabul, Afghanistan

An Afghan origin Indian national Bansri Lal Arendeh (about 50) who belongs to Hindu Khost community of Afghanistan was allegedly abducted at gunpoint from Kabul in the morning on Tuesday, September 14,..




IndiaTimes - Published





Animal shelter workers in Afghanistan evacuated - two weeks after charity's dogs and cats flown to UK

A former royal marine who founded an animal shelter in Afghanistan says his staff have been evacuated from the country - two weeks after he left Kabul with nearly 170 dogs and cats.




Sky News - Published




Armed police arrest Afghan special forces commando at Manchester hotel, Sky News learns

Armed police have arrested an Afghan special forces commando at a hotel in Manchester where he had been in quarantine with his family after arriving on an evacuation flight from Kabul, Sky News has..




Sky News - Published





'Why don't they come back?': Taliban occupying British embassy in Kabul urge diplomats' return

The British embassy's new tenants in Kabul cannot understand why the diplomatic staff have not returned since the Taliban took control.




Sky News - Published




Thirteen Britons among hundreds allowed to leave Kabul on first international flight

Thirteen Britons are among hundreds of people allowed to leave Afghanistan in the first international civilian flight since Kabul fell to the Taliban, the Foreign Office has said.




Sky News - Published




Commercial flight carrying westerners lands in Doha after leaving Kabul

A commercial flight carrying 200 Americans and other civilians has landed in Qatar after leaving from Kabul.




Sky News - Published





Afghan journalists 'severely beaten' for covering women's rights protests in Kabul

Two Afghanistan journalists covering the women's protests in Kabul have been detained and severely beaten by Taliban security forces, Human Rights Watch has said.




Sky News - Published




Taliban bans all protests where prior permission has not been granted

The Taliban has announced a ban on all protests in Kabul and other provinces in Afghanistan which have not got prior permission.




Sky News - Published




RAF man cradled Afghan newborn dropped by exhausted mother on evacuation flight from Kabul

An airman has revealed how he cradled a two-week-old Afghan baby on a UK evacuation flight out of Kabul to let the mother rest after she accidentally twice dropped her daughter out of exhaustion.




Sky News - Published





End game was not something that anybody saw coming: Jaishankar on Afghanistan

India's focus since the fall of Kabul has been on evacuation, coordinating with several countries like the US, Tajikistan, Uzbekistan, Iran, Oman.




DNA - Published





Taliban breaks up women's rights protests in Kabul with 'gunshots and teargas'

The Taliban has broken up women's rights protests in Kabul by firing shots into the air and using teargas and tasers, witnesses say.




Sky News - Published




RAF pilot in Kabul narrowly missed smashing plane into bus full of evacuees who had taken wrong turn

An RAF pilot missed smashing his aircraft into a bus carrying evacuees at Kabul airport by about 3m (10ft) after the vehicle steered onto the runway as he was taking off.




Sky News - Published




Second Afghan refugee child dies in Poland after eating poisonous mushrooms

A second child of an Afghan family evacuated from Kabul has died in Poland after eating poisonous mushrooms.




Sky News - Published




British troops 'ran towards the explosion' after Kabul terror attack, senior officer reveals

British soldiers "ran towards the explosion" after last week's suicide bomb attack outside Kabul airport, a senior officer has revealed, with troops treating casualties - including a baby - and helping..




Sky News - Published




The weapons left behind to the Taliban and what it means for the future of Afghanistan?

American military planes left the tarmac at Kabul's Hamid Khazai International Airport for the final time on Monday, marking the end of 20 years of US military presence in Afghanistan.




Sky News - Published




Raab says evacuations from Kabul airport could resume 'in the near future' following discussions with Qatar

Evacuations from Kabul airport may be able to resume 'in the near future', Dominic Raab has said, following discussions on the situation in Afghanistan with his Qatari counterpart.




Sky News - Published




Afghanistan women's cricket team: Players hiding in Kabul fear Taliban rule

Members of Afghanistan's women's cricket team are hiding in Kabul, fearing for their safety following the Taliban's return to power.




BBC Sport - Published





Woman 'forever indebted' to stranger who helped her mum flee Kabul after emotional reunion in UK

Fereba Hafizi couldn't sleep last night, she was so excited to see her 79-year-old mother, Layloma, again.




Sky News - Published





'I'm thinking someone's going to come and kill us': British national still in Kabul makes plea for help

A British national still in Afghanistan has told Sky News he fears for the lives of him and his family after they were unable to evacuate.




Sky News - Published