Kabul
Metropolis and municipality in Afghanistan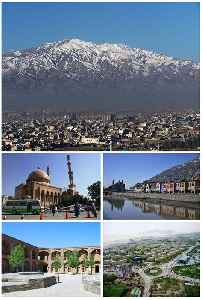 Kabul is the capital and largest city of Afghanistan, located in the eastern section of the country. It is also a municipality, forming part of the greater Kabul Province, and divided into 22 districts. According to estimates in 2020, the population of Kabul is 4.222 million, which includes all the major ethnic groups of Afghanistan. Afghanistan's only city with a population of over 1 million, Kabul serves as its political, cultural and economical center. Rapid urbanization has made Kabul the world's 75th largest city.


Afghan VP survives assassination attempt

A roadside bomb in Kabul targeted Afghan Vice President Amrullah Saleh on Wednesday morning but he escaped unharmed, his spokesman said. The attack killed at least 10 people. Olivia Chan reports.
Credit: Reuters Studio Duration: 01:17
Published
Afghan VP Saleh unharmed in bomb attack in Kabul: Spokesman

At least two killed in roadside explosion targeting the convoy of First Vice President Amrullah Saleh, officials say.
Credit: Al Jazeera STUDIO Duration: 03:35
Published
Sikh families from Afghanistan relocated in Delhi gurudwaras

Around 138 Sikh families from Afghanistan have been relocated in Delhi. They are currently staying in Gurudwaras that are run by Delhi Sikh Gurdwara Management Committee."It's been 16 days here. I lost..
Credit: ANI Duration: 01:51
Published
Over 180 Sikh families from Afghanistan arrive in India on 'long-term' visas

More than 180 Sikh families arrived in India from Afghanistan on Thursday. The families were welcomed at the IGI Airport by World Punjab Organisation. The families arrived in India on 'long-term'..
Credit: HT Digital Content Duration: 02:22
Published
182 Afghan Hindu, Sikh migrants brought to India

Delhi Sikh Gurdwara Management Committee (DSGMC), in association with World Punjabi Organization brought 182 Afghan Hindu-Sikh migrants to India from Afghanistan. They were brought to New Delhi in a..
Credit: ANI Duration: 02:24
Published
You Might Like



Woman member of Afghan peace team survives attack by gunmen

A female member of Afghanistan's peace negotiating team and a former parliamentarian survived an assassination attempt, Afghan officials said on Saturday. Tariq Arian, a spokesman for the Interior..




IndiaTimes - Published





EXCLUSIVE: Ball is now in the Taliban court for peace talks, says Afghan President's spokesperson Sediq Sediqqi

Speaking exclusively to our Principal Diplomatic Correspondent Sidhant Sibal from Kabul, Sediqqi welcomed India's role and said New Delhi "has played an important role in the country's democracy" and..




DNA - Published





MEA thanks Afghanisthan for safe return of of 11 Afghan Sikhs, Hindus

Eleven members of the Sikh community from Afghanistan, who were granted short-term visas by the Indian Embassy in Kabul, including Nidan Singh Sachdeva, who was abducted from a gurudwara in Paktia..




DNA - Published




Afghan Sikhs return: Nidan Singh, who was abducted from gurdwara months ago, arrives in Delhi; delegation in tow

The rest of the ten are families of the Afghan Sikhs who were killed in the Kabul Gurudwara terror attack earlier this year. More than 25 Afghan Sikhs and one Indian Sikh were killed on the March 25th..




DNA - Published





Minor Sikh girl who lost her father in Kabul gurudwara attack kidnapped




IndiaTimes - Published





Doctors Without Borders to close Kabul maternity clinic after attack

Doctors Without Borders said on Monday it would close its maternity ward in Kabul due to fears of further attacks after three gunmen last month opened fire at the clinic, killing 24 people including..




Reuters - Published





Four killed, eight wounded in blast at Kabul mosque during Friday prayers

A blast in a Kabul mosque during Friday prayers killed at least four people and wounded eight, Afghanistan's interior ministry said on Friday, at a time when the country is attempting to move towards..




Reuters India - Published

Also reported by •Reuters


Four killed and "many injured" in blast in Kabul mosque: Ministry of Interior

A blast in a Kabul mosque during Friday prayers killed at least four people and wounded many more, Afghanistan's interior ministry said on Friday.




Reuters - Published

Also reported by •Reuters India


Vande Bharat Mission: Ariana Afghan Airlines evacuates 3rd batch of stranded Indian citizens from Kabul




IndiaTimes - Published





Afghans condemn killing of prominent cleric in mosque blast

Afghan leaders and ordinary citizens condemned on Wednesday the killing of a prominent cleric in a bomb attack at a mosque in the heavily fortified diplomatic quarter of the capital, Kabul.




Reuters - Published





Suicide bomber injures at least three in Kabul mosque compound

A suicide bomber blew himself up inside a large mosque compound near a high-security diplomatic district in Kabul on Tuesday, government officials said, adding that at least three people were injured..




Reuters - Published





Loud explosion heard in diplomatic district of Kabul: police

A loud explosion was heard on Tuesday in the Wazir Akbar Khan area of Kabul, which is home to many embassies and foreign representative offices, setting off alarms, Reuters journalists and the Kabul..




Reuters - Published





Islamic State kills Afghan journalist, technician in bus blast

Islamic State claimed responsibility for Saturday's bomb explosion that killed an Afghan journalist and a technician in minibus carrying employees of a local television station in Kabul.




Reuters - Published





Afghan journalist, technician at state-run channel killed in blast

A journalist and a technician were killed and at least seven people were wounded when a private bus carrying employees of an Afghan television station was bombed in Kabul on Saturday, the channel's..




Reuters - Published




Backstory: In Afghanistan, covering the death of Hope

In the morning, the gunmen burst into the maternity ward of a hospital in Kabul disguised as police. They killed 24 people, including 16 women and two newborn babies.




Reuters India - Published





Afghans throng markets ahead of Muslim holiday despite virus fears

Kabul's markets were teeming on Friday in the countdown to the Muslim holiday of Eid al-Fitr as Afghans disregarded government safety guidelines to contain rising coronavirus infections across the..




Reuters - Published





U.S. envoy in Afghan peace shuttle demands reduction in violence

The U.S. special envoy for Afghanistan has demanded that all sides reduce violence, he said on Thursday, after shuttling from Kabul to the Gulf to push a peace effort that looks increasingly..




Reuters - Published





U.S. envoy to press Taliban, Afghan officials on peace talks

A senior U.S. envoy left for Doha and Kabul on Sunday to press Taliban and Afghan government officials to open peace talks that the United States hopes will allow it to withdraw from Afghanistan, the..




Reuters India - Published

Also reported by •Reuters


Taliban accuses India of playing 'negative' role by supporting Kabul govt




IndiaTimes - Published





Afghans say Taliban behind bloodshed, reject U.S. blame of Islamic State

Afghan officials on Friday blamed the Taliban for a bloody attack on a maternity hospital in the capital, Kabul, this week, rejecting a U.S. assertion that it was carried out by Islamic State..




Reuters - Published





'May Allah remove the virus': Pandemic a grim addition to Afghanistan's woes

Delkhah Sultani scrubs laundry outside her home in Kabul as her young daughter watches on. She says she once got paid around $3 a day to wash clothes for other households but since the coronavirus..




Reuters - Published

Also reported by •Reuters India


U.S. says Islamic State conducted attack on Kabul hospital

The United States has assessed that Islamic State Khorasan conducted two attacks in Afghanistan this week, including on a hospital in Kabul in which two newborn babies were killed, U.S. Special..




Reuters - Published





Truck bomb in eastern Afghan city kills five, 14 injured

A truck packed with explosives blew up near a court in the eastern Afghan city of Gardez on Thursday, killing at least five people, two days after gunmen attacked a maternity ward in the capital Kabul,..




Reuters India - Published

Also reported by •Reuters


Attacks deal Trump's long-shot Afghan peace push a fresh blow

U.S. President Donald Trump's stalled plans to bring peace to Afghanistan have suffered a new setback with a decision by Kabul to resume offensive operations against the Taliban following two attacks..




Reuters - Published





Maternity ward massacre shakes Afghanistan and its peace process

After struggling to get pregnant for years, Zainab, 27, gave birth to a baby boy on Tuesday morning at a small hospital in the southwestern corner of Kabul. She was overjoyed and named the boy Omid,..




Reuters India - Published

Also reported by •Reuters


Newborns among 16 dead in Kabul hospital attack; 24 killed in funeral bombing

Gunmen disguised as police attacked a hospital in the Afghan capital, Kabul, on Tuesday, killing 16 people including two newborn babies from a maternity clinic run by the international humanitarian..




Reuters India - Published

Also reported by •Reuters


Gunmen attack Afghan hospital where MSF aid group runs a clinic

Gunmen attacked a hospital in the Afghan capital, Kabul, on Tuesday where the international humanitarian organisation Doctors Without Borders runs a maternity clinic, officials said.




Reuters India - Published

Also reported by •Reuters


Gunmen attack Doctors Without Borders clinic in Kabul: interior ministry source

Gunmen attacked a Doctors Without Borders medical clinic in the western part of the Afghan capital of Kabul, a Ministry of Interior source said on Tuesday.




Reuters - Published





Exclusive: Large number of COVID-19 cases among Afghan medics spark alarm in Kabul

More than a third of confirmed coronavirus cases in the Afghan capital have been among doctors and other healthcare staff, two senior health officials said on Thursday, in a sign that the war-torn..




Reuters - Published

Also reported by •Reuters India


Members of Islamic State-Haqqani network arrested over Kabul attacks

Afghan security forces arrested eight members of a network grouping Islamic State and Haqqani militants responsible for bloody attacks in the capital including on Sikh worshippers, the country's..




Reuters - Published





Bombing near Afghan capital kills three amid unabated violence

A suicide bombing near Kabul, the Afghan capital, killed three people and wounded 15 on Wednesday, the interior ministry said, as violence in the war-torn nation threatens a fragile peace process.




Reuters - Published





Taliban recalls negotiators after suspending prisoner exchange talks

The Taliban on Tuesday recalled the group's negotiators from Kabul hours after they suspended talks on a prisoner exchange process with the Afghan government, a spokesman for the hard-line Islamist..




Reuters - Published





Pompeo says Afghanistan peace progress made since his March 23 Kabul visit

U.S. Secretary of State Mike Pompeo on Tuesday said a U.S.-led Afghanistan peacemaking drive has seen progress since he visited Kabul last month to persuade the Afghan president and his main political..




Reuters - Published





Exclusive: Planned $1 billion U.S. aid cut would hit Afghan security force funds

A planned $1 billion cut in U.S. aid to Afghanistan would come from funds for Afghan security forces, according to three U.S. sources, a step experts said would undercut both Kabul's ability to fight..




Reuters - Published




Kabul gurdwara attack 'mastermind' ISKP chief Mawlawi Abdullah arrested

Pakistani national and 'emir" of Islamic State Khorasan Province, Mawlawi Abdullah aka Aslam Farooqi was arrested by Afghan security forces as the mastermind of the Kabul gurdwara attack last week..




IndiaTimes - Published





In 1st foreign case, NIA to probe Af gurdwara attack

National Investigation Agency (NIA), in its first probe involving an act of terror against an Indian citizen on foreign soil, has filed a case in connection with the March 25 bombing on a gurdwara in..




IndiaTimes - Published





NIA to investigate Gurudwara attack in Kabul, first case outside India

This is for the first time that NIA has registered a case in context to attack outside India




DNA - Published





NIA to probe terror attack on gurdwara in Afghanistan; first overseas case registered by agency

Registering its first overseas case, the NIA on Wednesday filed an FIR to probe the terror attack on a gurdwara in Afghanistan's capital Kabul last month that left 27 people including an Indian citizen..




IndiaTimes - Published





Taliban team arrives in Kabul to begin prisoner exchange process

A three-member Taliban team arrived in Kabul on Tuesday to begin a prisoner exchange process pivotal to starting talks between the insurgents and the government side to end Afghanistan's 18-year-old..




Reuters - Published





India shifts staff in Herat, Jalalabad to Kabul in view of COVID-19 cases

India has shifted its diplomats and staff from its consulates in Afghan cities of Herat and Jalalabad to Kabul in view of fast-spreading cases of coronavirus in that country which shares a long border..




IndiaTimes - Published