Coronavirus
Subfamily of viruses in the family Coronaviridae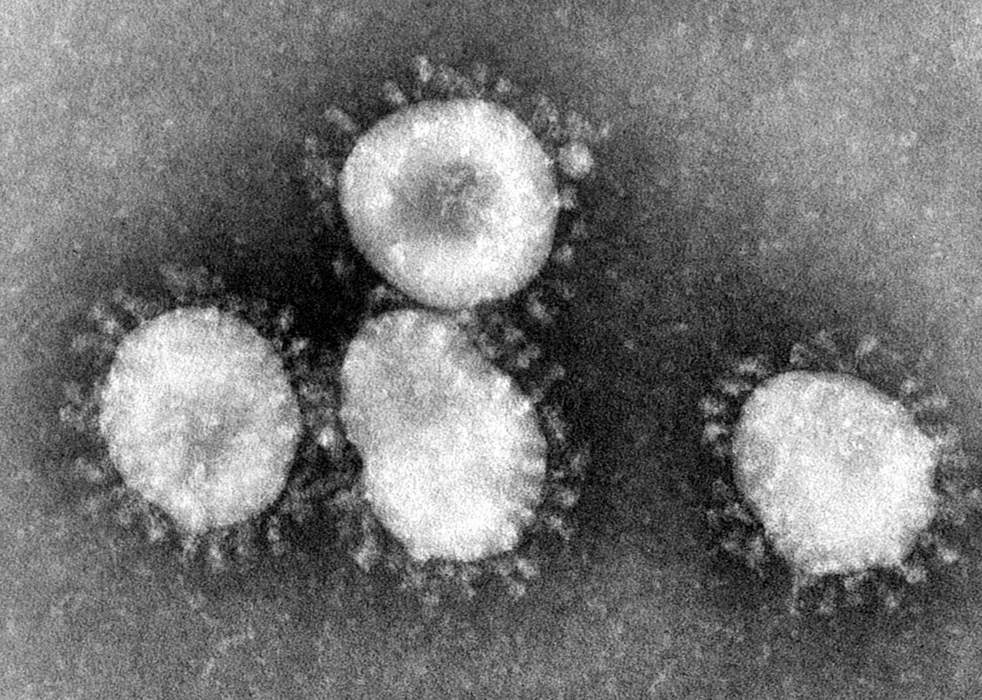 Coronaviruses are a group of related RNA viruses that cause diseases in mammals and birds. In humans and birds, they cause respiratory tract infections that can range from mild to lethal. Mild illnesses in humans include some cases of the common cold, while more lethal varieties can cause SARS, MERS, and COVID-19. In cows and pigs they cause diarrhea, while in mice they cause hepatitis and encephalomyelitis.


Tourists flood Manali as Corona third wave approaches; Netizens troll on Twitter | Oneindia News

In a recent development, tourists have been visiting Himachal Pradesh as the heatwave has hit the plains and the second wave of Covid-19 seeing a significant decline in the country. #CovidThirdWave..
Credit: Oneindia Duration: 01:46
Published
Finland running Covid-19 vaccine trials on kids as young as six months | BioNTech | Oneindia News

While evidence shows that children generally only suffer mild symptoms of the Coronavirus, most scientists believe immunizing children is crucial to achieving herd immunity. Finland is one of the few..
Credit: Oneindia Duration: 03:05
Published
Nirmala Sitharaman's economic relief measures: All you need to know | Oneindia News

At a time when the Indian economy has been ravaged by the repurcussions of the lockdown induced by the deadly second wave of the Coronavirus pandemic, finance minister Nirmala Sitharaman has announced..
Credit: Oneindia Duration: 02:32
Published
Corona crisis in Kenya | Kenya Hospitals| Know all | Oneindia News

Kenya is battling a rise in COVID-19 cases due to the delta variant. DW's Mariel Müller visited a hospital in Kisumu where oxygen is in short supply. #Kenya #Hospitals #Covid19
Credit: Oneindia Duration: 03:02
Published
Delhi records lowest Covid cases since May 1, 2020 | MP Mimi Chakraborty falls sick | Oneindia News

Delhi reported 85 new Coronavirus cases in the last 24 hours, the lowest tally since May 1st of last year; According to a report by PTI, TMC MP Mimi Chakraborty from the Jadavpur constituency has..
Credit: Oneindia Duration: 02:24
Published
Rakesh Jhunjhunwala believes there will be no Covid third wave in India | Know all | Oneindia News

In an interview with CNBC-TV18, billionaire investor and trader Rakesh Jhunjhunwala revealed his firm belief that India will no longer see the Corona third wave. #RakeshJhunjhunwala #CoronaThirdWave..
Credit: Oneindia Duration: 01:11
Published
Are African nations doing enough to curb COVID-19? | Inside Story

The World Health Organization is warning of a third wave of Coronavirus in parts of Africa.
Credit: Al Jazeera STUDIO Duration: 25:34
Published
India confirms first vaccine death due to a Coronavirus vaccine | Oneindia News

The Indian govt has confirmed the first death due to side effects caused by the Covid-19 vaccine. A 68-year-old man has reportedly died due to anaphylaxis after he was administered a coronavirus..
Credit: Oneindia Duration: 01:41
Published
Villagers set up Corona Mata temple | Covid protocol violated to seek blessings | Oneindia News

Corona Mata temple comes up under a neem tree at a village in Uttarpradesh. Villagers collectively decided & set up the temple with belief that praying to the deity would definitely offer respite to..
Credit: Oneindia Duration: 01:39
Published
Delta Covid variant yields unfamiliar symptoms in patients; Most infectious variant | Oneindia News

The Delta variant identified as B.1.617.2 of SARS-CoV-2 coronavirus detected in India is believed to be the most infectious to have emerged so far; According to the vaccination distribution plan of the..
Credit: Oneindia Duration: 02:30
Published
Prime Minister Narendra Modi to address the nation at 5 pm today| Covid-19| Oneindia News

Covid-19, Coronavirus Pandemic, Covid-19 cases in India, 'Jahan vote, Wahan vaccination', Covidshield, Covaxin, Door to Door vaccination, Pakistan train collision, Pak PM Imran Khan, Ivermectin,..
Credit: Oneindia Duration: 02:46
Published
You Might Like



Royal Navy aircraft carrier crew test positive for COVID-19

Coronavirus has broken out on the UK's second aircraft carrier, HMS Prince of Wales, meaning that both of the Royal Navy's largest vessels have COVID cases on board.




Sky News - Published




Get oxygen generation infrastructure ready fast: PM to officers

Prime Minister Narendra Modi on Friday instructed officials to work closely with the states and ensure that 1,500 pressure swing adsorption (PSA) oxygen generators are made functional across the..




IndiaTimes - Published





17% dip in average fresh Covid-19 cases since 2nd Corona wave peak in May, says Union health ministry

The number of Covid-19 cases has declined continuously since India reported its peak of the second wave on May 7, an Union health ministry official said on Tuesday.




IndiaTimes - Published





No early lifting of COVID restrictions with 19 July still 'target date', new health secretary confirms

Coronavirus restrictions will not be lifted early on 5 July, the new health secretary has confirmed - and 19 July "remains our target date".




Sky News - Published





2-year-old girl from Kanpur Dehat gets Covaxin jab during vaccine trial on children

The toddler, the daughter of a private doctor in Kanpur Dehat, was given the first dose of the indigenous Coronavirus vaccine.




DNA - Published





MPs back extension of COVID restrictions until 19 July despite Conservative rebellion

Coronavirus restrictions in England have been extended until 19 July as MPs voted in favour of a four-week delay to lockdown easing.




Sky News - Published





488 AEFI deaths, but these are not necessarily due to vaccination: Govt

Asserting that vaccines approved by the government are safe and the only weapon against the Coronavirus, the government on Tuesday said deaths reported post-vaccination standing at 488 were a small..




IndiaTimes - Published





Goa Lockdown: CM Pramod Sawant extends Corona curfew till June 14 with curbs

"Our government has decided to extend the curfew till June 14. Timings for essential shops as defined will be increased to 7 pm to 3 pm," the CM said.




DNA - Published





Coronavirus variants given new names by the WHO under new system - here's the full list

Coronavirus variants have been renamed with letters of the Greek alphabet following criticism of the way they have been labelled up until now.




Sky News - Published




After Harsh Vardhan rap, Ramdev eats his words

Harsh Vardhan called Ramdev's statement on allopathic medicines "extremely unfortunate" and said healthcare workers did a tremendous job fighting against Covid-19 day in and day out to save..




IndiaTimes - Published





Harsh Vardhan asks Ramdev to withdraw objectionable comments about allopathy, Corona warriors




IndiaTimes - Published





Madhya Pradesh government extends Corona curfew till May 24 - What's open, what's closed

The extended lockdown is a precautionary measure taken by the state government to prevent the spread of COVID-19 infection.




DNA - Published




Corona curfew extended in Uttar Pradesh till May 24




IndiaTimes - Published





'Coronavirus has right to live, just like humans,' says former Uttarakhand CM Trivendra Singh Rawat

"Seen from a philosophical angle, coronavirus is also a living organism. It has the right to live like the rest of us," Trivendra Singh Rawat said.




DNA - Published





COVID at lowest level since August - amid fears Indian variant could push infections back up

Coronavirus cases in England are at their lowest level since last August, a new study suggests - but it comes amid fears the rapid spread of the Indian variant could push infections up and impact the..




Sky News - Published





COVID-19 cases in England at lowest level since last August thanks to vaccine rollout

Coronavirus cases in England are at their lowest level since last August, indicating the success of the vaccine rollout despite the relaxation of lockdown, new data suggests.




Sky News - Published





Uttar Pradesh COVID news: Thousands gather for cleric's funeral in Badaun amid Corona curfew, case lodged

Notably, a 'Corona curfew' is in place in the state till May 17 but the UP police and district administration failed to take action against the crowd.




DNA - Published





Corona curfew in Jammu and Kashmir extended in all 20 districts till May 17

Police and paramilitary forces have put checkpoints on roads in all districts of the UT to curb the unnecessary movement of people.




DNA - Published





Only way to stop Covid-19 spread now is full lockdown: Rahul Gandhi

Congress leader Rahul Gandhi on Tuesday said the only way to stop the spread of coronavirus now was a full lockdown with the protection of minimum income guarantee scheme, NYAY, for the vulnerable..




IndiaTimes - Published





Covid-19: India records highest-ever 4,01,993 new cases, 3,523 deaths

Coronavirus cases in India hit a record daily high with over 4 lakh new infections being reported in the last 24 hours, while the active cases crossed the 32-lakh mark, as per health ministry data on..




IndiaTimes - Published





Covid: Coronavirus sends Modi govt from 'vocal for local' to relying on global aid

Nations including the US, the UK, France and Germany have pledged aid after a second wave of the pandemic overwhelmed India's healthcare system. Even China, with whom New Delhi is entangled in a..




IndiaTimes - Published





COVID-19 news: Puducherry bans sale of liquor amid surge in Coronavirus cases

"All categories of liquor shops to remain closed with immediate effect up to midnight of 30th April," informed the government of Puducherry.




DNA - Published





Covid-19: China stokes US-India tensions over Biden's slow coronavirus aid

In a barrage of editorials, political cartoons and social-media posts in recent days, the Communist Party-backed Global Times newspaper blasted the US for failing to provide aid while calling on India..




IndiaTimes - Published





COVID-19: Planning to donate plasma to patients? Check out these dos and don'ts

Plasma therapy, broadly known as 'convalescent plasma therapy', is a procedure to treat coronavirus infection.




DNA - Published





COVID-19: What is a pulse oximeter and how to use it? Step-by-step guide

Oximeters are used to measure the oxygen level and heart rate and are extremely useful for coronavirus patients.




DNA - Published





Covid-19: Of 15,000 virus sequences, 11% comprise of UK, SA and Brazil variants; UK strain dominant in India

With six variants of concern (VOC) of coronavirus that is dominating global topography currently, India is grappling with three particular variants, i.e. the UK, Brazil, and South Africa, since the..




IndiaTimes - Published





'This is on you': Rahul Gandhi slams govt over 'oxygen shortage, lack of ICU beds'

"Corona can cause a fall in oxygen level but it's #OxygenShortage & lack of ICU beds which is causing many deaths. GOI, this is on you," Gandhi said in a tweet.




IndiaTimes - Published





COVID-19 news: India records 3,32,730 cases in last 24 hours

India's total tally of Coronavirus cases climbed to 1,62,63,695, while active cases crossed the 24-lakh mark, as per the Union Health Ministry data.




DNA - Published





COVID no longer the main cause of deaths in England and Wales, figures show

Coronavirus was not the main cause of deaths in England and Wales in March - the first time for four months, new figures show.




Sky News - Published





COVID-19 news: India records daily rise of over 3,00,000 Coronavirus cases

India on Thursday reported more than 300,000 coronavirus cases over the last 24 hours, the highest daily global total, while COVID-19-related deaths also jumped by a record.




DNA - Published





Congress leader Rahul Gandhi tests positive for coronavirus

A number of Congress leaders including former Prime Minister Manmohan Singh and Rajya Sabha MP Anand Sharma have tested positive for COVID-19.




DNA - Published





Scores test positive for Covid-19 on India flight to Hong Kong

At least 49 passengers on a flight from New Delhi to Hong Kong have tested positive for coronavirus, authorities said, as the financial hub introduced an emergency ban on all flights from India in a..




IndiaTimes - Published





Wales to further relax COVID restrictions as infection rate continues to fall

Coronavirus restrictions in Wales are to be further relaxed from Saturday with six people from different households able to meet outdoors.




Sky News - Published





Covid-19: Ten states account for over 78 per cent of new cases

Maharashtra, Uttar Pradesh, Delhi and Rajasthan are among the 10 states that account for 78.58 per cent of the new Covid-19 cases reported in a day, the Union health ministry said on Monday. India's..




IndiaTimes - Published





COVID-19 curfew, lockdown news: List of states that have imposed weekend curfew, lockdown amid Coronavirus surge

To contain the spread of the COVID-19 virus, many states and UTs, including Delhi, Rajasthan, Chandigarh have imposed weekend curfew or night curfew.




DNA - Published





COVID-19: Want to check availability of Remdesivir, hospital beds in India? Visit THESE websites

The anti-viral drug Remdesivir is considered a key drug in the fight against COVID-19, especially in adult patients with severe complications.




DNA - Published





Corona curfew to be imposed in these districts of Uttar Pradesh

The coronavirus curfew will be effective from 8 pm to 7 am in all districts with more than 2000 active cases.




DNA - Published





Mumbai COVID-19 update: 4 and 5-star hotels to be turned into Corona facilities, know details here

Additional 250 covid beds in JASLOK Hospital will be updated online on the BMC dashboard(including 40 ICU beds) by Saturday morning.




DNA - Published





Scotland to relax restrictions on travel and outdoor gatherings early

Coronavirus travel restrictions will be eased in Scotland from Friday and more people will be able to meet up outdoors, Nicola Sturgeon has said.




Sky News - Published





Monte Carlo Masters: Daniil Medvedev tests positive for Covid-19

World number two Daniil Medvedev withdraws from the Monte Carlo Masters after testing positive for coronavirus.




BBC Sport - Published





Union minister Santosh Gangwar tests positive for Covid-19

"I want to inform you that my "Corona test report has come positive". I don't have any kind of symptom, I request that all the people who came in contact with me, please follow the Corona safety rules...




IndiaTimes - Published





Covid-19: India overtakes Brazil as world's second worst-hit country

India reported a record 168,912 Covid-19 infections overnight, data from the health ministry showed on Monday, overtaking Brazil to become the second-most affected country globally by the coronavirus...




IndiaTimes - Published





COVID-19: THIS state is distributing free gifts to those taking vaccine jab

The free gifts are been handed out after the beneficiaries get inoculated with the coronavirus vaccine at the camp.




DNA - Published





COVID safety measures needed for another two years to combat threat of variants - Whitty

Coronavirus safety measures are likely to still be necessary for another two years, England's chief medical officer has said.




Sky News - Published





DNA Special: Analysing Corona 2.0 and how it can pose a bigger threat

India saw a massive spike in the number of Coronavirus cases with 56,211 fresh Covid-19 cases and 271 deaths reported in the past 24 hours.




DNA - Published





COVID-19: Centre releases fresh guidelines to contain Coronavirus spread - know what's allowed, what's not

As per the MHA, the main focus of the guidelines is to consolidate the substantial gains achieved in containing the spread of COVID-19.




DNA - Published





Lockdown in Maharashtra? Here's what CM Uddhav Thackeray said

Maharashtra witnessed a massive surge of 25,833 Coronavirus cases in the past 24 hours.




DNA - Published





Coronavirus reinfection rare with sufferers protected for up to six months

Most people who have had coronavirus are protected from catching it again for at least six months, new research has suggested.




Sky News - Published




'Digital green certificates' could allow Britons to holiday in Europe this summer

Coronavirus vaccine certificates could pave the way for Britons to have European holidays this summer under new EU plans.




Sky News - Published




Outdoor socialising restrictions relaxed in Scotland - here's what's allowed from today

Coronavirus restrictions on people meeting outdoors have been eased in Scotland.




Sky News - Published