MOVIE REVIEW: Joker

Monday, 7 October 2019
by 👨‍💻 Graham Pierrepoint


JOKER

Dir: Todd Phillips

Starring Joaquin Phoenix, Robert De Niro, Zazie Beetz, Frances Conroy





4.5 STARS (out of 5)
DISCLAIMER: While I am reviewing this movie for the purpose of sharing an opinion, I am not in a position where I can recommend it to viewers. This is as a result of soundtrack choice – specifically, 'Rock and Roll (Part Two)', by Gary Glitter, who is fully credited and presumably remunerated for his contribution. Though Glitter is incarcerated for his crimes, I cannot conscionably support a movie – in any shape or form – which directly funds his estate. I encourage other would-be viewers to consider the same.
This is a difficult one. This is the first movie I have ever reviewed, regardless of the disclaimer above, where I haven't been able to give a full score. On one hand, it is a relentless, intense, riveting ride – and on the other, it offers up a lot of troubling questions. Running right down the middle, there is an odd banality to the picture which only really hits home once you've left the cinema. What did this movie achieve? If it was to disturb and confound, its mission is complete – but I'm not sure if it was trying to convey specific messages, nor whether or not it truly succeeds.
In short – Joker is a re-imagining of the famous Batman villain with his first-ever backstory. Brought to life by the fantastic Joaquin Phoenix as Arthur Fleck, we are given a no-holds barred look at an emotionally disturbed man who finds himself falling further and further into misery, eventually descending into chaos. From the synopsis you already know this isn't going to be particularly pleasant – though that's pretty much what viewers are heading to see, I can presume.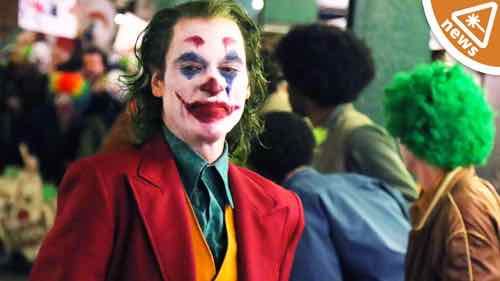 Joker (Warner Bros. Pictures)
First things first – as a comic book movie, if we can call it that, Joker is unique. It is relentlessly murky and disturbing, uncomfortable in each and every scene. That's an effort – and a lot of it is thanks to Phoenix, who I dare say may clinch an Oscar nod at the very least for his career-defining performance here. The cinematography is pounding and pulsating, unavoidable – utterly unique in many ways. The story is roughshod – though I feel that there was a good balance where you initially feel sad for Fleck, before slowly realising his descent into monsterdom. My main issue with this aspect is that I don't think that it's truly enough.
There doesn't need to be a 'good' balance – you need to feel that Fleck is a monster, not just someone who's pitiable and has gone off the rails. I'm unsure if the point was to go for grey morality here – and I'm assuming the film-makers wanted viewers to feel uncomfortable with feeling good about Fleck's rise to infamy – and I'm further torn on whether or not that was a good idea.
There has been all manner of talk over whether or not Joker is going to be harmful in the sense that it glorifies violence. I don't feel that's the major issue at stake. I think there are potentially harmful statements made here with regard to abuse and with regard to mental illness. Fleck is constantly held back as a result of his illness – and yes, we're meant to hate the state for cutting his treatments – but it's more than a little discomforting that his rise to villainhood appears to be pinned on his mental condition.
Joker - Final Official Trailer (Warner Bros. Pictures)
I understand that the Joker was always meant to be psychotic – but this is just a little bit too sad to behold, in places. There are people like Fleck who are genuinely out there, suffering under system restraints – and are they following the same route? No – this is fantasy, of course, but I feel there was an unfair portion of blame levelled at Fleck's mental condition – not just the events he goes through to finally break down. I'm not sure what you'd need to do to redress this issue, however, it does sit fairly uncomfortably.
And that's what this movie is – deeply uncomfortable. I understand that this was the point – but it does make it very difficult to watch. On one hand, I enjoyed it, on the other, I didn't.
That brings me back, full circle, to my disclaimer. Was including music by a convicted molester – possibly one of the highest-profile in UK history – truly necessary? Why was Glitter's music included? I am all for artistic choice – however, there comes a point where we have to consider actual decency. I am not seeing much talk about this topic online – however, I still can't afford this movie a score, or a recommendation on this basis. A film that touches on abuse shouldn't include music from an actual abuser – it's perhaps worse if this choice was intentional – it's in abhorrent taste.
Joker is a movie which will be burned into the memories of everyone who sees it, and it's likely we've not heard the last from it.
💡 newsR Knowledge: Other News Mentions
Robert Pattinson COVID Recovery: Making Out With Suki Waterhouse

Looks like Robert Pattinson has recovered from coronavirus. The Batman actor was photographed making out with his girlfriend Suki Waterhouse in a London park on Wednesday. Perhaps fighting off a deadly disease made R.Patz a little less shy about showing his love for Waterhouse in front of photographers. The diagnosis caused production on The Batman, which had just resumed, to be "temporarily paused" on September 3, according to a statement Warner Bros provided to CBS News.
Credit: Wochit News Duration: 00:32
Published
Wonder Woman 1984 Pushed Again

Wonder Woman 1984 won't be flying into theaters anytime soon. Warner Bros. has announced that the latest DC superhero flick has been delayed again, this time set to come out in late December. As reported by Variety and Deadline, Wonder Woman 1984 has been moved from its previous release date of October 2 and will now come out on December 25—more than a year after its original release date.
Credit: Wochit News Duration: 00:32
Published
Ellen's Talk Show Sets Return Date

"The Ellen Show" will return to the airwaves on September 21st, 2020. Tiffany Haddish is set to help DeGeneres kick off the new season. The show will be filmed in-studio on the Warner Bros. lot in Los Angeles but not in front of an audience, the studio said in a release. CNN reports that other premiere week guests will include Kerry Washington, Alec Baldwin and Chrissy Teigen. Ellen and her show have been under fire for creating a toxic work environment.
Credit: Wochit News Duration: 00:32
Published
Jason Momoa backs Ray Fisher amid Warner Bros. Justice League disagreement

Jason Momoa has weighed in on the side of fellow Justice League cast
Credit: Cover Video STUDIO Duration: 01:06
Published
Joaquin Phoenix to play Napoleon in Ridley Scott's historical drama

Joaquin Phoenix is set to reunite with Ridley Scott to play Napoleon Bonaparte in the director's upcoming historical drama.
Credit: Cover Video STUDIO Duration: 00:49
Published
Joaquin Phoenix and Rooney Mara welcome baby boy

Engaged actors Joaquin Phoenix and Rooney Mara have become parents to a baby boy.
Credit: Cover Video STUDIO Duration: 00:47
Published
Joaquin Phoenix serious about veganism in new PETA campaign

Oscar-winner Joaquin Phoenix has taken his campaign to turn the world vegan to the next level by fronting a new video for animal rights organisation PETA.
Credit: Cover Video STUDIO Duration: 00:49
Published
Zazie Beetz, Lakeith Stanfield, Regina King and Delroy Lindo to Star in 'The Harder They Fall,' Harry Styles Joins 'Don't Worr

Harry Styles is headed back to the big screen for 'Don't Worry Darling,' 'Wonder Woman 1984' is delaying its release (again) to December 25th and Zazie Beetz, Lakeith Stanfield, Regina King and Delroy Lindo are set to star in 'The Harder They Fall.'
Credit: The Hollywood Reporter Duration: 01:38
Published
Sister Of Murdered Teen Sees Justice Nearly Twenty Years Later With Arrest Of Stepfather

In Phoenix, Arizona, high school junior Alissa Turney disappeared on her last day of school. Now, nearly twenty years later, there's been an arrest in the cold case. Newser reports Alissa's stepfather, Michael Turney, was arrested in Mesa, Arizona on Thursday. He's been charged with second-degree murder. Newser reports when Alissa disappeared, Turney told police he'd argued with her because she wanted more freedom, then Alissa ran away.
Credit: Wochit News Duration: 00:38
Published
You Might Like
Tweets about this
•More original news reports from newsR