Muslims
Adherents of the religion of Islam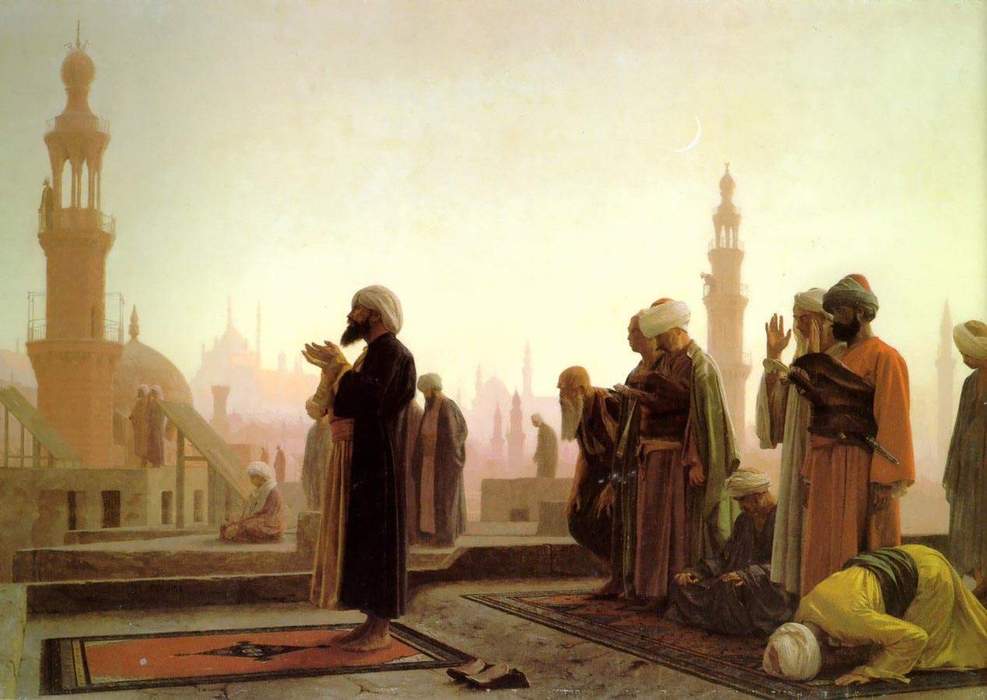 Muslims are people who follow or practice Islam, a monotheistic Abrahamic religion. The derivation of "Muslim" is from an Arabic word meaning "submitter ". Muslims consider the Quran, their holy book, to be the verbatim word of God as revealed to the Islamic prophet and messenger Muhammad. The majority of Muslims also follow the teachings and practices of Muhammad (sunnah) as recorded in traditional accounts (hadith).


Chinese community hold anti-CCP car rally in Canada

Chinese Community staged a car rally against Communist Party of China in city of Burlington, Ontario, Canada on Feb. 21. The Car rally went all across Malls and Shopping Plaza to aware Canadians about..
Credit: ANI Duration: 01:50
Published
Cafe Karwaan: Muslim ghetto reimagined | Delhi hangouts | Oneindia News

Cafe Karvaan lies in the middle of a Muslim ghetto in Delhi's Jamia Nagar. The aesthetically done up space is just one month old and fast becoming a hub for culture, conversation and some cofee or..
Credit: Oneindia Duration: 03:19
Published
Britain denounces China abuses on Muslim Uighurs

Britain's foreign secretary Dominic Raab on Monday denounced torture, forced labor and sterilizations that he said were taking place against Muslim Uighurs on an "industrial scale" in China's Xinjiang..
Credit: Reuters Studio Duration: 00:42
Published
CAR 'militia leaders' plead not guilty to war crimes at ICC trial

Patrice-Edouard Ngaissona and Alfred Yekatom accused of leading militias in widespread attacks on Muslims.
Credit: Al Jazeera STUDIO Duration: 02:32
Published
France votes on anti-radicalism bill that worries Muslims


Credit: FRANCE 24 English Duration: 05:16
Published
CM Mamata should apologise for allowing BJP to come to West Bengal: Adhir Ranjan

Congress leader Adhir Ranjan Chowdhury said, "Mamata Banerjee should seek forgiveness from people of Bengal for allowing BJP to come to State. Before asking for votes from Muslims of Bengal, Chief..
Credit: ANI Duration: 01:17
Published
TN CM, Deputy CM attend mass wedding in Coimbatore

A mass wedding ceremony took place in Tamil Nadu's Coimbatore on February 15. State Chief Minister Edappadi K Palaniswami and Deputy CM O Panneerselvam were also present at the ceremony. The event was..
Credit: ANI Duration: 01:32
Published
Inter-faith couple tied knot this Valentine in Coimbatore

People across country celebrated Valentine's Day in their own different ways. One such couple in Coimbatore made this Valentine memorable by tying knot. It was no ordinary marriage, as the couple broke..
Credit: ANI Duration: 01:19
Published
'Will join BJP when there's black snow in Kashmir': Congress' Ghulam Nabi Azad

In the latest episode of On The Record, senior Congress leader Ghulam Nabi Azad, who will be ending his Rajya Sabha stint on Monday after a four-decade-long career in Parliament, spoke to Hindustan..
Credit: HT Digital Content Duration: 03:32
Published
'Farm laws not religious scriptures that cannot be changed': Farooq Abdullah

National Conference (NC) leader Farooq Abdullah urged Centre to hold a dialogue with agitating farmers and reach a solution. Abdullah said the new farm laws are not religious scriptures that changes..
Credit: HT Digital Content Duration: 04:04
Published
Busting population myths with Dr SY Quraishi | On The Record

In the latest episode of On The Record with Hindustan Times' Sunetra Choudhury speaks to former chief election commissioner Dr. SY Quraishi. The former CEC busts population myths. Dr. Quraishi talks..
Credit: HT Digital Content Duration: 13:04
Published
I feel proud to be Hindustani Muslim: GN Azad in his retirement speech in RS

During his farewell in Rajya Sabha, Congress leader Ghulam Nabi Azad on February 09 said he feel proud to be a "Hindustani Muslim", when he read about the circumstances of Muslims in Pakistan. "I am..
Credit: ANI Duration: 02:03
Published
London mosque turned into pop-up Covid-19 vaccination centre

The East London mosque has been turned into a pop-up Covid-19 vaccination centre to help ease mistrust in the Muslim community about getting the jab.
Credit: PA - Press Association STUDIO Duration: 00:54
Published
China takes aim again at BBC as dispute intensifies

The BBC came under fire from Chinese officials and social media on Friday in an escalating diplomatic dispute, a day after Britain's media regulator revoked the TV license of Chinese state media outlet..
Credit: Reuters - Politics Duration: 01:57
Published
Attempt to defame farmers: Mehbooba Mufti on Red Fort violence

Jammu and Kashmir Peoples Democratic Party (JKPDP) president Mehbooba Mufti on January 31 said that BJP is destroying Indian Constitution. She said that the farm laws had been made without holding..
Credit: ANI Duration: 01:29
Published
'BJP hellbent on creating hatred for Muslims': Asaduddin Owaisi | The Interview

Does Islam bar Muslims from taking the Covid vaccine? Have clerics launched a disinformation campaign against the vaccine? Is the anti-conversion law targeting Muslims? Has Baba Saheb Ambedkar been..
Credit: HT Digital Content Duration: 19:04
Published
You Might Like



India slams UN experts over Kashmir concerns, says lack objectivity

Two special rapporteurs on minority issues and freedom of religion or belief said in a statement on Thursday that the Indian government's decision last year to end Jammu and Kashmir state's autonomy..




IndiaTimes - Published





Watch: Things you'll know if you're a Muslim WWE wrestler

Muslim wrestlers get real about how their faith plays a role in their love of WWE wrestling… from having ringside conversations with God, to competing while fasting.




BBC Sport - Published





Rahul Gandhi takes advice from Arabic speaking people: Himanta Biswa

Sarma, the convenor of the North East Democratic Alliance (NEDA), the regional arm of NDA, also dared the Congress to take a stand against illegal Muslim immigrants. Talking to reporters on the..




IndiaTimes - Published





Minor Muslim girls can marry on attaining puberty, rules Punjab and Haryana High Court

While hearing a petition moved by a Muslim couple from Punjab, the judge observed that a Muslim girl is governed by the Muslim Personal Law.




DNA - Published





How Shahnawaz Hussain's swearing-in as Bihar cabinet minister is a win-win situation for him and BJP

While Shahnawaz Hussain finds himself again in the political mainstream, the BJP has got a Muslim face ahead of the crucial assembly elections in West Bengal, Kerala and Assam where the politics is..




IndiaTimes - Published





SC issues notice to Centre on transfer plea on grant of minority status to 5 communities

The Supreme Court Tuesday sought government's reply on a plea, seeking transfer of cases from several high courts to it against the Centre's notification to declare five communities Muslims,..




IndiaTimes - Published





'We can live together!': Overturning Trump's 'Muslim ban' unites couple after four years

A woman's three year wait for a visa so she can live with her American husband has finally come to an end, after President Joe Biden reversed his predecessor's so-called "Muslim ban".




Sky News - Published





West Bengal assembly elections: Why getting Muslims votes could be tough for Mamata Banerjee




IndiaTimes - Published





Muslim girl raised as Hindu reunited with kin after 15 years




IndiaTimes - Published





'I am safe, but Muslims are not': Top quotes from Vice President Hamid Ansari's sensational interview

Former Vice President Hamid Ansari also talked about secularism, safety of Muslims in India and other topics in an exclusive interview with Zee Media.




DNA - Published





Zee Exclusive: 'Muslims are not safe in India', claims former Vice President Hamid Ansari

The former Vice President said that during the last week of his tenure two incidents aroused resentment in some quarters.




DNA - Published





Idaho Woman Says She Dresses in 'Muslim' Garb to Avoid Mask Wearing

An Idaho woman showed up to a city council meeting dressed in what she described as Muslim attire, as an example of the lengths she says goes to just to avoid wearing a mask. This went down Monday in..




TMZ.com - Published





Mamata created Hindu-Muslim divide, did more harm than good to Muslims: Abbas Siddiqui




IndiaTimes - Published





'Saving lives is an act of worship' - leading scholar urges Muslims to have COVID vaccine

A leading Islamic scholar is calling on Muslims to ignore disinformation campaigns aimed at discouraging them from taking the COVID-19 vaccine. 




Sky News - Published





Ayodhya's Muslims open purses for Ram temple




IndiaTimes - Published





Robert Saleh: New York Jets set to appoint first Muslim head coach in NFL

A deal is agreed in principle for Robert Saleh to join the New York Jets and become the first Muslim head coach in NFL history.




BBC Sport - Published





UK MPs suggest human rights conditions imposed in UK-India trade deals

Several British MPs have called for human rights provisions to be included in any future trade deal with India, after debating in the House of Commons the persecution being experienced by minorities...




IndiaTimes - Published





Some Muslims do not trust nation's scientists: Sangeet Som




IndiaTimes - Published





TMC govt did nothing to uplift Muslims: Dilip Ghosh




IndiaTimes - Published





How Owaisi's AIMIM is striving to become first pan-India Muslim party

The 2020 Bihar assembly elections may be called the turning point of Hyderabad Lok Sabha MP Asaduddin Owaisi-led All India Majlis-e-Ittehadul Muslimeen (AIMIM). The party may well be on its way to..




IndiaTimes - Published





In AP, Muslim 'forced to chant Jai Shri Ram'




IndiaTimes - Published





Owaisi visits Bengal, discusses assembly polls with influential Muslim cleric

AIMIM supremo Assaduddin Owaisi on Sunday arrived at Furfura Sharif in Bengal's Hooghly district and held discussions on the state's political scenario and upcoming assembly polls with prominent Muslim..




IndiaTimes - Published





Uttar Pradesh's 'Love Jihad' law denounced by 104 ex-IAS officers in open letter

Vigilantes from Hindu groups were intimidating and harassing Indians, especially Muslim men, and 'acting as a power unto themselves'.




DNA - Published





HC junks FIR, unites UP interfaith couple

Quashing an FIR accusing a Muslim youth from UP's Etah of kidnapping and inducing a Hindu girl into marriage, the Allahabad HC has reunited the interfaith couple on the ground that a girl proven to..




IndiaTimes - Published





Muslim 'groom' on run, 8 more kin held




IndiaTimes - Published





An adult is free to marry on her own, convert: Calcutta high court

There can be "no interference if an adult marries as per her choice, converts and refuses to return to her parents", the Calcutta high court said on Monday while hearing the plea of a Hindu man..




IndiaTimes - Published





Dropout of Muslim girl students reduced, govt concerned about their education, empowerment: PM Modi

PM Modi addressed the Aligarh Muslim University (AMU) students and faculty as the chief guest on the centennial celebrations.




DNA - Published

Also reported by •IndiaTimes


8 years on, Muslim man in interfaith marriage converts




IndiaTimes - Published





'Love jihad': 11 of family booked in UP, 6 in jail; reward of Rs 25000 on 5 'missing'

Over a month after a woman, 21, left her home, allegedly converted and married a Muslim man in Delhi after a brief affair, police in UP's Etah have booked her husband's entire family under the new..




IndiaTimes - Published





Muslim voters are not your 'jagir': Asaduddin Owaisi on Mamata Banerjee's remarks on 'dividing Muslim votes' in Bengal

Owaisi further said that 'there never was a man born' who could buy Asaduddin Owaisi with money, terming Mamata's allegations as 'baseless'.




DNA - Published





Muslim voters are not your 'jagir': Owaisi to Mamata

A day after West Bengal Chief Minister Mamata Banerjee alleged that the BJP is giving money to a party from Hyderabad to divide votes in the ensuing Assembly elections, AIMIM chief Asaduddin Owaisi hit..




IndiaTimes - Published





BJP spending crores to bring in AIMIM to split Muslim votes, says Mamata Banerjee




IndiaTimes - Published





Undeterred by pandemic, 500 Muslim women without 'mehram' have applied so far to travel for Haj-2021




IndiaTimes - Published





Muslim man in Bengaluru donates land worth Rs 50 lakh for Lord Hanuman temple

The Lord Hanuman temple is situated right next to the national highway connecting Bengaluru to Chennai near Hoskote.




DNA - Published





Bajrang Dal heckles inter-faith couple, cops book 'groom', kin

A woman, 22, and a Muslim man, 24, who had been living together for the last five months and had come to a court in Moradabad's Kant town to get their marriage registered, were heckled and hauled to..




IndiaTimes - Published





Ayodhya moves on: No 'shaurya diwas' or 'black day' on Babri anniversary

The 28th anniversary of the Babri Masjid demolition was unlike previous years with both Hindus and Muslims refraining from holding any special event to mark the day on Sunday even as there was a heavy..




IndiaTimes - Published





DNA Special: Hyderabad civic body election results major boost for BJP

According to the BJP, Chandrashekhar Rao runs the government from his farmhouse like a king and plays politics of appeasement with the Muslims.




DNA - Published





Uttar Pradesh: Interfaith wedding consented by parents stopped by cops in Lucknow

The 22-year-old Hindu bride and the 24-year-old Muslim bridegroom are now awaiting approval from the District Magistrate for the marriage.




DNA - Published





Why BJP has fielded over 600 Muslim, Christian candidates for local elections in Kerala

In an unprecedented development, the BJP has put up over 600 Muslim and Christian candidates - 112 Muslims and 500 Christians - for the panchayat, municipalities and corporation elections to be held on..




IndiaTimes - Published





Muslim man converts, marries Hindu girl; both get police protection

The man married feared threat to his life from the girl's family and thus sought help from the court.




DNA - Published





BJP distances itself from Karnataka minister Eshwarappa's 'no ticket to Muslims' remark

The BJP has distanced itself from the controversial remark made by senior party leader and Karnataka rural development minister KS Eshwarappa over not giving ticket for election to any Muslim..




IndiaTimes - Published





In Haryana, Muslim youth converts to marry Hindu girl




IndiaTimes - Published





'Party won't give ticket to a Muslim': Karnataka BJP minister's controversial statement

Eshwarappa is a Karnataka Rural Development and Panchayat Raj Minister. By-elections are to be held for the Belgavi Lok Sabha seat in Karnataka




DNA - Published





'Muslims labelled as Pakistani, Sikhs as Khalistanis, and activists as urban naxals: Mehbooba Mufti attacks Modi govt

She alleged that the media had become biased, adding that it has become the lapdog of the government.




DNA - Published





Moradabad MP terms 'love jihad' political stunt, asks Muslim boys to consider Hindu girls their 'sisters'

Samajwadi Party (SP) MP from Moradabad ST Hasan has termed "love Jihad" a political stunt and asked Muslim boys to consider Hindu girls their "sisters".​




IndiaTimes - Published





Ahmed Patel laid to rest; Rahul Gandhi attends funeral

Senior Congress leader Ahmed Patel was laid to rest at his native village Piraman in Gujarat's Bharuch district on Thursday. Patel's mortal remains reached Piraman from Vadodara and he was laid to rest..




IndiaTimes - Published





Don't See Priyanka, Salamat as Hindu-Muslim, says Allahabad High Court

Unhappy with the decision, the parents of Priyanka filed an FIR against Salamat, accusing him of "kidnapping" and "abduction to compel a marriage".




DNA - Published





Bihar: Muslim man digs reservoir for Chhath Puja at his home in Bhagalpur

In Bhagalpur, a Muslim family built a small water pool for Chhath in the courtyard of their house, where more than 50 devotees paid their arghya.




DNA - Published





'Owaisi another Jinnah, divides Muslims'




IndiaTimes - Published





DNA Special: Curious case of offering 'namaz' at Mathura's Nand Baba Temple

DNA analyses the truth behind two Muslim men offering 'namaz' at Mathura's Nand Baba Temple on October 29.




DNA - Published