Muslims
Adherents of the religion of Islam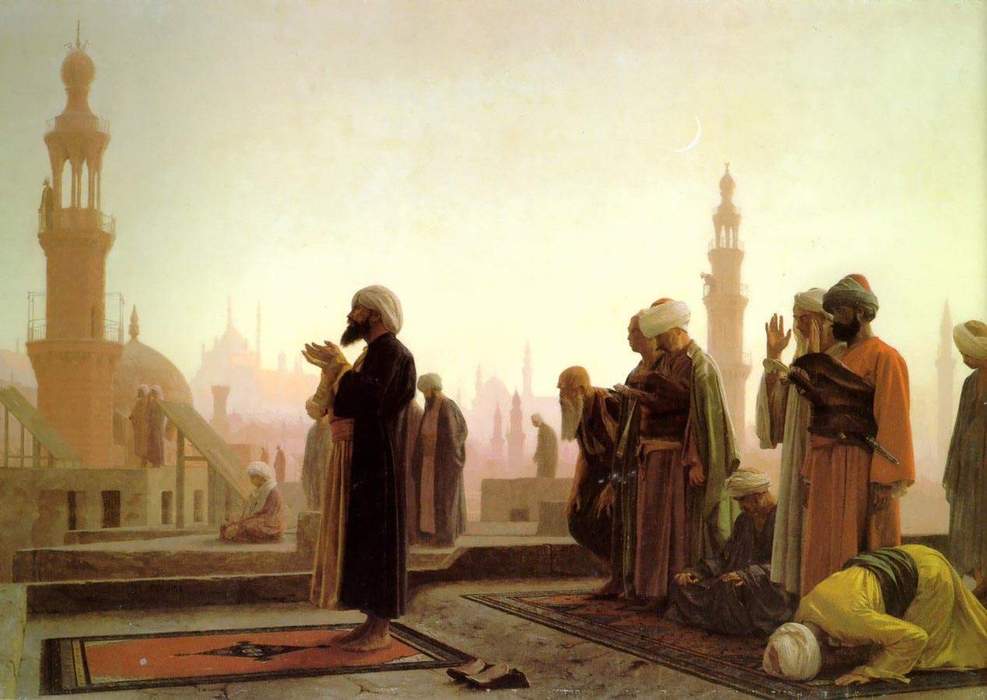 Muslims are people who follow or practice Islam, a monotheistic Abrahamic religion. Muslims consider the Quran, their holy book, to be the verbatim word of God as revealed to the Islamic prophet and messenger Muhammad. The majority of Muslims also follow the teachings and practices of Muhammad (sunnah) as recorded in traditional accounts (hadith). The derivation of "Muslim" is from an Arabic word meaning "submitter".


Muslim community in Nepal hold anti-China protest, demand justice for Uyghur

Muslim Kalyankari Samaj, a civil society group, in Nepal held anti-China protest rally in Pokhara city. It condemned the atrocities against Uyghur Muslims, a minority community in China. Protestors..
Credit: ANI Duration: 01:23
Published
If Muslims are 'Pakistani', Sardars are 'Khalistani', then who is 'Hindustani': Mehbooba asks BJP

The Bharatiya Janata Party (BJP) called Muslims as 'Pakistani', Sardars as 'Khalistani', activists as 'Urban Naxal' and students as members of 'Tukde Tukde gang' and 'anti-national' then who is..
Credit: ANI Duration: 01:38
Published
'Muslim boys should consider Hindu girls as their sisters': SP leader

Samajwadi Party (SP) MP from Moradabad ST Hasan called 'Love Jihad' a political stunt and asked Muslim boys to consider Hindu girls their 'sisters'. He said, "Love Jihad is a political stunt...
Credit: HT Digital Content Duration: 02:06
Published
SP leader ST Hasan advises Muslim youth to consider Hindu girls as "sisters"

Commenting on ongoing 'Love Jihad' row, Samajwadi Party leader and MP from Moradabad, ST Hasan advised Muslim youth to consider Hindu girls as their "sisters". He said "'Love Jihad' is a political..
Credit: ANI Duration: 01:41
Published
'Don't see them as Hindu & Muslim,' says Allahabad HC; blow to Love Jihad law?

As some BJP ruled states including Uttar Pradesh, Haryana, Madhya Pradesh have been mulling introduction of a law against 'Love Jihad', the Allahabad High Court has cancelled a case against a..
Credit: HT Digital Content Duration: 02:58
Published
International karate champ Syeda Falak enters politics to fight for minorities

International karate champion Syeda Falak has decided to serve the people through politics. Falak has joined the All India Majlis-e-Ittehadul Muslimeen (AIMIM) party. Syeda has been into social..
Credit: ANI Duration: 02:22
Published
MP govt mulling on taking away benefits of ST/SC women if they convert after marriage: Protem Speaker

Madhya Pradesh Assembly Protem Speaker Rameshwar Sharma on November 17 said that government is discussing on a provision that woman from ST/SC community wouldn't be entitled to the benefits of ST/SC if..
Credit: ANI Duration: 01:12
Published
Muslim woman in Aligarh makes clay lamps for Hindu festival

Having mutual tolerance and regards for each other's beliefs is the characteristic of Indian society. Keeping it alive are a few Muslim families in the Aligarh city of Uttar Pradesh who light up the..
Credit: ANI Duration: 02:30
Published
Islamophobia a problem in Labour, suggests new report

More than one third of the Labour Party's Muslim members and supporters have witnessed Islamophobia within the party, according to a new report. The work, conducted by the Labour Muslim Network, is..
Credit: ODN Duration: 00:30
Published
Analysis: Jeddah blast follows mounting tensions between France and Muslim world


Credit: FRANCE 24 English Duration: 02:12
Published
Communities join hands for Deepotsav in Ayodhya

As Ayodhya gears up for Deepotsav celebrations, arrangements are being done in full swing. Hindus and Muslims are working together to make this Deepotsav grand. Deepotsav will be held in Ayodhya for..
Credit: ANI Duration: 02:29
Published
Not enemy of nation but BJP's: Farooq Abdullah

Jammu and Kashmir National Conference (JKNC) president on Nov 09 said that he is not "enemy" of the nation but is of BJP. Farooq Abdullah said, "We are not nation's enemies. We are enemies of BJP. They..
Credit: ANI Duration: 01:01
Published
Muslim contribution to pre-Diwali ritual reinforcing composite Indian culture

Diwali is a festival that not only adds up lights, colours and happiness to our lives but also brings together citizens of different communities, creed, caste and religions as they get a chance to..
Credit: ANI Duration: 03:51
Published
Shrine of Hazrat Sayyad Afzaluddin in Bahraich integrating religious communities

An epicentre of faiths..... a place where brotherhood and bonhomie between many religions have flourished and prospered..... the Dargah of Hazrat Sayyad Afzaluddin Ameer Maah situated in a small town..
Credit: ANI Duration: 03:53
Published
China's state media sounds off on Biden victory

Beijing has yet to congratulate Joe Biden on his presidential victory. But China's state-backed media has weighed in, saying it could be good news for bilateral relations going forward, especially when..
Credit: Reuters - Politics Duration: 01:38
Published
You Might Like



BJP distances itself from Karnataka minister Eshwarappa's 'no ticket to Muslims' remark

The BJP has distanced itself from the controversial remark made by senior party leader and Karnataka rural development minister KS Eshwarappa over not giving ticket for election to any Muslim..




IndiaTimes - Published





In Haryana, Muslim youth converts to marry Hindu girl




IndiaTimes - Published





'Party won't give ticket to a Muslim': Karnataka BJP minister's controversial statement

Eshwarappa is a Karnataka Rural Development and Panchayat Raj Minister. By-elections are to be held for the Belgavi Lok Sabha seat in Karnataka




DNA - Published





'Muslims labelled as Pakistani, Sikhs as Khalistanis, and activists as urban naxals: Mehbooba Mufti attacks Modi govt

She alleged that the media had become biased, adding that it has become the lapdog of the government.




DNA - Published





Moradabad MP terms 'love jihad' political stunt, asks Muslim boys to consider Hindu girls their 'sisters'

Samajwadi Party (SP) MP from Moradabad ST Hasan has termed "love Jihad" a political stunt and asked Muslim boys to consider Hindu girls their "sisters".​




IndiaTimes - Published





Ahmed Patel laid to rest; Rahul Gandhi attends funeral

Senior Congress leader Ahmed Patel was laid to rest at his native village Piraman in Gujarat's Bharuch district on Thursday. Patel's mortal remains reached Piraman from Vadodara and he was laid to rest..




IndiaTimes - Published





Don't See Priyanka, Salamat as Hindu-Muslim, says Allahabad High Court

Unhappy with the decision, the parents of Priyanka filed an FIR against Salamat, accusing him of "kidnapping" and "abduction to compel a marriage".




DNA - Published





Bihar: Muslim man digs reservoir for Chhath Puja at his home in Bhagalpur

In Bhagalpur, a Muslim family built a small water pool for Chhath in the courtyard of their house, where more than 50 devotees paid their arghya.




DNA - Published





'Owaisi another Jinnah, divides Muslims'




IndiaTimes - Published





DNA Special: Curious case of offering 'namaz' at Mathura's Nand Baba Temple

DNA analyses the truth behind two Muslim men offering 'namaz' at Mathura's Nand Baba Temple on October 29.




DNA - Published





Shiv Sena backs French President Macron over cartoon row

An editorial in the Shiv Sena mouthpiece 'Saamana' said political parties and Muslim community in India have no reason to get involved into the "internal affairs" of France.




IndiaTimes - Published





After UP, Haryana plans law against 'love jihad'

A day after UP chief minister Yogi Adityanath announced his intent to bring a law against "love jihad", his Haryana counterpart Manohar Lal Khattar said his state, too, was contemplating a..




IndiaTimes - Published





Naseeruddin Shah, Javed Akhtar slam France attacks

Actor Naseeruddin Shah, poet-lyricist Javed Akhtar, former top cop Julio Ribeiro and activists Javed Anand and Yogendra Yadav are among over a hundred prominent Indians from diverse backgrounds who..




IndiaTimes - Published





'Conversion just for the purpose of marriage unacceptable' says Allahabad High Court

The Allahabad High Court in a recent judgement has observed that conversion just for the purpose of marriage is unacceptable. The court made the comments after finding that a Muslim woman had converted..




DNA - Published





AIMPLB appeals to Muslims to boycott French products after Macron's comments on Islam

The appeal was issued over French President Emmanuel Macron's speeches on Islam and Muslims.




DNA - Published





Eid Milad Un Nabi 2020: Muslims remember and celebrate the birth anniversary of Prophet Muhammad

Eid Milad Un Nabi 2020 or Eid-e-Milad is being celebrated today by the Muslims across the World. While Eid Milad Un Nabi celebrations have already started in Saudi Arab, it will be celebrated in the..




DNA - Published





Muslims slam France beheading, toons




IndiaTimes - Published





Mutilated headless body of woman found at garbage site in UP's Meerut

The body was found at a garbage site behind a Muslim cemetery in Fatehullapur, under Lisari Gate police station area.




DNA - Published





Availability of graveyards, cremation grounds should be as per community population: Sakshi Maharaj

Addressing a nukkad meeting for his party's candidate for the Bagarmau assembly bypolls, Sakshi Maharaj said, "If there is only one Muslim in a village, the graveyard is very big. You people, on the..




IndiaTimes - Published





ISIS plans to spread violence, hatred in India again, mouthpiece 'Voice of Hind' claims 'Babri will be avenged'

A dangerous plan of the terrorist organization ISIS has come out against India. ISIS has a hate digital magazine. In which terrorists are trying to trick Indian Muslims. Not only this, they are asking..




DNA - Published





Delhi court awards varying jail terms to 15 ISIS operatives in conspiracy case

A Delhi court on Friday awarded varied jail terms to 15 persons for their affiliation to terror organisation ISIS and for hatching a conspiracy to establish its base in India by recruiting Muslim youth..




DNA - Published





Congress always used Muslims as vote bank: BJP

BJP Minority Cell national president Haji Jamal Siddiqui on Friday accused the Congress of using the Muslim community as a vote bank.




IndiaTimes - Published





Armed force veterans write to President seeking action over fake 'Muslim regiment' social media post

The letter written on Wednesday and has also been marked to Prime Minister Narendra Modi and Defence Minister Rajnath Singh, urges the government to "investigate the antecedents of individuals who have..




IndiaTimes - Published





'Govt should not spend Rs 4,200 crore in organising Kumbh Mela,' says Congress leader Udit Raj

This comes days after Assam Education Minister Himanta Biswa Sarma said that government money could not be used to teach Muslim religious book Quran in Madrassas.




DNA - Published





Bhima Koregaon case: Militant Dalit and Muslim forces gaining roots, says NIA

The documents seized from Wilson clearly states that a united Dalit-Muslim front will help strengthen the mass mobilisation of people against the government at Centre.




DNA - Published





Another Love Jihad? Harassed by Muslim in-laws, Hindu woman attempts self-immolation outside UP assembly

She has been admitted to the civil hospital in Lucknow and her condition is said to be critical.




DNA - Published





Indian Muslims most content in world: RSS chief Bhagwat

Indian Muslims are the most content in the world, RSS chief Mohan Bhagwat said while asserting that people from all faiths have stood together when it has been about India's essence. He wondered if..




IndiaTimes - Published





Bengaluru ISIS module: NIA arrests two for radicalising youth

The National Investigation Agency (NIA) has arrested a business analyst working at a Chennai bank and a rice merchant from Bengaluru for allegedly radicalising members of a Bengaluru-based ISIS module..




IndiaTimes - Published





Tablighi Jamaat case: Right to freedom of speech most abused these days, observes Supreme Court

The top court pulled up the Centre for filing an affidavit short on details in a plea seeking strong action against media houses for demonising the Muslim community in connection with the Tablighi..




DNA - Published





India calls for restraint over ongoing Armenia-Azerbaijan clashes

Clashes have broken out between Christian Majority Armenia and Muslim majority Azerbaijan over Nagorno-Karabakh which is internationally recognized as part of Azerbaijan but has ethnic Armenians as a..




DNA - Published





Sudarshan TV violated programme code, issued notice: Govt

Days after the Supreme Court asked the Union government why it had not examined alleged programme code violations by Sudarshan TV's series on alleged infiltration of civil services by Muslims, the..




IndiaTimes - Published





Censoring pre-telecast TV content may take us down slippery slope: SC

The Supreme Court on Friday said while it was duty bound to step in to protect the right to dignity of a community and stop a telecast which attempted to malign the Muslim community as a whole by..




IndiaTimes - Published





SC asks NGO if it will intervene in Sudarshan TV case over allegations of terror-linked funding

The Supreme Court on Friday asked Zakat Foundation, an NGO which provides training to largely Muslims students aspiring for civil services, whether it wanted to intervene in the Sudarshan TV case..




IndiaTimes - Published





SC shoots down channel's argument, stays telecast of show on Muslims




IndiaTimes - Published





SC halts TV show 'vilifying' minorities

Stopping further telecast of a TV programme allegedly insinuating that Muslims were attempting to infiltrate the civil services, the Supreme Court said as the highest court of the land, it could not..




IndiaTimes - Published





Former civil servants move SC against Sudershan TV show

Seven former civil servants have moved the Supreme Court to become parties to a pending plea seeking stay of telecast of Sudarshan TV's 'Bindas Bol' programme on alleged "infiltration" of Muslim into..




IndiaTimes - Published





HC declines to stay telecast of Sudarshan TV's programme on Muslim 'infiltration' in govt services




IndiaTimes - Published




Bihar assembly elections: Asaduddin Owaisi-led AIMIM to contest 50 seats

With an eye on Muslim votes, Asaduddin Owaisi-led All India Majlis-e-Ittehadul Muslimeen (AIMIM) on Tuesday said it would contest minimum 50 seats in the forthcoming assembly polls in Bihar.




IndiaTimes - Published





With APMCC help, Muslim man offers flowers at Sharada Peeth in PoK




IndiaTimes - Published





Ganesh Chathurthi: Guess which Muslim-majority country has Lord Ganesha on its currency note?

The image of Lord Ganesha, the revered remover of obstacles, the patron of arts and sciences, and the deva of intellect and wisdom, is found beyond India and even... Hinduism




DNA - Published





Several Muslims from Shaheen Bagh join Delhi BJP

Several members of the minority Muslim community from Shaheen Bagh area, that was the centre of the anti-Citizenship Amendment Act (CAA) protests, joined the BJP on Sunday in the presence of its Delhi..




IndiaTimes - Published





Shaheen Bagh activist Shahzad Ali joins BJP, says wants to prove party not 'enemy' of Muslims

"I have joined the BJP to prove wrong those in our community who think that the BJP is our enemy. We'll sit together with them over the Citizenship Amendment Act (CAA) concerns," the activist said.




DNA - Published





Muslim youths form human chain to protect temple in B'luru




IndiaTimes - Published





Literacy rate for Muslims worse than SC/STs

The report shows that among the various social groups, the literacy rate for those aged 7 yrs or more was the highest for "others", which is non-SC/ST/OBC population groups, at 91% for men and 81%..




IndiaTimes - Published





'Wanted to signal that Muslims aren't against Ram temple'




IndiaTimes - Published





PM Modi: Ram popular in Muslim nations too




IndiaTimes - Published





Congress slams Owaisi for his tweet against Priyanka Gandhi, says Congress ideology is Hindu-Muslim bhai bhai




IndiaTimes - Published





Wait of centuries has ended: PM Modi after Ram temple 'bhoomi pujan'

The wait of centuries has ended, Prime Minister Narendra Modi said after performing the groundbreaking ceremony in Ayodhya for the Ram temple.Across the country, people remained glued to their..




IndiaTimes - Published





'Lord Ram's wish': Ayodhya dispute's Muslim litigant gets first invite for Ram Temple 'bhoomi pujan'

Iqbal Ansari, who was one of the litigants in Ayodhya land dispute case, said he will attend the ceremony on August 5 will also gift Prime Minister Narendra Modi a 'Ram nami' stole and a copy of the..




DNA - Published

Also reported by •IndiaTimes


Muslims in Kashmir Valley offer Eid prayers while maintaining social distancing

Concertina wires and barricades were placed at many intersections in the city to prevent free movement of people, they said. People preferred to offer Eid prayers at home -- either individually or in..




IndiaTimes - Published