Muslims
Adherents of the religion of Islam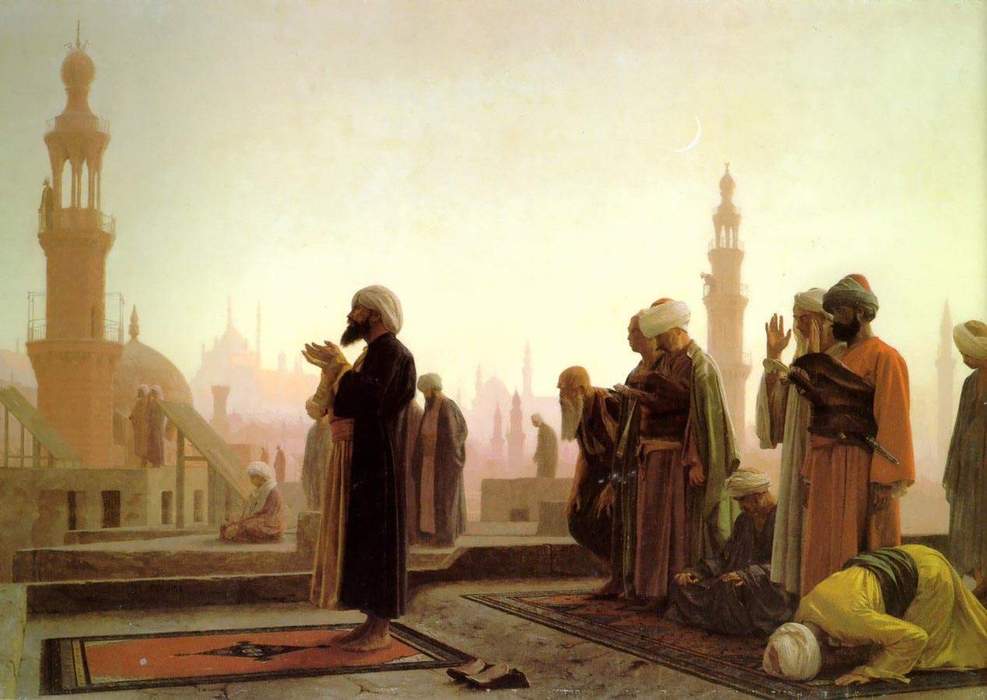 Muslims are people who adhere to Islam, an Abrahamic religion. They consider the Quran, the central religious text of Islam, to be the verbatim word of the God of Abraham as it was revealed to Muhammad, the main Islamic prophet and messenger. The majority of Muslims also follow the teachings and practices of Muhammad (sunnah) as recorded in traditional accounts (hadith).


Gyanvapi Mosque Row: SC directs 'Shivling' be preserved but Muslims can offer namaz |Oneindia News

Hearing a petition filed by the Hindu Sena in the Supreme Court of India after a shiv ling like structure was found on the premises of the Gyanvapi mosque, the apex court of India has directed the..
Credit: Oneindia Duration: 01:35
Published
Sadiq Khan reacts to news that Buffalo gunman wanted him dead

The white supremacist teenager who shot dead 10 people in Buffalo, New York, had earlier called for the murder of London mayor Sadiq Khan in a manifesto. Mr Khan said: "One the things we do know is..
Credit: ODN Duration: 00:45
Published
Muslim fishermen in Gujarat seek mass euthanasia, approach Gujarat HC | OneIndia News

A leader from the local Muslim fishing community in Mahatma Gandhi's hometown Porbandar has approached the Gujarat High Court seeking permission to undergo euthanasia for himself and 600 members of his..
Credit: Oneindia Duration: 01:11
Published
Thousands of Muslims in India, Pakistan, Iran and Iraq gathered on Tuesday to pray for Eid al-Fitr.

They joined Muslims across the Middle East and beyond observing Eid, which is one of the most celebrated holidays in the Muslim world and traditionally a time for family and festivities.
Credit: euronews (in English) Duration: 02:00
Published
Afghanistan's Muslims celebrate Eid al-Fitr holiday

Muslims in Afghanistan attend Eid prayers as the fasting month of Ramadan comes to an end.
Credit: euronews (in English) Duration: 01:00
Published
Ex-Kerala MLA PC George arrested for hate speech targeting Muslims | OneIndia News

Former Kerala MLA PC George was arrested by the police in connection with a case regarding hate speech targeting the Muslims. George was held by the police for communally sensitive speech and..
Credit: Oneindia Duration: 01:23
Published
Assam CM Himanta Biswa says Uniform Civil Code will give justice to Muslim women |Oneindia News

Speaking about the Uniform Civil Code, Assam CM Himanta Biswa said that if Muslim women are to be given justice then UCC has to be brought in. #UCC #Assam #HimantaBiswa
Credit: Oneindia Duration: 01:33
Published
Hindus and Muslims unite for 'Tiranga yatra' in violence-hit Jahangirpuri | OneIndia News

A week after communal clashes broke out in Northwest Delhi's Jahangirpuri, Hindus and Muslims took out a 'tiranga yatra' to display solidarity and convey the message of unity between the two..
Credit: Oneindia Duration: 01:47
Published
How Muslims of Old Delhi Celebrate Ramadan| Watch | Oneindia News

This video shows how Muslims living in Old Delhi celebrate the month of Ramadan in a traditional style. #Ramadan #OldDelhi #Delhi6
Credit: Oneindia Duration: 03:11
Published
Muslim-owned shops demolished in New Delhi

Authorities in New Delhi used bulldozers on Wednesday to destroy a number of Muslim-owned shops before the Supreme Court halted the demolitions.
Credit: euronews (in English) Duration: 01:31
Published
Court allows interfaith couple to stay together, dismisses 'love jihad' charges | OneIndia News

Kerala HC passed an order on Tuesday, allowing an interfaith couple to live together, thereby dismissing all the 'love jihad' rumours. In a case that sparked a political storm in the state, the court..
Credit: Oneindia Duration: 01:14
Published
Egyptians celebrate Ramadan with free Iftar table

Muslims gather along a street-long table to break their Ramadan fast together in a mass "Iftar" meal on the 15th day of the Muslim holy month, in the Matariya suburb in the northeast of Egypt's capital..
Credit: euronews (in English) Duration: 02:00
Published
Bharata Rakshana Vedike calls for the ban on Muslim cab and tour operators | OneIndia News

In another incident of communal politics in the state of Karnataka, the Bharata Rakshana Vedike, a fringe right-wing group in Karnataka, on Friday began a campaign asking Hindus not to employ the..
Credit: Oneindia Duration: 01:28
Published
Gorakhnath temple attacker says was angry over CAA, NRC & atrocities against Muslims | Oneindia News

Gorakhnath temple attacker Ahmed Murtaza Abbas made his confession. According to Uttar Pradesh Police, he said the reason behind his attack is alleged atrocities committed against..
Credit: Oneindia Duration: 01:27
Published
Karauli, Rajasthan: Curfew imposed after incidents of communal tension | OneIndia News

Rajasthan's Karauli district on Saturday witnessed a series of communal clashes after a motorcycle rally celebrating Nav Samvatsar, the first day of the new year under the Hindu calendar in a..
Credit: Oneindia Duration: 01:48
Published
Muslims in Karachi break the fast on the first day of Ramadan

Thousands of Muslims broke the fast at mosques in Karachi on Sunday night as the holy month of Ramadan began in Pakistan.
Credit: euronews (in English) Duration: 01:00
Published
Muslims celebrate Ramadan without Covid-19 restrictions in 2 years, Watch | Oneindia News

After two long years, Muslims celebrated Ramadan without any Covid-19 restrictions, watch this ground report. #Ramadan #Covid-19 #ZakirNagar
Credit: Oneindia Duration: 03:41
Published
You Might Like



Protection of wuzu area, unhindered namaz access to continue, says SC

The SC also said the May 16 interim order of the civil judge (senior division) Ravi Kumar Diwakar directing protection of purported shivling area would be "subsumed" by the apex court's interim..




IndiaTimes - Published





Woman separated from family during Partition reunites with Indian brothers at Kartarpur

Seventy-five years after she was separated from her family during the violence at the time of the Partition, a woman born in a Sikh family, who was adopted and raised by a Muslim couple, met her..




IndiaTimes - Published





Gyanvapi mosque row: No hearing in Varanasi court today amid lawyers' strike

Following the strike by lawyers, the Muslim side sought two days from the court to file their objection plea.




DNA - Published





Gyanvapi mosque case: SC directs Varanasi DM to secure 'Shivling', ensure prayers can continue

SC ordered place where 'Shivling' was discovered inside Varanasi's Gyanvapi mosque must be protected, although Muslim devotees will be able to pray.




DNA - Published





BJP state government will buy all rice, end Muslim quota: HM Amit Shah in Telangana

Shah said that quotas for Muslims and other religious minorities had negatively impacted socially-backward groups like SCs and STs and OBCs.




DNA - Published





Gyanvapi case: Varanasi judge flags 'atmosphere of fear', says wife, mother worried for his safety

Gyanvapi case: On Thursday, the judge dismissed the plea of the Muslim petitioners seeking replacement of the commissioner appointed by the court.




DNA - Published





Cong: BJP creating Hindu-Muslim divide to win polls




IndiaTimes - Published





Radical Muslims should realise grass is not greener in Pakistan: Kerala HC in terror recruitment case

Muslims having radical thoughts should realise from India's history since the Partition that the grass is not greener on the other side of the fence, the Kerala High Court said in a judgment while..




IndiaTimes - Published





'No Muslim woman wants her husband to bring home 3 other wives,' says Assam CM on Uniform Civil Code

Assam CM Himanta Biswa Sarma on Saturday said if Muslim women are to be given justice, Uniform Civil Code has to be brought in.




DNA - Published





Muslim organisations caution community to watch out for disruptive anti-social elements during Eid




IndiaTimes - Published





'No guilt for what I said': Bajrang Muni Das after issuing 'rape threats' to Muslim women

Bajrang Muni Das, who was recently released from jail in UP, said that he has "no guilt" for issuing threats against Muslim women.




DNA - Published





Jahangirpuri violence: Hindus, Muslims come together for 'Tiranga Yatra' to spread message of harmony

Hindus and Muslims of the Jahangirpuri area came together to carry out a 'tiranga yatra' to spread the message of peace and harmony.




DNA - Published





Hindus, Muslims take out 'Tiranga Yatra', week after Jahangirpuri violence

Hindus and Muslims on Sunday together took out a 'Tiranga Yatra' in Jahangirpuri's C block - the epicentre of the April 16 clashes - giving a message of peace and harmony. The rally was facilitated by..




IndiaTimes - Published





Pakistan's new govt again appoints a Muslim to look after Sikh, Hindu religious places




IndiaTimes - Published





After 2-year break, Haj pilgrimage to start from May 31

After a two-year break due to restrictions in view of the pandemic, Indian Muslims will be able to travel for Haj this year as Saudi Arabia has allowed entry of international pilgrims. Given that the..




IndiaTimes - Published





Congress MP Adhir Ranjan writes to Mamata Banerjee on 'pathetic, miserable' condition of Muslims in West Bengal




IndiaTimes - Published





Kerala HC declines to interfere with interfaith relationship of Christian woman, Muslim DYFI leader

Bench said that she has categorically stated she has decided to marry Shejin (DYFI leader) out of her own free will and not under any compulsion.




DNA - Published





UP seer arrested for hate speech and rape threat against Muslim women




IndiaTimes - Published




Sitapur hate speech: Bajrang Muni Das, who threatened to rape Muslim women, arrested

The Uttar Pradesh police arrested Bajrang Muni Das in Sitapur.




DNA - Published





Mahant Bajrang Muni arrested over provocative comments targeting Muslim women




IndiaTimes - Published





Sitapur mahant arrested for 'rape threat' to Muslim women




IndiaTimes - Published




'Why wearing skull cap in front of Hindu temple': Karnataka MLA after attack on Muslim fruit sellers

An MLA in Karnataka has said that if a Muslim vendor is around a Hindu temple, they should dress accordingly to not make devotees uncomfortable.




DNA - Published





Uttar Pradesh man's public 'rape threat' against Muslim women sparks hate speech row

A man in Uttar Pradesh was caught on camera issuing a public rape threat to Muslim women, prompting the police to investigate the matter.




DNA - Published





Indian Muslims will not respond to Al Qaeda's call: Himanta

Assam chief minister Himanta Biswa Sarma on Wednesday asserted that Indian Muslims will not respond to the call by Al Qaeda chief Ayman Al Zawahiri and embroil themselves in the hijab row after the..




IndiaTimes - Published





Omar Abdullah speaks out against meat ban in South Delhi, asks 'will non-Muslims fast during Ramzan?'

JKNC leader Omar Abdullah hits out against the closure of meat shops in parts of Delhi during the Navratri 2022 period.




DNA - Published





Delhi Jal Board withdraws order allowing short leaves for Muslim employees during Ramzan

DJB had earlier allowed its Muslim employees to avail a "short leave of around two hours a day" during the ongoing fasting month of Ramzan.




DNA - Published





PM Narendra Modi extends greetings on beginning of Ramzan 2022

The Ramzan moon was sighted this evening and Muslims in India will begin fasting from April 3.




DNA - Published





Ramadan 2022: Telangana allows Muslim employees to leave early during holy month

Chief Secretary Somesh Kumar on Friday issued an order allowing Muslim employees to leave offices an hour early during the holy month.




DNA - Published




Meet Gulmaki Dalwazi Habib, Odisha's first Muslim woman chairperson of top civic body

Independent candidate Gulmaki was elected as the chairperson defeating Sasmita Mishra of the BJD by 3,256 votes.




DNA - Published





Call for ban on Muslim traders near Karnataka temples spreads

The clamour to ban Muslim traders and vendors from carrying out business in the vicinity of temples during Hindu festivals and annual temple fairs has spread to more districts in Karnataka. The demand,..




IndiaTimes - Published





Ministerial berth symbol of party's trust in its worker: Lone Muslim minister in UP




IndiaTimes - Published





Who is Danish Azad Ansari: The sole Muslim minister in Yogi Adityanath government




IndiaTimes - Published





Meet Danish Azad, Muslim face in Yogi Adityanath Cabinet

Just before the 2022 elections, he was made the general secretary of the BJP Minority Morcha.




DNA - Published





No link between hijab and exam, don't sensationalise the issue: CJI

The Supreme Court on Thursday refused to bite the "impending examination and loss of academic year" bait thrown by a Muslim girl student to seek urgent hearing on her plea challenging a Karnataka HC..




IndiaTimes - Published





Muslim family donates land worth Rs. 2.5 crore to build world's largest Hindu temple in Bihar




IndiaTimes - Published





Not allowed to wear hijab, 231 boycott exam at Karnataka college

231 Muslim students at Government PU College in Uppinangady, Karnataka, refused to sit for preparatory exams on Friday when the women among them were told they could not appear for the test wearing the..




IndiaTimes - Published





Karnataka mulls re-exam for some Muslim students




IndiaTimes - Published





Rep. Ilhan Omar Applauds Marvel Studios New Comic with Muslim Superhero

If Rep. Ilhan Omar wasn't a Marvel comics fan before, she is now ... as the studio announced its first-ever Muslim superhero to headline a series. We caught up with the congresswoman in D.C. and she..




TMZ.com - Published





Hijab verdict: Udupi student-petitioners, Muslim girls in Shivamogga skip classes, exams

The six Muslim girl students of the Government Pre University Girls College in the coastal town of Udupi did not turn up for classes on Wednesday, a day after their petition seeking permission to wear..




IndiaTimes - Published





Marvel's first Muslim superhero celebrated as new series is teased

Marvel's first Muslim superhero has been revealed in the official trailer for the upcoming new series, Ms Marvel.




Sky News - Published





Verdict an injustice, don't accept it: Muslim outfits




IndiaTimes - Published





Hijab row reaches Supreme Court, plea filed challenging Karnataka High Court verdict

The petition has been filed in the apex court by a Muslim student against the high court judgement.




DNA - Published





2.3 crore Muslim students got edu aid in 5 years




IndiaTimes - Published





Now, girls with hijab barred from entering Aligarh college

A college in Aligarh, UP, issued a notice on Saturday "banning" entry of students in the campus without "prescribed uniforms" and refused entry to Muslim girls who had their hijab on. The Shree..




IndiaTimes - Published





No hijab in class a reasonable restriction: Karnataka government in high court

A Muslim woman or girl can wear a hijab wherever she wants to, but if institutional discipline requires that a reasonable restriction be imposed on exercising this choice, it must be adhered to, the..




IndiaTimes - Published





Rise above orthodox thinking, education more important than hijab: RSS-linked body to Muslims




IndiaTimes - Published





Allow hijab on Fridays and during Ramzan: PIL in Karnataka HC

Petitioner Dr Vinod G Kulkarni, who argued his PIL, said the hijab controversy has created mass hysteria throughout the nation, seriously affecting the mental health of Muslim girl students. Citing the..




IndiaTimes - Published




Karnataka Hijab Row: Muslim students ask High Court to 'allow hijabs on Friday, during Ramzan'

During the Karnataka High Court hearing, Muslim girls requested the bench to allow hijabs on Fridays and during Ramzan.




DNA - Published





Winter Olympics: Games official claims stories of human rights abuses are 'lies'

The Winter Olympics faces renewed political controversy after a Games official dismissed human rights violations among the Uyghur Muslim population as "lies".




BBC Sport - Published





Convey BJP not against Muslim women, party brass tells Karnataka netas




IndiaTimes - Published