MOVIE REVIEW: La La Land

Tuesday, 10 January 2017
by 👨‍💻 Graham Pierrepoint


LA LA LAND

Dir: Damien Chazelle

Starring Ryan Gosling, Emma Stone, John Legend, JK Simmons





4.5 STARS (out of 5)
What ever happened to the musical film? It's safe to say that the concept of a movie being half drama, half music rather went out of the window around the same time that the big screen started taking itself far too seriously. Too many critics may yearn for the bygone days of musical cinema, and while there are scores of fantastic movies that have been written and produced in the past fifty or so years, it's not hard to understand why. Occasionally, we all need to dip out of big, flashy sequels and moody superhero flicks once in a while. That's why, I believe, La La Land works so well – and why it is a very good pick for a slew of Oscars in the coming weeks.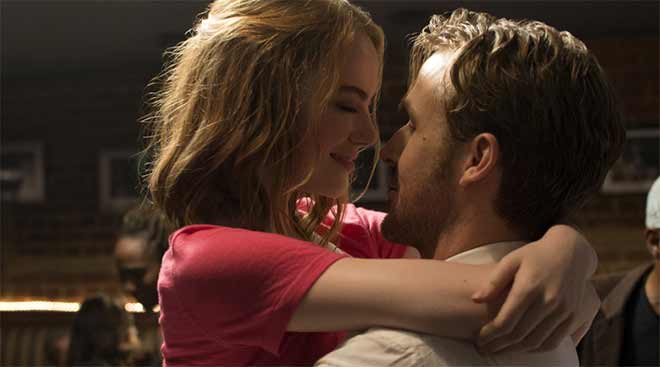 Mia is a struggling actress, Sebastian is a struggling musician – and in downtown LA, just about everyone wants to be a star. The pair meet by chance on a number of occasions before getting to know each other a little better, sharing their dreams and even their lives. From there, however, things start to get a little complicated – as we start to see the pair weigh up what's best for the both of them through entirely separate perspectives.
La La Land is equal parts musical and romantic journey, meaning that neither is particularly in your face about it – from the opening traffic jam chorus and display you know you're going to be in for a film that is going to spring moments of joy on you at any given time, which in a post-Glee climate is rather risky. This movie offers happiness and passion in just the right amounts, however – by giving us characters that are so passionate about what they do, exhibiting moments of positivity and downheartedness in equal measure. This is a movie that knows when to give us a song, or a dance number, and when to tone it down.
La La Land is beautifully directed. It benefits hugely from long, sweeping, single-shots, and skimps on the 'tell' over the 'show' in the script department. It's remarkably refreshing – as a result, we feel more deeply connected to these characters than we would in a more narrated tale such as, say, last year's Me Before You – and this only helps to make the film's themes all the more resonant. As a viewer who does not normally see romantic cinema by choice, I was stunned to feel such a connection to these characters, and genuinely affected by the twists in the later portions of the script. On paper, it would appear fairly by-the-numbers – meaning that I must absolutely give kudos to the script, the direction and of course the cast (it's largely a two-header) for contributing to such a memorable film.
That being said, it isn't a movie that is going to appeal to everyone. Anyone outside of the genre zone with an appreciation for cinema will be more than awed by the nuances and motifs in the direction, along with the superb songs and choreography. This is a great film to look at – but, at times, it can drag a little if you're not wholly invested. It feels rather unjust to poke negativity at a movie that has impacted on me so effectively – but there is something that is preventing me from offering it that further point 5 of a star, perhaps the same issue I faced with Spotlight this time last year.
La La Land - Official Trailer (Lionsgate Movies)
La La Land's pacing is, generally, great – but there are moments along the way in the middle act that really do drag their heels if you're not completely sold to the characters or their situation. Director Damien Chazelle is one of the most talented people working in Hollywood today. He's responsible for directing the hugely popular Whiplash (another movie focused on music) and for co-writing the terrifying 10 Cloverfield Lane – he has an eye for capturing the way in which people interact and developing it in such a way for it to be entertaining to an audience. This can, sometimes, be an undoing – there are moments which are fairly mundane, while pretty, and there is a considerable gulf in the movie without music – these are the tiniest of nitpicks, however, as this is the highest example of a 4.5 star movie I believe I've ever seen. I simply can't believe I've seen such a profoundly well-made movie so early on in the year. It deserves seeing, and for once, hype is to be believed. If the plot and the idea of a movie that harks back to simpler romantic musicals of old appeals to you, you'll have a blast.
La La Land has been out in the US for some time and is only just reaching UK shores this week – and it's supposedly a hot favorite for a number of Academy Award categories. It will have some genuinely stiff competition – likely to be up against Hacksaw Ridge (which I will review in the coming weeks), Manchester By The Sea and, I hope, Arrival – which we named our top pick for 2016. Regardless, 2017 is going to be another great year for movies, particularly if they meet the high standard set by Damien Chazelle.